The fashion rebirth of pastel has made its way back into ss20 and without a doubt is a staple for this season. Its unique colour scheme is set to brighten and energise your wardrobe as it shifts away from dark tones.
The fresh pastel look is a statement waiting to happen, whether it be from a matching crisp two-piece suite to an oversized t-shirt and some joggers; a splash of pastel can transform your 'kitchen outfit' to a whole new level. The palette itself is very appealing to the eye, it goes unnoticed as it lures you in. It's one of those things that you either love it or you are drawn to it; there is no in-between!
Look 1: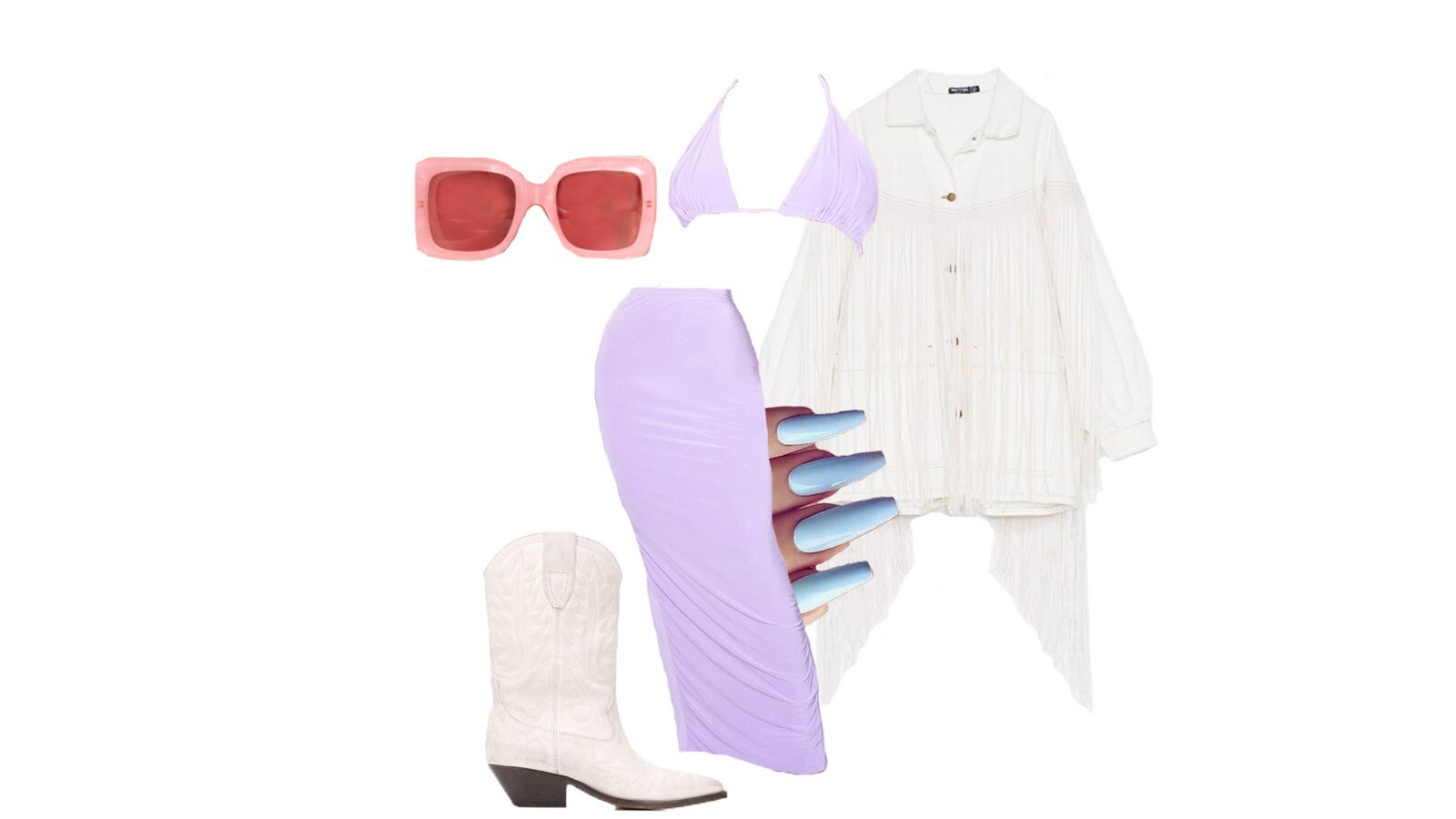 Bralet: Pretty Little Thing Lilac Slinky Triangle Bralet (£8)
Skirt: Pretty Little Thing Lilac Slinky Split Back Maxi Skirt (£15)
Jacket: Nasty Gal In It to Fringe It Oversized Denim Jacket (£65)
Boots: Isabel Marant Duerto Texan ankle boots (£765)
Sunglasses: Gucci Oversized square pearlescent-acetate sunglasses (£355)
The pastel palette offers a range of soothing tones from lilac, baby blue to a mint green that can be depicted through not only garments but also via trainers, eye shadows, bags and many more to enhance your fit.
It can be seen that the pastel trend is highly influenced by Harajuku fashion originated in Japan; as it is bold and visually attractive. Although it is commonly associated with layering and standing out from the crowd, the Harajuku influence of pastel hues have unlocked a trail for many fashion designers and brands, that have transformed garments to portray less is more through pastel.
Look 2: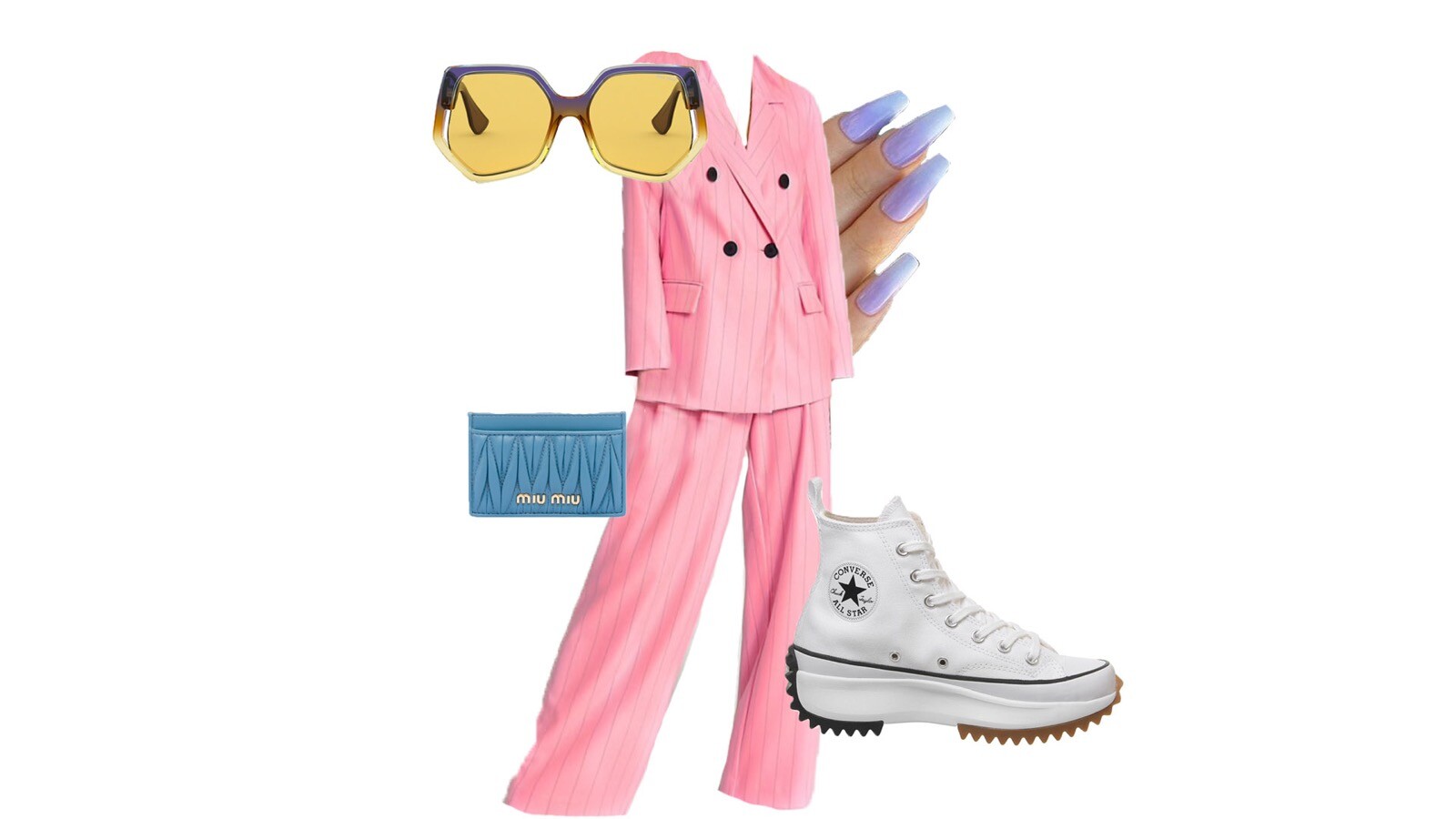 Suit: River Island Petite pink pinstripe double breasted blazer (£65)
Shoes: Converse Runstar Hike, White Black Gum (£89.99)
Sunglasses: Miu Miu Eyewear La Mondaine oversized-frame sunglasses (£250)
Card Holder: Miu Miu Leather Credit Card Holder (£180)
Needless to say, Nike has set high expectations for future pastel infused garments, having created the Nike mini metallic swoosh oversized pastel colour block hoodie and joggers. Its sell-out has made streetwear enthusiasts hunt for similar apparels, due to reseller prices being over the top. It can be perceived that this co-ord broke boundaries and opened a trend for colour blocking with a streetwear infused twist. To top the fit, Nike had also created the Air Force 1 Shadow trainers in pastel that had generated a gateway for the sneaker community as well.
Look 3: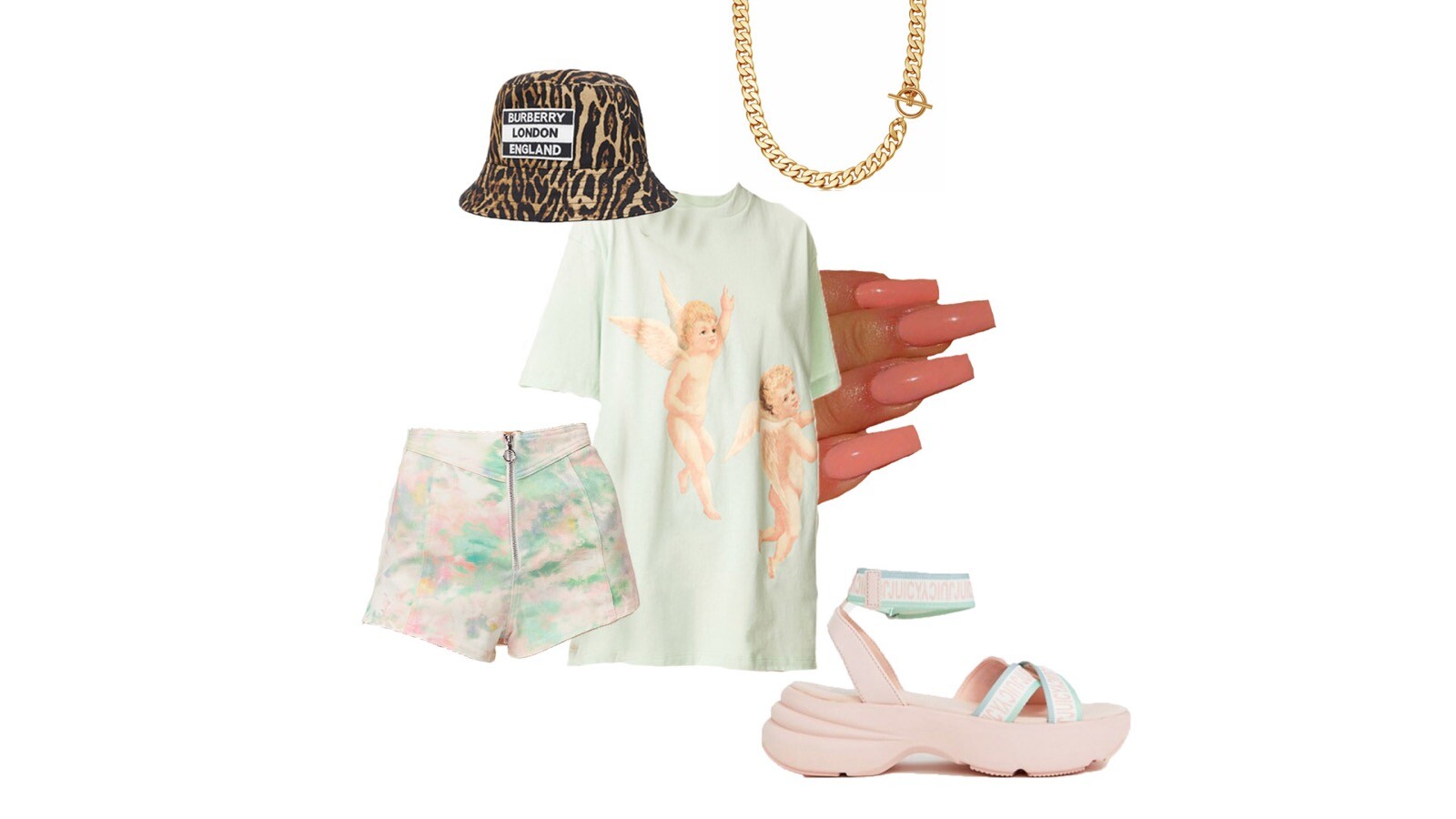 Top: Fiorucci Flying Cherub T-Shirt Dress Green (£100)
Shorts: For Love & Lemons Smythe Hot Short (£150)
Hat: Burberry reversible leopard print bucket hat (£310)
Shoes: Juicy Couture logo chunky flatform sandals in pink (£89)
Necklace: Missoma Lucy Williams Gold t bar chunky chain necklace (£295)
Initially, more and more designers have interpreted the pastel trend throughout the years, such as the angel brand Fiorucci. This has made the fast-fashion sector drawn to the idea of pastel, by making the viral dynamic more accessible to the fashion sector. These can be found on online retailers such as Pretty Little Thing. However, if you are looking for original pastel garments head over to eBay to find a more vintage look.
Its lively attraction has set a reoccurrence in the fashion industry throughout spring and summer; it will definitely be back again next year with no hesitation. Its unique palette has submerged and adapted across styles such as tie-dye and loungewear this season, we can only look forward to what is in store for us next!
Look 4: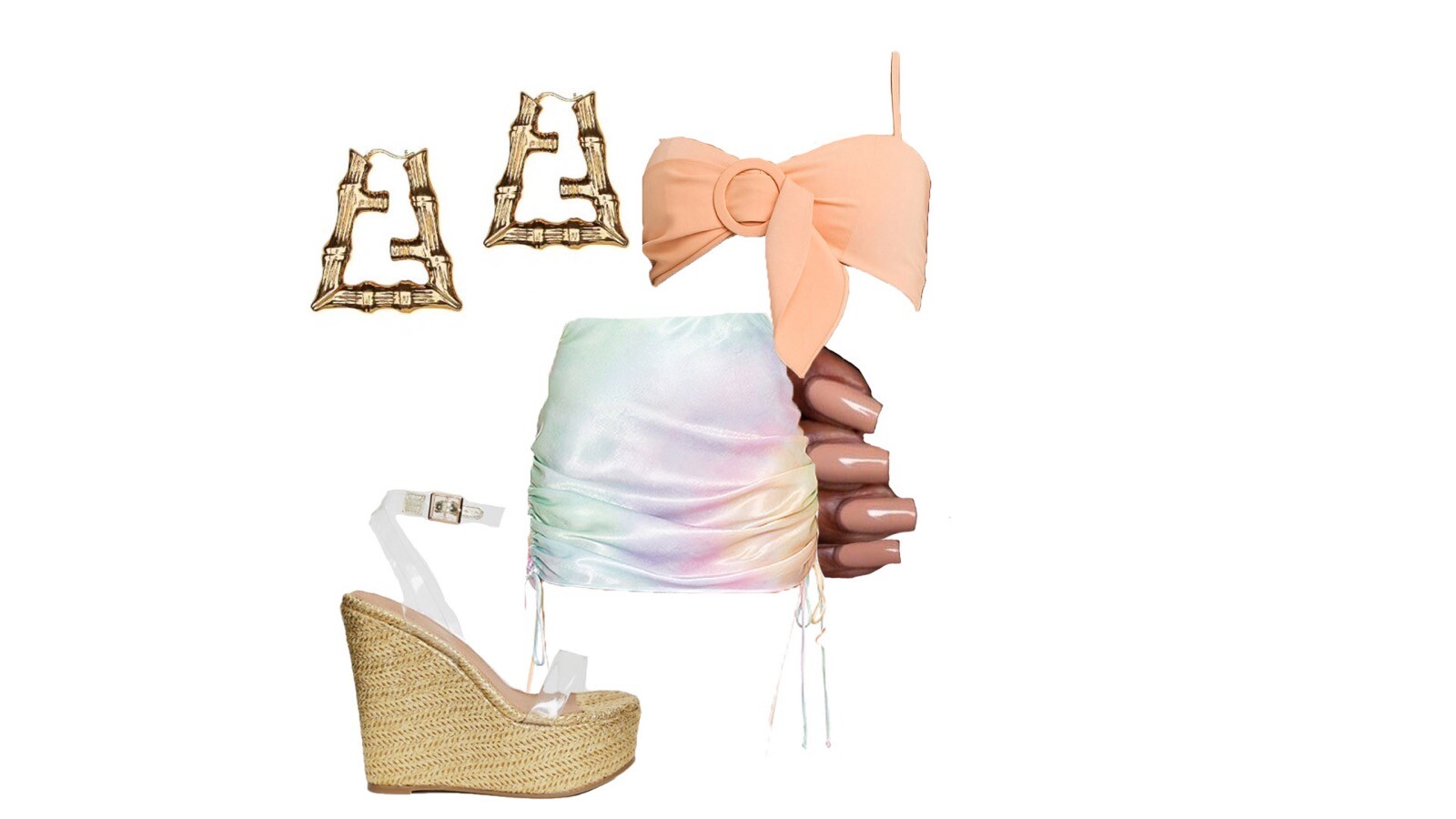 Top: 4th + Reckless buckle detail crop top (£22)
Skirt: Revolve Christi Mini Skirt (£129)
Shoes: ASOS DESIGN Takeover clear wedges (£35)
Earrings: Fendi Prints On motif earrings (£430)
Words by Amber Meghani
Edits by Ella Winfield
Cover by Katie Janes
, , , , , , , , , , , , , , , , , , , , , , , , ,