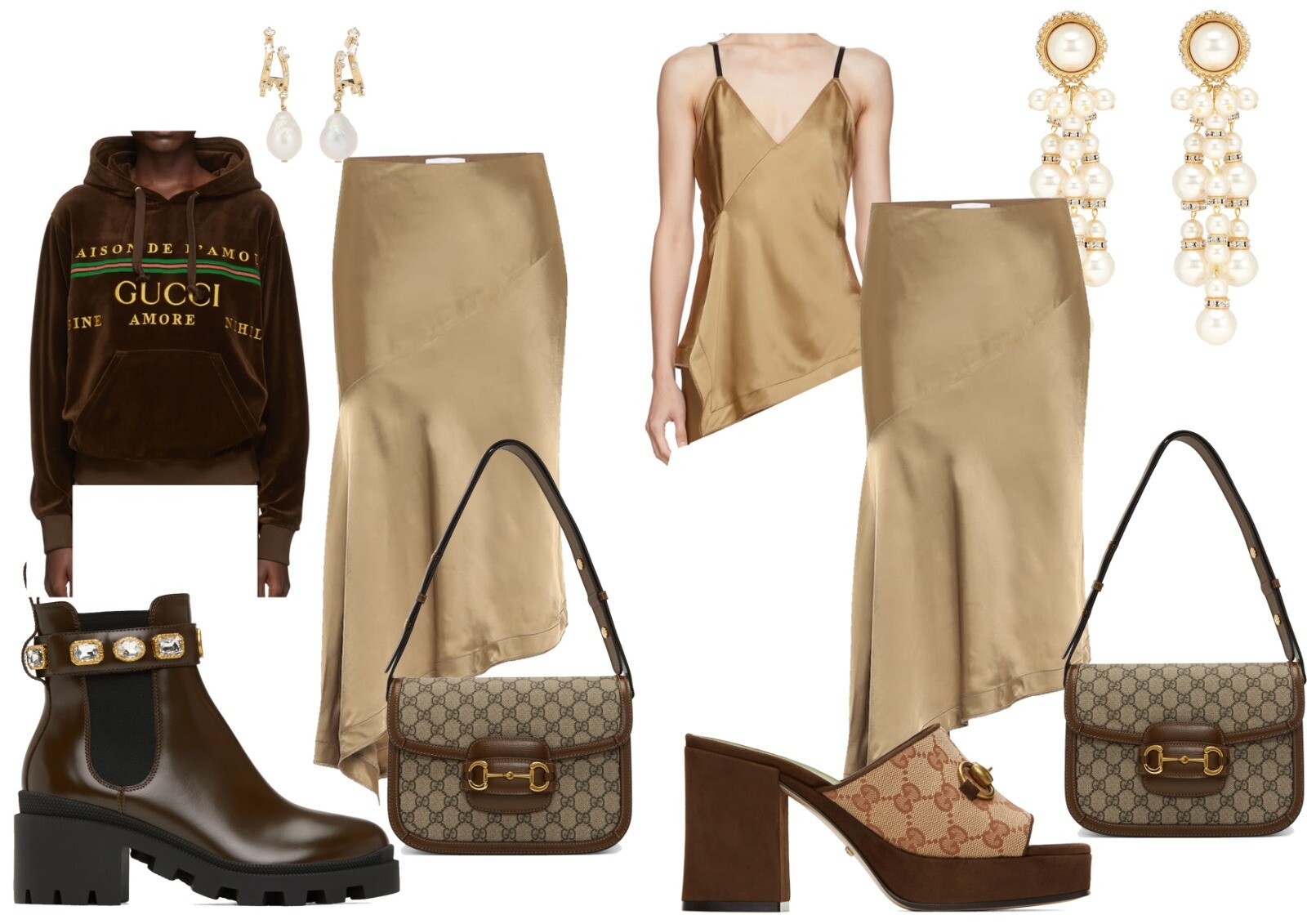 LOOK ONE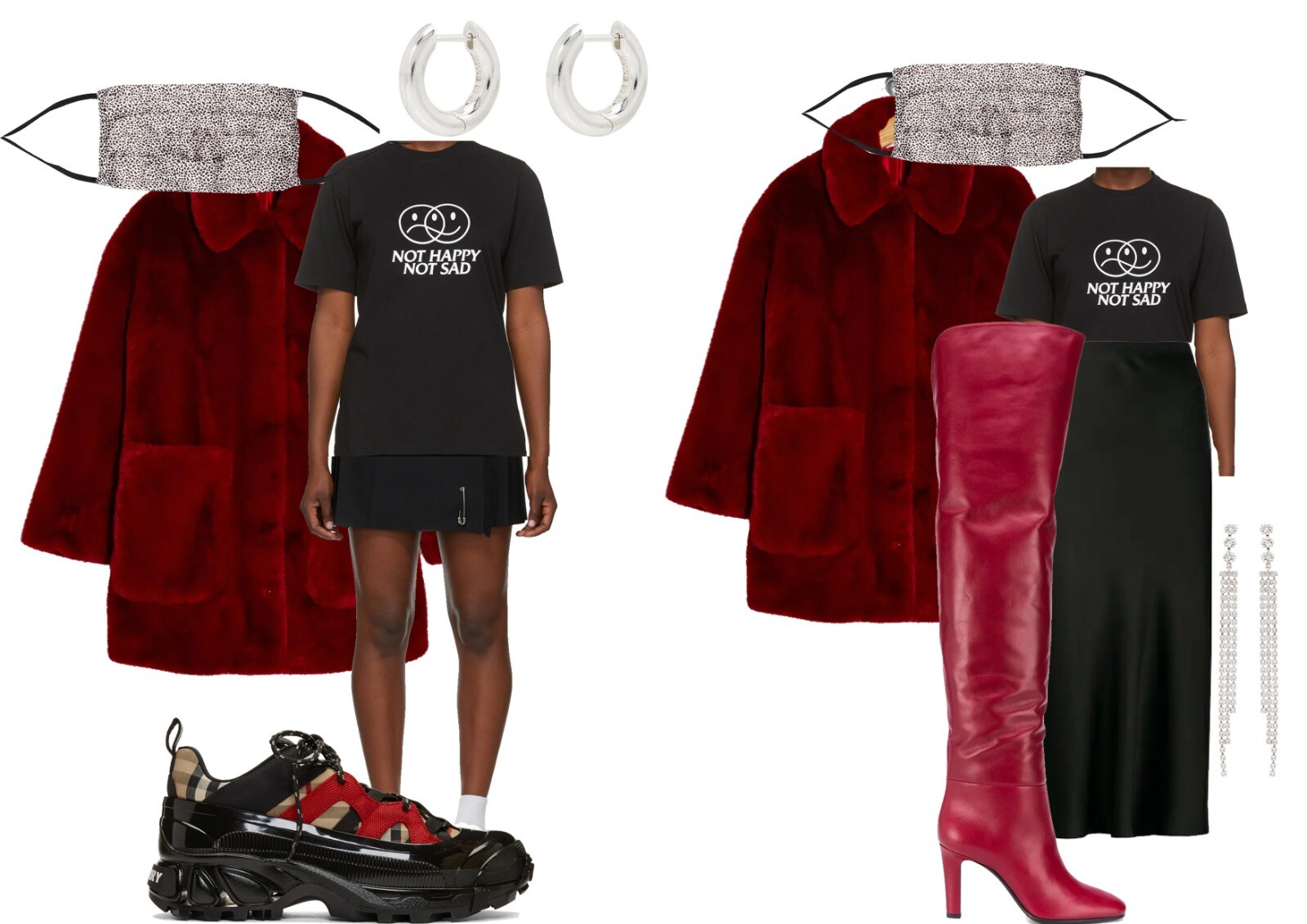 Topshop, Le Kilt, Vetements, Burberry, Saint Laurent, Slip, Isabel Marant, Astrid & Miyu
Pantone's colour of 2020: knock them dead in red. Combined with faux fur, this jacket is the ultimate power statement to see you through to the chillier days. What better than a bright coat to add a bit of spice to the dreary autumn weather? All black creates the ultimate flattering silhouette, whilst the dazzling pop of red keeps everyone on their toes! Paired with chunky trainers and a graphic tee make this coat the perfect accessory for a streetwear vibe but trade these for over the knee red boots and a satin midi-skirt, and it's the daring vivacity you need for a head-turning night out!
Coat: Topshop Deep Red Velvet Faux Fur Coat (£75.99)
Miniskirt: Le Kilt Black Micro Kilt (£475)
Midi skirt: Topshop Black Satin Bias Maxi Skirt (£35.99)
T-Shirt: Vetements Black 'Not Happy Not Sad' T-Shirt (£230)
Trainers: Burberry Black & Beige Arthur Sneaker (£590)
Boots: Saint Laurent Jane over-the-knee boots (£1,230)
Mask: Slip pintucked face mask (£35)
Drop earrings: Isabel Marant crystal-fringe drop earrings (£255)
Hoop earrings: Astrid & Miyu Chunky Hoops in Silver (£59)
LOOK TWO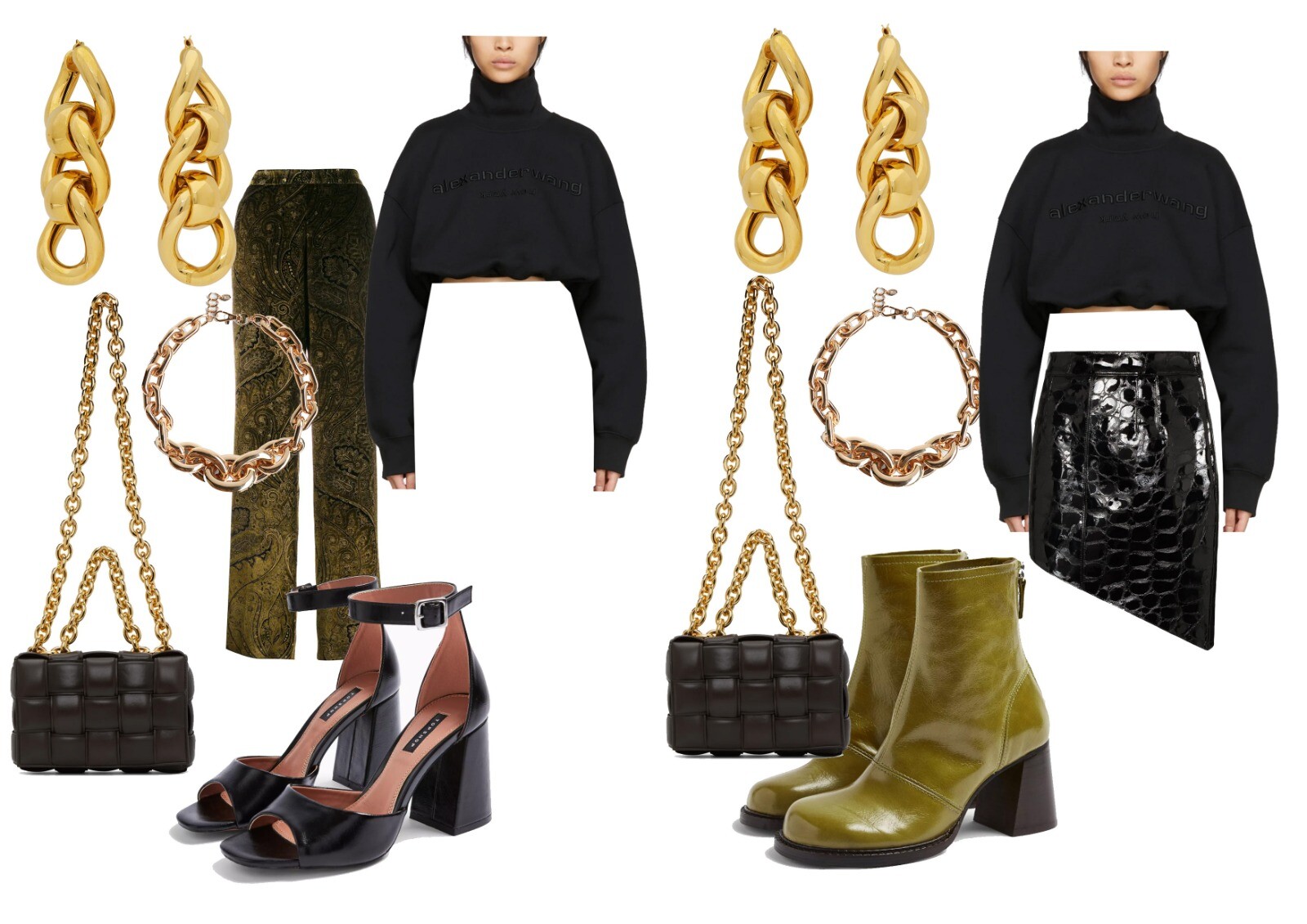 Alexander Wang, Etro, Topshop, Bottega Veneta, Zara
Wide-legged and high-waisted, these paisley trousers are the ultimate earth-toned seventies chic. Paired with a chunky cropped turtleneck, this look is a perfect cross between cosy and stylish. Emphasising a solo colour with accessories (as done with patent green boots in this look) pulls it all together, creating a perfectly co-ordinated autumnal aura. Exchange the warming textures and layers for chunky gold accessories and black block heels to switch this up into a cool-girl evening appearance – perfect for drinks with friends.
Turtleneck: Alexander Wang Black Cropped Logo Turtleneck (£680)
Trousers: Etro paisley print wide-leg trousers (£480)
Mini skirt: Alexander Wang asymmetric crocodile-effect mini skirt (£875)
Heeled sandals: Topshop SADIE Black Block Heels (£34)
Heeled boots: Topshop MILO Green Patent Leather Chunky Scoop Toe Boots (£89.99)
Bag: Bottega Veneta Brown 'The Chain Cassette' Bag (£2,800)
Earrings: Bottega Veneta Gold Triple Link Earrings (£475)
Necklace: Zara Chain Link Necklace (£15.99)
LOOK THREE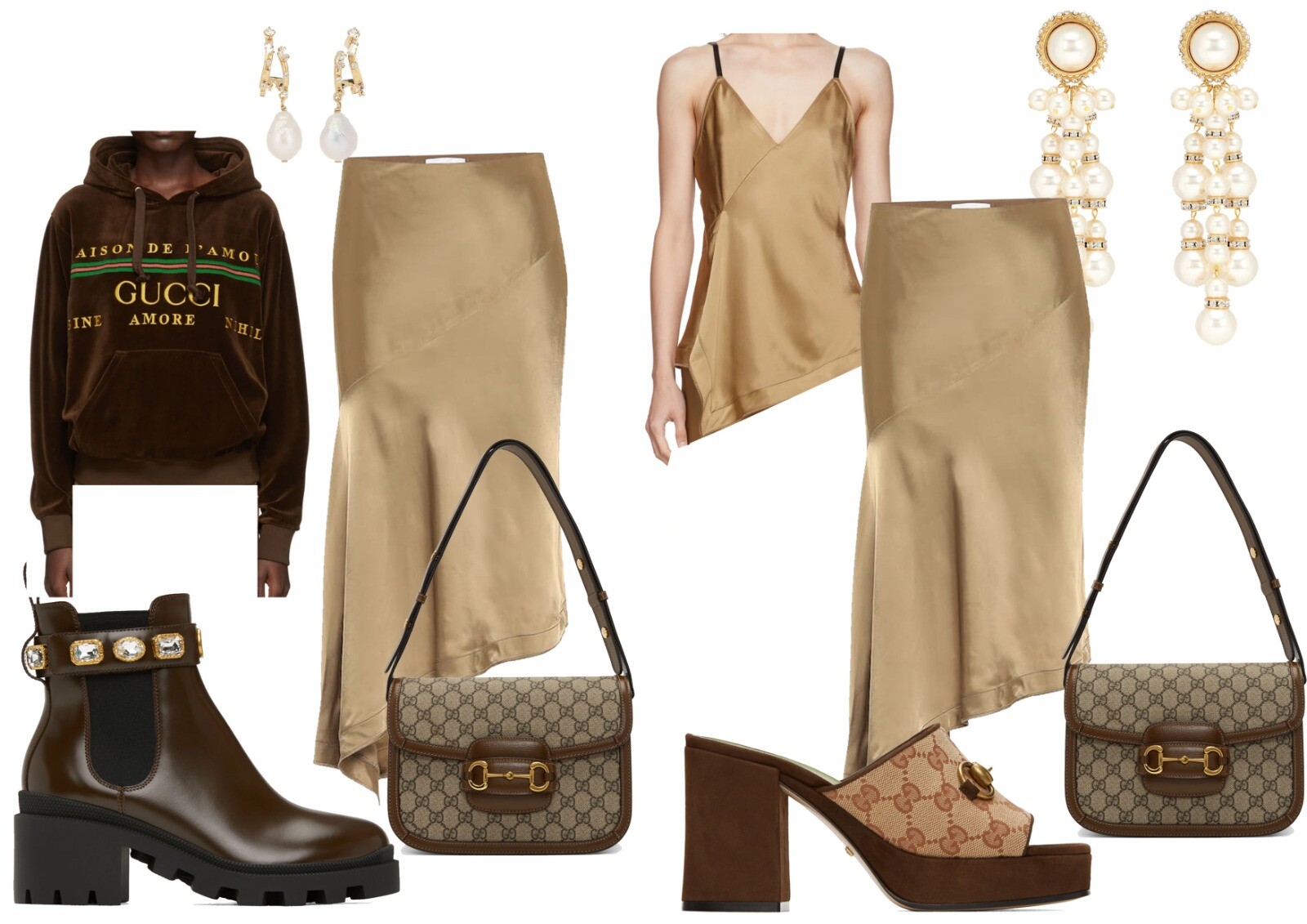 Helmut Lang, Gucci, Givenchy, Alessandra Rich
What screams autumn more than the colour brown? Part of the magic of autumn lies in its cosiness – the dusk nights, pumpkin spice, and spiced candles. Mirror this in your outfit by opting for rich textures and loose fits. Made of silk, this midi skirt presents a faultless combination of comfort, luxury, and cutting edge. Wear with casual and warming accessories for day and with equally luxurious accessories for night. Brown will always be an autumn winner.
Skirt: Helmut Lang Tan Satin Scarf Slip Skirt (£475)
Top: Helmut Lang Tan Satin Scarf Tank Top (£320)
Boots: Gucci Brown Belted Chelsea Boots (£795)
Shoes: Gucci Beige GG Supreme Houdan Heeled Mules (£560)
Hoodie: Gucci Brown Chenille Logo Hoodie (£980)
Bag: Gucci Beige & Brown GG Supreme 'Gucci 1955' Horsebit Bag (£1,670)
Earrings 1: Givenchy Spiral pearl earrings (£399)
Earrings 2: Alessandra Rich Embellished drop earrings (£236)
LOOK FOUR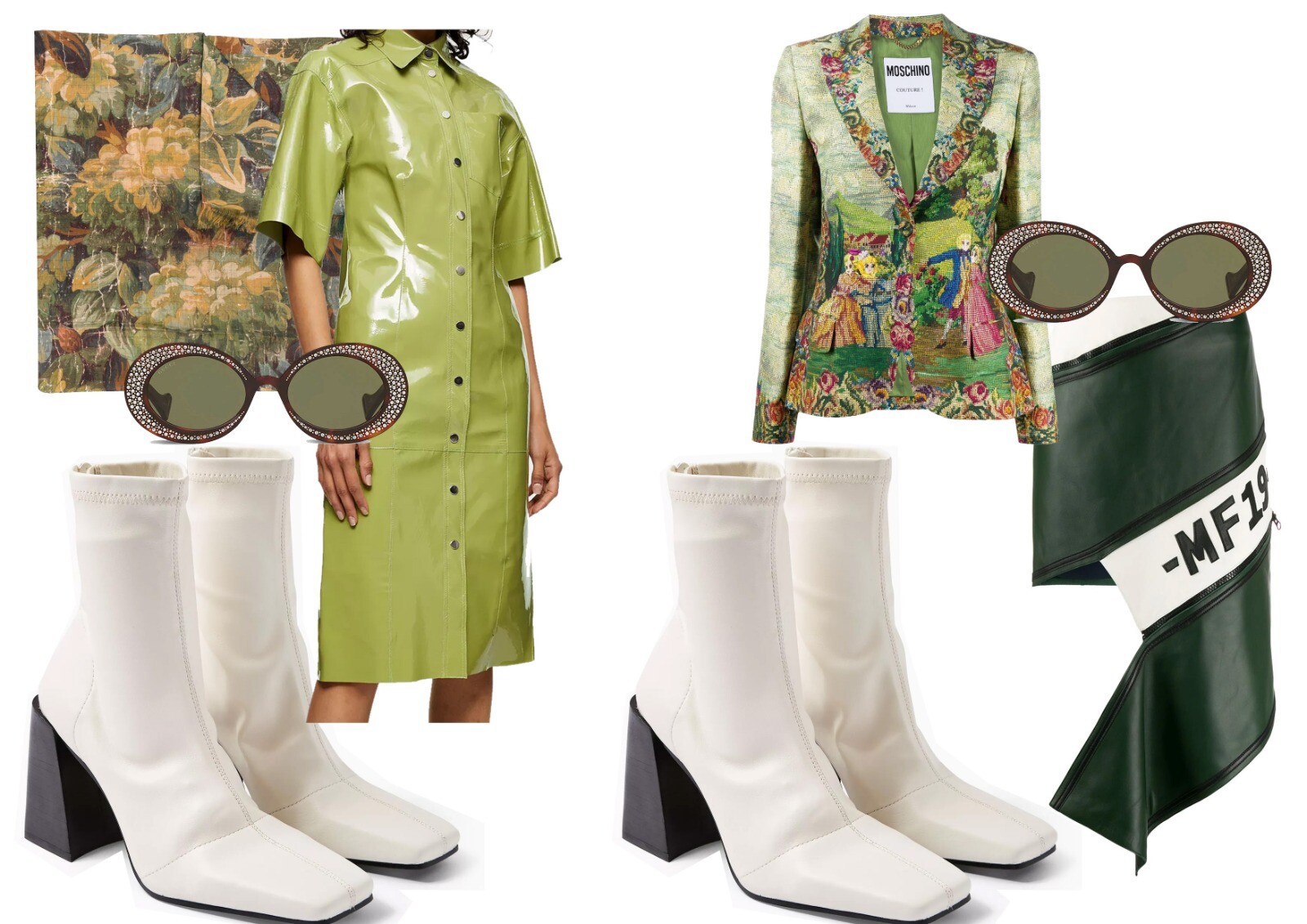 Topshop Boutique, Pierre-Louis Mascia, Moschino, Monse, Topshop, Gucci
Green is a gorgeously versatile colour and is the perfect canvas for fun autumnal accessories. Paring these green items with an oversized scarf, 60s-esque boots and fabulously extravagant sunglasses, the colour green is transformed into a statement catwalk look for both day and night. The world is your oyster with green tones – you can't go wrong!
Midi dress: Topshop Boutique Light Green Vinyl Leather Midi Dress (£136.50)
Scarf: Pierre-Louis Mascia floral-print silk scarf (£333)
Blazer: Moschino garden print blazer (£1,304)
Skirt: Monse asymmetric logo skirt (£2,535)
Boots: Topshop HAMMOND Buttermilk Sock Boots (£49)
Sunglasses: Gucci GG0618S 54 crystal-studded oval acetate sunglasses (£680)
LOOK FIVE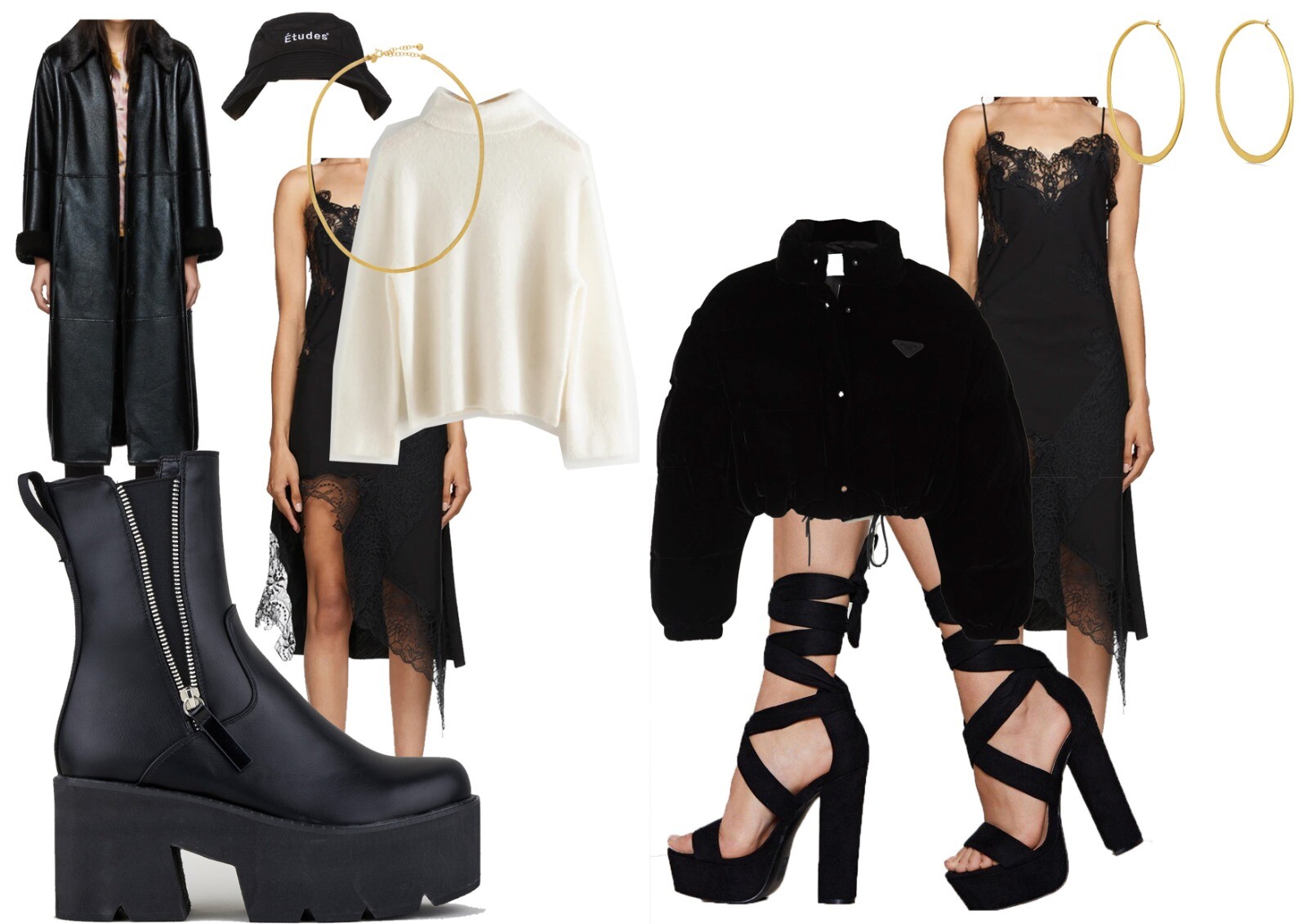 Lamoda, Marques Almeida, Nasty Gal, & Other Stories, Prada, Études, Maria Black, Lily Gardner
The little black dress is a staple for every season – so why not make it autumnal? This silk and lace midi dress oozes with luxe. It is always perfect for day and night but the key to this transition lies in layering –a cream turtleneck, long coat and bucket hat both the depth and warmth needed for a stylish day time look. Yet strip this all back to basics for the evening chic we all desire. With such a beautiful piece as this, minimalist accessorising always wins.
Boots: Lamoda Control Black Chunky Zipper Boots (£48)
Dress: Marques Almeida Black Lace Slip Dress (£400)
Heels: Nasty Gal On the Up Platform Heel (£19.60)
Turtleneck: & Other Stories Alpaca Blent Turtleneck Sweater (£75)
Faux-Leather Coat: Stand Studio Black Faux-Leather Nino Coat (£495)
Puffer-Coat: Prada Convertible cropped appliquéd quilted velvet down jacket (£1,530)
Hat: Études Black Training Bucket Hat (£60)
Necklace: Maria Black Gold Mio Chan Necklace (£170)
Earrings: Lily Gardner Large Matt Gold Hoop Earrings (£69)
Words by Hannah Emery
Graphics by Latisha Fleckenstein