We grew up being told to wear 'Pink to make the boys wink'; the colour that is associated with being 'pretty', 'feminine', 'dainty' and 'delicate'. As a now 23-year-old woman who has spent her life trying not to be seen as 'delicate' and 'dainty', looking back, I don't know which boys I was trying to make wink when I was a six-year-old. But even I, the mildly tomboy-ish, weirdly dinosaur obsessed child, wined relentlessly at my poor dad until he spent his one day off a week traipsing to B & Q to accompany my head-strong little five-year-old self in finding the perfectly garish shade of pink (bubble-gum punch pink to be exact) for him to smother my bedroom's fresh, white walls in.
Having supervised the majority of my dad's wall-painting, I strutted into the room for the final reveal. I remember gazing around at the gaudy walls that were the perfect, lurid contrast with my green and brown coloured dinosaur figurines and thinking…this is it; I am now a woman.
Comparing my feelings towards the colour pink back when I was younger and more concerned with the politics between my Bratz and my Barbies and less concerned with the politics behind the colour in question, to the general consensus towards it now, I feel like the colour gets a lot of unnecessary stick. This sounds overdramatic, and I don't care- forget starting my period or getting my first job; owning my very own pink-walled-room was, to me at the time the epitome of womanhood. I remember lounging on my bed like the lady of leisure I was, looking across the landing smugly into the desolate, cold, white-washed wasteland with the odd blue-themed accessory (otherwise known as my brother's room), and pitying the fact that he would never be a girl. If anything, it was probably my first moment of feeling empowered as a girl.
Fast forward seventeen years and the colour pink has now become so messily intertwined with the politics of being female it is almost the 'taboo' of the colour wheel. Thinking about the politics behind the colour pink, that iconic scene in Legally Blonde springs to mind. Upon being capable of passing the same exams as everyone else in the university, and therefore being on the same intellectual level, our girl Miss Woods totters into class clad head to toe in pink and isn't taken as seriously as her dull, grey suit-wearing peers. Did anyone ever stop to think that about the fact that MAYBE it was less down to the fact that she was wearing pink, and MORE down to the fact that she's a female?! Ground-breaking, I know.
The fact of the matter is, females haven't been taken seriously since men decided we are only good for popping out babies and making sarnies. Therefore, any colour associated with us isn't going to be taken seriously, unfortunately for pink, she was the chosen one. I completely get that the colour could be seen to reinforce stereotypes, and as much as I understand why women don't want to be defined by a colour that is seen to be 'pretty', 'dainty' and 'delicate', I think we've just about proved we possess enough brain cells to manage to vote, hold down a job and pop out the odd baby and make the odd sarnie.
There is undeniably still a way to go before the remaining people on this earth whose brains have failed to evolve past the 1600s manage to comprehend the (very) simple fact that men and women are equal. But in the meanwhile, whilst we wait for those people to either get a grip or die out, we shouldn't be disowning the colour pink because it is associated with being feminine! Personally, I want to wear anything, and everything associated with being a woman, because I am proud to be a woman. That feeling that the colour pink gave me when I was six has always kind of stuck with me. Even now, 500 pink dresses, tops, trousers later, when I am shopping I am still drawn like a hawk to anything with the slightest hint of pink. To me, the colour pink is feminine; and therefore is powerful, strong, and deserves to be worn with pride (plus, let's be real girls; she's cute). So, join the revolution; it's time to reclaim how the colour that is so ultimately feminine is viewed. Remember; there's power in the pink!
Pinkspiration
Here's how to think pink like Mrs Bieber, Kendal and RiRi- they've got the right idea!
Look 1: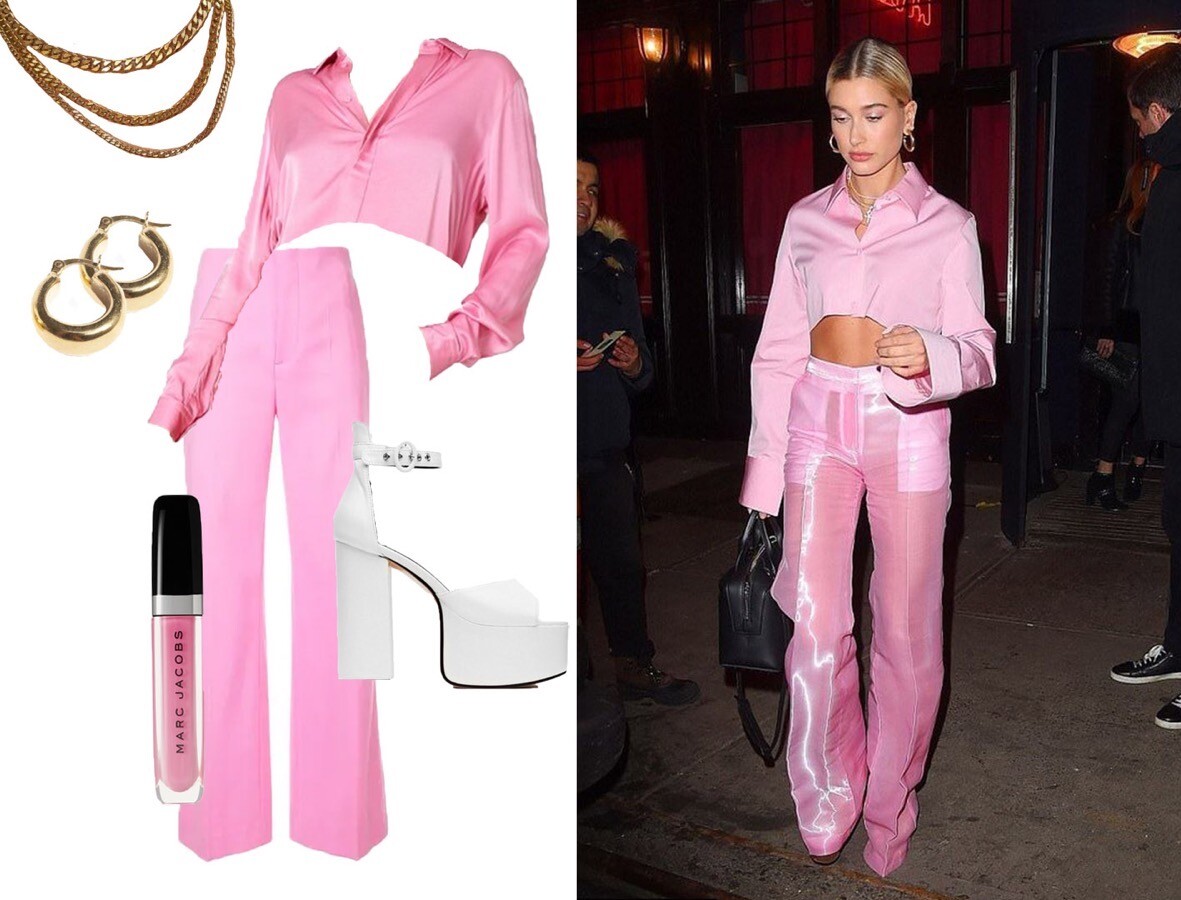 Top: NA-KD Satin shirt (£15.95)
Trousers: Joseph Tailored Flare Trousers In Pink (£823)
Shoes: Nasty Gal Rise to the Top Faux Leather Platform Heels (£55)
Earrings: SEOL+ GOLD Chunky Creole Curved Hoops (£26.95)
Necklace: PRYA Classic Cuban Chain Gold (£17)
Lipstick: Marc Jacobs Enamored Hi-Shine Lip Lacquer – Pink Flamingo 326 (£30)
Look 2: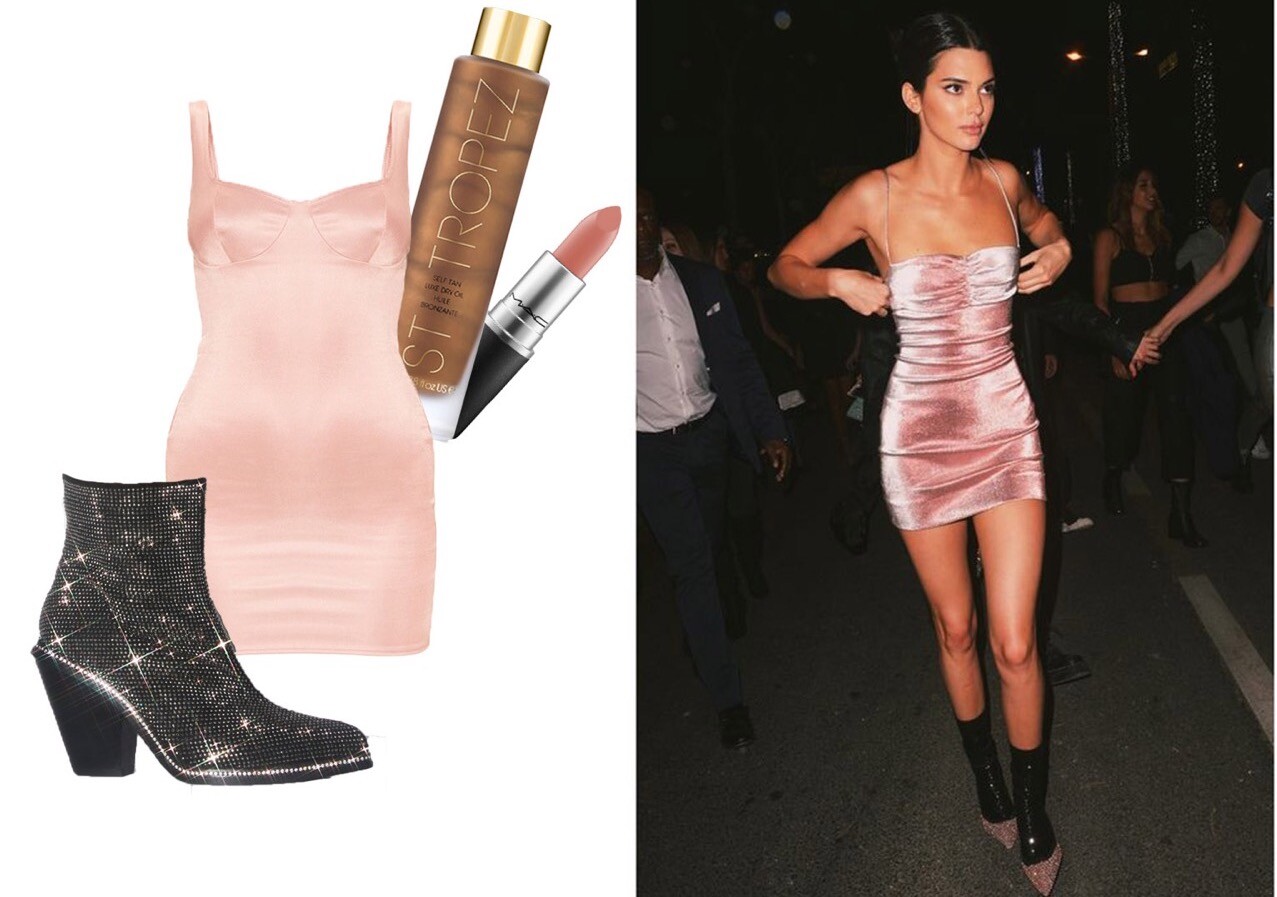 Dress: Pretty Little Thing Blush shimmer cup detail dress (£15)
Boots: Azalea Wang rhinestone booties (£68.48)
Lipstick: MAC Lipstick in Velvet teddy (£17.50)
Body Shimmer: St. Tropez Self Tan Luxe Oil (£25)
Look 3: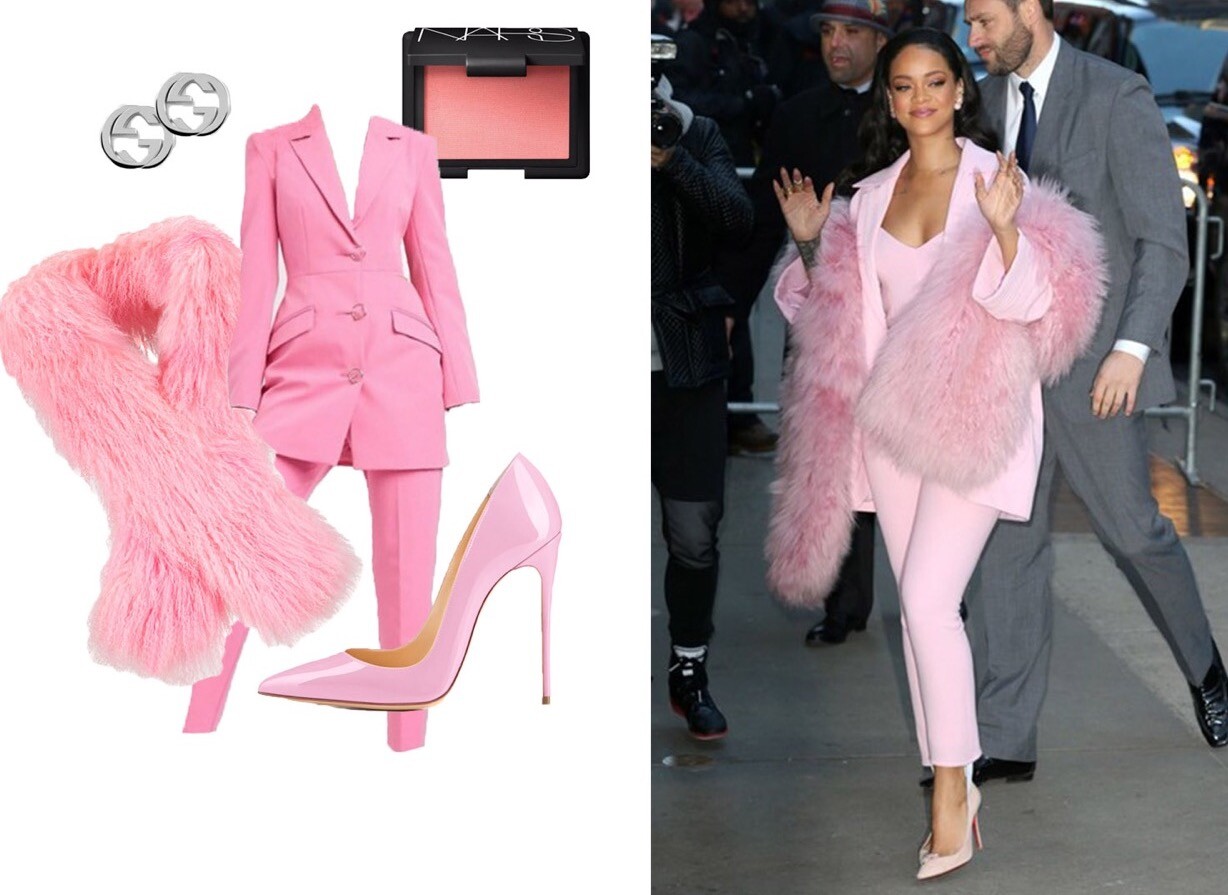 Suit Jacket: ASOS DESIGN cut out side suit blazer with fancy buttons (£58)
Suit Trousers: ASOS DESIGN slim fancy suit trousers (£32)
Fur Shawl: Toutountzis Furs Pink Mongolian Fur Scarf
Shoes: Onlymaker Womens Patent leather shoes ($37.49)
Earrings: GUCCI silver interlocking G earrings (£165)
Blush: Nars Blush in 'Bumpy Ride' (£25)
Words and Edits by Ella Winfield
Graphics by Katie Janes
, , , , , , , , , , , , , , , , , , , ,