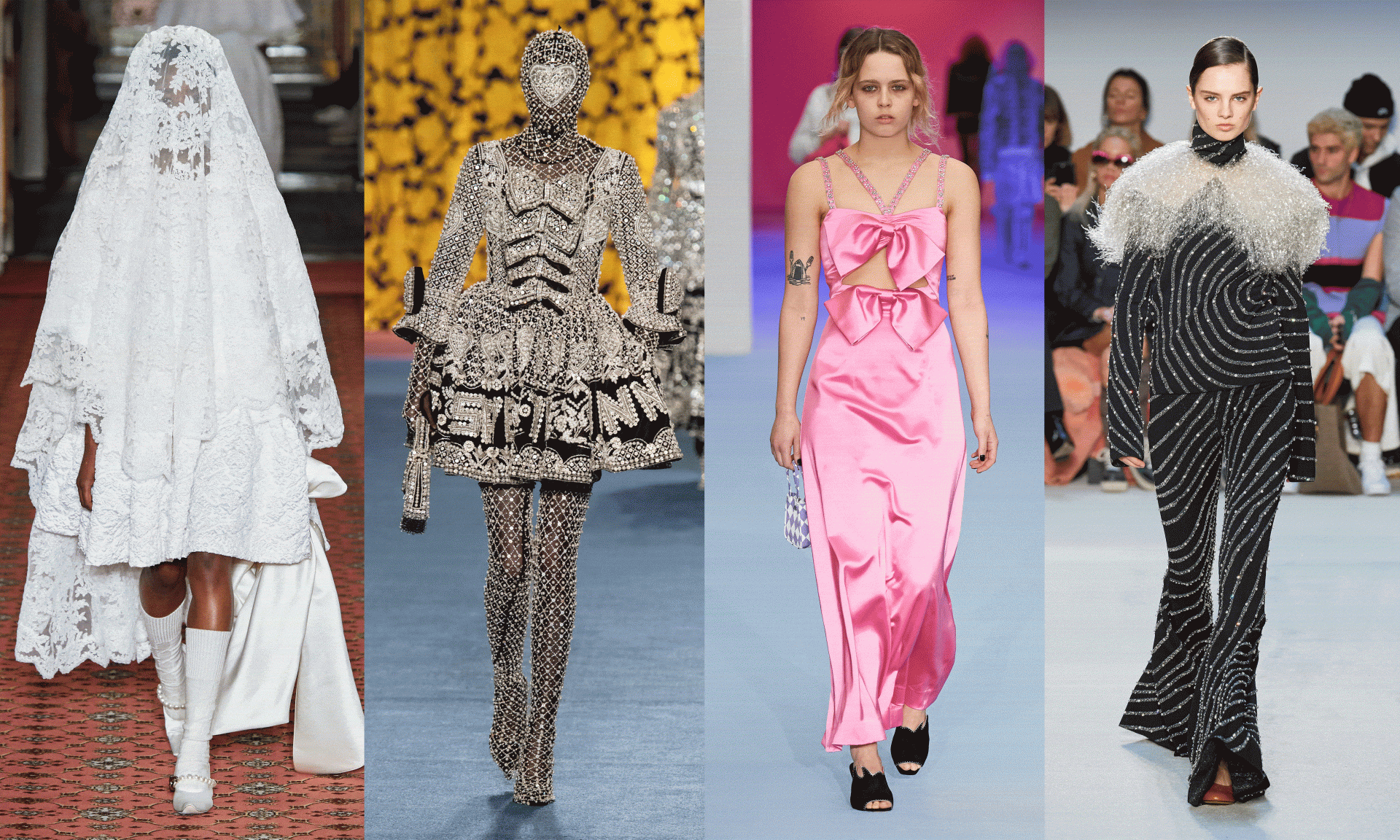 Burberry, Dilara Findikoglu, David Koma, Matty Bovan, Richard Quinn, Halpern, Ashley Williams, Simone Rocha and JW Anderson AW20 Collections
As London Fashion Week draws to an end, we reflect and give you a round-up of our favourite looks and collections.
Ashley Williams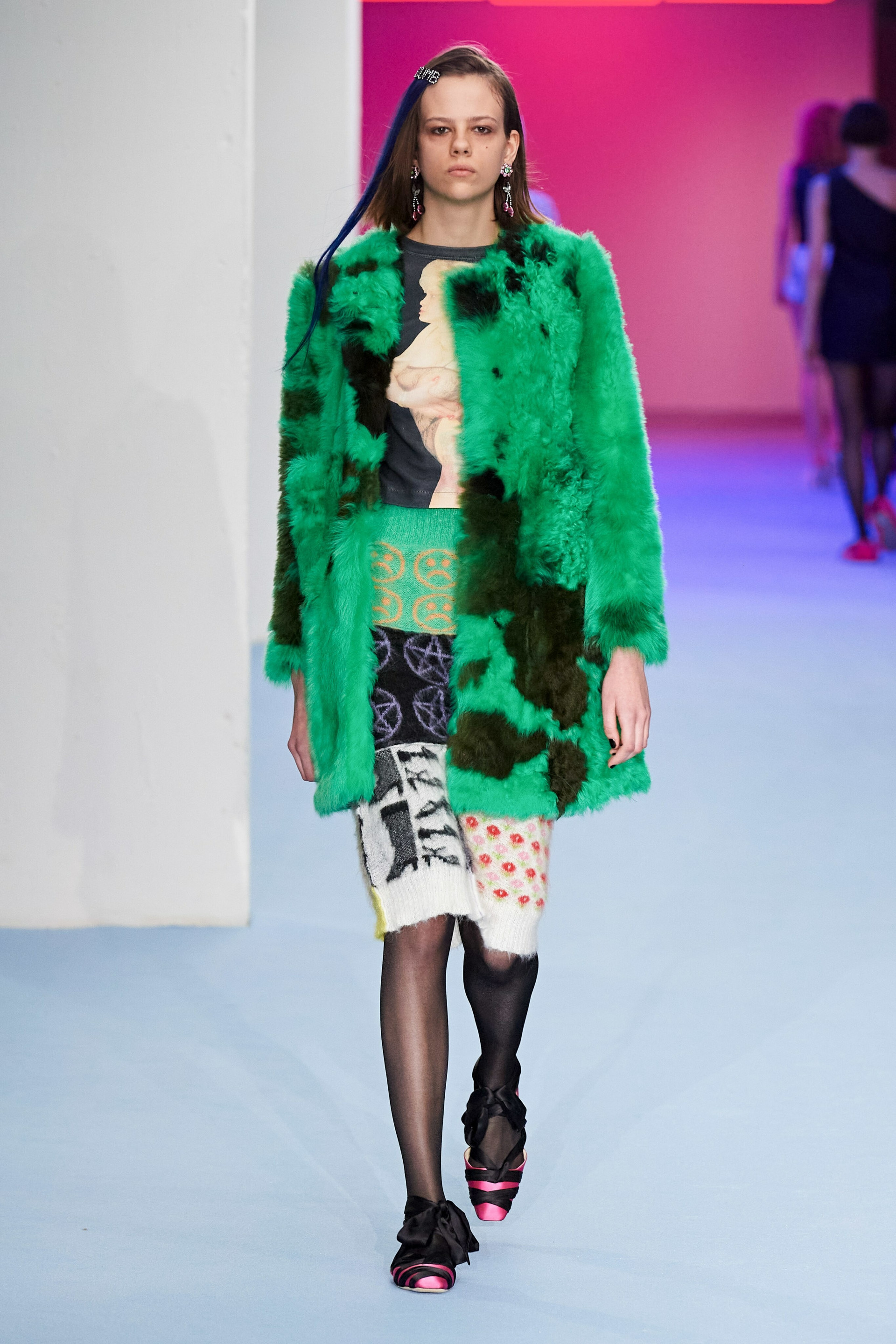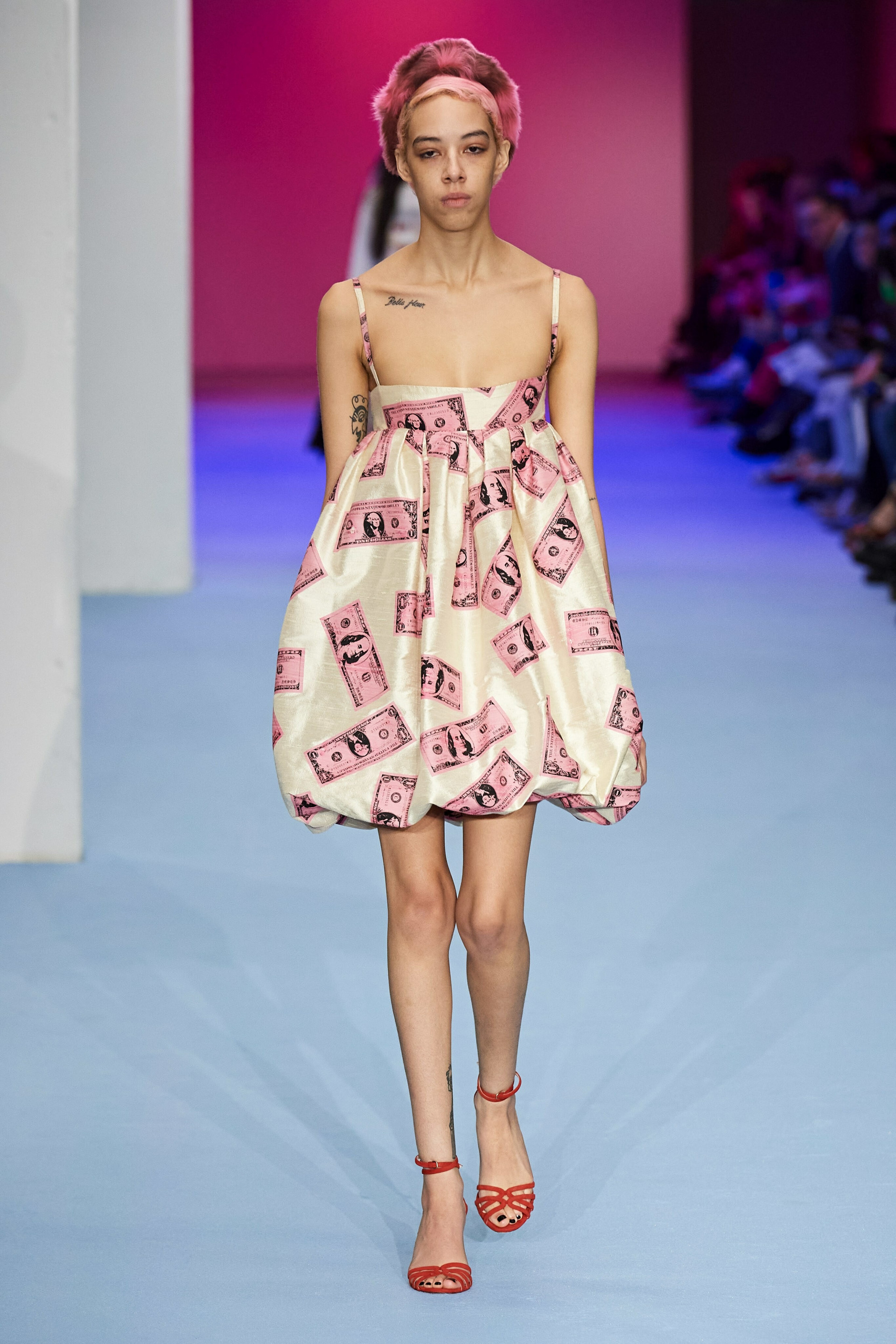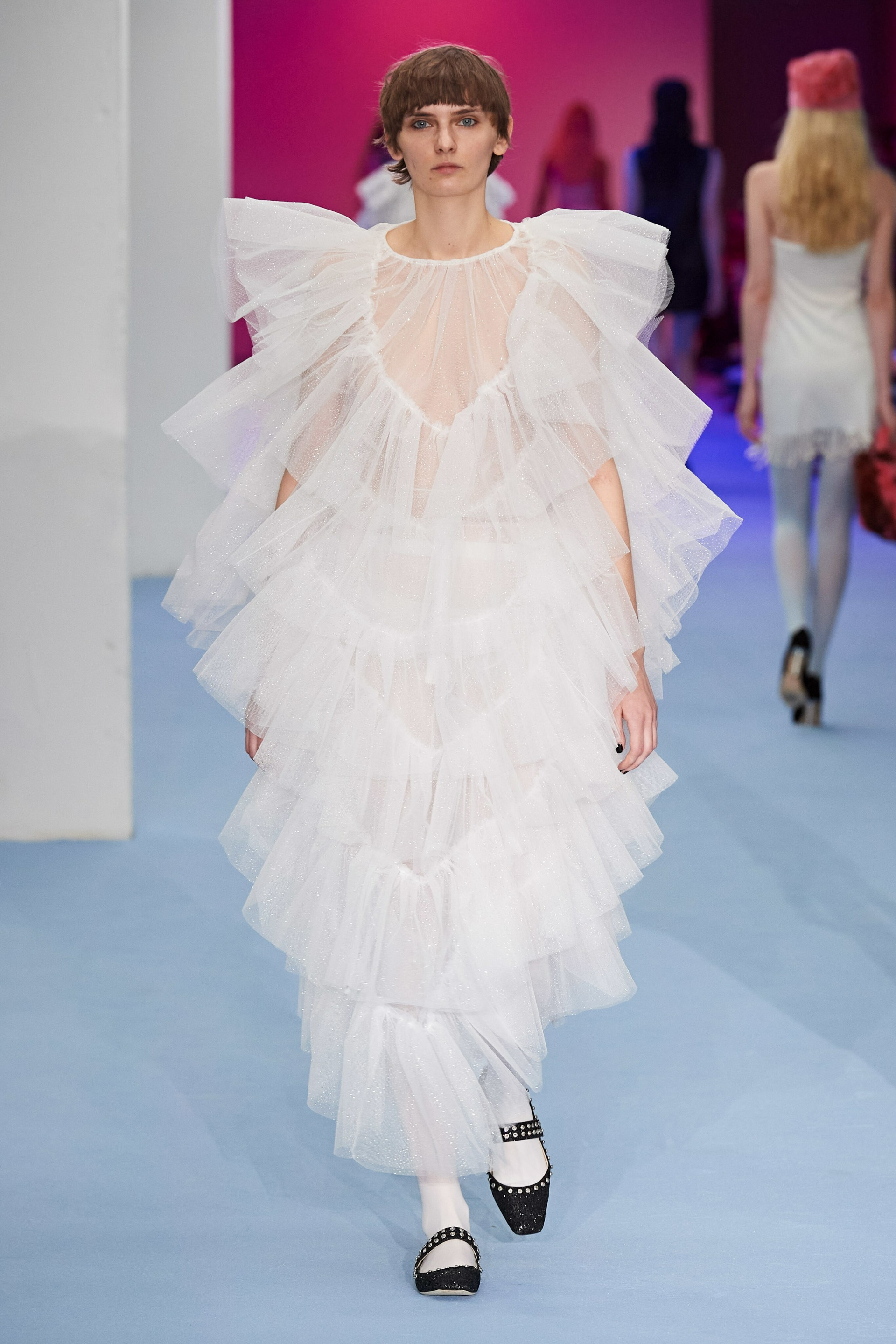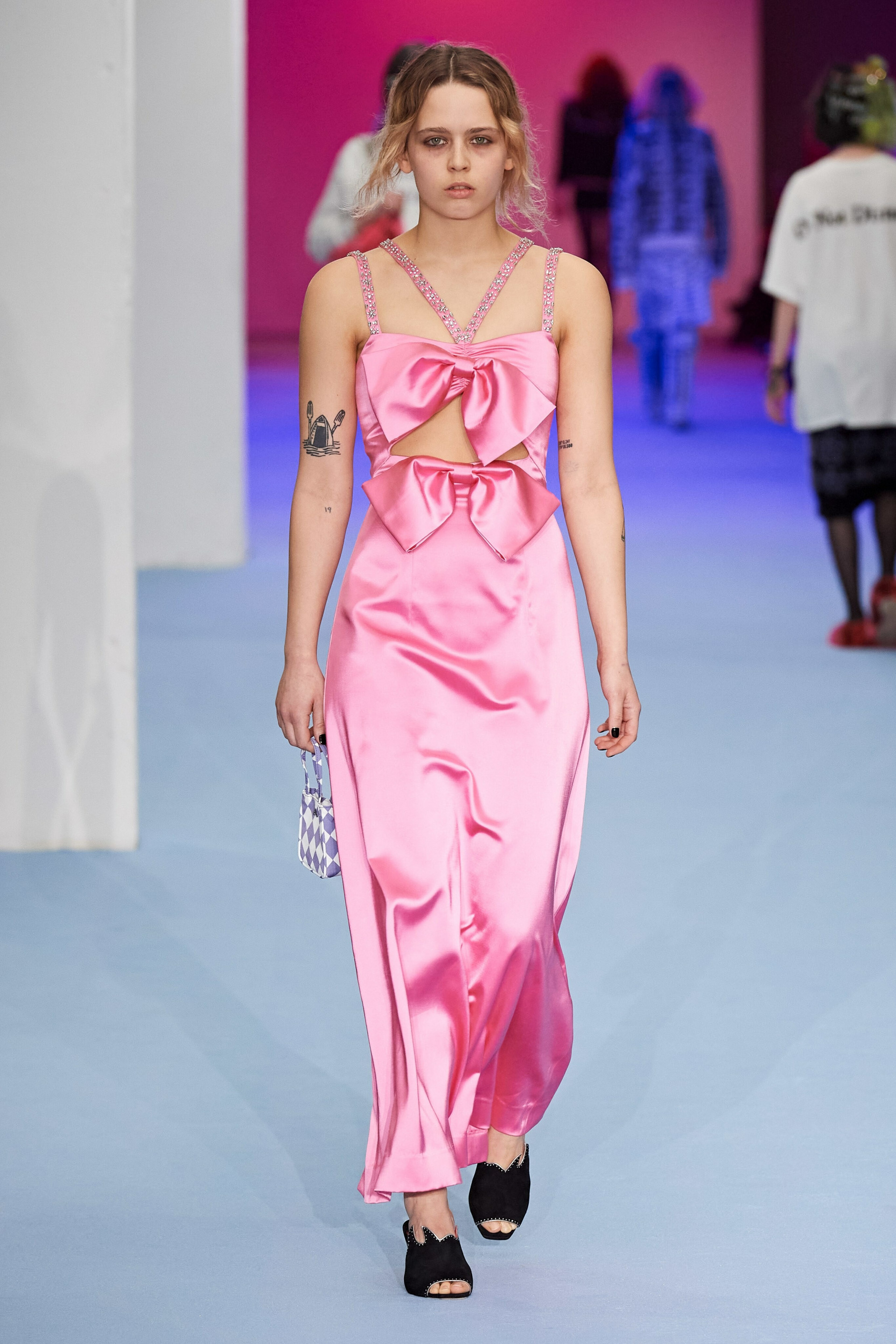 Ashley Williams AW20 Collection
Ranging from a layered green fur coat, to a satin pink gown covered in bows, Williams leaves nothing to the imagination as this collection employs a perfect combination of youthful spirit and a tongue in cheek approach to fashion.
Burberry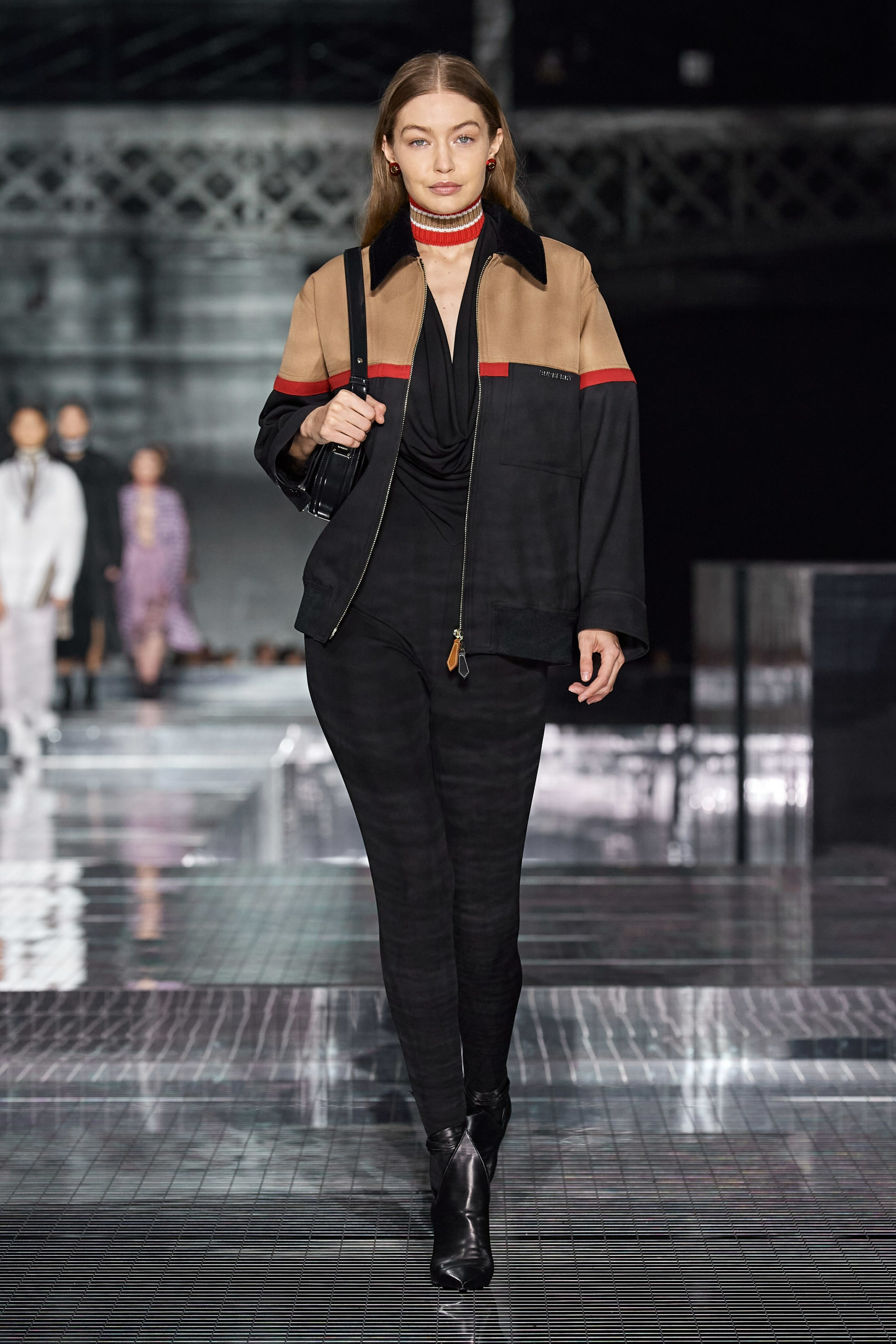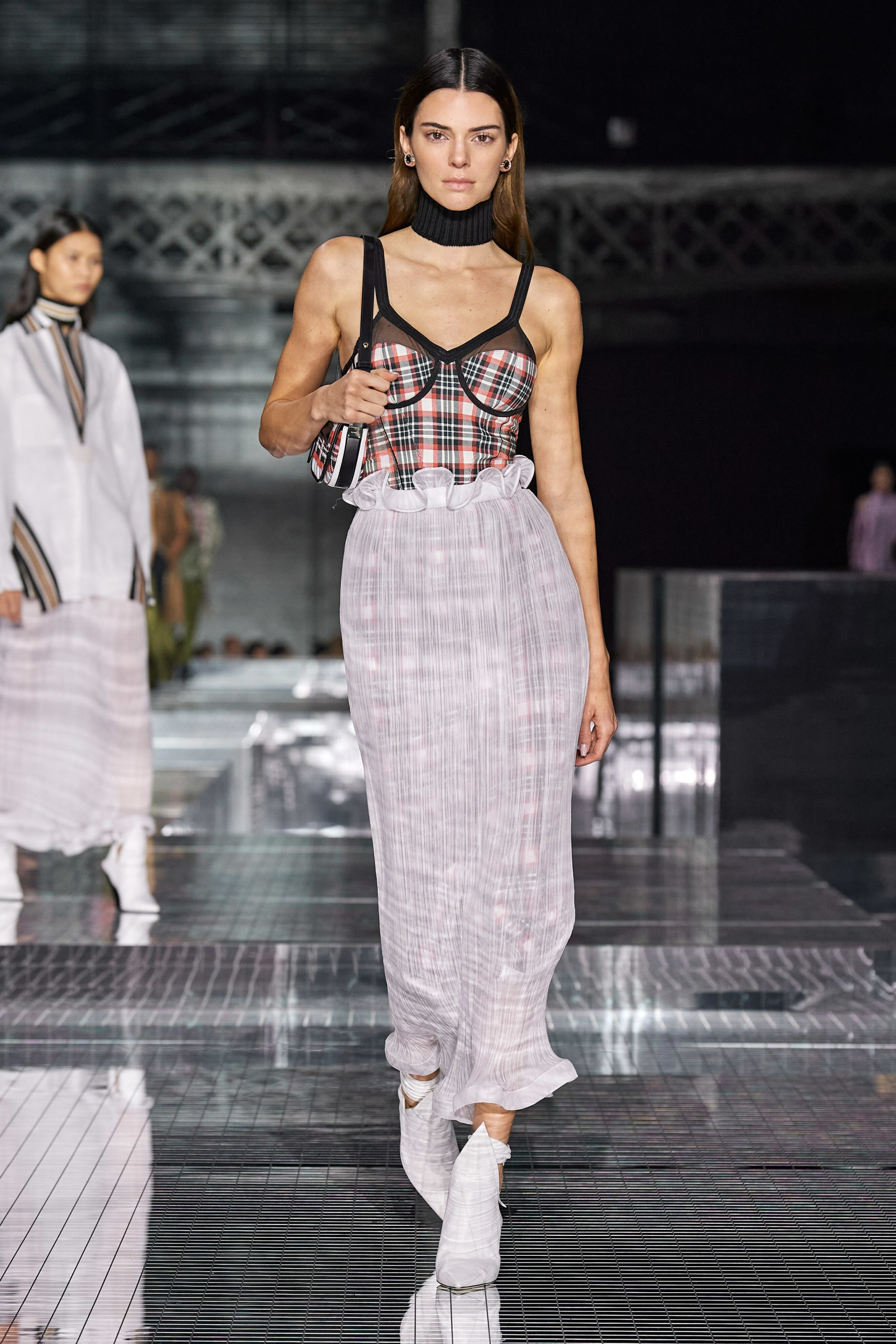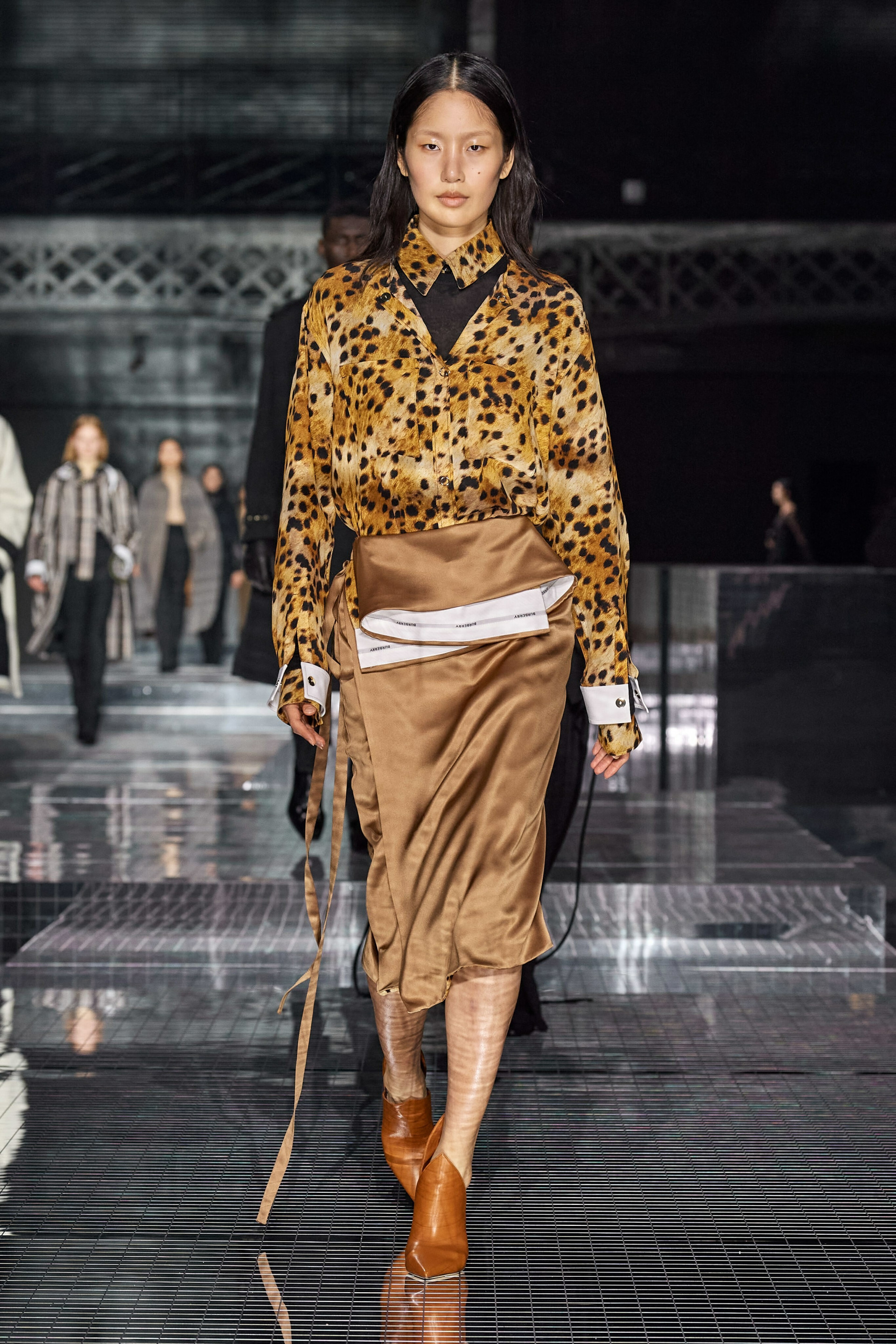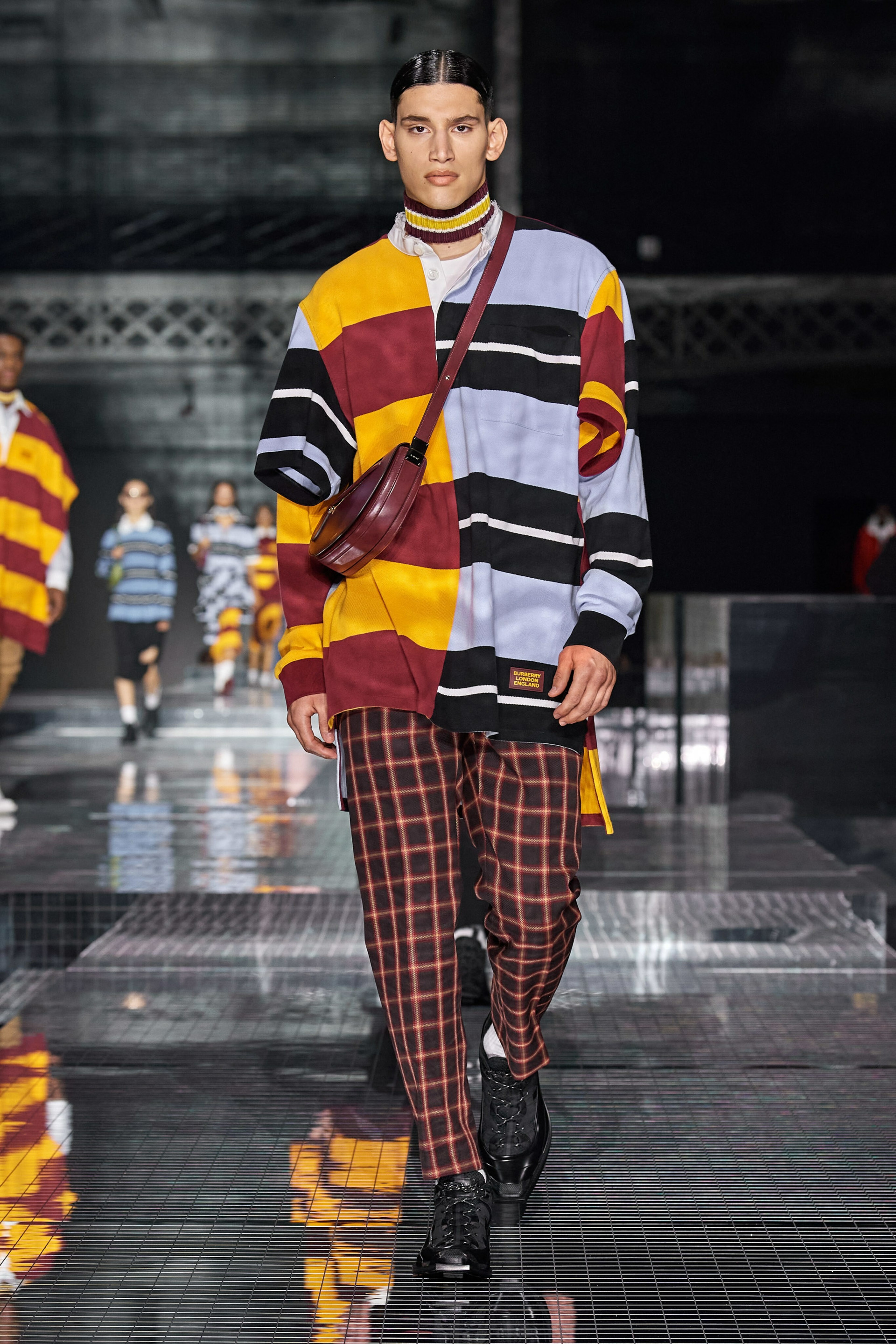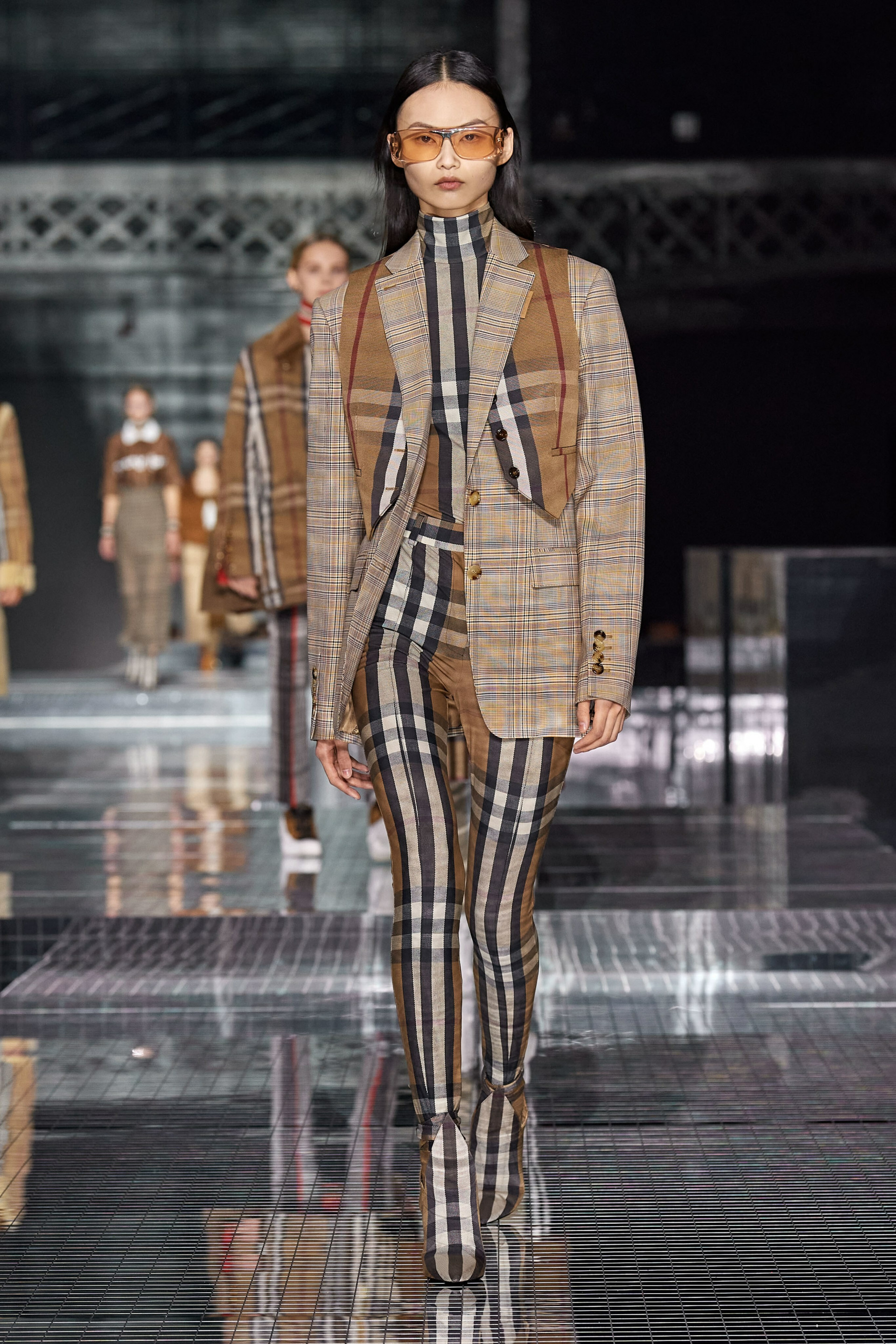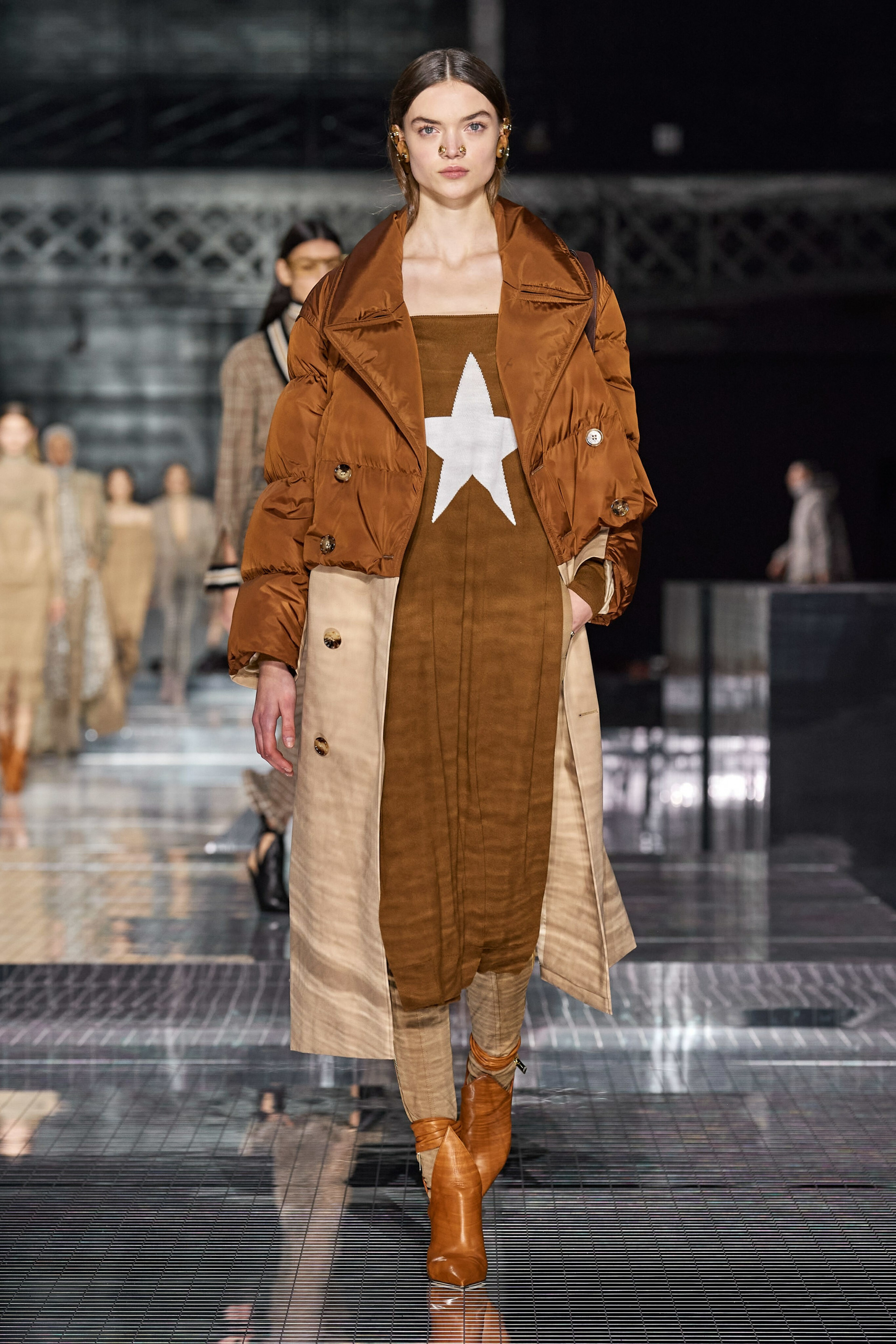 Burberry AW20 Collection
From leopard print and bright power suits to puffer jackets and checked corsets, Burberry's AW20 collection has everything we need for the season, including a selection of fur trimmed coats and deconstructed rugby shirts that bring more of a new edge as Burberry also brings back its traditional print that everyone knows and loves.
David Koma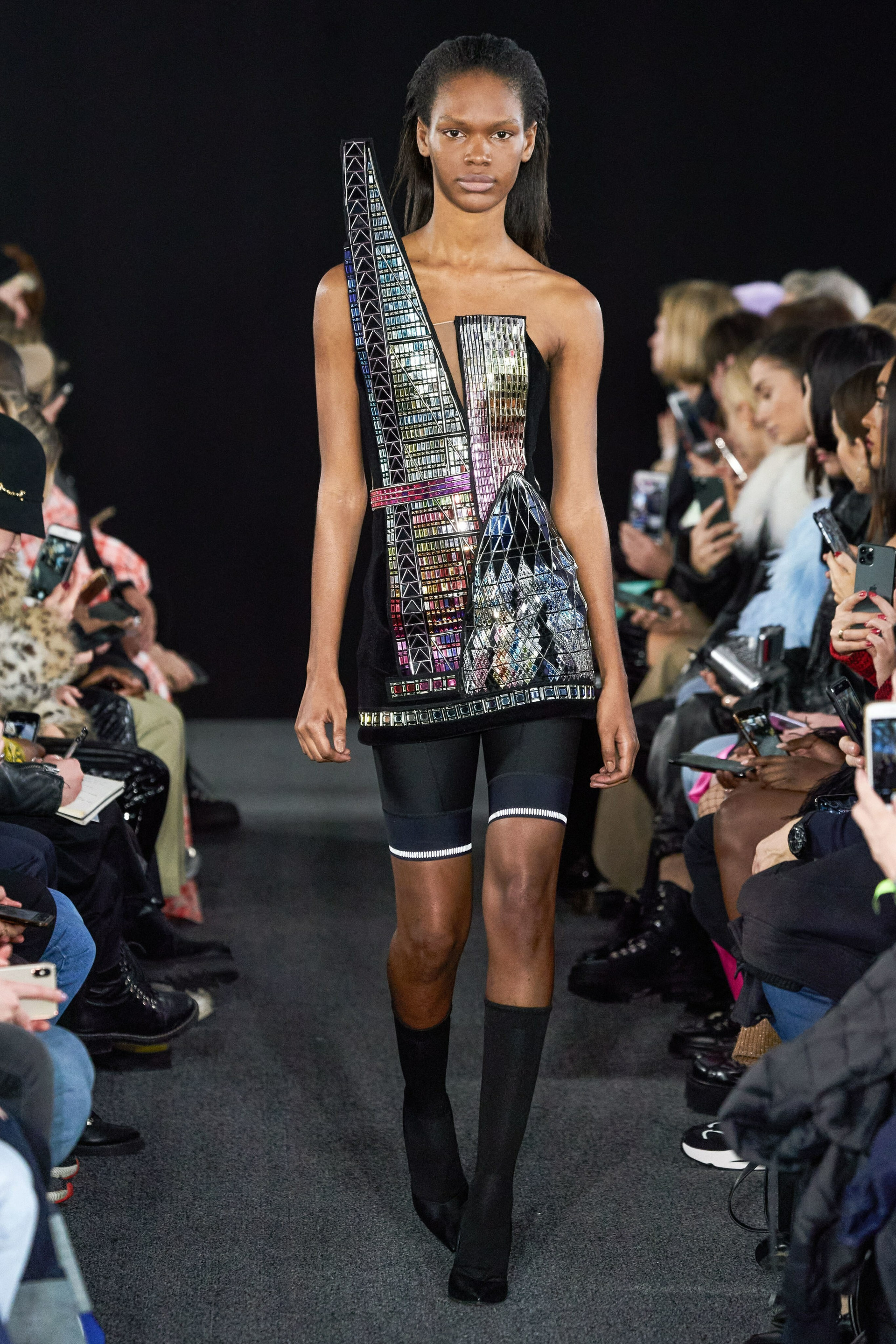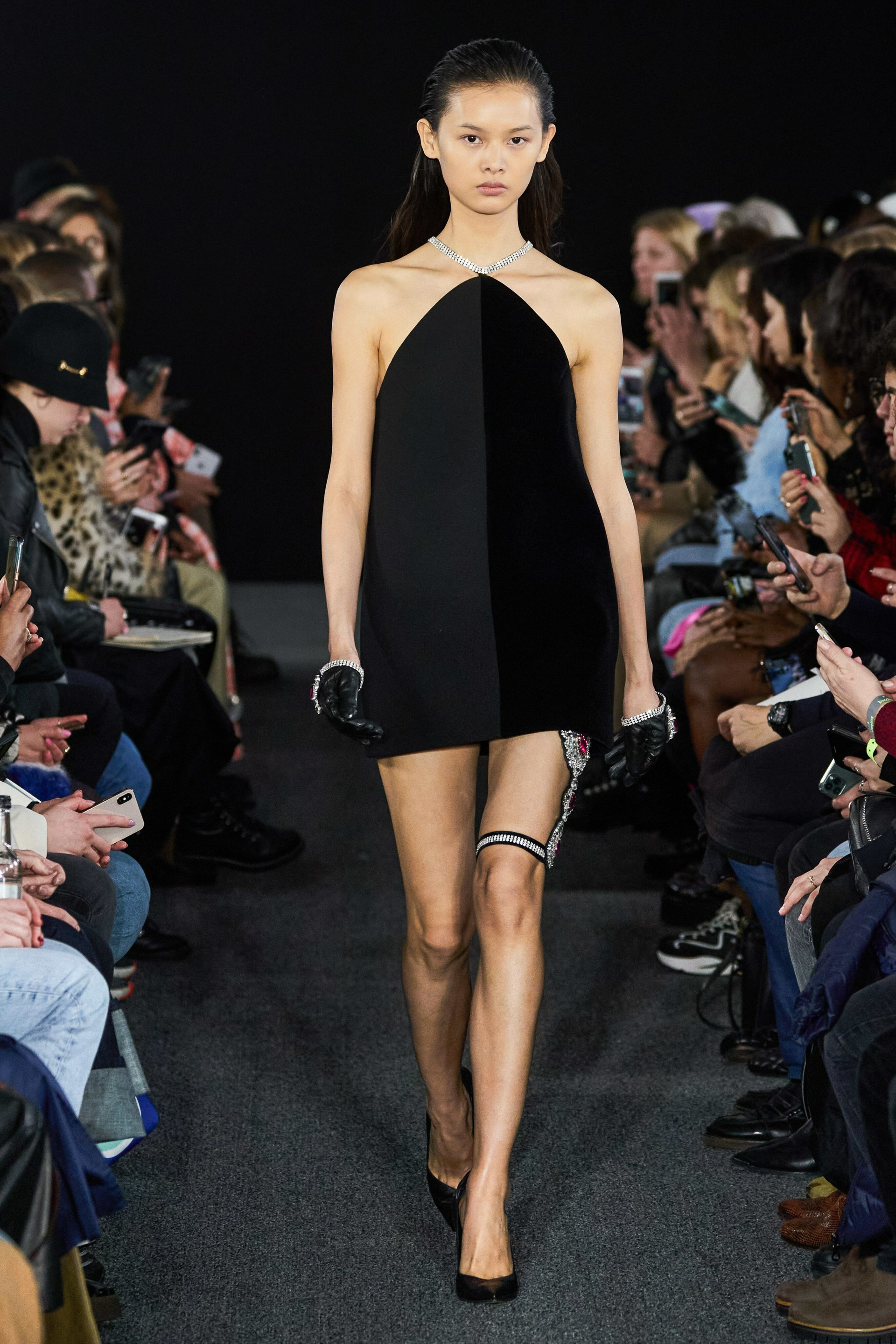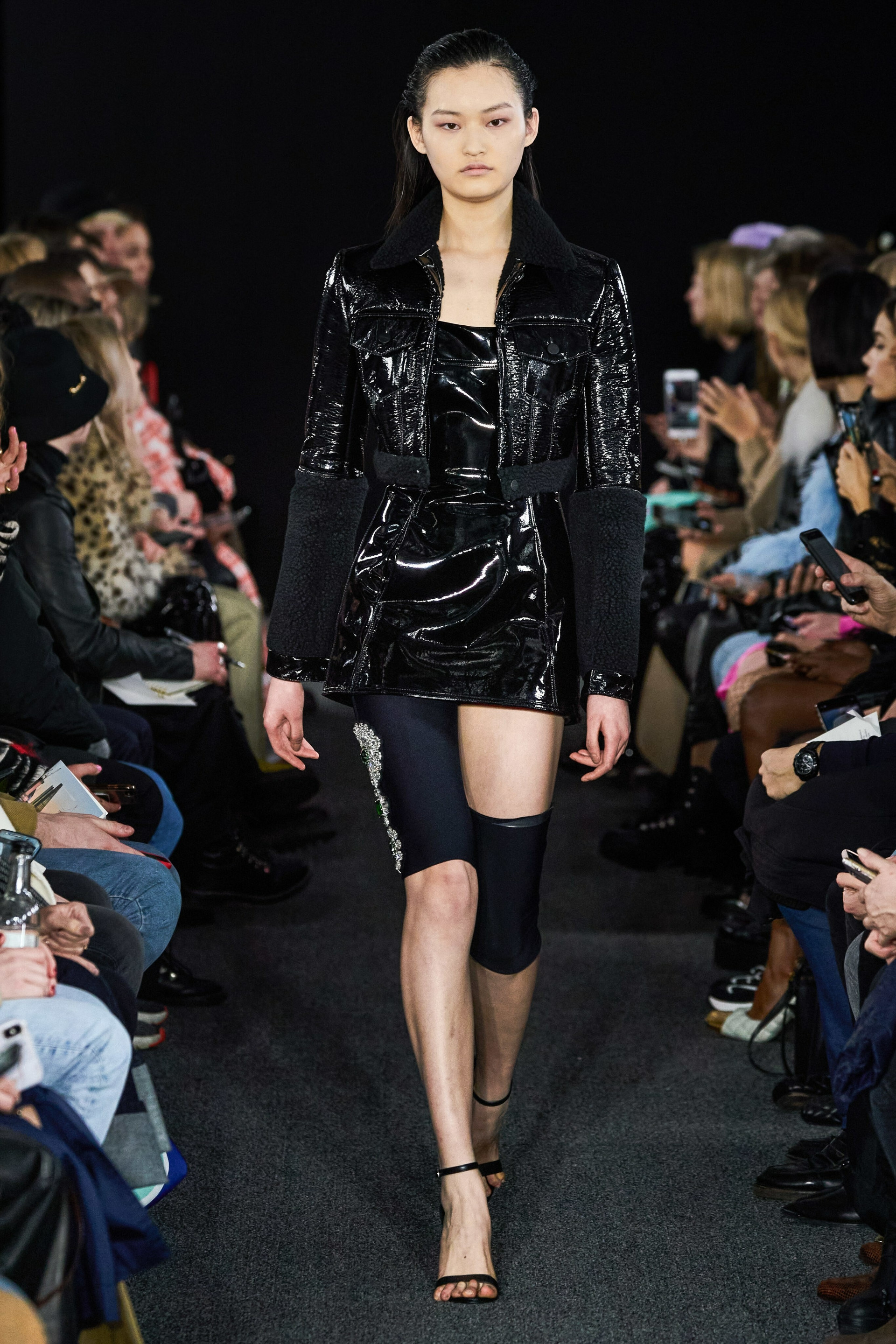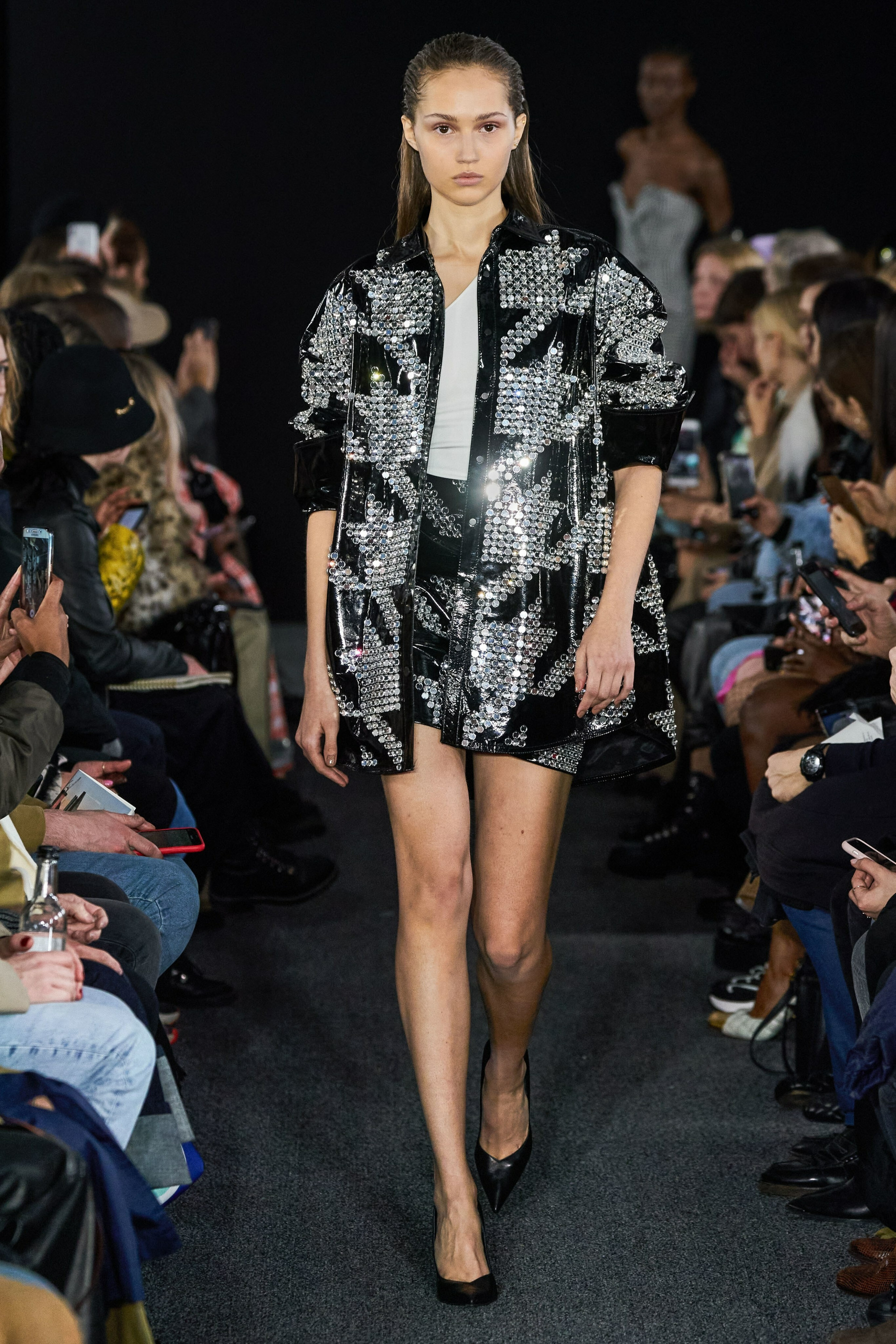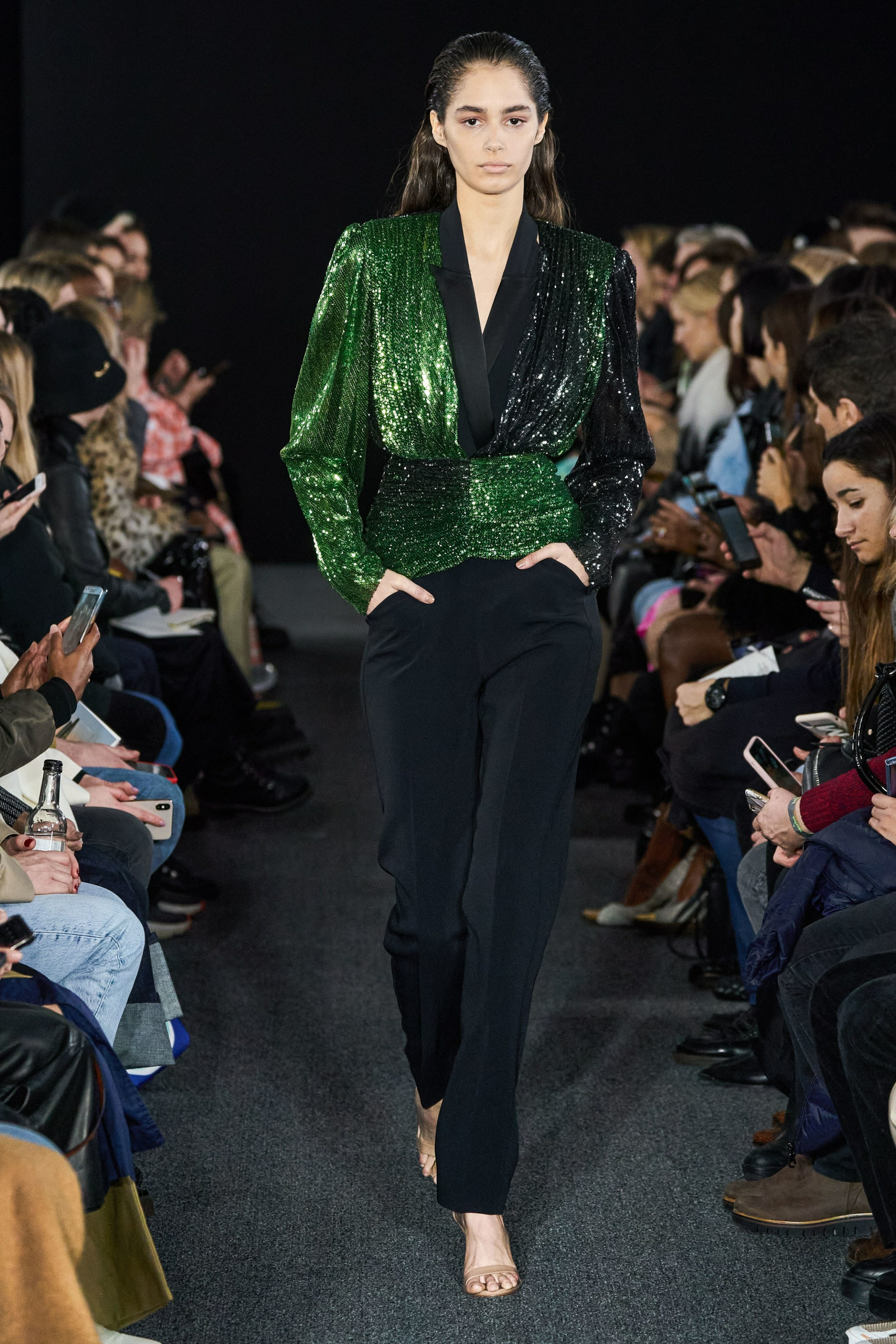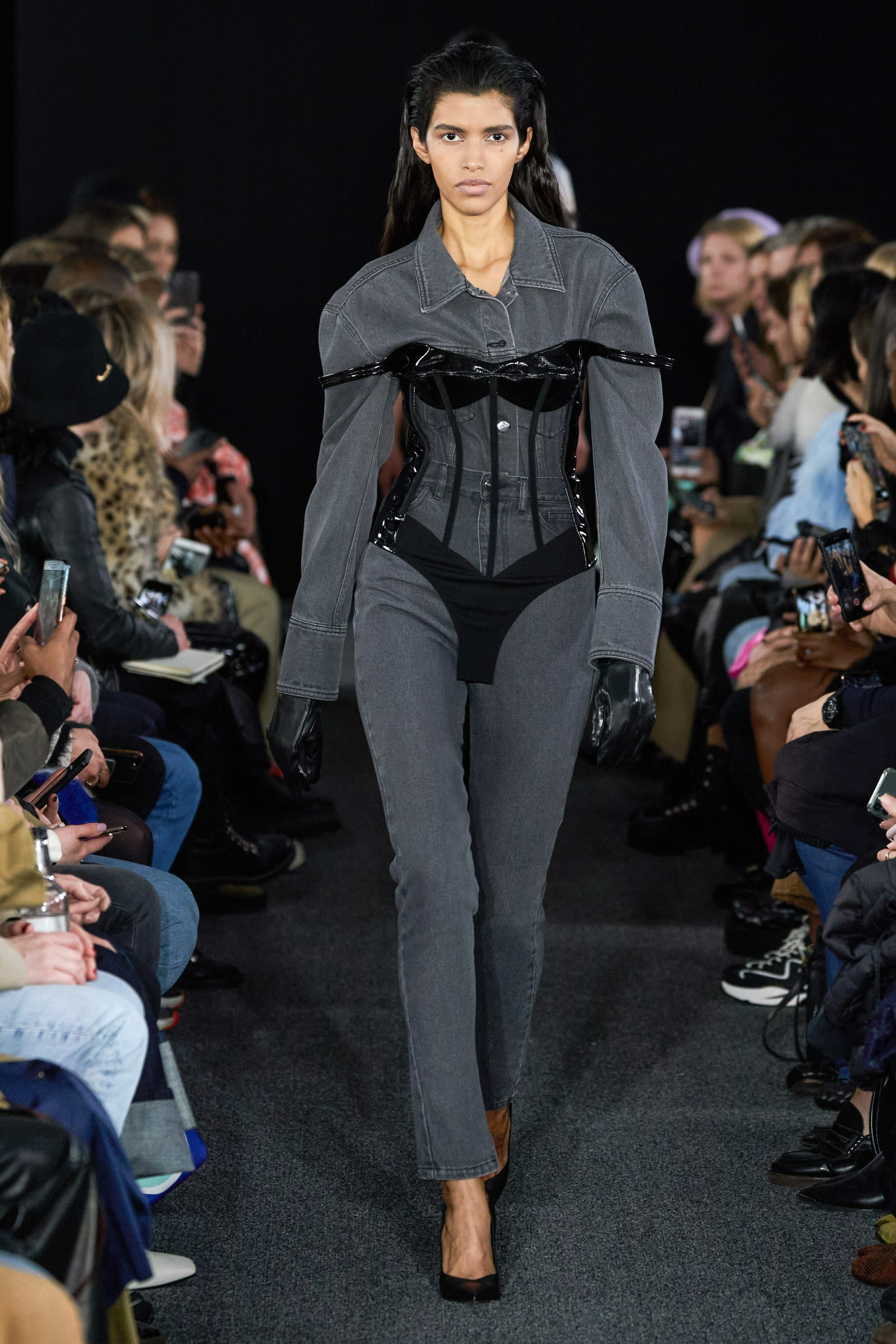 David Koma AW20 Collection
Bringing a bit of bling to the runways, David Koma captures the seemingly glamorous side of London life. Filling the room with sparkles, layered leather and velvet-boned corsets, Koma dazzles the audience with a powerfully embellished minidress that beautifully illustrates all things London, including the iconic 'Gherkin' building.
Dilara Findikoglu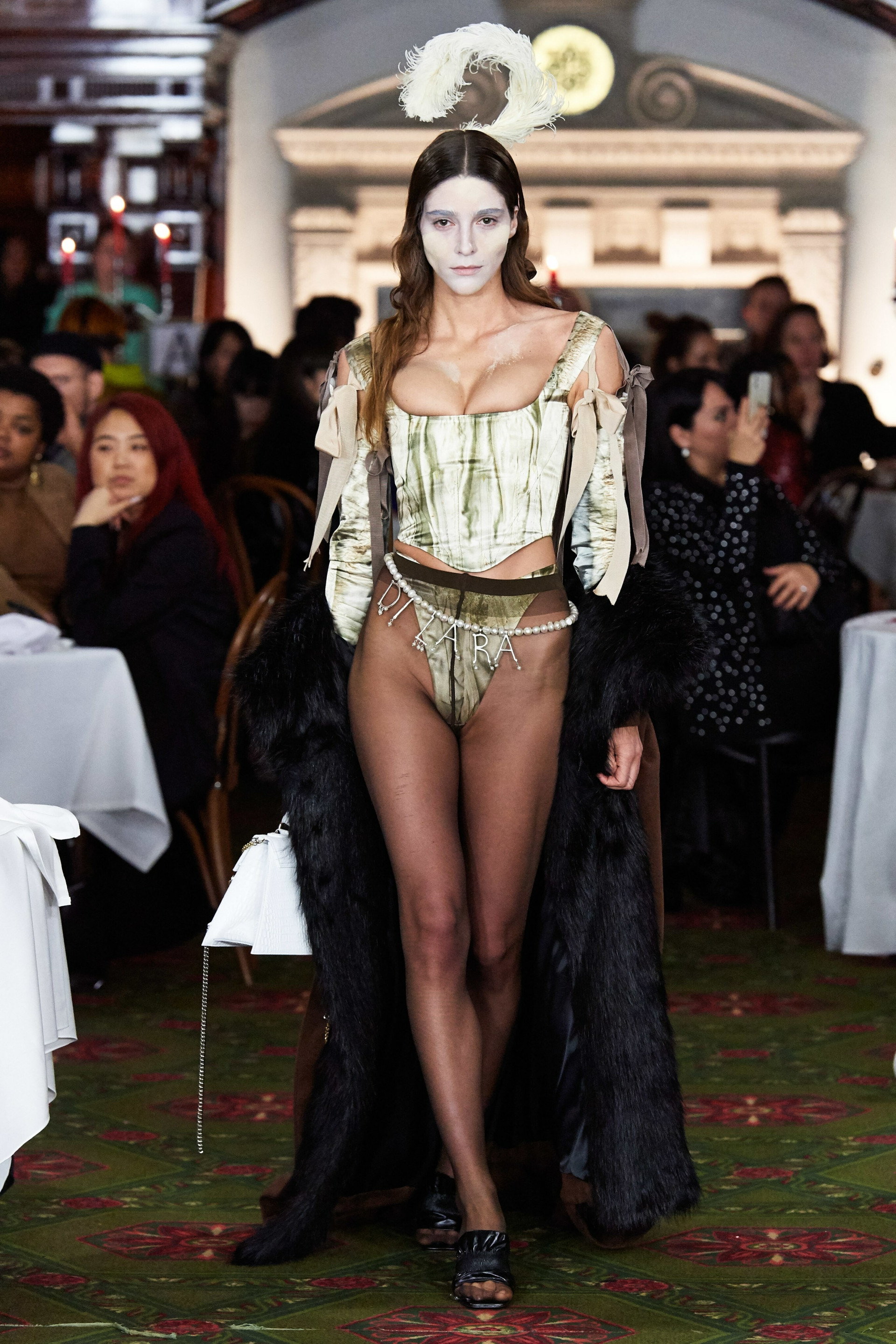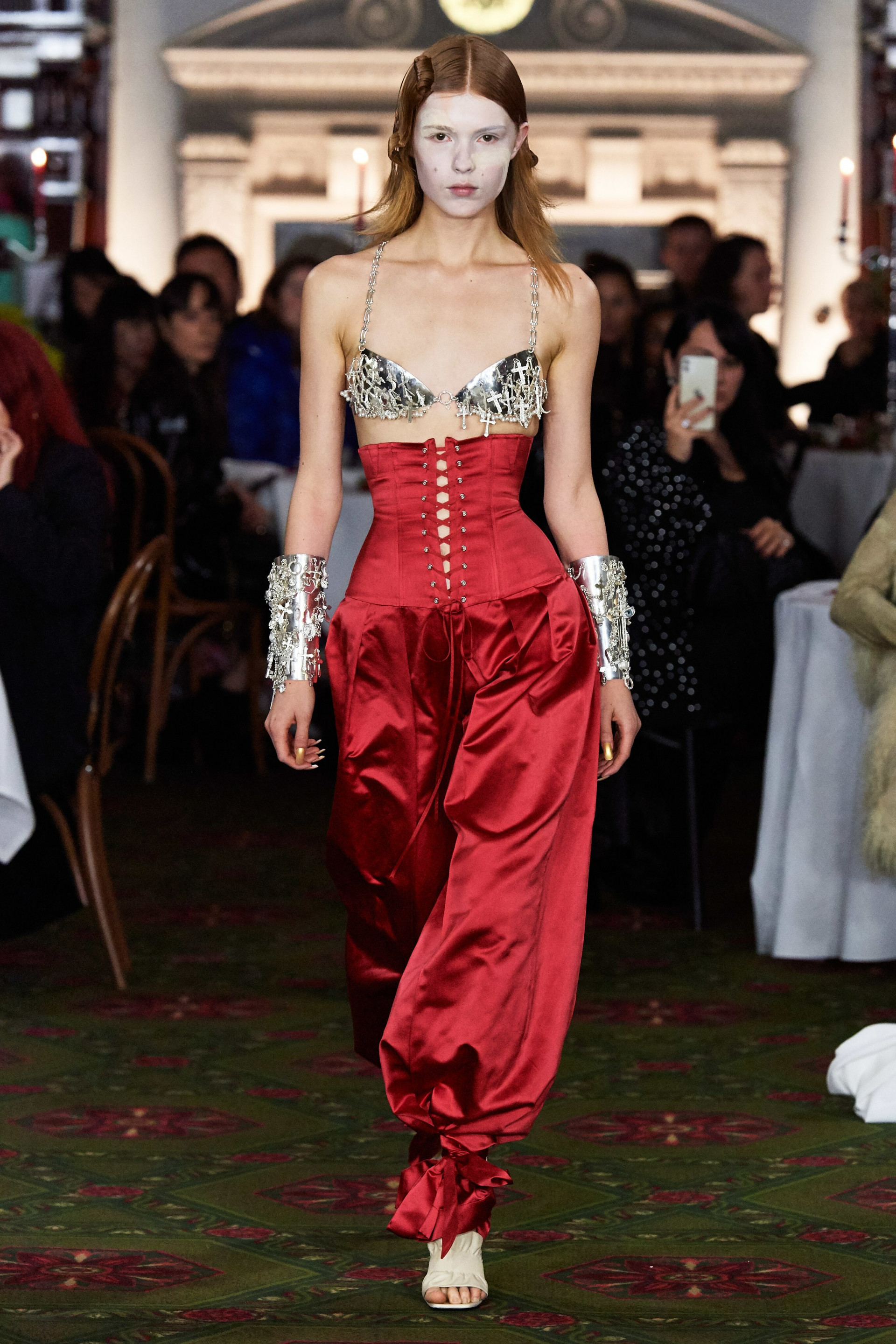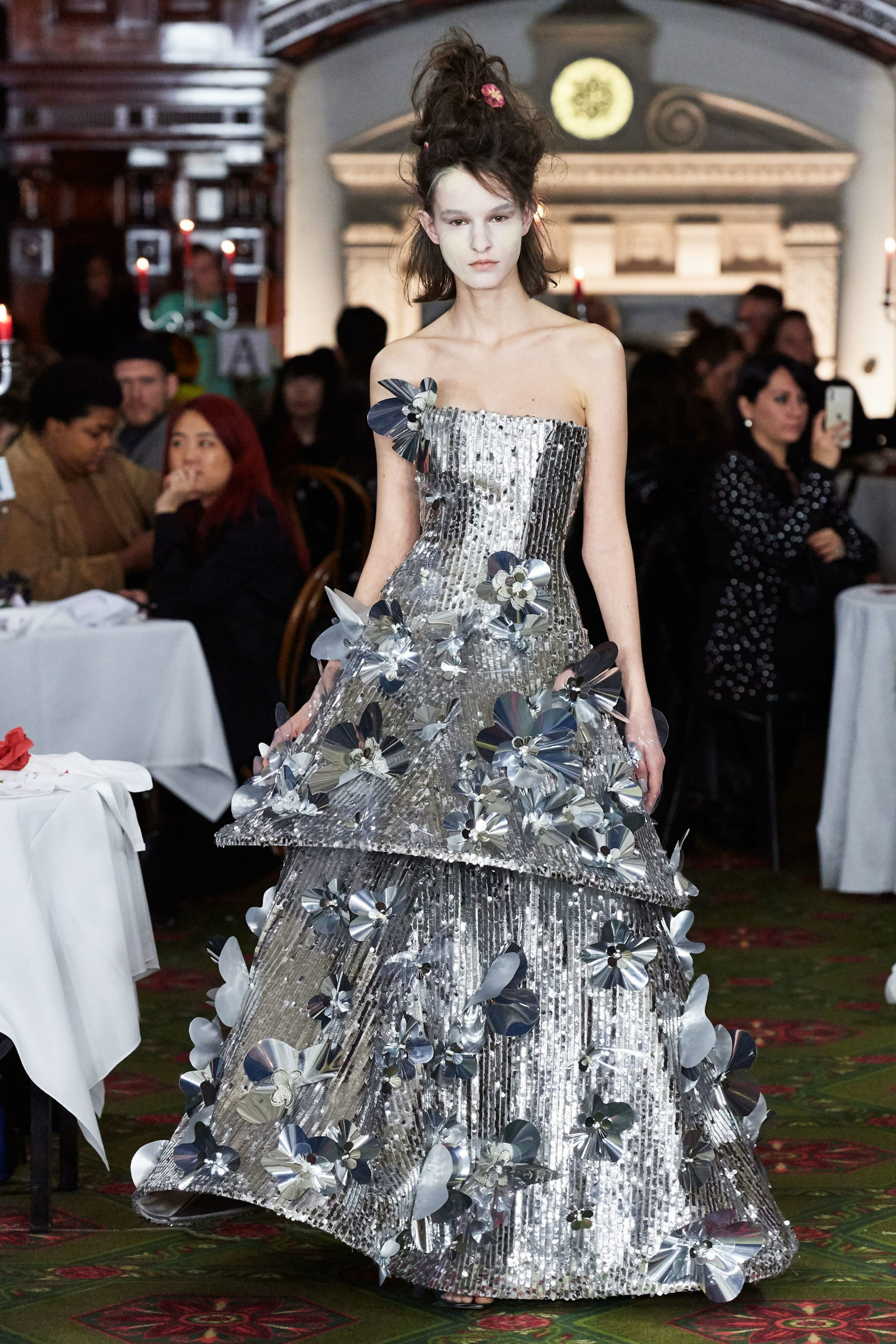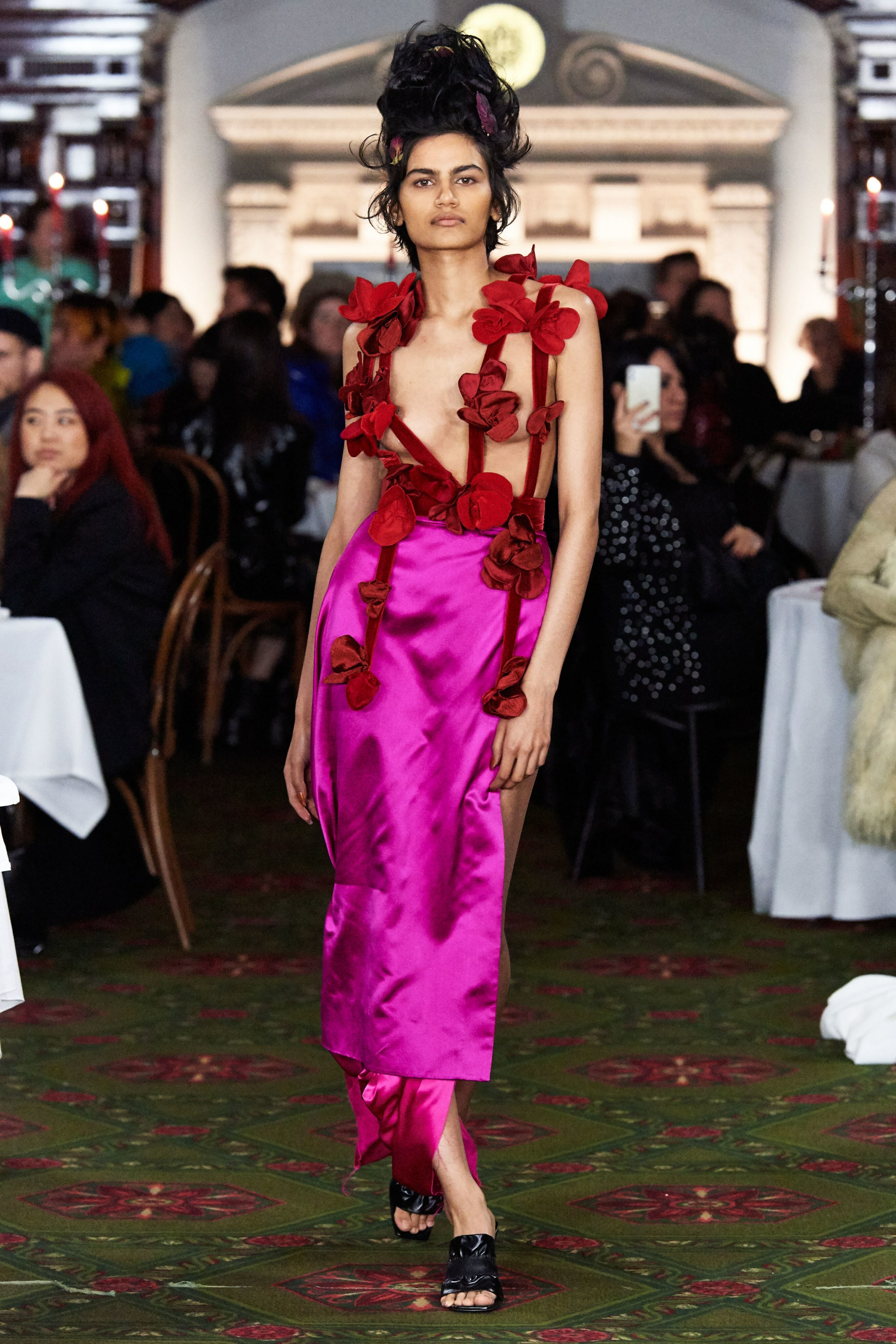 Dilara Findikoglu AW20 Collection
Dilara Findikoglu's AW20 collection is anything but ordinary with a hooped-skirt metallic gown covered in structured flowers, satin genie pants and various corsets paired with tights. One of her designs consisted of 3-D floral harness climbing up to the torso of the model and one was aided by a model carrying an actual cat in her arms as she descended the runway.
Erdem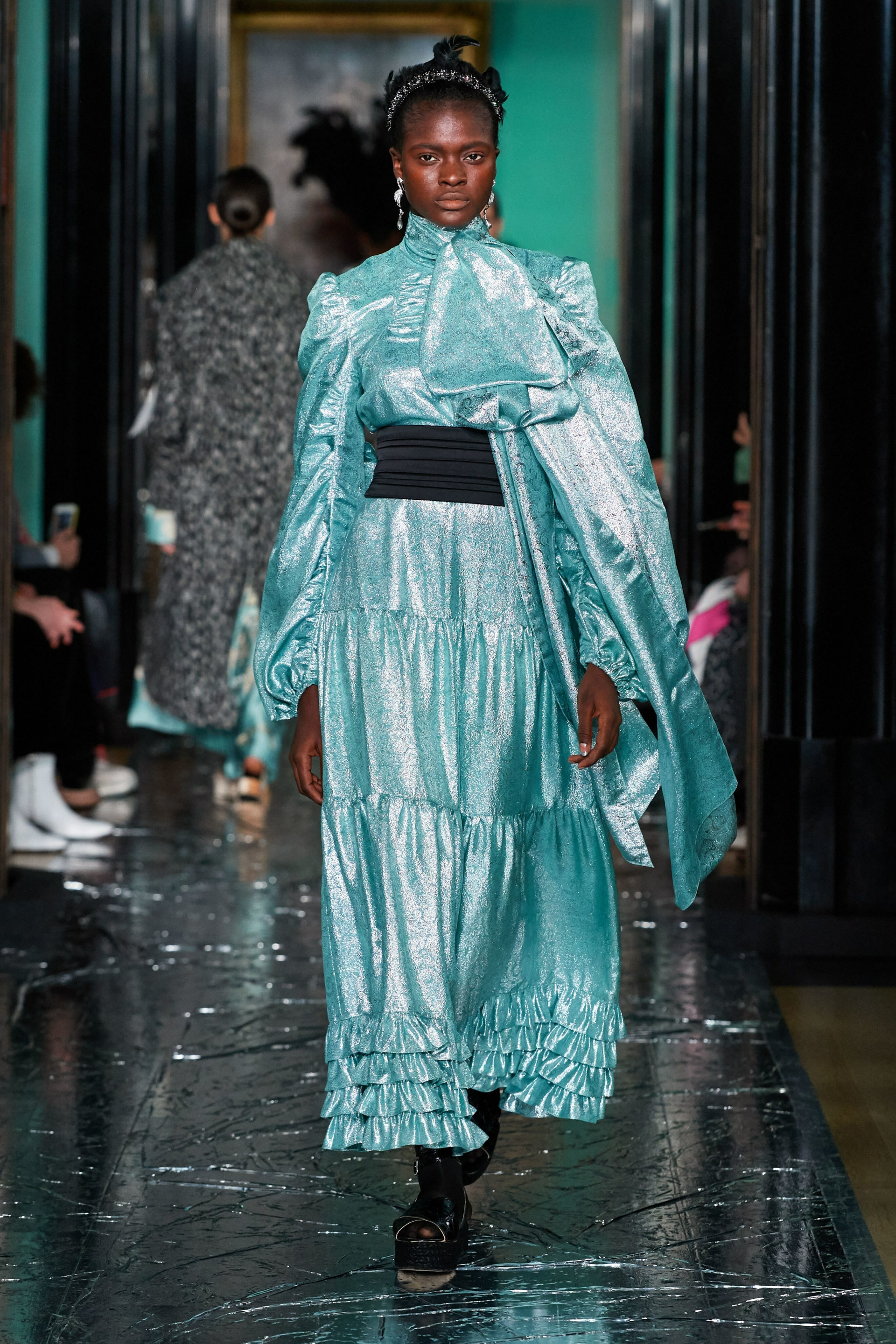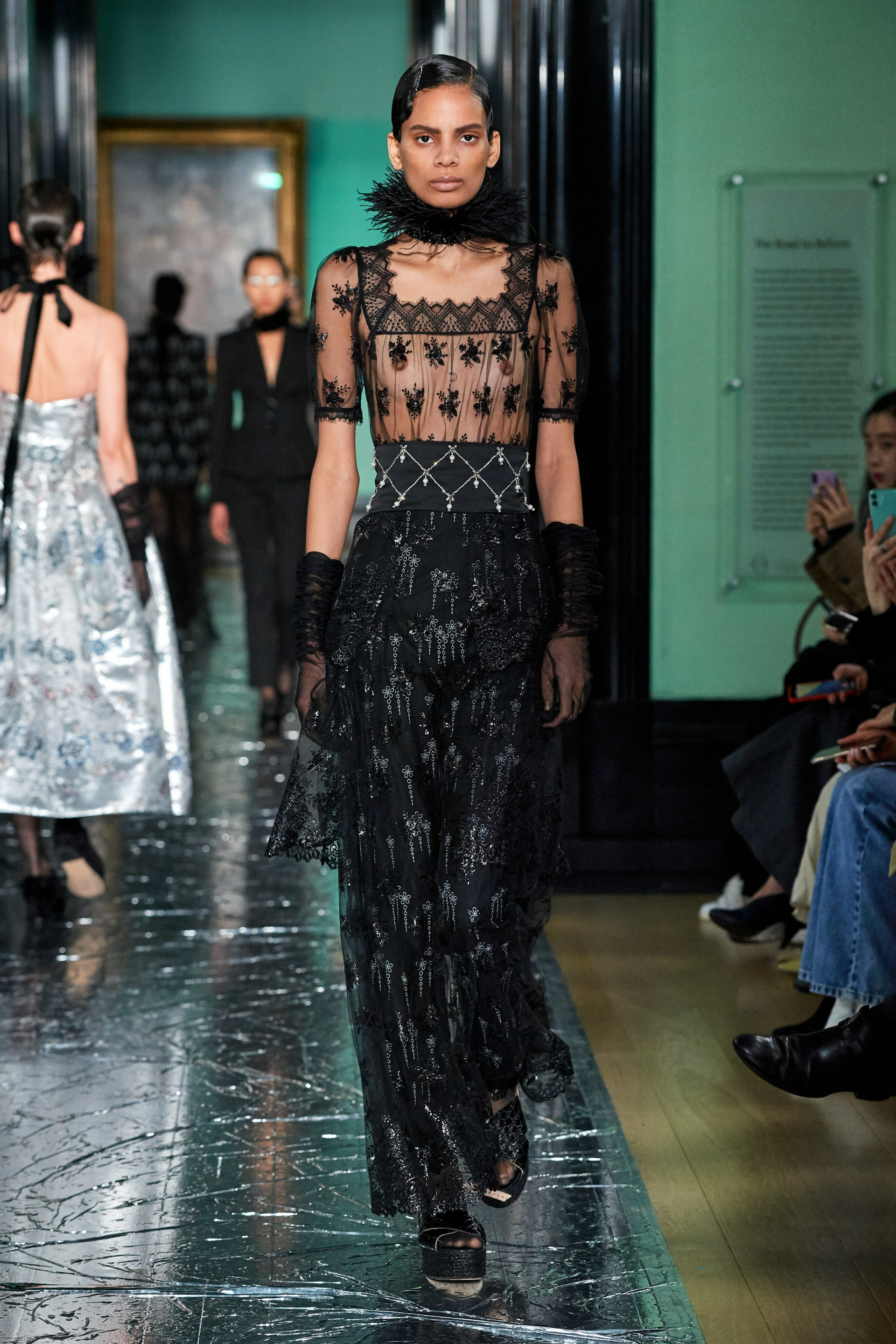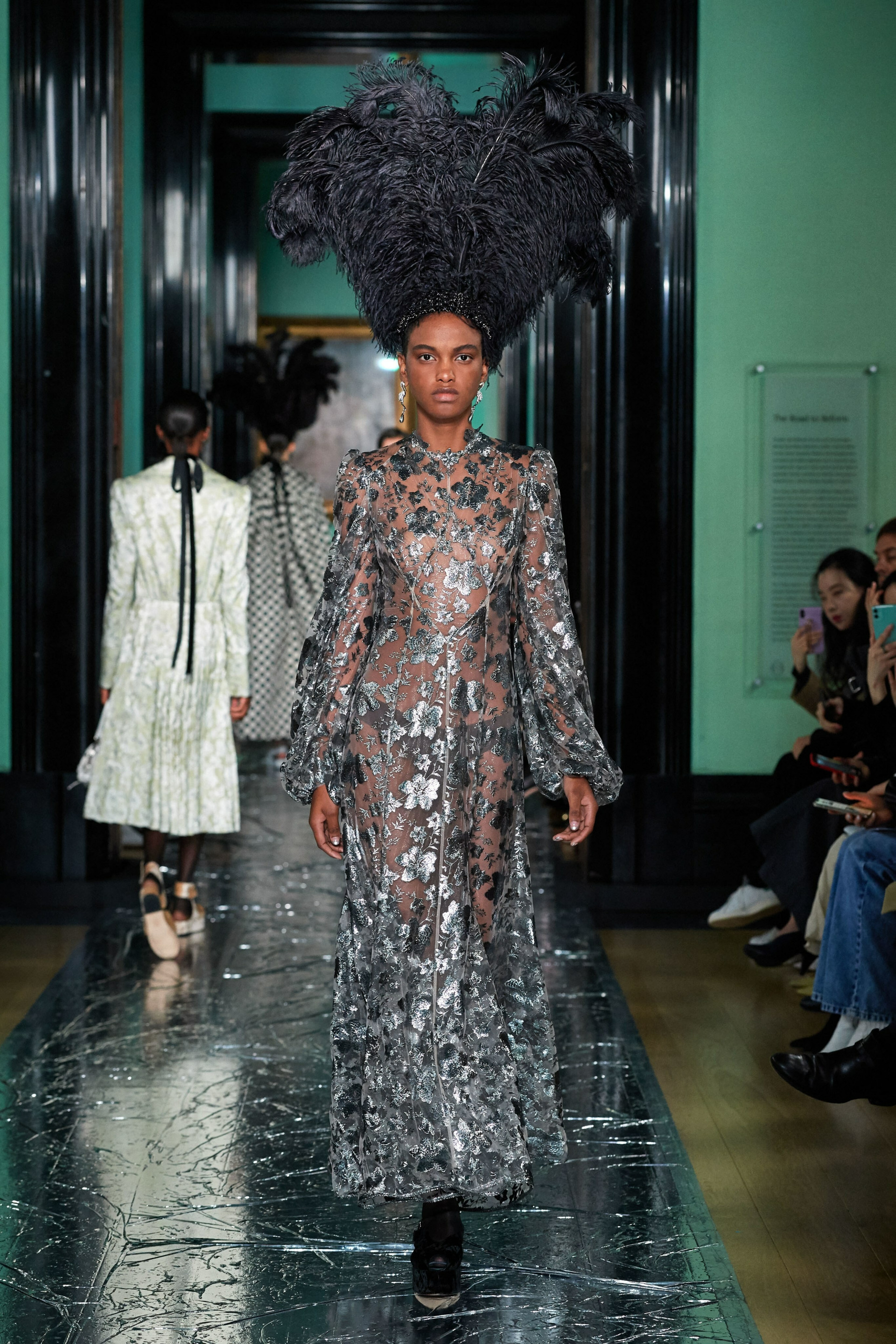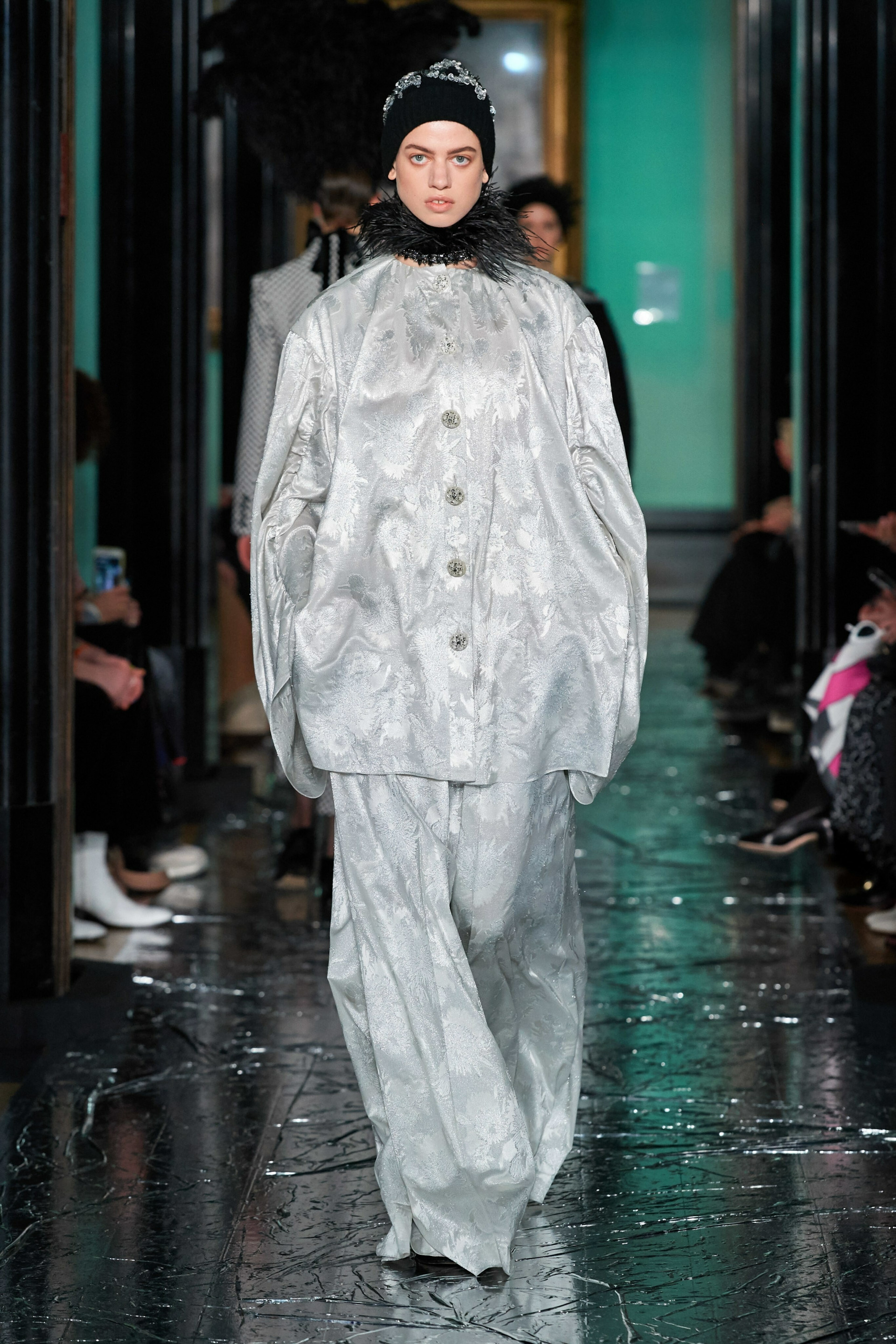 Erdem AW20 Collection
From delicately beaded sheer feminine pieces, to androgynously shaped suits Erdem Moralioglu and Cecil Beaton brought a version of strong elegance to the runway accompanied by feathered head dresses and pops of turquoise and lime green.
JW Anderson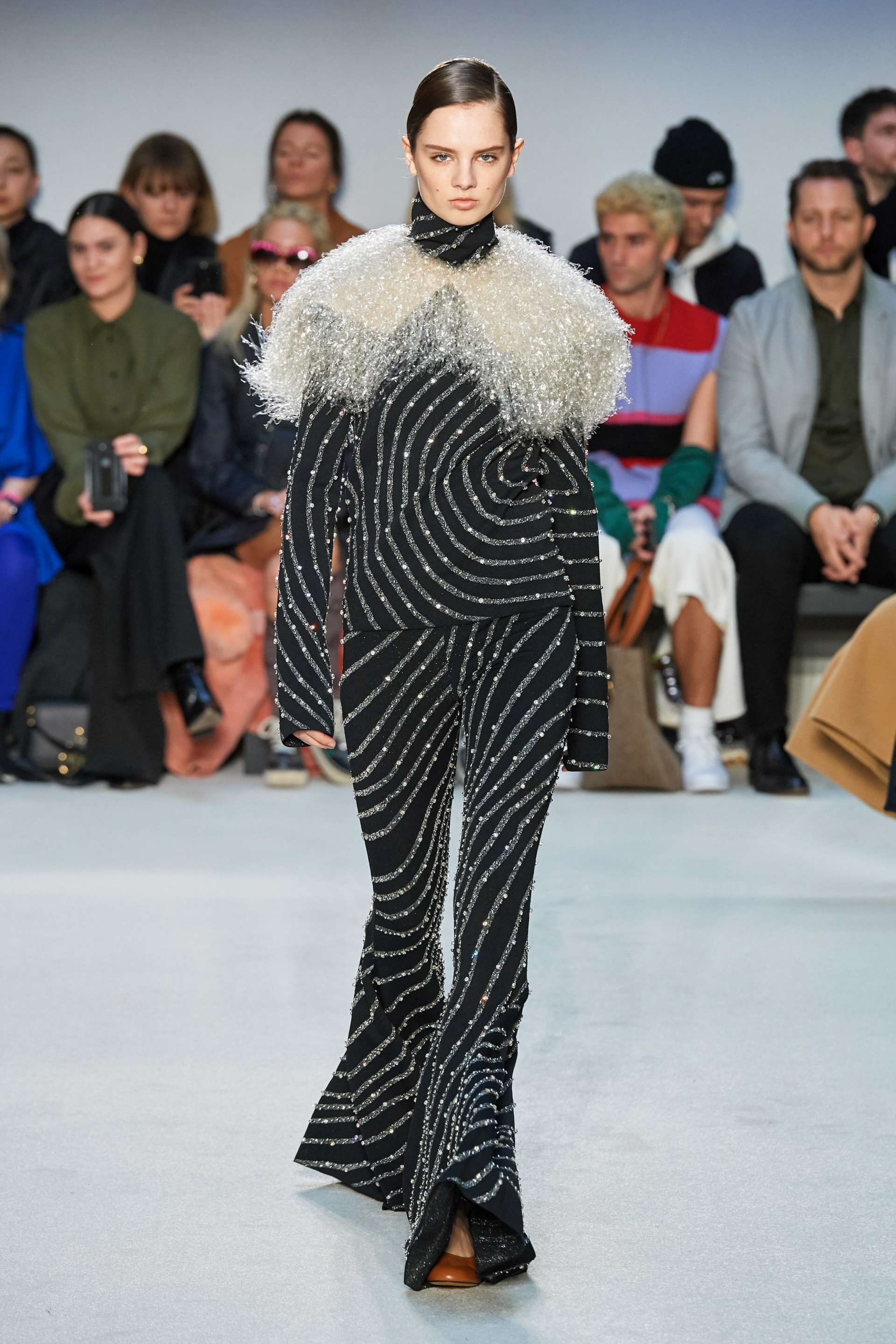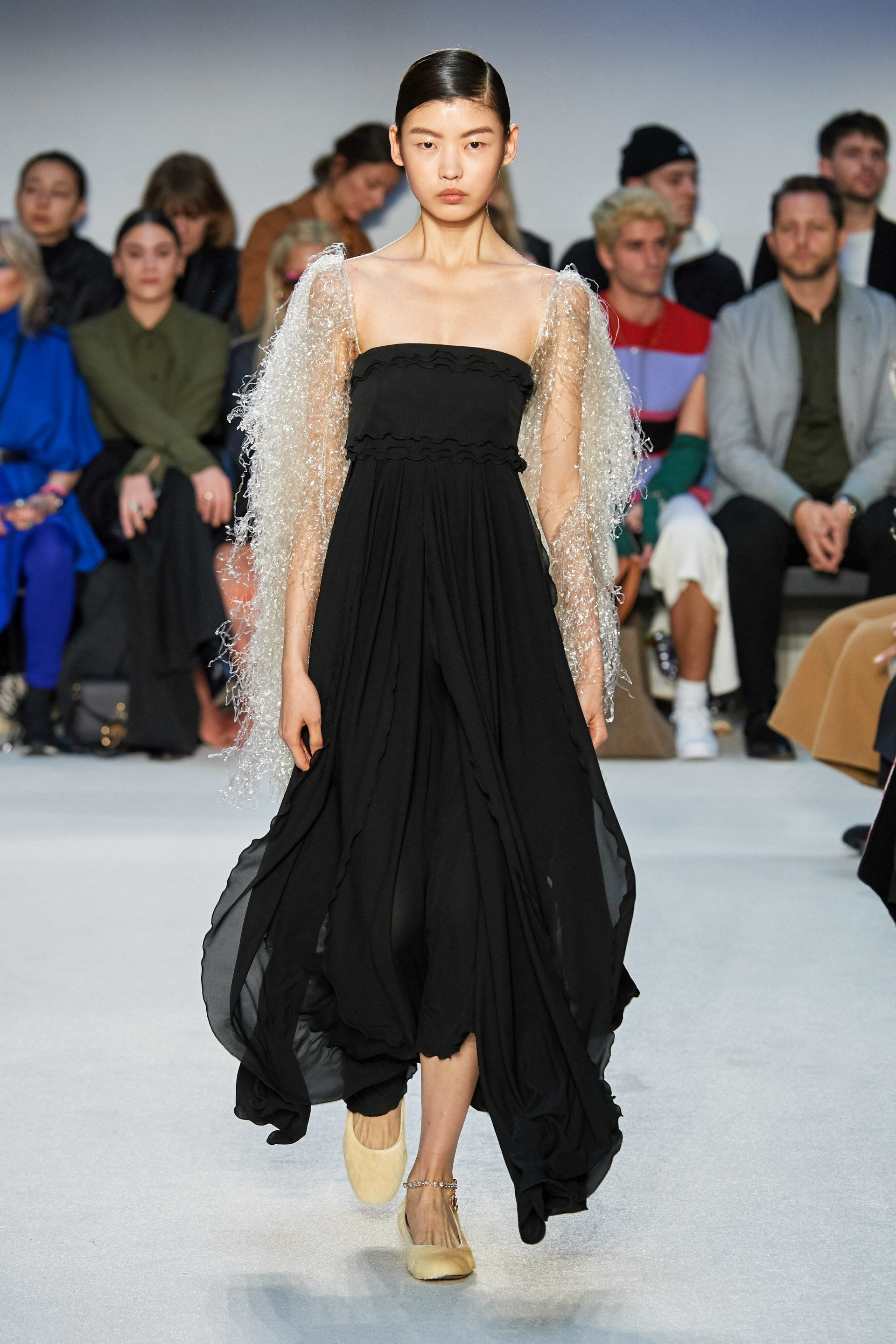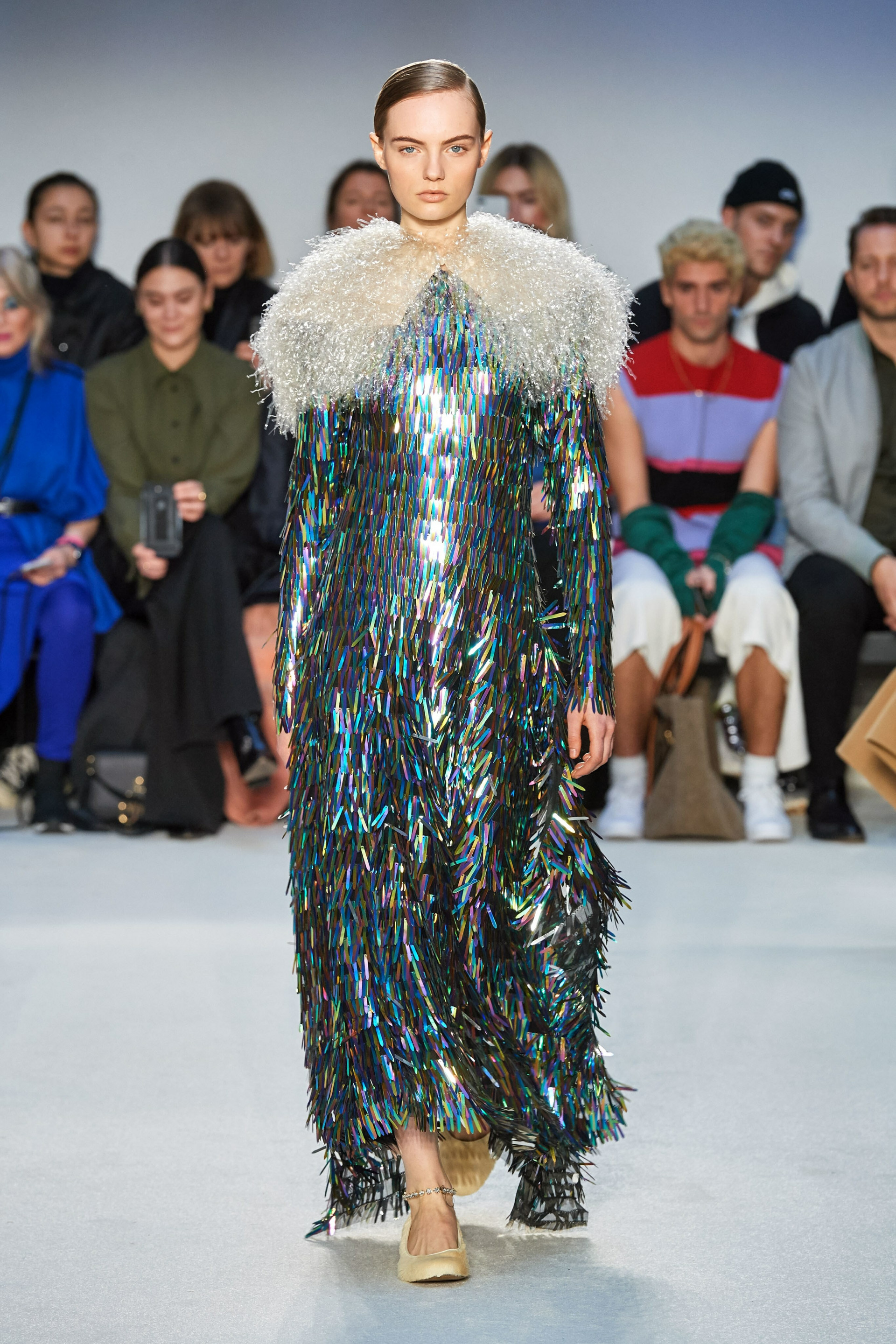 JW Anderson AW20 Collection
Jonathon Anderson brings an element of the 1920s into his AW2020 collection, with bead work, tinsel-covered garments, iridescent translucent fabrics and mirrored metallic tassels. His leather shawl-collared black over-sized suit juxtaposed the delicacy of the tinsel perfectly with such a strong silhouette.
Matty Bovan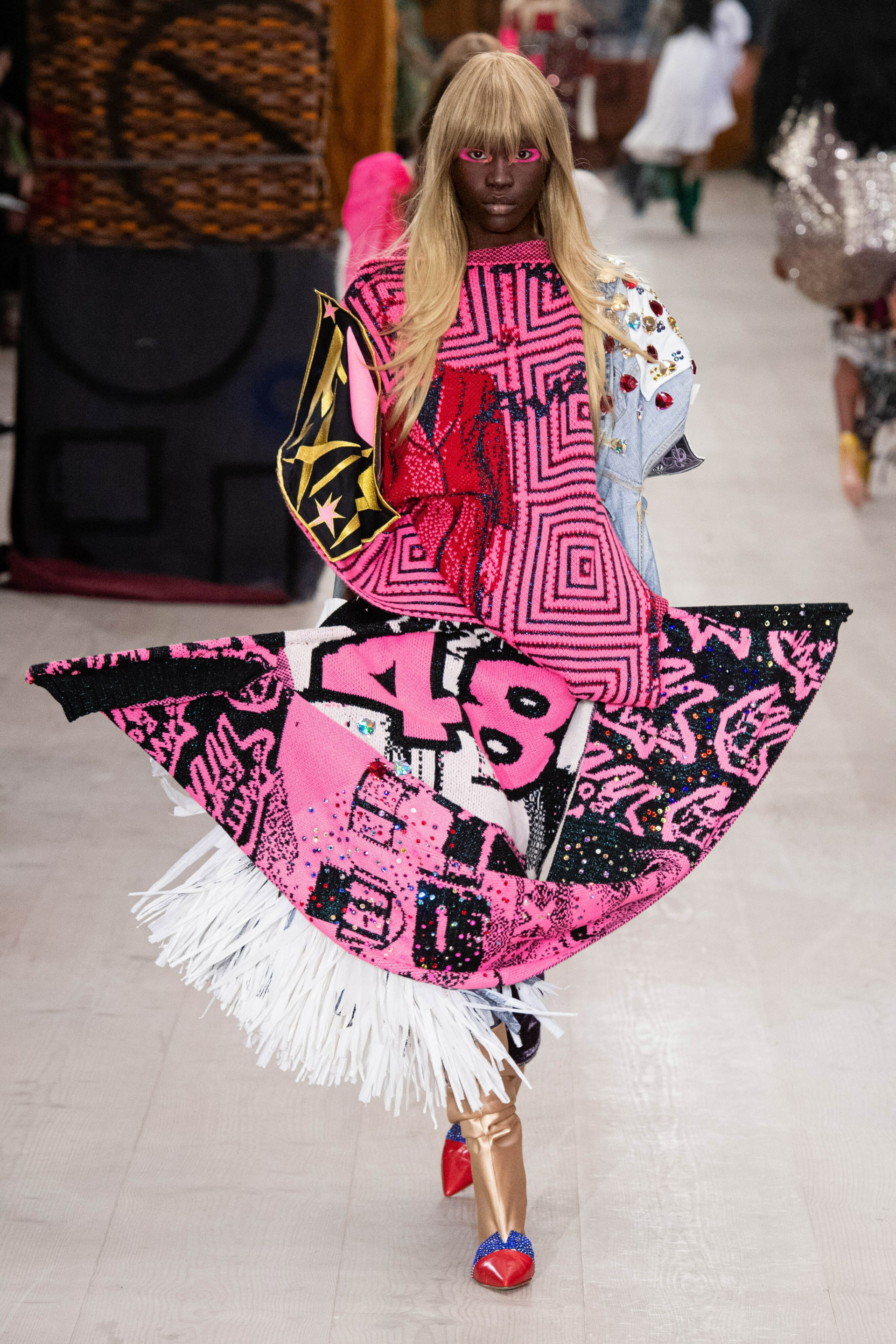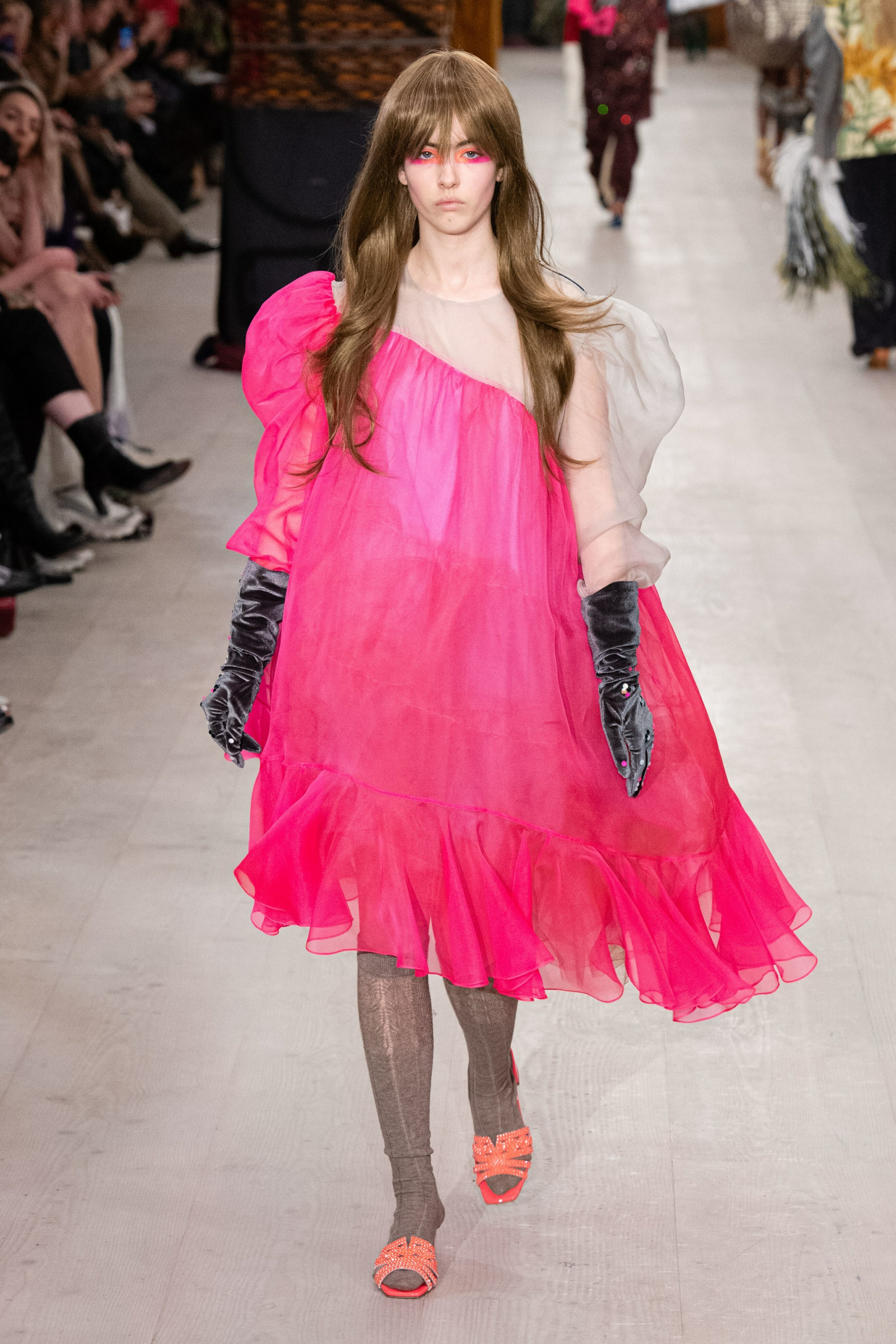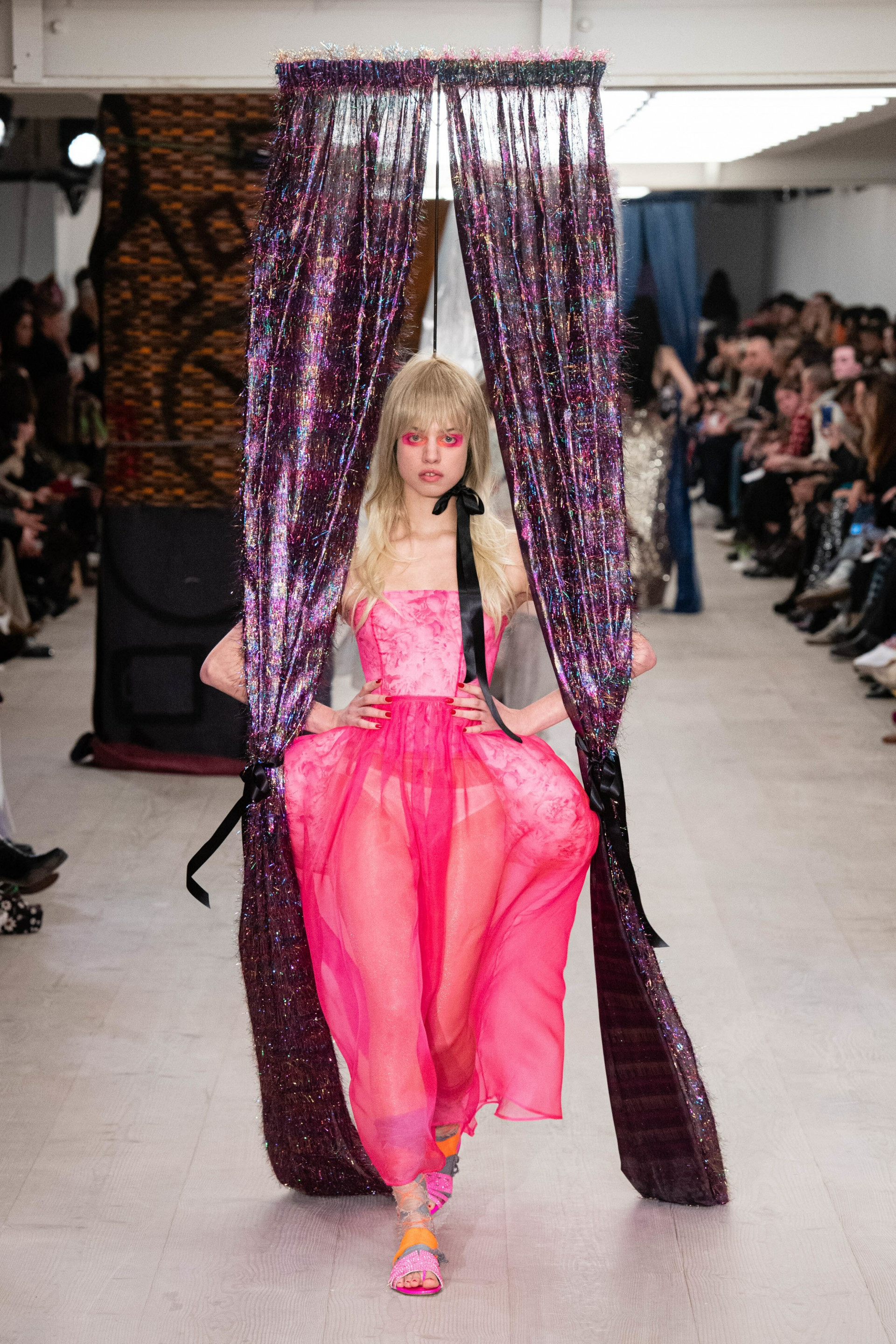 Matty Bovan AW20 Collection
Matty Bovan's AW20 collection pushes the boundaries on socially acceptable fashion, through his hanging curtains and hair-covered head dresses.True to form, Bovan creates a collection of weird and wonderful designs, that have no obvious narrative or order but bring a whirlwind of colour, shape and excitement to the runway this season.
Richard Quinn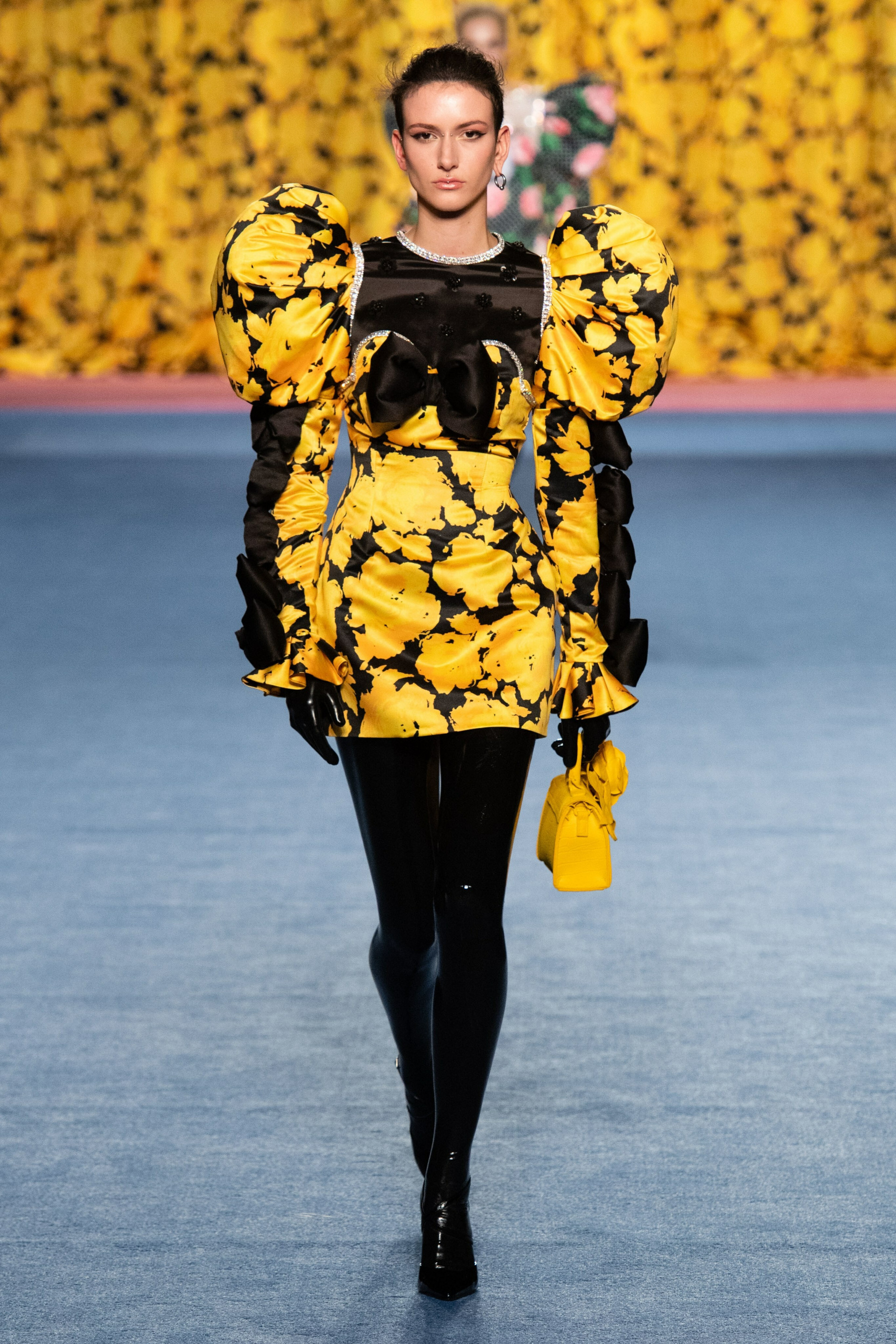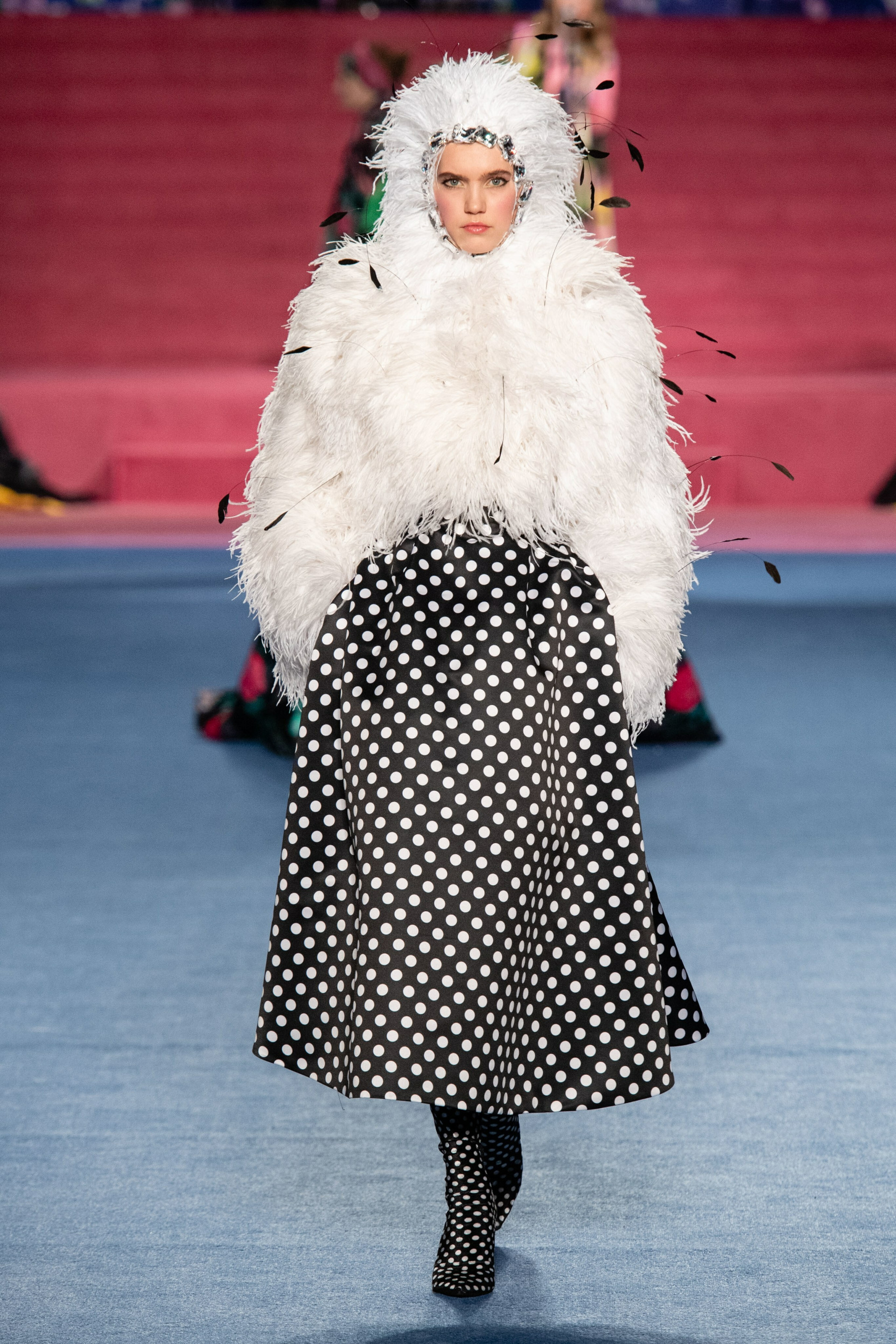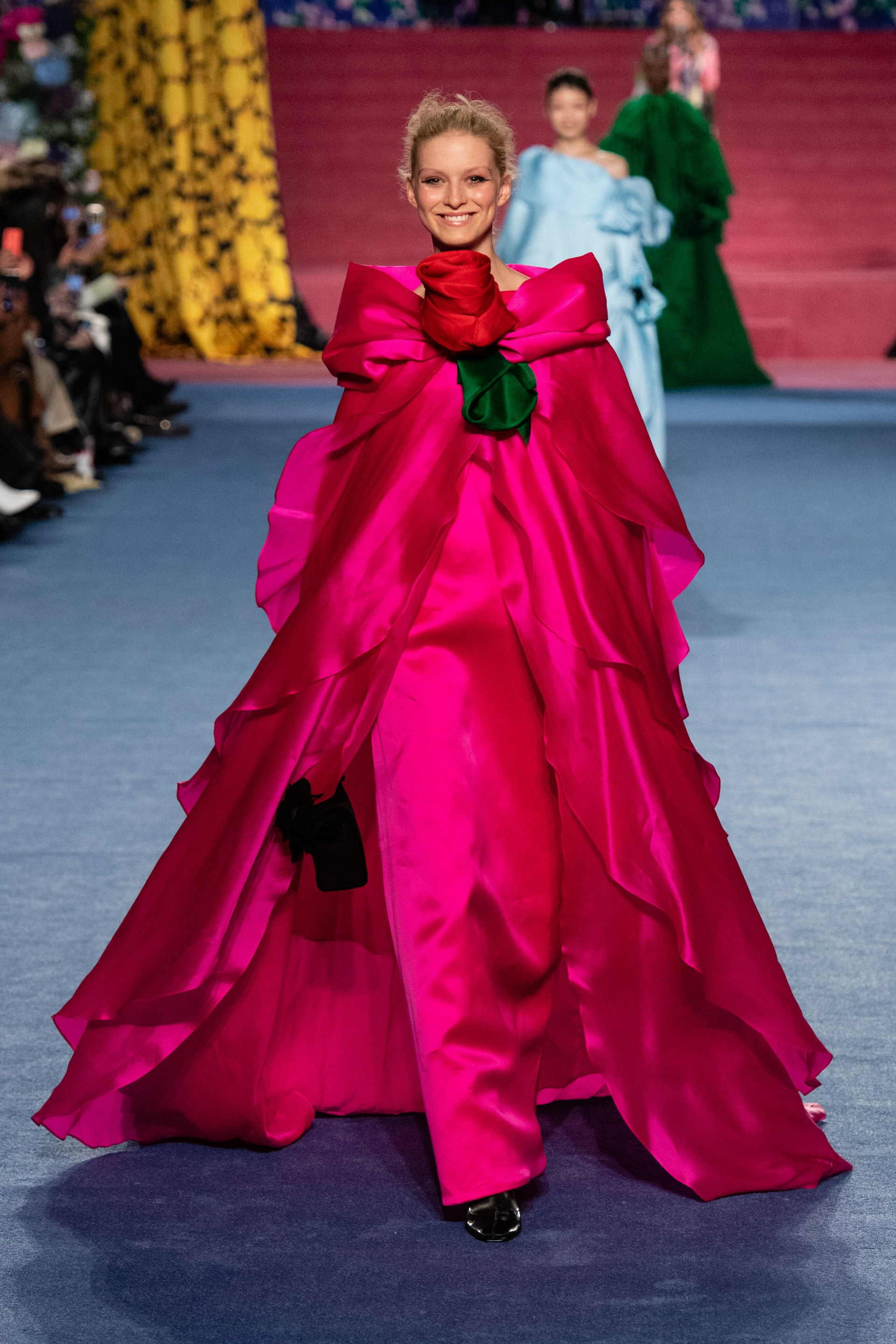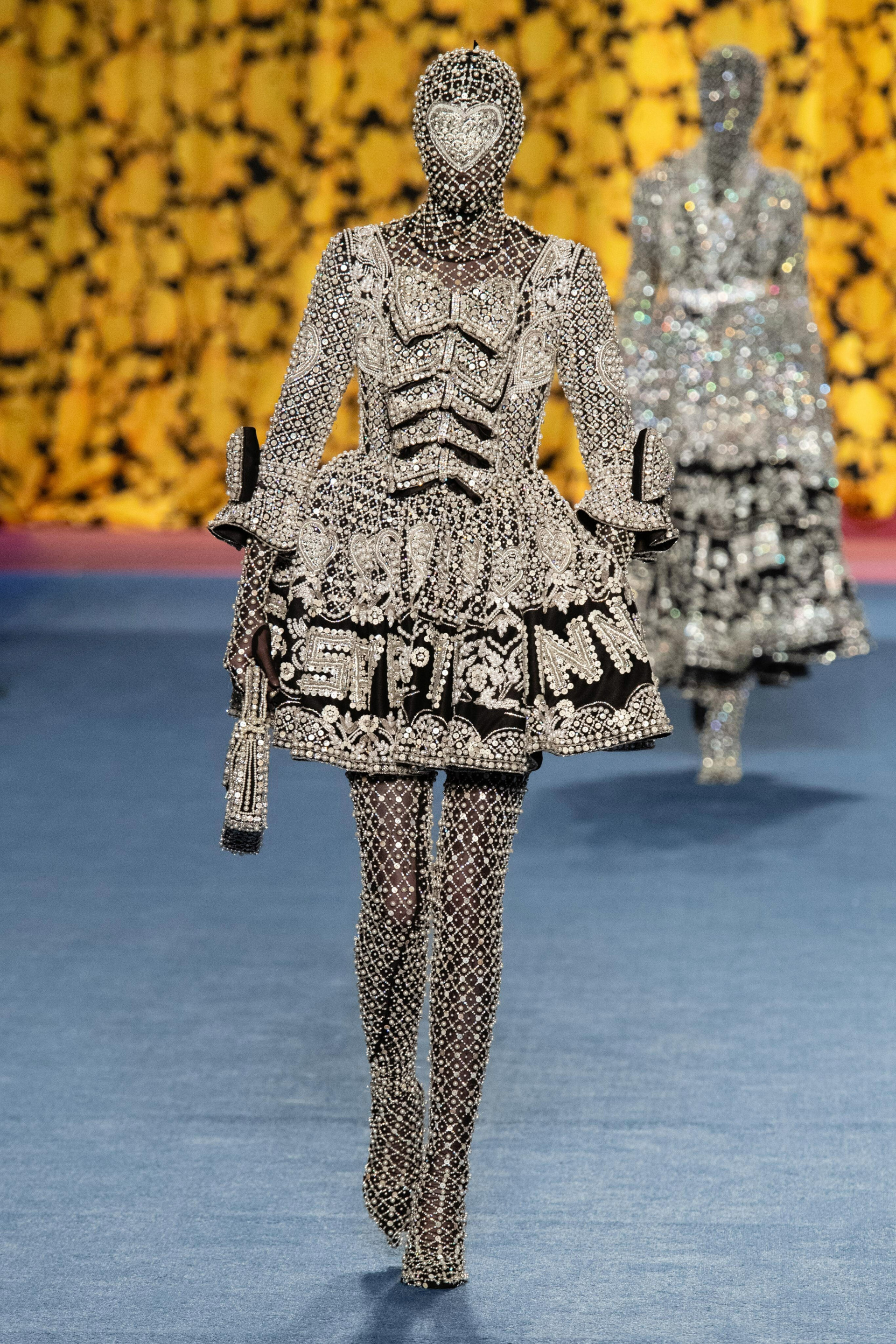 Richard Quinn AW20 Collection
One of the most powerful piece form Richard Quinn's AW20 collection is the jewelled head-to-toe armoured ensemble that reads "God Save The Quinn" across the skirt – a clear homage to Britain. The rest of the collection is a kaleidoscope of extravagantly silhouetted gowns, feathered head dresses and the iconic Quinn power shoulders.
Simone Rocha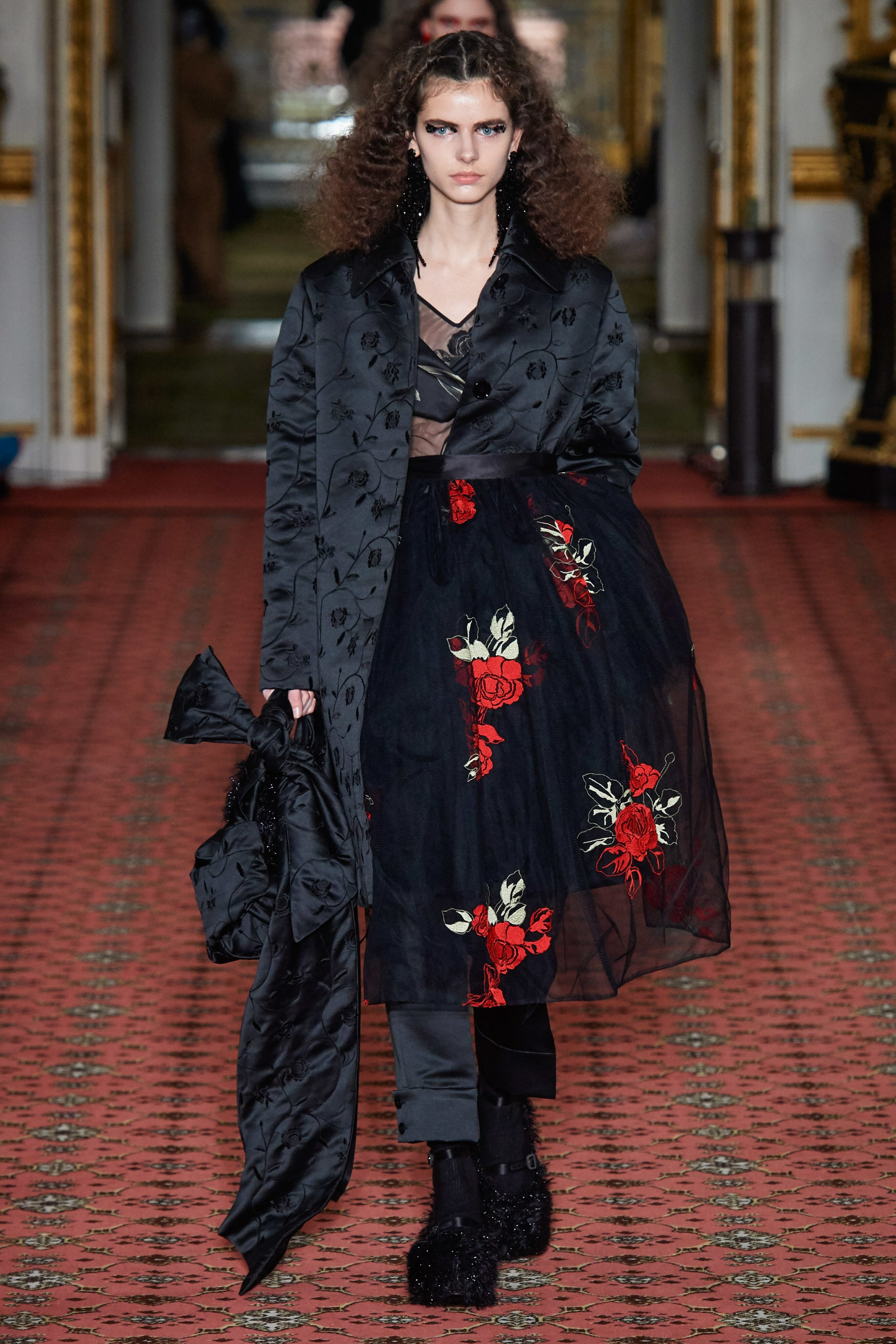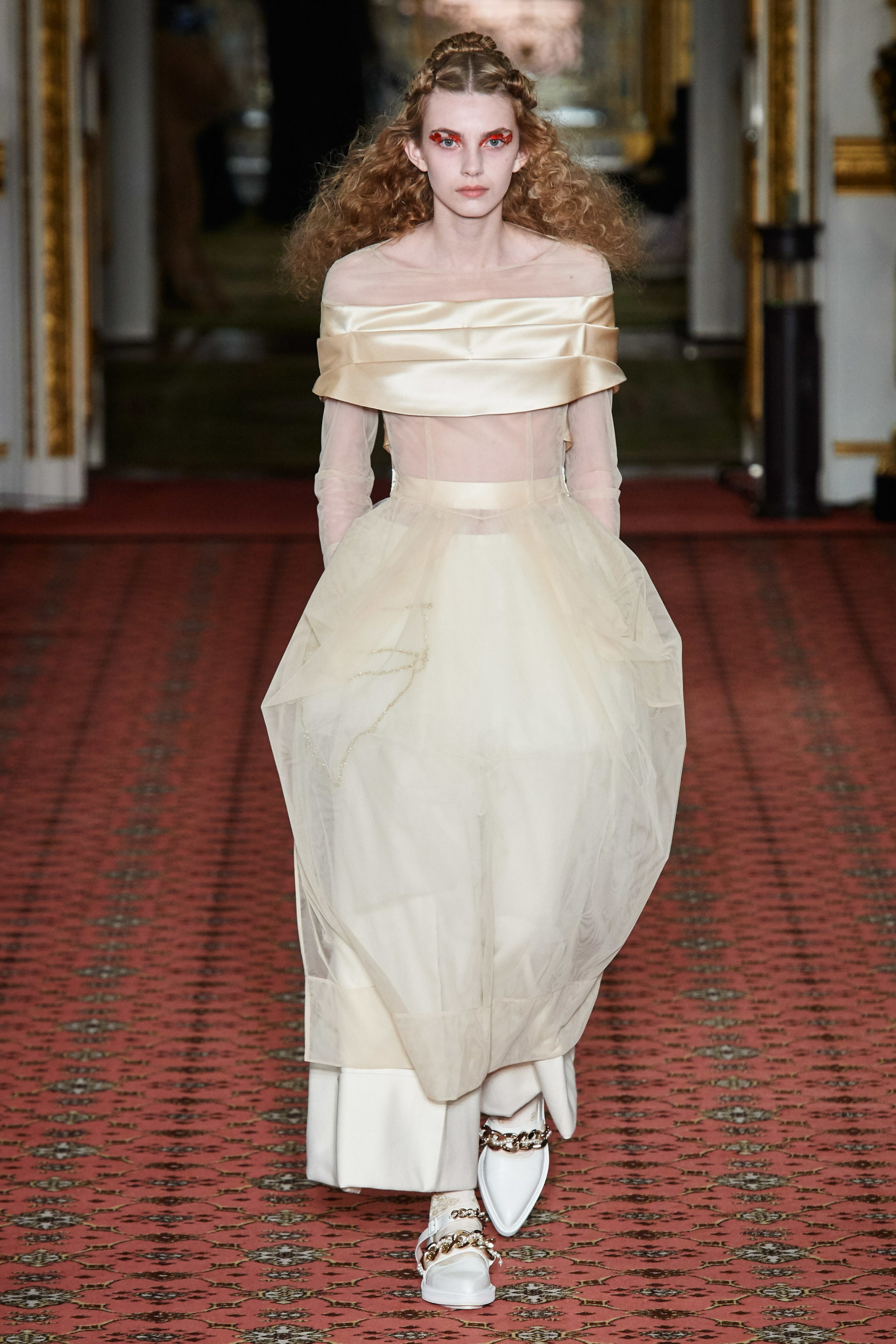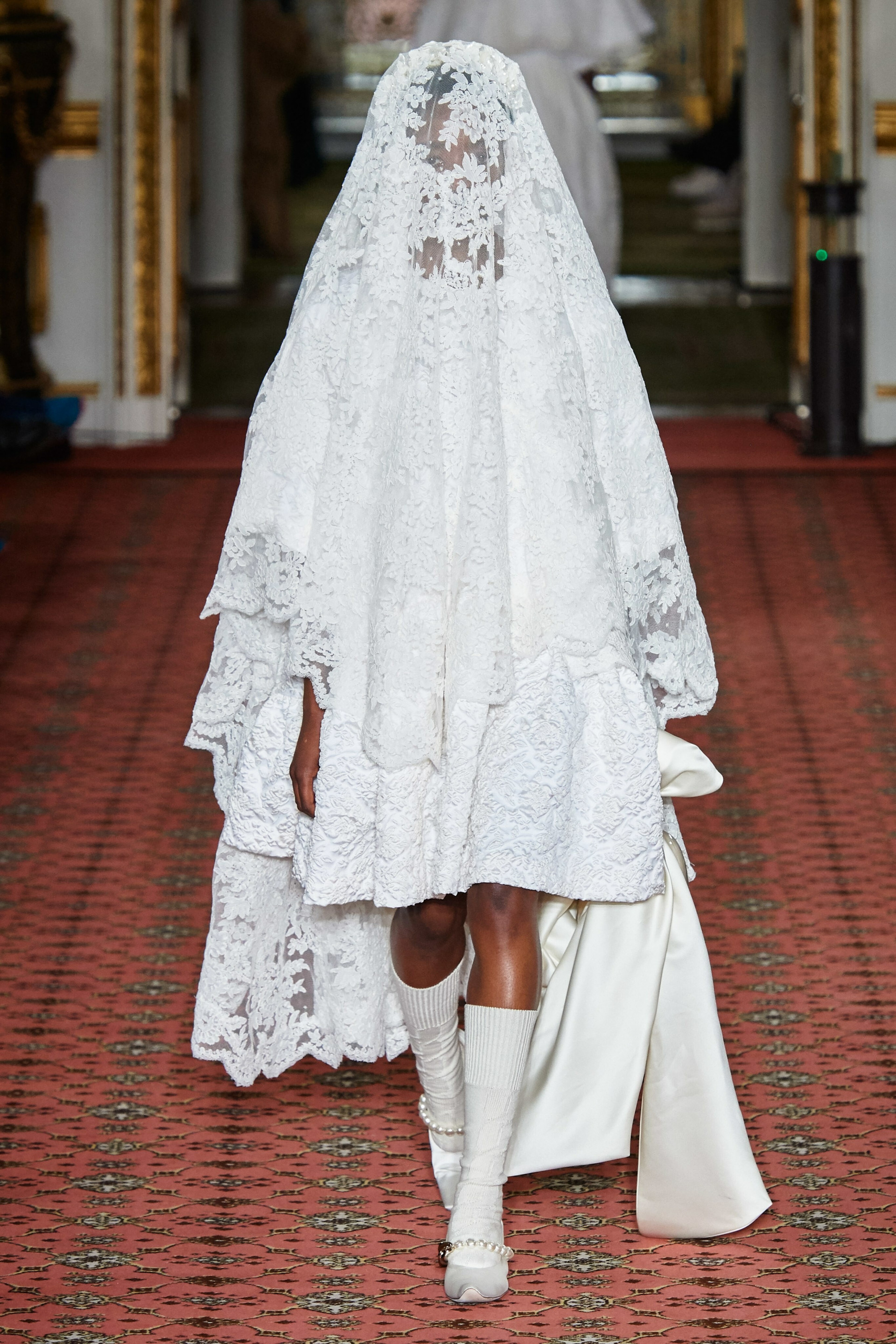 Simone Rocha AW20 Collection
Throughout Simone Rocha's show you see a collection of pure light streaming down the runway, consisting of cream satin, tule and wool layers. As the show progresses, darker more romantic tones begin to enter, covered in florals with rich blue, purple and red colours bleeding into the collection.
Temperley London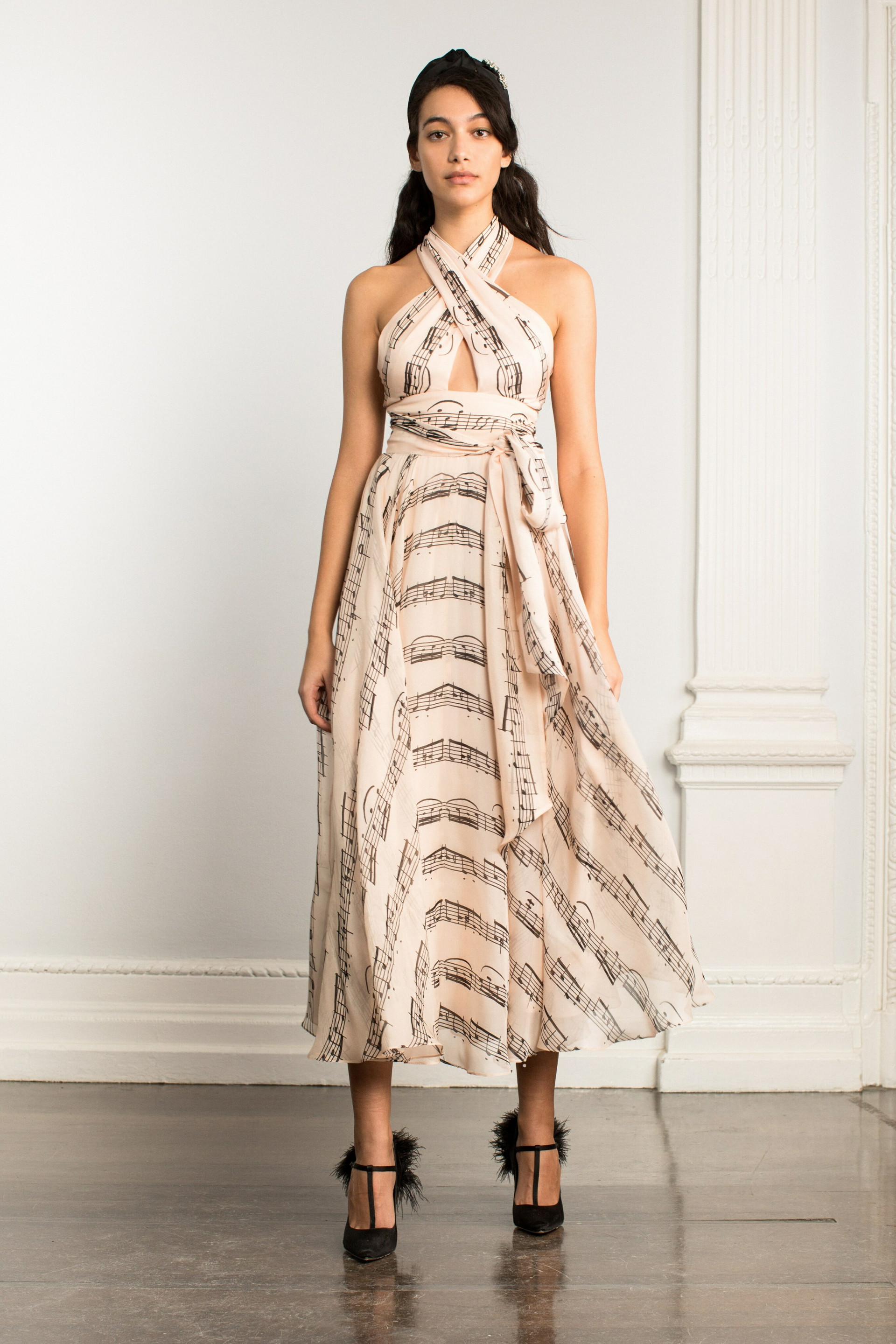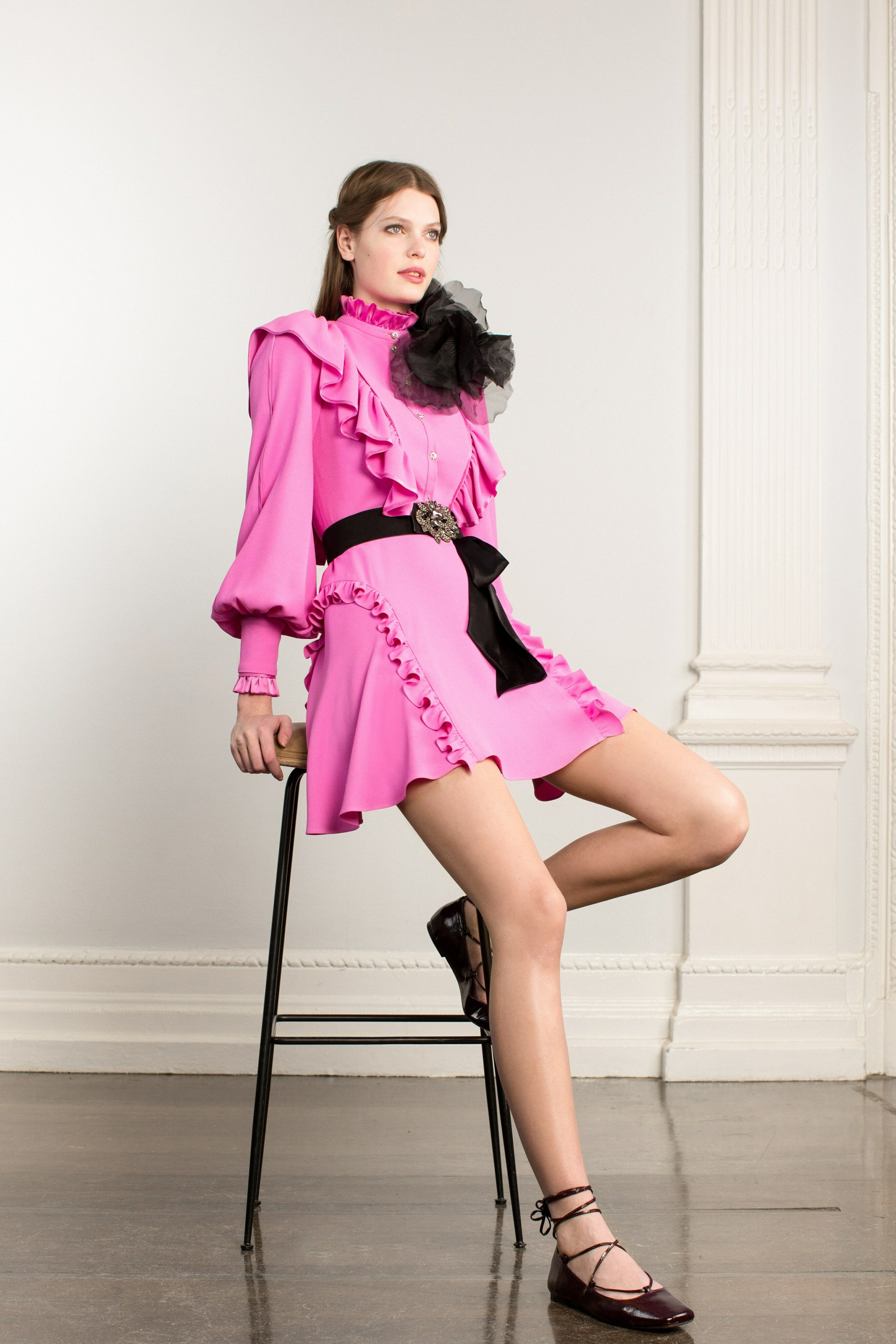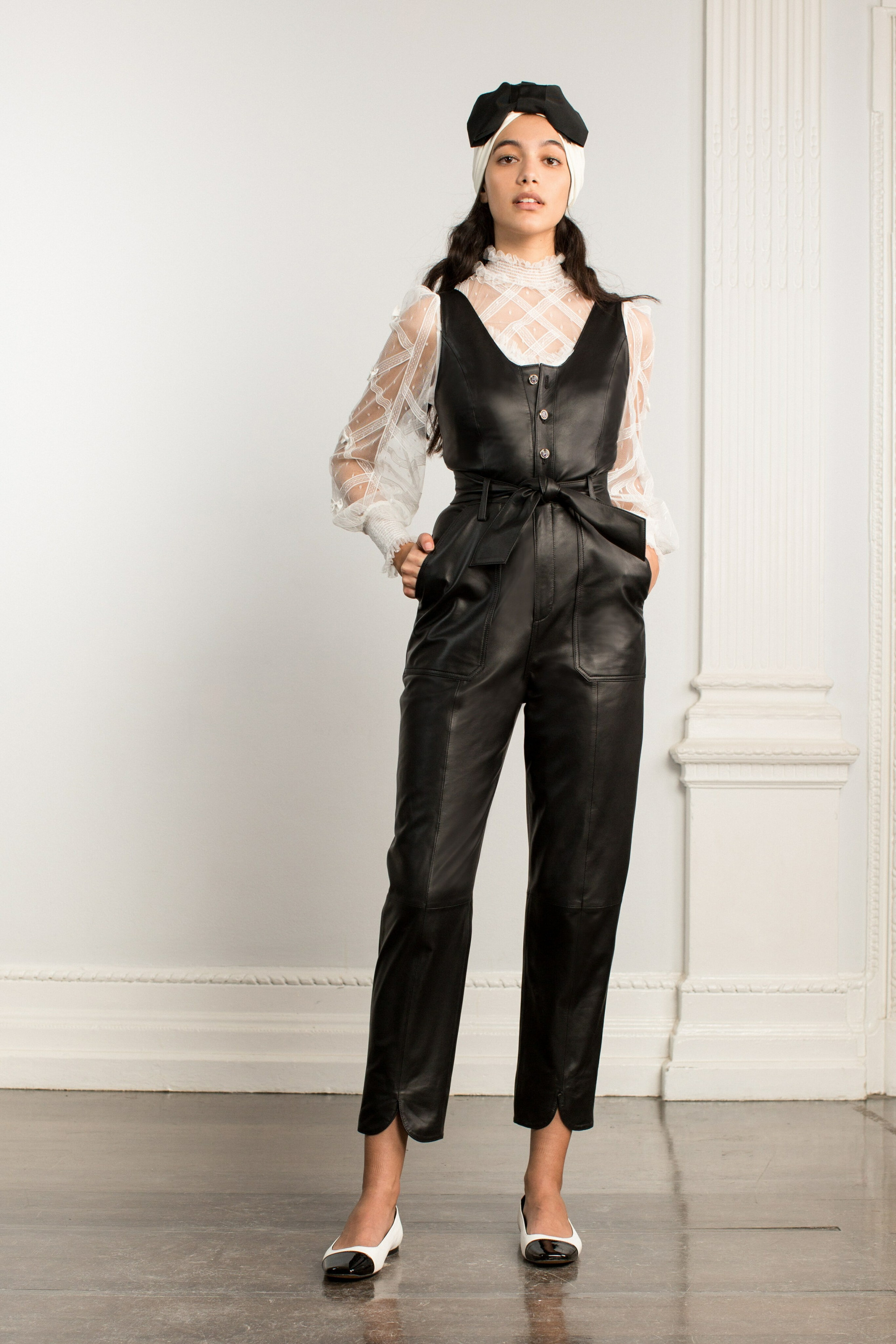 Temperley London AW20 Collection
Alice Temperley's collection which was shown in her Bruton Street store was intended to bring an element of fun to London Fashion Week. Her pieces ranged from feminine vintage-style dresses, to stronger leather suits with a music-inspired print featuring multiple times throughout the collection.
Halpern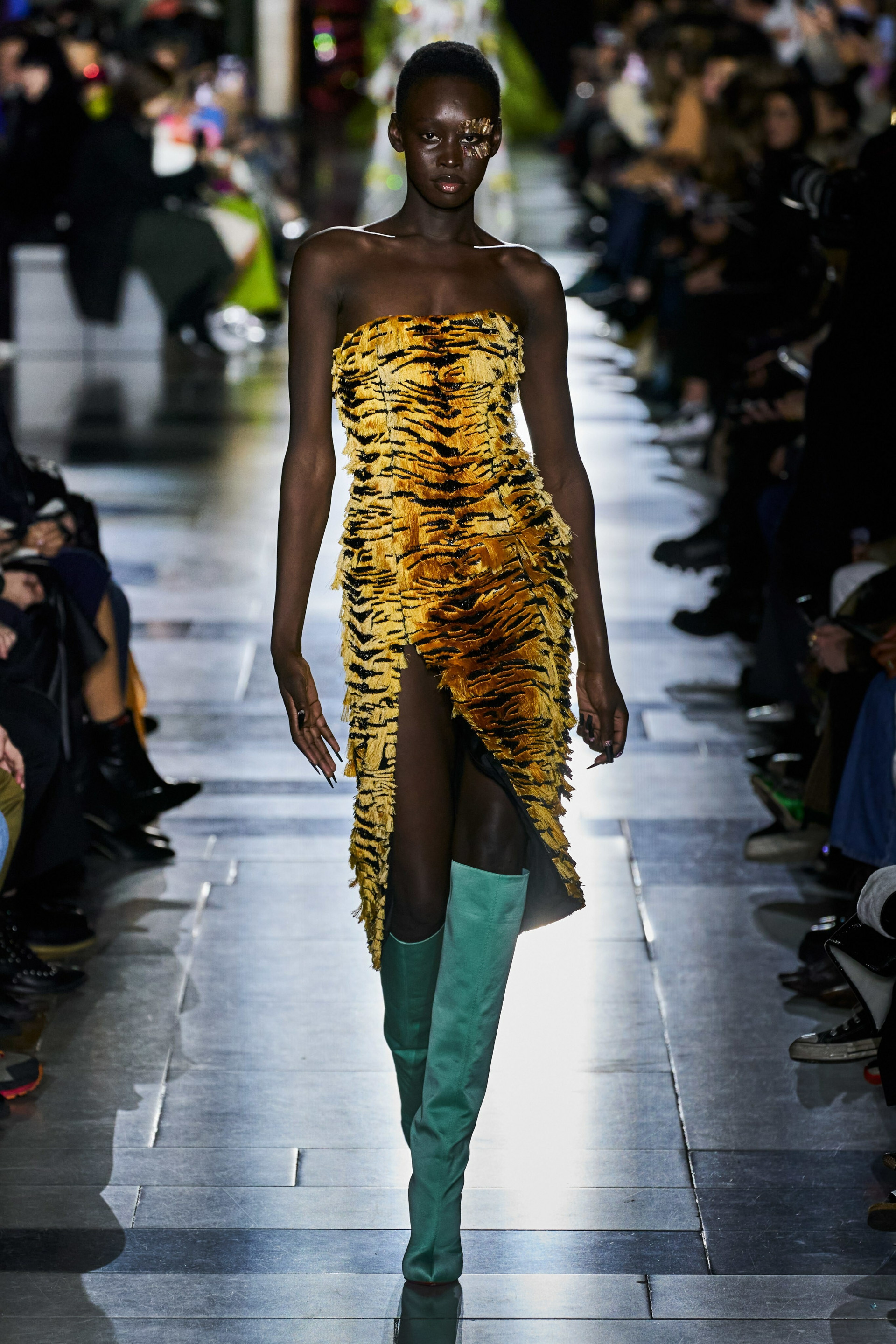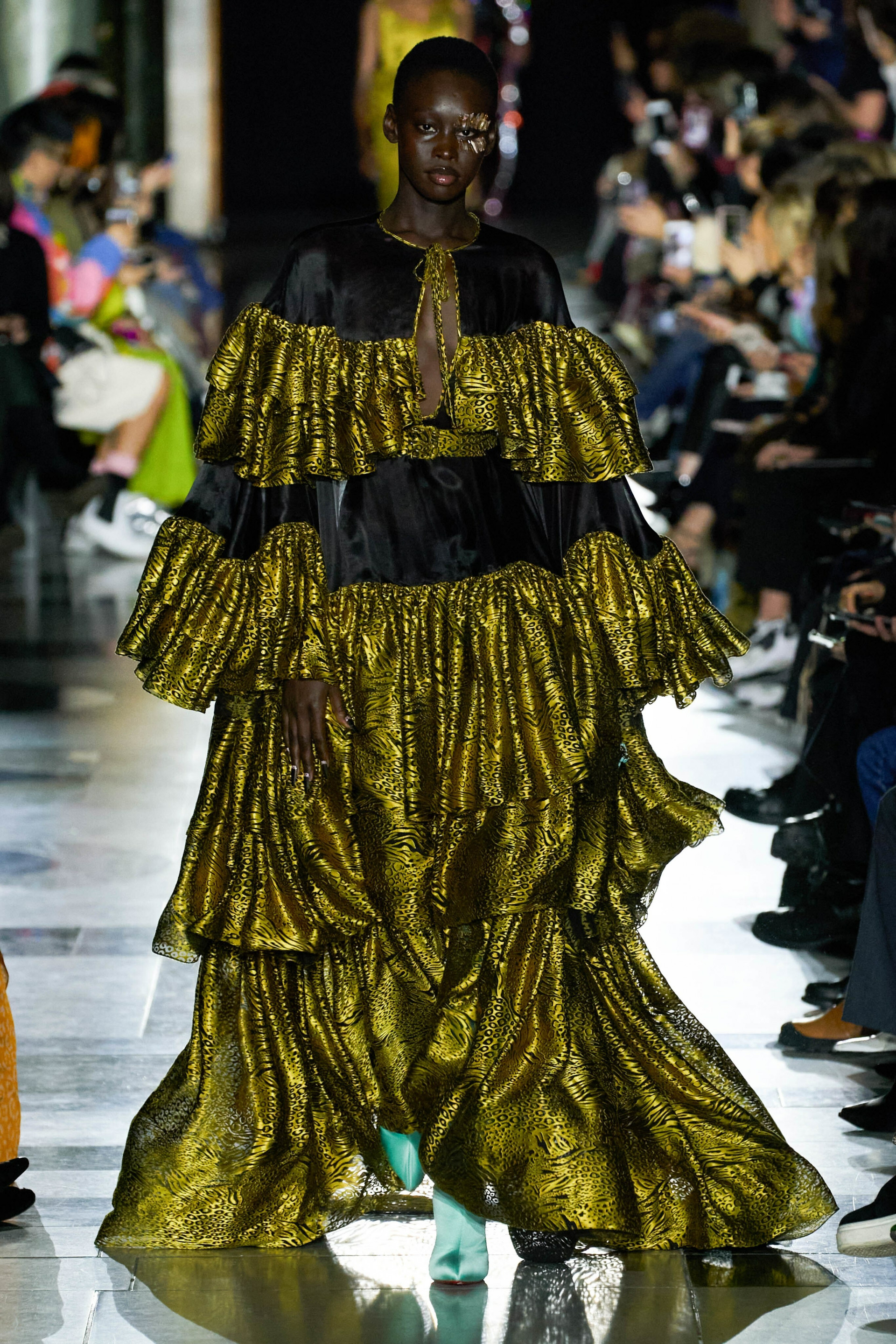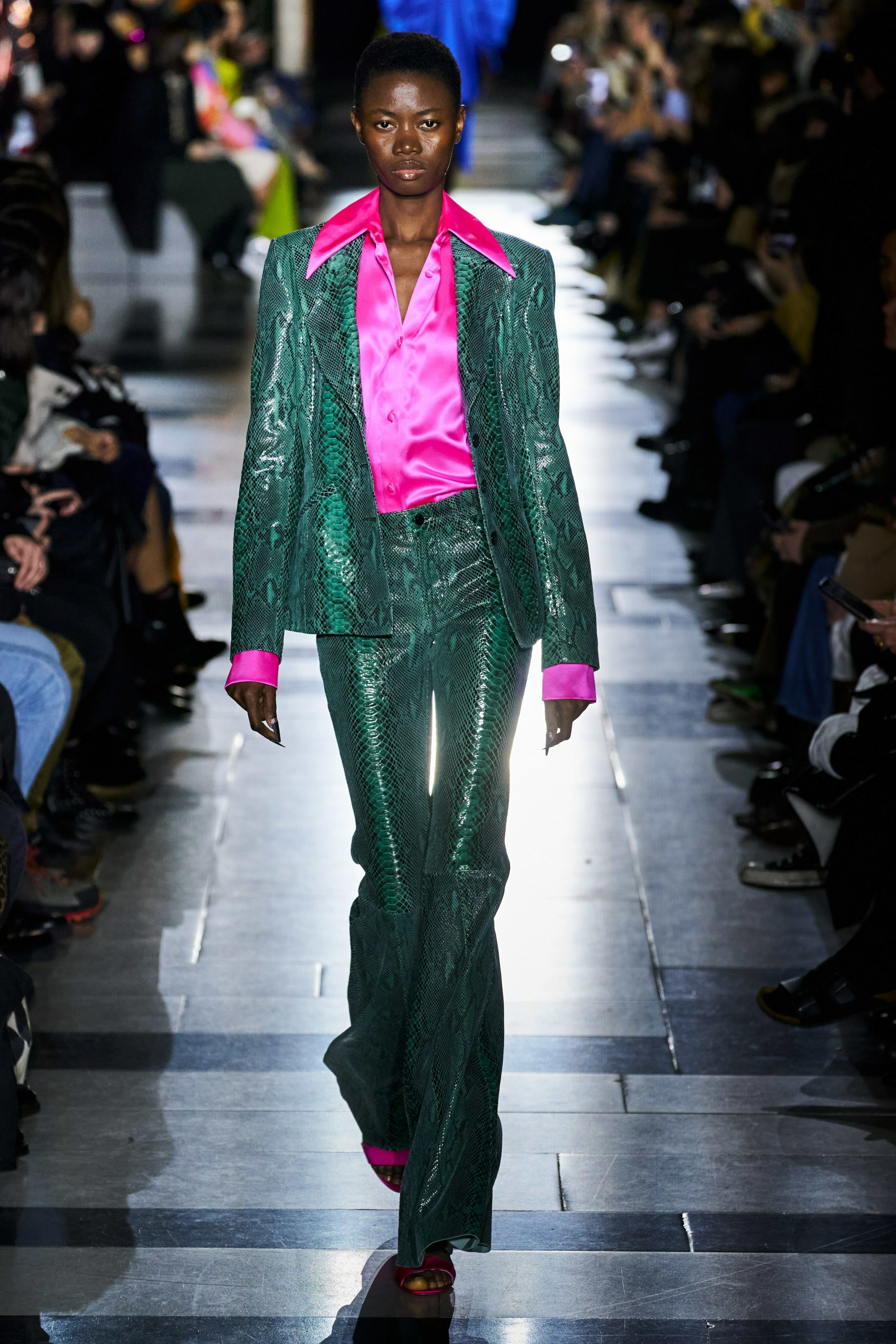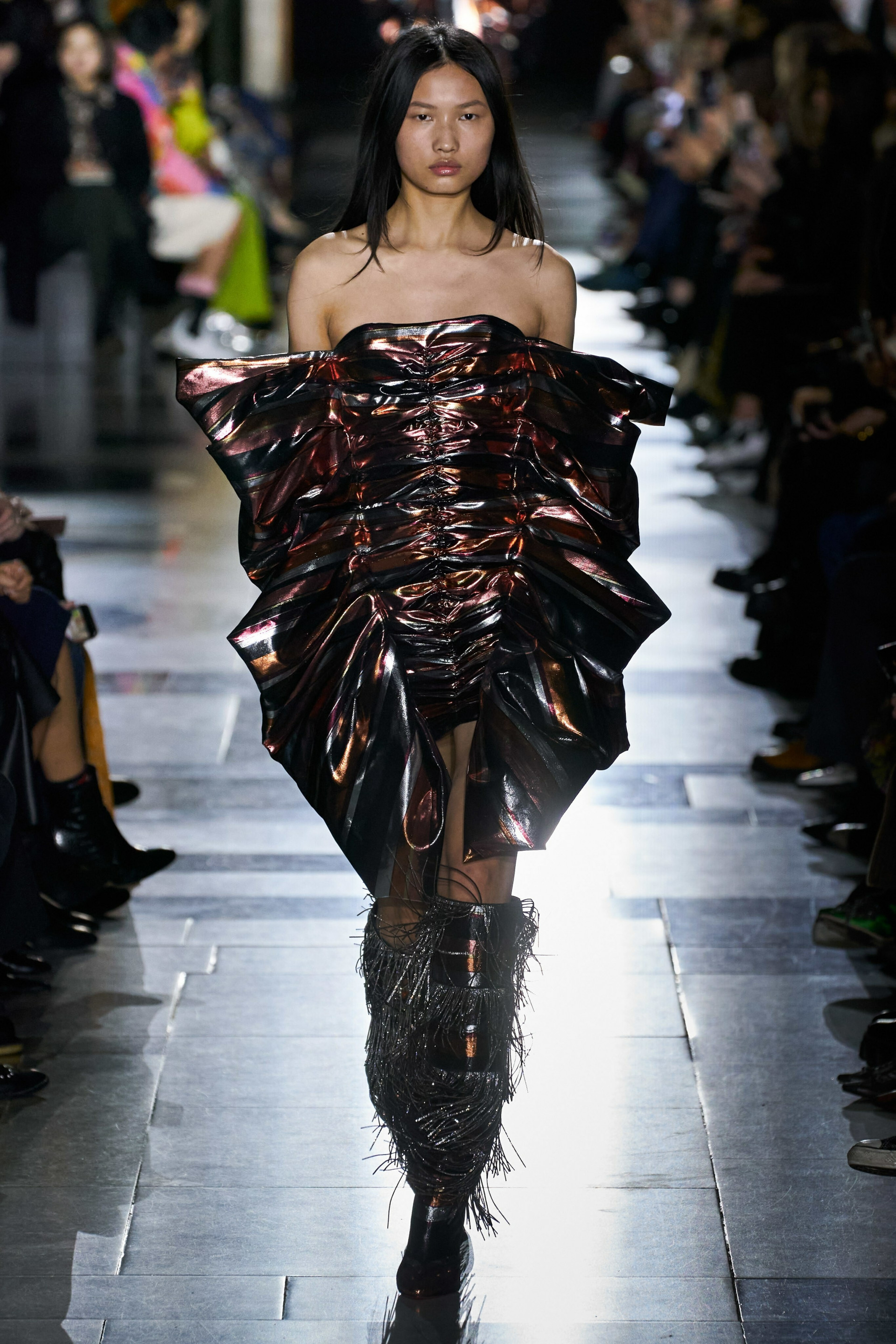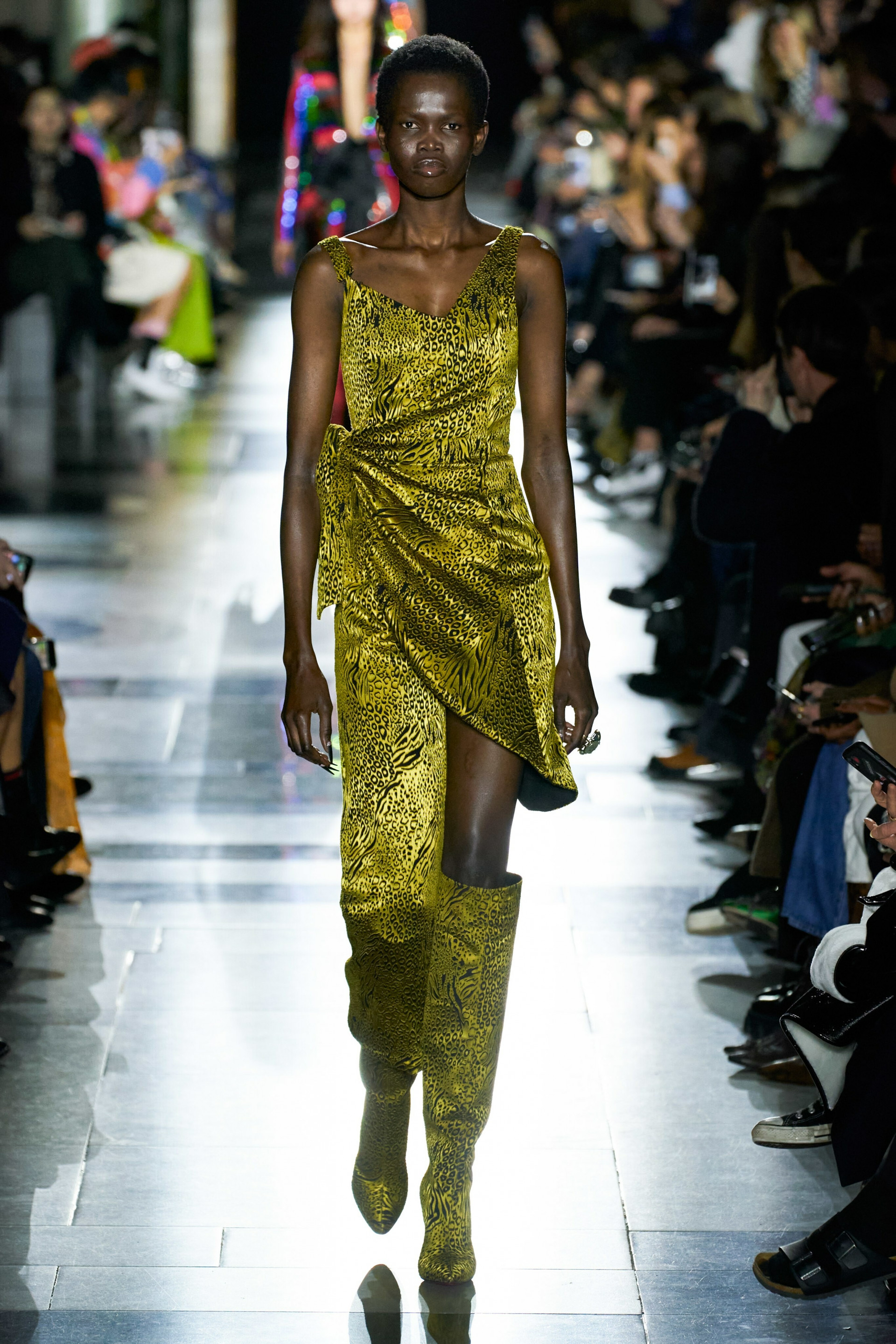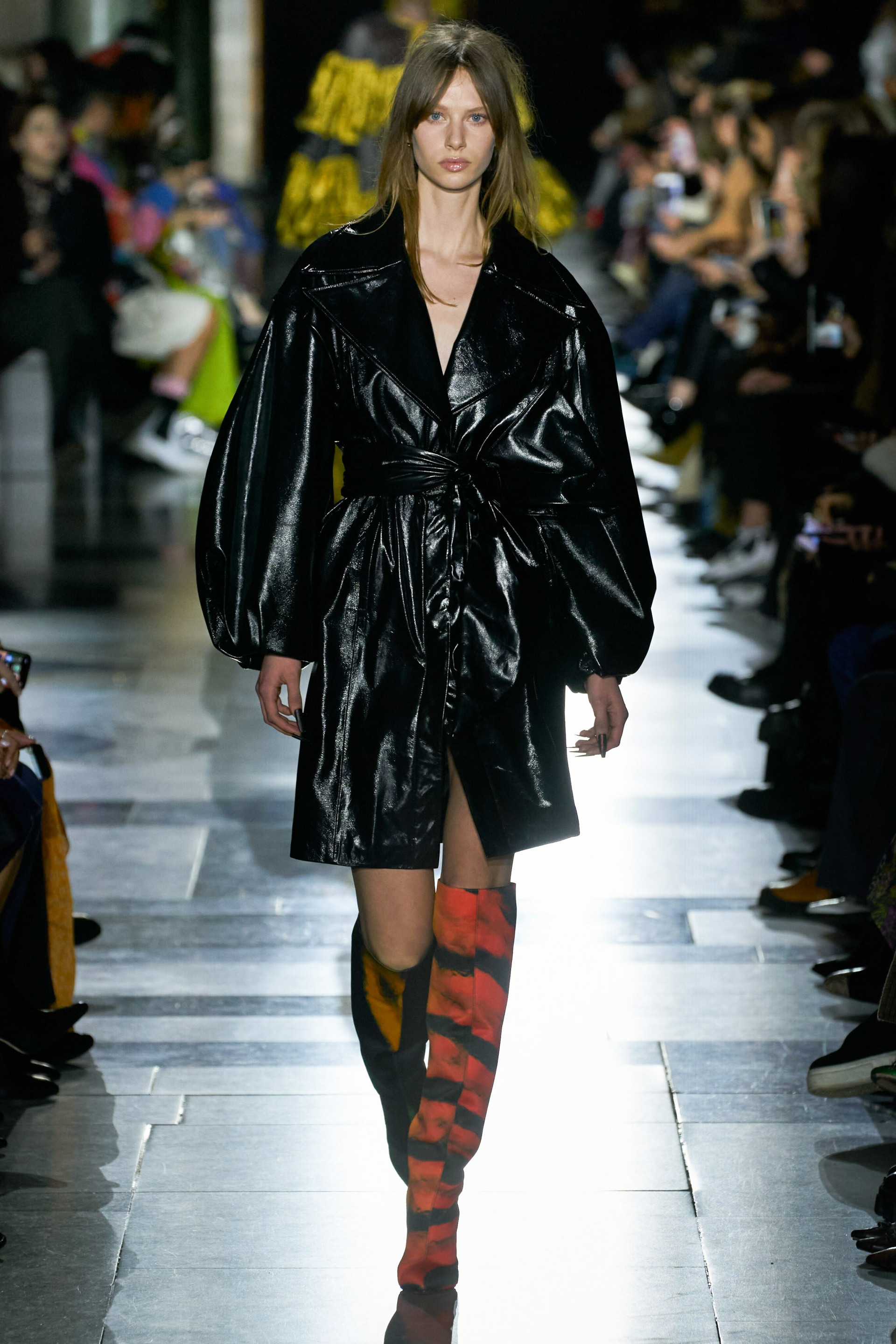 Halpern AW20 Collection
Bringing back some 80s vibes, Halpern's AW20 collection consists of a multitude of detailed textures and prints, ranging from burnout velvet and green snake print leather to 3-D floral colours and fringed tiger print. Many of the looks were accompanied by knee-high boots and intricate face decoration.
Words by Katie Janes
Graphics by Katie Janes
, , , , , , , , , , , , , , ,