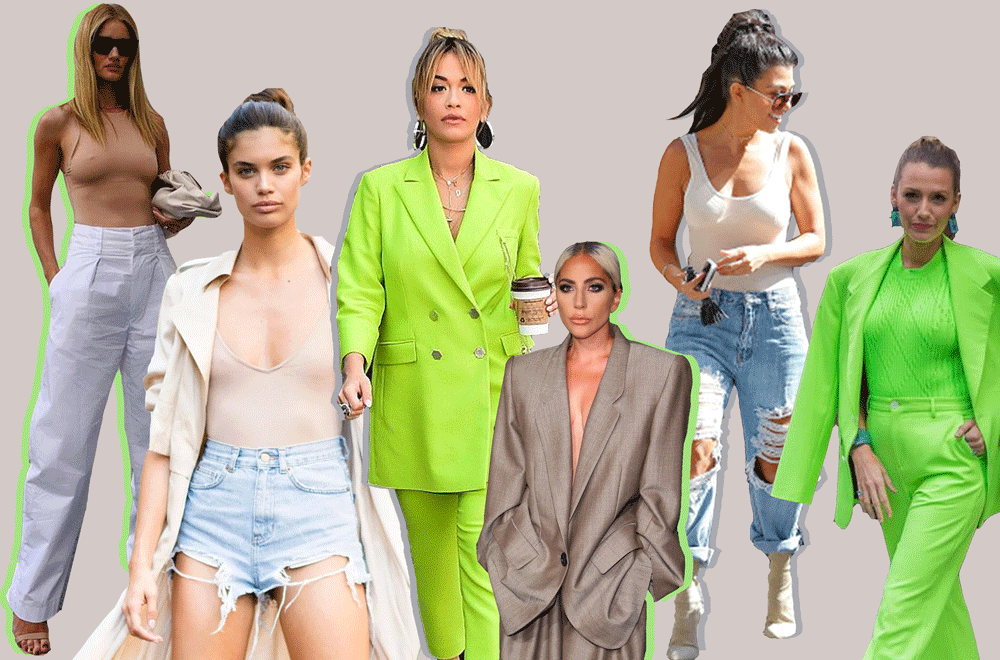 The humble tank top; the versatile sleeveless staple that can so effortlessly take us from the gym to the shops, to a night out (obviously with a wash and a few styling tweaks in-between- but you get the point!). In the current climate, shopping is now a distant happy, memory and nights out are the things of dreams.
Though many of the world's dedicated lovers of fashion might currently be feeling slightly distraught; all this time to think about and plan outfits down to the very last detail – and literally NOWHERE to go. It shouldn't stop us at least trying, even if it is only for a 20-minute chat with the head of the department. Which, at the minute, along with (if you're feeling particularly extra) a boozy skype night with the girls, is the only thing we have to get vaguely somewhere close to dress for.
It seems almost pointless to don an outfit head to toe when from the waist down, you are invisible to those on the other end of the video call. Plus, no matter how much you live and breathe fashion, being at home for these extended periods of time, comfort is essential.
Queue the tank top. Saving the day yet again.
It is the perfect combination of comfort and potential to be styled up or down (depending on the recipient of the video call). Along with having the ability to be paired with PJ bottoms, joggers, gym leggings… pants –(they will literally never know).
No matter what variation of tank top you own, we have put together three looks that will take your top-half from 0-100 in a matter of minutes!
Look 1:
Corset: ASOS Kikiriki shell bust strapless crop top in white (£38)
Clips: Claires Matte Beaded Rectangle Clips (£6), Valet Studio Kelly tortoiseshell clips (£30)
Eyeliner: Maybelline Hyper Precise All Day Liner – Matte Black (£5.99)
Brow Product: Glossier Boy Brow (£14)
Nails: Essie Nail Color in 'You Do Blue' (£7.99)
Lips: Bobbi Brown Lip Color in 'Salmon' (£24.50)
Eye Shadow: DIOR Matte Long-Wear Professional Eyeshadow in 'Celeste' (£20.40)
Look 2:
Bralette: COGGLES Calvin Klein Women's Triangle Unlined Bra – Black (£28)
Necklace: ASOS necklace with crystal link pendant and glam chain in gold tone (£12)
Earrings: Bershka Maxi hoop earrings with rhinestones (£7.99)
Nails: Nails Inc. Polish in 'Neon Coral' (£15)
Mascara: Too Faced Better Than Sex Waterproof Mascara, Black (£9)
Lashes: Ardell Professional Duralash Knot-Free Naturals Individual Lashes (£3.45)
Eye Shadow: MAC Eye shadow in shade 'Sushi Flower' (£15)
Lips: Pretty Little Thing Carmex Lip Balm (£3)
Look 3:
Headband: Slip Silk Knot Headband – Pink (£69)
Hoop Earrings: RegalRose Sterling Silver Medium Hoops (£16)
Mini Earrings: Astrid and Miyu Cartilage hoops
Pearls: ETSY mini pearls (£3.70)
Nails: Ebay Sophy Robson Set 24 Press On Nails (£2.99)
Eyeliner: Fenty Beauty Flypencil Longwear Pencil Eyeliner ($35)
Eye Shadow: MAC Eye Shadow in 'Omega' (£15)
Words and Edits by Ella Winfield
Cover by Katie Janes
, , , , , , , , , , , , , , , , , , , , , , , , , , , ,