Art and high fashion have always been synonymous in their ability to evoke feelings of joy, optimism and ease. Through pleasing patterns and abstract designs, many fashion houses are collaborating with timeless artists from Reinhard Voigt to Frank Stella to combine high fashion silhouettes with artsy abstract prints.
As Paris Fashion Week draws to a close, Voir has your final rundown of unforgettable shows.
Stella McCartney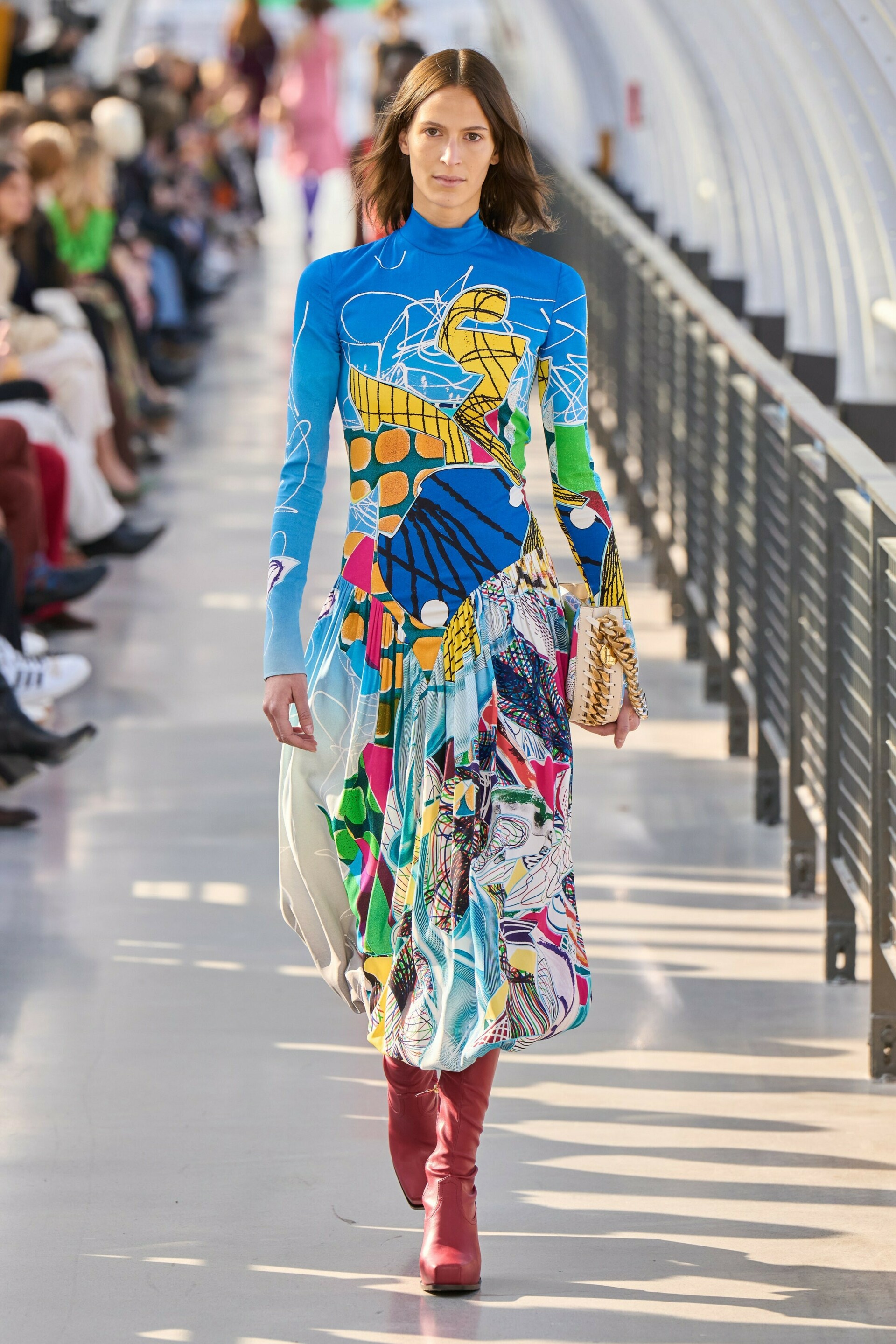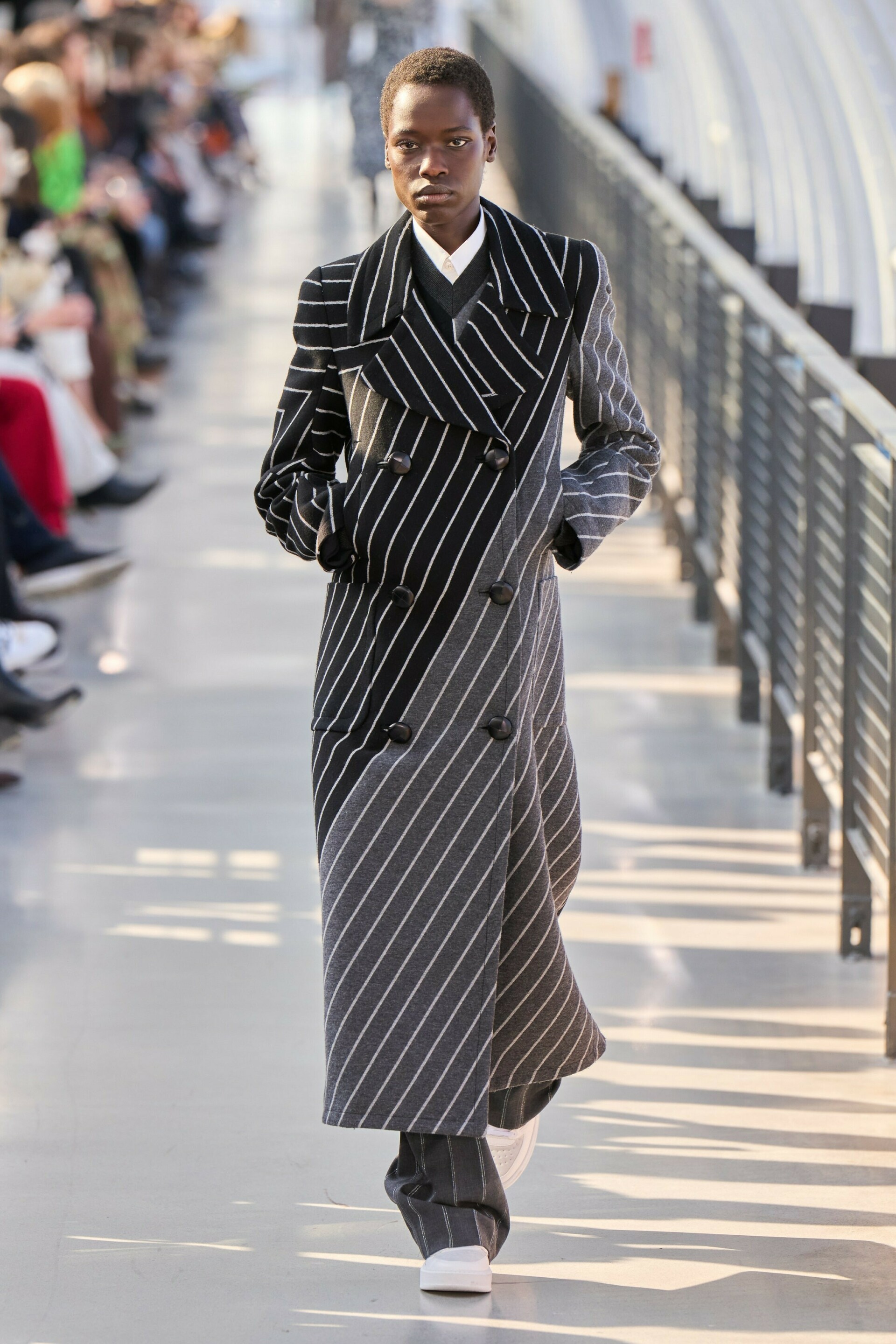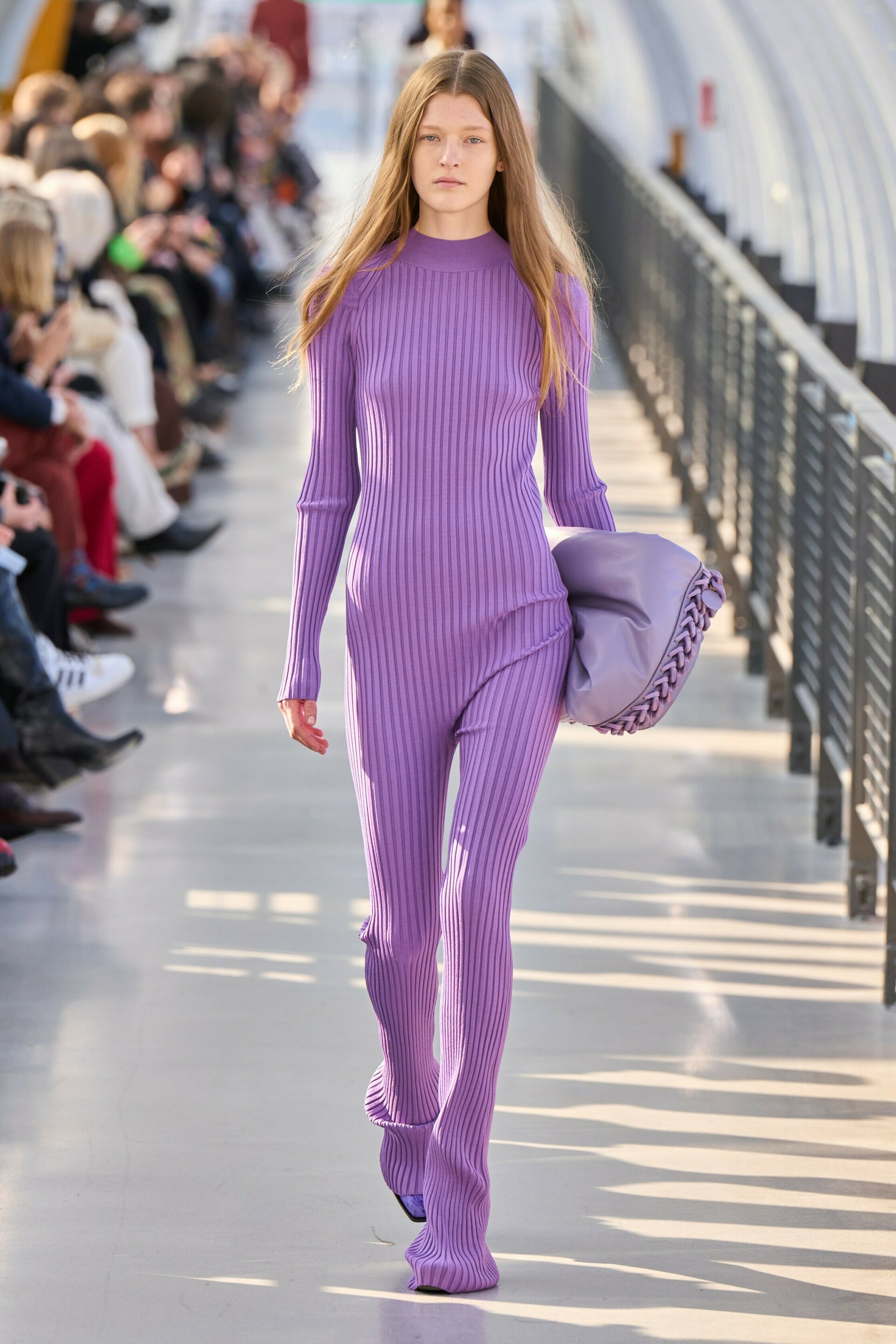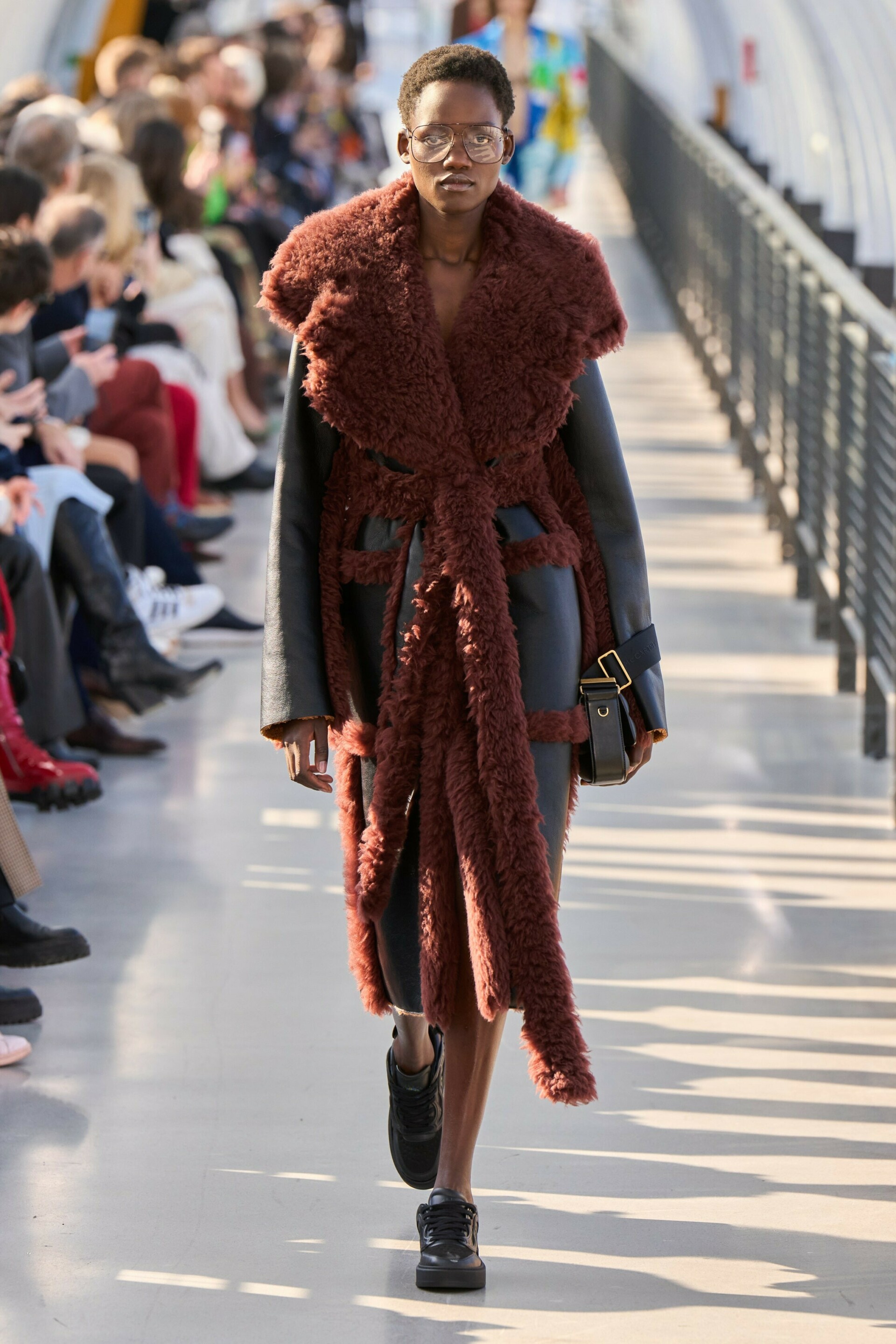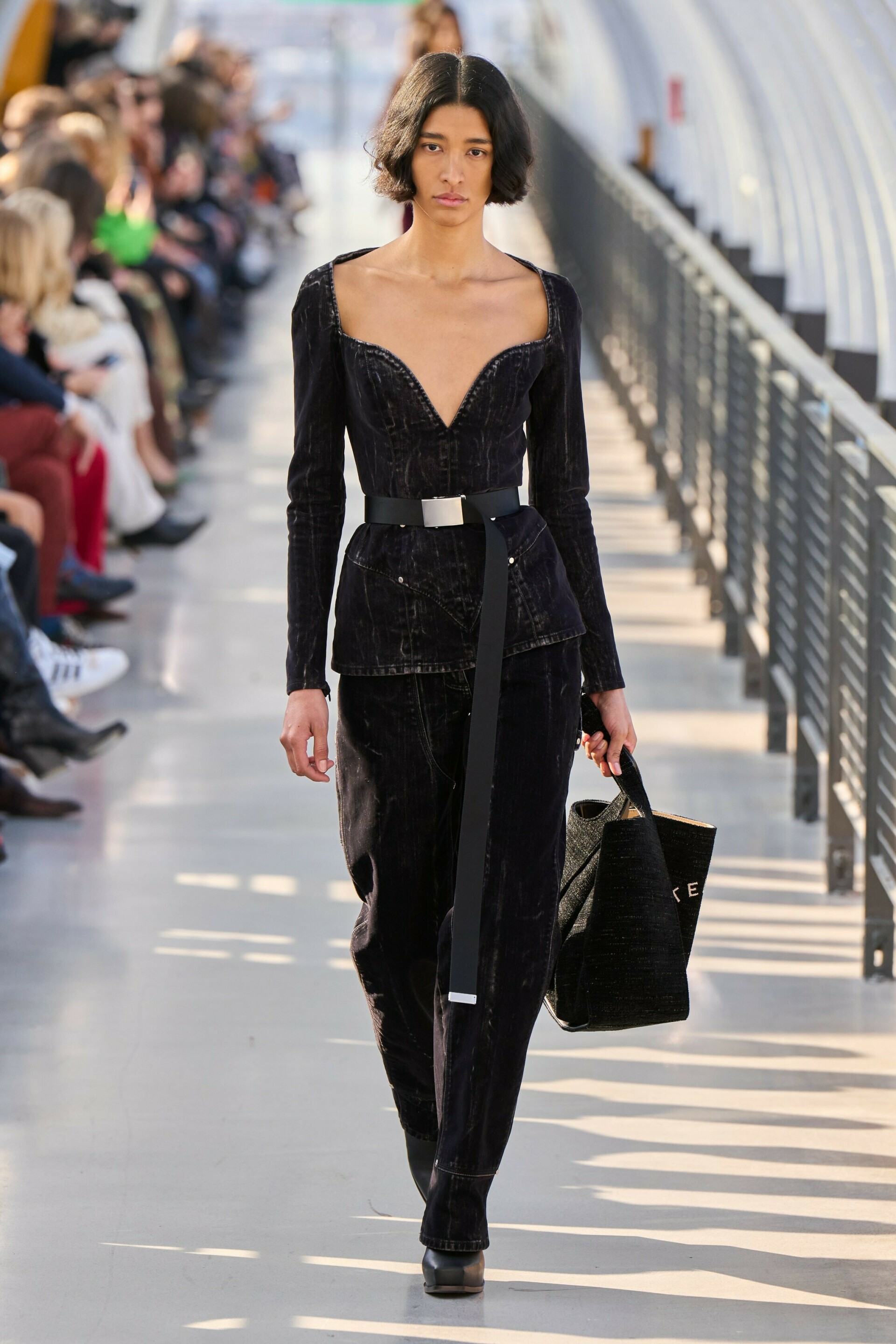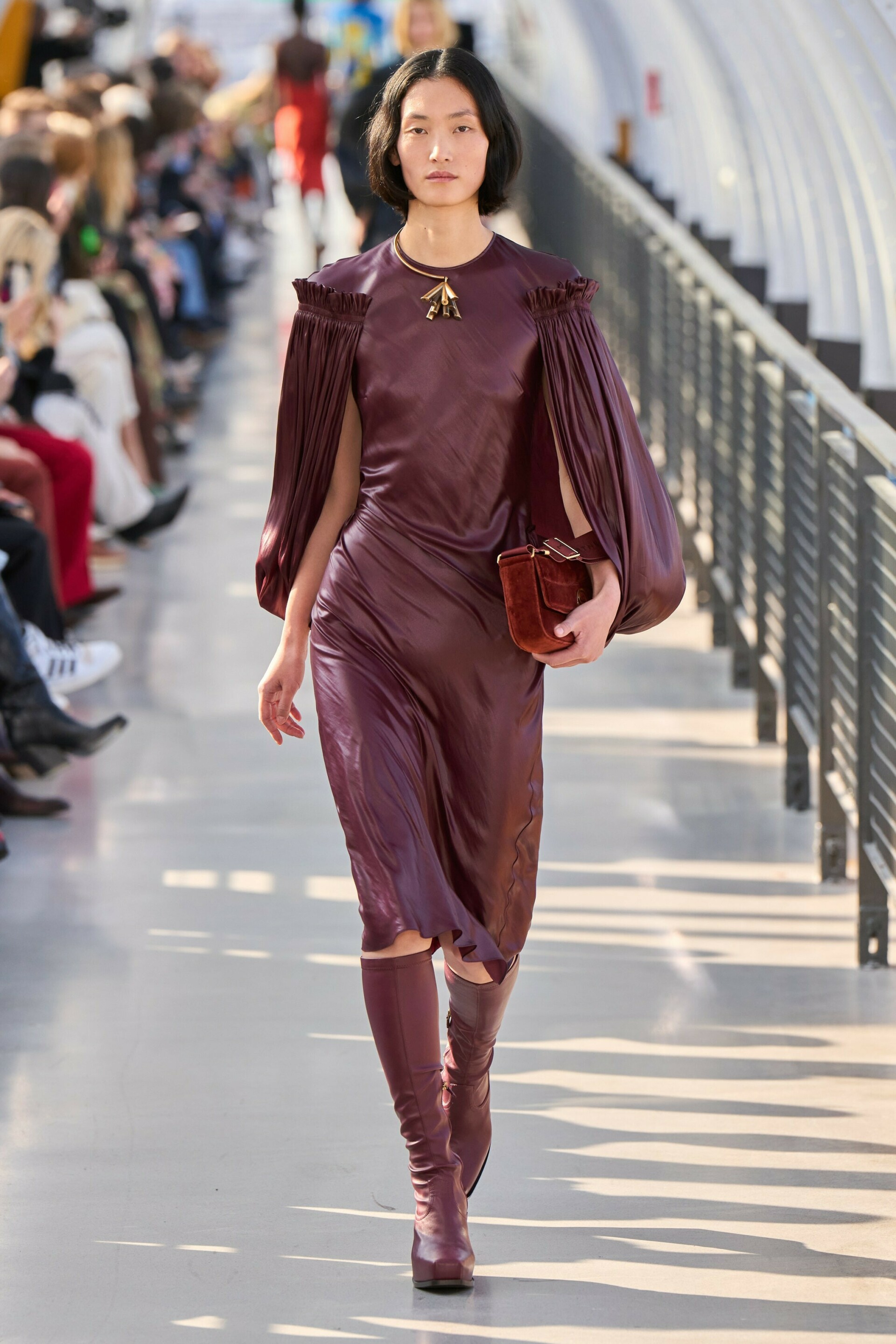 Stella McCartney is the pioneer of ethical fashion, her designs repeatedly remind us that neglecting leather and fur doesn't mean leaving behind quality and style. Her FW22 show (set in an ultra-modern Parisian dome) created silky skirts, denim flight suits and fluffy trench coats in a colour palette of pastel tones. The designer made use of fluid shapes and negative space to create an artistic and lively, yet wearable collection.
To create the collection, McCartney worked with artist Frank Stella, using his work as inspiration. The parallels between Stella's work and McCartney's designs are evident in her use of abstract prints in a minimalist meets maximalist style. On working with the artist, Stella admitted to Vogue it was "scary because he has incredibly good taste". Despite this, the two came together to create an amalgamation of artsy prints and high fashion silhouettes.
Louis Vuitton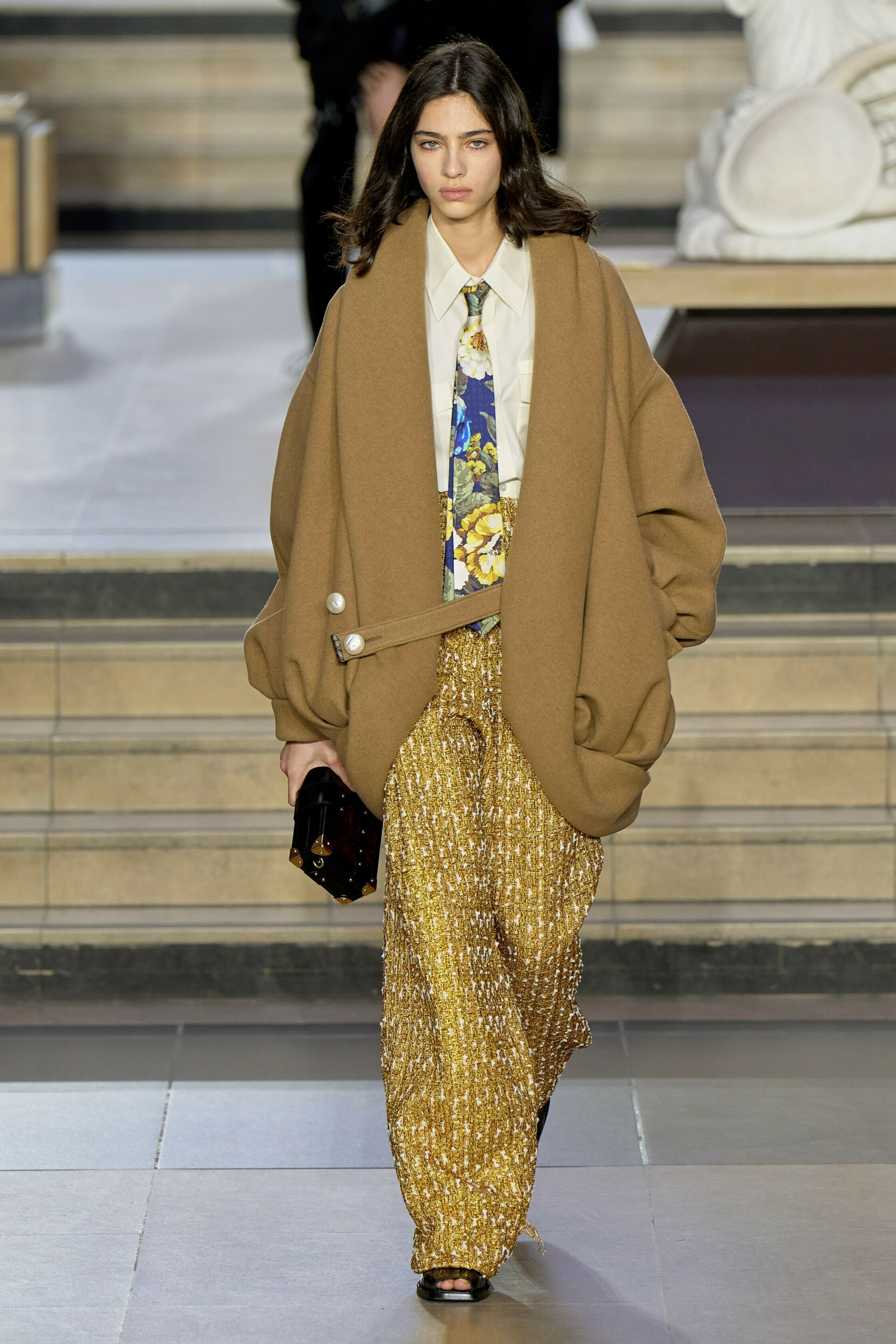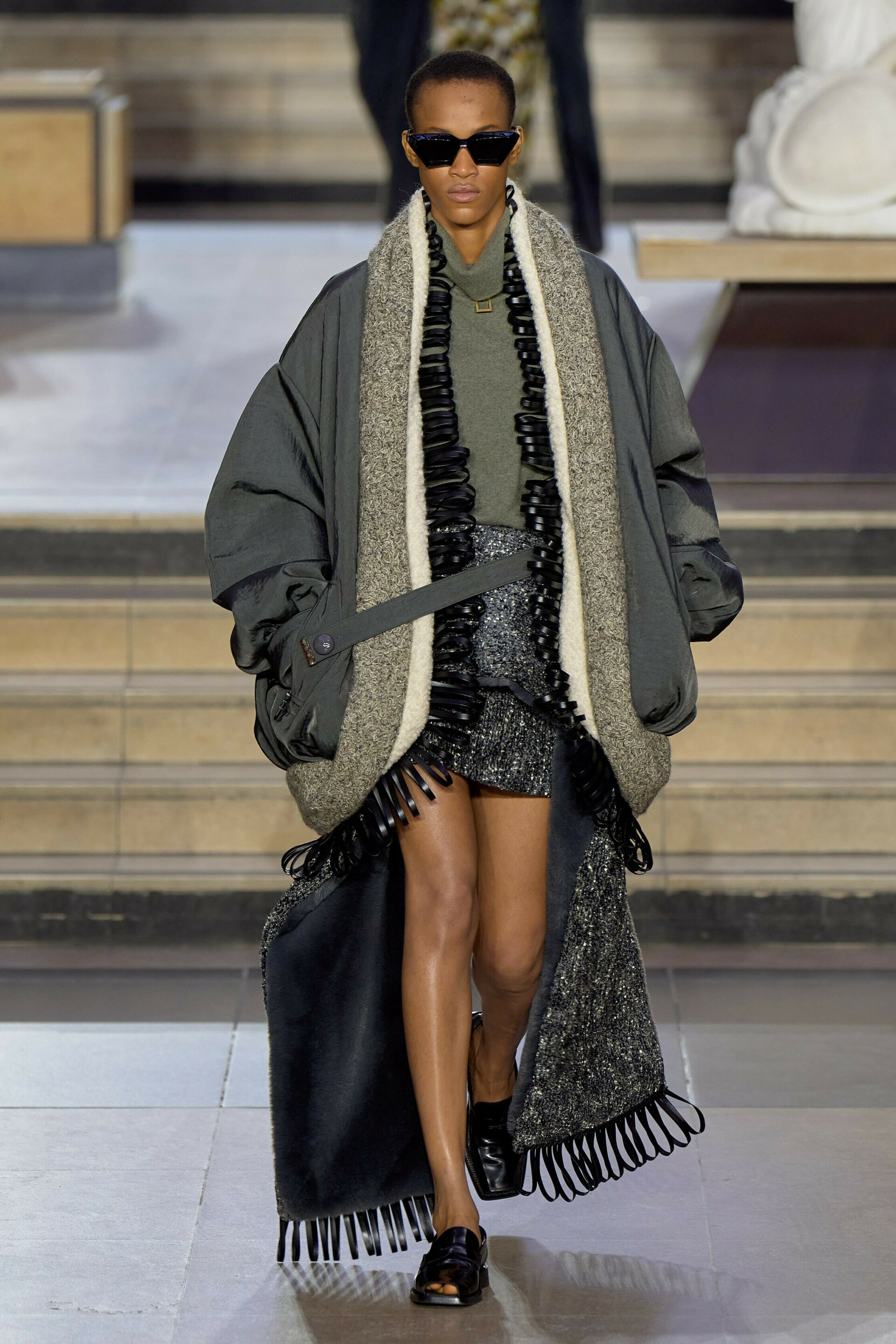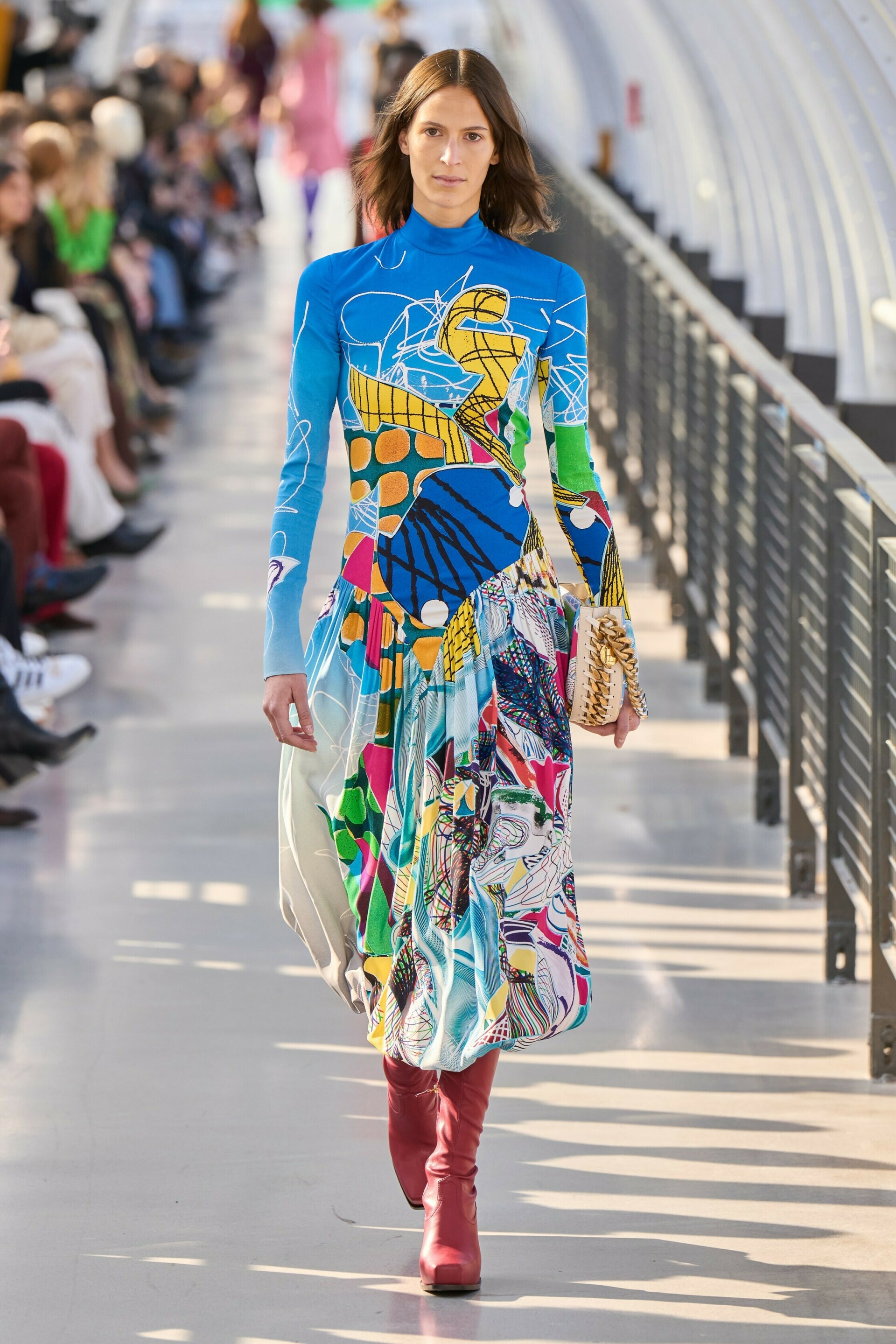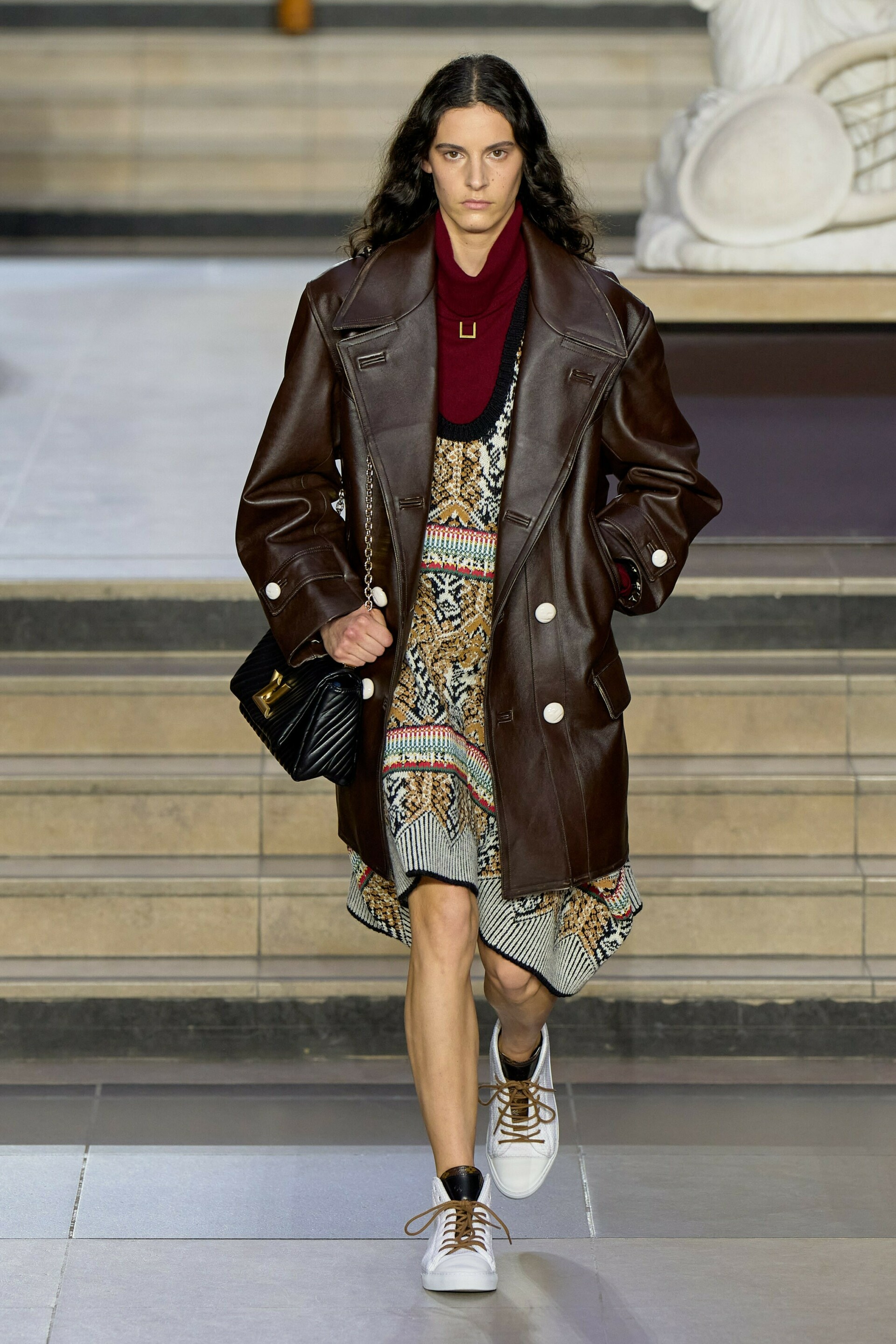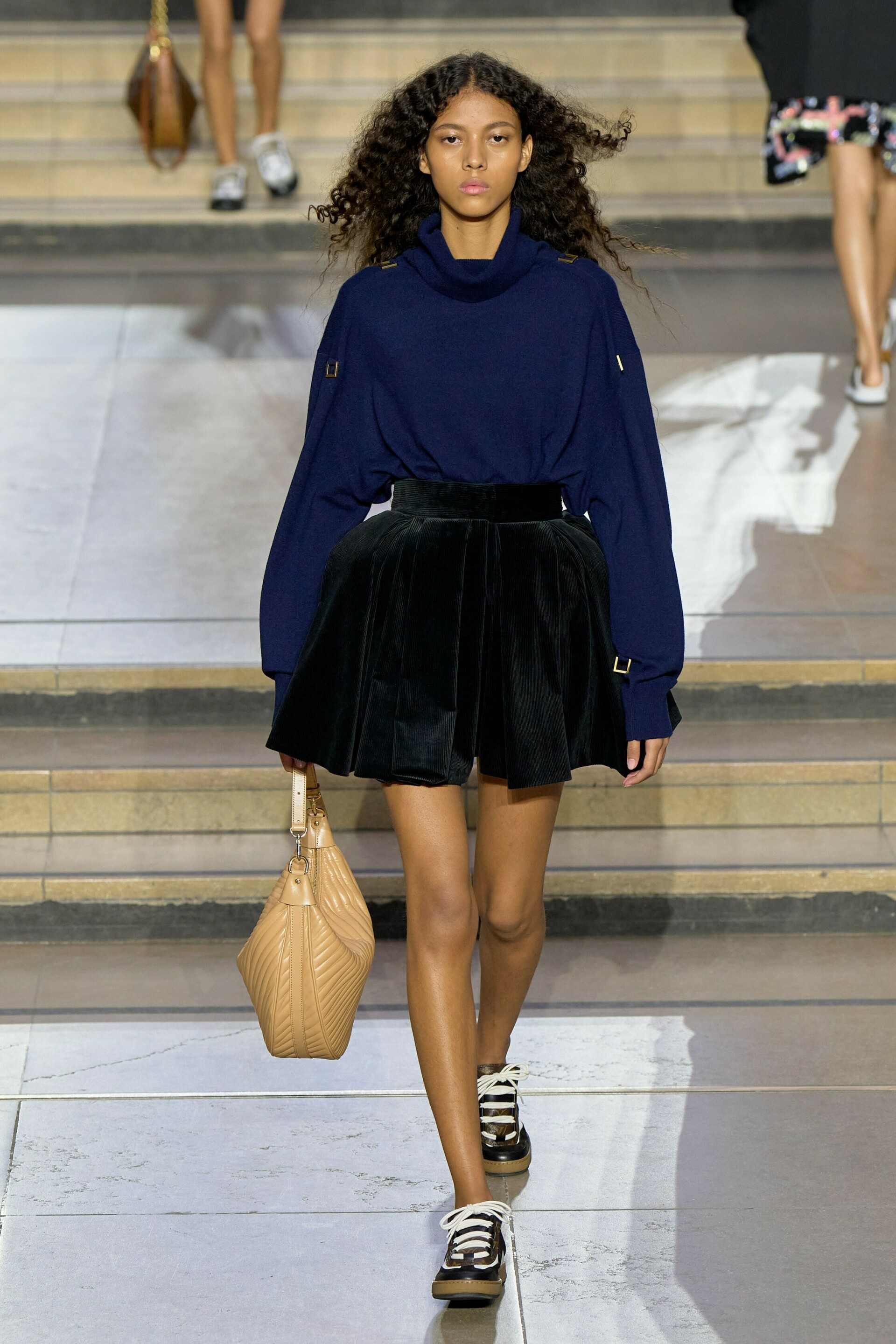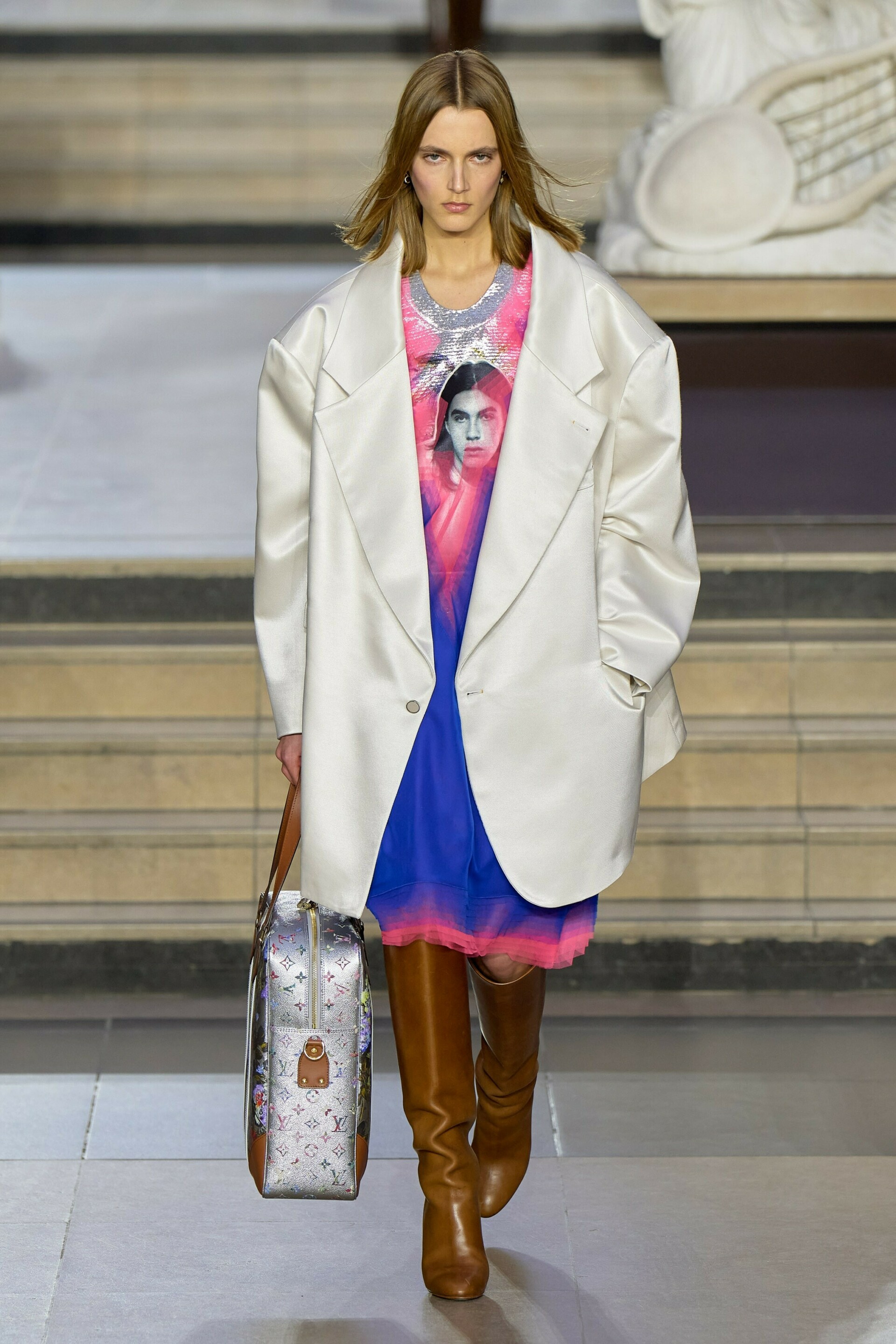 With more prints and patterns than imaginable, Nicolas Ghesquiere captured the beauty and culture of Paris through an old money inspired FW22 collection showcased at the Musee d'Orsay. Moving away from the strict gender codes that once held a tight grip over the fashion industry, Louis Vuitton's newest collection saw women in traditional menswear from ties to pinstripe pants.
The collection blurred the lines between streetwear and couture silhouettes as loose-fitting sweaters were placed over flaring maxi skirts in floral prints. Playing on the trending old-money style garments, collared sweaters synonymous with vintage golf wear were paired with pocketed dungaree dresses. The quaint collection complemented the romantic marble setting.
The show's audience was filled with the fashion house's muses. Sarah Paulson and Emma Chamberlain sat in the front row, a prime spot to watch Squid Game's HoYeon Jung open the show in a brunette boxy jacket.
Givenchy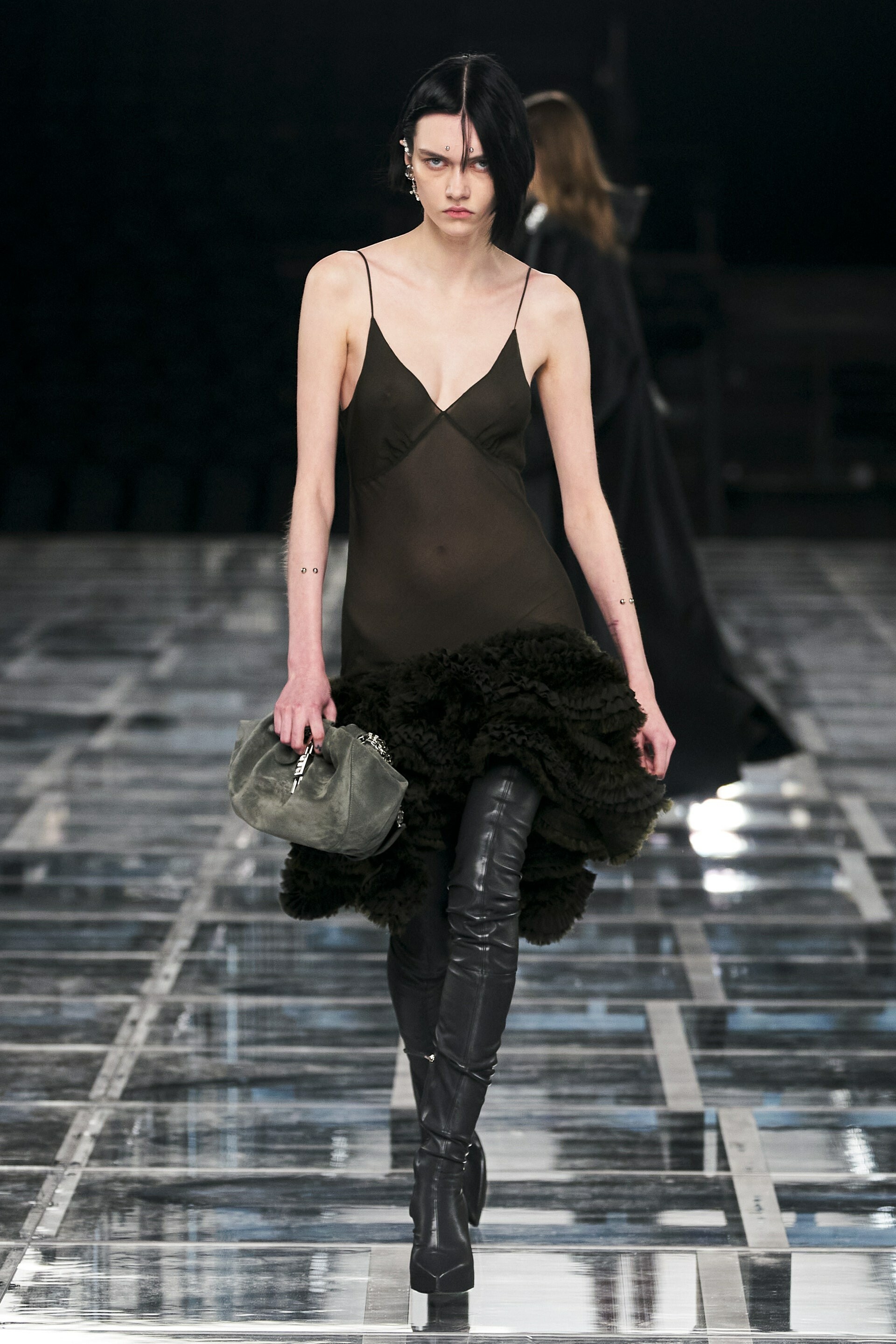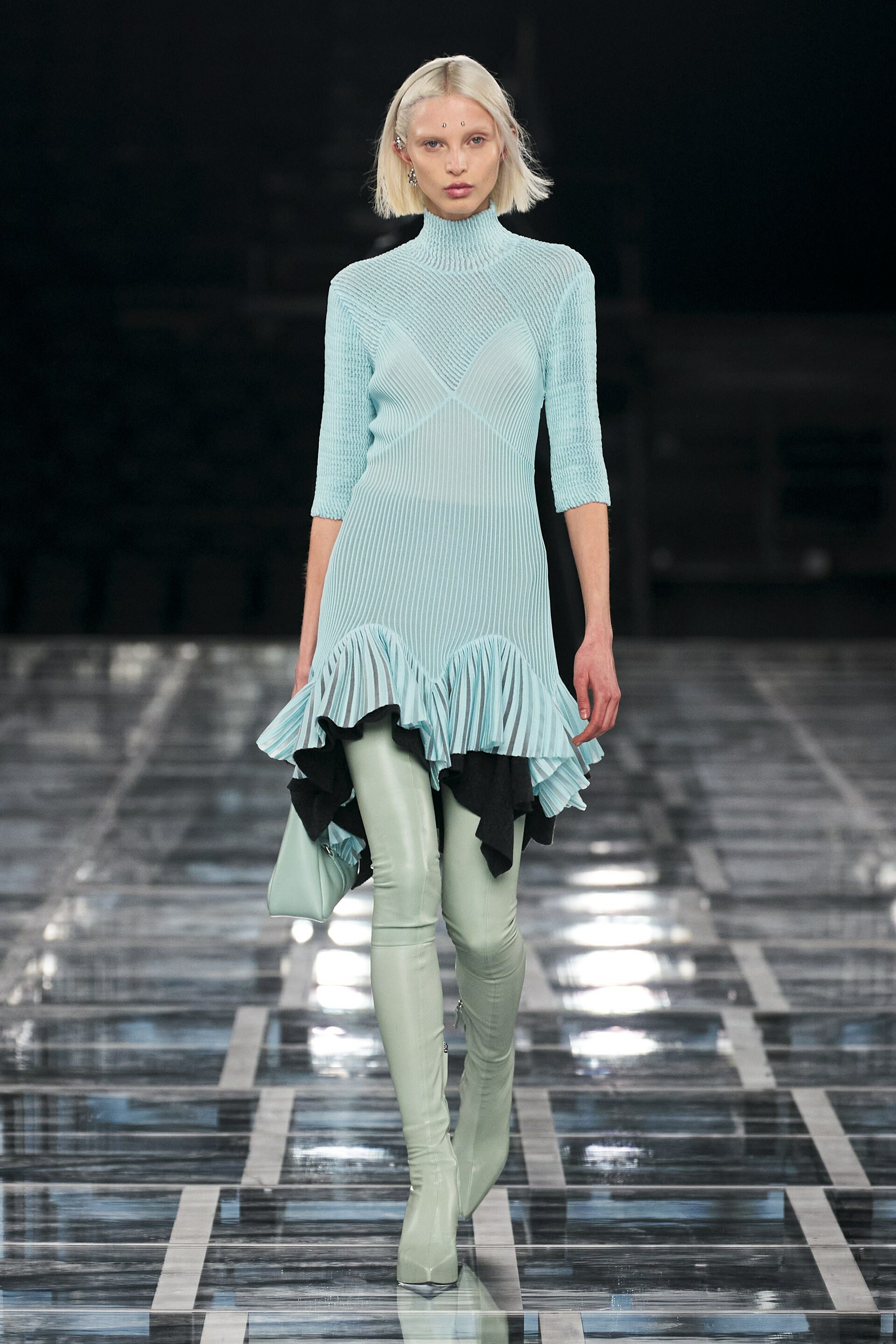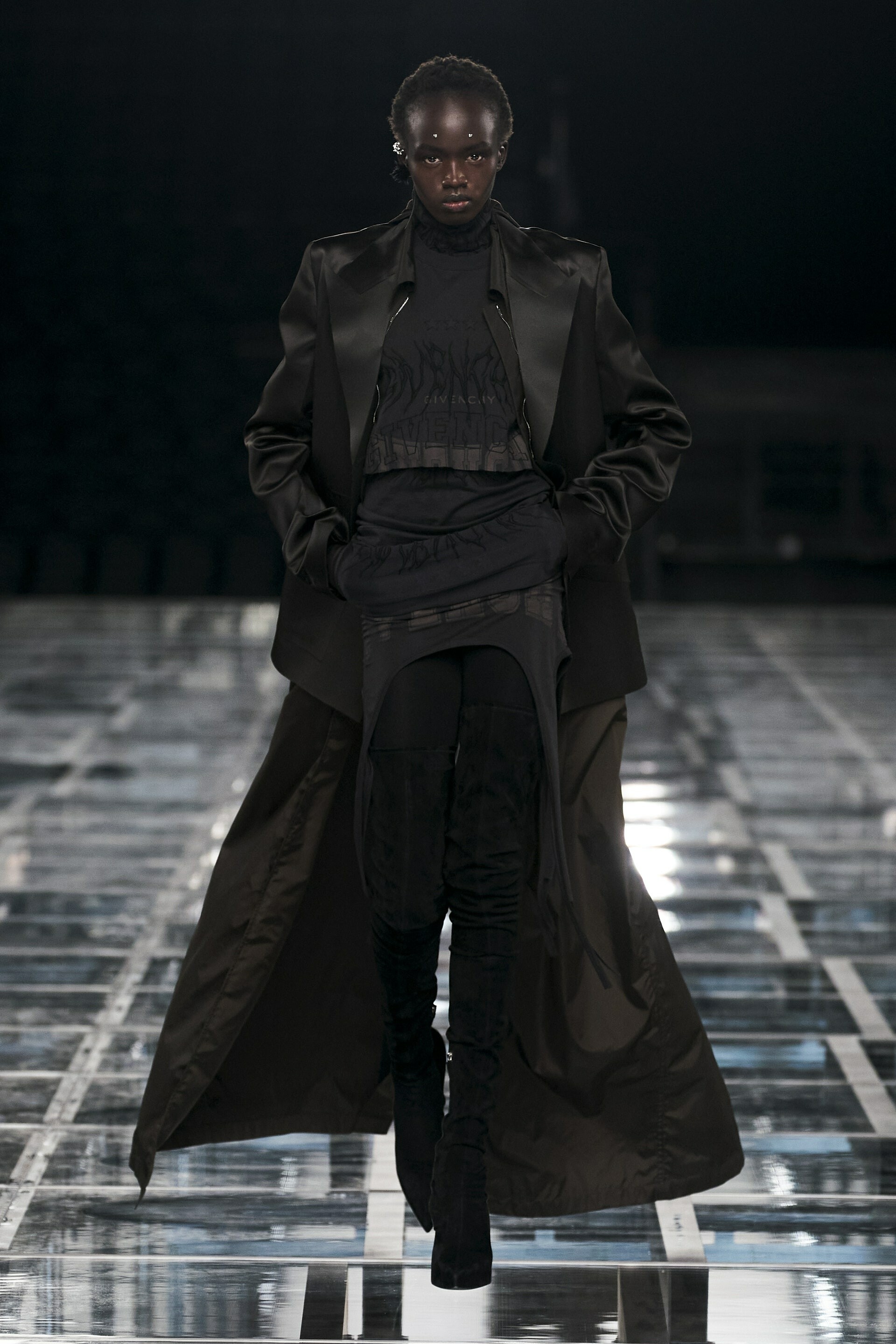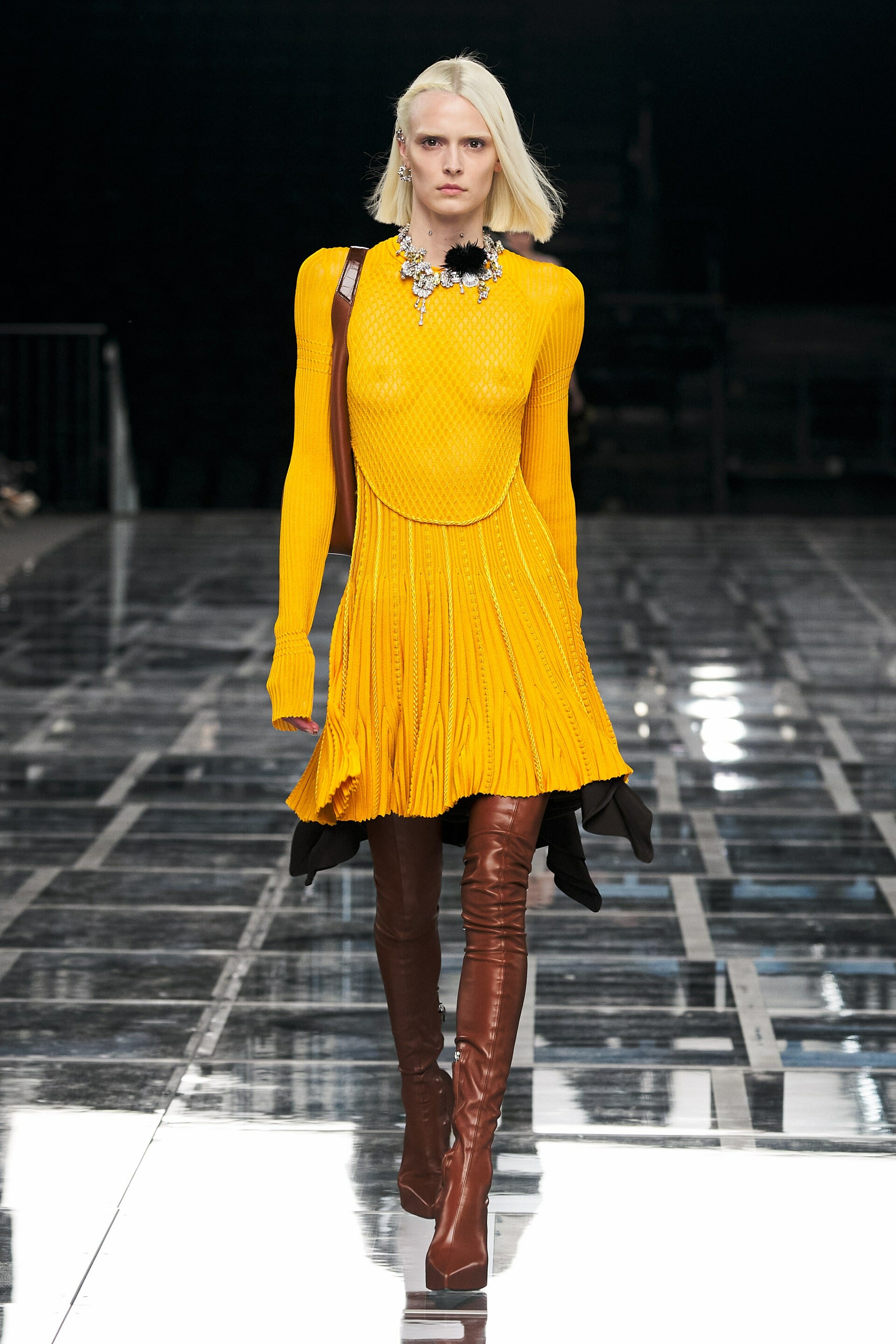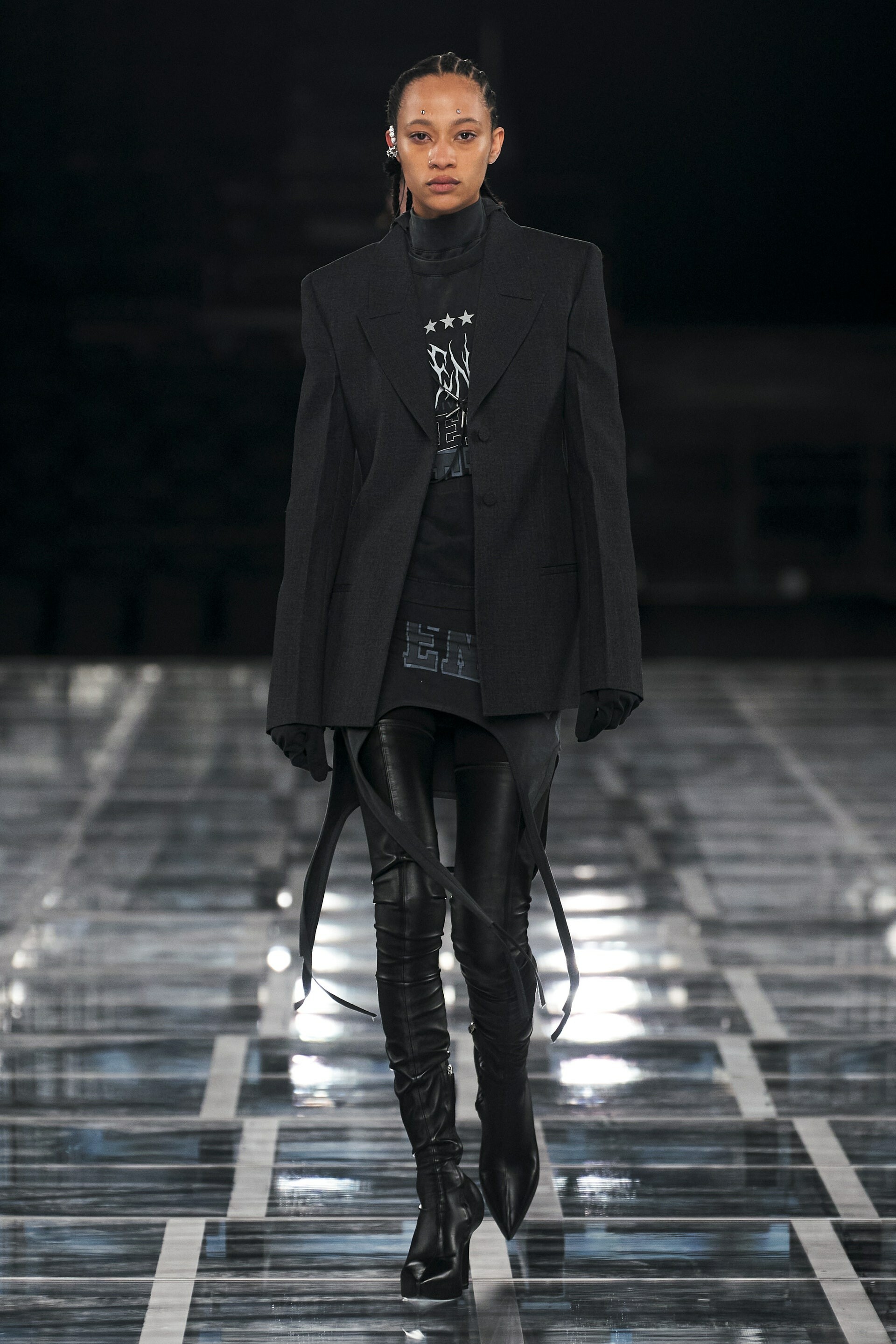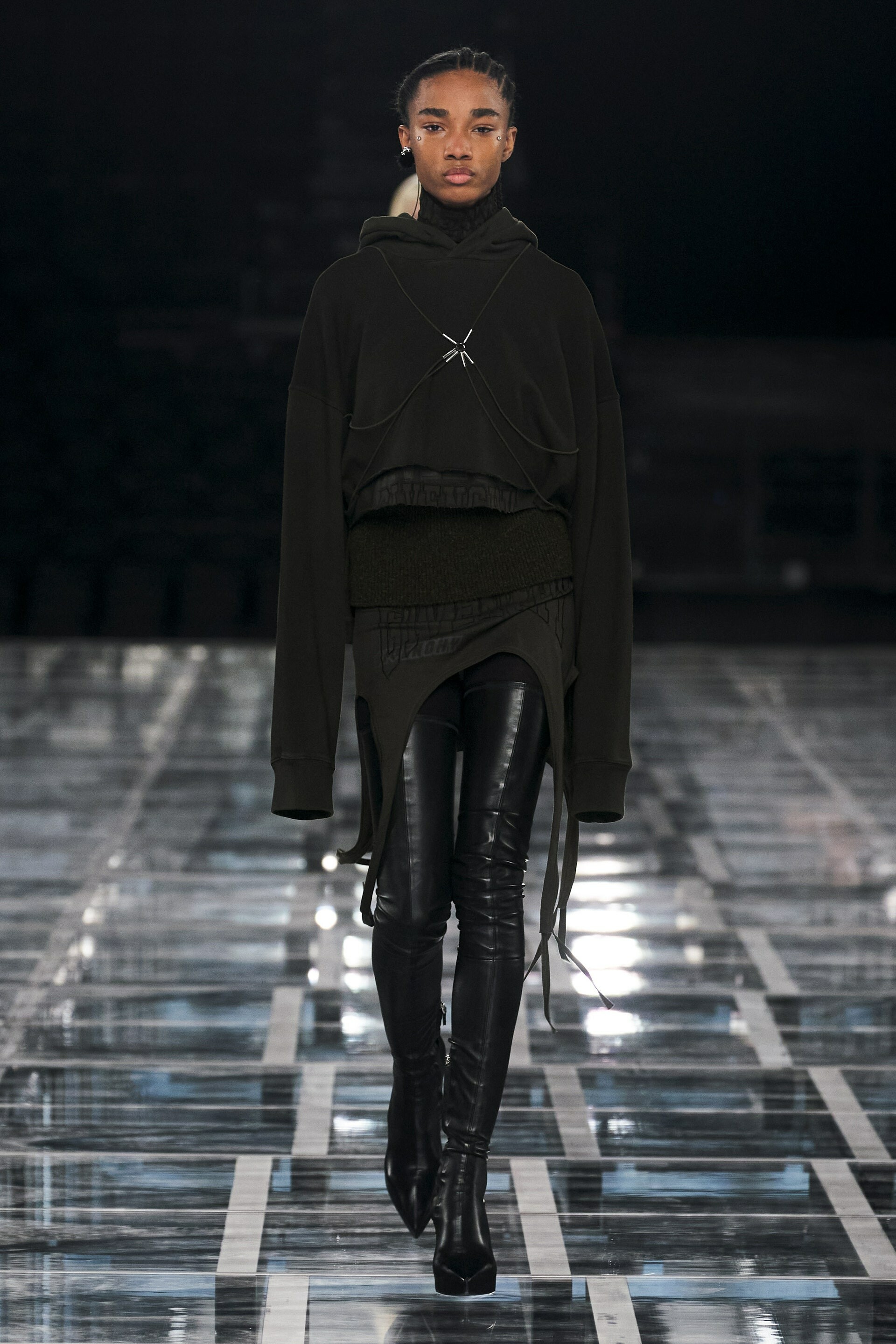 Since becoming creative director of Givenchy, Matthew Williams has turned the house into a pioneer of alternative modern fashion by blending key house codes like feminine elegance with fashion-forward flair.
For his FW22 collection, Williams brought nostalgic noughties grunge back to the forefront. Baggy band tees, tight-fitting tanks, and leather boots transported us to the days of Nirvana- fever as fierce models stormed the runway to futuristic beats.
While the collection was fun and light-hearted, the fashion house did not fail to pay their respects to those currently suffering in Ukraine; Givenchy sent both blue and yellow looks between the emo wear to show solidarity with the war-torn country.
Schiaparelli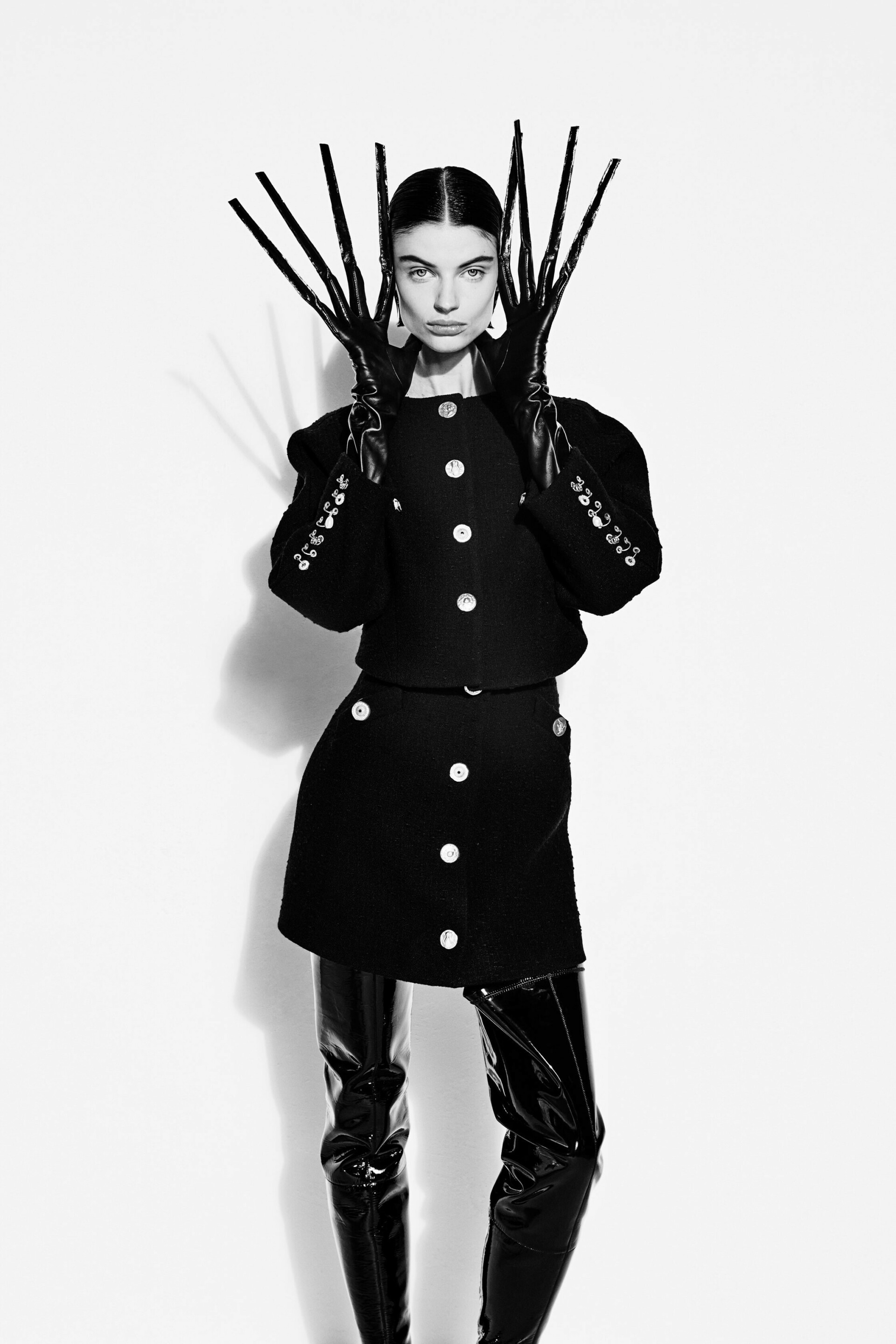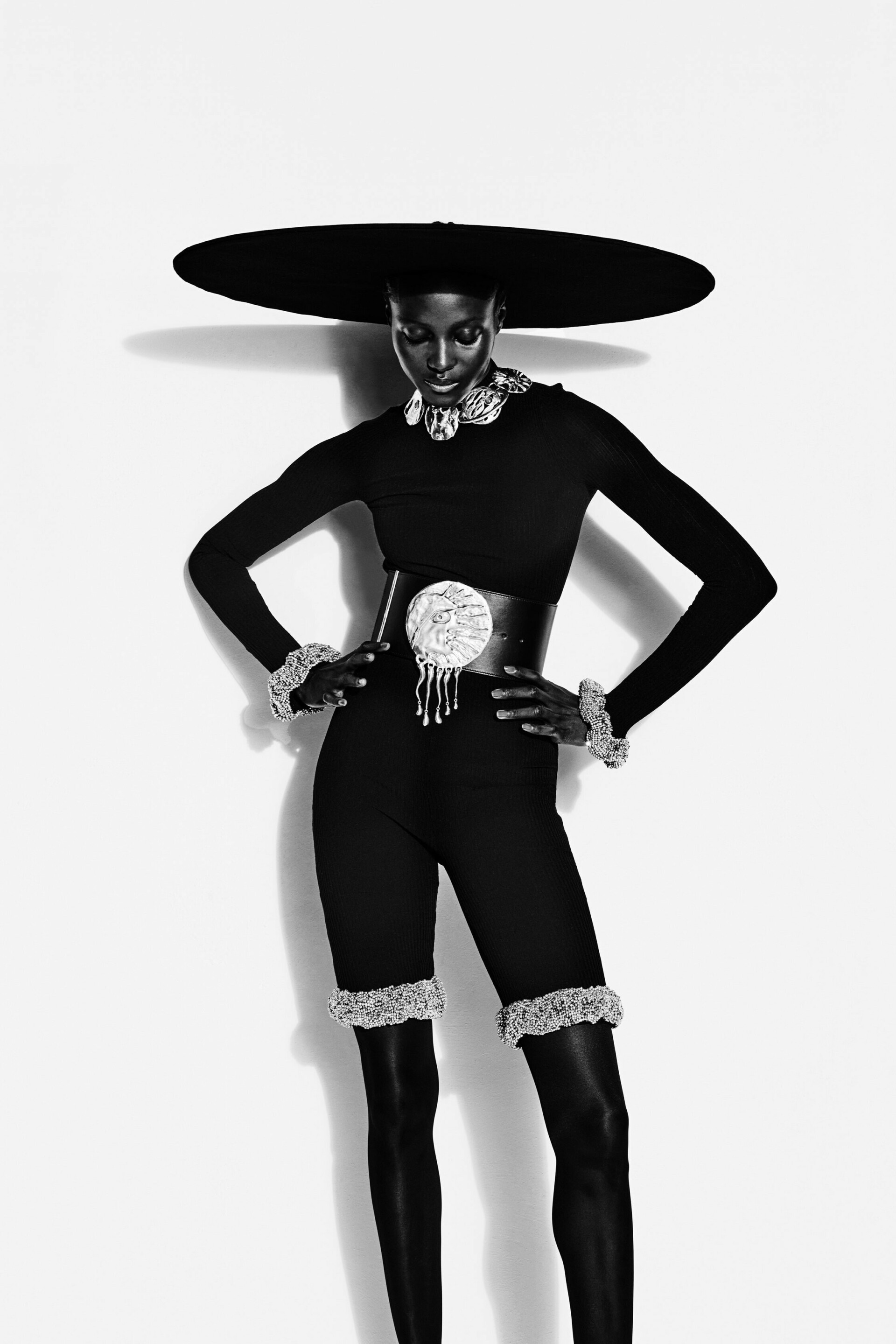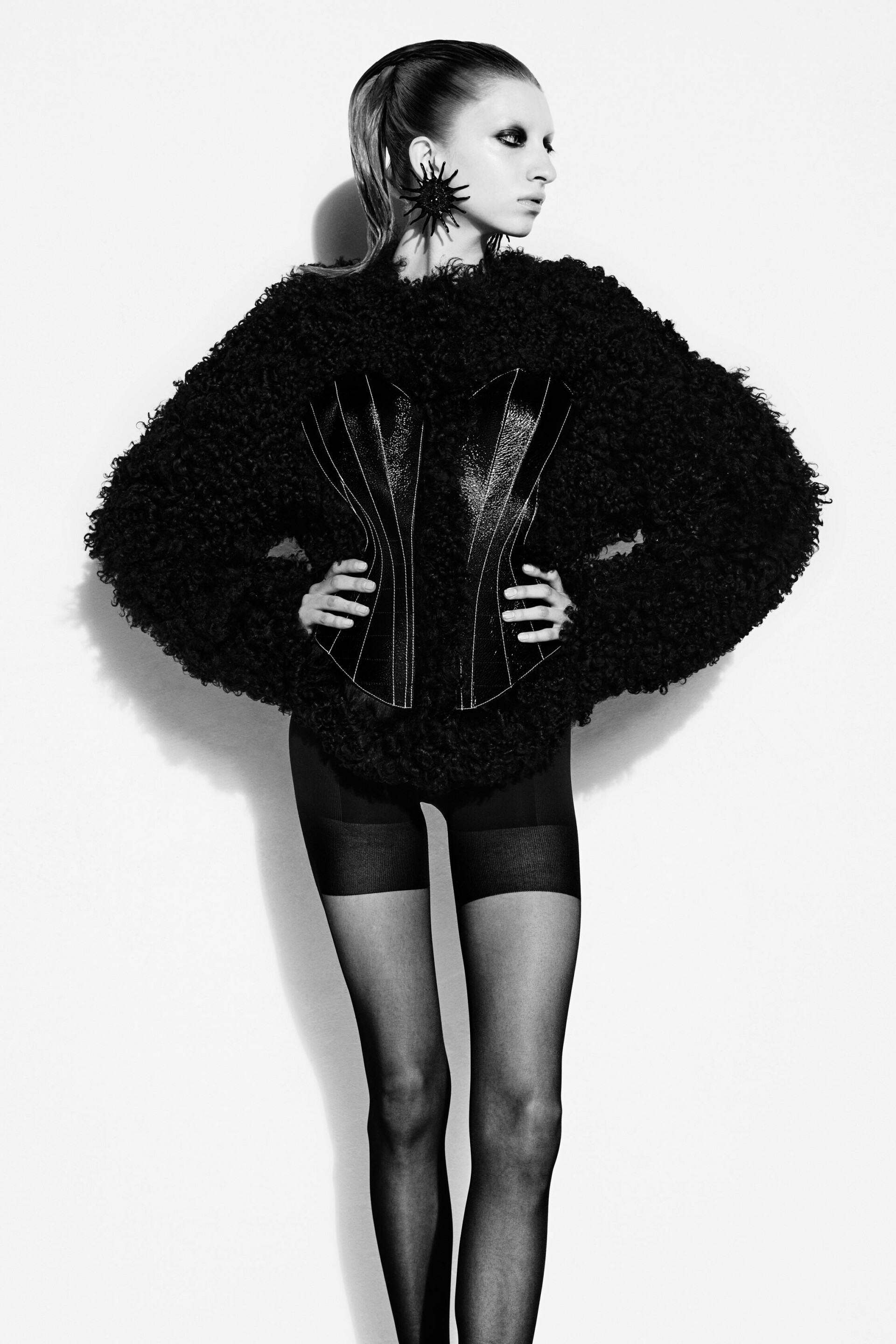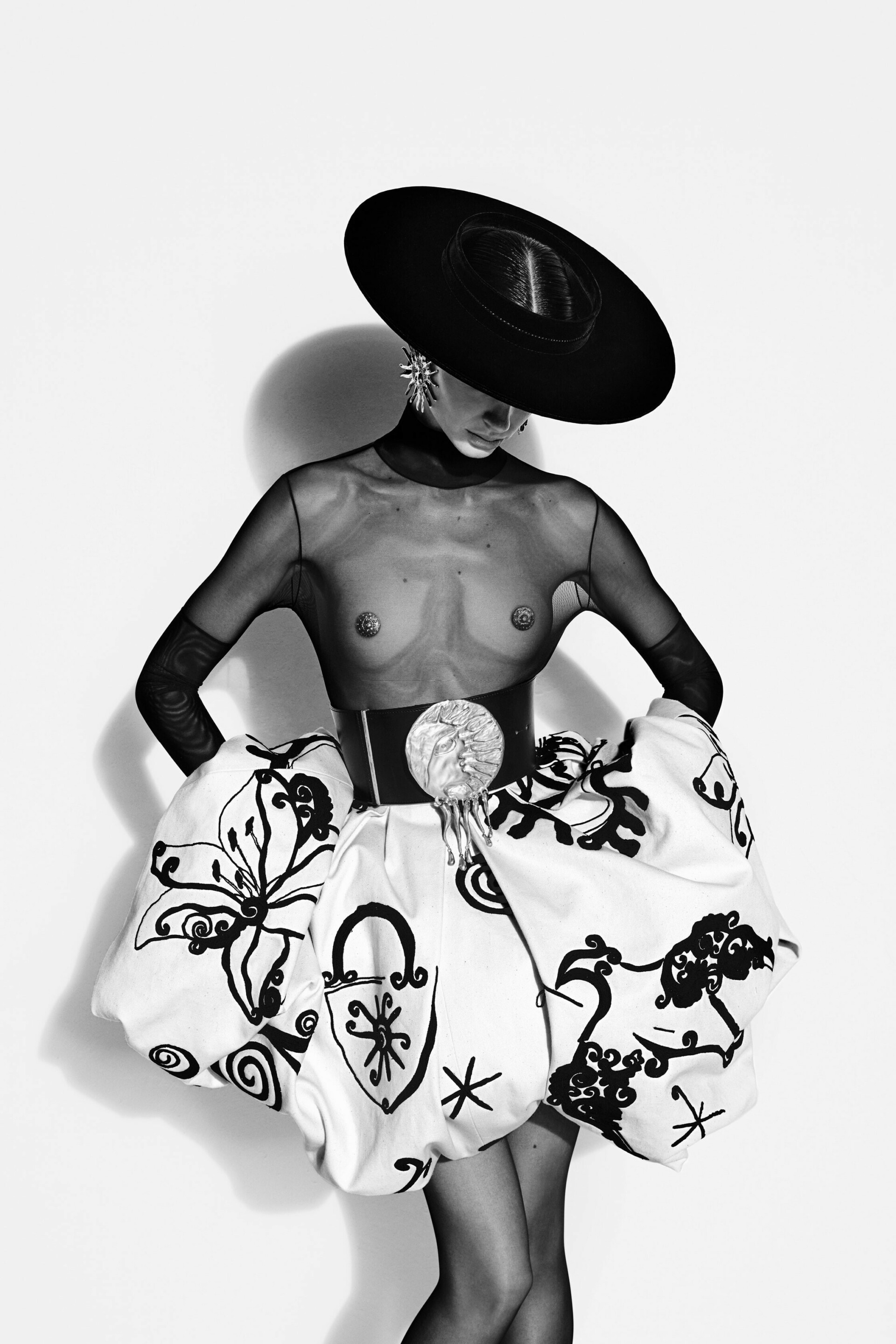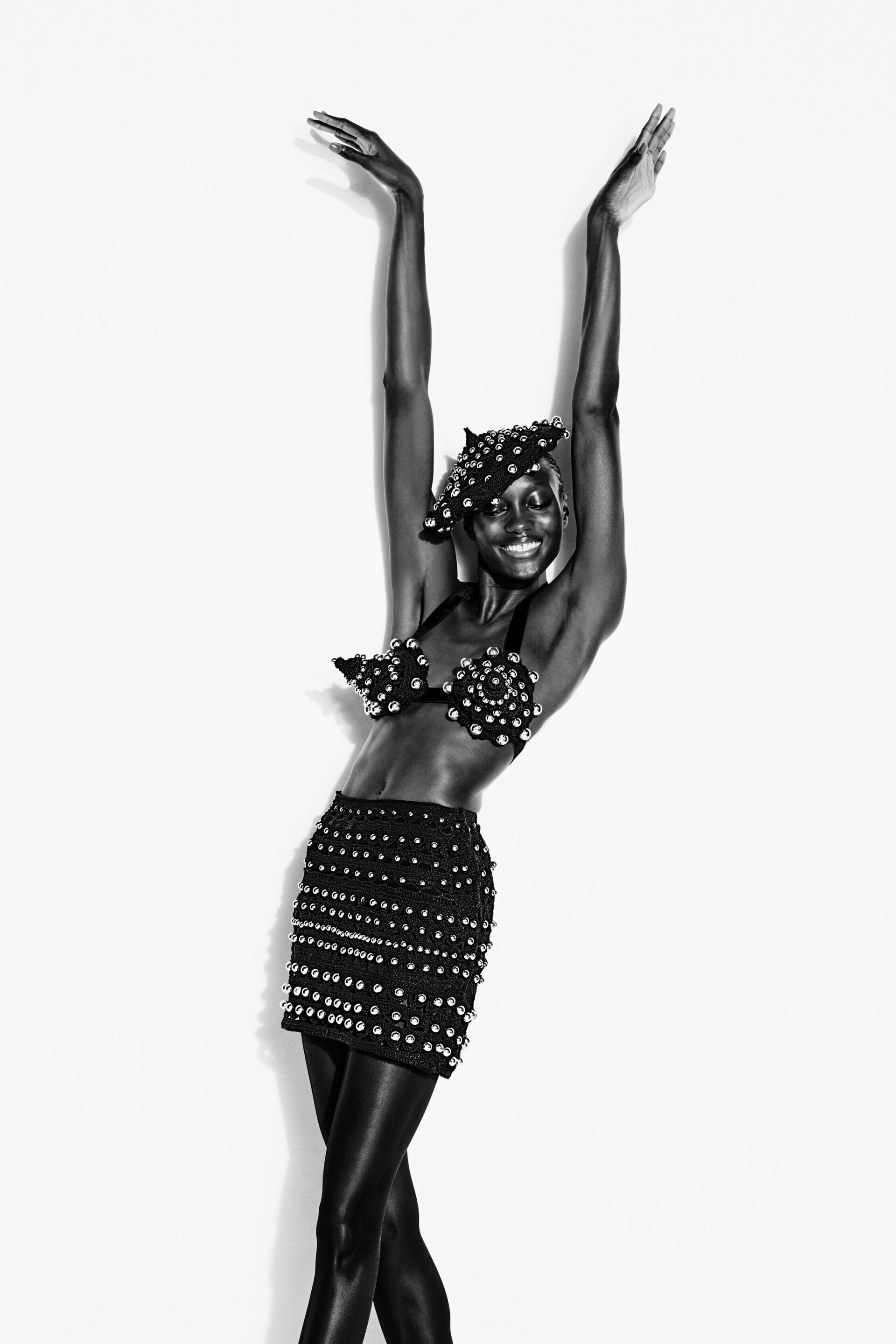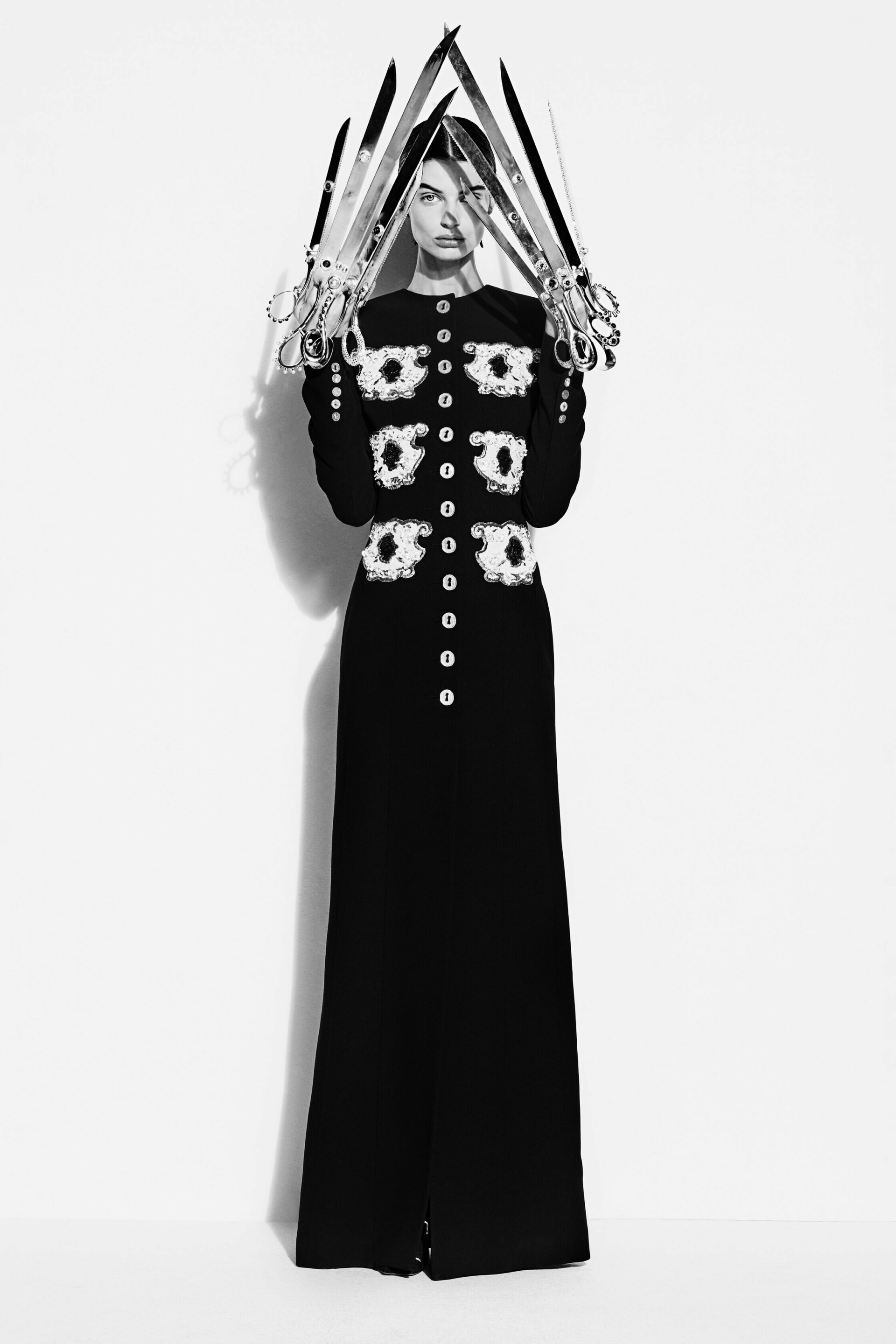 Schiaparelli took their legendary surrealist designs to new heights with a vintage horror-inspired FW22 collection. Claws, cone bras, and torso shaped purses each featured in a black and white filter- looking back to Elsa Schiaparelli's phantasmagorical accessories (like the telephone shaped handbag) for inspiration.
Daniel Roseberry also drew inspiration from gothic cult movies, like Tim Burton's Edward Scissorhands, as model Mila Vaneeten was accessorised with knives posing as gloves. The model's gleaming smiles contrasted the moody garments as Rouguy posed in a monochromatic black look featuring iconic cones, studs, and swirls that the brand has become known for.
Akris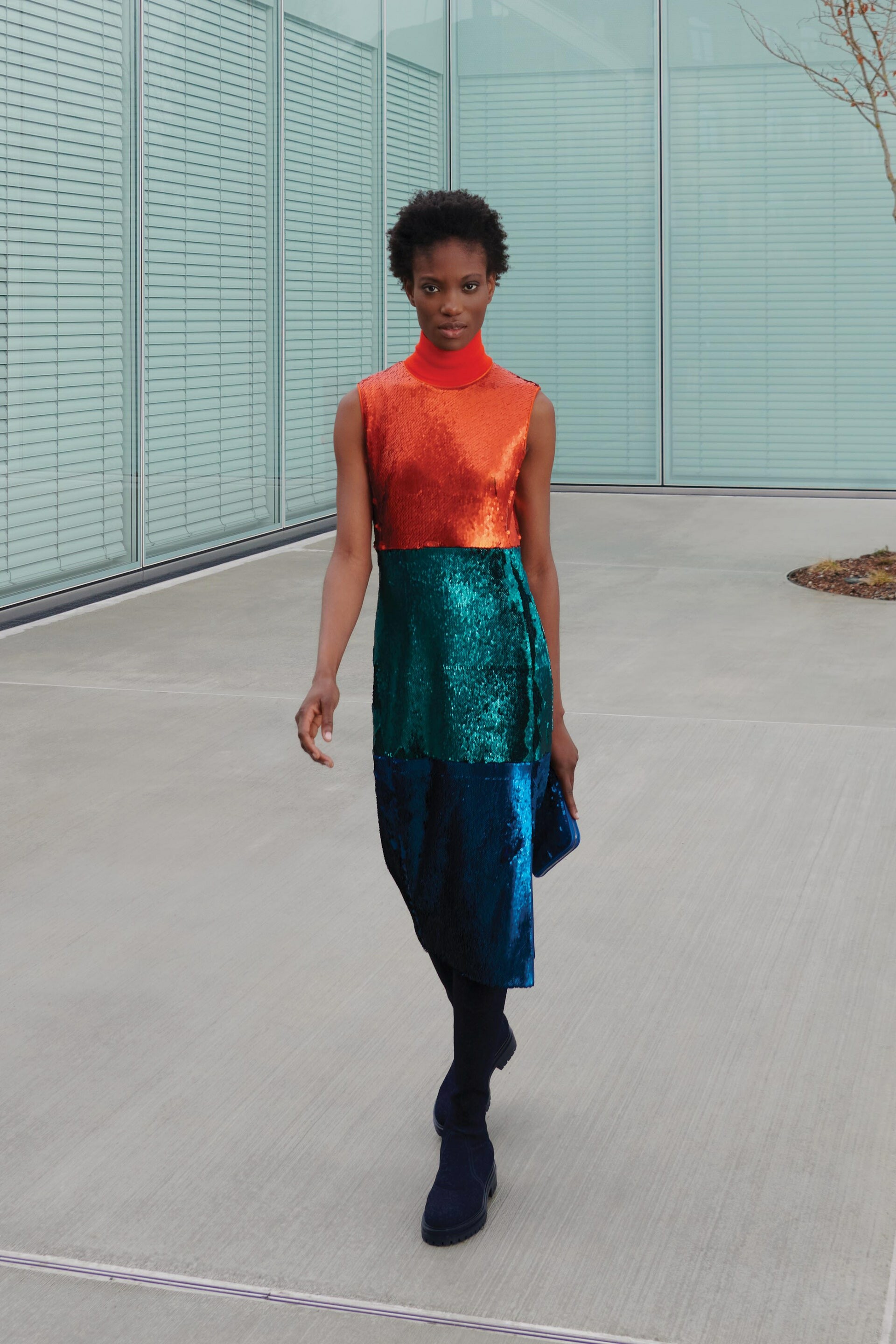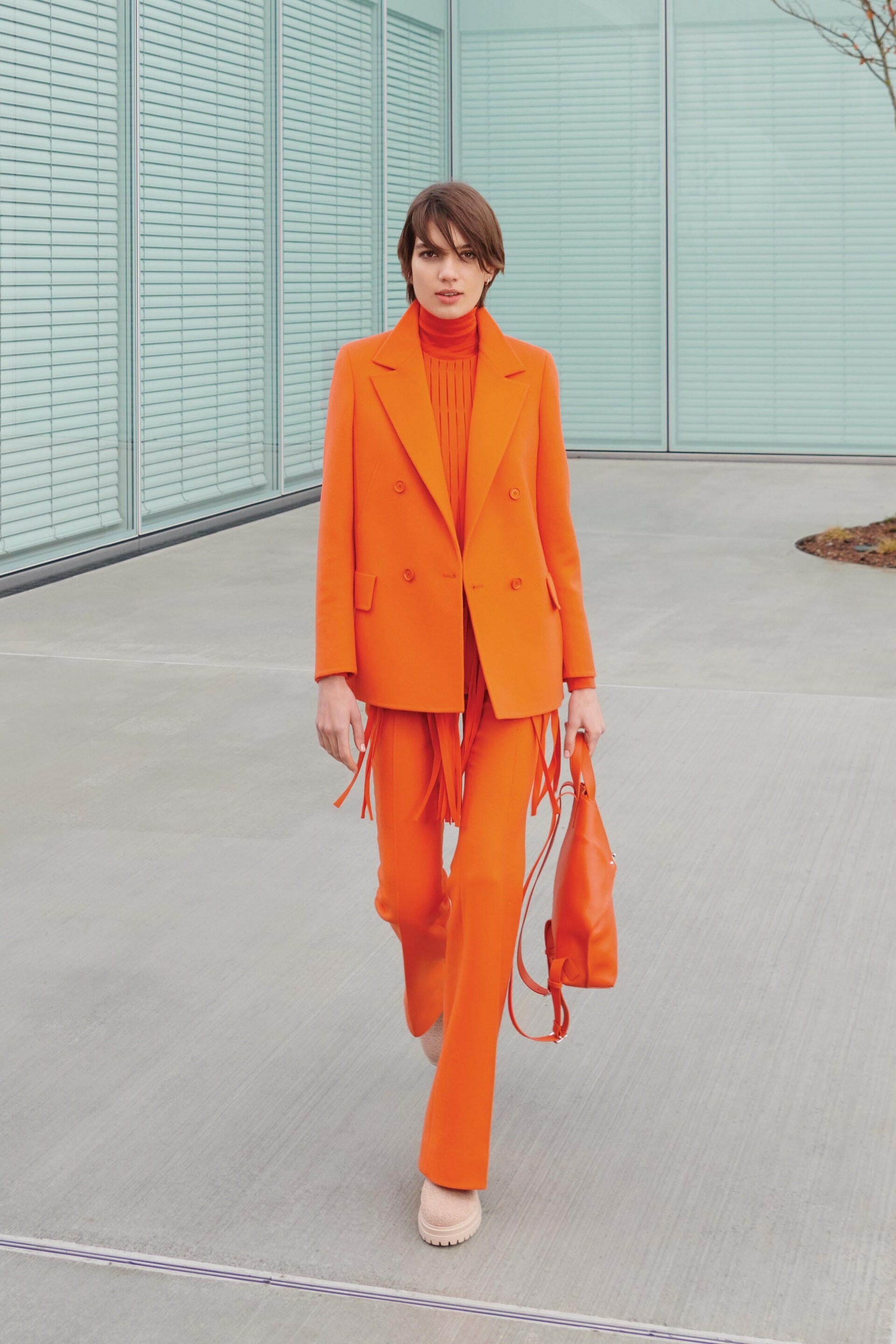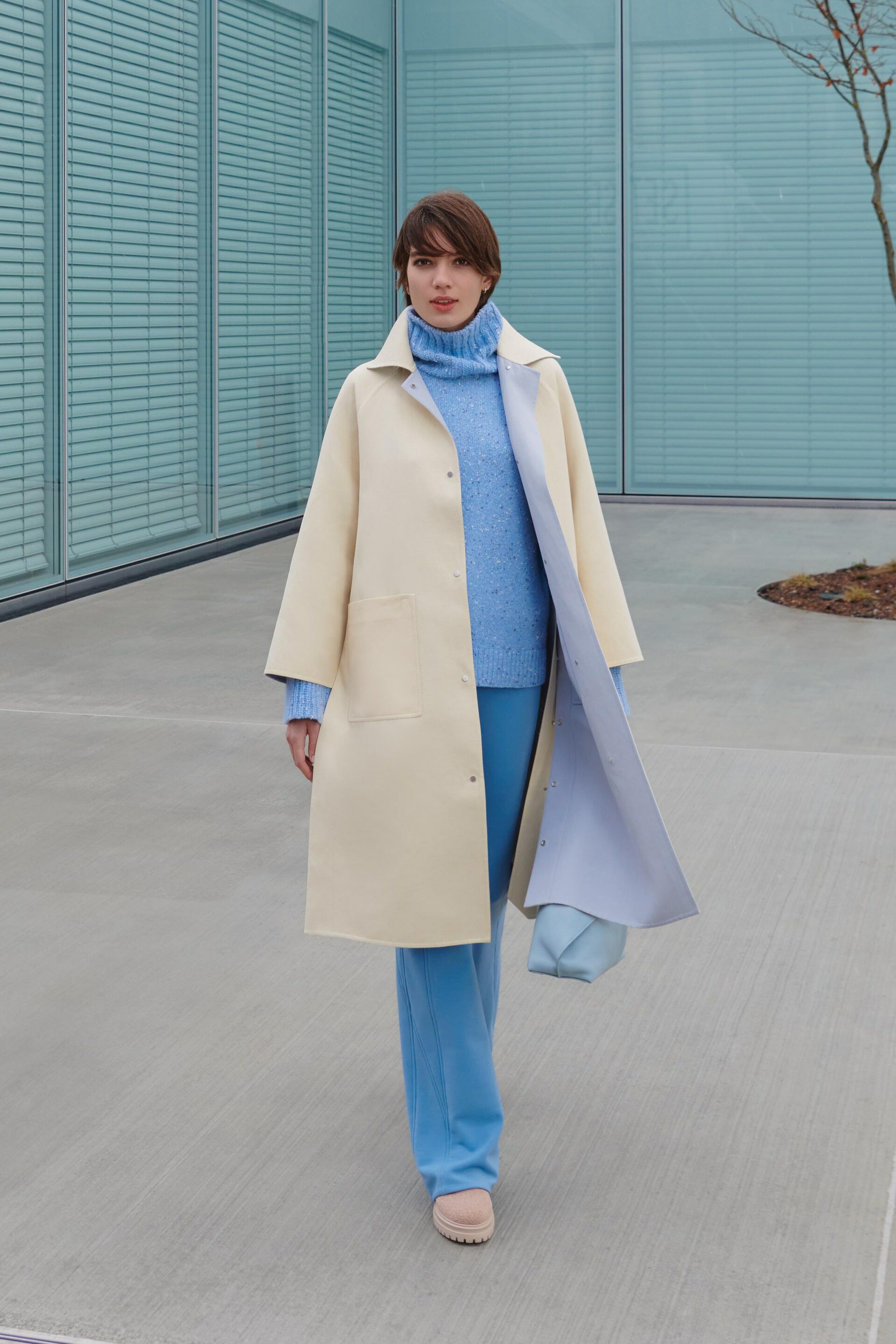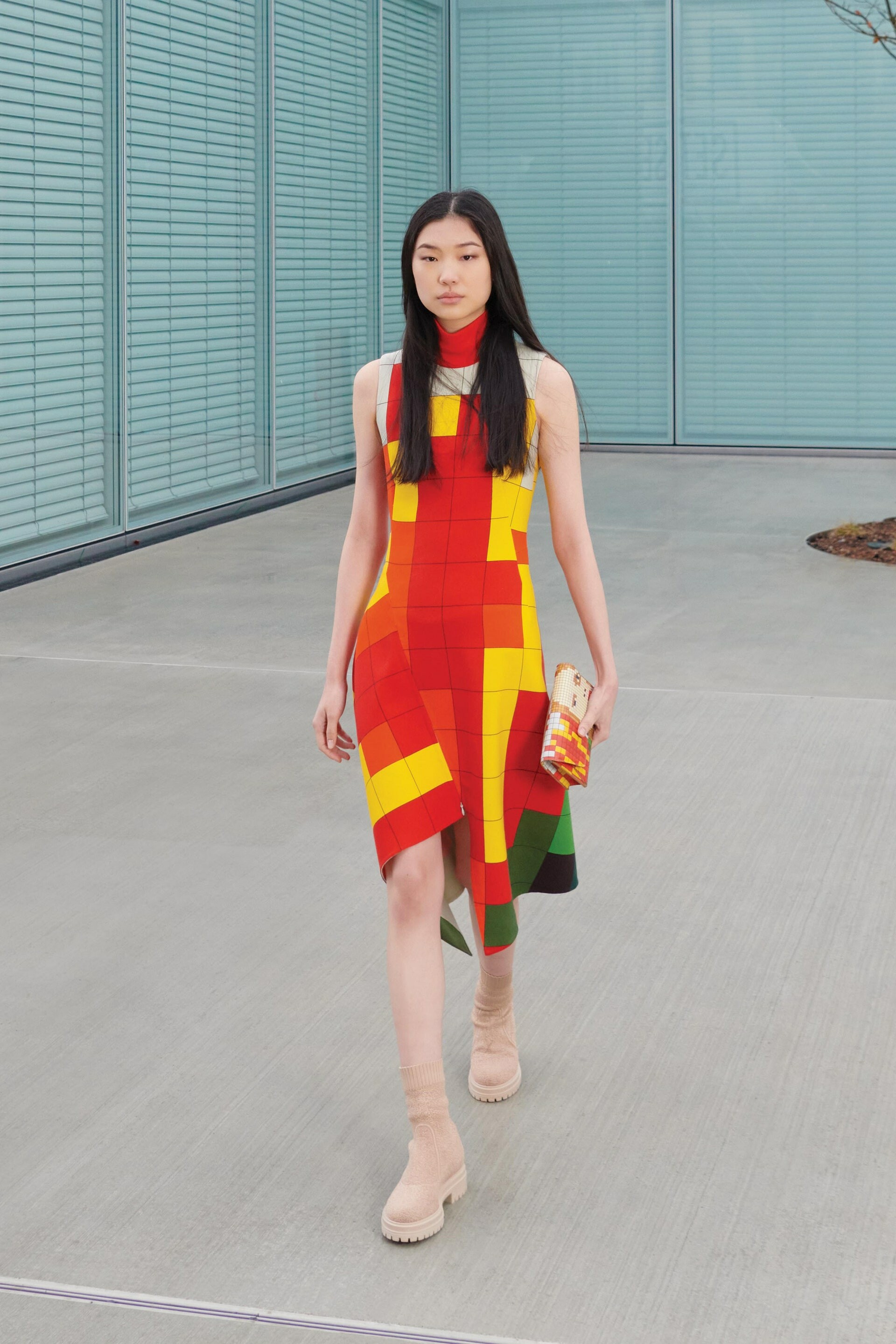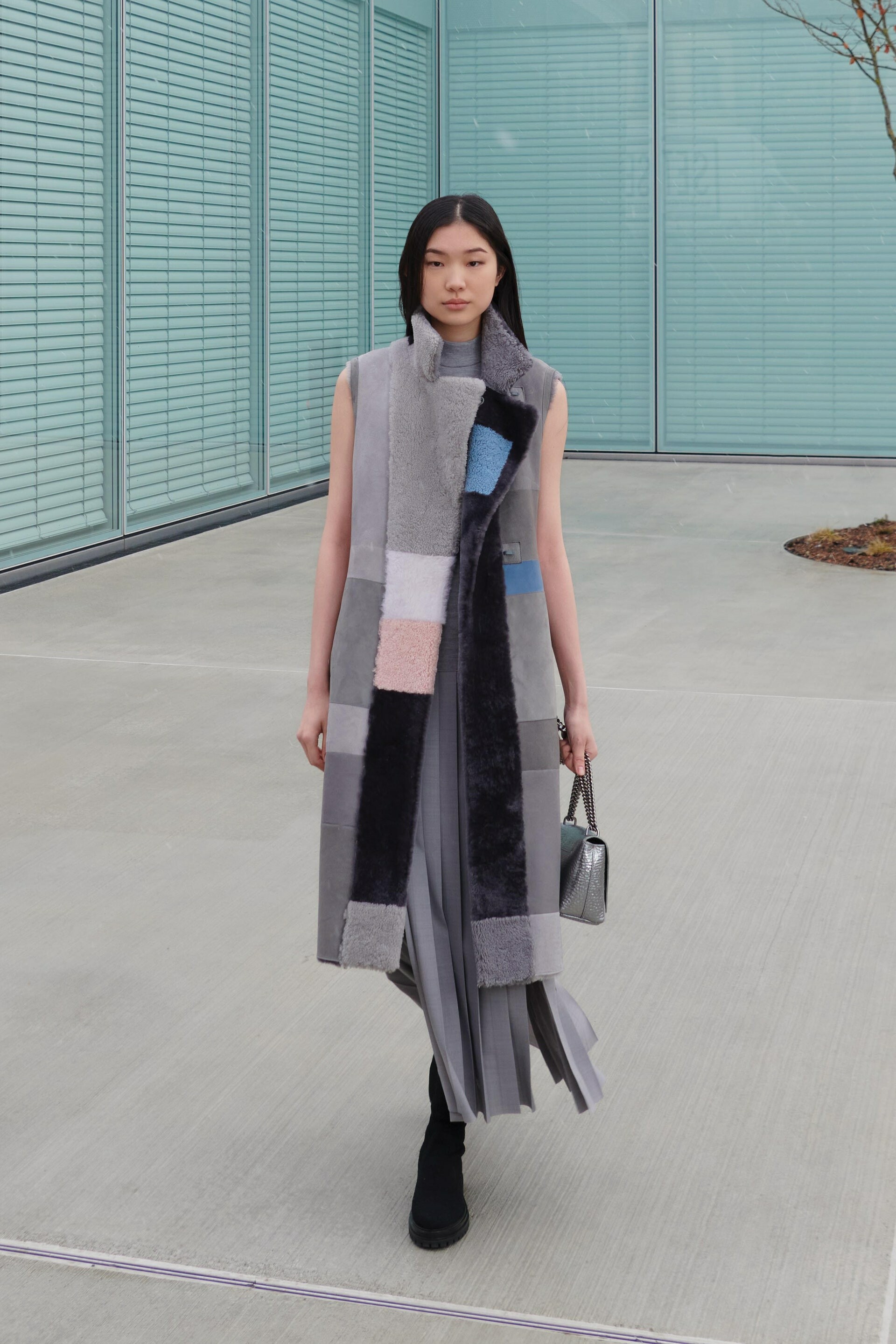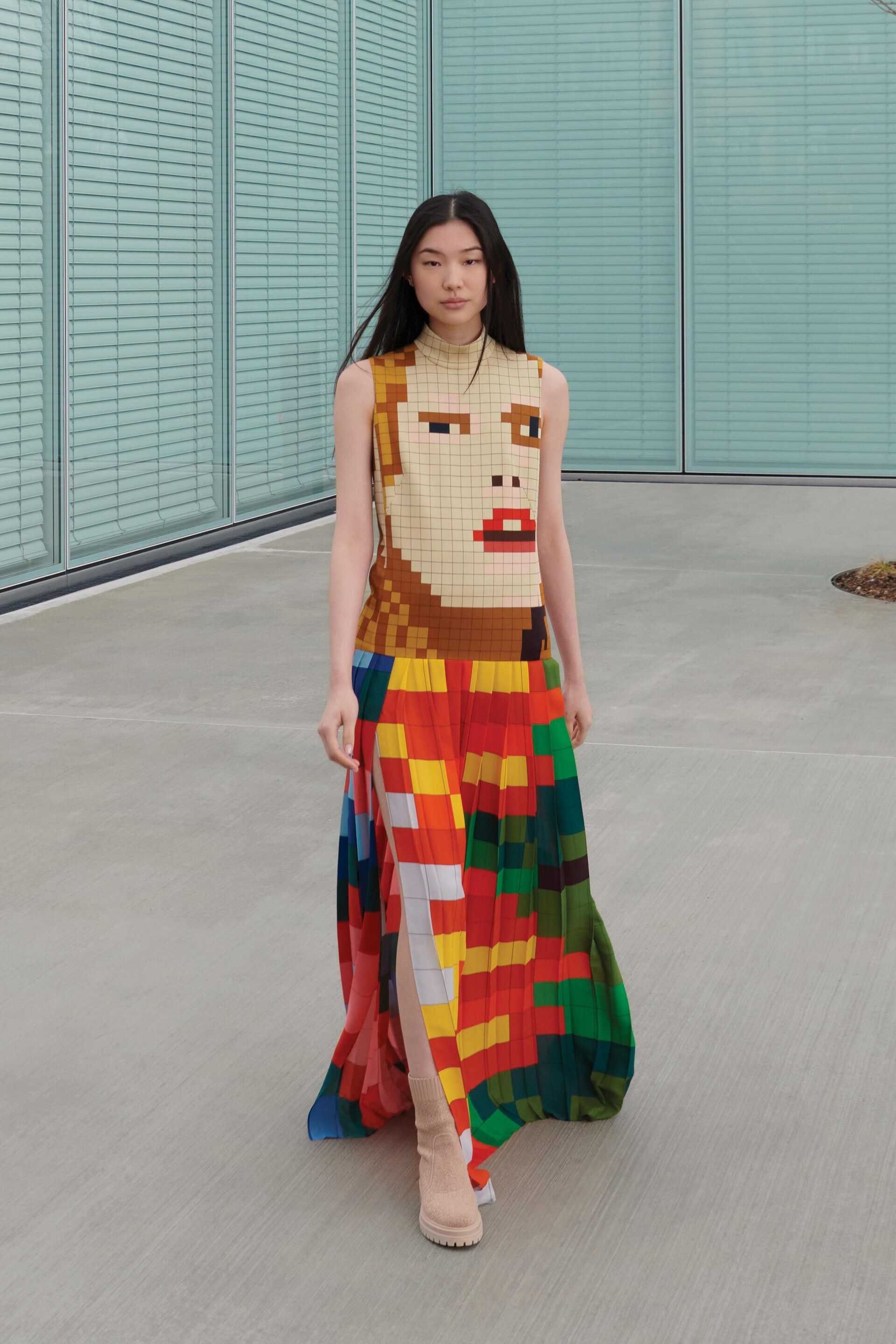 Drawing inspiration from Reinhard Voigt's artwork, squares and geometric patterns dominated Akris' FW22 collection. Incorporating pixellated prints onto trenchcoats and blazers, the garments were vibrant and futuristic. Creating an optical illusion through abstract prints, designer Albert Kriemler brought navy and grey looks to Paris Fashion Week.
Even the show's setting fit the square trend as models stormed a light and open square-based building designed by Kriemler's long time friend Sou Fujimoto.
Giambattista Valli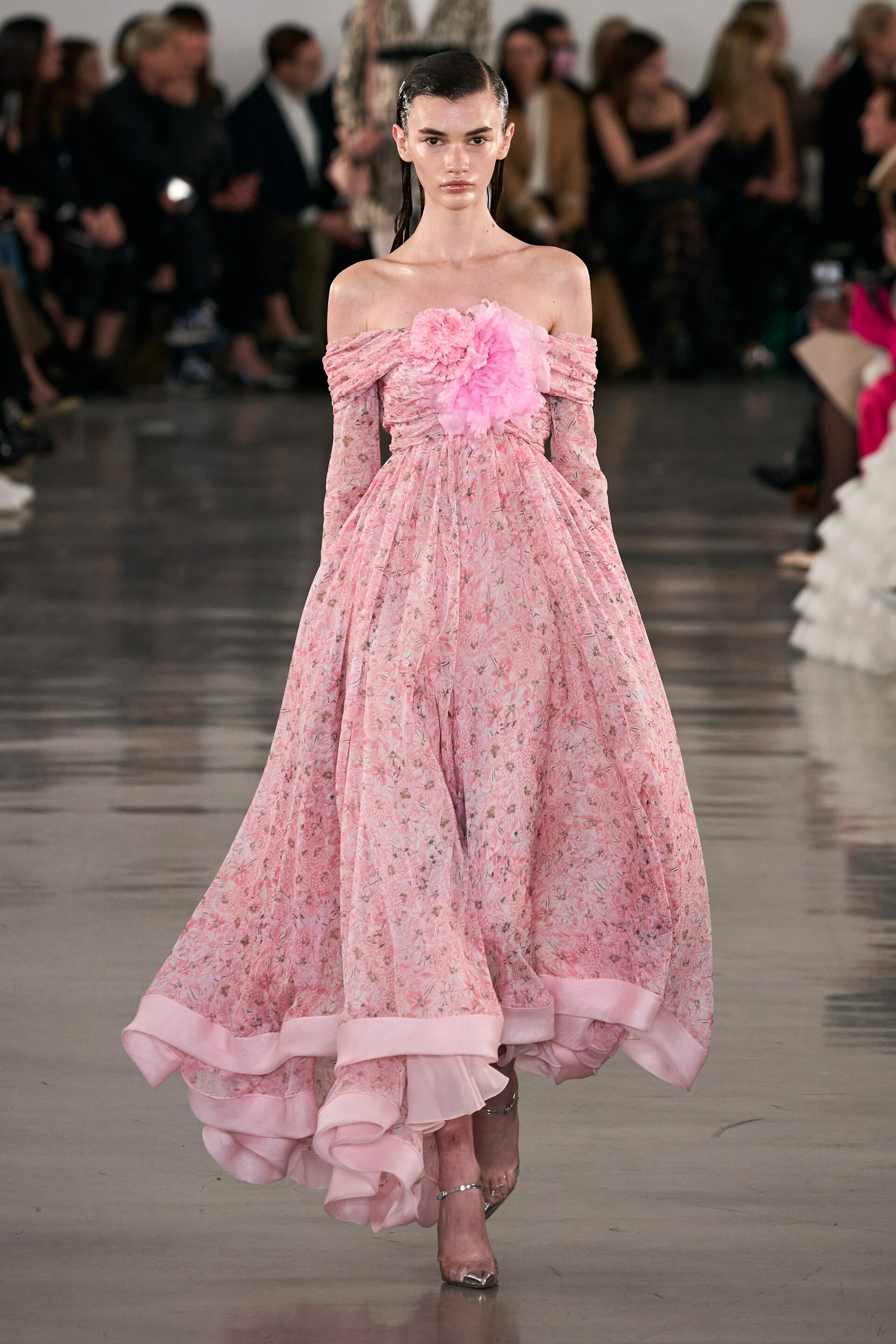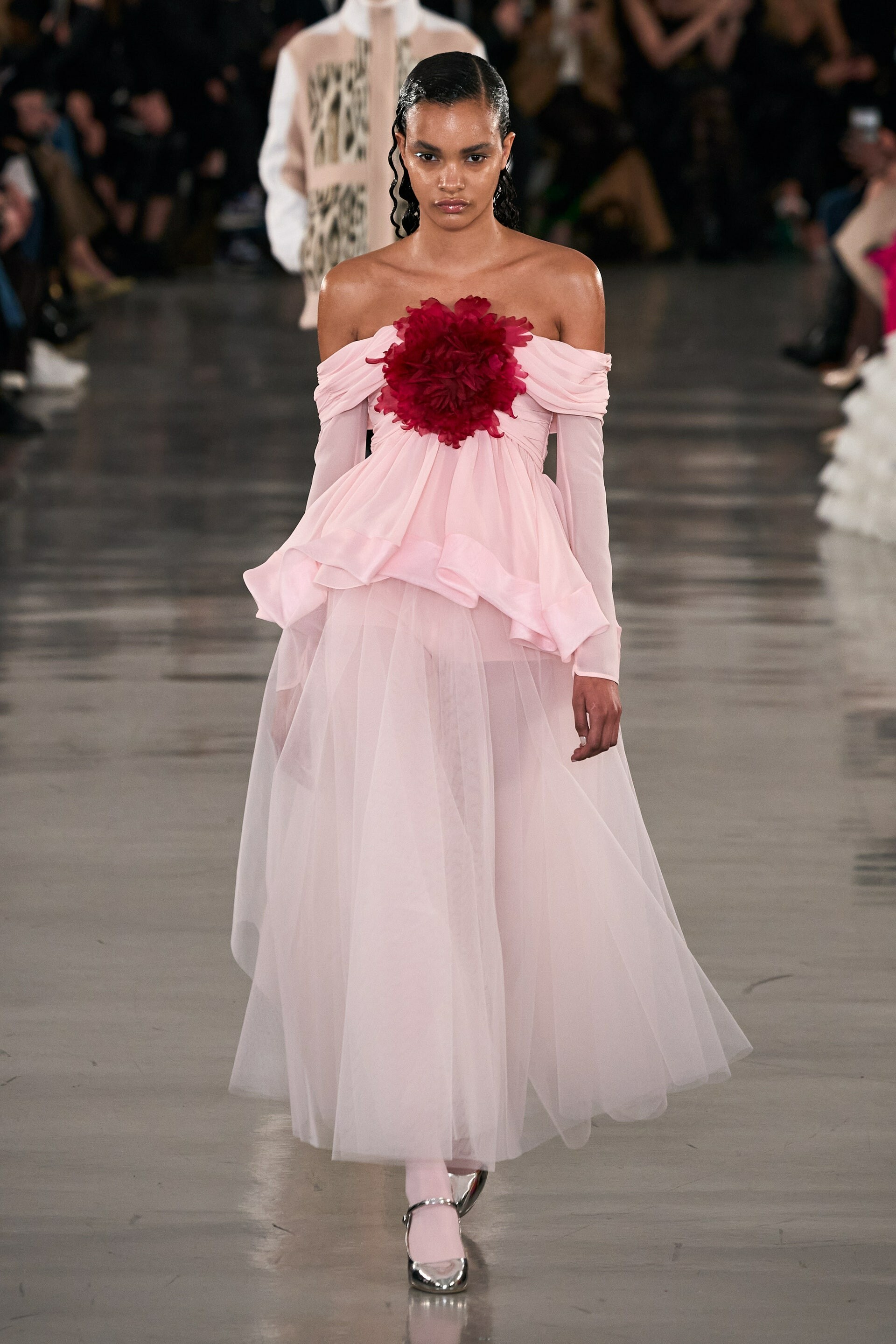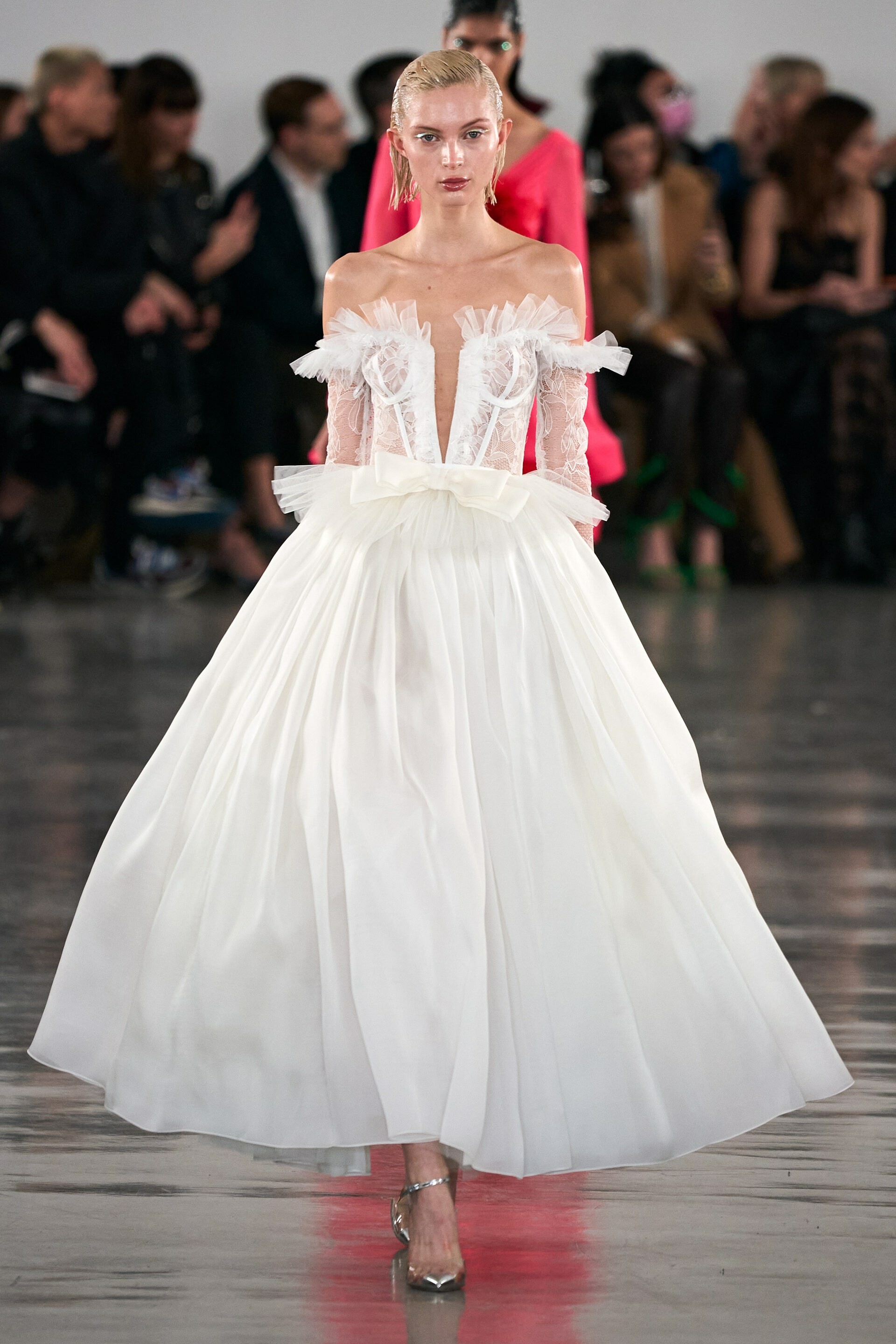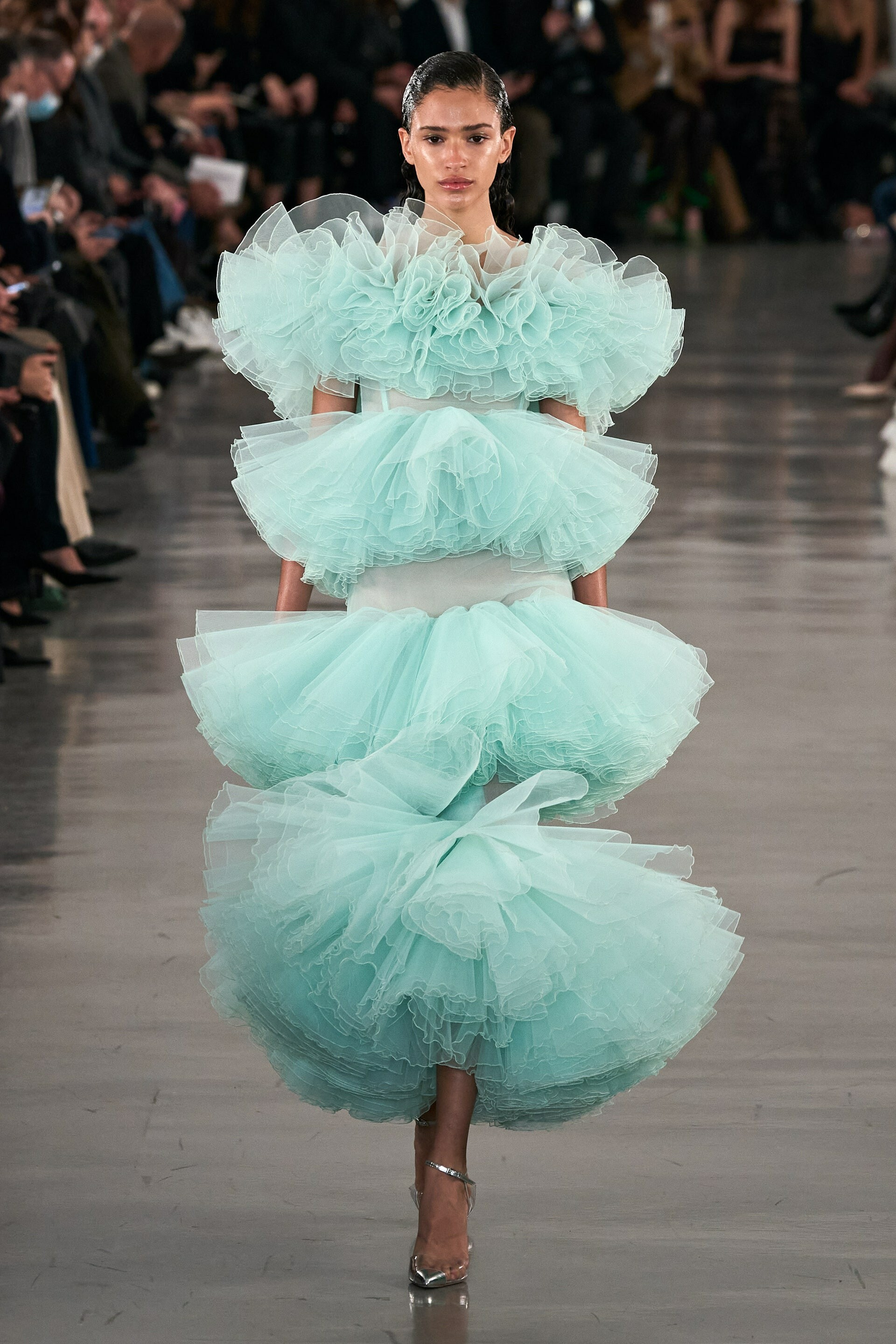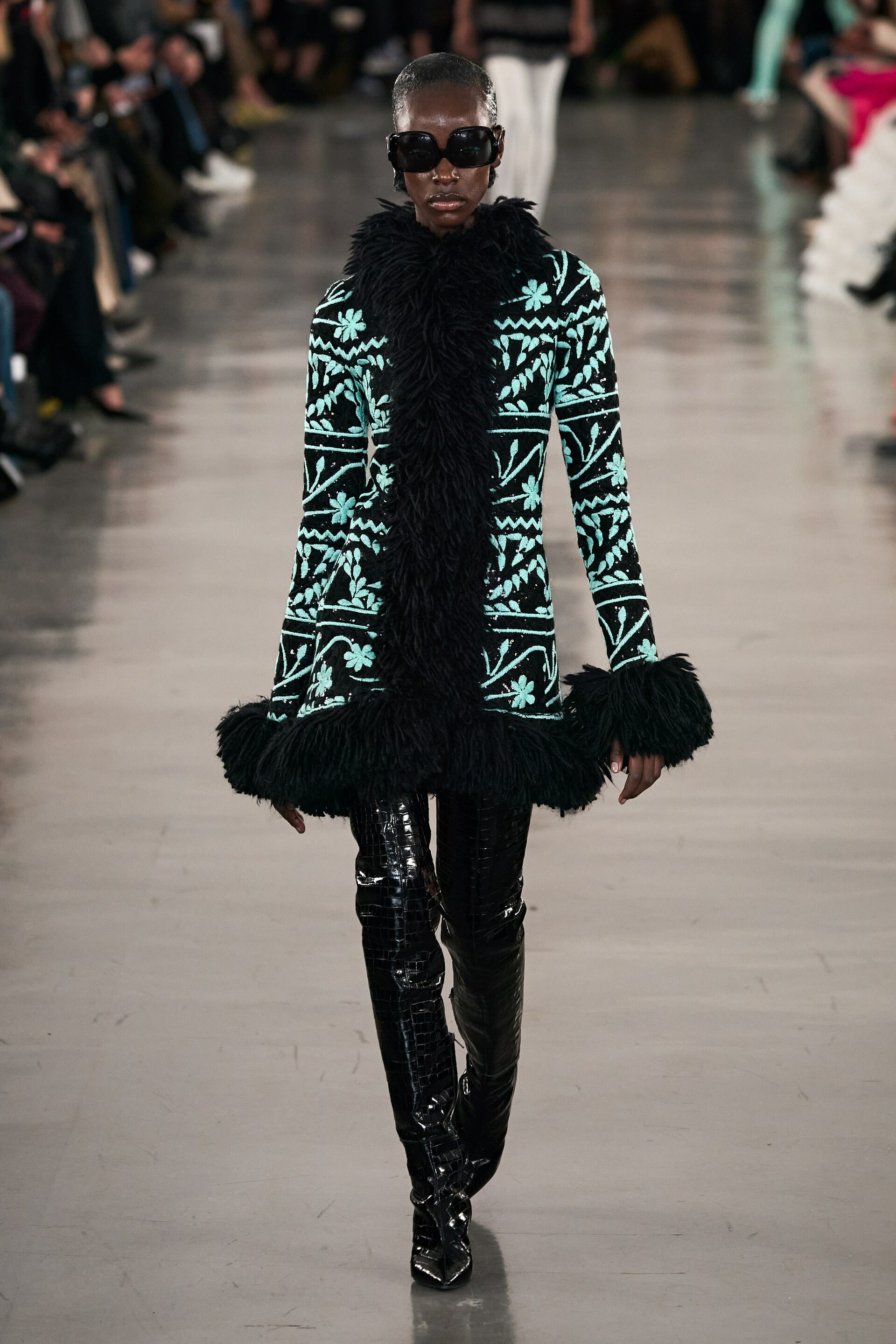 Capturing the fierce street style of Parisian women, Italian designer Giambattista Valli looked to vintage French street style to create an elegant day and nightwear collection. Floral gowns, leopard print blazers, and frothy frills came together to create an eclectic mix of textures encapsulating the highlights of a 1960s wardrobe.
Incorporating abstract accessories into the collection, dangerously chunky heels, oversized bows, and upside-down sunglasses played to an OTT representation of day-to-day Parisian attire. Speaking about the show to Vogue, the designer admitted the collection took a swift turnaround in response to the Ukrainian crisis. Valli wanted his designs to symbolise hope amongst the turbulence of the times- a goal he achieved through fun-loving florals and bright pastel designs.
Chanel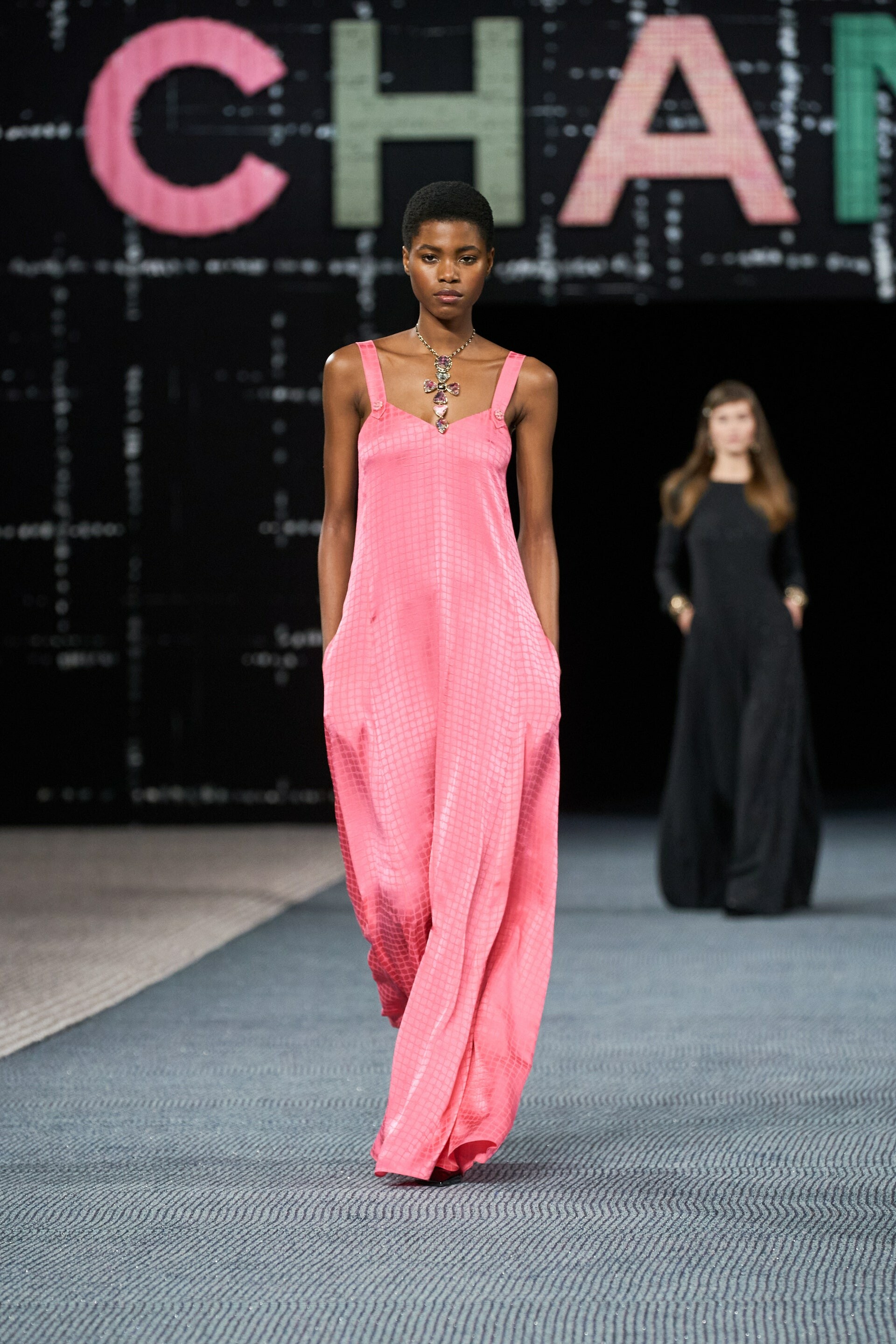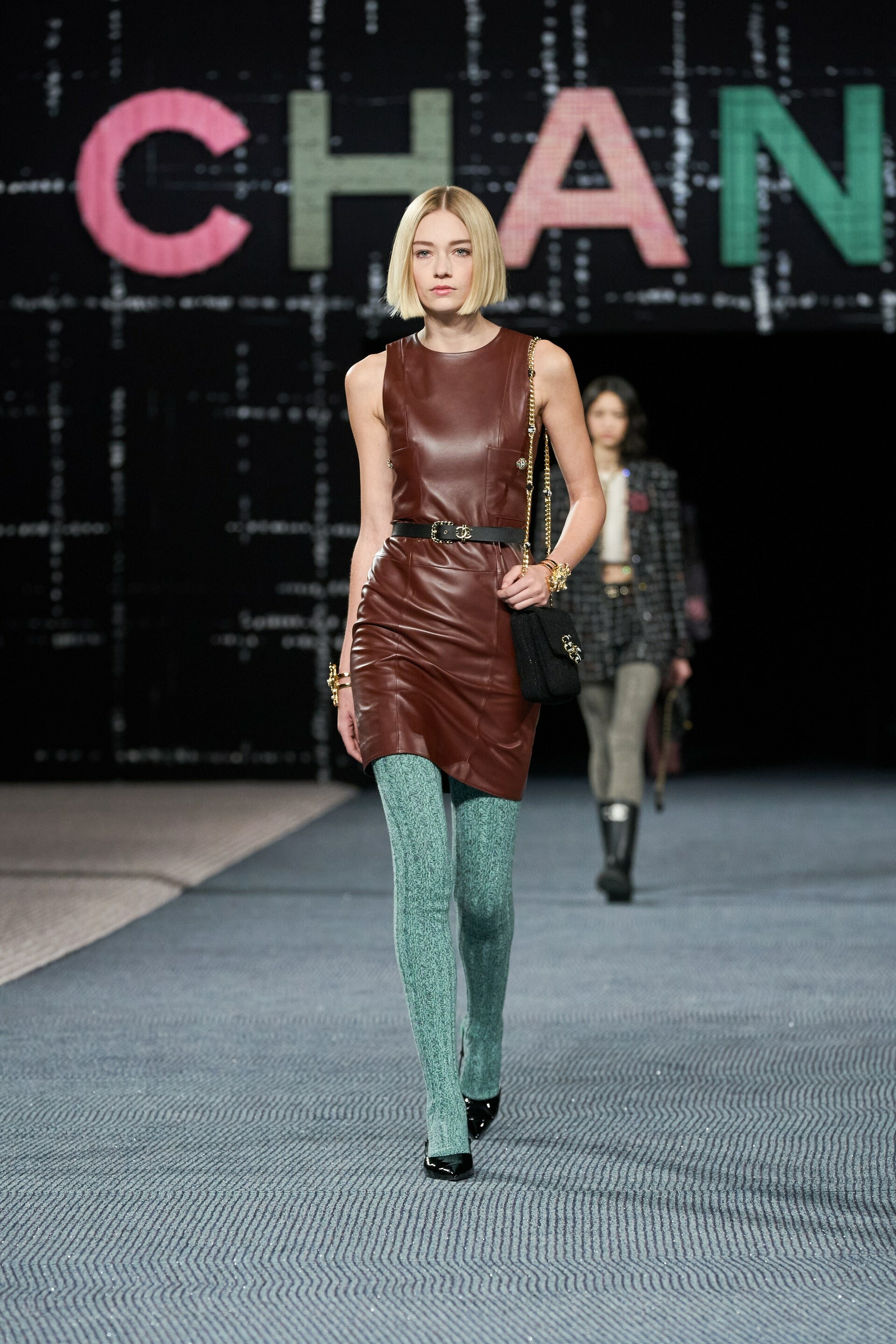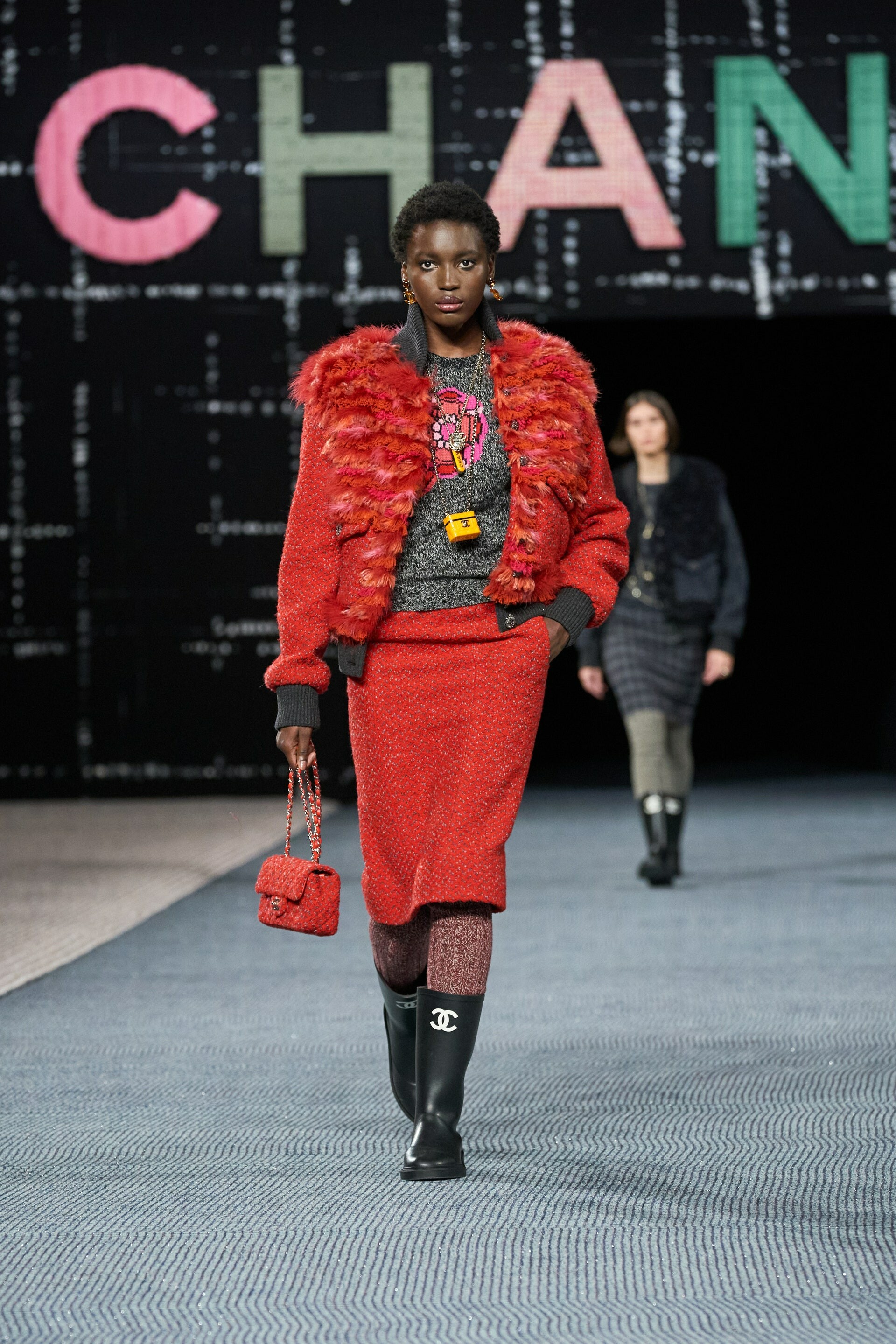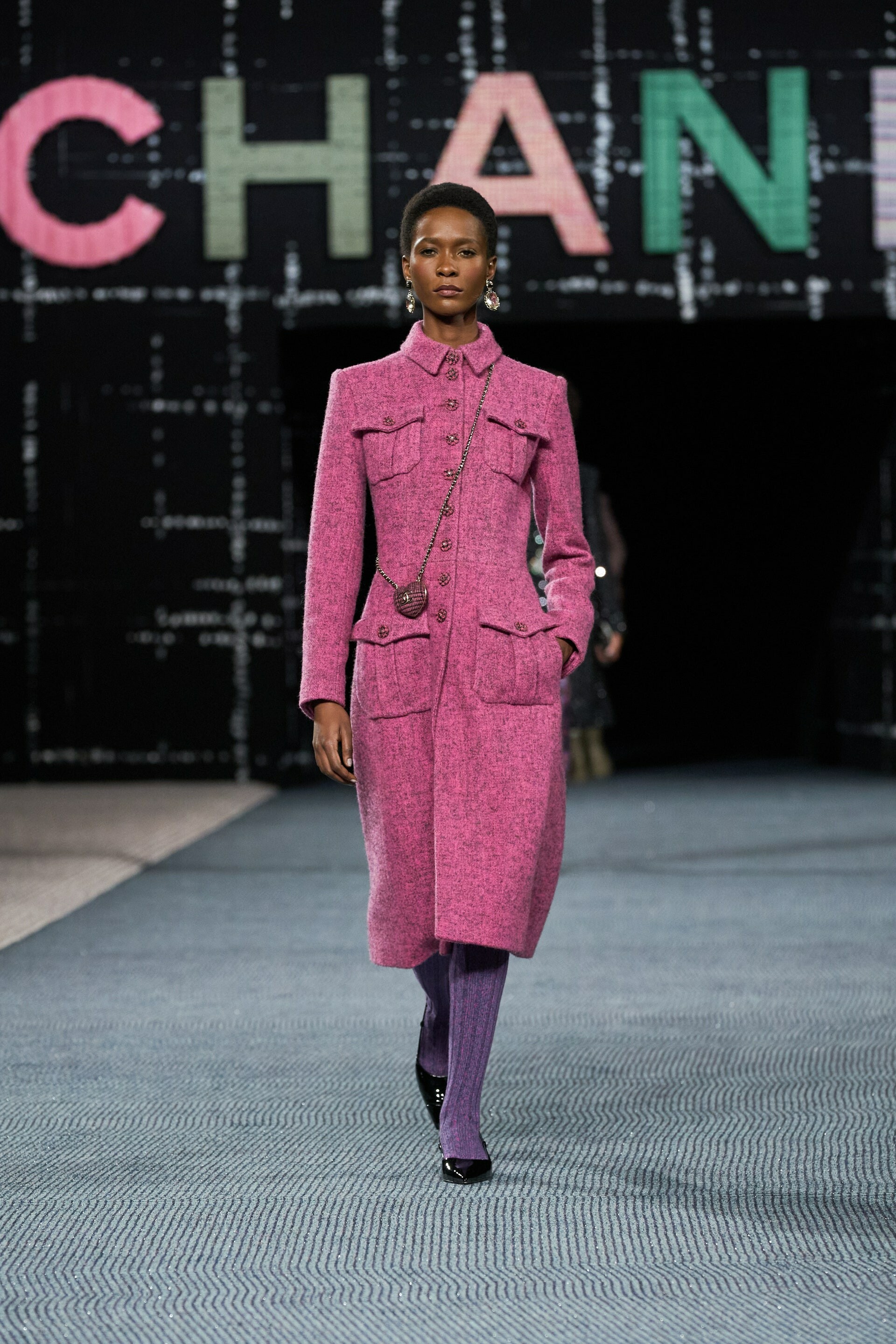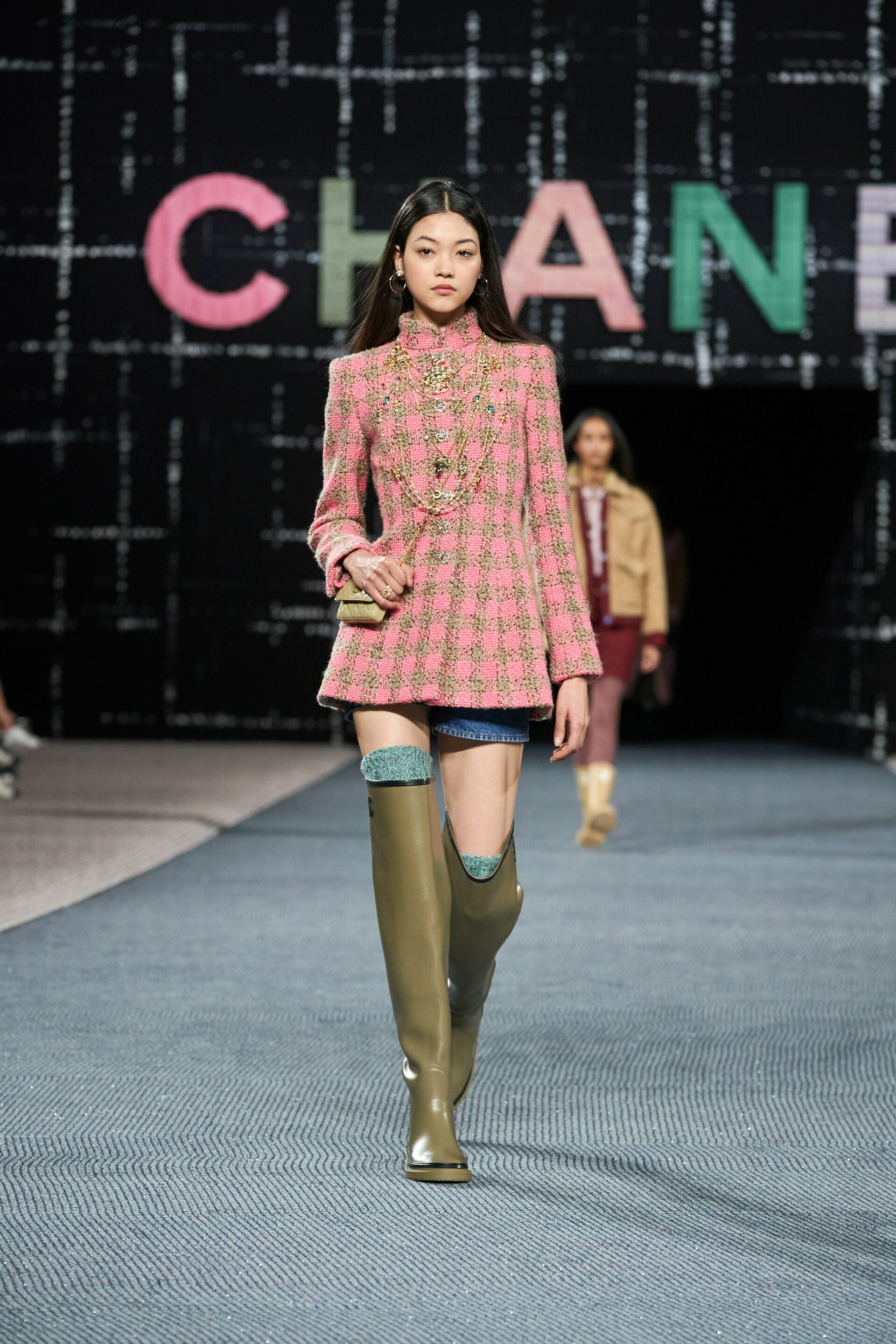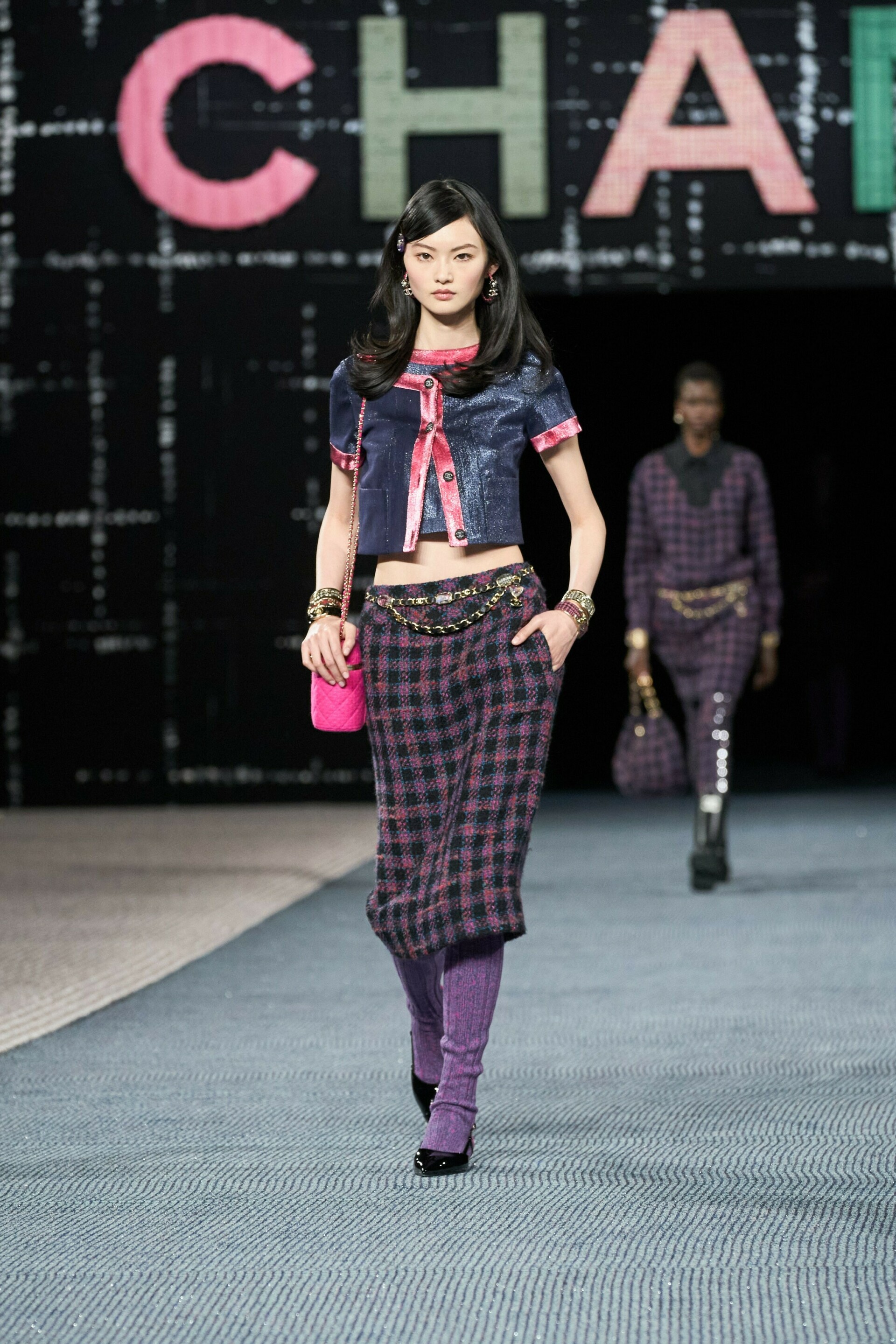 Since the days of Coco, tweed has served as Chanel's staple material. As an ode to the brand's history, Chanel's current creative director (Virginie Viard) incorporated the material onto traditional skirt suits, dresses, and blazers. The show was a glamorous exploration of Chanel's 'eternal house code'.
The checked fabric featured in a wide range of shades and designs. Bright red suits and sage green wellingtons reminisced nostalgic royal attire while tweed mini dresses were a nod to England in the 1960s. The British influence on Chanel has been apparent since the label's initiator (Gabrielle Coco Chanel) had a love affair with The Duke of Westminster. Since then the French fashion house has taken in inspiration from our practical wellingtons to cosy cardigans; this collection shows the tight relationship between English dressing and Chanel isn't set to stop anytime soon!
Miu Miu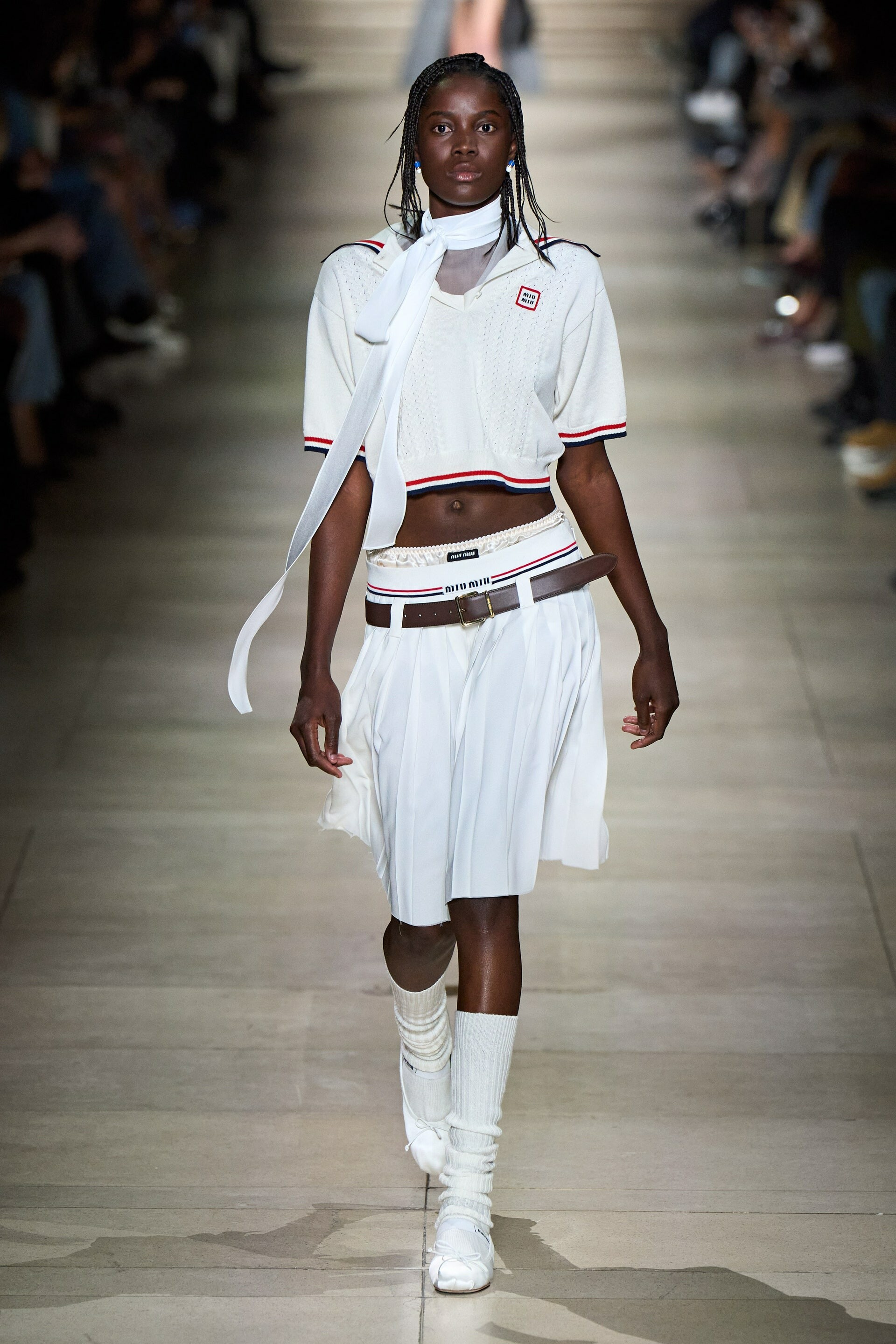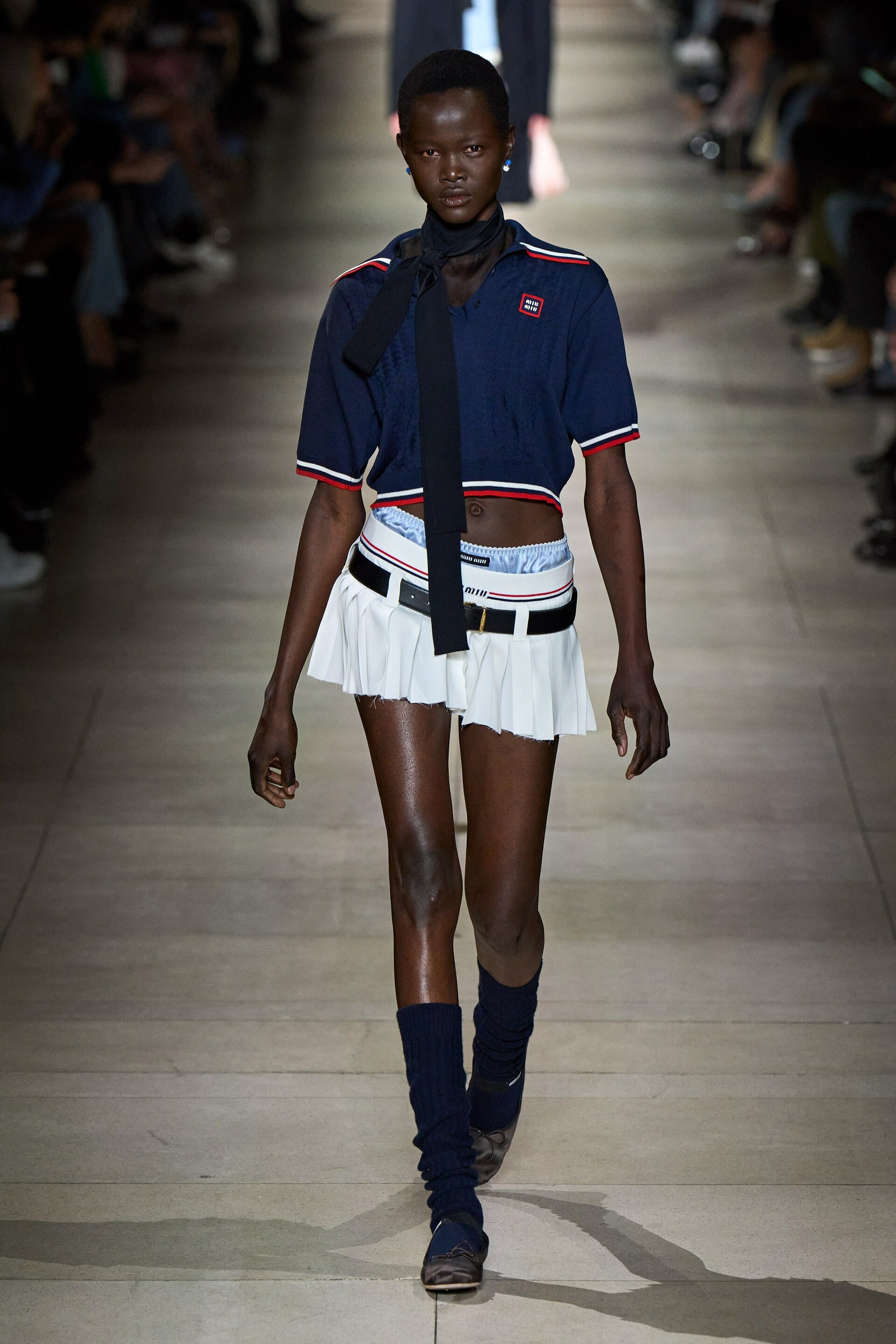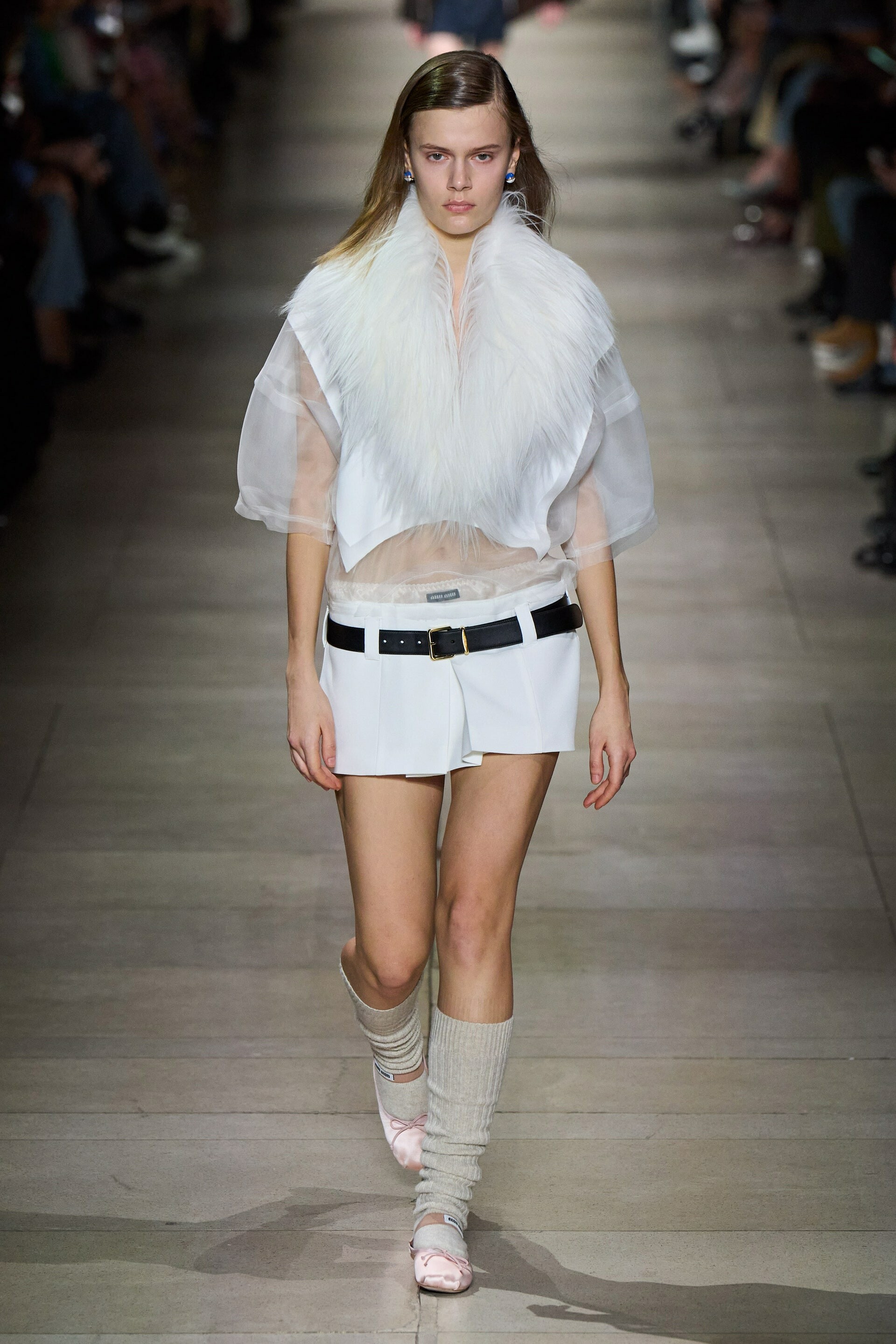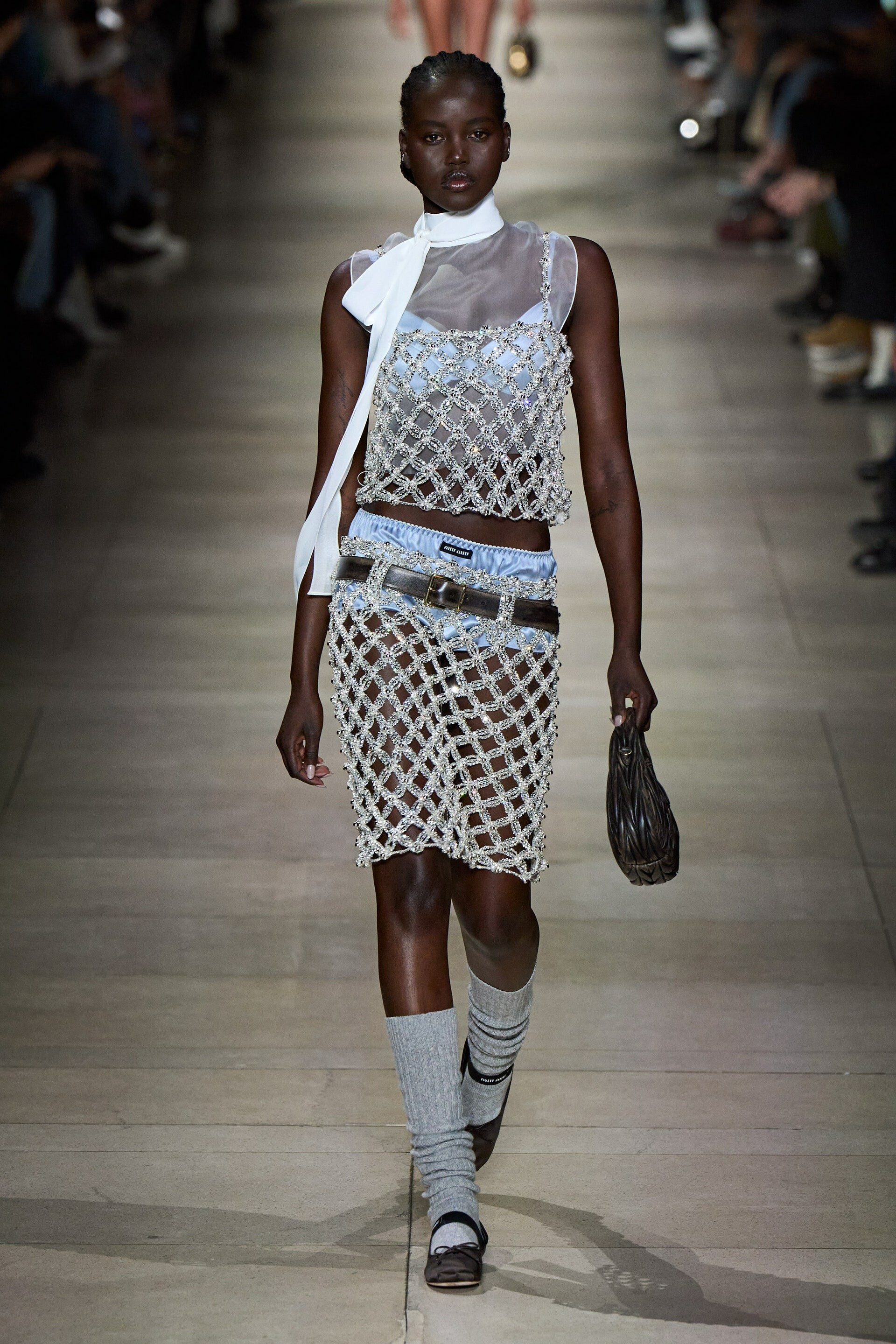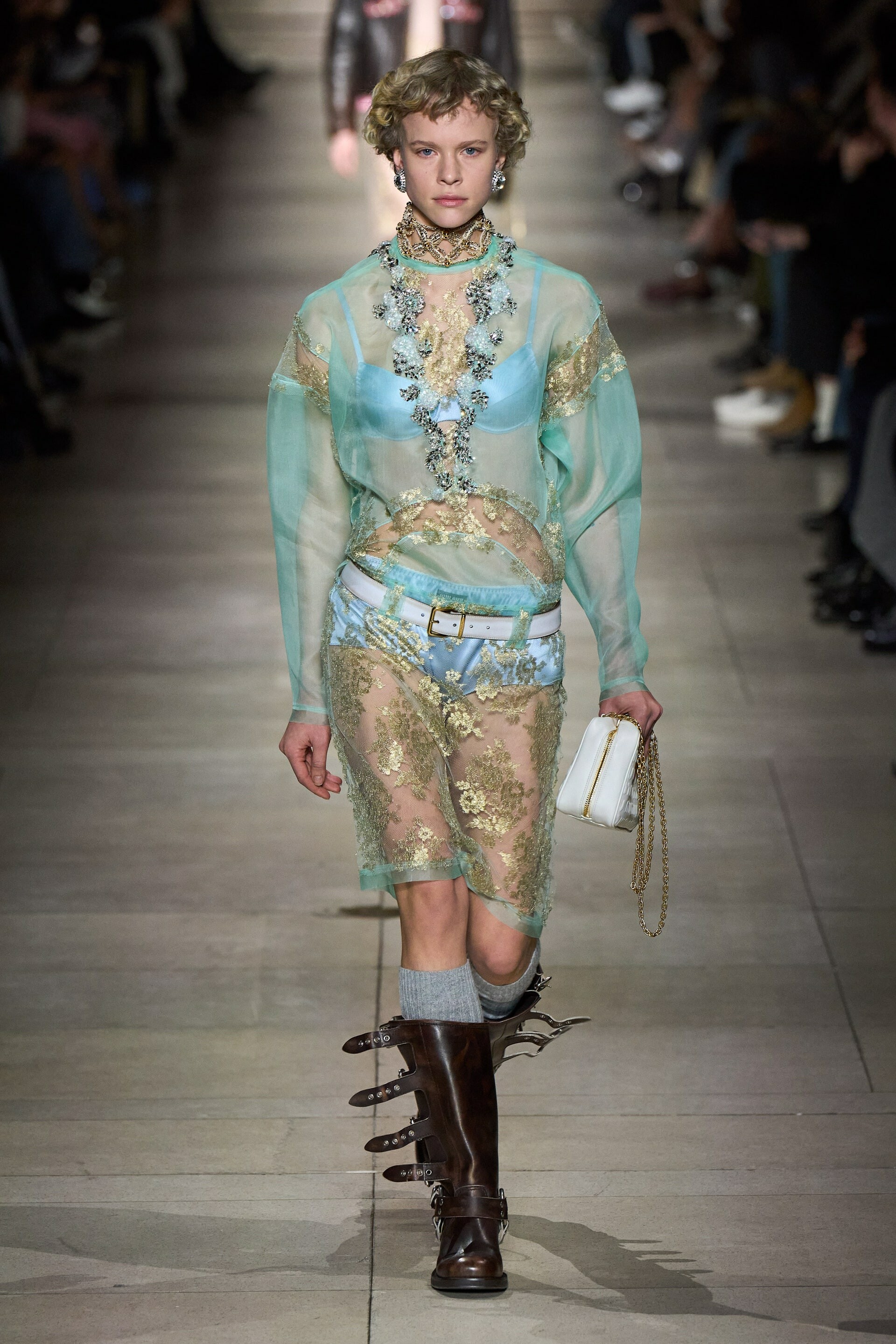 After the success of their SS22 pleated mini-skirt worn by icons from Hailey Bieber to Nicole Kidman, Miu Miu continued their ultra-mini legacy with tiny skirts and even tinier shorts in a minuscule length. Keeping to a clean and modern aesthetic, the creative director of Miu Miu (Fabio Zambernardi) perched white scarfs around model's necks while knee-high socks threw us back to vintage Wimbledon matches. The most jaw-dropping look from the FW22 collection was donned by supermodel Adut Akech who charged the runway a sequined see-through two-piece paired with high-rise socks and sturdy black pumps.
Words By Olivia Booth
Photo Credit: Giambattista Valli, Alessandro Lucioni