Picking up the metaphorical baton, London Fashion Week AW21 brings audiences a fresh selection of designers and collections to blow away the cobwebs of lockdown.
As audiences have already gathered, the digital landscape has offered designers the chance to branch out into more conceptual modes of storytelling when it comes to the presentation of collections. Virtual reality, 360-degree interactive videos, and short films provide an exciting audience experience that rivals the standard in-person show.
With London's shows now wrapping up, we'd like to look through some of the highlights from the past few days. From APUJAN's dreamscape storytelling to Edeline Lee's Gothic showcase, the looks on show do not disappoint.
MONDAY
Mithridate
During the pandemic, Guangzhou-based designer Demon Lee decided to use her experience of isolation as an opportunity to explore the inner self through creative media. The resulting collection, 'Automatiste', builds on these themes of self-reflection and uncertainty while incorporating Mithridate's signature approach to fashion as a multi-sensory artform. The collection has a central focus on tailored silhouettes and glittering accents, including jewels, beads, and metallic threads. Transitioning from black and red, to brown, and finally to grey and white, the collection also exhibits a muted colour palette that accentuates the structure of the clothes and their detailing. A clever approach to the ongoing trend of floral patterning was the isolation of natural forms in metallic beading, creating thorns and flowers in red, silver, and gold. Key features of 'Automatiste' include shoulder pads, suit tailoring, leather accents, and oversized coats.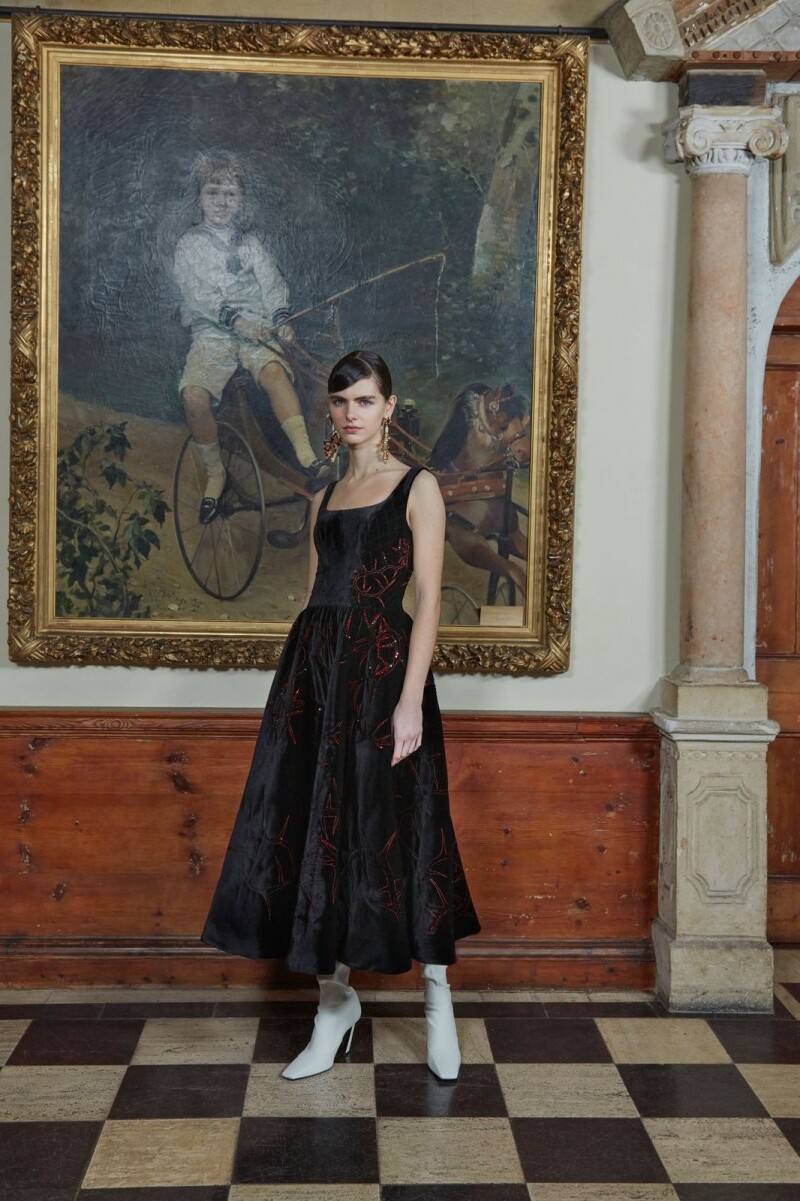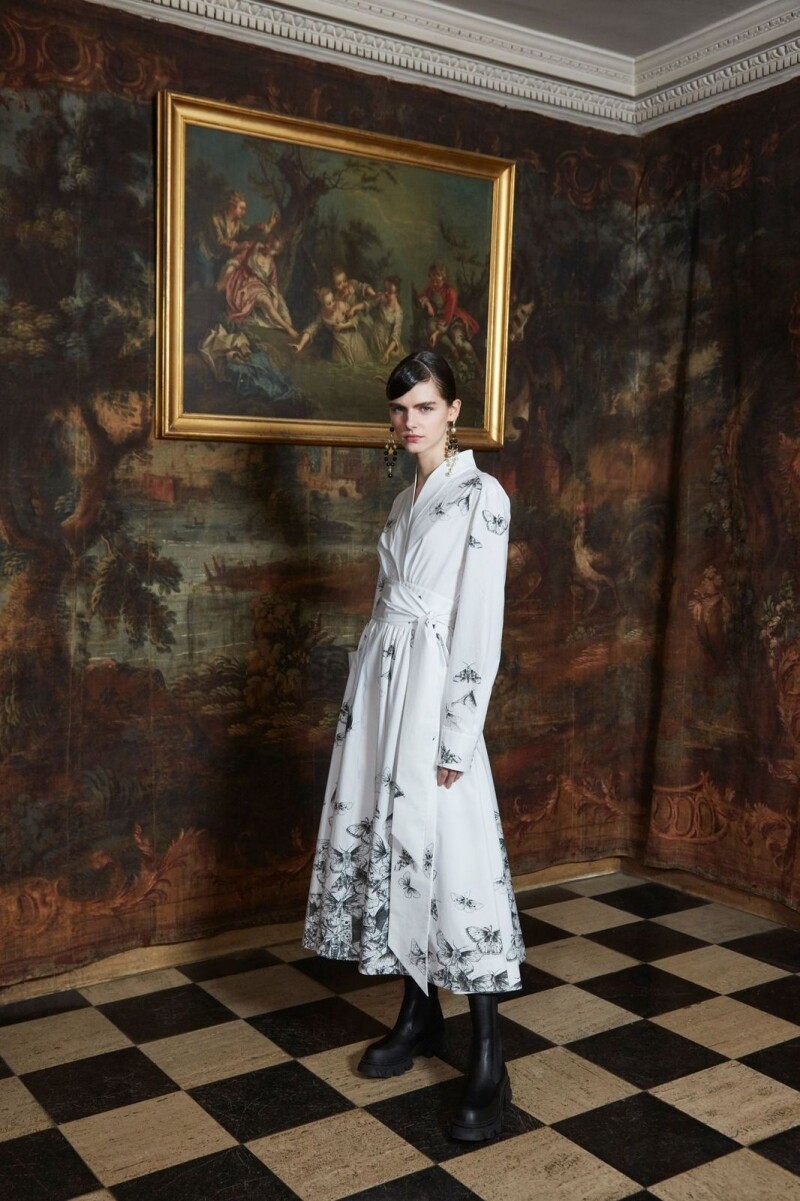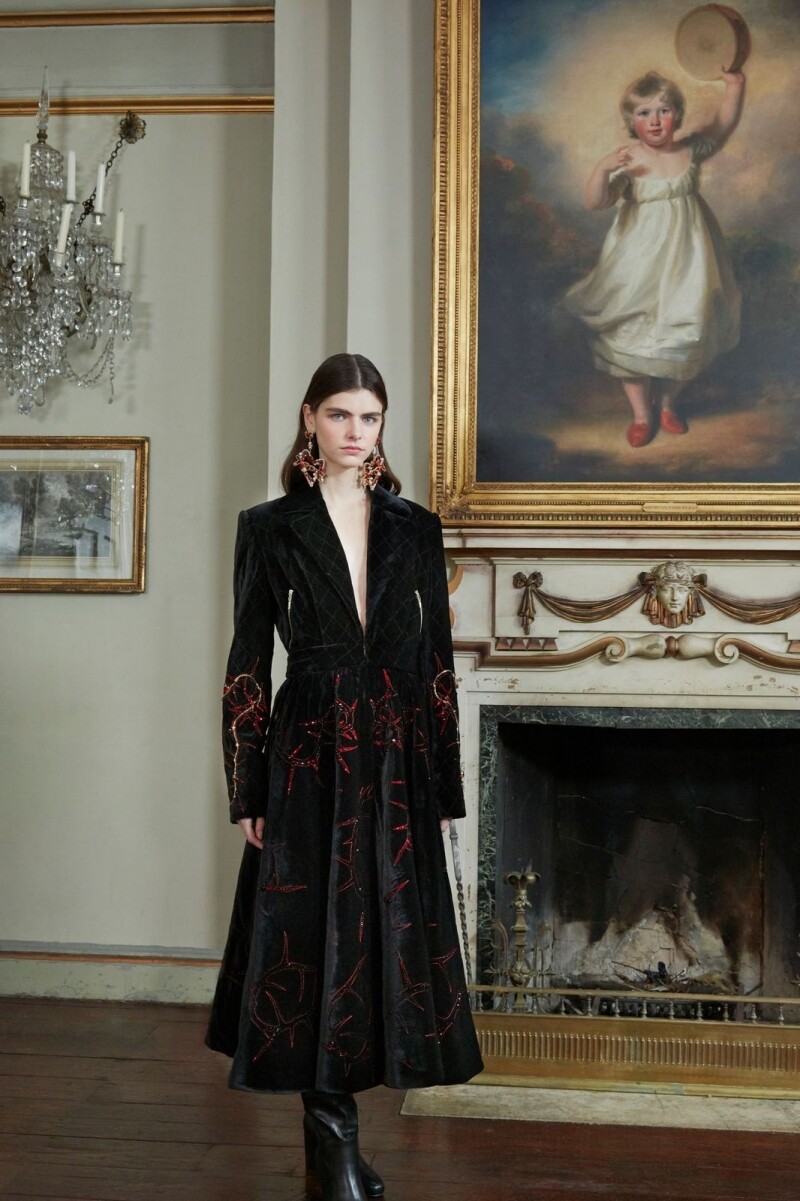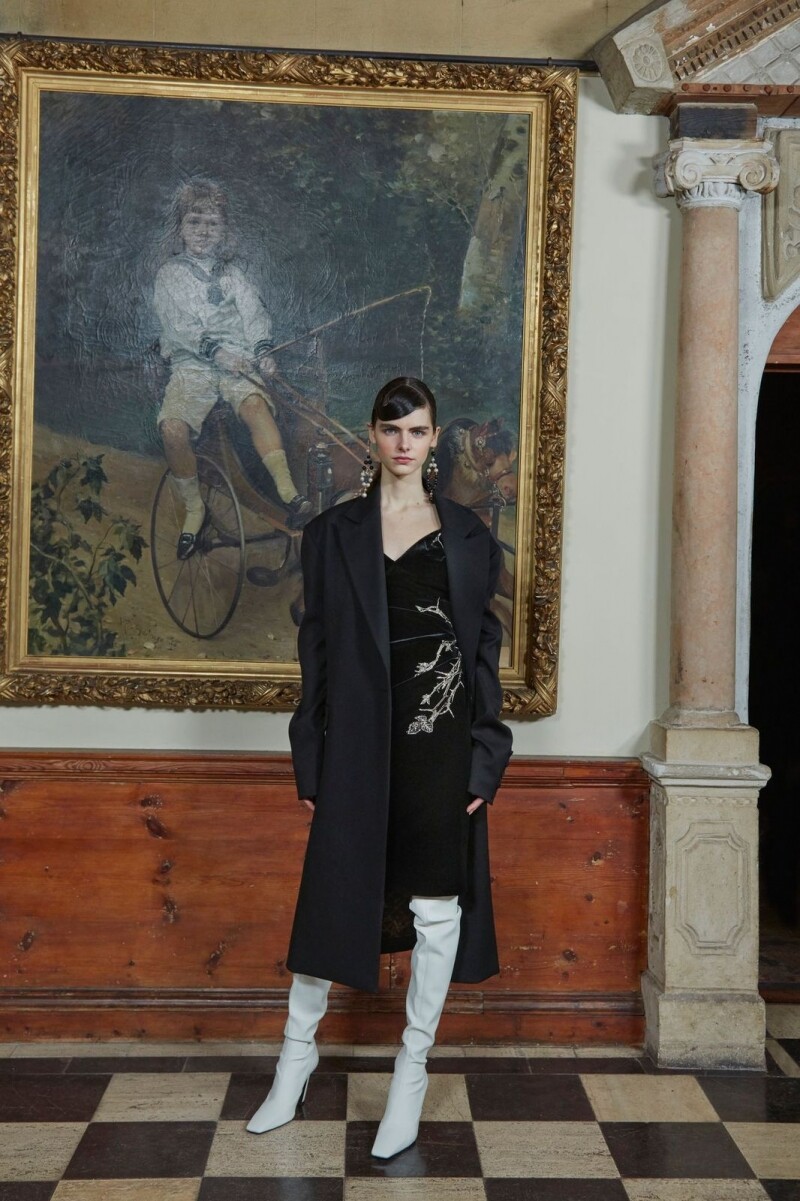 OSMAN
Osman Yousefzada aims to bring together the former East Indies and West Indies in his AW21 Collection, highlighting social values such as community and environment to enable meaningful connections. These themes saturate much of Yousefzada's work, influencing his use of organic and Last Yards fabrics. Warm tones, including reds, pinks, purples, and golds, dominate the visual landscape of the OSMAN collection and its accompanying video. Focusing on the creation of dramatic silhouettes and colourful patterns, the collection in particular highlights the use of puffed sleeves and shoulder pads. Oversized accessories such as chandelier earrings, chunky necklaces, and gold headbands accentuate the sophisticated extravagance of the collection. The use of colourful patches, large circular sequins, and abstract patterns rounded out the collection with a fun aesthetic that paralleled an optimism for the coming year.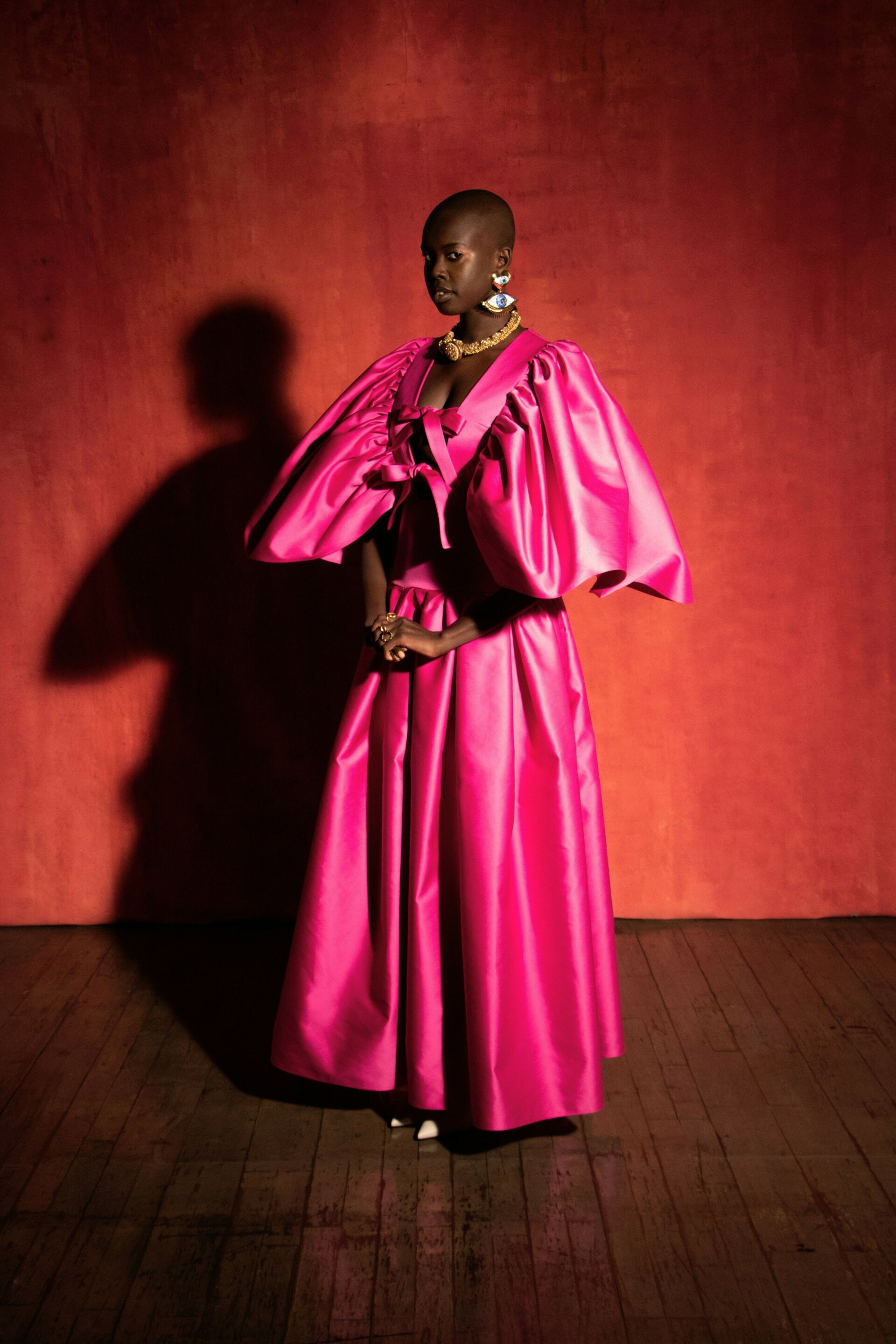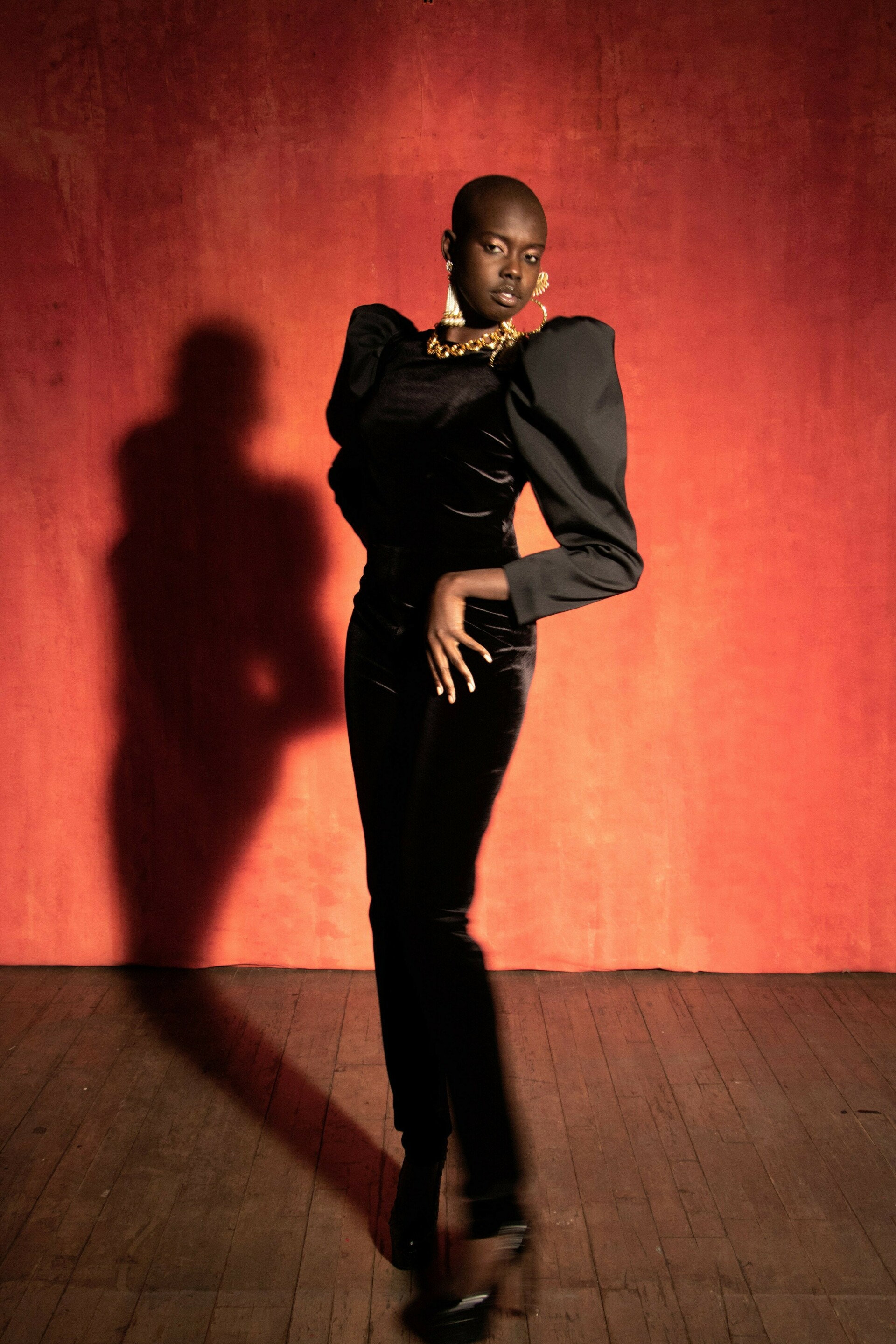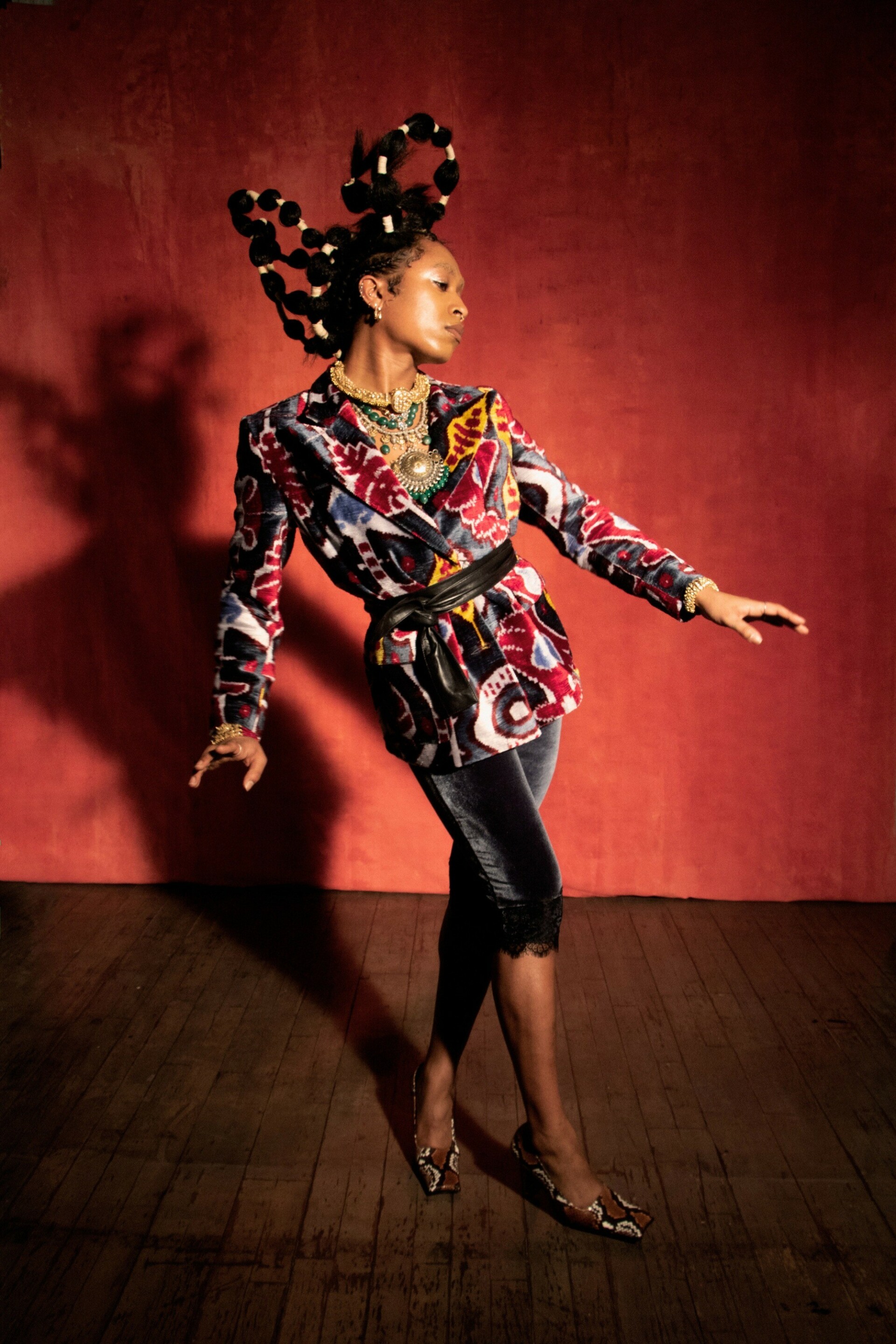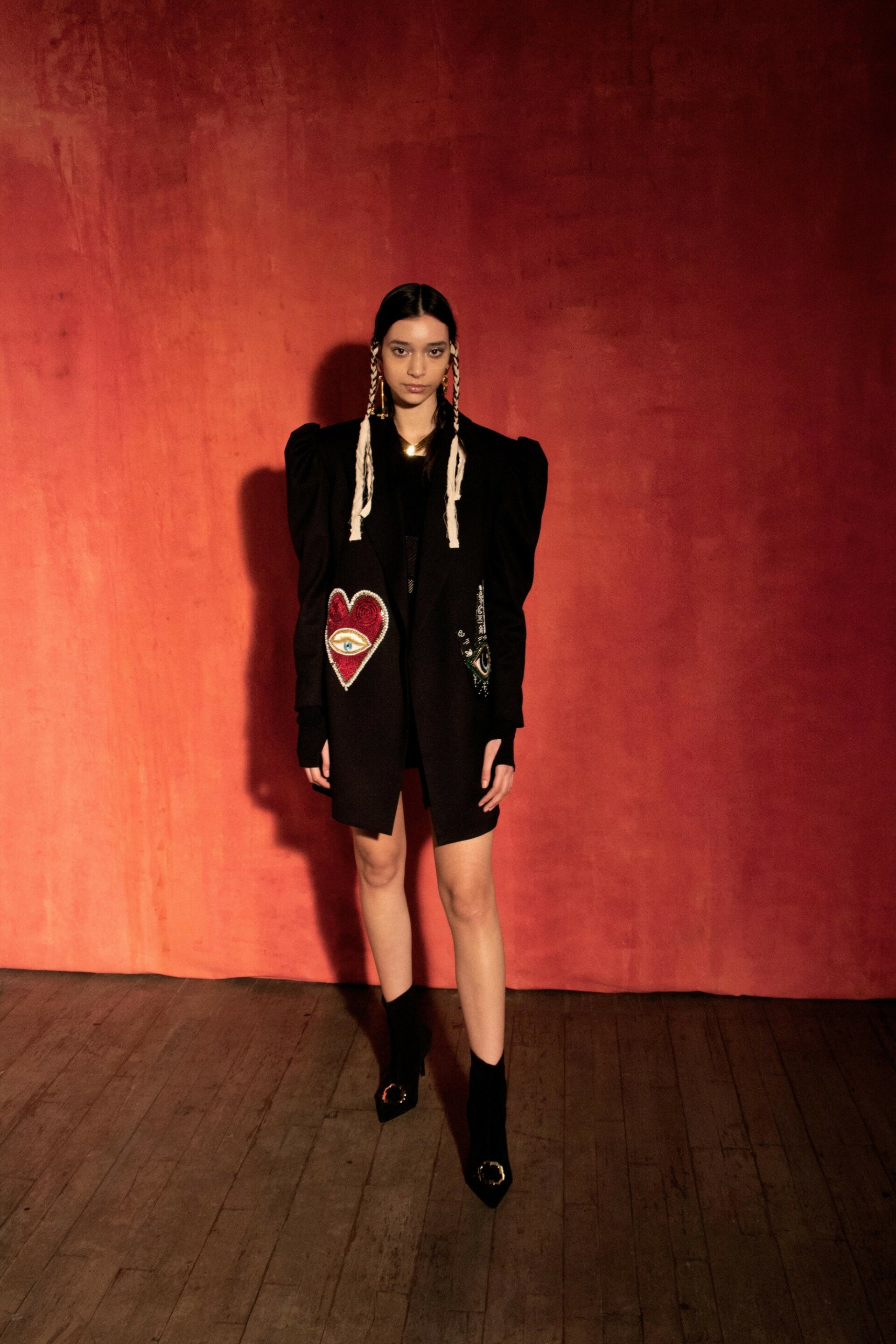 Emilia Wickstead
Characterised by timeless clothing that embodies modern femininity, the Emilia Wickstead brand intertwines classic lines and shapes with modern trends. Cut-outs in particular appear to be a staple of the collection, with open backs and sides giving each look a contemporary edge. Another noticeable feature which Wickstead often refers back to is the use of coordinated sets, in particular maxi skirt and cropped shirts. Slit skirts are also prominent within the collection, although Wickstead moves beyond the traditional side-split to incorporate a full pleat of slits that extend the skirt's length. Outerwear is dominated by full-length coats with large collars and pocket details, as well as textured patterns like tartan. The colour palette is minimal in its use of monochrome but does incorporate splashes of gold, purple, red, and blue throughout the collection.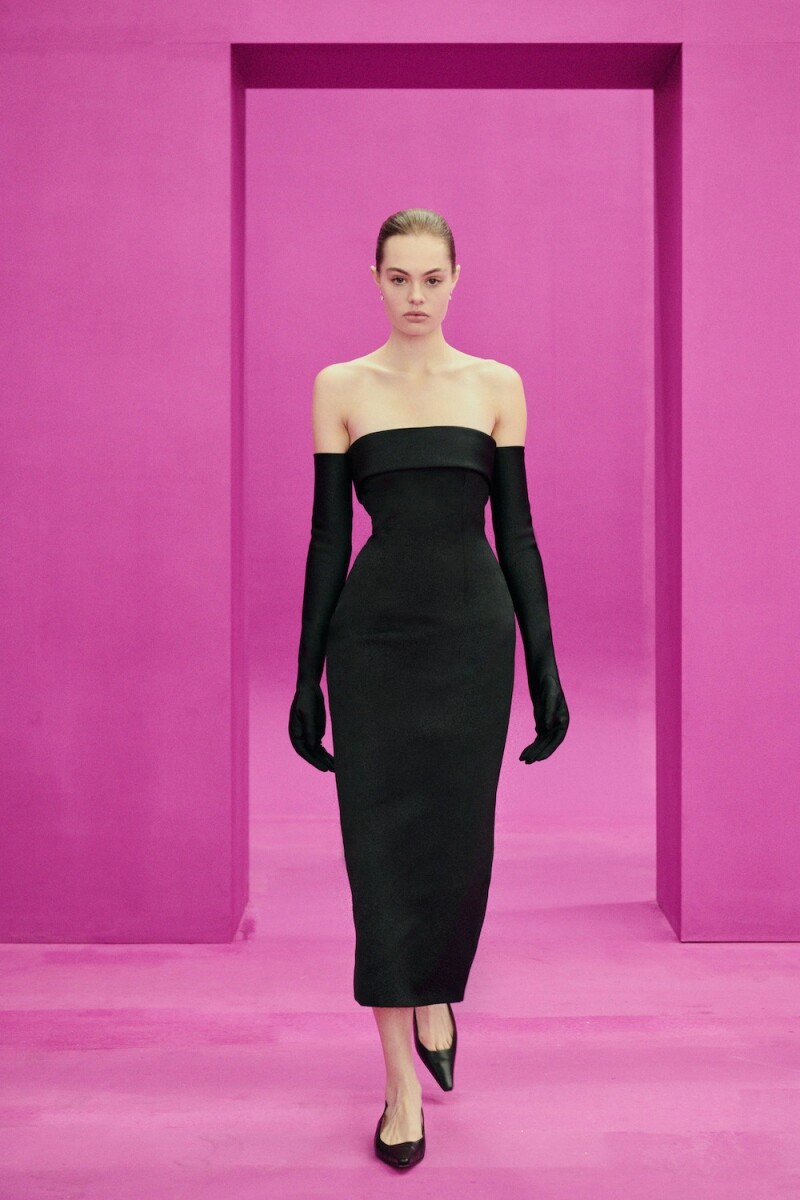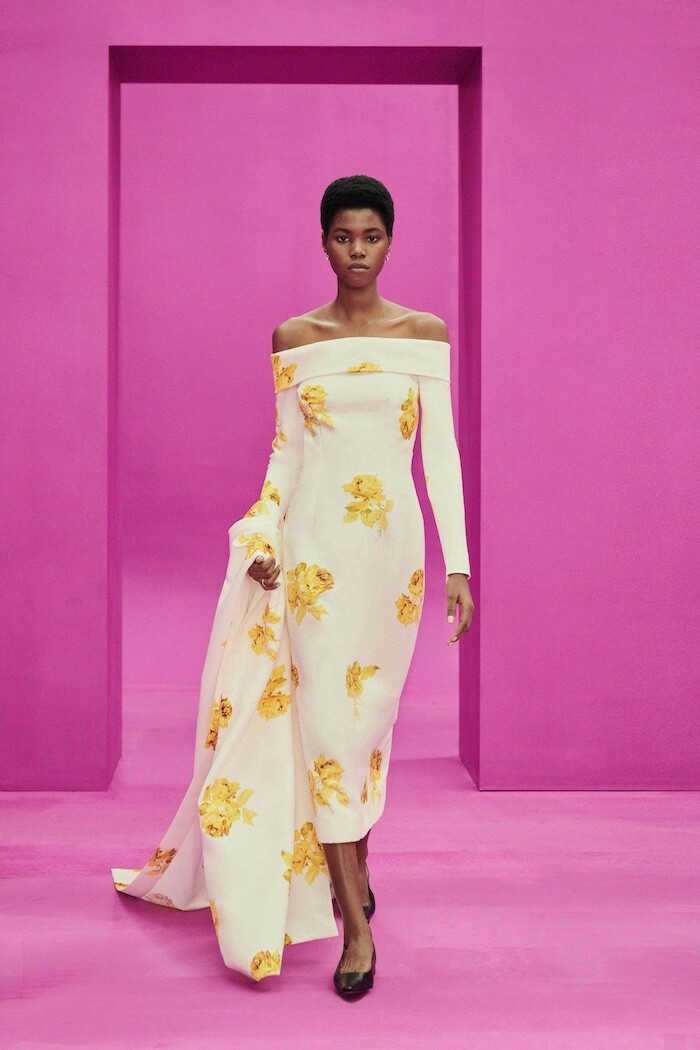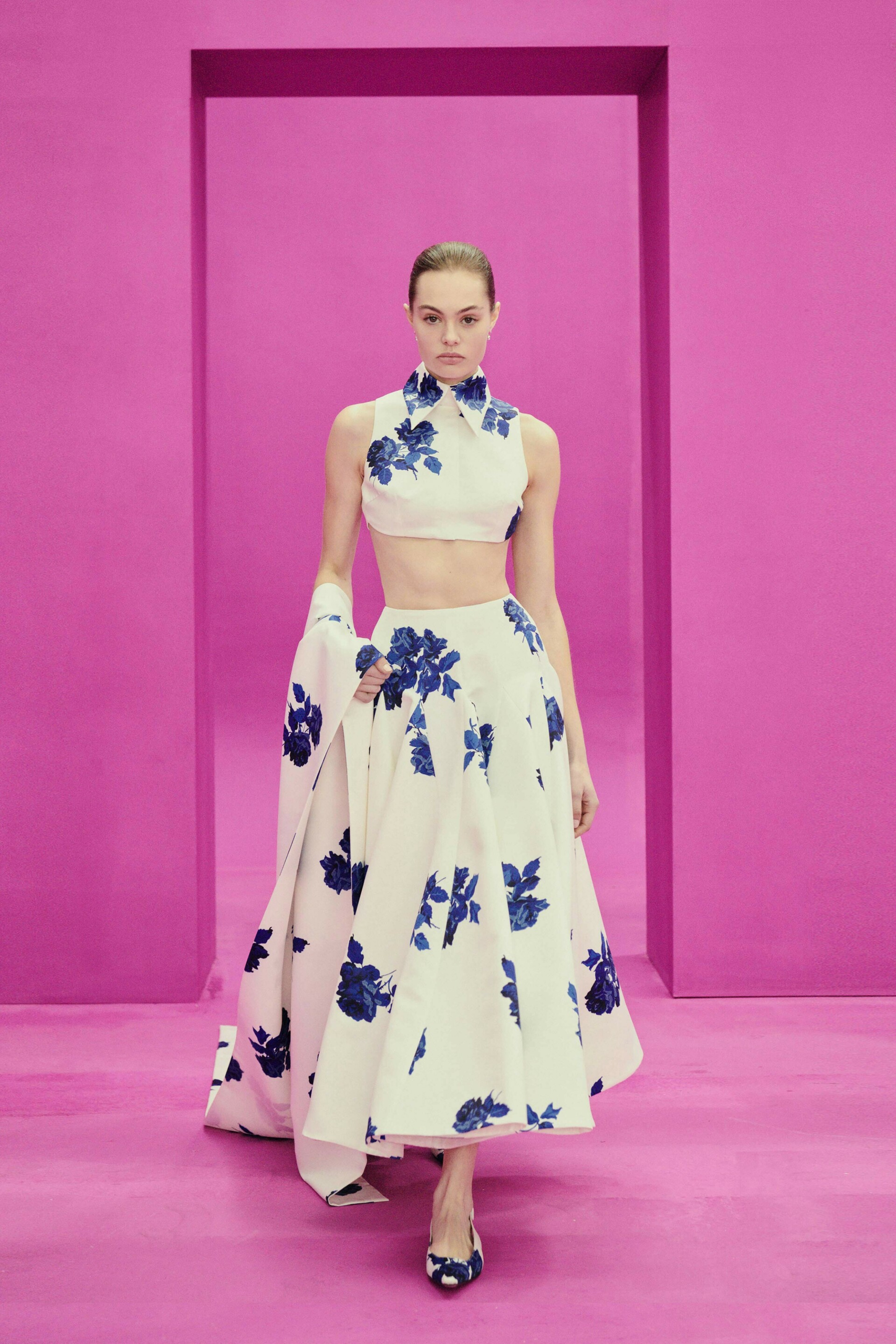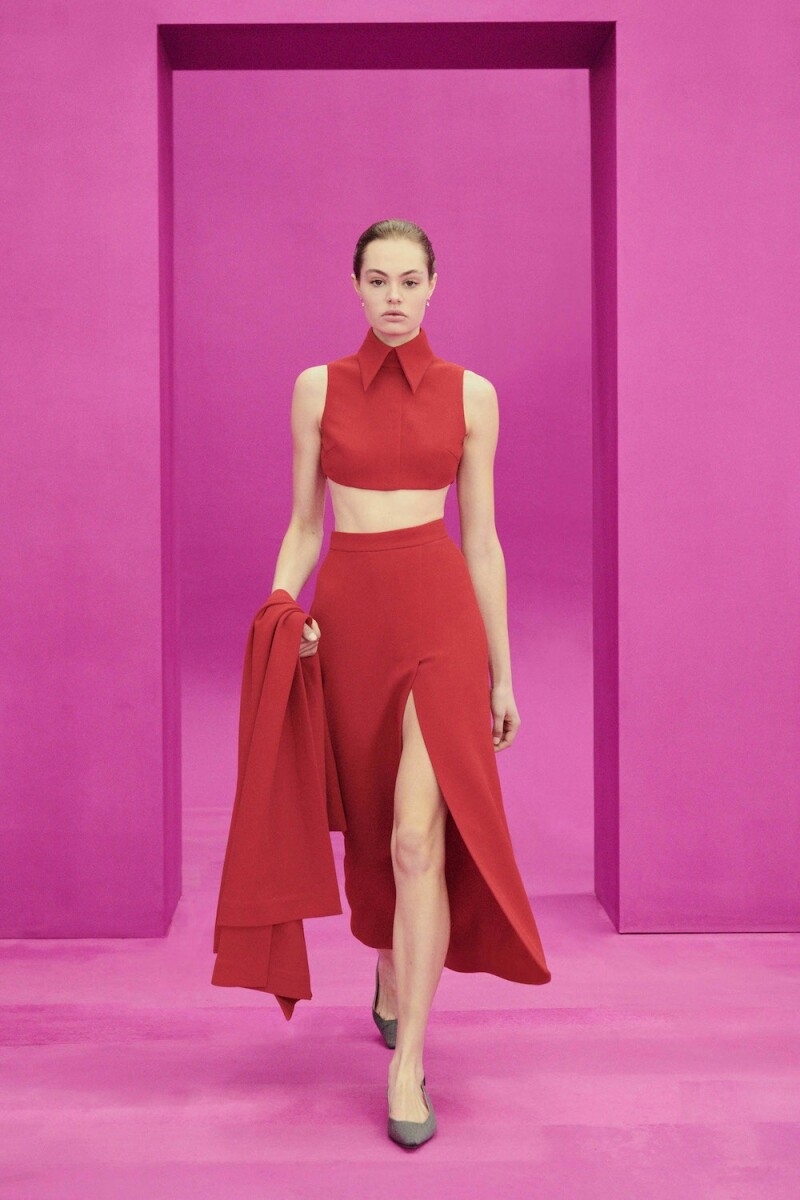 ROKSANDA
A collection centring around female perspective and celebration, ROKSANDA's AW21 Collection uses its accompanying short film to highlight "a series of tender and fleeting moments" between three generations of women in the same family. Set against the countryside in which these women lived during lockdown, the collection plays on the parallels between colour, fluidity, and form that lie between home and the natural world. As such, the colour palette of the collection incorporates colours with feminine associations, including pinks, lilacs, and yellows. Silky fabrics are used to highlight the flow of movement and light on natural curves, and shapes on the upper part of the body are exaggerated; shoulders are padded out, sleeves puffed, and collars ruffled. A key component of the collection is the attention paid to the female form, which is incorporated in the patterns used in some of the fabrics – look out for the larger-than-life purple dress covered in women's faces.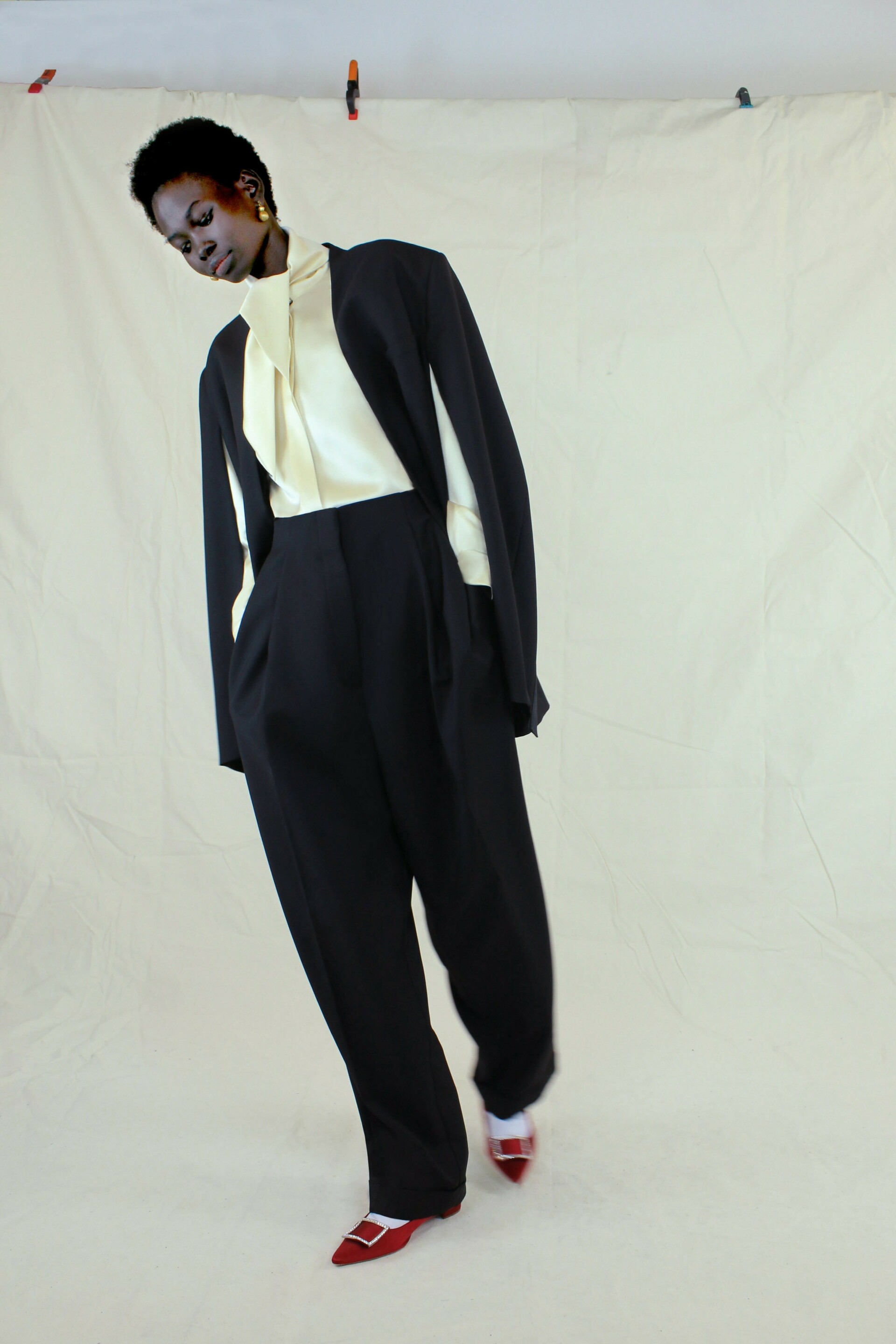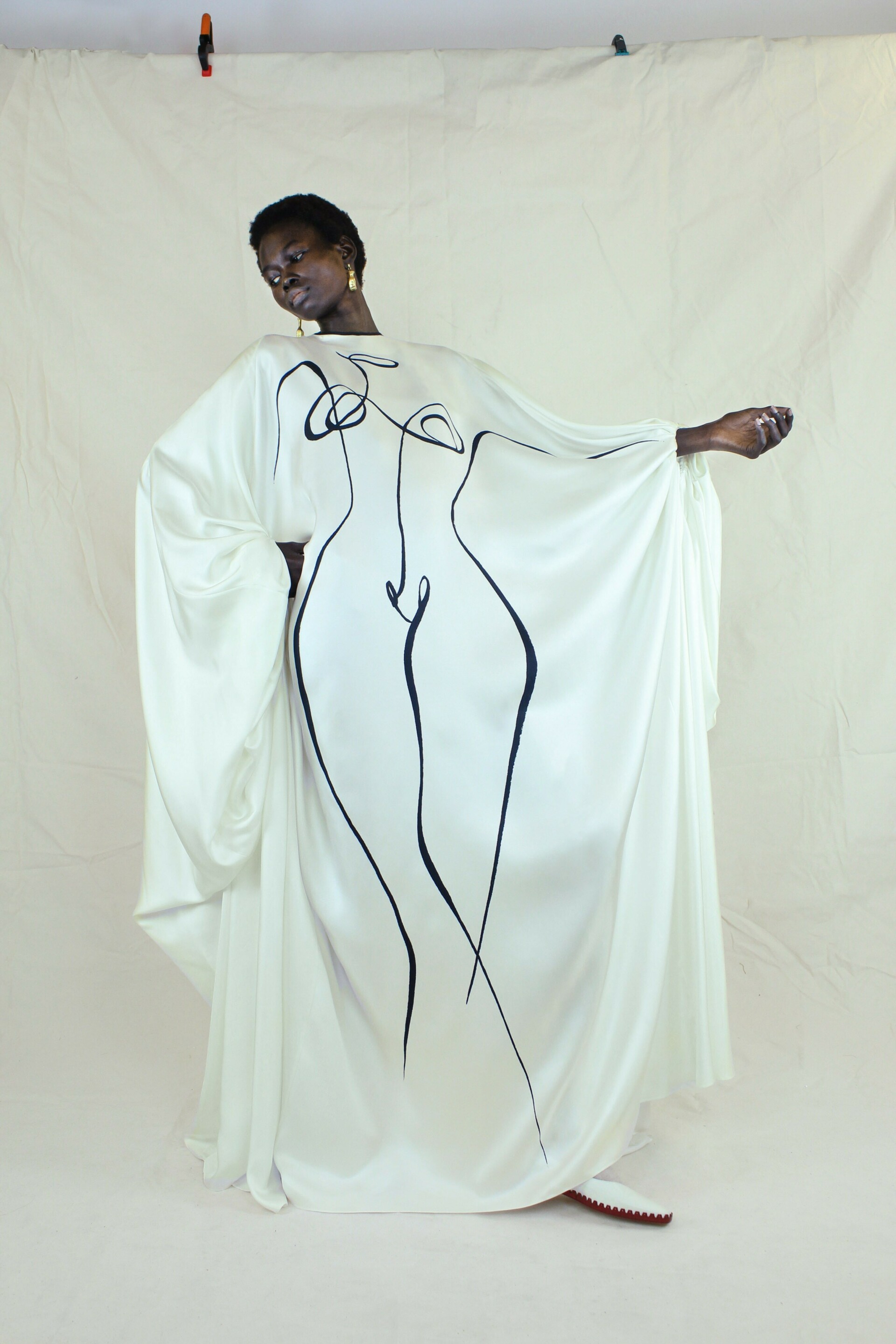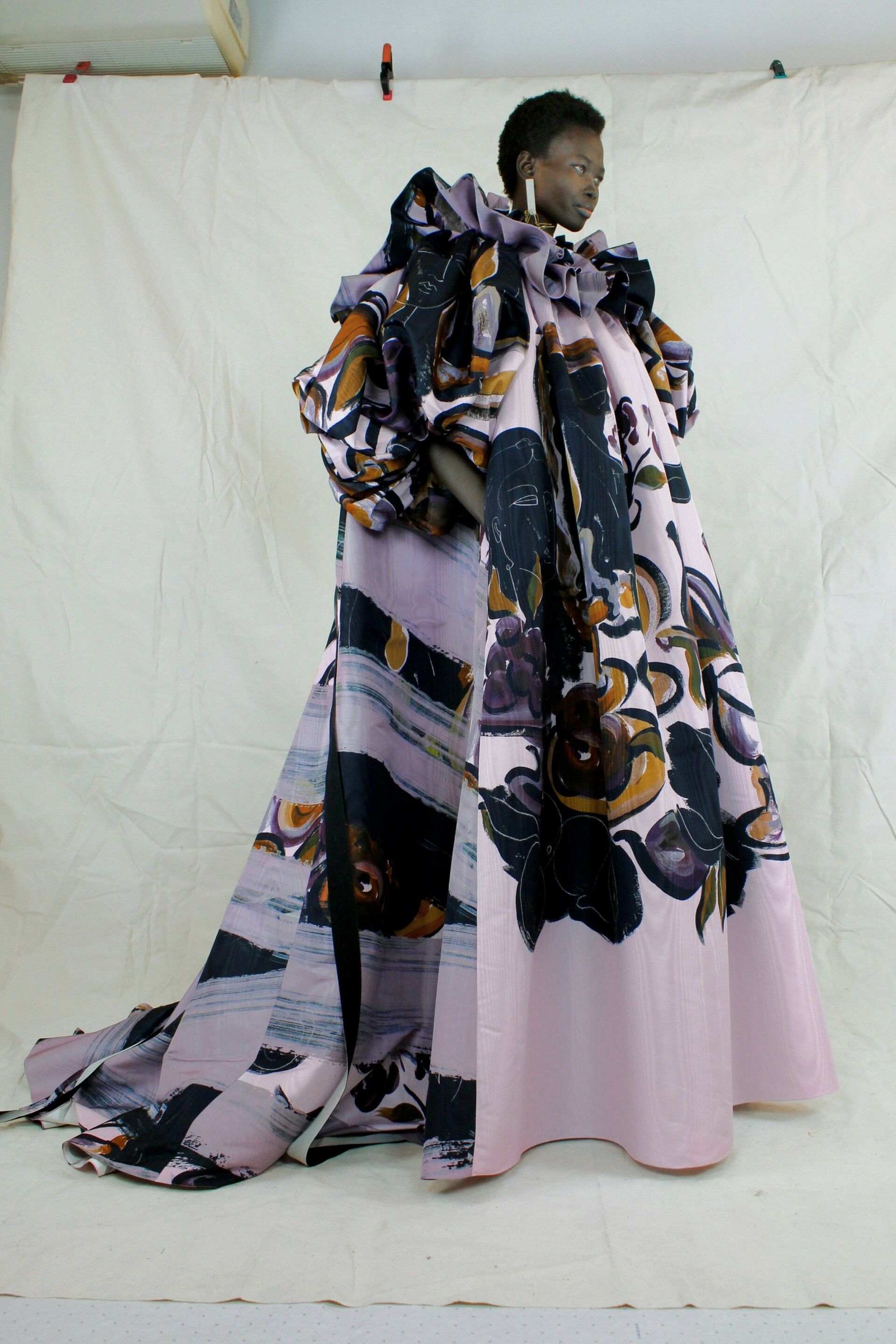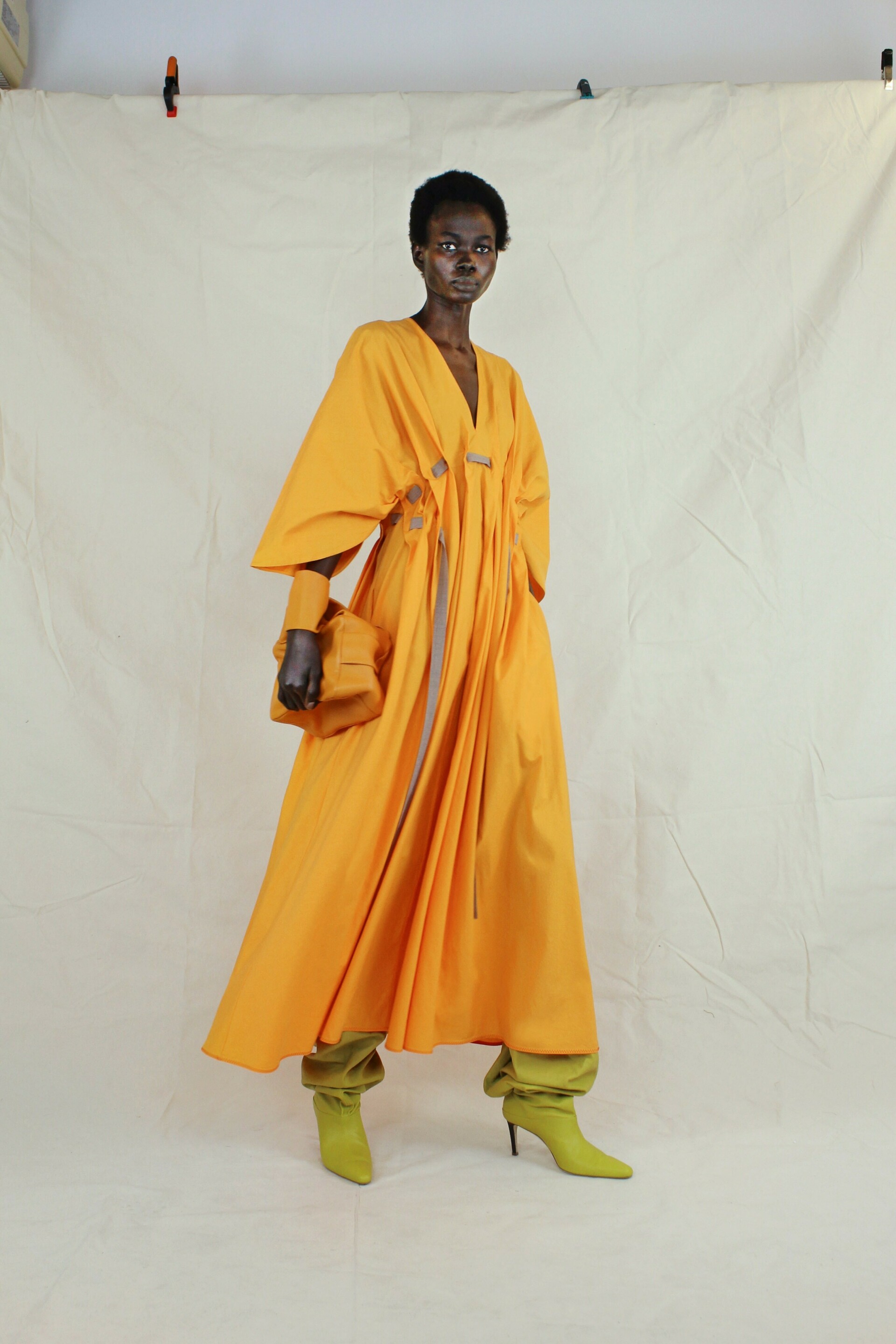 Edeline Lee
Edeline Lee is known for creating collections with "the Future Lady" in mind, examining transformations in female identity. The AW21 Collection presents a short story, 'Memory of a Dress', in which the intimacies of how meanings and memories attached to clothing are explored. Edeline Lee commented in the video description: "I wanted to contemplate how memory and nostalgia can be held by a piece of clothing…how the soul of a dress can inherently give the wearer a sense of stability, confidence, and power." The collection is based on a minimal colour palette of malachite, mustard, brown, white, and black. A romanticism flows through the collection, as expressed by the incorporation of full-length skirts and flowing balloon sleeves. However, these are also blended with current trends such as capes, cut outs, and shoulder pads. Relaxed fits and layering are also a defining feature of the collection, in particular wide leg trousers, joggers, and loose shirts.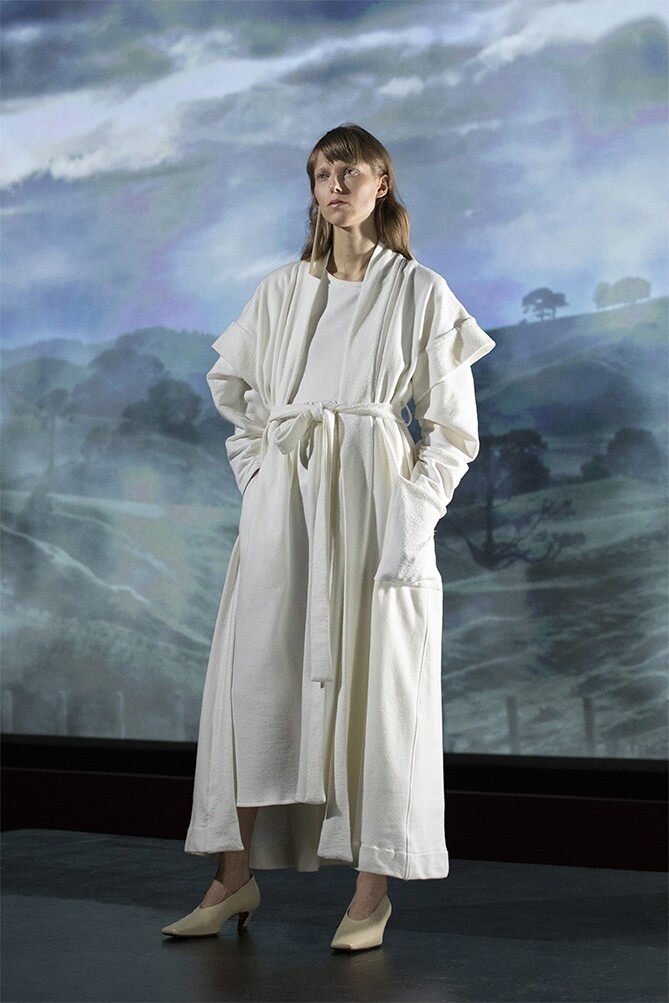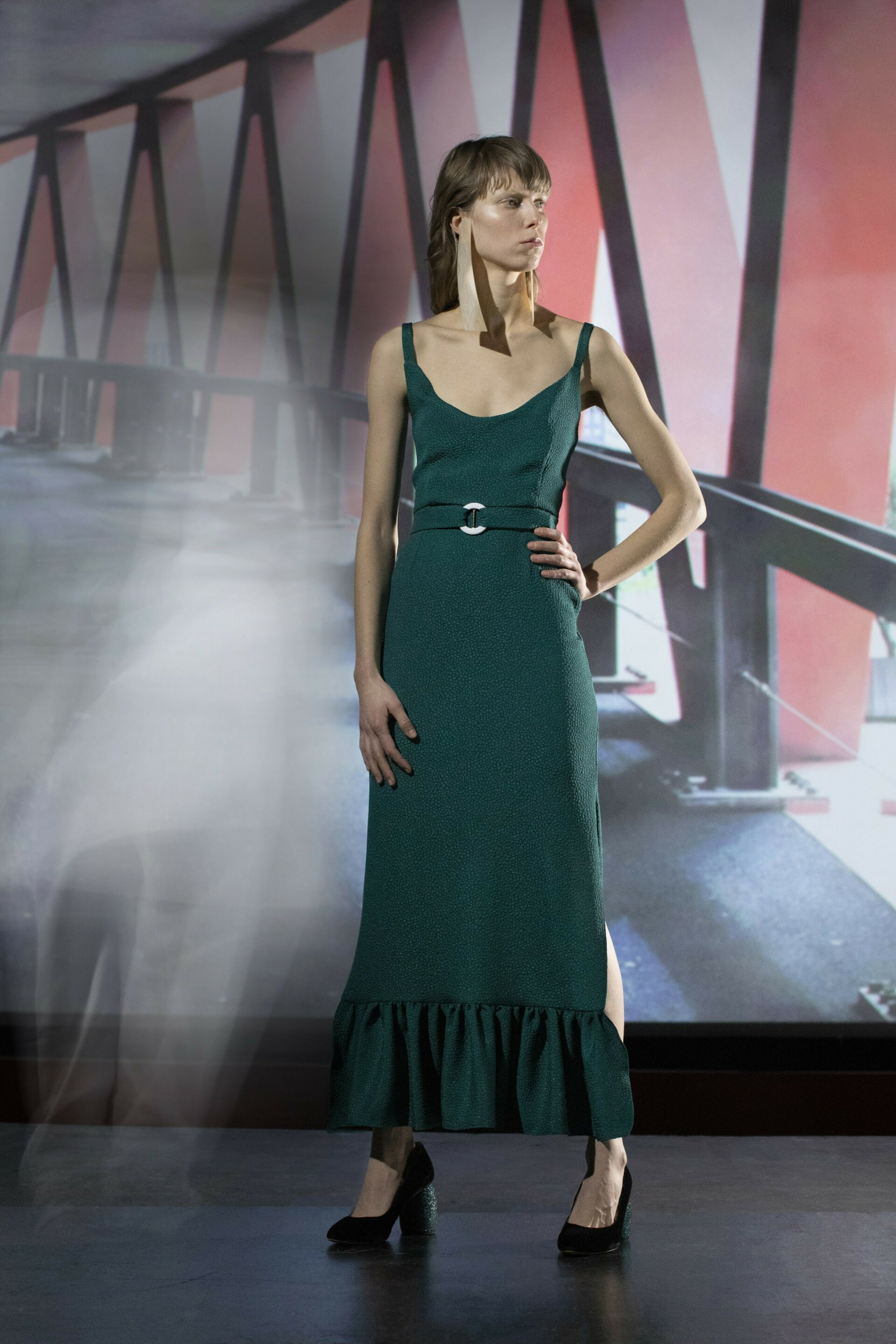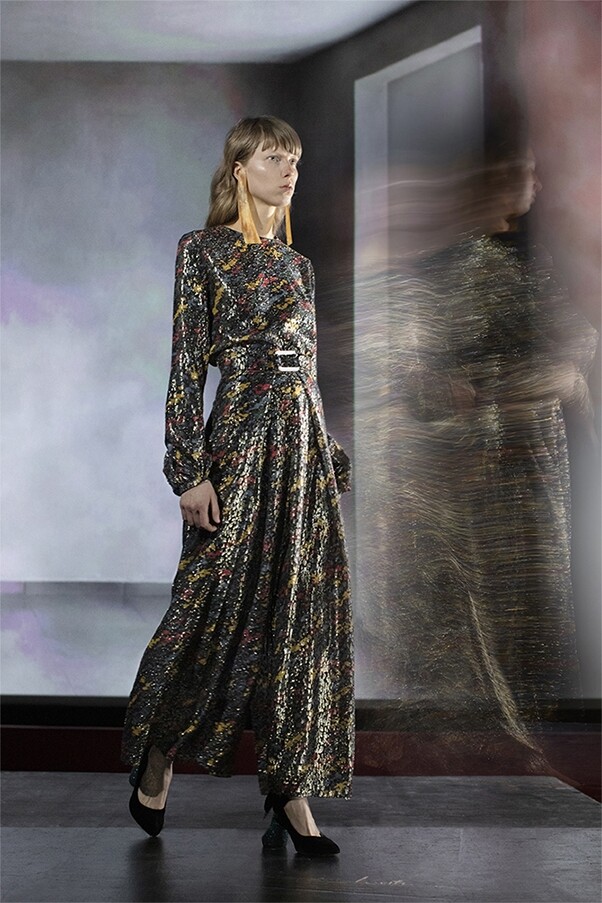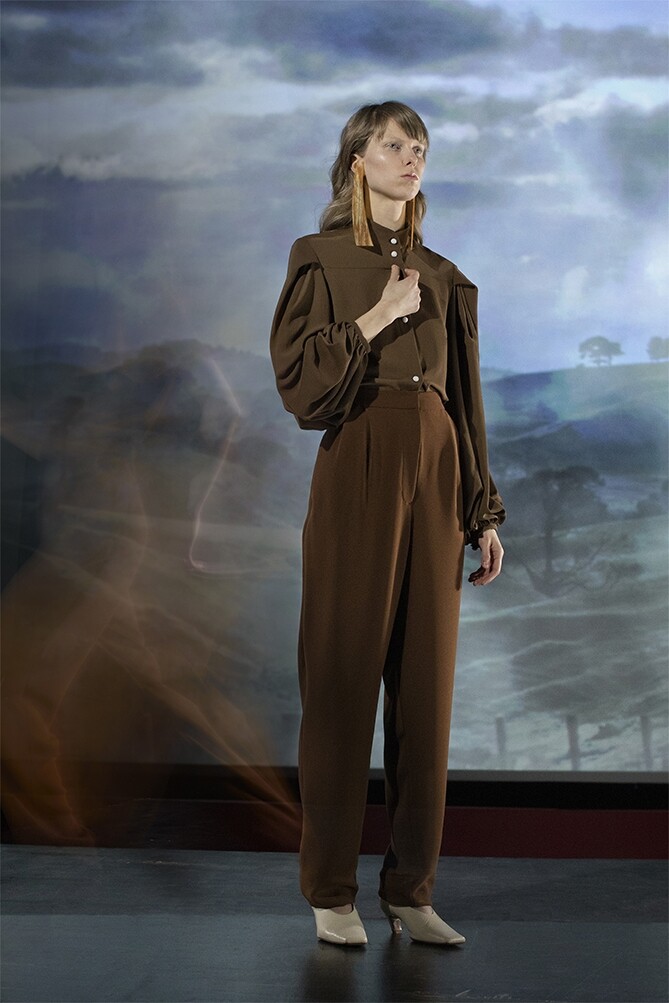 Natasha Zinko x DUO ltd
Natasha Zinko x DUOltd continue to push for gender fluidity in their collections, with the focus on "girls wearing boys and boys wearing girls" remaining unchanged in their AW21
offerings. Gothic visuals permeate the entire collection, which sits itself comfortably on the line between costume and high-end couture. Lace in particular is used generously, accenting necklines and aprons, and used to create sheer dresses. A notable feature is the use of an exaggerated peter pan collar, where frills give a feminine edge to more masculine fits. Flared jeans and trousers are also highlighted and decked out in an array of patterns (including sheep). Layering is crucial to some of the more complex looks in terms of their exploration of gendered shapes; hoodies and oversized shorts are nearly dwarfed by layers of jackets and coats.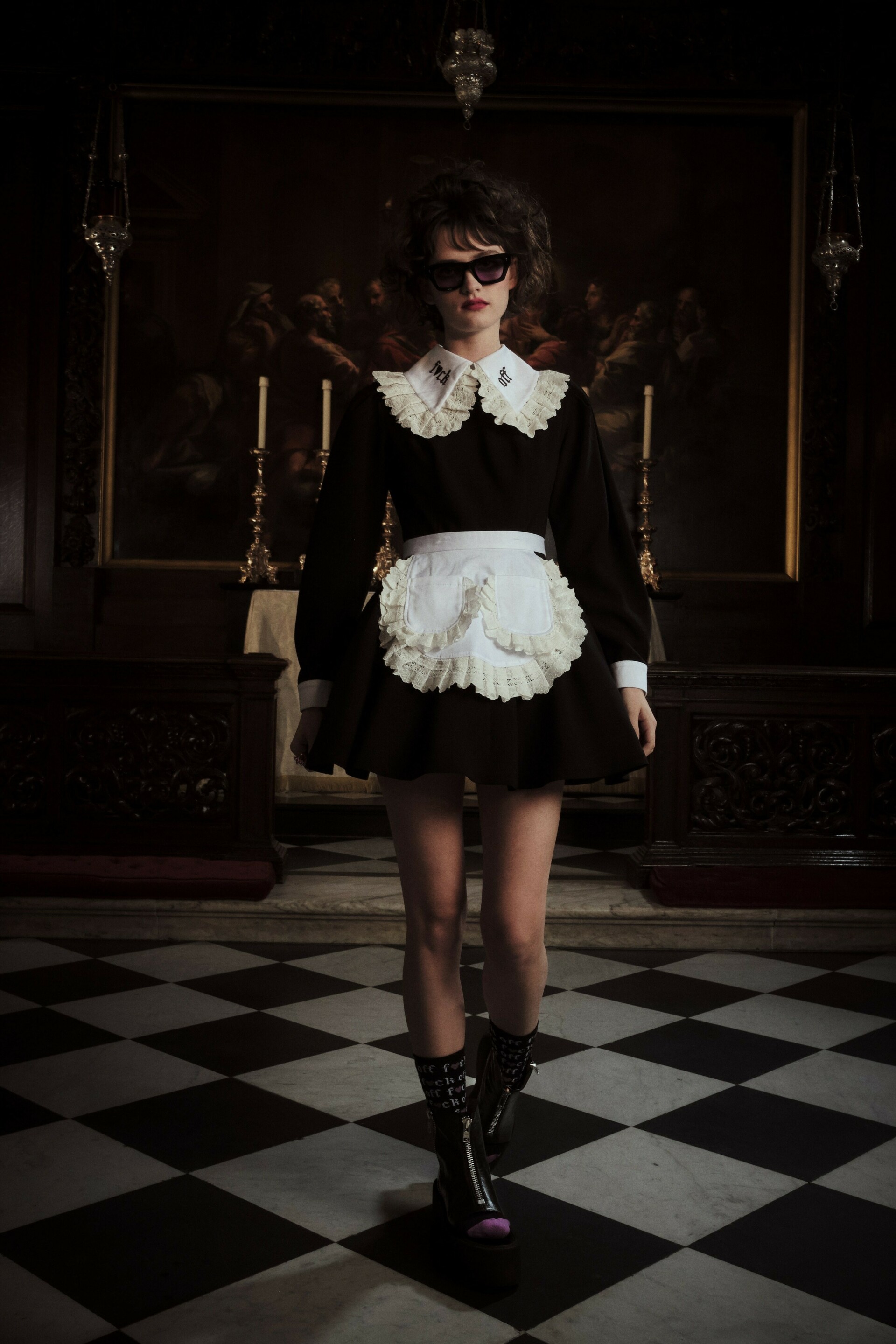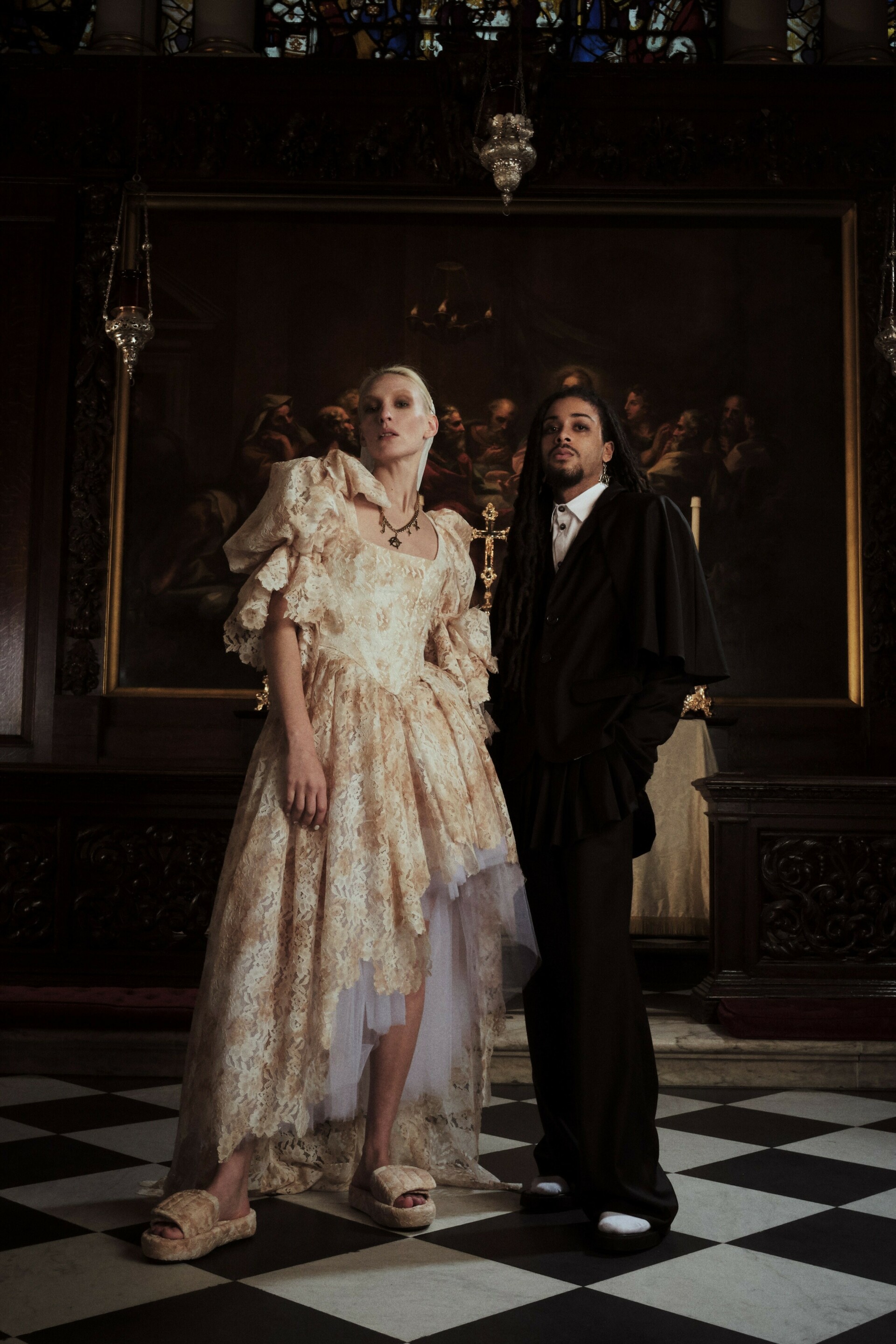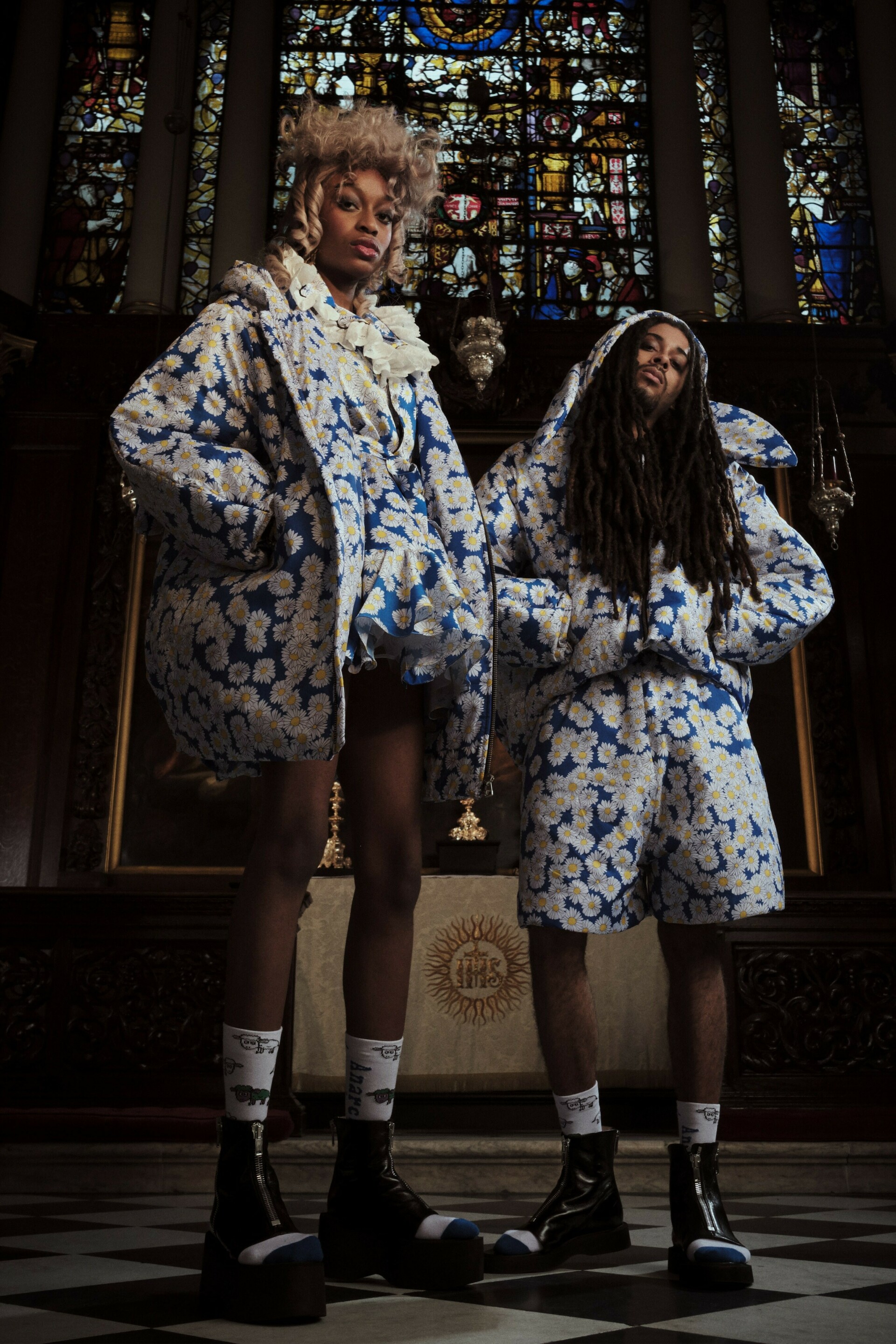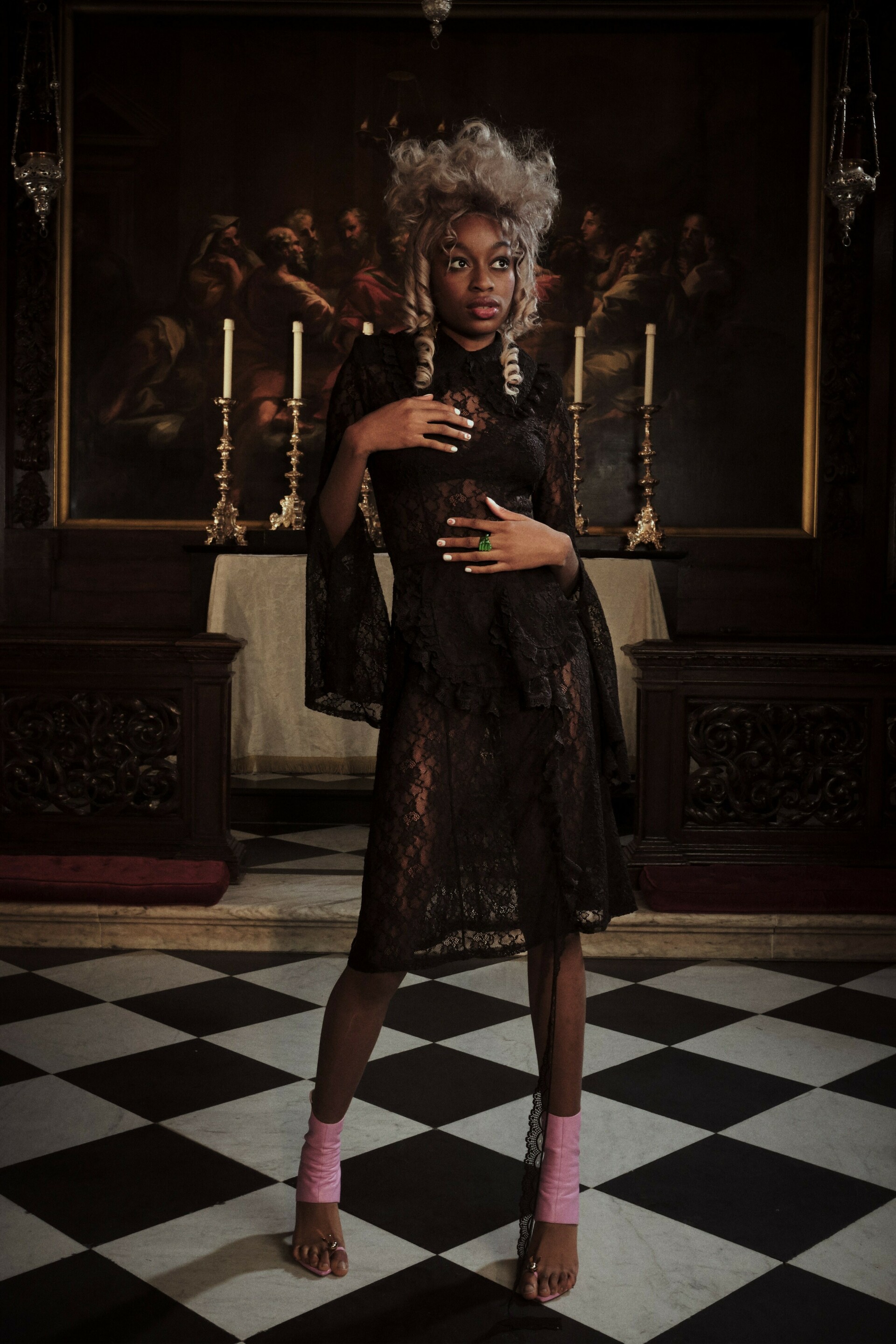 TUESDAY
APUJAN
APUJAN's AW21 Collection has an emphasis on story-telling that combines mystery, science fiction, and fantasy. The video presentation follows an insomniac detective who is able to travel through dreams and is put on the case of finding out why several young women are unable to wake up. The space in which the detective travels through is a simulation of the brand's fashion show. APUJAN stay true to their signature style with the inclusion of traditional and oriental elements, such as the cheongsam-style dress, although these are combined with global contemporary trends. Cut outs featured prominently in the collection, creating rows of neat, open squares that left the remaining material to create a blocky check pattern. As with previous APUJAN collections, this one also used knit techniques to give the collection a greater textural dimension; skirts, crop tops, and hats could be seen in coral and reddish-brown knits. Pattern, in particular variations of stripes, were also spotlighted as a means of introducing more intense colours into the monochromatic palette.
Accidental Cutting
For their new collection, Accidental Cutting present 'KONSUM aw 21/22 Apocalypse the New Reality II', an exploration into the possibilities of virtual reality following the economic catastrophes caused by the Coronavirus pandemic. Seeking to answer questions about the future of fashion and its means of adapting to current lifestyles, the collection blends athleisure staples with more event-ready items; dramatic, full-length skirts are seen alongside hoodies, jogging bottoms, and other outdoor sportswear. Long sleeves remain consistent among all the looks on show, with arm warmers also being layered on top of select outfits. Full-length coats are also prominent, often emphasising the structure of the shoulder with shoulder pads and cutouts on the upper arm. A ribbon or sash with the Accidental Cutting logo is a detail that features consistently throughout the collection.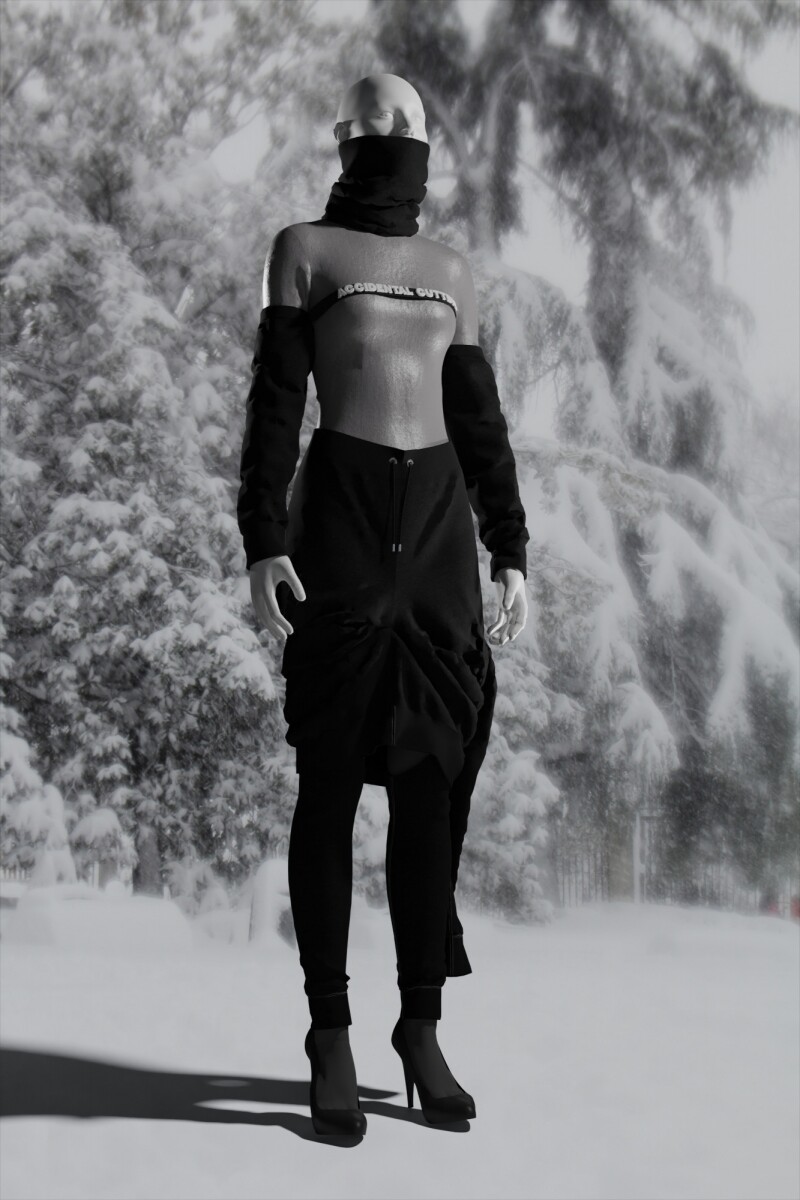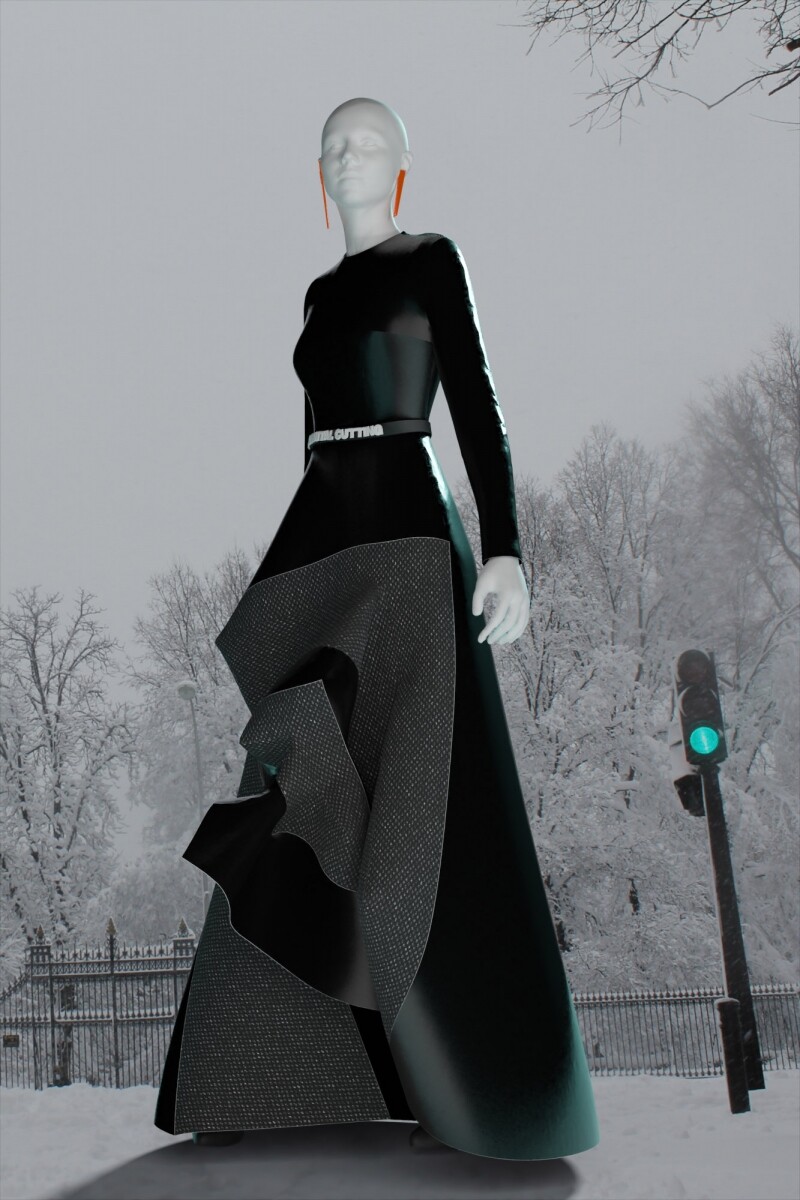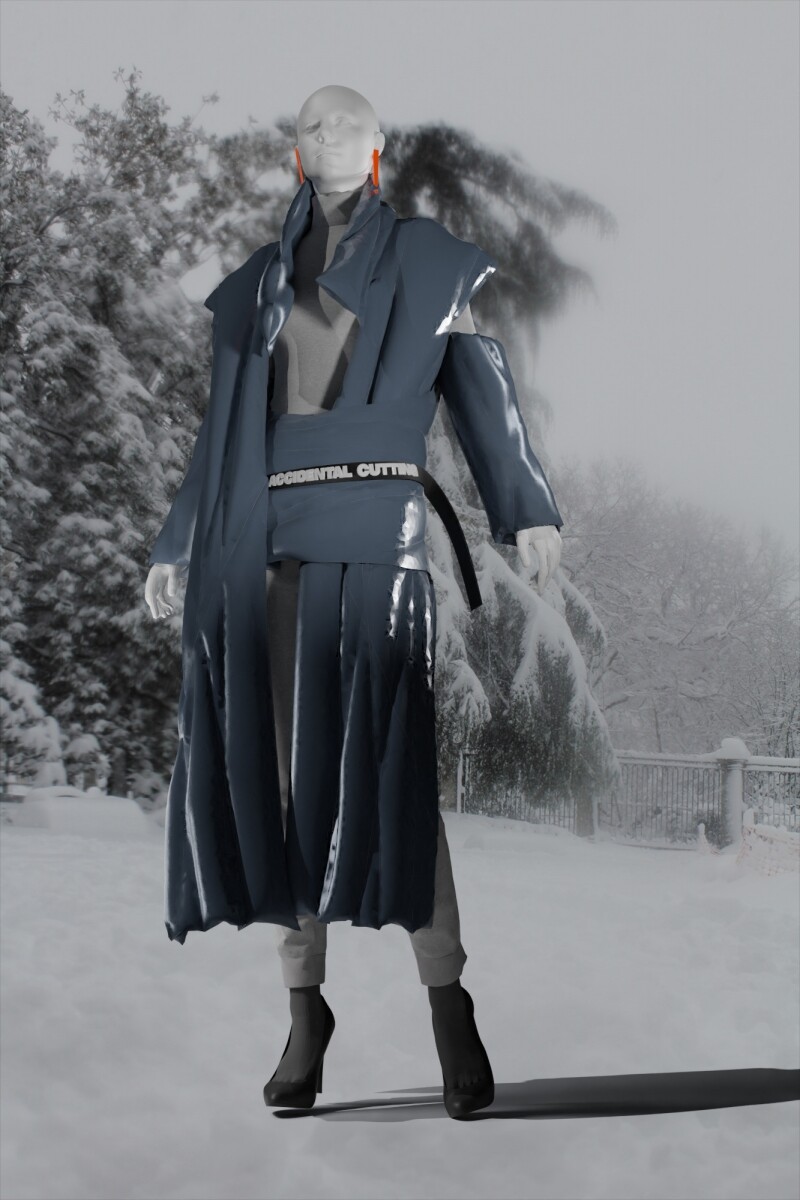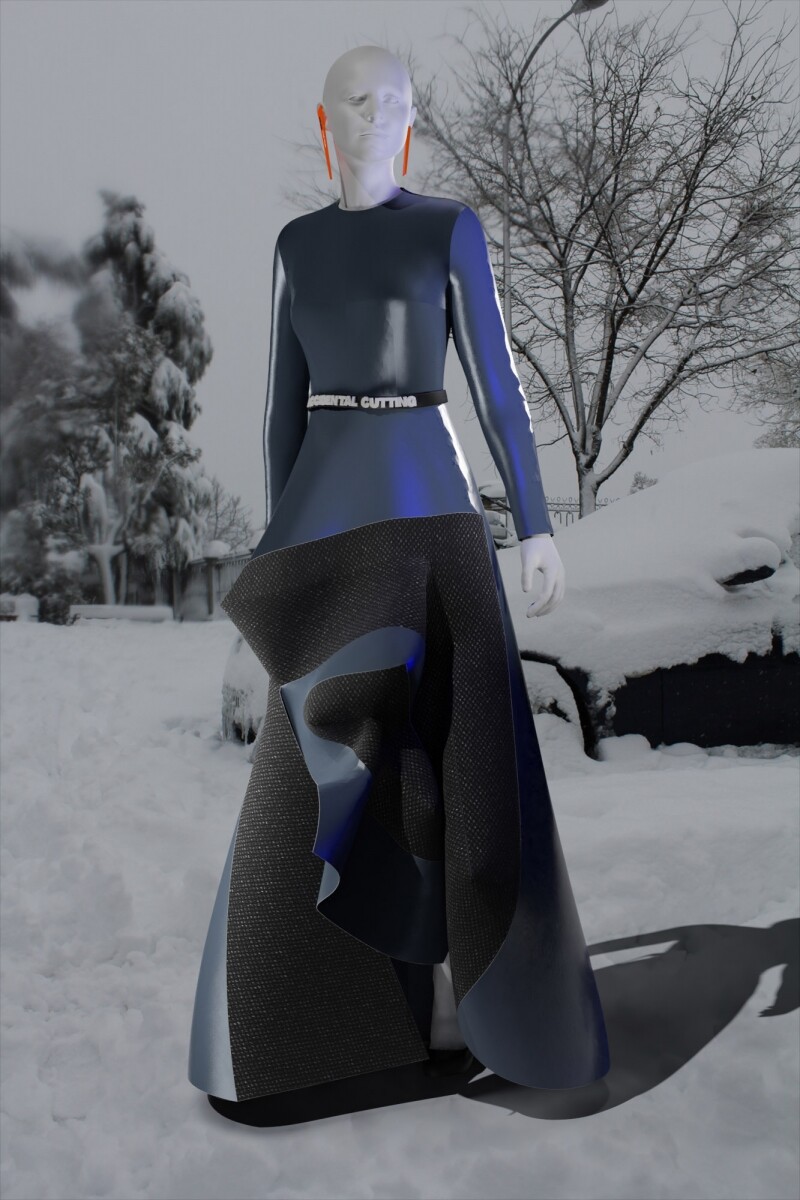 Susan Fang
'AIR-TIME' is an exploration of the subjective experience of time. Considering the past year, Susan Fang looked back at feelings of uncertainty and the anxieties we faced over not having
control of our own time. When making her collection, Fang wanted to create a short film using an 1850 wet processing film technique that highlighted the process from start to finish, creating a layered story that mixed individual moments in time. The collection incorporates Fang's signature bubble pieces, which she combines with fountain headpieces to create the impression of water splashes frozen in mid-air. Emphasising a look of soft airiness, the collection shifts between a light, pastel-hued colour palette and jewel tones. Additionally, tulle and ribbon are highlighted as key components, layered into flowing dresses that channel loose shapes and accentuate soft movements.
JENN LEE
JENN LEE presents 'Love Planet', which takes audiences to another world via a 360-degree virtual reality viewing experience. The collection features different character types, such as the 'Explorer', 'Girl Raver', and 'Superstar', in a colourfully experimental digital space. One of the more interactive shows of London Fashion Week, JENN LEE invites their audience to move around the space provided to view each look. Sporting a vibrant colour palette of lime green, orange, red, blue, and black, the collection is striking in its use of luminescent colour. Denim features heavily in many of the looks, styled with metal eyelets arranged in flowing bubble-like patterns. Zip detailing is also used on trousers, skirts, and jumpsuits to introduce line and structure, as well as emphasise flared shapes. Psychedelic patterns and asymmetrical hemlines give many of the looks a retro finish, with chunky platform trainers, boots, and shoes emphasising this aesthetic.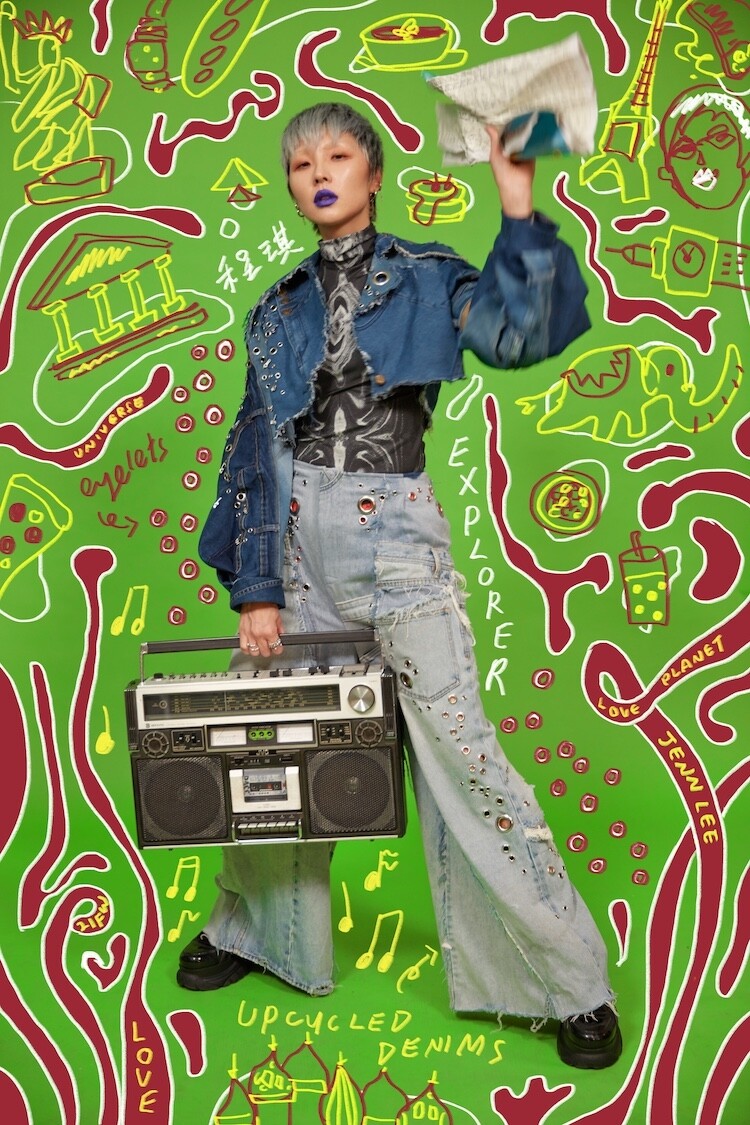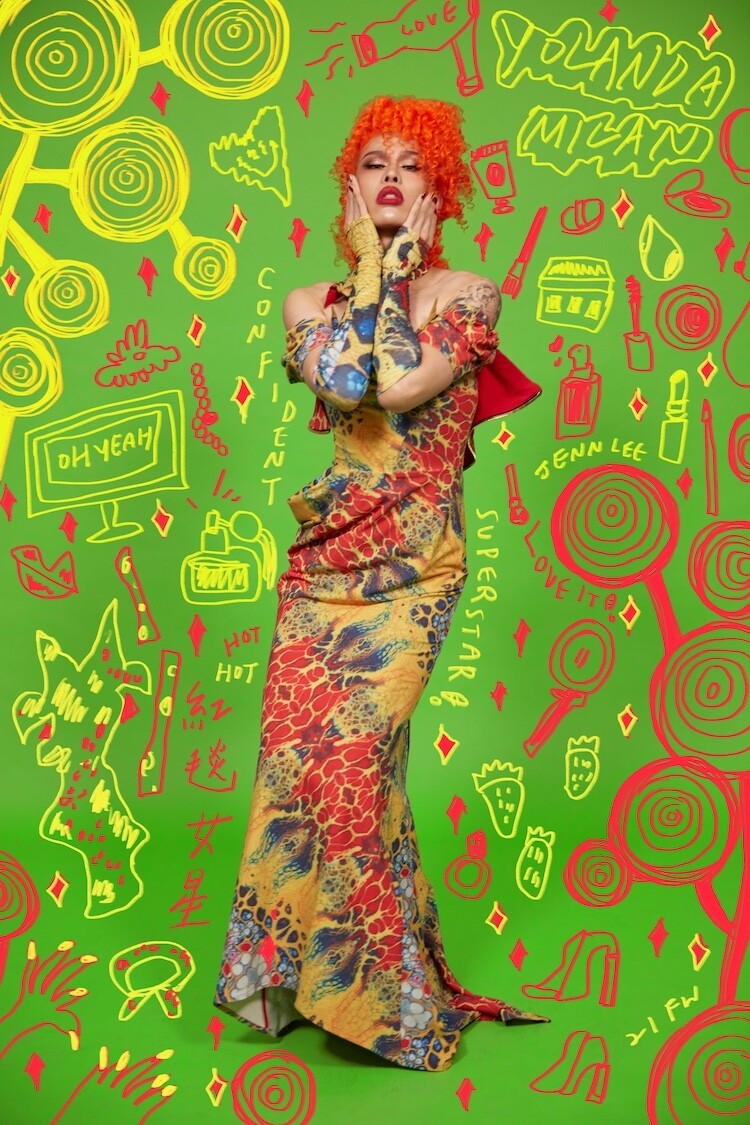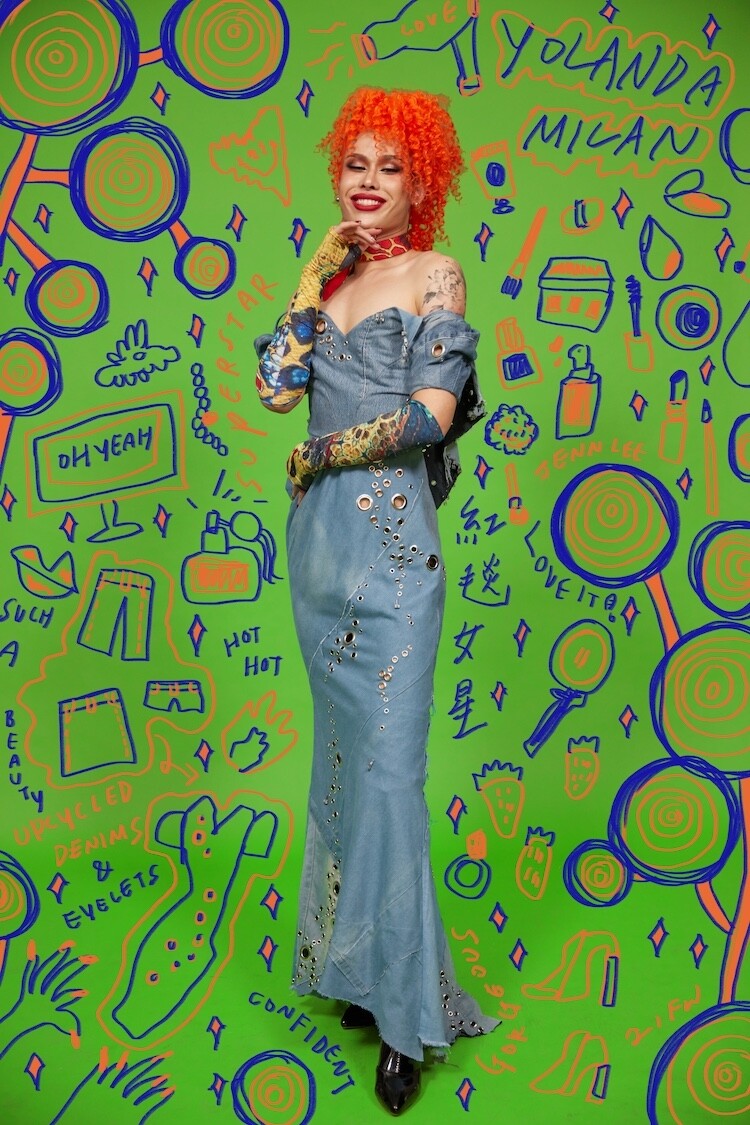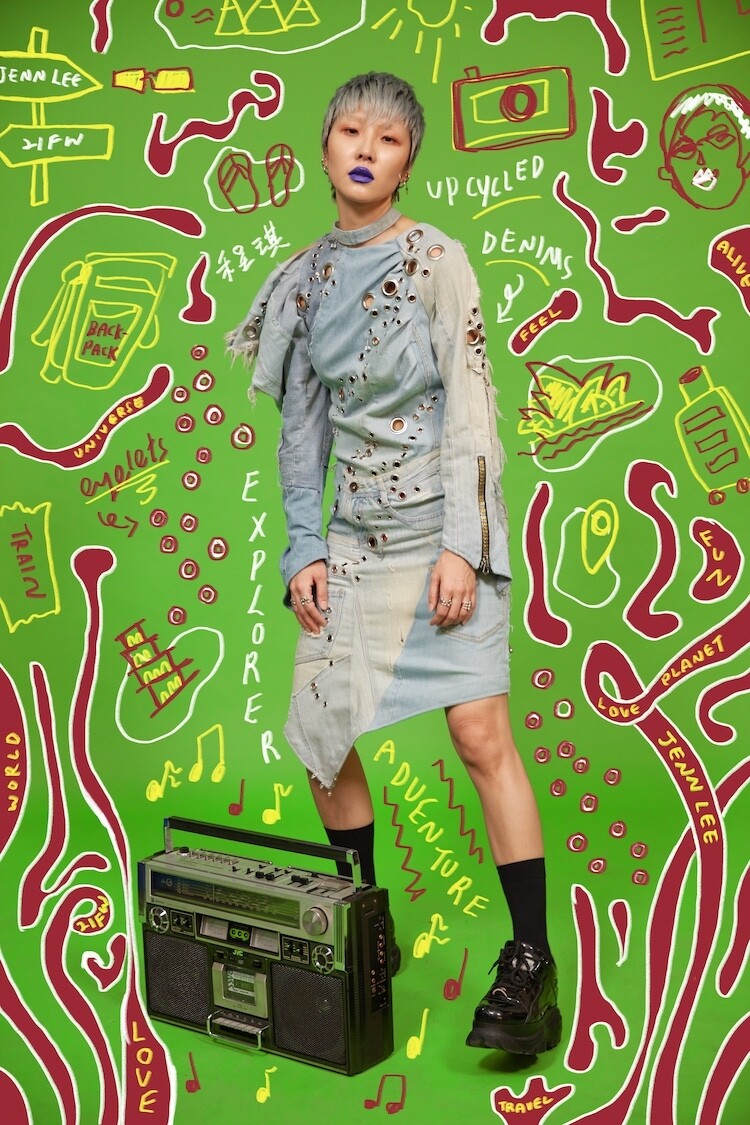 Simone Rocha
Simone Rocha's AW21 Collection brings together themes of delicate femininity and practical strength, working on the image of the "fragile rebel". The winter rose, noted for its ability to maintain its beauty while withstanding hostile conditions, is a central symbol running through the collection. Structured leather is intertwined with Rocha's usual play on satin and tulle, with leather jackets, harnesses, and bralettes emphasising the unification of delicate textures and strong shapes. This highlights the collection's emphasis of tailoring through its presentation of leather jackets and blazers. Sheer fabrics are also particularly prominent, used to create puffed sleeves or layered into full, doll-like skirts. The silky, see-through fabric is also used to construct trousers, which are layered under skirts like loose-fitting tights. Floral embroidering and beadwork are highlighted throughout the collection, incorporated into skirt hems and shirt collars. Another feature of note is the use of mixed patterns, which Rocha incorporates through layered patchwork and texture.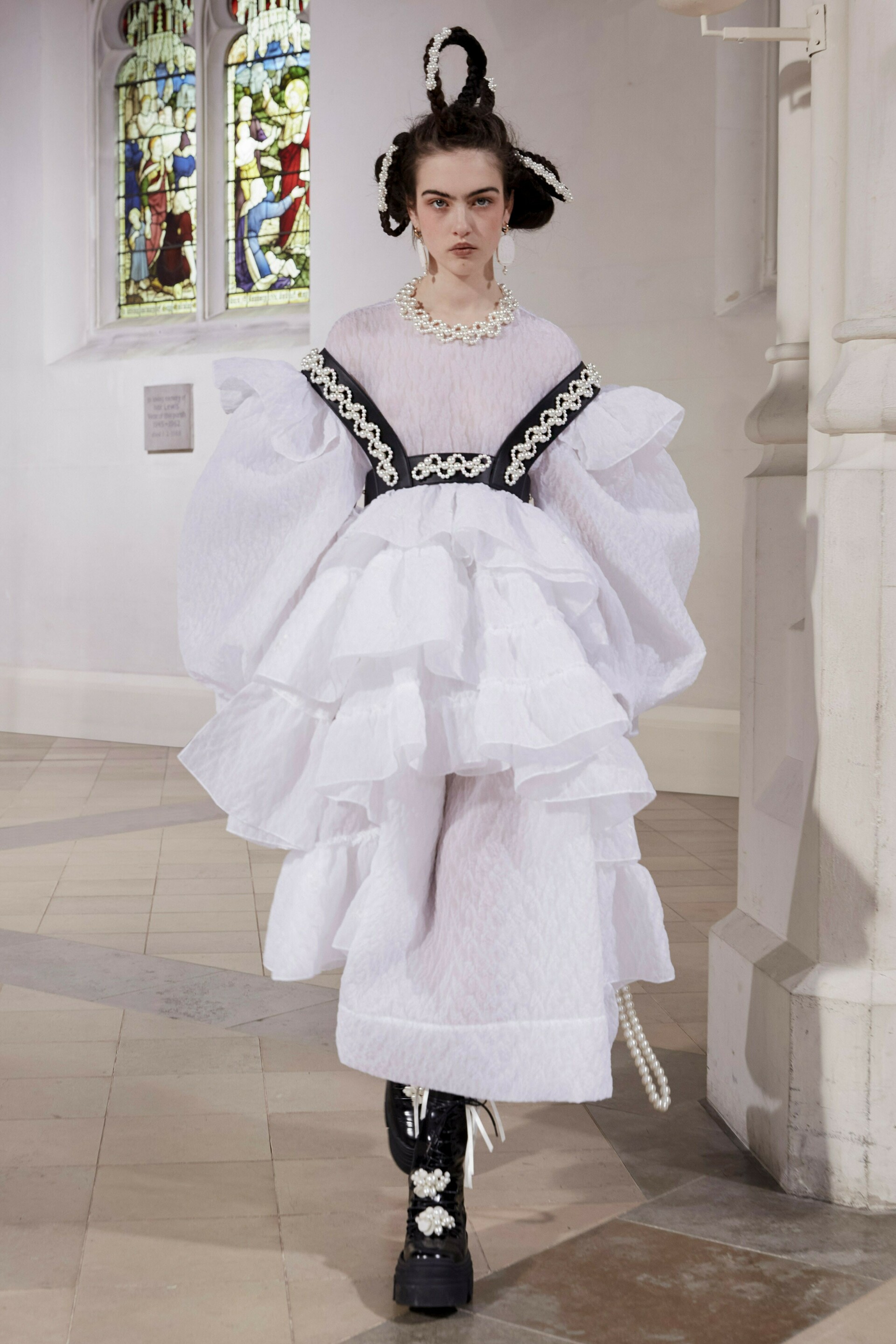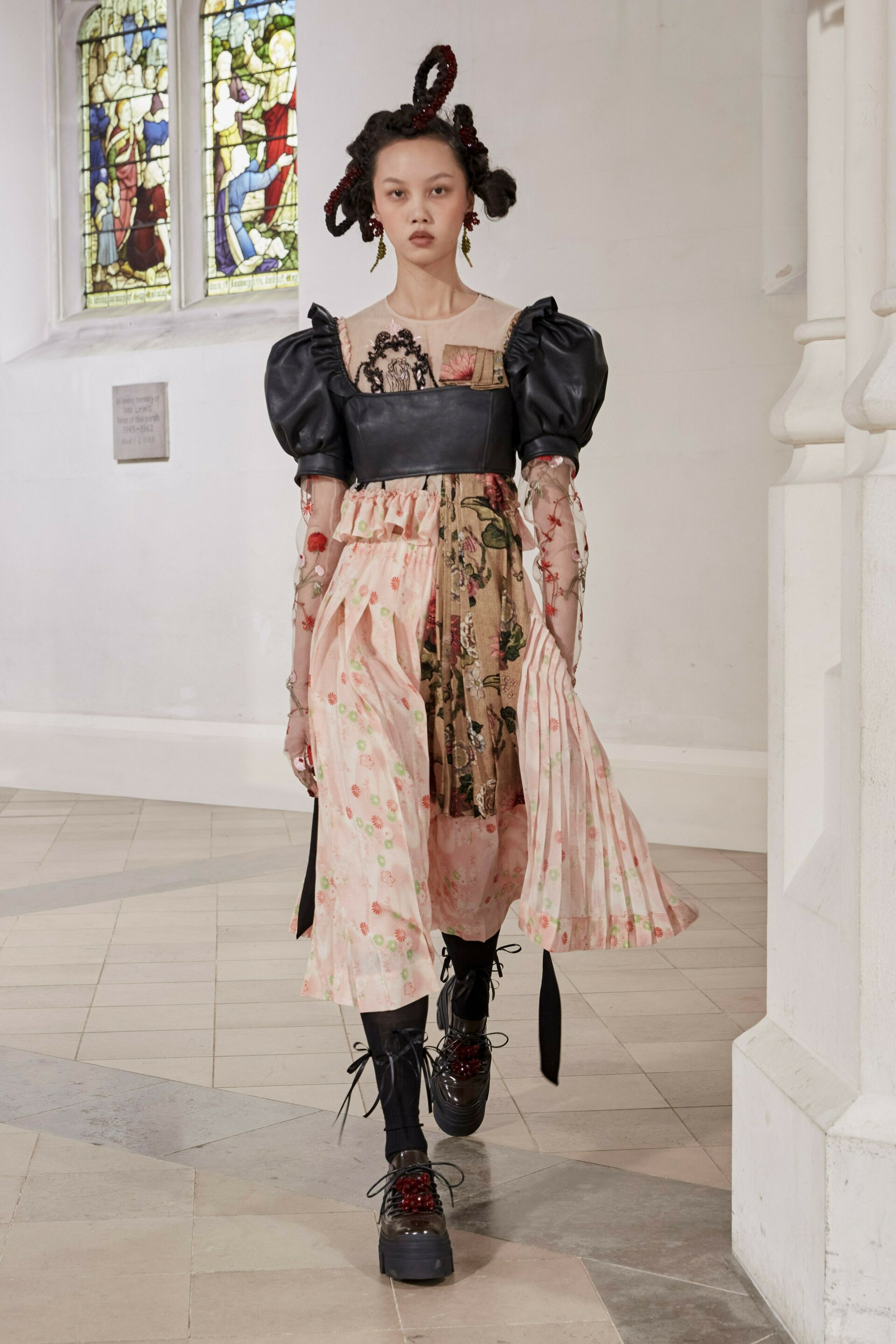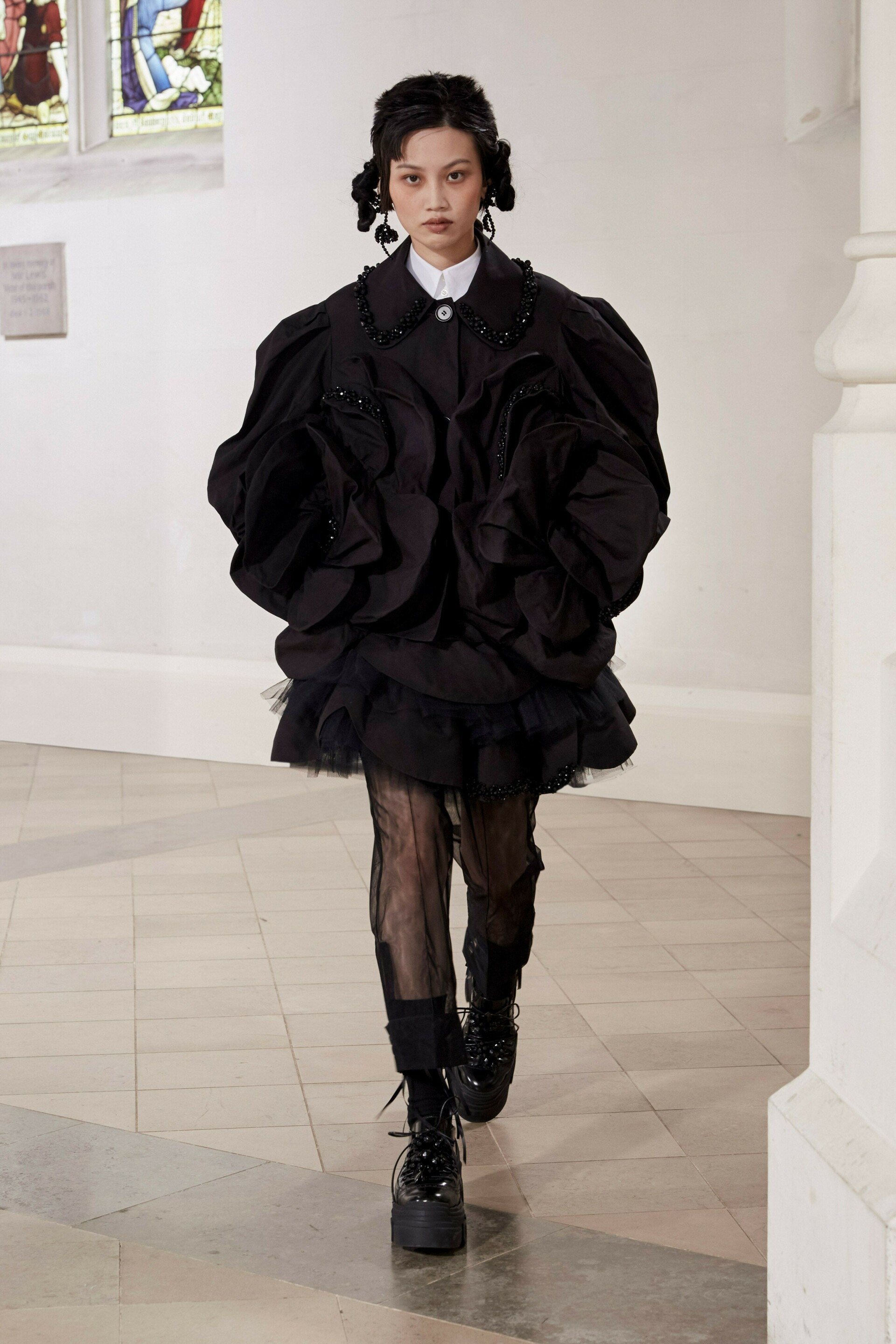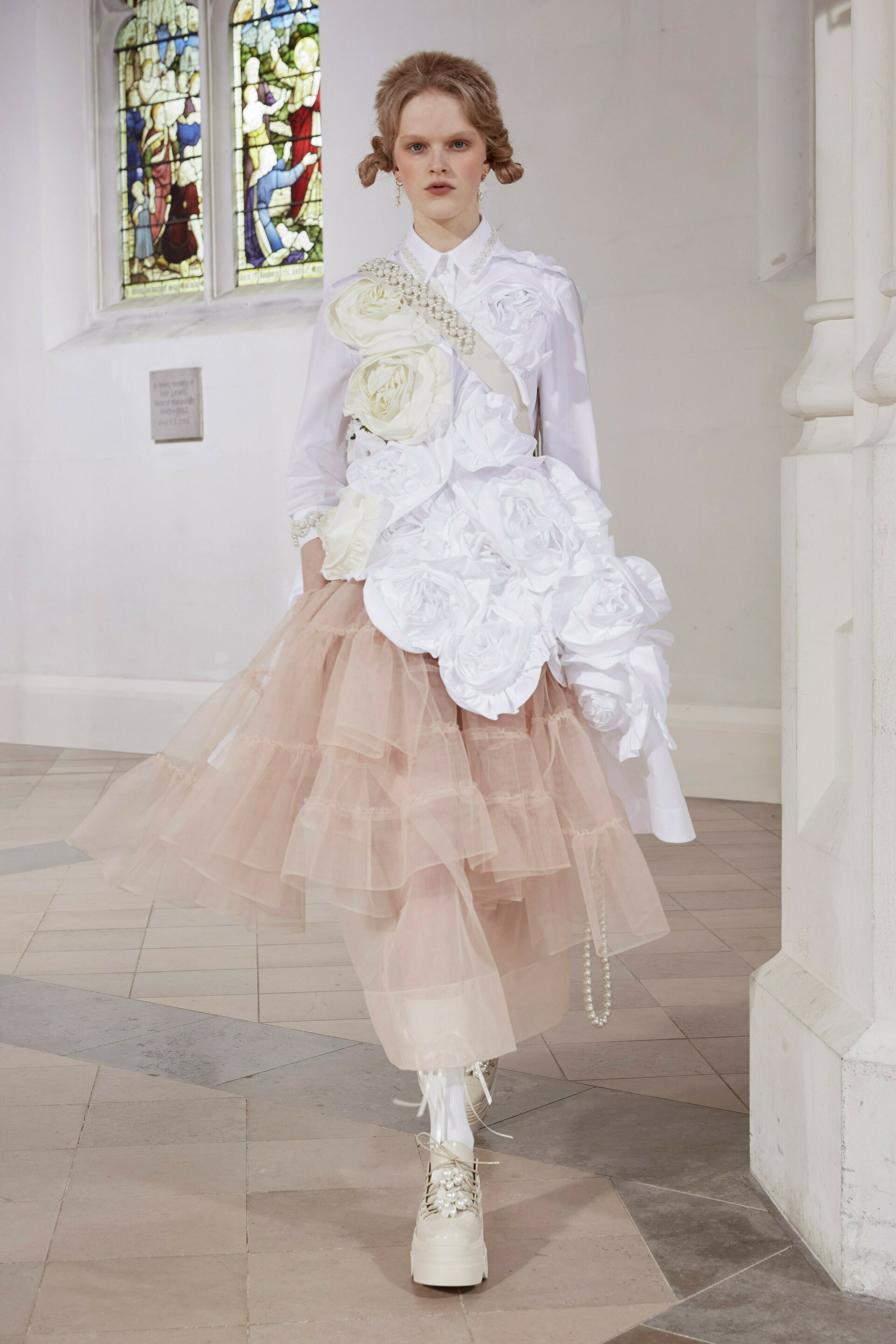 Daniel w. Fletcher
Debuting his first womenswear collection, Daniel w. Fletcher presents 'Love Is A Stranger'. Rather than stick to the label of womenswear, Fletcher wanted to continue the narrative and styling of his current collections in a way that was also inclusive of the female body shape.
Using his menswear collections as a starting point, the AW21 Collection brings Fletcher's signature tailoring, military decorations, and check print to the forefront. The collection also emphasises the outlining of seams and details in contrasting coloured thread, decorating jackets, coats, and trousers. The familiar structured suit, turtleneck, and collared shirt make an appearance, but so do the pleated skirt and backless dress, making the collection fluid in its presentation of women's clothing. The layering of a cream pleated skirt over trousers in particular played on this narrative.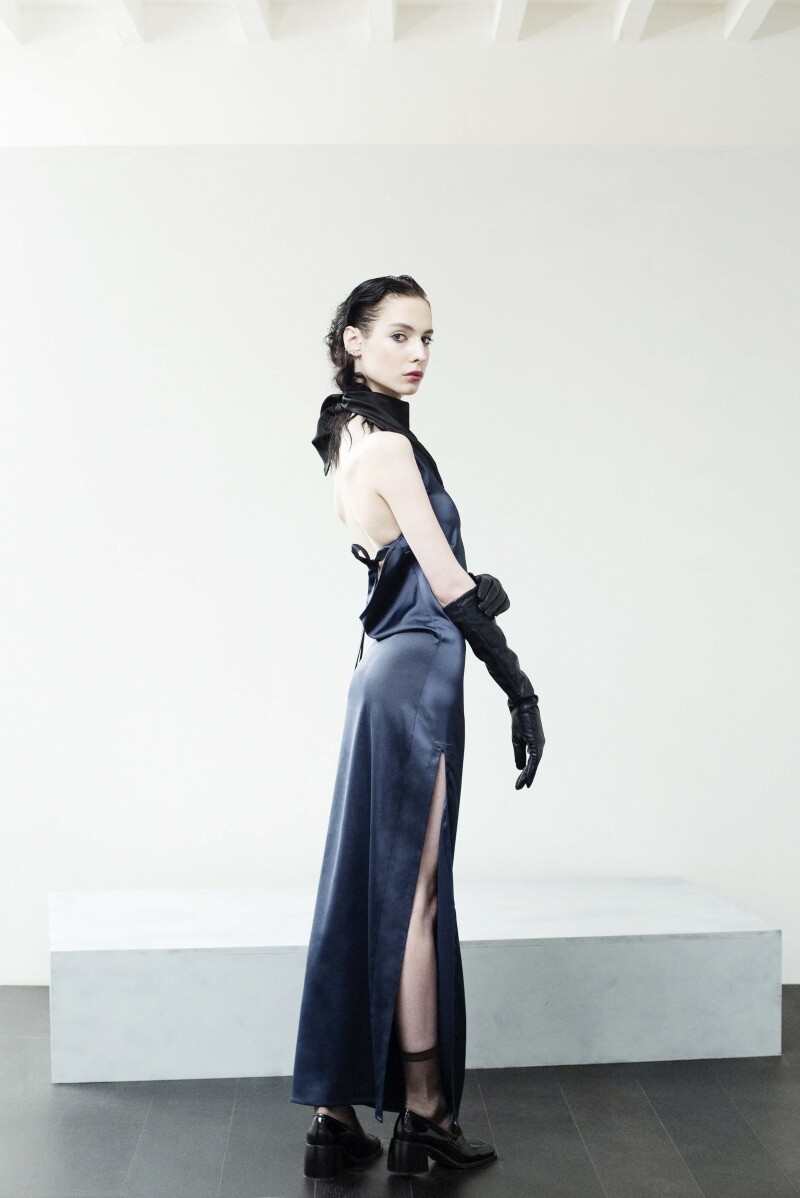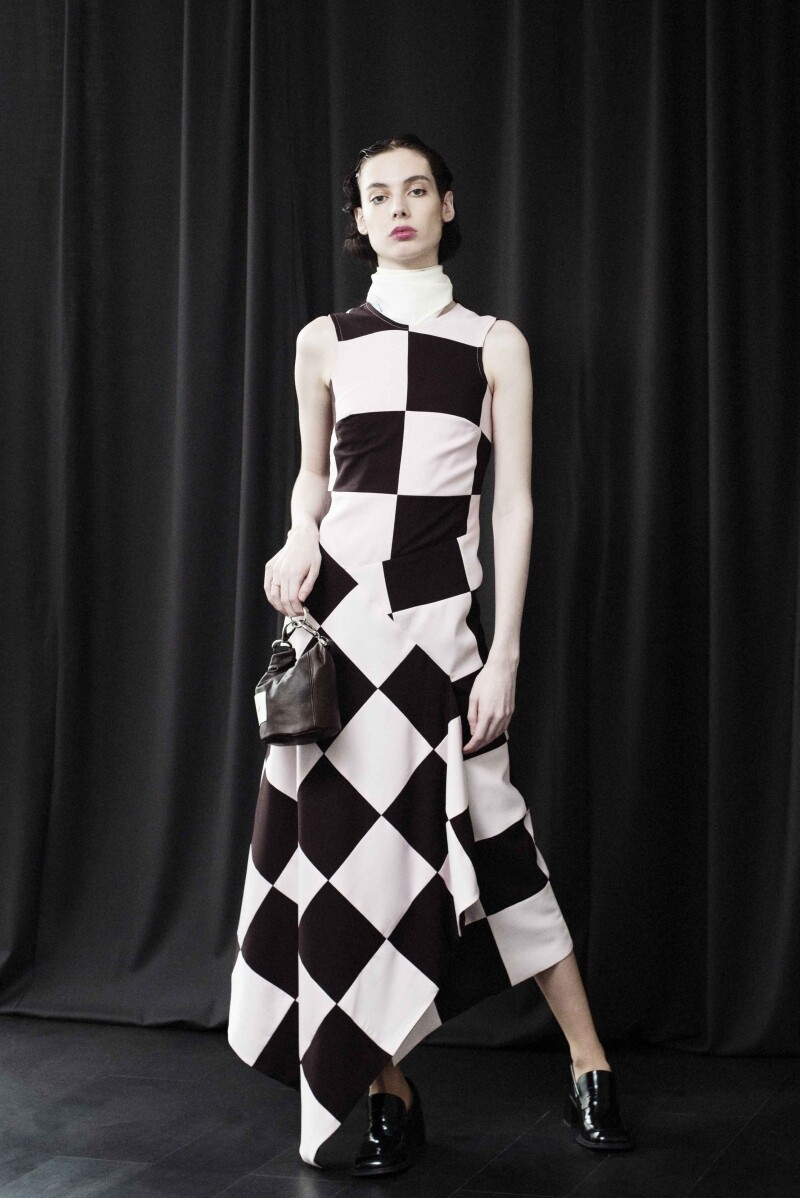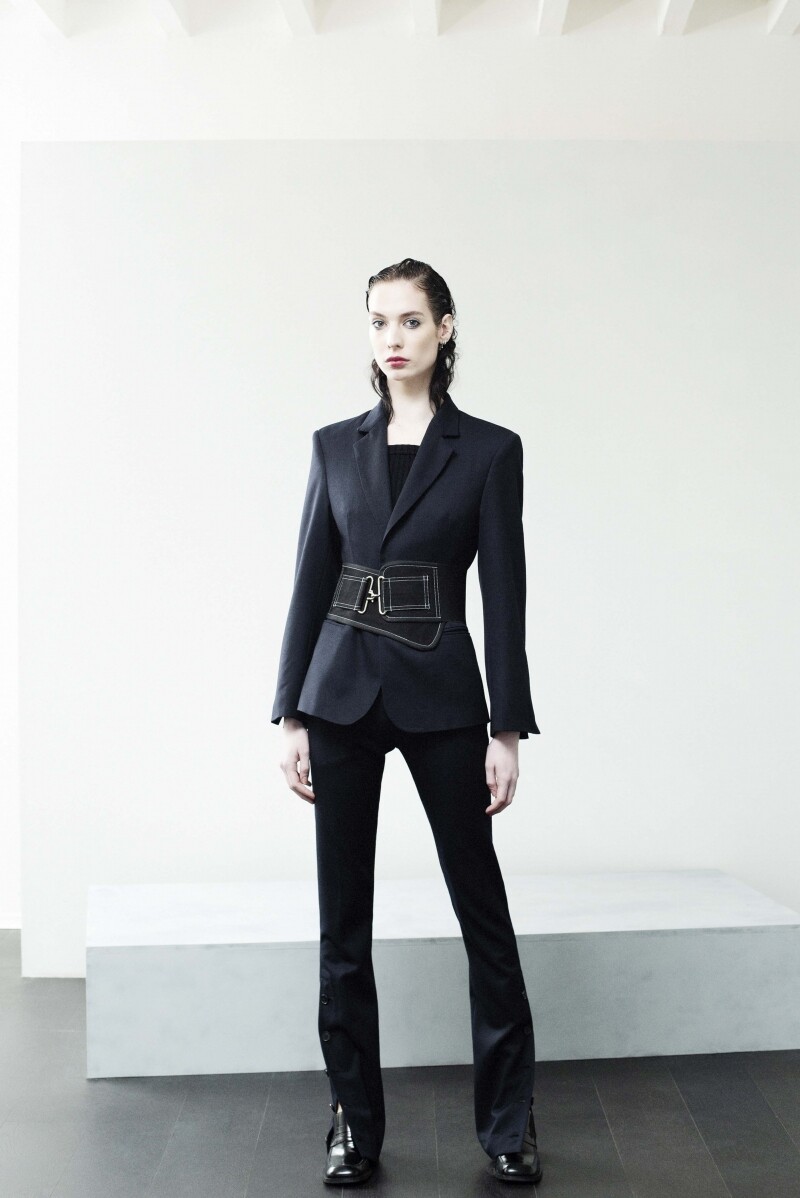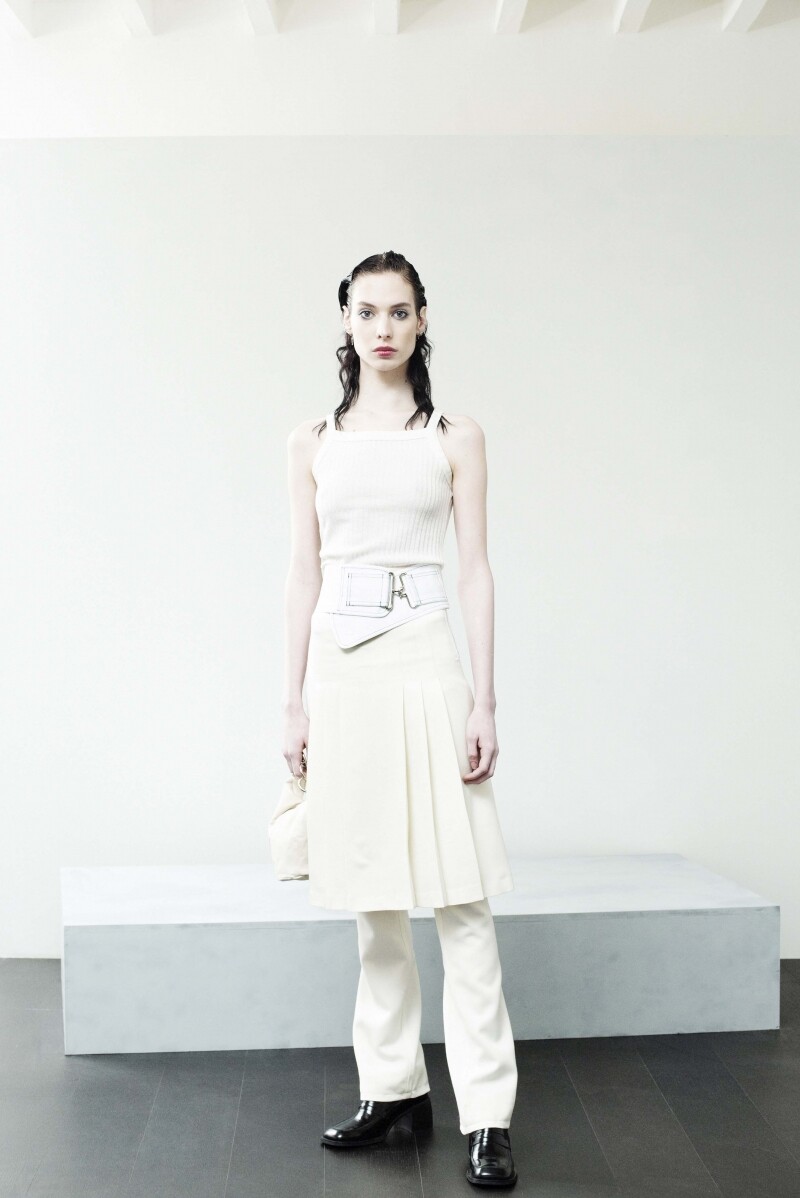 ERDEM
For their FW21 Collection, ERDEM locate the audience in the stage wings of a ballet performance. Taking inspiration from a collaboration with The Royal Ballet in 2018 and the career of ballet dancer Margot Fonteyn, ERDEM explores clothing worn by dancers off-stage and on-stage in an examination of the transition between performance and rest. The colour palette used consists of reds, pinks, black, and ecru. Costume elements such as feathers and beaded embroidery are highlighted alongside tulle underskirts and puff sleeves, creating dramatic silhouettes that reflect the glamour of performance. The collection also highlights full-length coats and tailored suits that open at the bottom to show a skirt, highlighting the narrative of the ballet mistress "rushing elsewhere at the end of the performance with no time to change." A notable feature in ERDEM's collection is the use of pleats, seen in skirts, dresses, and on the back of coats, which again relate to the contemporary styles of the period Fonteyn danced in during the mid-twentieth century.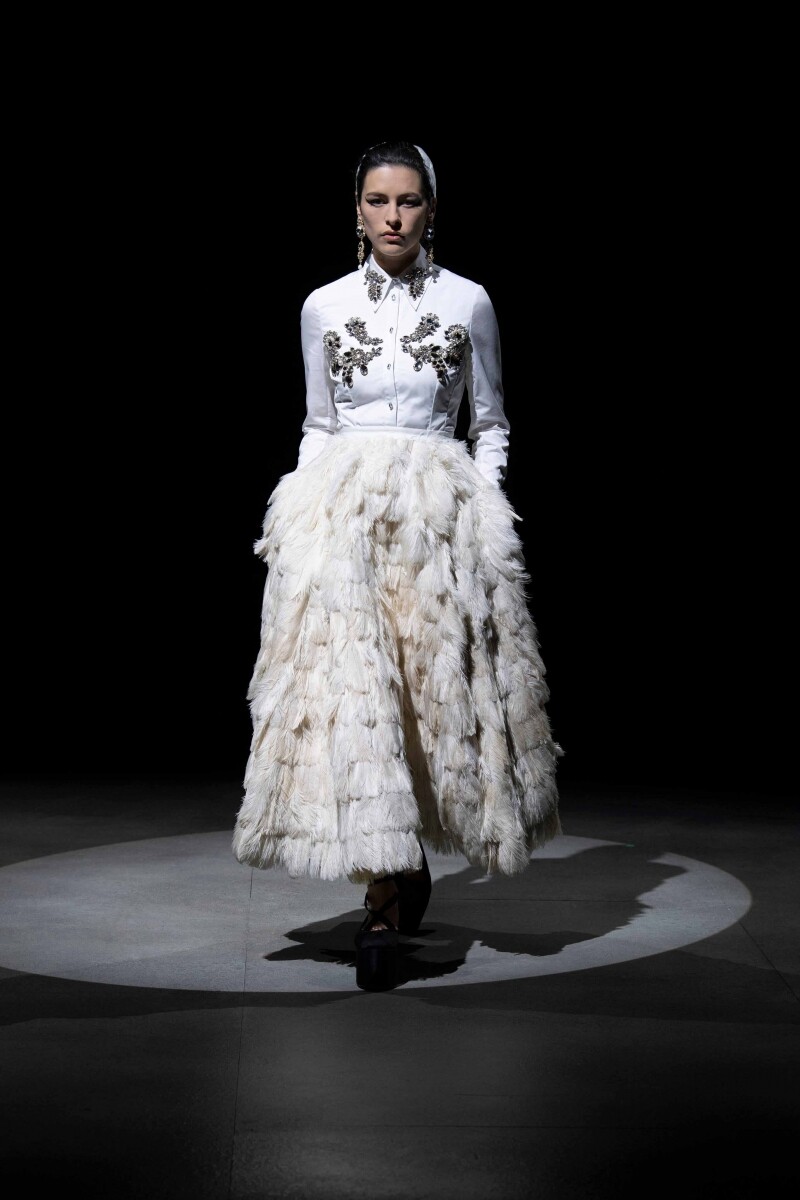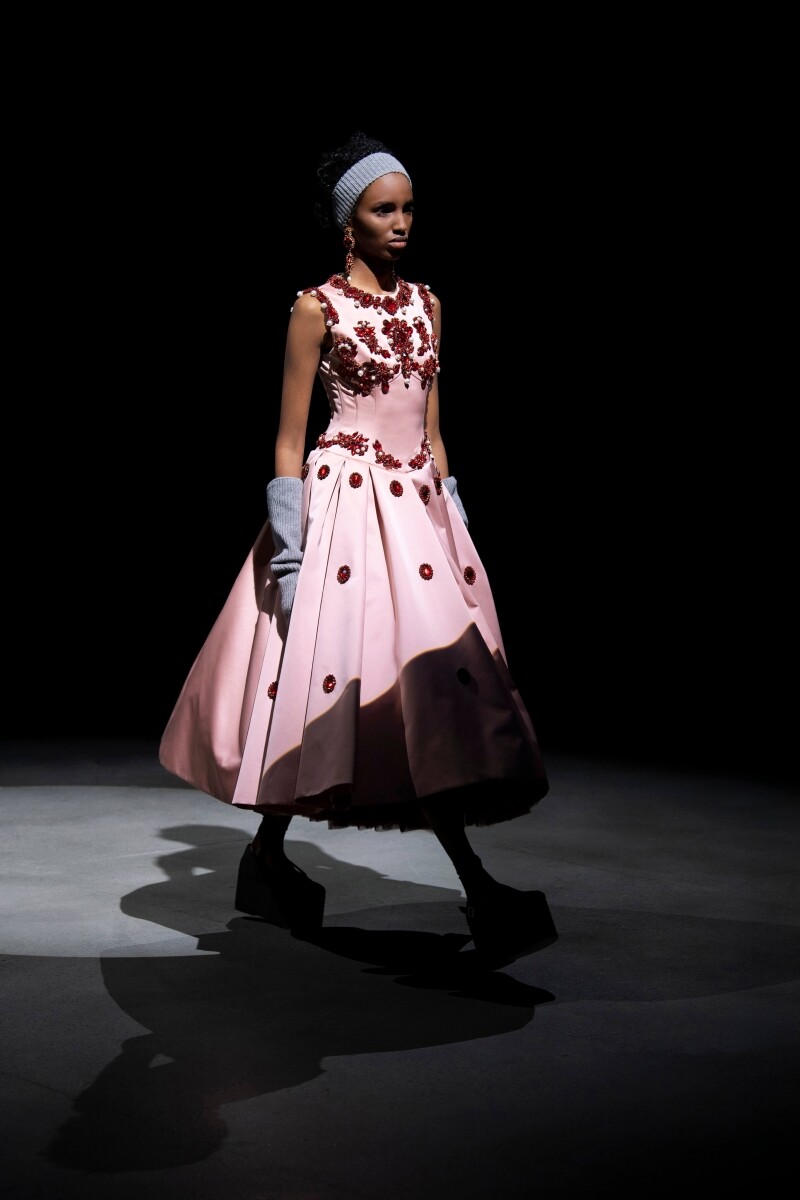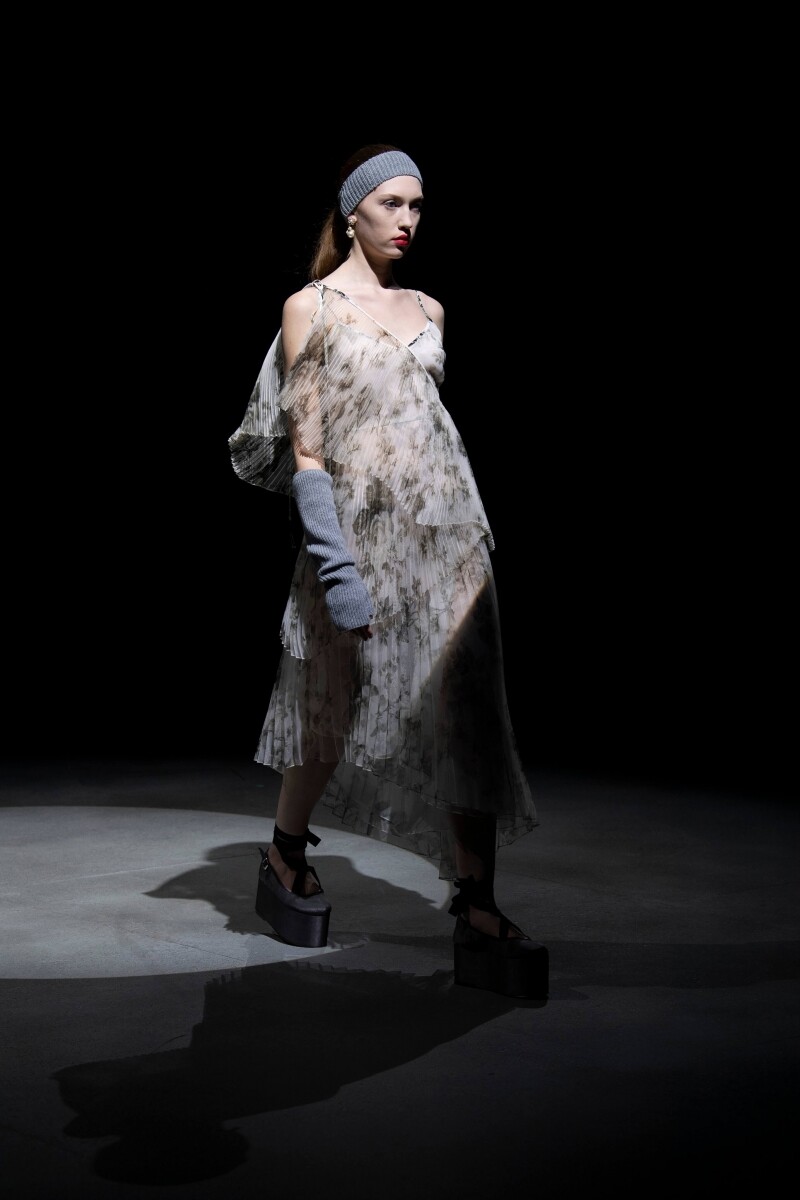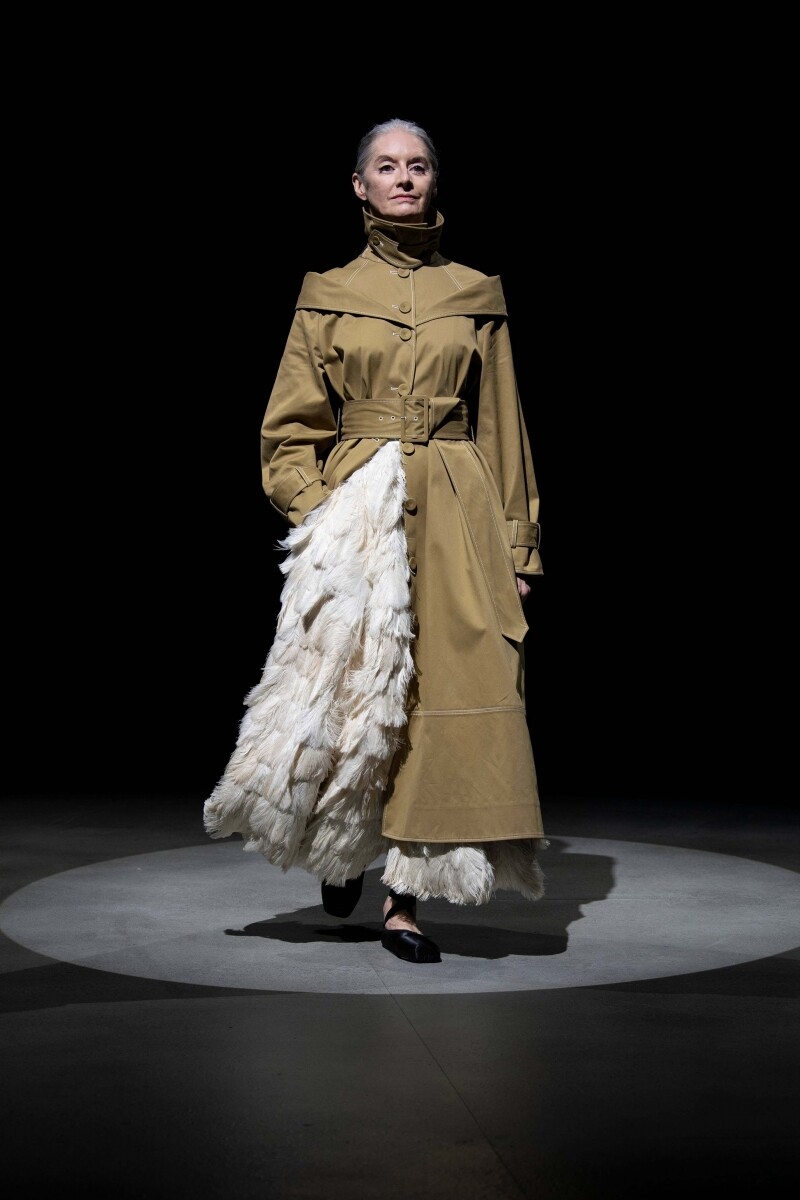 Words By Charlie Colville, Graphics By Victoria Zhao