Coachella has returned triumphantly, bringing with it the much-anticipated, and often divisive, art of festival beauty. Colourful hair, facial gems, and wild up-dos are all trendy this season. Thankfully, for those of us who won't be able to attend in person, our favourite celebrities are flooding our social media feeds with their head-to-toe Coachella looks—often featuring multiple outfits, hair, and makeup changes throughout the day to transition from bright desert days to cool party nights. As weekend 1 of the "influencer Olympics" comes to a close, let's have a run-through of some of our favourite looks of this year!
Jhenè Aiko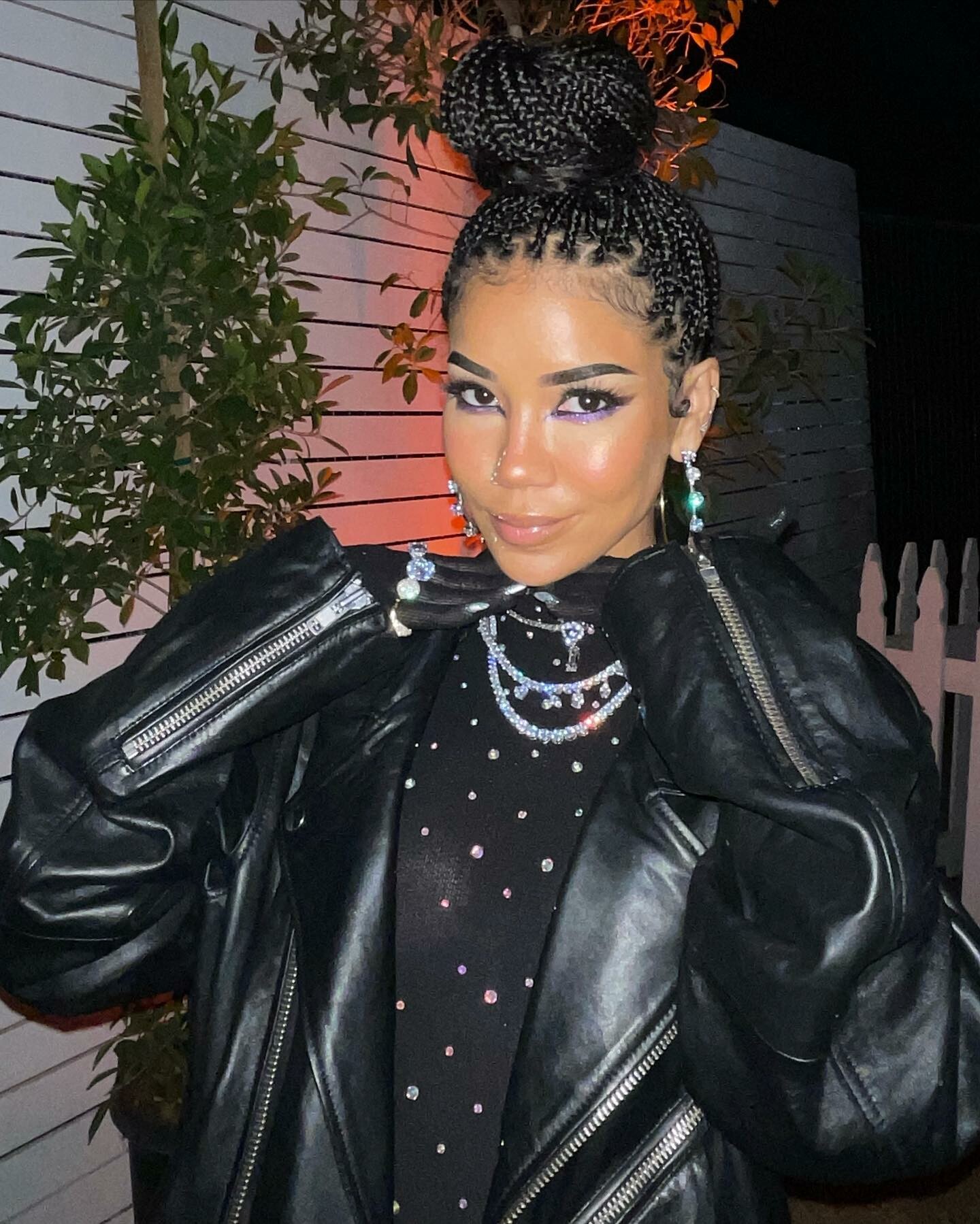 Although she's usually a Coachella performer herself, this year, Jhené Aiko was there to have fun and support beau Big Sean, an unmissable act at this year's festival. Aiko's one you can always count on for an amazing glam moment. The purple cat-eye look and festival staple space buns certainly deliver us all the festival vibes!
Megan Thee Stallion
First time Coachella performer, Megan Thee Stallion, stunned us all with her pink and blue bubblegum look. The baby blue and pink swirled up-do, fierce liner and eyeshadow has us all in envy! With the pop of blue shimmer in the inner corner and extra-long pink nails, the whole look just comes together perfectly. Megan always serves, but for her first Coachella appearance, she really pulled through!
Hailey Bieber
One of Coachella's IT girls, Hailey Bieber, is continuing to show us her love for a Y2K hairstyle. The cute baby braids scattered throughout the hair are a classic festival hairstyle, paired with a set of bright neon yellow nails, and a shimmery blue waterline, what's not to love! A simple but effective festival look that we are all here for.
Doja Cat
Doja Cat's looks always match her high energy, dance packed sets! With multiple outfit changes during her performance, we have so much to unpack. Her orange and blue distressed outfit mirrored her orange and blue shimmer eyeshadow look. With a full bronze beat, and dramatic black smoked out lash line, paired with soft orange shadow and impactful blue pigment, this makeup look was to die for!
Storm Reid
Euphoria star, Storm Reid, shows off her pastel sunset-inspired French tip nails and a beautiful but subtle makeup look. Leaving her skin looking natural and bare with minimal product, a small flick of mascara and a subtle shimmery inner corner, plus a glossy lip, it's hard not to love this minimal festival glam. The pastel sunset nails match her outfit, bringing the whole look together perfectly!
Vanessa Hudgens
Queen of Coachella herself, Vanessa Hudgens, never fails to impress us! Always serving us BoHo chic, this year she decided to add a bit of neon to her chain crochet look. On one hand pink iridescent nails, and on the other hand green, something a bit different for Vanessa. We are loving it, and think that the combination of BoHo and neon are the perfect duo we've been looking for!
Kendall Jenner
Another one of the Coachella IT girls, Kendall Jenner, was spotted at Revolve fest with the Y2K inspired braided pigtails. The Y2K braids have well and truly made their comeback, and if there's a time to bring them into the limelight, Coachella is the time and place. This will definitely be a look to give a go this festival season!
Rina Sawayama
Singer, Rina Sawayama, was spotted a Coachella rocking the most amazing makeup look to take the stage! Taking snatched to a whole new level, Rina had baby blue shimmer eyeshadow smoked right out with a darker blue waterline, and some pink and silver crystals placed around her eyes and cheeks. The iridescent and metallic blue look tied in perfectly with her denim look, the more dramatic the better!
Words By Lily Grimes
Graphic Credit: Gerasim Kutsarov