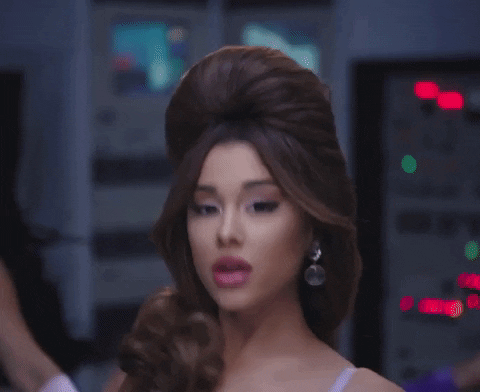 Now that we have more time our usual playlists have been overplayed, it is time for something new or maybe something old. We would enlighten you with our 50 favourite underrated songs from your favourite artists. Did you know about Katy Perry's 80s dance song or Britney's dance-gospel masterpiece? Exactly! Prepare yourself for a musical journey, hopefully resulting in you discovering new songs to dance to. Let your hair down and join us in dancing/sobbing to these underrated classics.
1. 'Successful' – Ariana Grande
Beginning our playlist is this badass anthem from reigning pop princess, Ariana Grande. The production is soft, dreamy and ever so slightly funk-inspired, much like the rest of her album sweetener. The lyrics exude confidence and quite simply make you feel like you are on top of the world.
2. 'Break the Ice' – Britney Spears
This underrated gem is one of my favourites and quite possibly the best Britney Spears song ever released. The song opens with the enticing words, "it's been a while, I know I shouldn't have kept you waiting, but I'm here now." The song is an utter musical explosion of gospel singers, pounding drums and whining synths, all complemented by some of the strongest vocals Miss Spears has ever delivered, all at the peak of her "breakdown" in 2007. Pretty legendary if you ask me.
3. 'Trouble for Me' – Britney Spears
Femme Fatale was a pure electro-pop masterpiece and this track is merely a window into the album. The song is a whirlwind of roaring synths and Britney's sassy yet despairing lyrics. Behind the seemingly simple message of Britney falling for a "bad guy" is actually the sad reality of Britney's addiction. "Me and you were a disaster and you're only a danger to me," Britney sings. The masking of the deep lyrics behind an effortlessly intoxicating song makes it all the more captivating.
4. 'Roulette' – Katy Perry
'Roulette' is a total explosion of 80s pop in all its best forms. The playful lyrics complimented by the electrifying synths make the song gripping from start to finish. The song hits its peak at the chorus when the beat plunges into an unapologetically 80s dream. It's hard to describe just how stimulating those first moments the chorus hits are but I am envious of anyone who gets to experience them for the first time. Katy wants us to "lose control" with us on this track and we are absolutely dancing our hearts out alongside her.
5. 'Close Your Eyes' – Kim Petras
Despite this song being taken off of Kim's Halloween album, Turn off the Light, it does not discount it in the slightest from being perfection and a year-round bop – you may just need to ignore the plainly Halloween nature of the lyrics. Kim's sassy speak-singing in the verses and powerhouse vocals in the chorus, listen in for those notes at the end, topped by the gripping beat make the song thoroughly enthralling from beginning to end, a perfect window into the artistry of Kim for any new listeners as well.
6. Venus – Lady Gaga
'Venus' is the absolute pinnacle of Gaga's 2013 album, ARTPOP. The song is a curated compilation of Gaga yelling over various stirring and explosive, obdurately electronic dance-pop beats. Despite being promoted on various shows in 2013, it was never released as a single, which I think is a crime to pop music. The song is a musical ticket to another dimension, one with an abundance of dance, sex and joy.
7. Cherry – Lana Del Rey
Lana has a certain bewitching way about her that means she can so much as cough into a microphone and the world is enchanted, and 'Cherry' exemplifies this in the greatest possible way. The simple stripped back production is eerily alluring and manages to grip the listener from the moment Lana opens her mouth. The chorus is irresistibly catchy and embodies the essence that is Lana Del Rey, the sexy-sad playfulness is inescapable and almost certainly manages to pull you deep under the spell of the Mother Witch herself.
8. Genetics – Meghan Trainor (ft. The Pussycat Dolls)
A day will not go by where I do not try and convince someone to listen to this song. 'Genetics' is utter exuberant, bubble-gum pop perfection. The sassy lyrics are refreshing and empowering and the warping beat of the song echoes the unavoidably catchy nature of previous Meghan Trainor body empowerment anthem, 'All about that Bass'. Meghan and The Pussycat Dolls sound incredible and the confidence this track exudes can't help but make the listener feel slightly happier than they did before they pressed play.
9. Vulnerable – Selena Gomez
Radiating confidence and self-assurance, 'Vulnerable' ushers the listener into Selena's mind, one of peaceful euphoria and soft, thoughtful contemplation. Selena's voice is enticing and as the song descends into the chorus, as opposed to the habitual EDM beat familiar in Selena songs, it exchanges it for a smooth dreamy mix, shadowing her softly spoken words and completing the track entirely. Definitely one for playing around the pool, if/when we are eventually allowed out of our homes.
10. – I Did Something Bad – Taylor Swift
Reputation era Taylor Swift was possibly one of the most powerful, fearless and badass figures in recent pop history and criminally underrated deepcut, 'I Did Something Bad'. As petty as it is catchy and endearing. it shows a (bitter and better) Taylor harnessing the heartbreak and hurt of her precious work and totally reimagining the outcome, giving the listener an apathetic psychopathic swift seemingly showing no remorse for her alleged wrongdoings. thunderous stomps of the beat, mixed with roaring synths pull the listener in and out of the song, the lyrics spill over each line as if a reptilian Taylor is hissing them out, entirely consuming you, chewing you up and spitting you out. leaving you reeling from an all bodily encompassing musical experience.
Words by Joe Gardner
Graphics by Georgia Walters