Since the tragic news of Virgil's passing broke on Sunday, tributes have flooded social media, acting as a testament to the incredible man Abloh was. Just over 48 hours into mourning one of the industry's greatest visionary's, Louis Vuitton showcased Abloh's final collection in an exquisite and emotional Miami-bound show.
The show had a magical touch from its opening, as Virgil's voice was heard speaking on the subject of adults having the ability to return to "childhood wonderment" when allowing their imagination to be set free. This speech was matched with a hot air balloon ascending into the air, perhaps as a symbol of Virgil's high achievements and the positive mark he left on the world.
At the forefront of the show was the impeccable designs Abloh created, a vocation he dedicated his life to perfecting and delivering. Many designs were the creations we previously saw in June at LV's Paris Fashion show, however, this didn't take away from the star-quality and individualism of the designs, that only Virgil could have pulled off.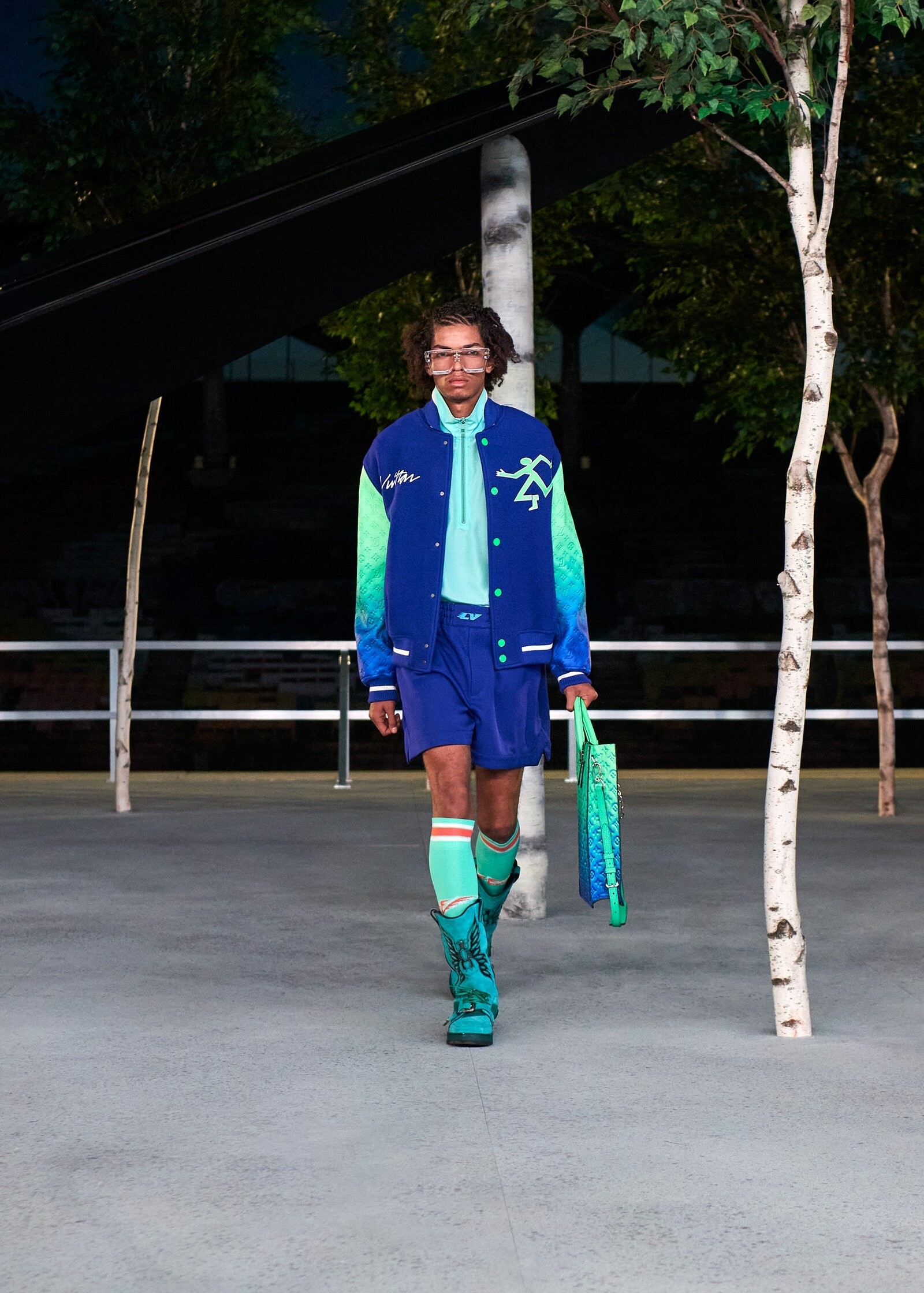 Back in June, Virgil spoke about his collection saying;
"I've started to let my imagination run wild. I try to create the world as I would like to see it in real life. Having something that's pop culture and fashion, that's an education and maybe opens minds. To me, that's the North Star."
The show had a huge turnout, with friends and supporters amongst the crowd such as Pharrel Williams, Rihanna, ASAP Rocky, Kim Kardashian and Virgil's lifelong friend and collaborator Kanye West.
Louis Vuitton's CEO Michael Burke was also in attendance, delivering a poignant heartfelt speech moments before the models took to the runway.
"The deeply moving show we are about to see is born out of an idea Virgil and I first discussed three years ago. It is based around the traditional coming of age narrative, but of course, being Virgil, he spun and recontextualized the concept for the 21st century, and in doing so expressed his own unique talents and vision. This idea of coming of age was important to Virgil because inspiring and empowering younger generations defined who he was. He used the platform he had to break boundaries, to open doors, to shed light on his creative passions, art, design, music, and of course, fashion, so that everybody could see inside—not only to dream of being part of that world, but to also find ways to make that dream a reality."

Speaking in June, Abloh said that he wanted "to keep diversity at the forefront of how I think about what fashion is today." There is no doubting the fact that he achieved this goal, with his final showcase offering styles that represented and expressed different cultures and walks of life. Virgil's legacy cannot be erased, having touched so many of us with his remarkable talent, and in turn, empowering a generation to make their dreams a reality.
Words By Nadia Clasper
Photo Credit: Jerry Lorenzo Instagram