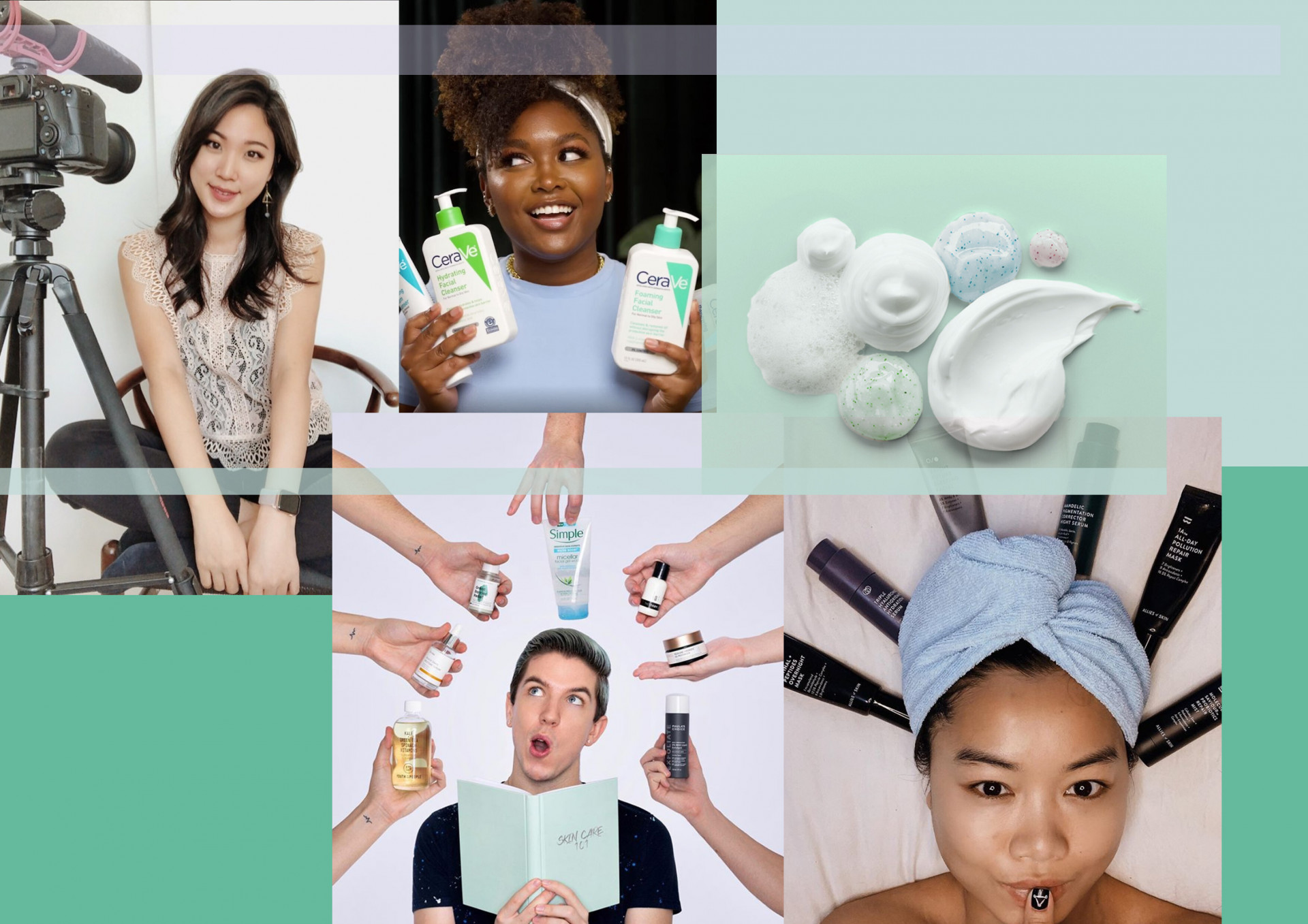 The beauty community and its presence on social media was all about makeup techniques; learning how to contour and choosing the right foundation but this has changed quite a bit over the years. We all still love a good makeup look but nothing beats a good skin, we've come to the realisation that a healthy and glowy skin often outweighs a full-face of makeup and there's nothing wrong with this.
This new wave can be considered as a step towards self-care and acceptance, learning to live and work with the features that we already have instead of covering them up or trying to disguise them. We can attribute this change to the community of influencers, or better said "Skinfluencers", that isn't afraid of talking about skin problems like acne or reviewing every product for us, telling us their honest experience with different brands and educating us to the best of their ability to what's right for each and every one of our skin types.
At first, it may seem too time-consuming to think about a skin-routine to follow and find the products that may be good for you, but that's why we've come up with a list of our top 10 SkInfluencers to follow in order to be up-to-date with the latest trends and news of the beauty industry.
Hyram Yarbro is all over social media, and we at Voir perfectly understand why. He provides you with accurate and in-depth reviews of trendy products and even suggests alternative yet better skincare brands at more affordable prices. He was one of the firsts to introduce the importance of skincare on Tik Tok and we love him for it, now besides fun dances, we also have the opportunity to take care of ourselves via something as immediate as TikTok.
Vi, also known as the SPF mom, not only will make you laugh with her vivid Tik Toks, but will also inform you with her non-filtered reviews. She knows everything about the good and bad of SPF products and will explain to you in the simplest of ways which ingredients they have and why or not you should be buying them.
You may know her for her career in Journalism or as the founder of Mixed Makeup, but the entrepreneur is also a dedicated Youtuber that focuses on responsible makeup. She will introduce you to all the best eco and plant-based brands that will make your skin feel like new with the satisfaction of taking care of our environment in the meantime.
LaBeautyologist's Instagram is all about useful advice, with an expertise of an esthetician and a flawless skin of her own Nayamka Roberts-Smith is another trustworthy (skin) fluencer that will help you take care of your skin from the inside to the outside. She points out all of the different aspects in our life that influence skincare and how important it is to have a holistic perspective on self-care.
The proof that quantity doesn't mean quality. Ella McNamara is a strong believer that less is more when it comes to skincare, the right oil and you're good to go. If you like her and want to challenge the consumerist mindset and have a simple yet effective skin-routine she's the right person to follow.
Christina Grasso doesn't only focus on beauty, but her knowledge and genuine passion make it a great source of information. She'll research, buy, and test for you all of those renowned products that we might be too reluctant to buy for the fear of them disappointing us. Her critical reviews and aesthetical content, like her bath series, are definitely worth a follow.
This is the account for those of us that want to break down and understand every element of the products we might put on our skin. If you're extra-careful with the makeup you buy there's no reason you shouldn't give as much importance to your skincare. Gloria and Victoria will compare products, explain formulas and their chemicals, and expose everything there's to know about the beauty industry and the products we so often advertise.
Not only she comes up with enchanting makeup looks but prioritizes skincare and motivates us all to do the same. The makeup vlogger gives the best tips when it comes to properly hydrate your skin, overcoming acne shame, and buying products on a budget without ruining your face with unnecessary chemicals.
Liah Yoo is another one of the many talents that emerged in Tik Tok. She creates content both in English and in Korean in order to make her tips available to as many of us as possible. Her routines and product reviews will amaze you and probably keep you up binge-watching, but at least you'll be learning something useful that might change your skin's life forever.
Probably one of our favourite estheticians on the gram. His clean and organised aesthetics are a reflection of his interpretation of skincare, just by looking at his skin complexion you will understand why he's a good choice to follow and learn from. If you want a flawless yet natural-looking skin don't forget to check him out. Words by Chiara Ferrari
Graphic by Latisha Fleckenstien