The new digital landscape of AW21 Fashion Week continues to flourish from our computer screens. The most recent instalment in the show series takes place in Tokyo via Rakuten Fashion Week, where the organisers are mixing it up with a combination of livestreamed shows, look books, and pre-recorded video.
While some of us may miss the opportunity of seeing these shows in person, the fashion industry's effort to make Fashion Week events inclusive are more than welcome in these uncertain times.
With that being said, we've been keeping an eye on the designers taking to the virtual stage in Tokyo. Read on to find out who has caught our eye and made us do a double take so far.
SEVESKIG
Making their Tokyo Fashion Week debut, SEVESKIG hit the virtual runway with a pre-COVID concept that emphasised casual meetings and get-togethers. Noted for their signature use of leather, SEVESKIG seek to combine elements of motorcycle-wear with idealised American visuals. The premise of the AW21 Collection in particular examines the brand's stance on using real leather despite its growing disuse amongst the Japanese public; SEVESKIG's founder, Takanori Nagano, believes that the durability and reusability of real leather makes it a more sustainable product despite how its reputation has suffered in recent years. This commentary shapes the collection in its visual presentation, which shows its models in gift packaging that questions: "What do you really know?" SEVESKIG's collection celebrates this theme through the mixing of leather trousers, coats, and accessories with check and denim streetwear.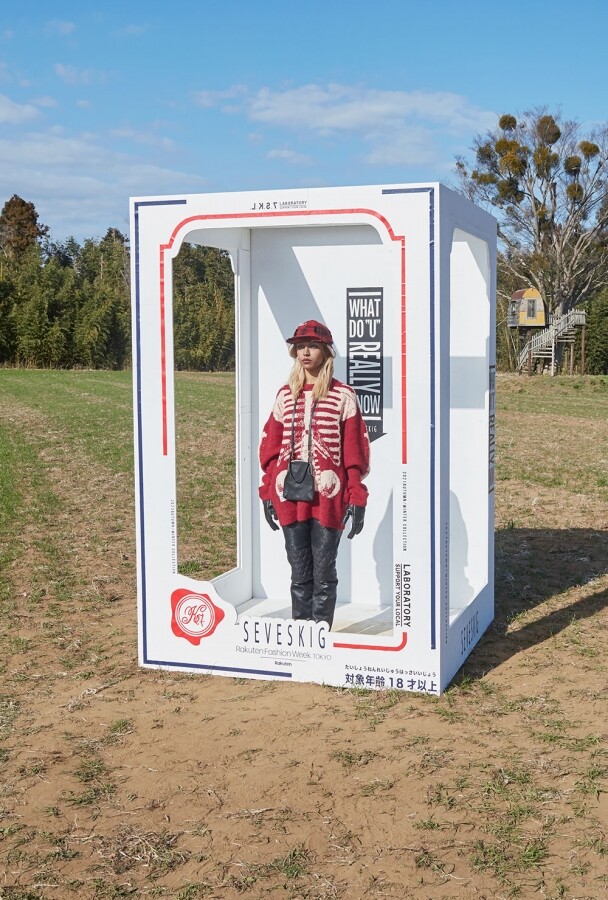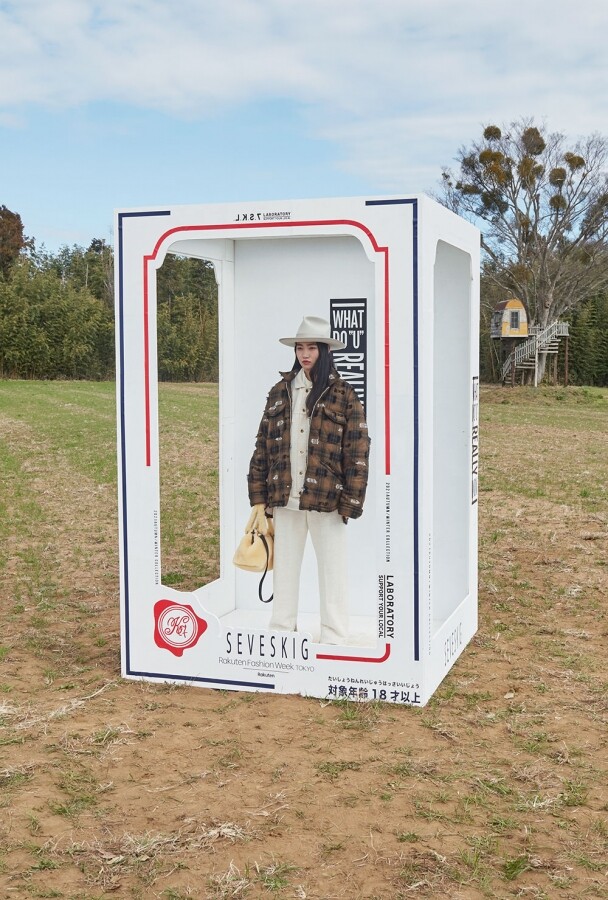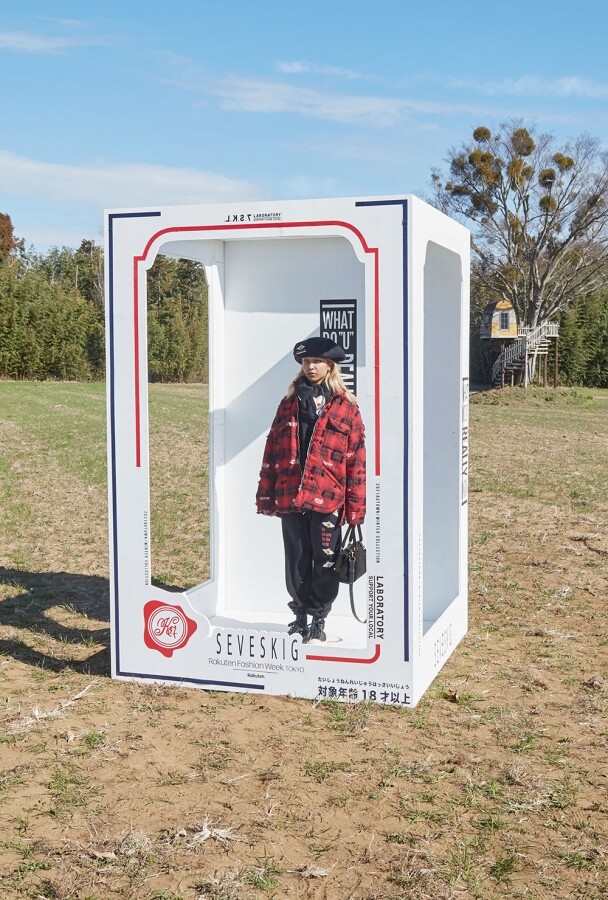 KEISUKEYOSHIDA
The theme of KEISUKEYOSHIDA's AW21 Collection is "Like a dead pigeon", a metaphor which is synonymous with the death tarot card: a fresh start from a seemingly bad end. Designer Keisuke Yoshida approached this from the angle of youth culture, in particular how young people seem to experience a "dull youth" due to the uncertainty of modern times. While set in a white classroom with bright purple desks and chairs, the collection itself references recognisable elements of girls' school uniform – plaid and pleated skirts, knee-high socks, and loafers. Jackets and coats are pushed to the front of a look to imitate the silhouette of someone leaning forward, creating a hunched figure that highlights the idea of feeling downtrodden. Dead pigeons also feature as a graphic motif on the front of hoodies and coats. At face value, the collection promotes the narrative of dejected youth, but Yoshida has indicated this is simply a celebration of moving to a brighter future – times appear hard at present, but hindsight makes you realise how far you have progressed.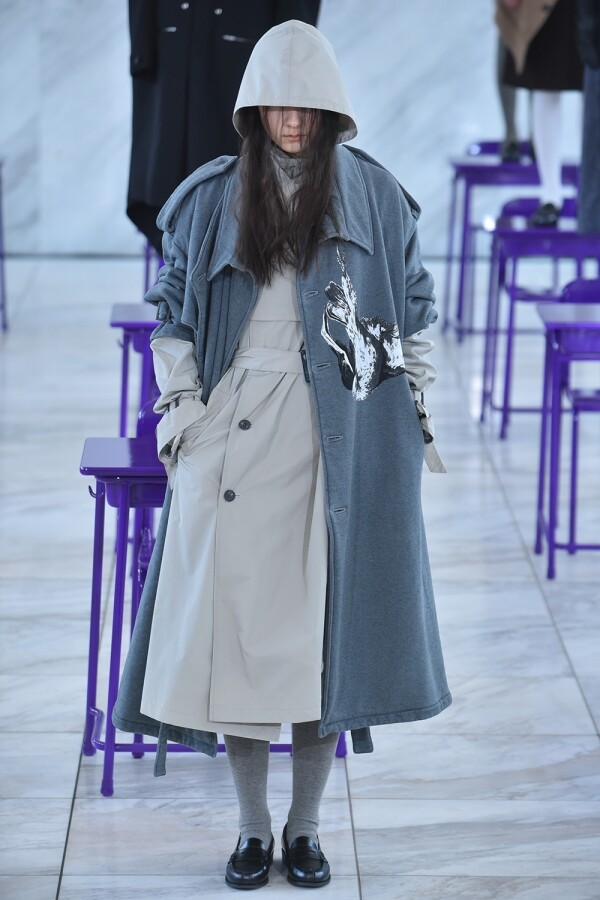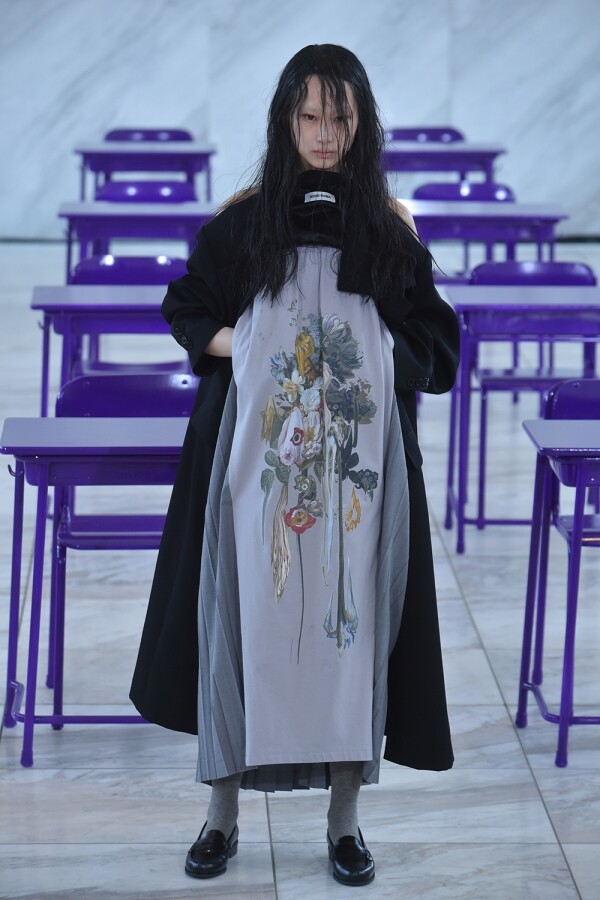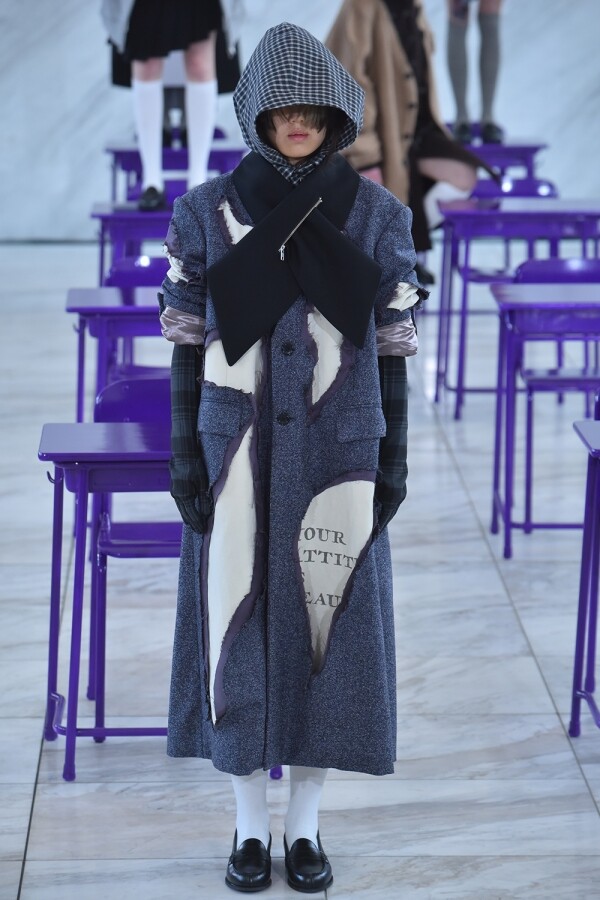 Mikio Sakabe
Material luminosity and metallic surfaces are offset by a largely neutral colour palette in Mikio Sakabe's AW21 offering. Layering and oversized fits are used to create silhouettes which play on scale and shape, as seen by the collections takes on oversized puffy coats and structured blazers. Accessories and details also become part of the layering mechanism, taking on the form of multiple pockets, cross-body bags, and straps. The matte textures of the collection gradually begin to incorporate more metallic accents and fabrics, with a glittery sheer material being used to create flowing dresses and coats. The impact of the pandemic is also made apparent through the incorporation of masks, which cover the whole head save from an open strip across the eyes; these masks have a resemblance to both skiwear or hazmat suits.
beautiful people
With a brand motto that champions the saying "everything is beautiful", beautiful people aim to design clothing that goes beyond a singular beauty standard. In doing so, the brand's aesthetic brings together contradicting concepts and aesthetics to create their looks. Their AW21 Collection is no different, mixing multiple textures, prints, and shapes together to make a collection where each look can stand on its own. Favouring a colour palette centring on shades of black and grey, the collection favours exaggerated silhouettes which are created through large shoulder pads, wide sleeves, oversized fits, and drapery. Outerwear features prominently but isn't limited to coats and jackets; models are seen wearing suit jackets as corsets in a new version of the three-piece. As a seasonal preference, hats are used as a main accessory to both complement and offset an outfit – you won't find a trapper hat out of place when styled with a sheer, floral maxi dress.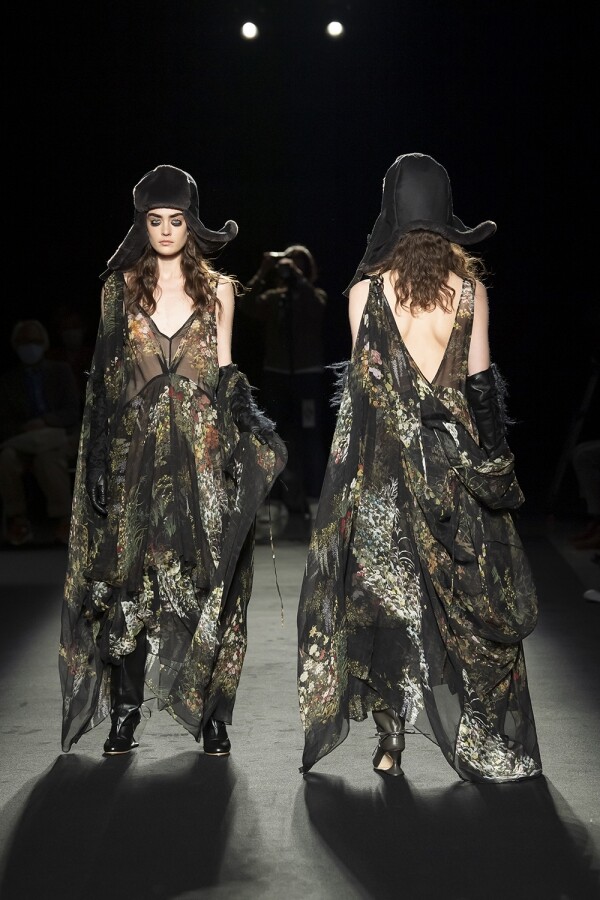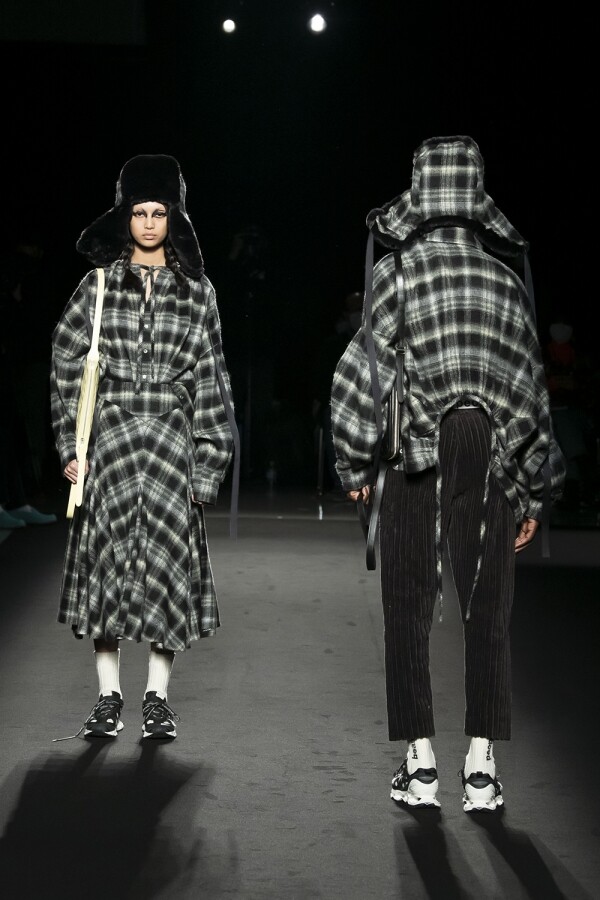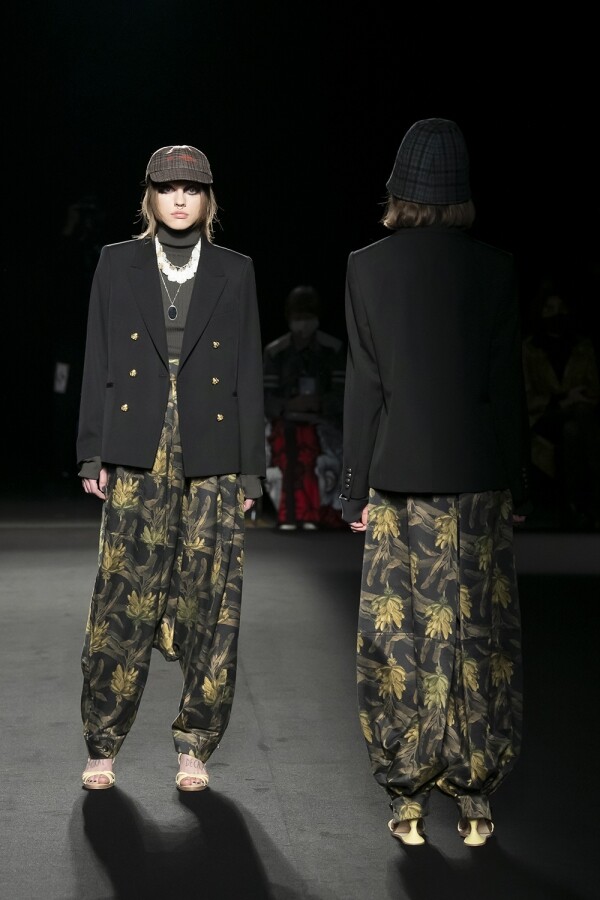 ADELLY
The ADELLY brand seeks to highlight the elegance and grace of the female shape, characterised by A-line dresses and floral prints. Taking inspiration from 1940's women's fashion, ADELLY's AW21 Collection takes all the structural components of a vintage silhouette and combines modern colour palettes and pattern blocking. High, conservative necklines are used to emphasise statement collars and ribbons, with knee and calf length skirts building on the optical impression of lengthening the lines of the body. ADELLY also build on this through their attention to linear forms, which ranges from stripes and pleats to vertical folds and lace detailing. The collection is overall characterised by a pervading softness that is reflective of ADELLY's wish to celebrate femininity, with loose silhouettes, flared skirts, and pastel accents solidifying this visual message.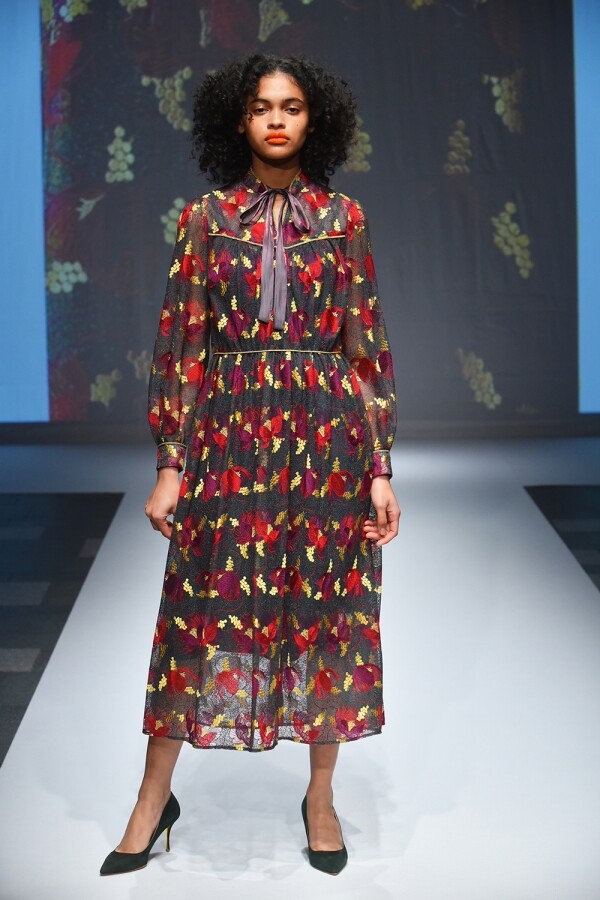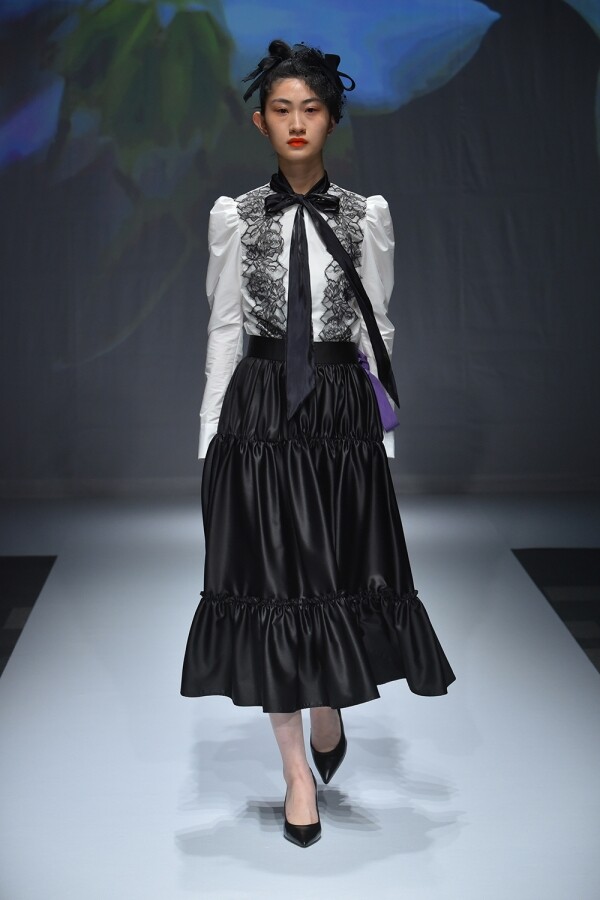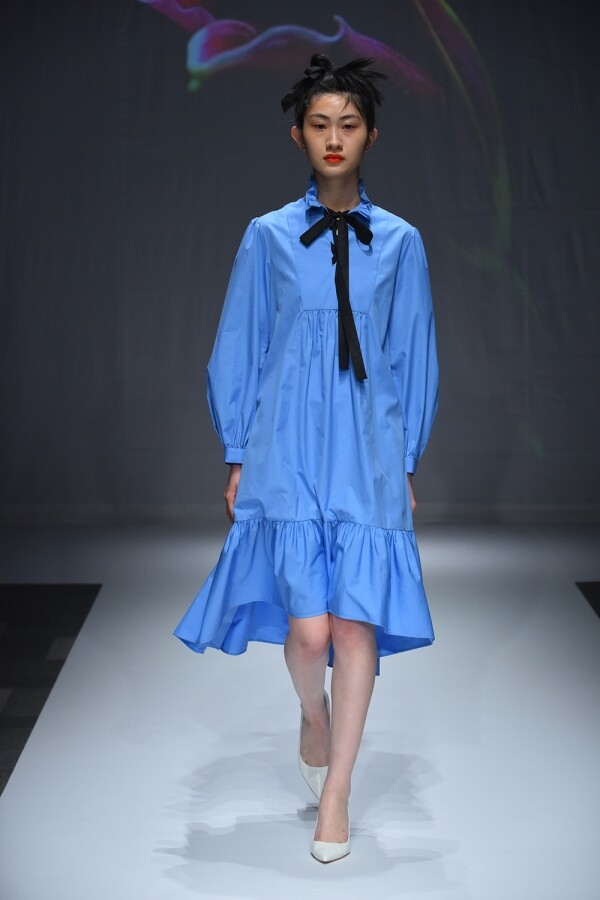 mintdesigns
Hokuto Katsui and Nao Yagi's brand, mintdesigns, is all about breathing freshness into the fashion landscape. Their AW21 collection, titled The Night Circus, pushes these ideas to the forefront with a collection that plays on manipulations of scale and texture as well as representations of androgyny. The women's brand blends more extreme elements of performance costume – stilted heels, gloves, and face paint – with fashion staples more commonly found in streetwear, like oversized jumpers and wide leg trousers. Pattern and texture also feature heavily as layering pieces, which build the visual depth of a look beyond its neutral base colour. A white shirt is layered with a floral printed skirt, another check print skirt, and a multi-textural black sweater vest. In another look, a long beige coat with white lace panels is draped over a pair of blue and white wide leg trousers. Clashing in the best way, these fragments are pulled together to create outfits that are fun to digest and pick apart.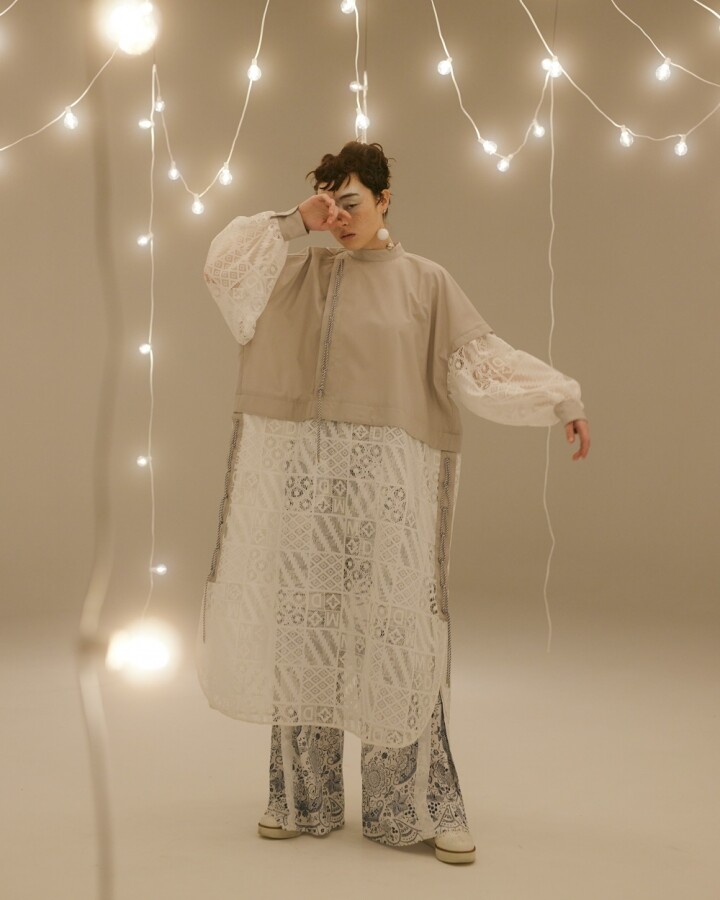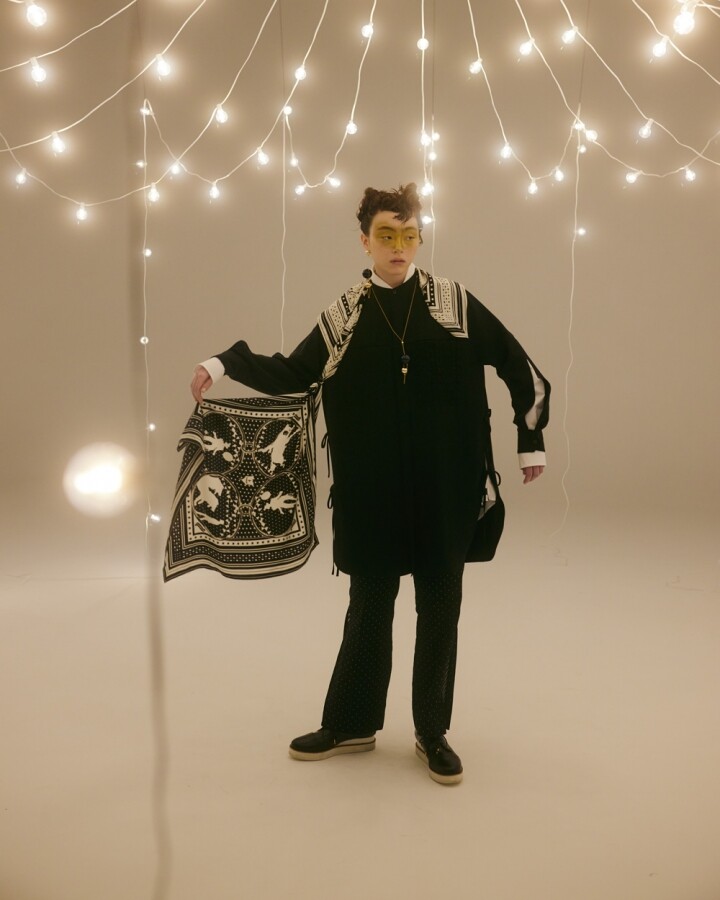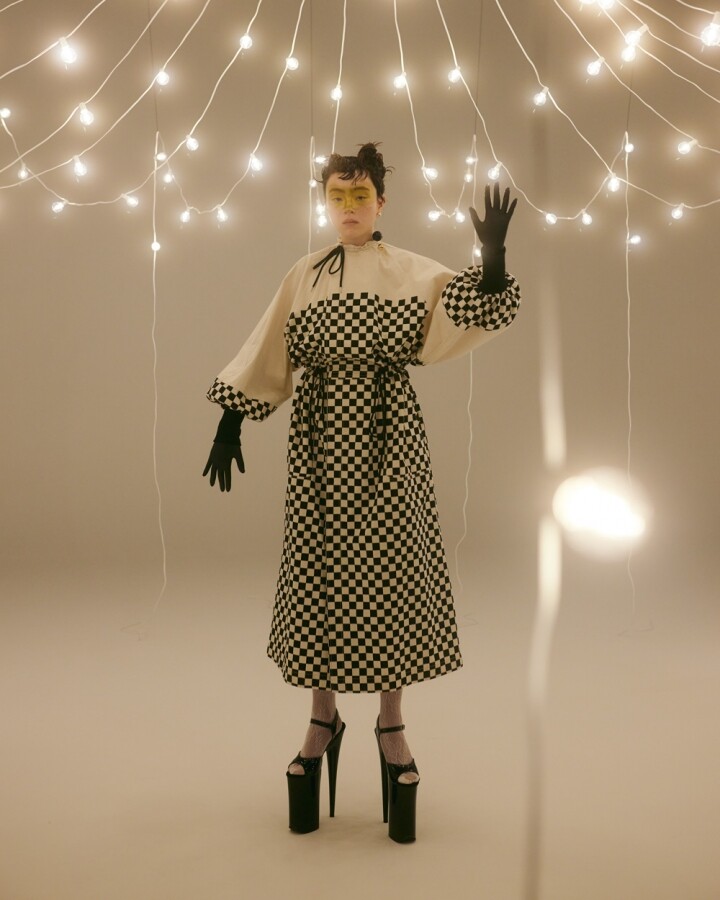 Words By Charlie Colville