As Paris Fashion Week draws to a close, here are all the highlighting moments from the day. Fashion Week, you will be missed.
Chanel
There could be no better way to end Paris Fashion Week, than with Chanel's SS21 show. The collection is authentic and generates a level of ease, merging the brand's classic aesthetics with the rejuvenating power of new trends. The iconic Chanel tweed suit was reimagined into shorts and dresses while they also debut cropped tops and shrunken bags. The collection also went heavy on accessories, with glittering belts and phone lanyards, the kind of pieces that instantly make their way onto Christmas lists, enticing people into stores and demonstrating that sustained power and relevance of the brand.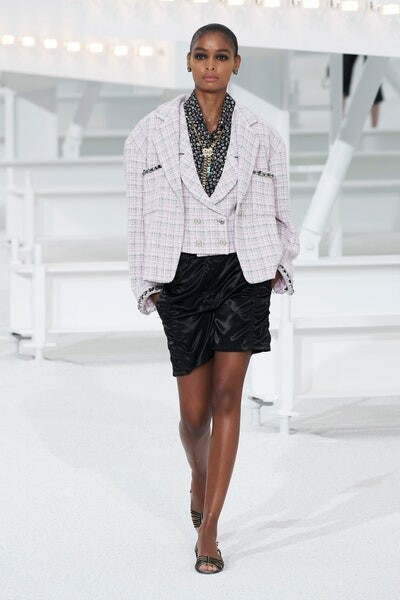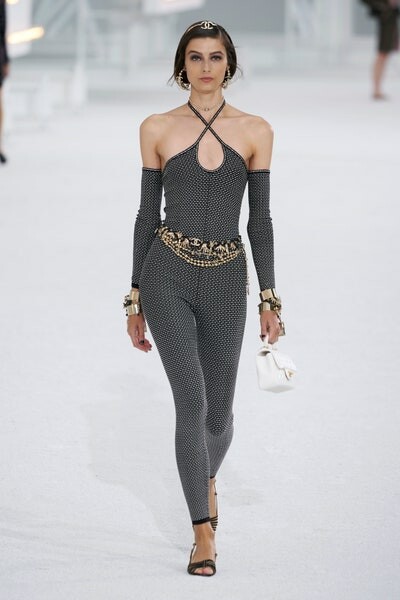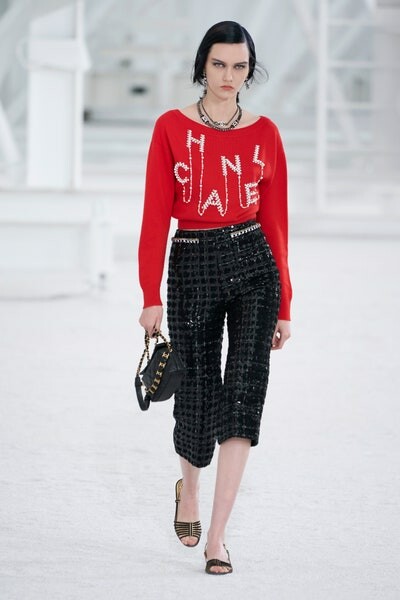 Chanel SS21 Collection Images via Vogue Runway
Much of the collection was new and energetic, from glittering unitards with crossed haltered straps to a cropped leather jacket with 'Chanel' embossed on the sleeve, to dresses featuring neon Chanel logos, effortlessly printed onto fabric in a way that screams art nouveau. There was also a selection of very on-trend bra tops, paired with low slung skirts in a midriff-baring arrangement that CoCo Chanel herself likely would've hated, but we can't help but Stan. But the vision of CoCo Chanel and the traditional Chanel customer was still there, in silk scarves, tweed suits and beautiful jackets. This is unsurprising, given that Virginie Viard's designs were inspired by classic French movies, the video teaser for the collection featured references to One Femme set one Femme and Le Mépris. From the classic to the contemporary, this collection is proof that Chanel has always, and will always, be ahead of the game.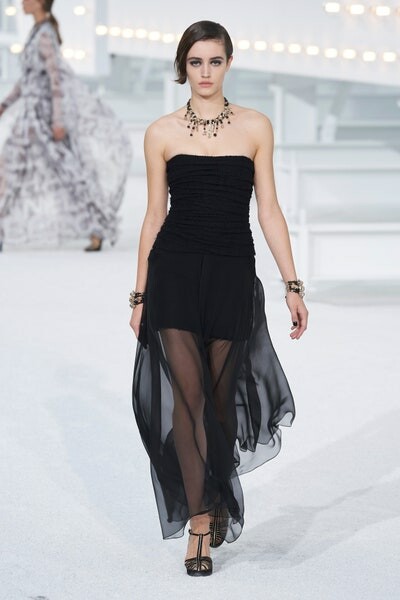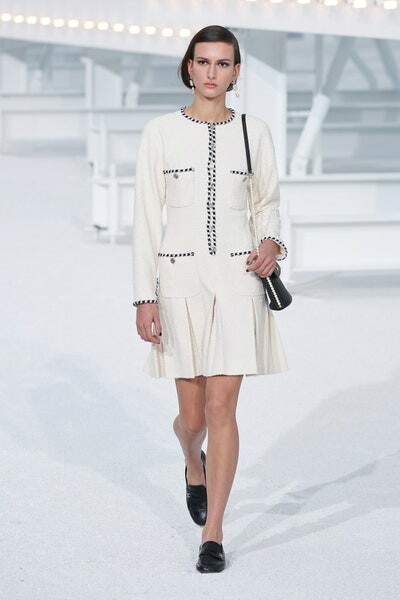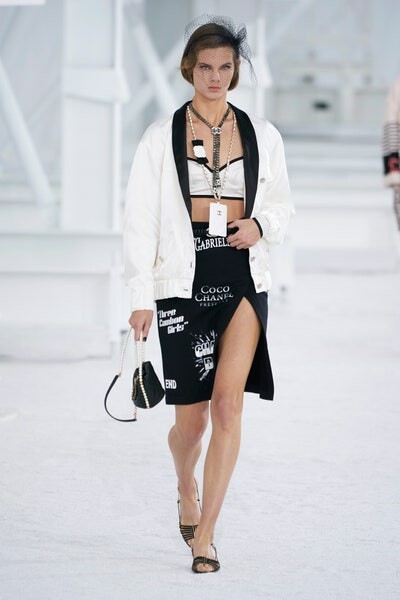 Chanel SS21 Collection images via Vogue Runway
Chanel Spring-Summer 2021 Show
Louis Vuitton
I think there is only one word to sum up this Louis Vuitton show: electrifying. The concept and collection are completely full of energy, and the show itself was completely ingenious. Designed by Nicholas Ghesquiere, models walk around a huge semi-classic semi-industrial building, strutting past the socially distanced mask clad crowd. At the begging of the show, electronic music blared which to me sounded like a plane landing, giving the unmistakable impression that something exciting is about to happen. Avant garde imagery was projected throughout the show – footage of musicians performing shifted to that of urban spaces and barren trees, at a rapid and dynamic pace. A voice is played throughout the show saying words that seem perhaps unconnected – tickle, reach, hook, skydive – but one with significance you cannot ignore: vote.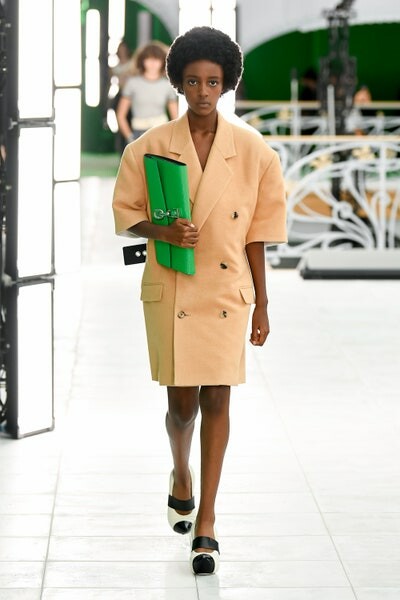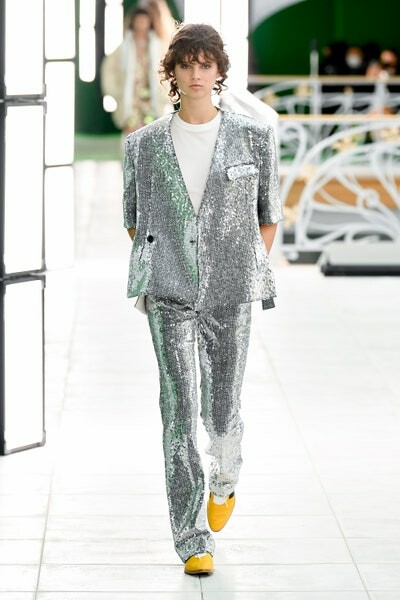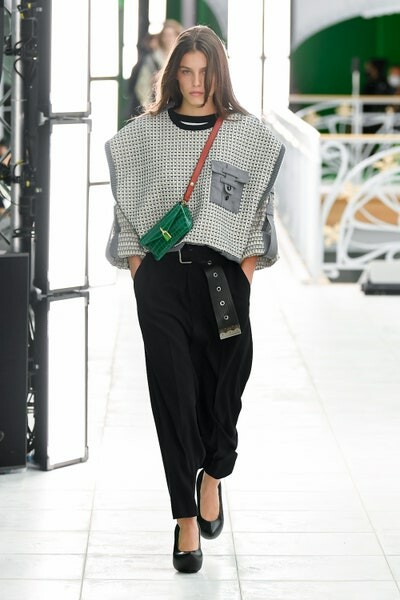 Louis Vuitton SS21 Collection images via Vogue Runway
The first look of the collection included a jumper with 'vote' emblazoned upon it, instantly putting the houses political conscious front and centre. The collection is modern, chic and bursting with a sense of excitement about a new age in fashion, something which is very hard to achieve at the moment but that the house executes flawlessly. Standout pieces include glittering suits, oversized sweater dresses, tiny green bags and floor-sweeping trench coats. While much of the collection uses simple colouring – whites, greys and metallics, there are also hyper colourful items, lending an element of vibrant eccentricity to the collection. The show is hopeful, inspiring and an overall considerable achievement.
Maison Margiela
What is most striking to me about this collection, is the emphasis upon androgyny. Margiela has long been striving to produce genderless clothing, and in this collection, this aim is executed with class and precision in a series of striking designs. Creative director John Galliano, one of fashions best narrative tellers, has truly risen to the occasion of creating a virtual fashion experience – this is the second season the house has not had a runway show, but to Galliano, this experience still feels like a show. The video was filmed in Tuscany and the collection itself was inspired by 19th-century South American wedding photographs, but Galliano also wanted to bring in a 'Wet look' which he showed last season.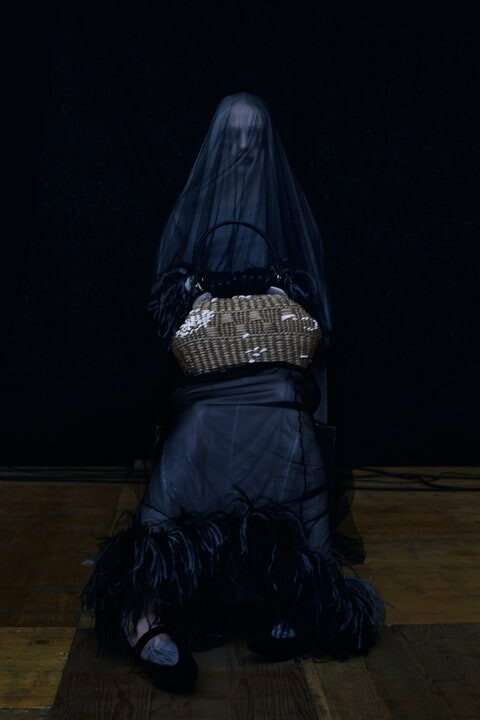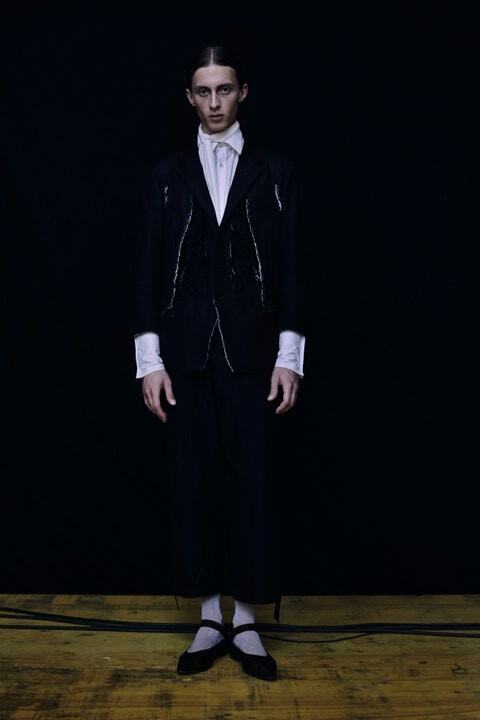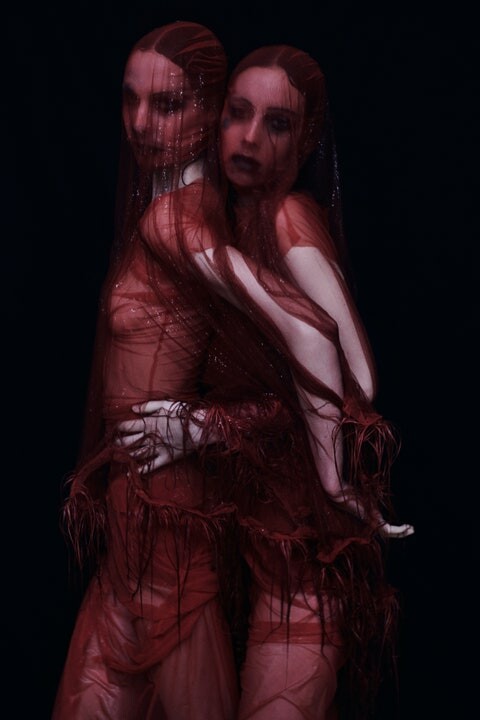 Maison Margiela SS21 Collection images via Vogue Runway
The collection is chic meets futuristic, with mesh head coverings in an almost blood-like red, paired with extravagant jackets that have detail which is truly to die for. Some of the imagery is truly luminous, like the image of a model wearing a floor-length white gown, while the moon shines through the fabric illuminating her. There is also a palpable element of gothic, in black headdresses, coat and tail suits and overdone eye makeup. The collection and experience of the show prove that for the house, imagination is well and truly alive.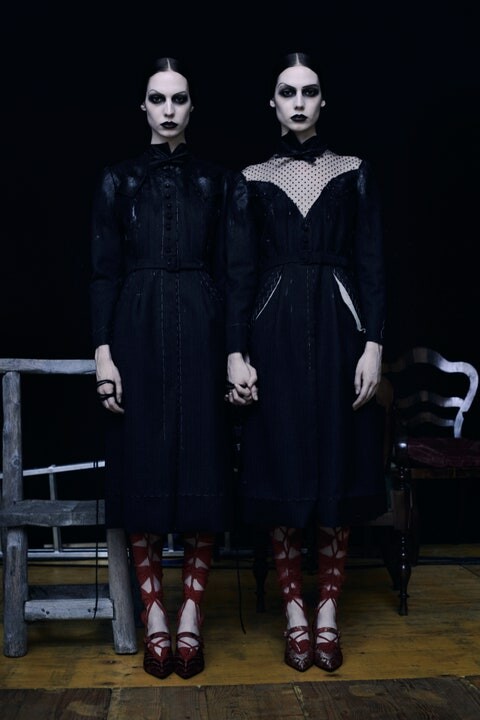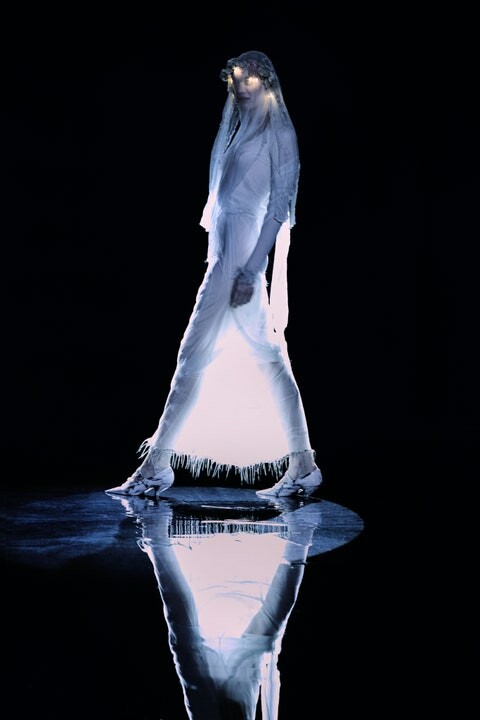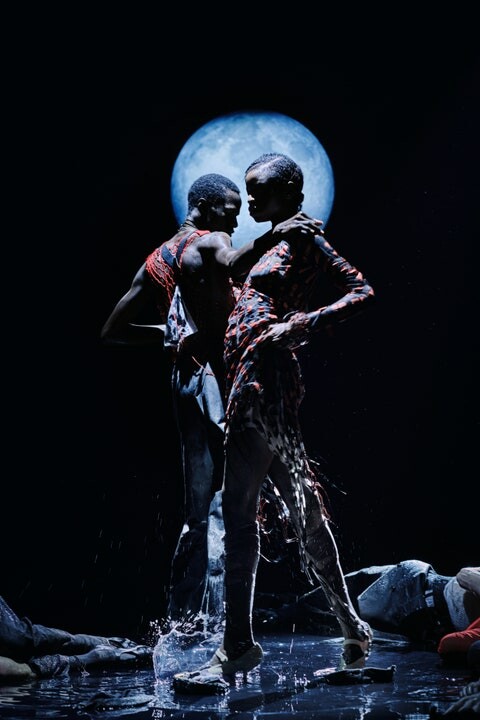 Maison Margiela SS21 Collection images via Vogue Runway
Maison Margiela Co-Ed Collection Spring-Summer 2021 | S.W.A.L.K. II
Miu Miu
Sporty, chic and disparate, Miu Miu's SS21 collection exudes nostalgia. The collection is varied, ranging from yellows and tweed skirts that are very Cher Horwitz, to track jackets and mini dresses with oversized bows. There are turtlenecks in monochrome prints and brown velvet, paired with midi skirts with crystal embellishments, long metallic coats and ruffled skirts paired with sports coats. Looking at the designs is like stepping into a fashion candy store, with each piecing nodding to a moment of iconicity in fashion.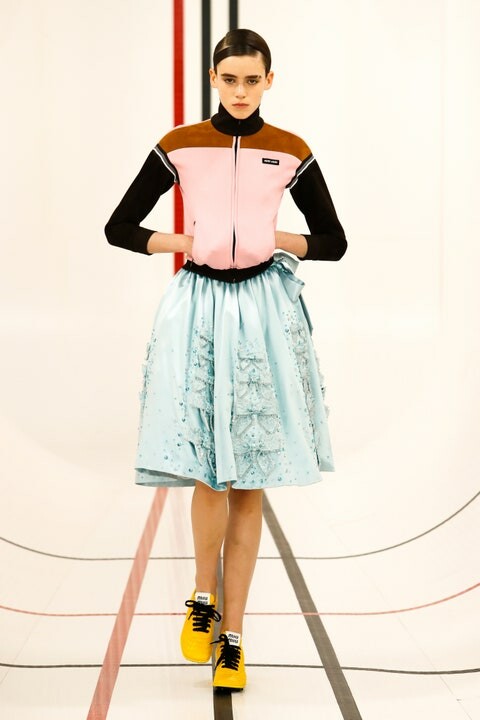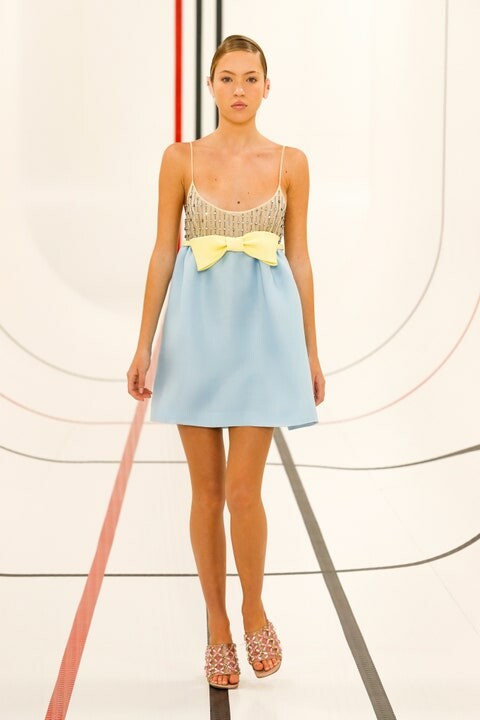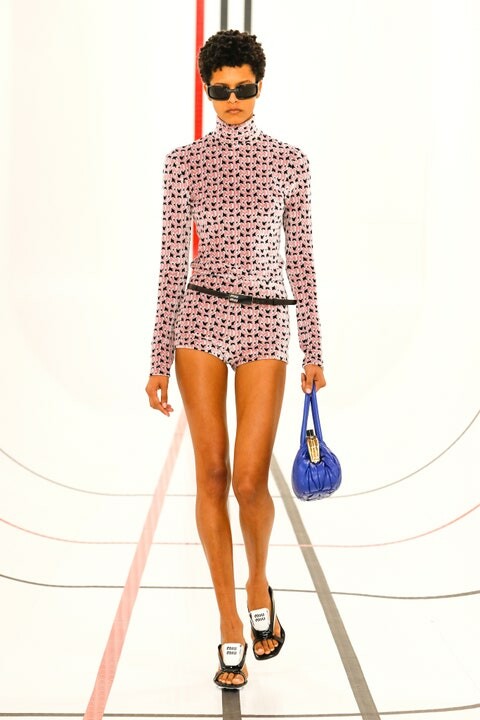 Miu Miu SS21 Collection
Words by Marni Rose McFall
Graphics by Frances Scott