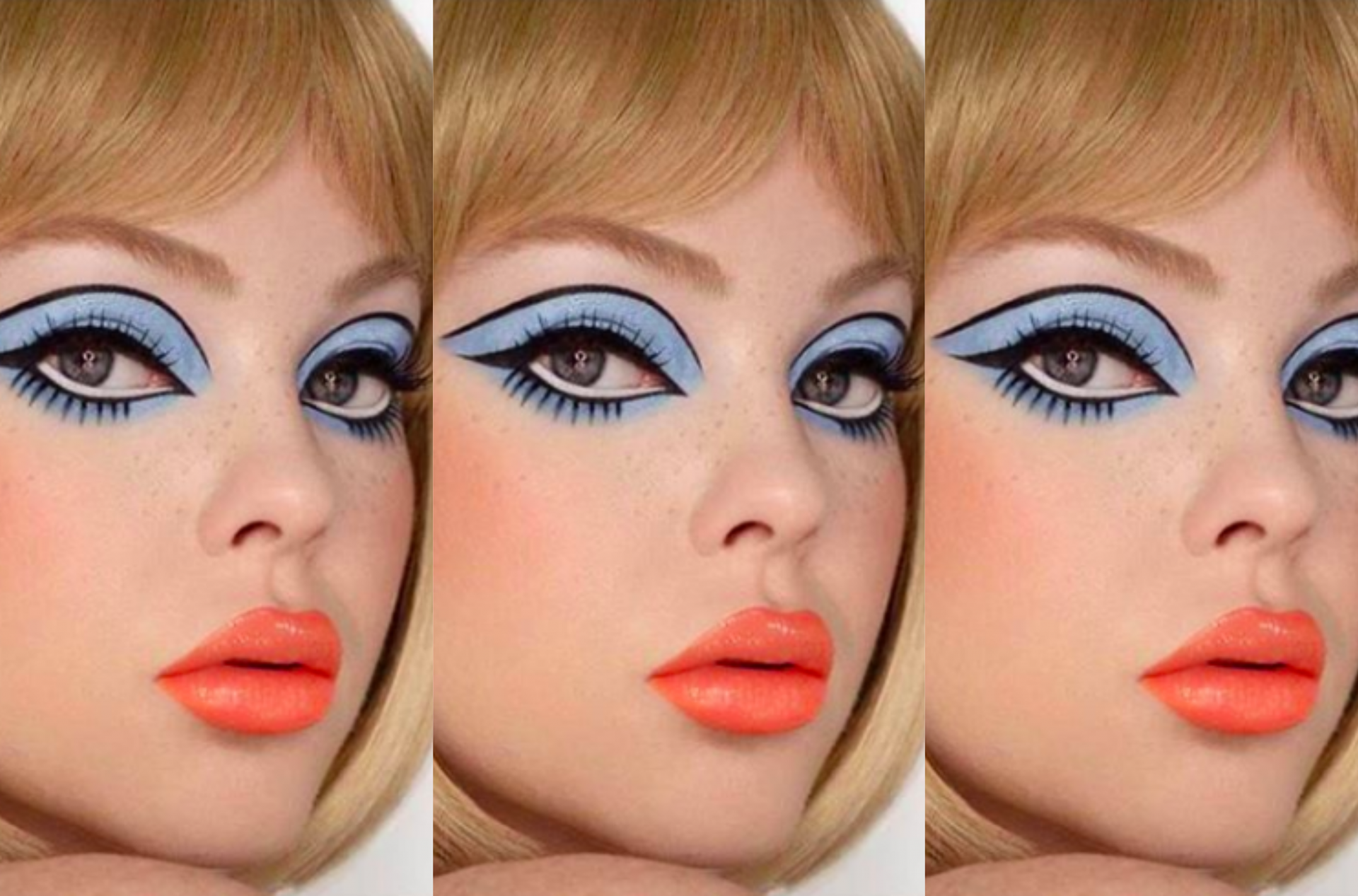 It's a given, this year is an odd one. The hope for a boozy Halloween is pretty much off the table; nights out at the pub will be strictly kept to groups of six and the hope for any Halloween parties are just not an option. On the flip side, being able to kill some time off at home is the perfect opportunity to commit to the best Halloween makeup looks you've pulled off yet. It's the one occasion of the year where you can layer on the face paint, jewels, and fake blood without anyone giving a sh*t. Whether you wanna go creepy or cute, you're in it for some last minute makeup inspiration you can quickly create when you're stuck for ideas. Here are 10 easy-to-achieve looks that give you a bit of Halloween inspo.
Mod Doll
Take this editorial makeup look to a doll-like fantasy by using both eye and lip makeup with a creamy finish. Having an entire face completed with a similar finish gives a very animated look. The combination of peach and powder blue looks good enough to eat. Finish this look with some simple over-drawn lashes and a graphic liner.
Momager
This look needs no explanation. Just a cropped black wig, oversized sunglasses, and an over-lined nude lip (Glass of wine is optional, but encouraged). Urban Decay Sheer Vice Lipstick £18.
.
Purple & Black
Nothing screams Halloween quite as much as the combination of Purple and Black. Halloween is an amazing time to get in some practice on more abstract makeup techniques—with no pressure for them to be perfect—and then use them in your everyday beauty routine. This black graphic eye is simply beyond, and compliments this vampy purple lip perfectly. MAC Matte Lipstick in Heroine £17.50.
Barbie Girl
It´s time to dip into all those bright neon shades of pink you've been threatening to use all year. This look is all about drama. Highlighter can be layered on thick to give you an artificial glow—and a more plastic-textured face. Bubblegum pink lipstick should be generously slathered on your lips; piles of 00's inspired silver shadow and powerful pink pigments should be applied for a definite contrast on your lids. Silverlake Sugarpill Eyeshadow $14.
Incy Wincy Cat Eye
Sometimes, simplicity has the most impact. If you've perfected the technique of a bold cat eye, why not put it to use? Using a liquid liner, simply design a small spider hanging off the edge. To elevate this look to the next level, embellish the spider using a combination of sequins or glitter.
Blood Brows
If doing intricate eye looks is a little intimidating to you, do not fear! Working on the skin under your brow is a lot easier than your lid—and a lot more noticeable. All you need to achieve this gory-glam look is some red lipstick and a super fine makeup brush. MAC 210 Precise eyeliner Brush £16.50.
A Graphic, Graphic Liner
This faux blood inspired look serves you equal parts horror and beauty. Create this blood-stained winged liner—and show off your killer makeup techniques—by applying a thin layer of artificial blood over a red base, created by using a matte red lipstick & a thin makeup brush. Lancome L'absolu Rouge Ruby Cream Lipstick £27.00
Poison Kiss
Create an amazing obré effect on your lips by blending dark black liners on the edges into deep red shades towards the centre. Use this deep matte canvas to allow your shimmer gloss to pop, while being cradled by a rich frame of black glitter. Max Factor Wild Glitter Black £4.99.
Slasher Lips
No Halloween look is complete until it gets detailed with some fake blood. You can make your faux blood pop a little more by isolating the area that's going to be stained and using a concealer as a flat base. Powder the area well to ensure the blood dries and sticks to the surface with no smudging. Add this technique to your favourite lip colour. Boots Makeup Obsession £4.
Blood-stained Cut Crease
This look is simply to die for! A minimal addition of red droplets transforms this graphic look into a Halloween extravaganza. Incorporating this technique into any of your favourite makeup looks is almost too easy.
This Halloween—while incapsulated in our little bubble—may be a little strange, but make it one to remember. Use the extra time stuck inside to practice those techniques that you've always loved but "never had the time to practice¨. Make the most of what you have in your makeup collection and kill it this Halloween.
Words by Luke Nolan