New York Fashion Week FW 2021 has been a whirlwind of action so far, and the energy has been consistently high despite the limitations of the virtual show. However, with remote viewing comes a greater democratisation and a rising accessibility to the fashion world. As the designers of NYFW continue to give their all to the virtual runway, we wanted to share some our highlights from the past few days.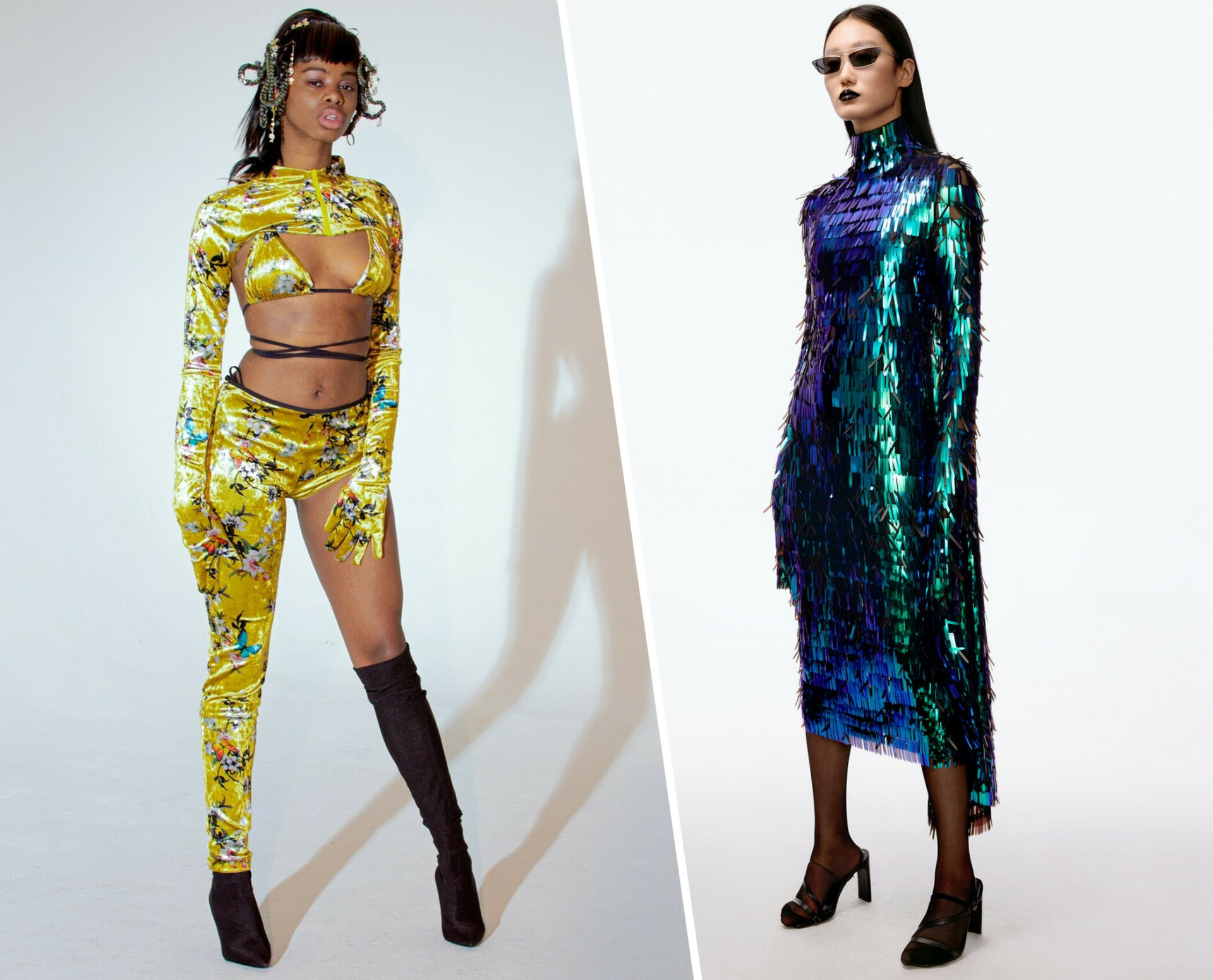 TUESDAY
Anna Sui
The core of Anna Sui's collection was a vision of optimism for a future we could manifest in the here and now. Taking inspiration from Wonderwall, a 1968 film by Joe Massot, Sui uses her collection to create a narrative in which her models traverse into a retro-futurist reality marked by a spectrum of colour. Models enter the screen through the doors of a wardrobe, signalling the journey into new possibilities and transcending the wall of pandemic-induced neutrality. Monochromatic fits shift into a vibrant colour palette of pinks, purples, greens, and blues, with a prominent use of retro-themed prints. Cow print, stripes, florals, and dots are mixed with velvets, knits, and sheer fabrics to create outfits full of excitement and vibrancy. Details of note in Sui's collection were the use of high collars (often tied with a ribbon or bow), tailored waistcoats and jackets, and sheer calf-length dresses. In this collection, Sui pushes a liberated exploration of colour and glamour that is befitting of the "Phantasmadelic" nametag.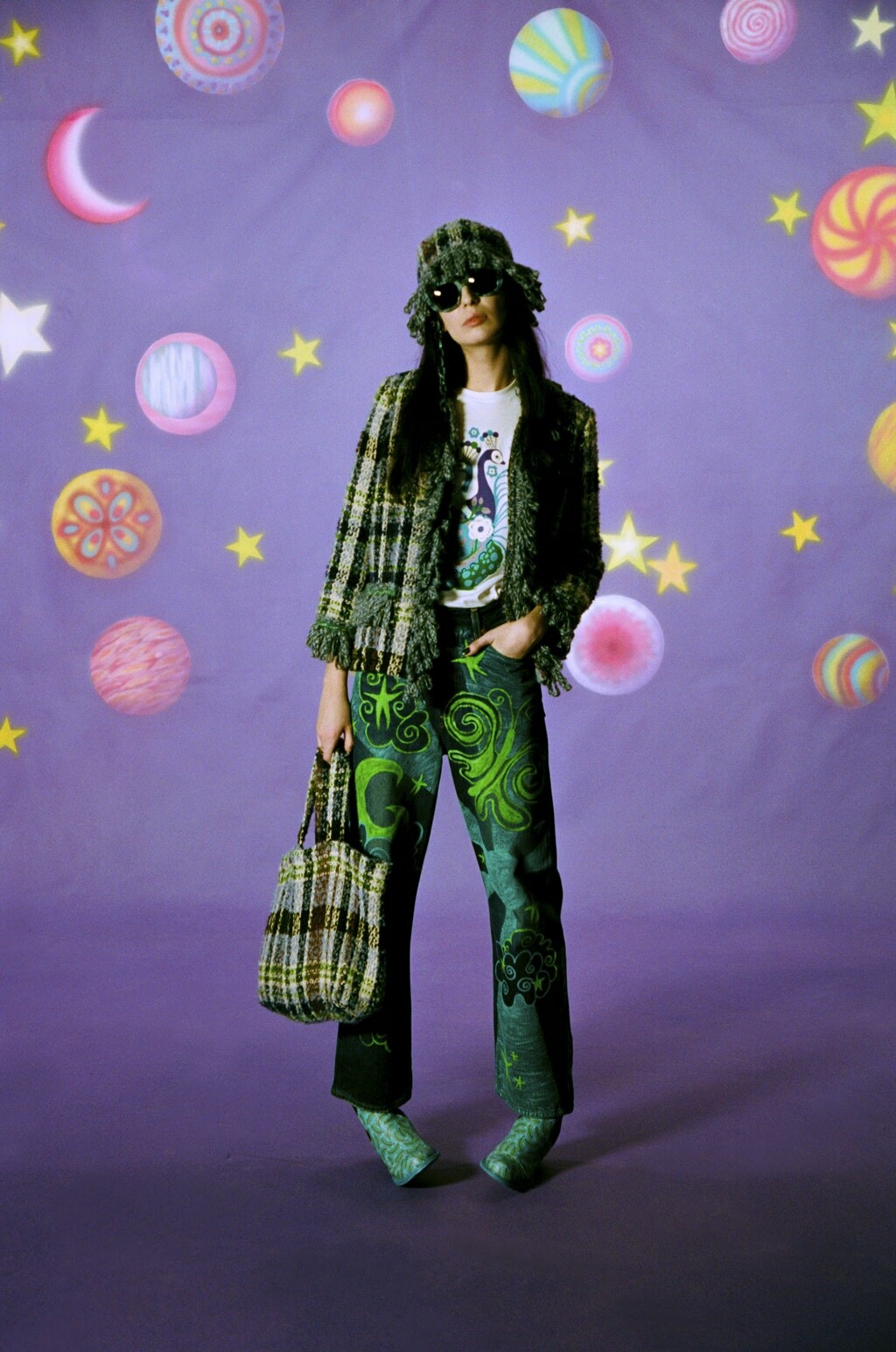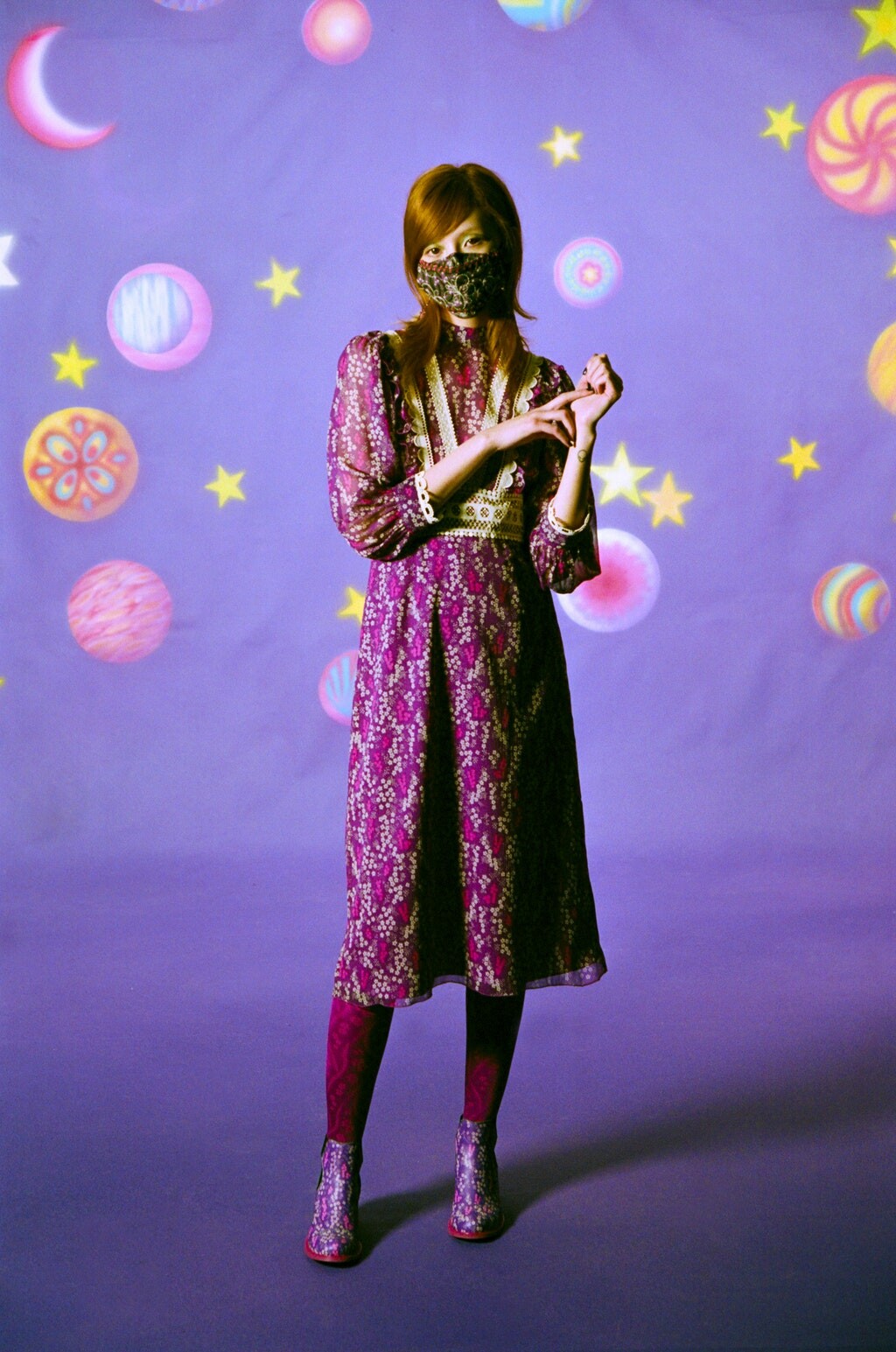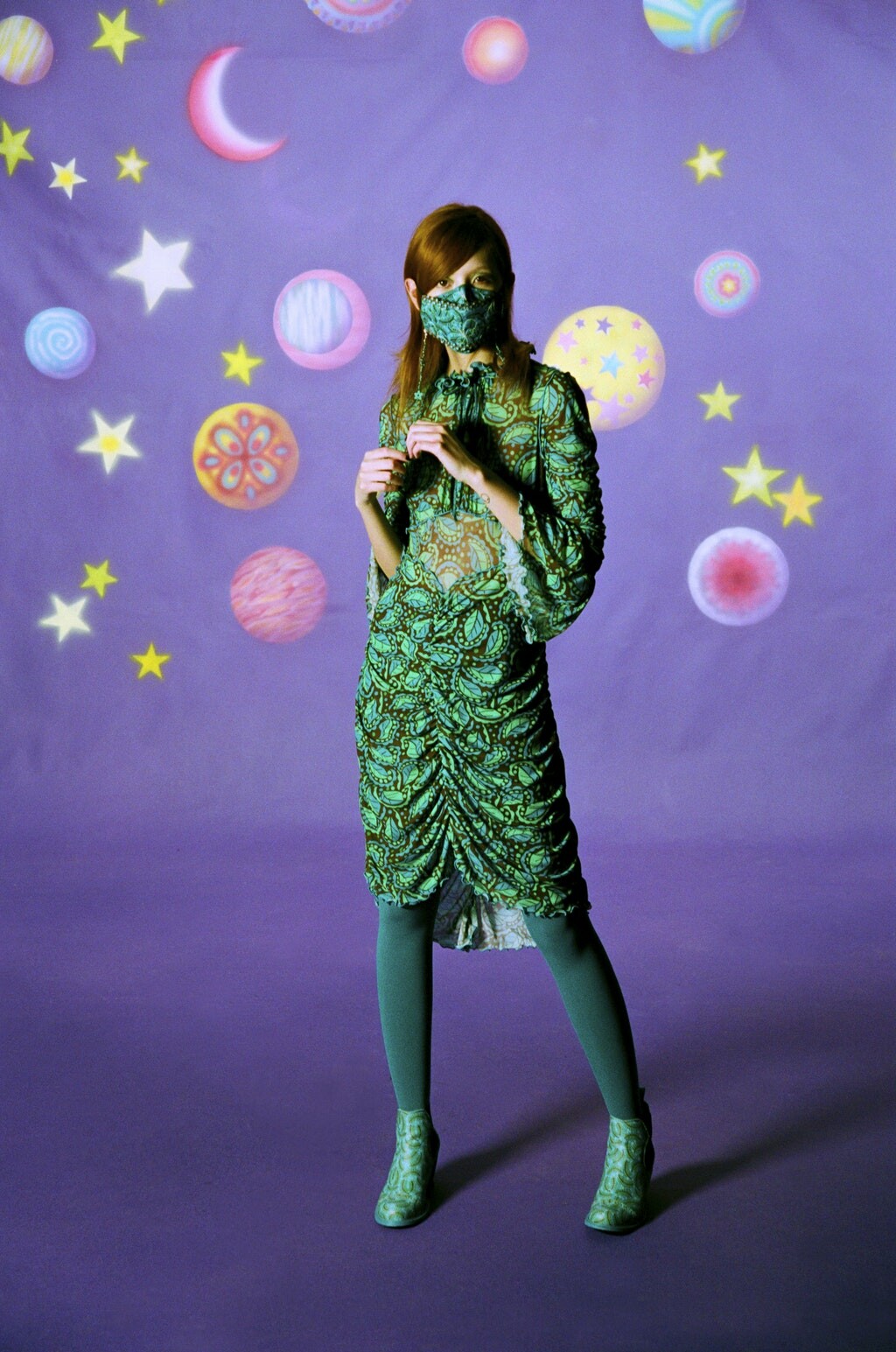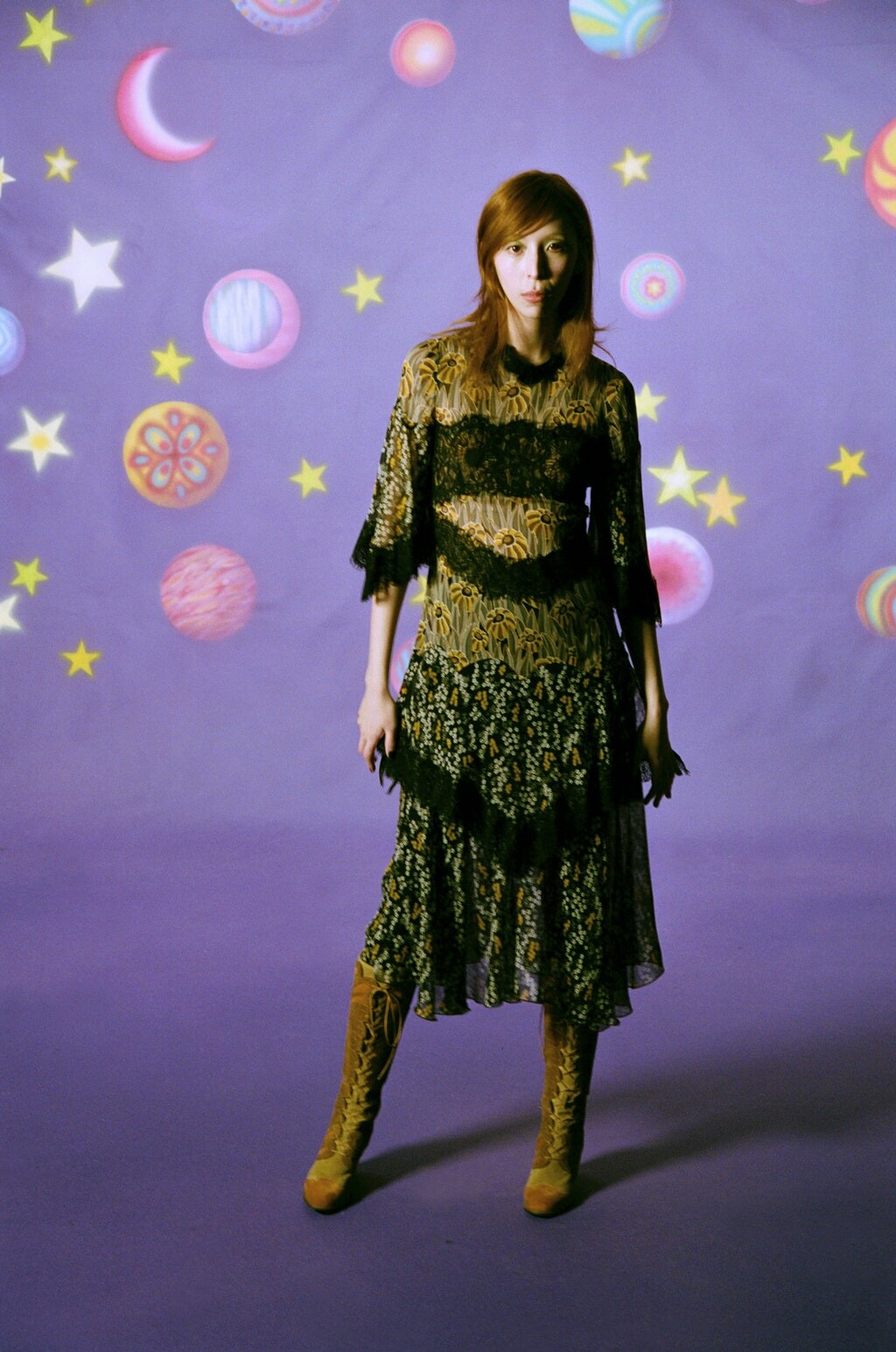 Badgley Mischka
Badgley Mischka's fall collection is all about effortless glamour, with a focus on sequin detailing and light. The premise of the collection was to make memories that we were unable to in 2020, providing a platform for the social occasions we all wish we could have attended. As such, Mischka promotes an atmosphere of celebration and grandeur throughout his designs. The collection is characterised by floor-length dresses, sequins, and a metallic colour palette, which when paired with the gallery-like setting of the virtual show created a look that would be at home on the red carpet or the MET Gala. Mischka's play on luminosity and classic silhouettes gave the collection a timeless narrative without ignoring trends like puffed sleeves, maxi dresses, and asymmetrical necklines. The show itself focused on the evening gown, but the full collection also features suits alongside shirts with an exaggerated shoulder that could rival any 80s icon.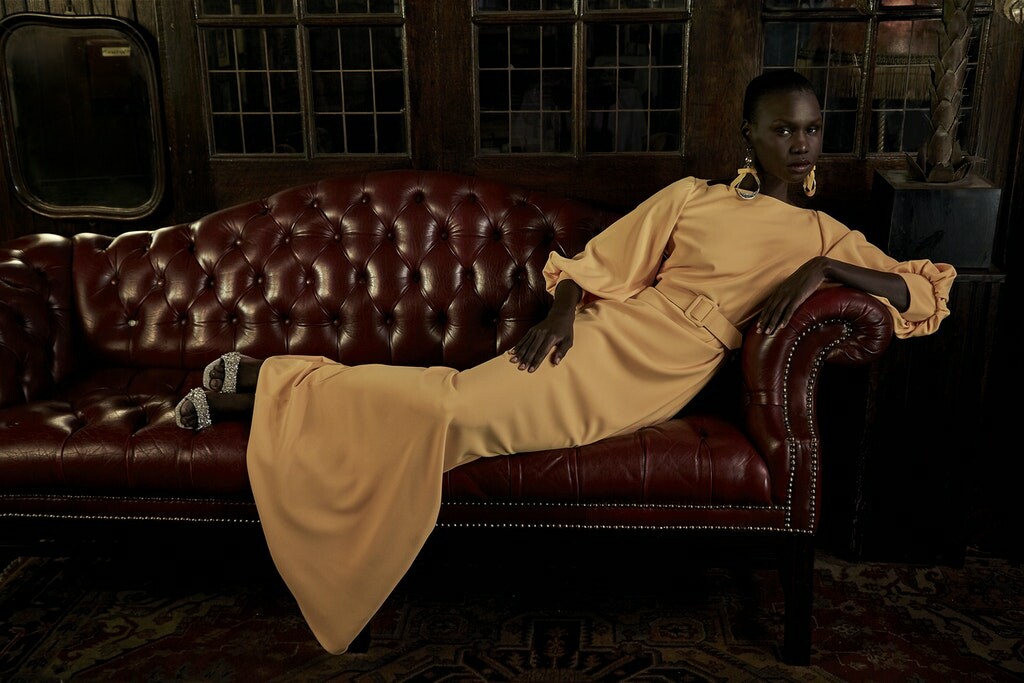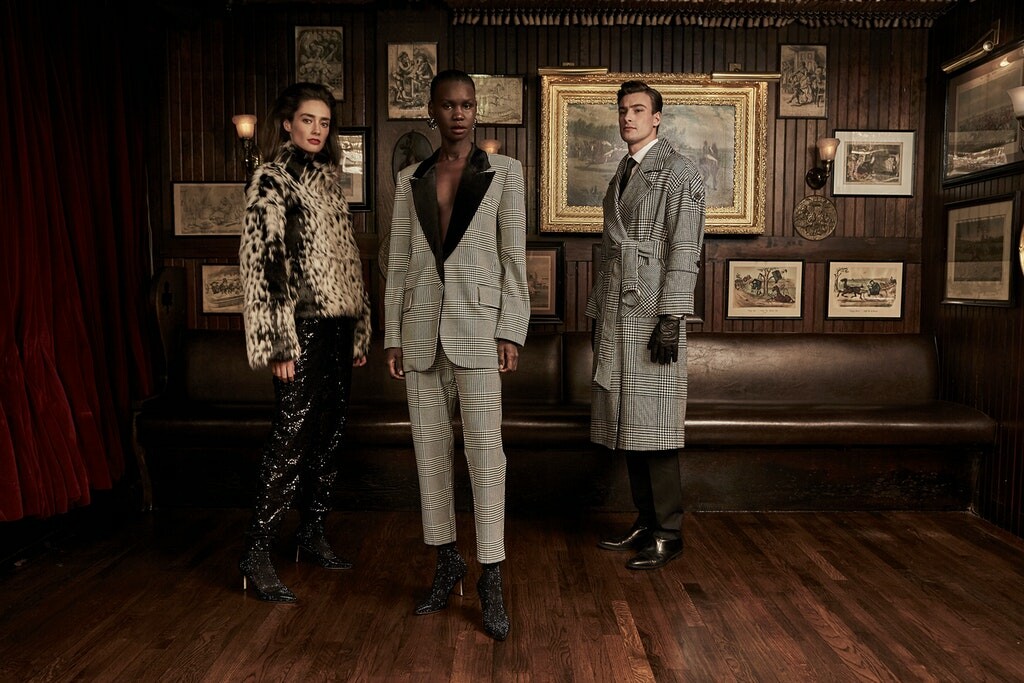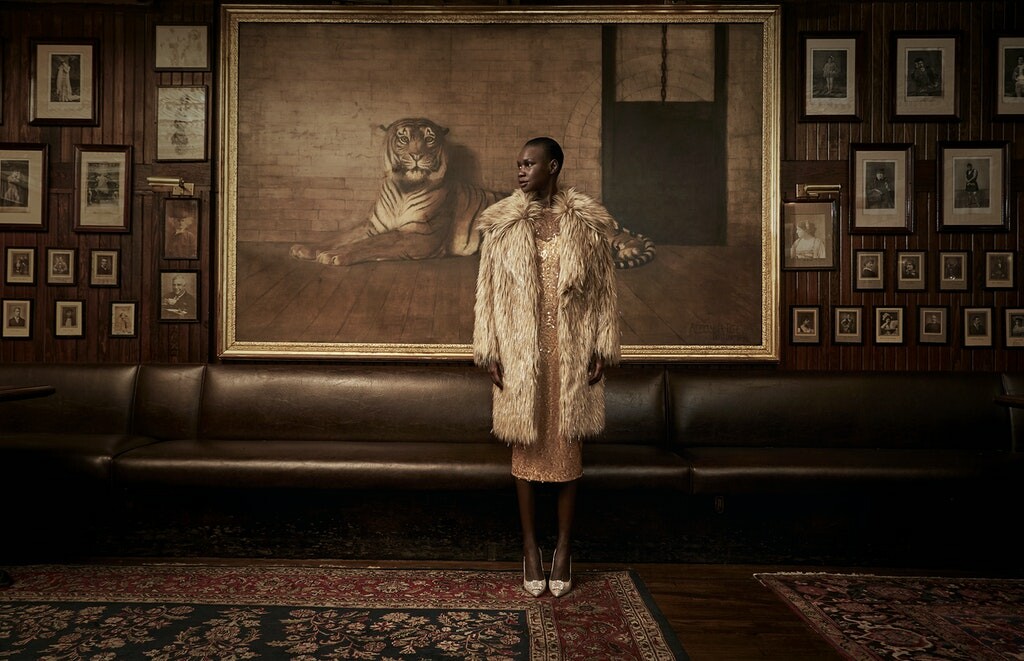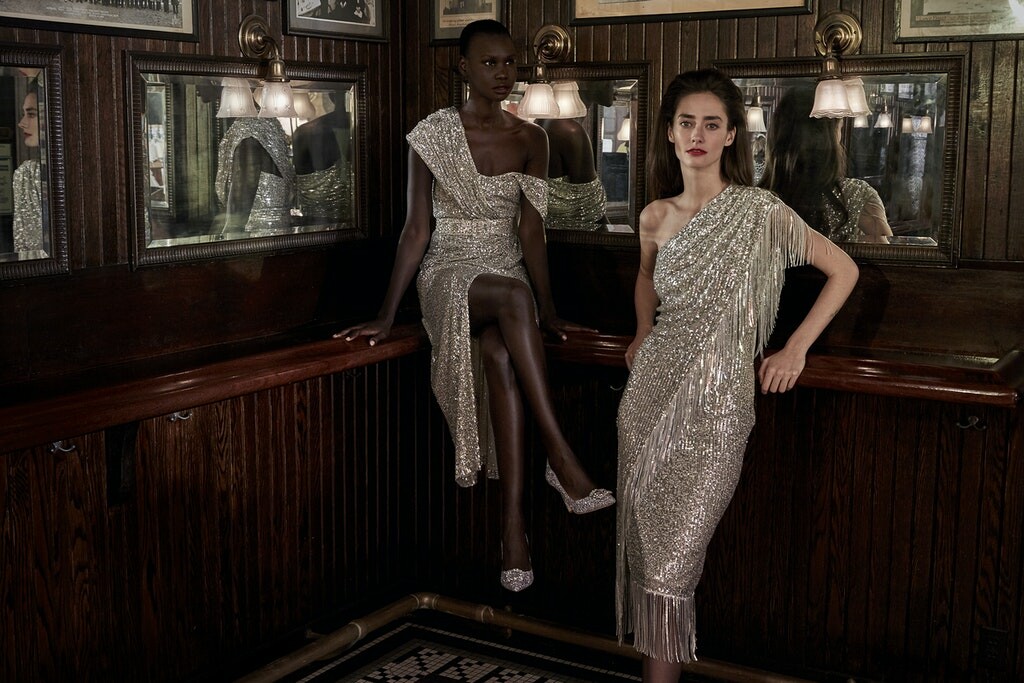 Tanya Taylor
Bringing the inside out is the main directive of Tanya Taylor's fall collection. Inspired by the artwork of American illustrator, Jeremiah Goodman, who was known for painting the living rooms of New York's elite (including Elsa Schiaparelli and Betsey Bloomingdale), Taylor focuses on the importance of interior space in defining personal expression and comfort. Translating these concepts into her clothing, the collection plays on the colours and textures of home interiors with a colour palette of garnet, madder brown, bottle green, and rose. A mix of patterns resembling home furnishings take the WFH aesthetic more literally. The looks created can easily be seen in the comfort of your own home, with an attention to comfort through the use of soft knits and flowing skirts. The collection flits between loose and form-fitting silhouettes, but the overall appearance is feminine. Highlighted details include high necklines and wide sleeves, as well as an emphasis of tailored suits and knitwear.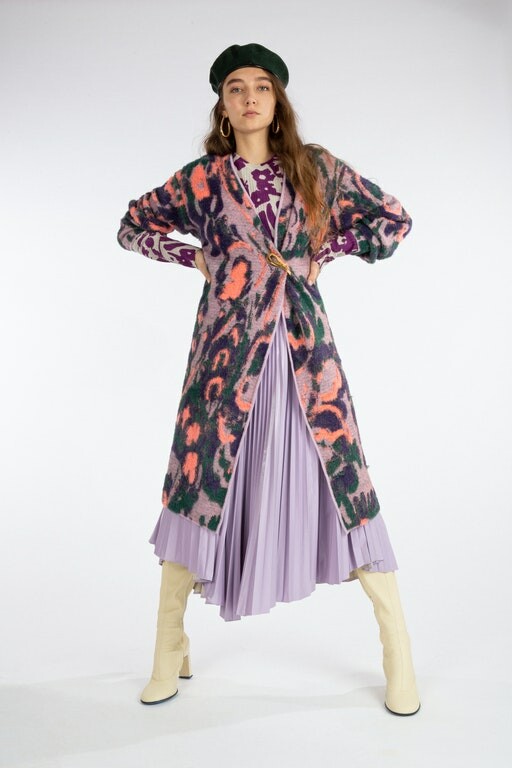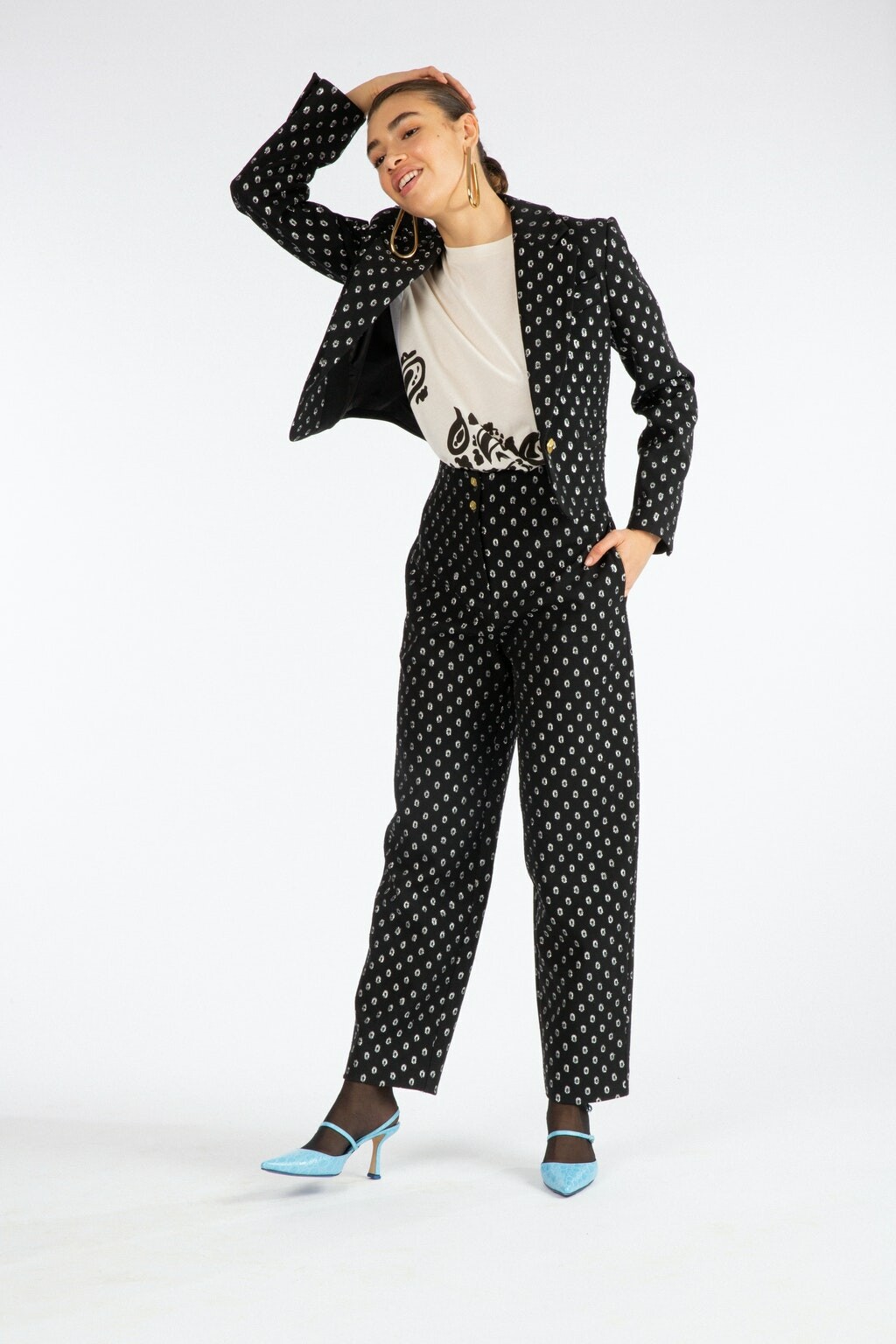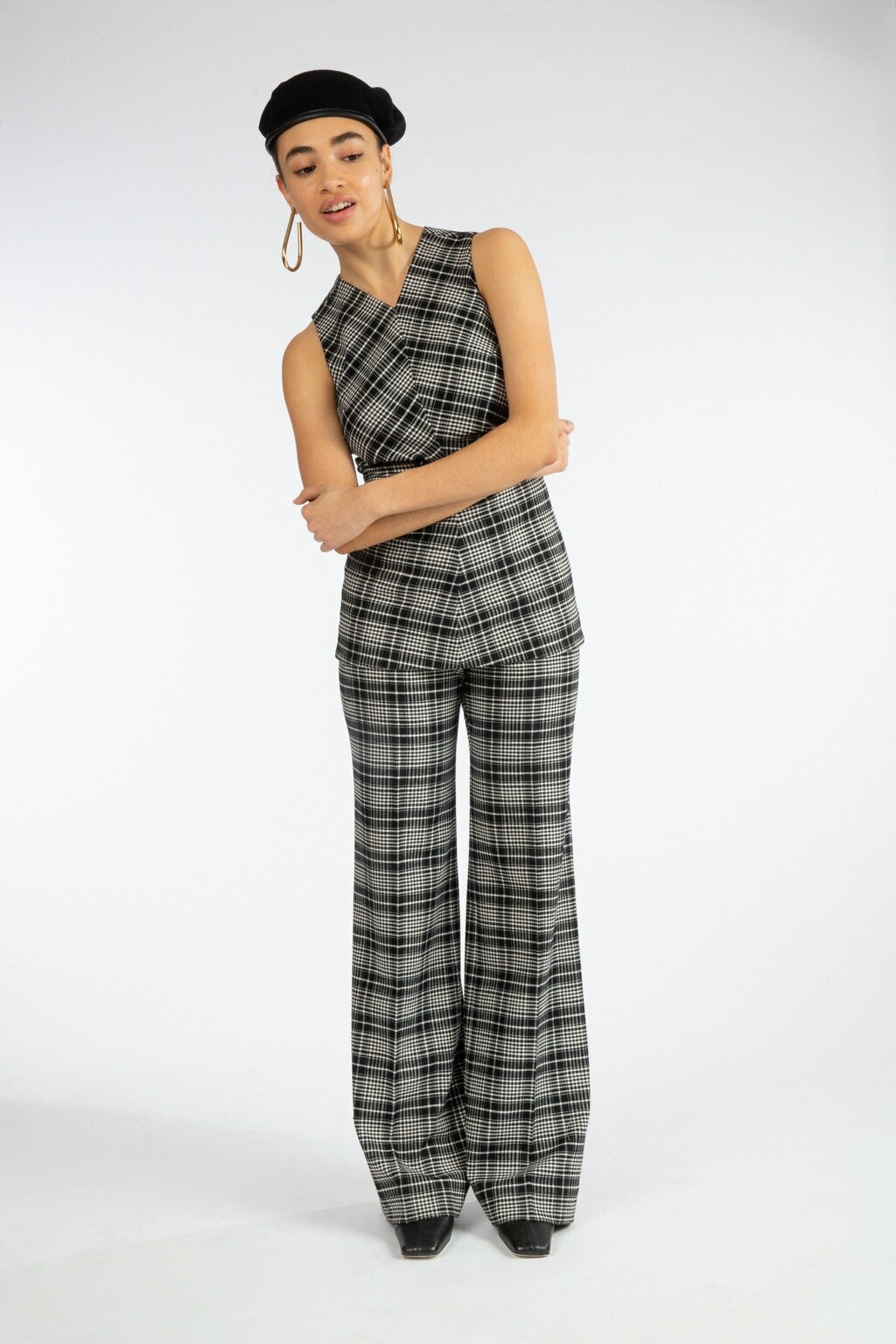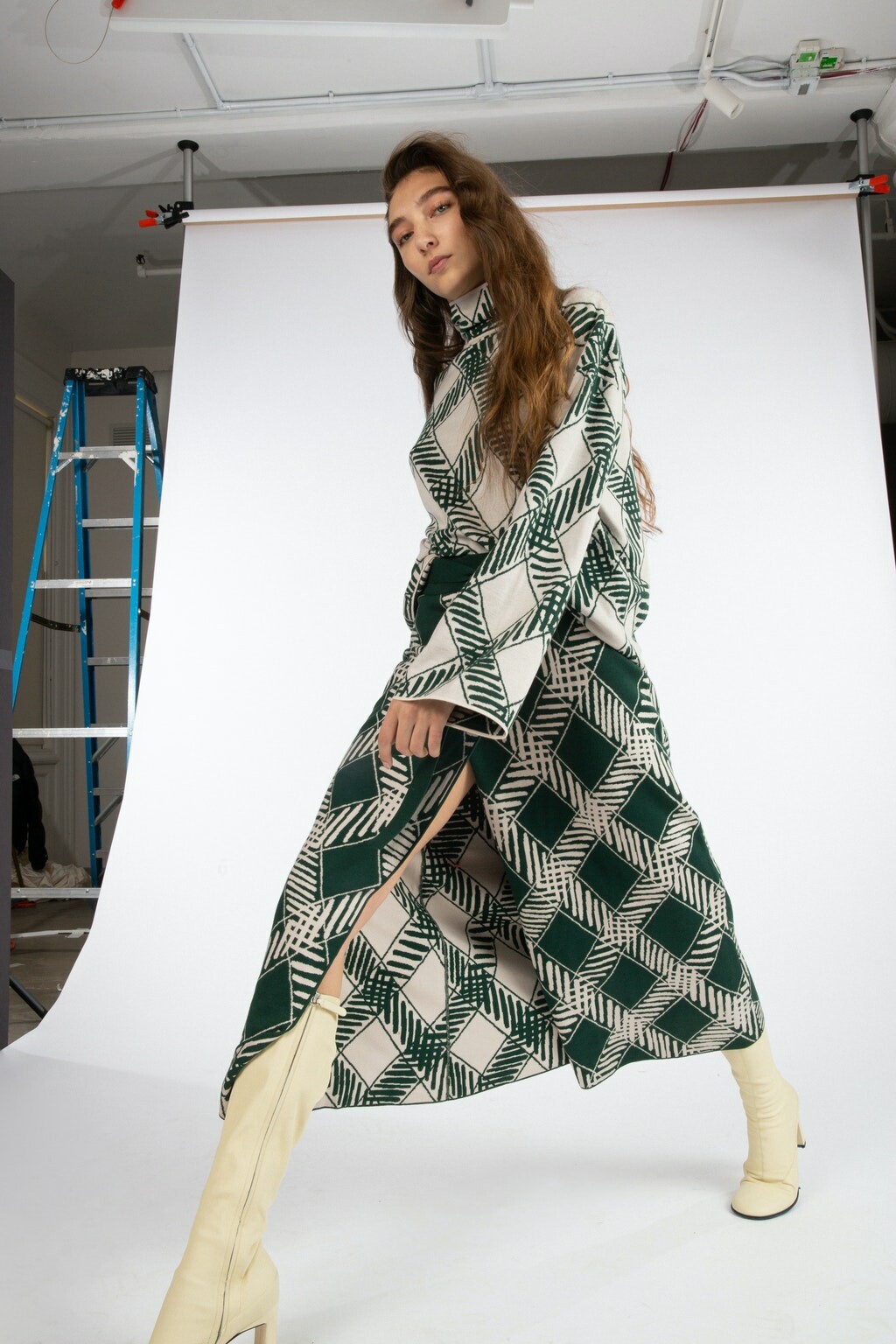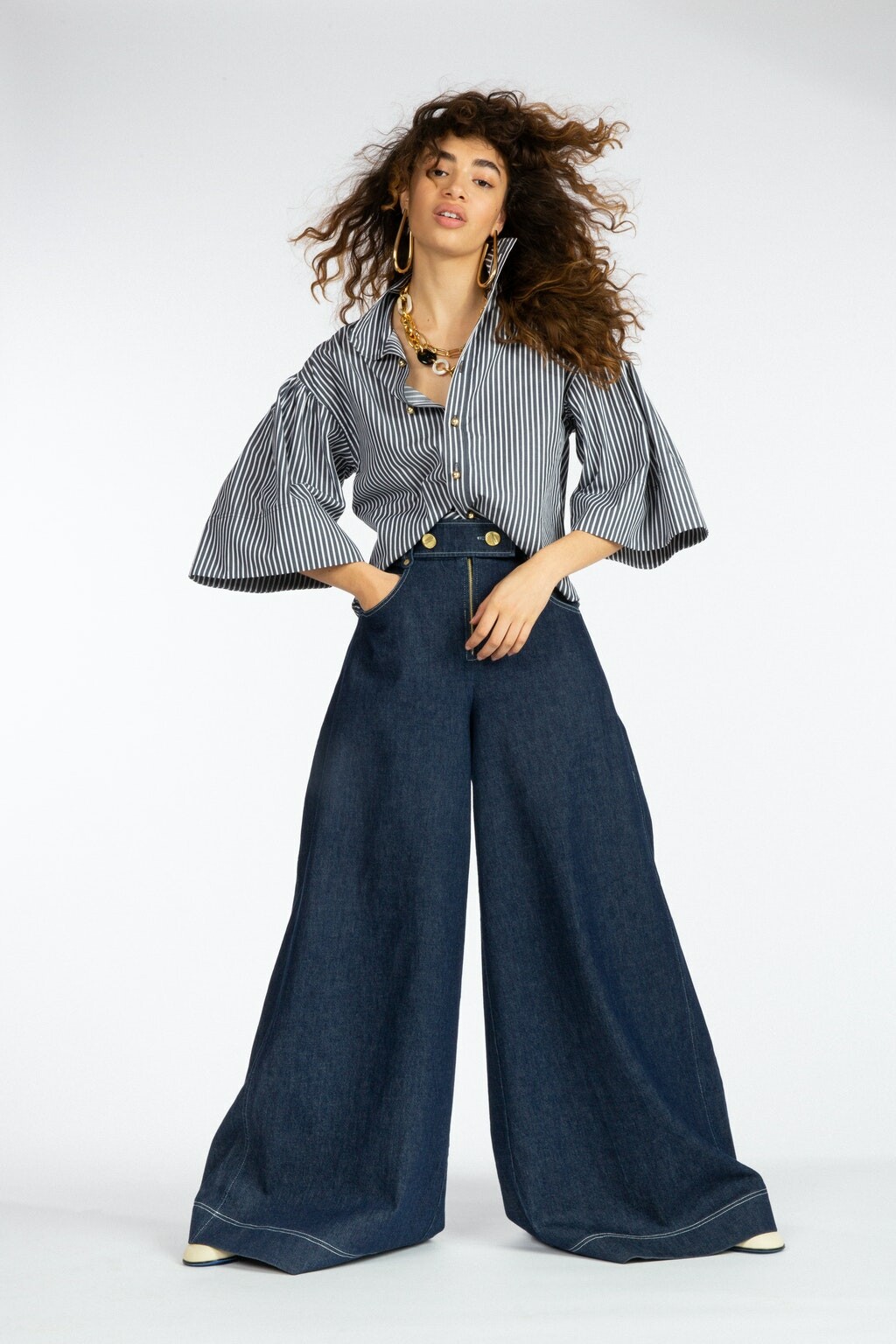 Sandy Liang
Sandy Liang described her collection as "a marriage between what I really wear, and what I wish I could wear." Going back to the comfortable staples that define an individual's style, Liang sought to merge the disparities between the lived and desired experience. Looking to her mother for inspiration, she thought on the small details she would return to in her outfit choices. This concept of isolating core staples is what brings Liang's collection together, as the designer produced looks which centred around specific prints, silhouettes, and outerwear. The video released alongside her collection shows scenes of the outdoors, which reflects the neutral colour palette of the clothing itself. Muted blues and greens are shown alongside, browns, blacks, and whites to give Liang's collection a more relaxed vibe which perfectly reflected the stay-at-home aesthetic. Another element of note was the reference to 90s trends, in particular calf-length skirts, chunky loafers, leather, and heavy eyeliner, which played into the narrative of drawing on tried and tested fashion staples. However, Liang brings this aesthetic to the present by incorporating ongoing trends such as cut outs and sheer fabrics.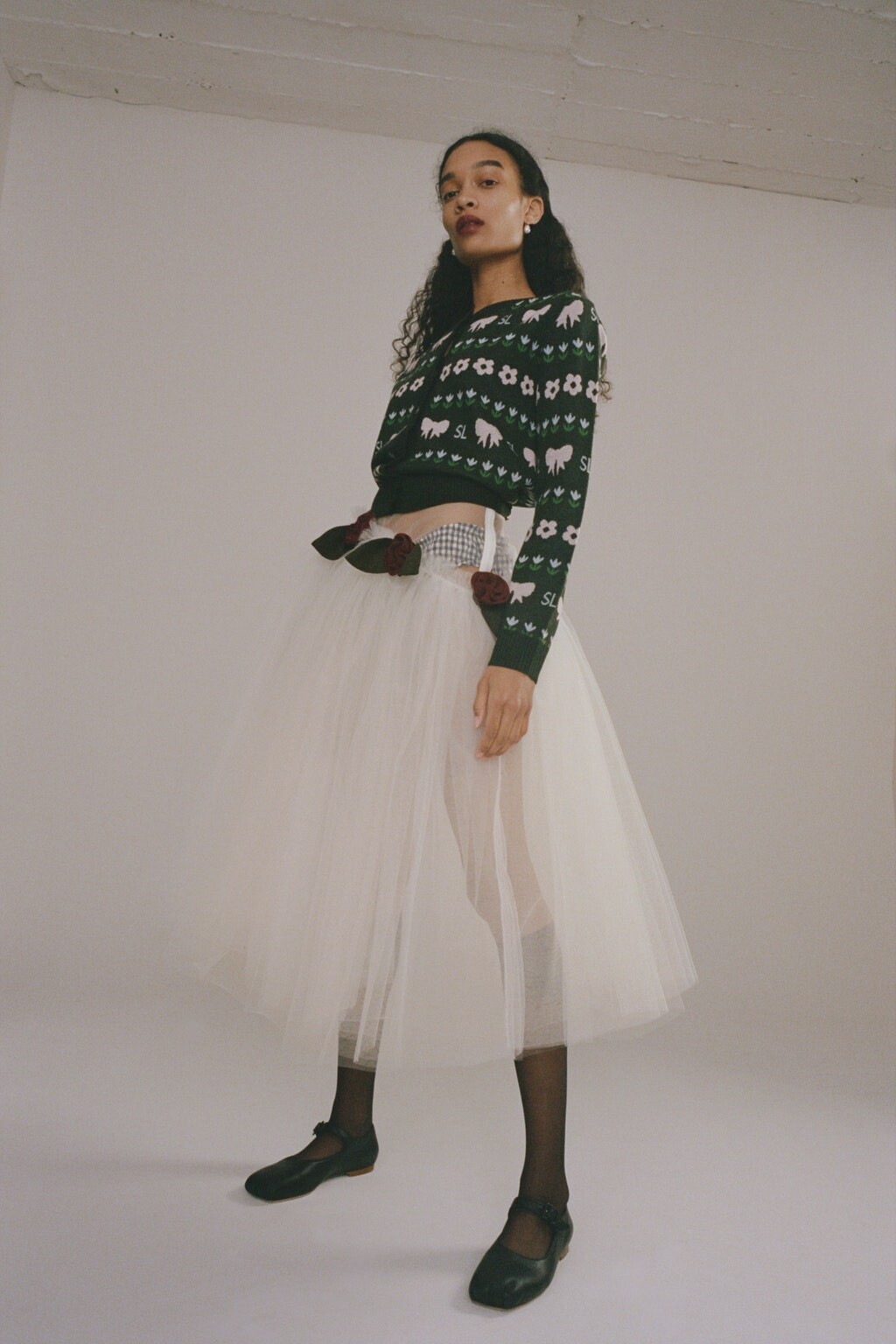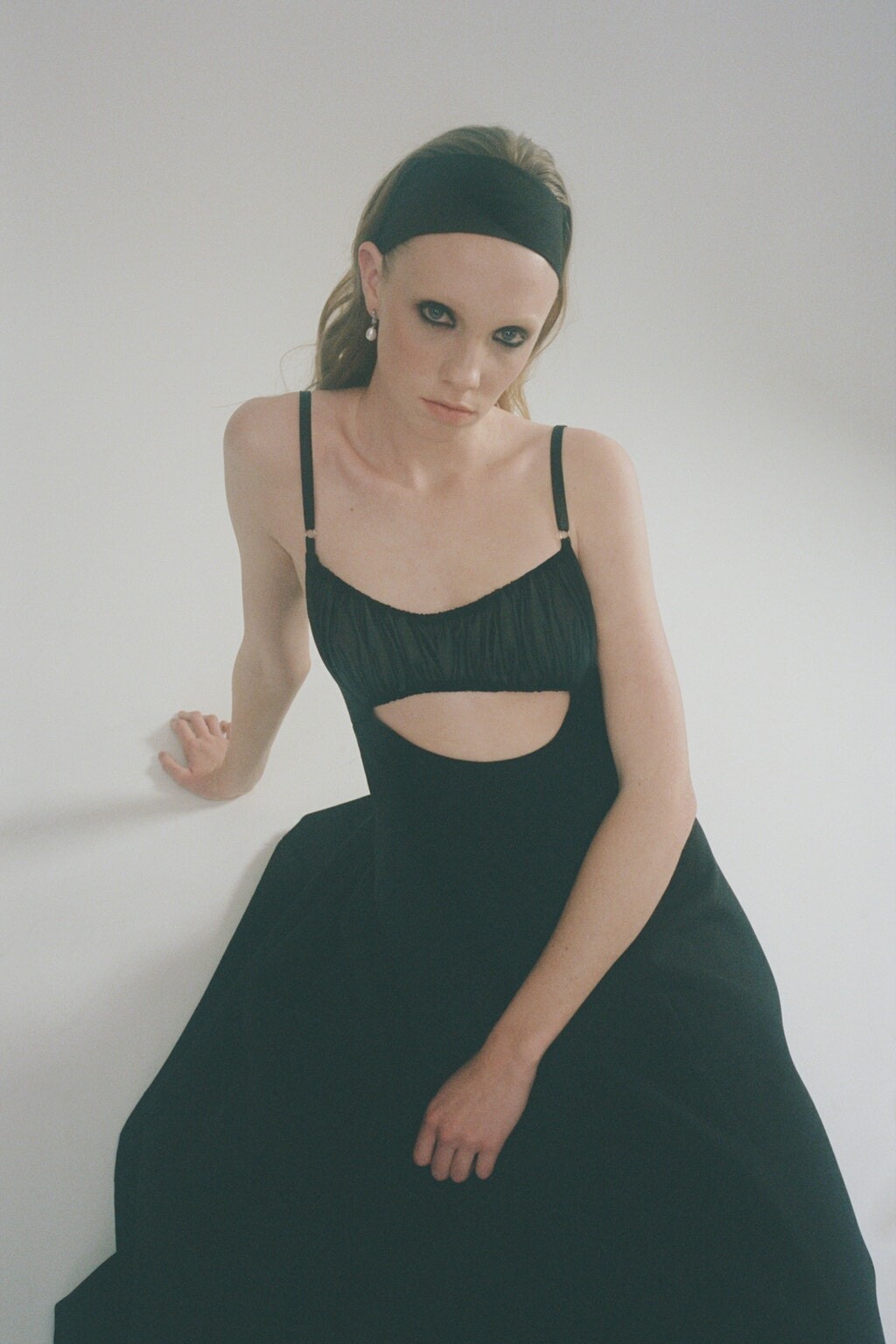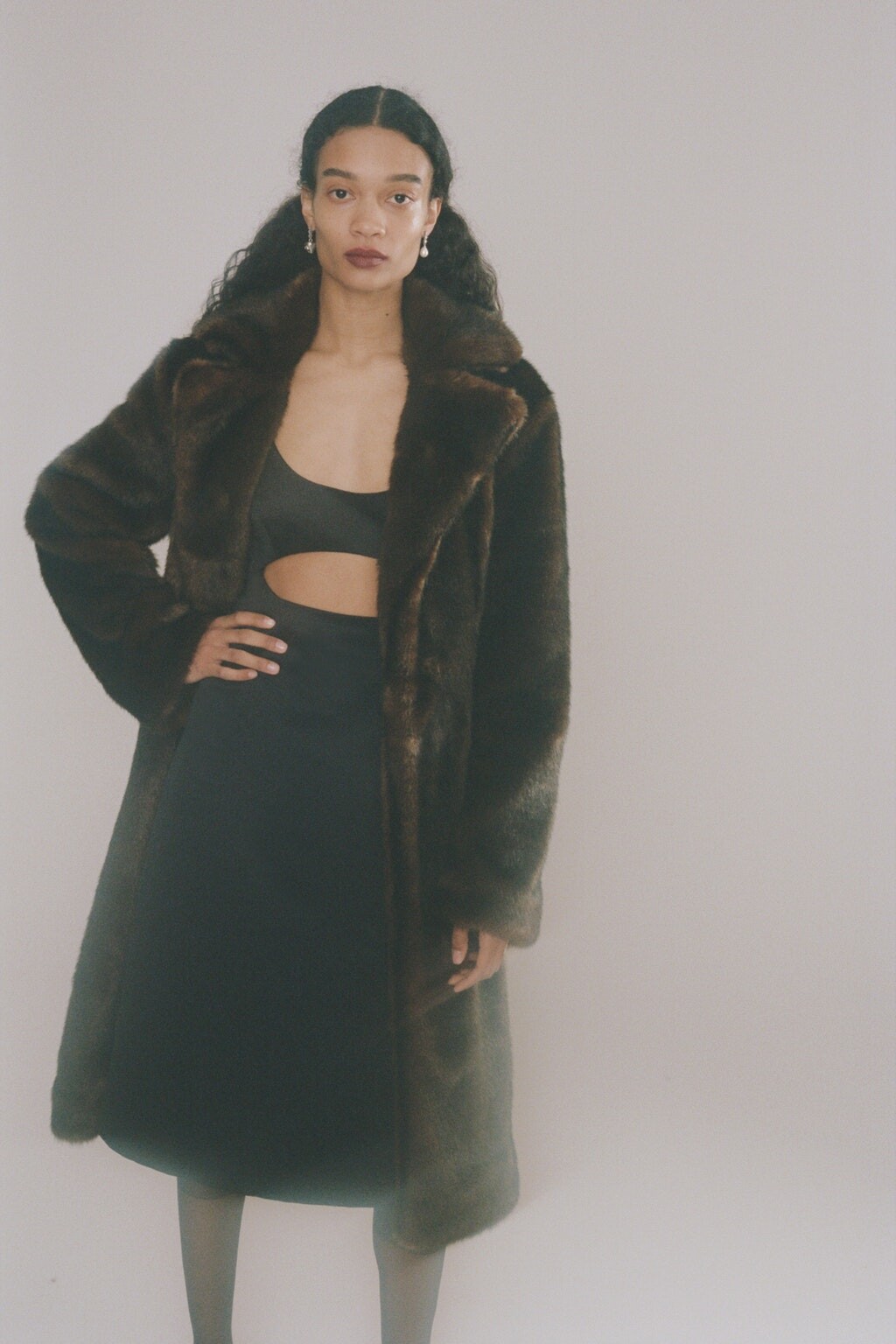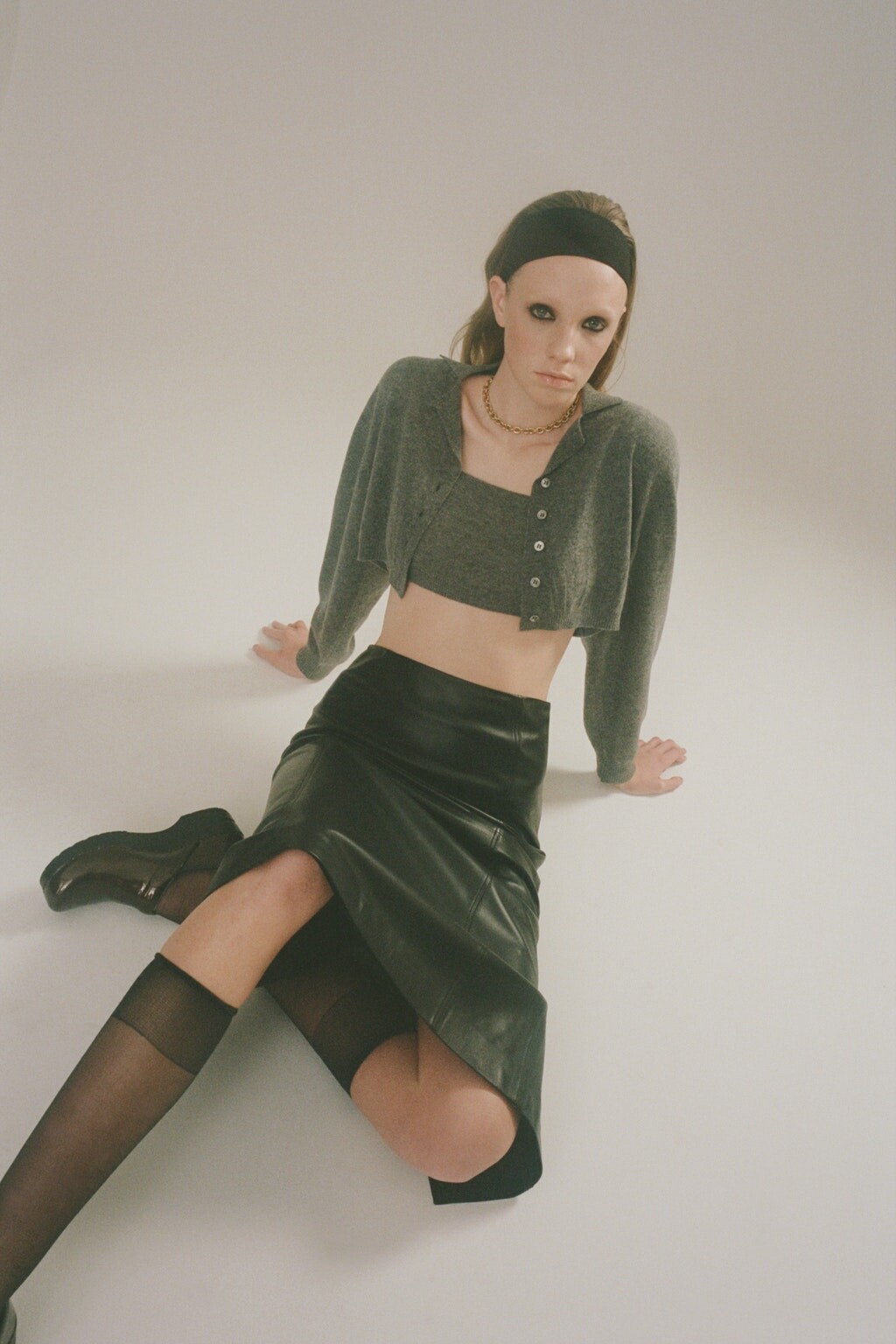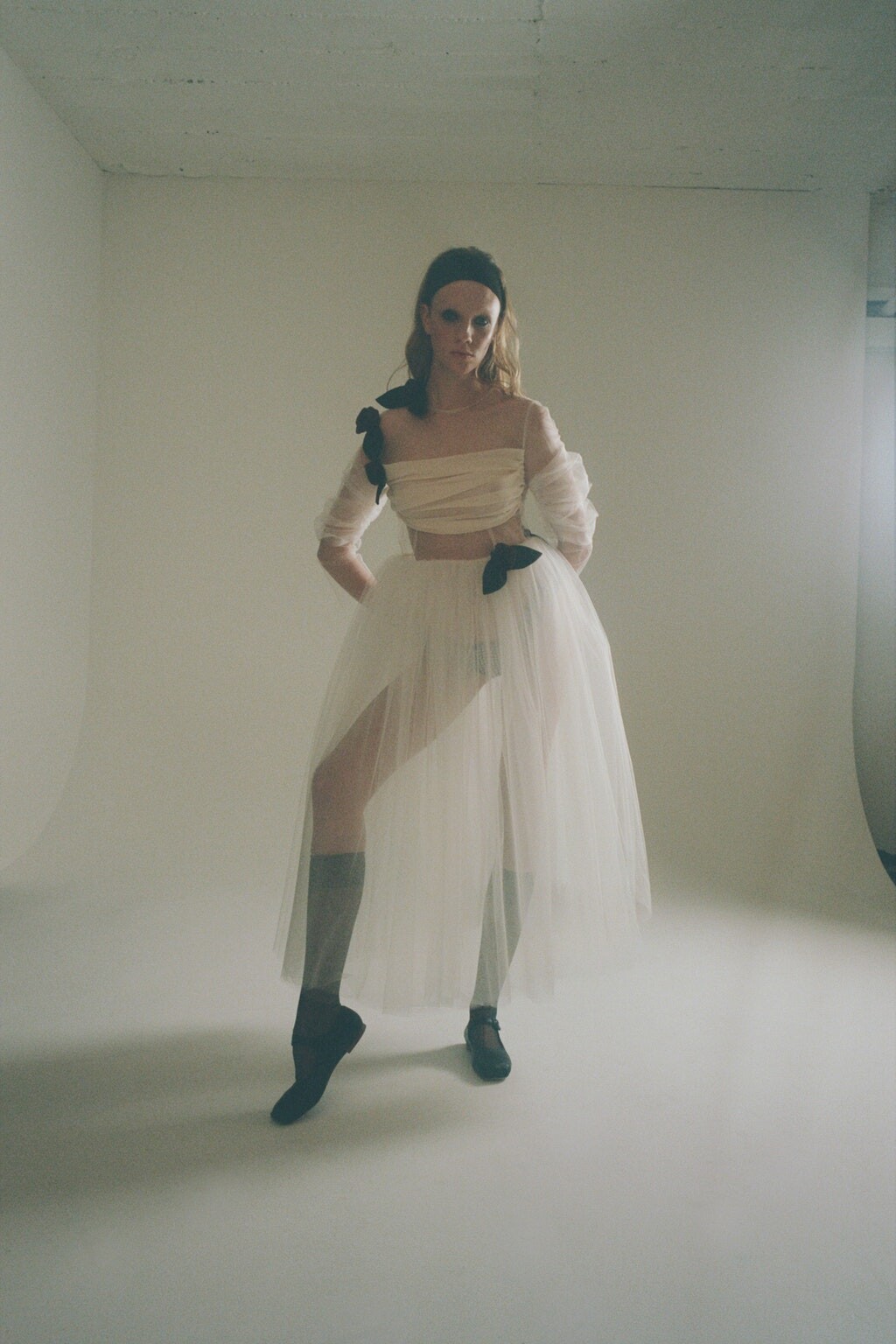 Naeem Khan
Similar to Badgley Mischka, Naeem Khan's collection revolved around an emphasis of the timeless silhouette. However, Khan took the approach of using bold patterns, embroidery, and appliqué. As with Khan's previous collections, this one focuses heavily on the evening gown and classic glamour. A prominent stylistic reference throughout the collection is the 1920s Art Deco movement, which is apparent through Khan's use of linear patterns and beading to build on the natural lines of the body. This gives many of his garments an architecturally structured appearance that elongates the silhouette of his models. Other staples from the era include feather boas, fringing, and flapper dresses. The presence of capes, batwing sleeves, and draping sleeves also relate to the collection's vision of Hollywood's golden age, highlighting Khan's emphasis of the timeless, nostalgic look.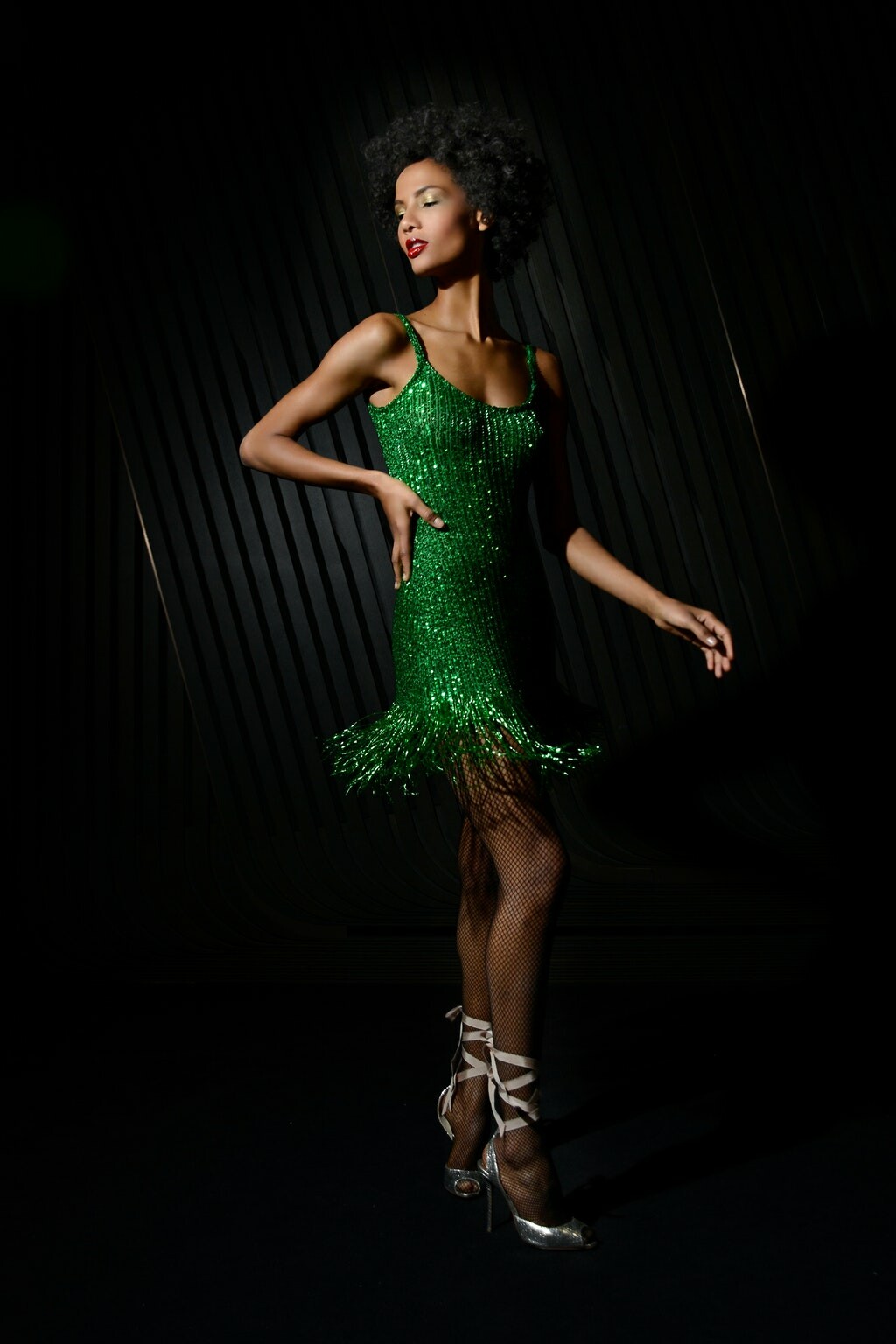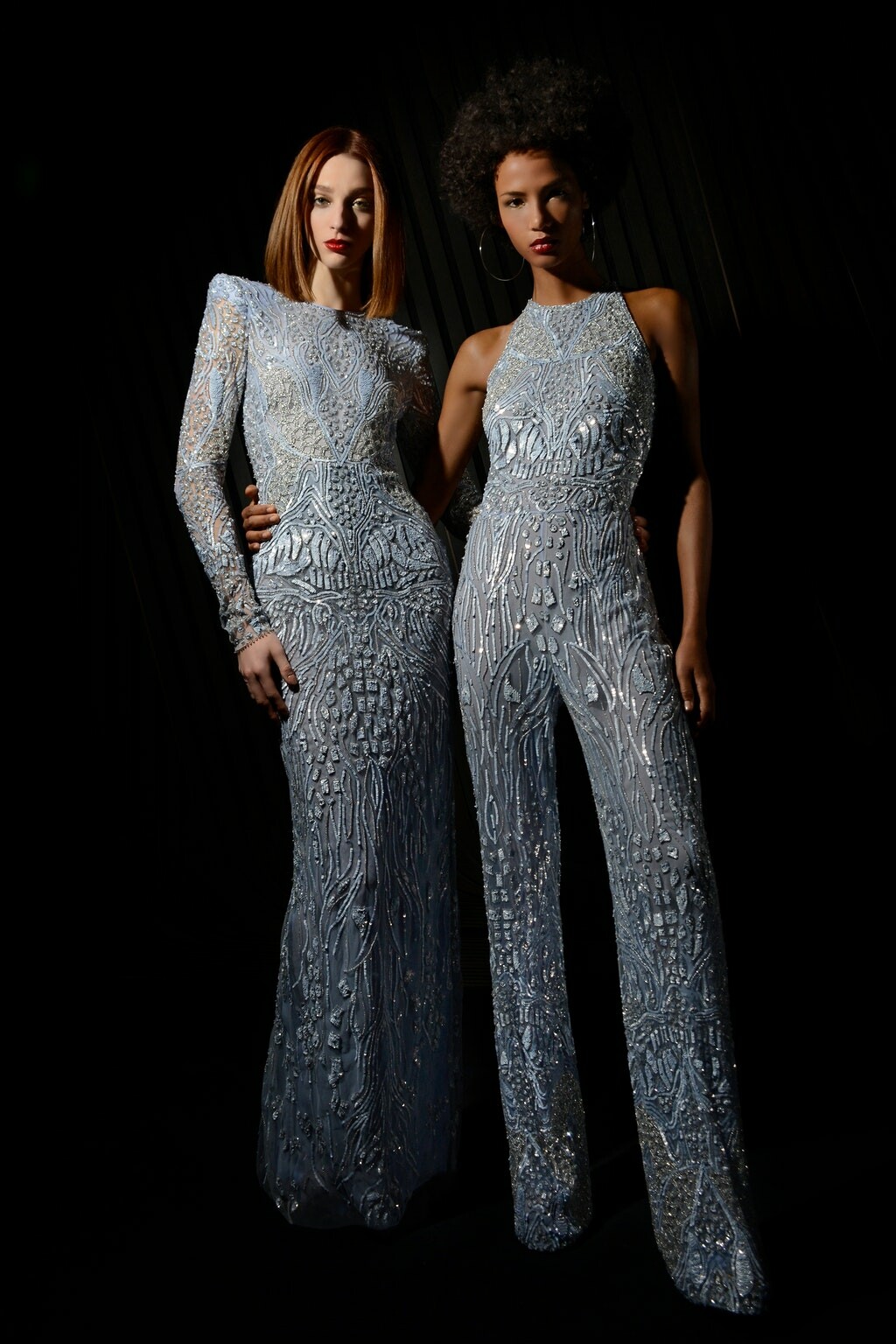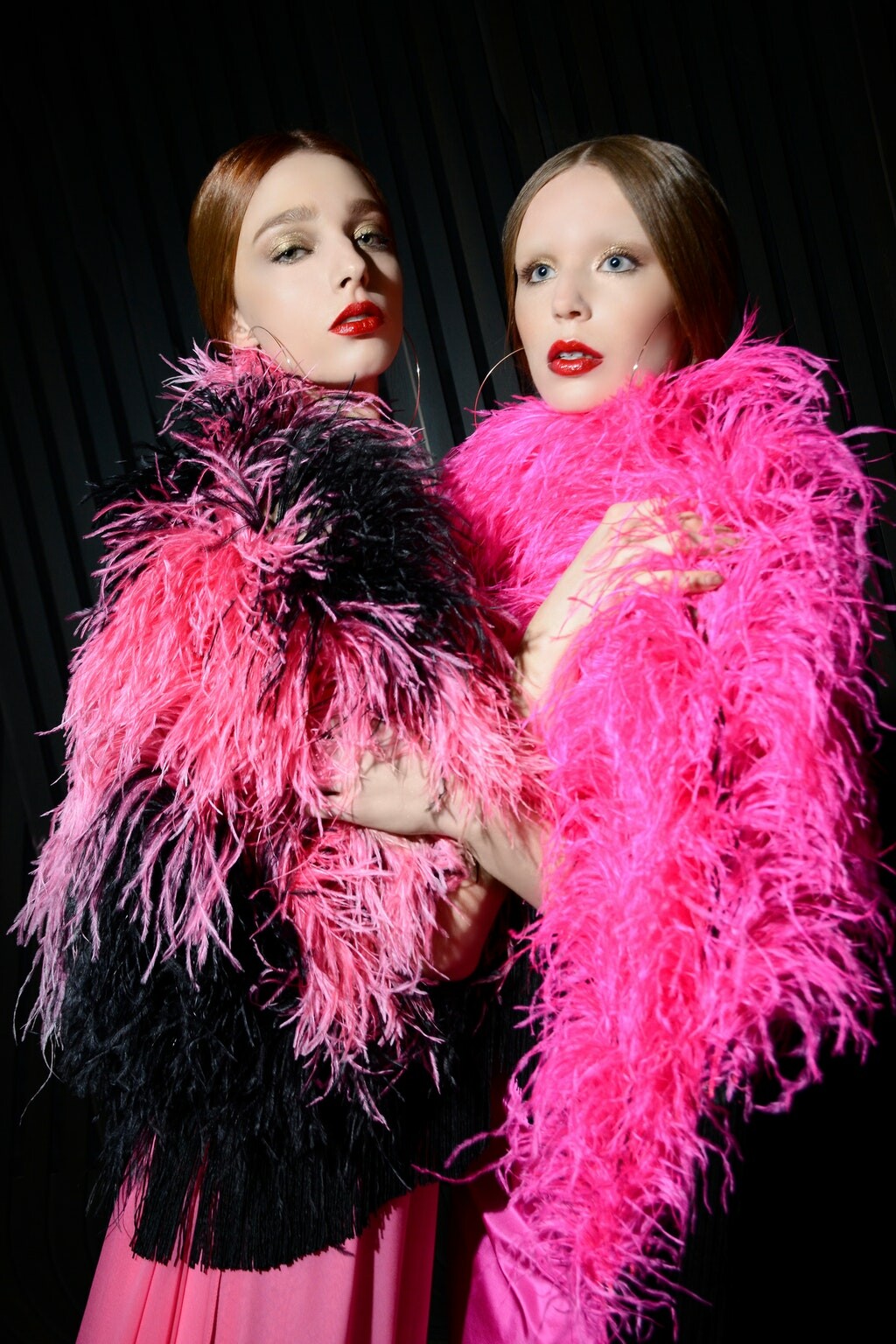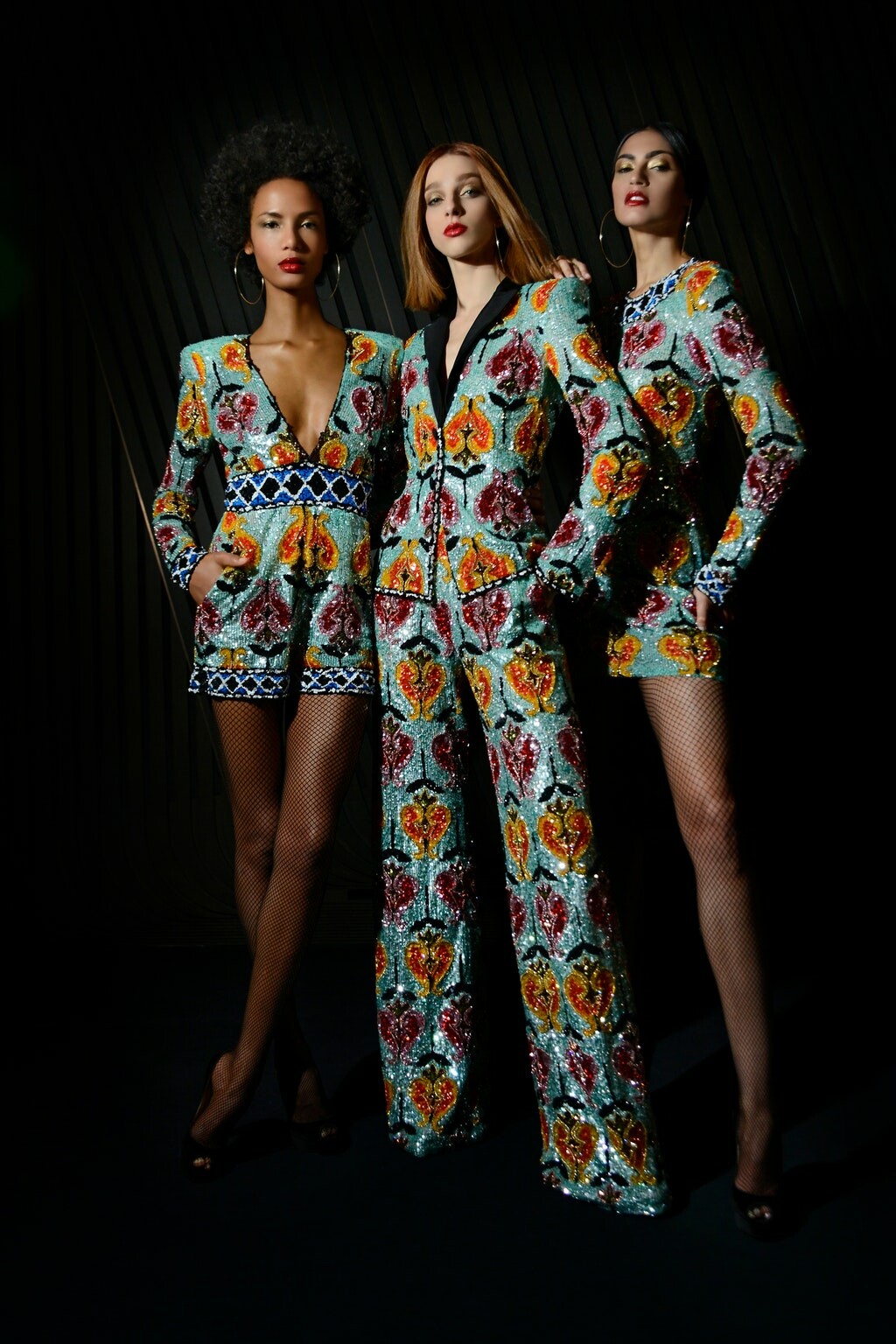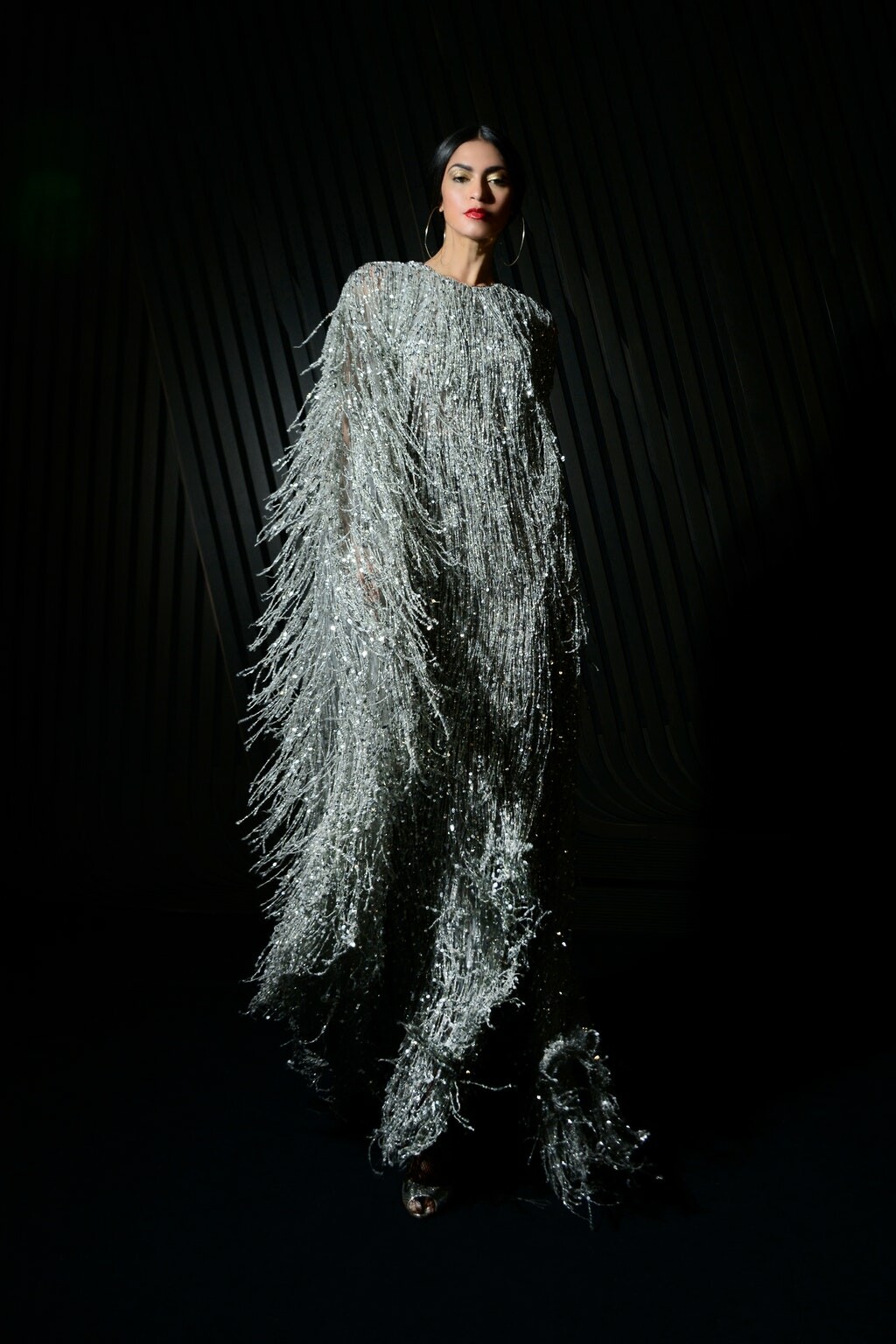 Claudia Li
Claudia Li is known for her construction of architectural silhouettes that play on colours and textures, and her Fall 2021 collection doesn't fail to bring these details to the forefront of attention. Li's collection centres on drapery and structured fits, with a colour palette that includes pinks, greys, greens, and blues. Shifting between vibrant blocks of colour and layered patterns, the outfits on show highlight the designer's interest in mixing textures to create depth in each look. A detail of note was Li's approach to skirts, which ranged from maxi to mini and incorporated asymmetrical hemlines. Tailoring – in the form of structured suit blazers and shoulder pads – also plays a starring role in the collection, providing a contrast between soft silhouettes and angular edges. Our favourite from the collection was a dark pink co-ord set made up of a cropped tank top and full, layered skirt, whose silky texture illustrated Li's attention to movement through the vibrant metallic reflections of light on the material.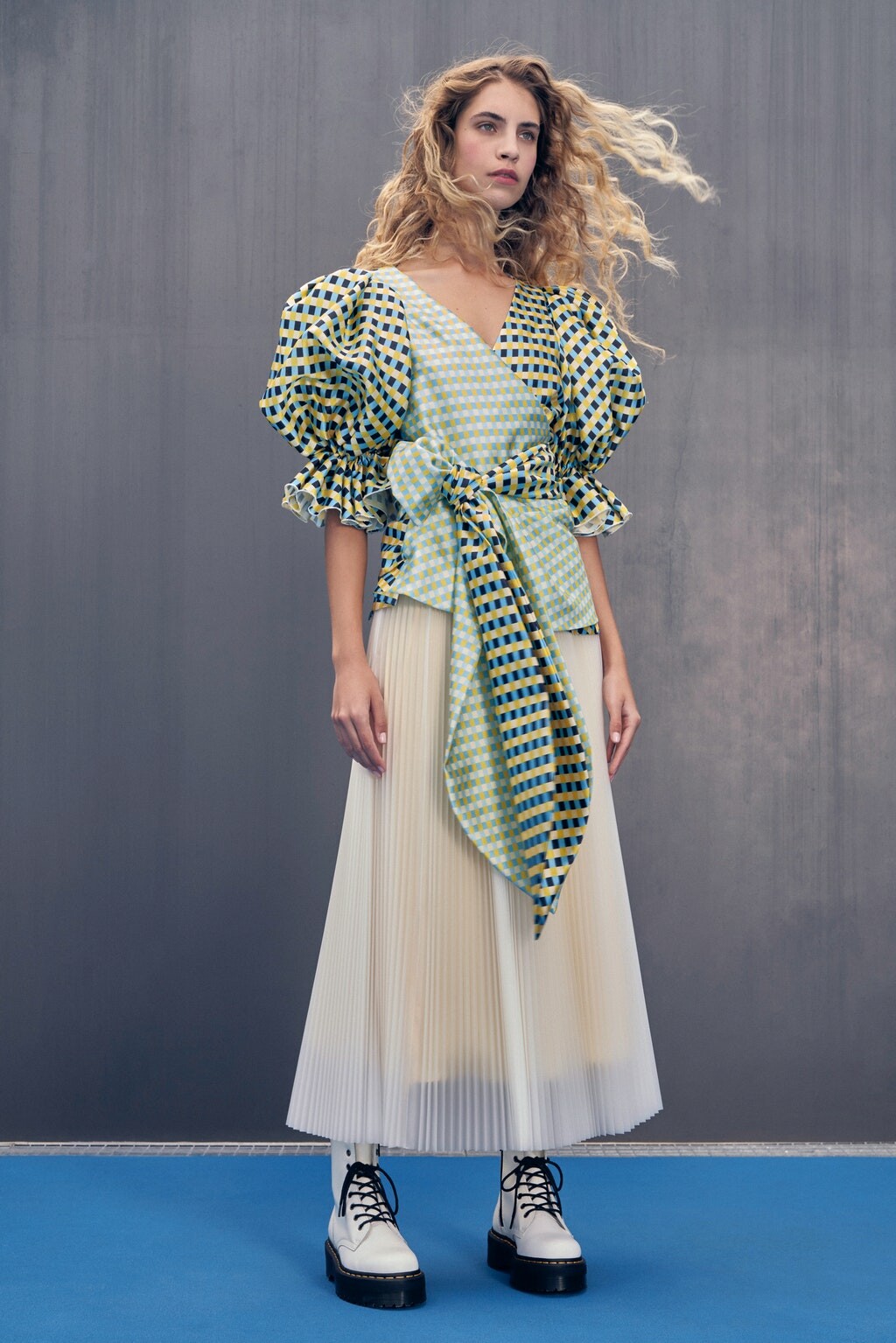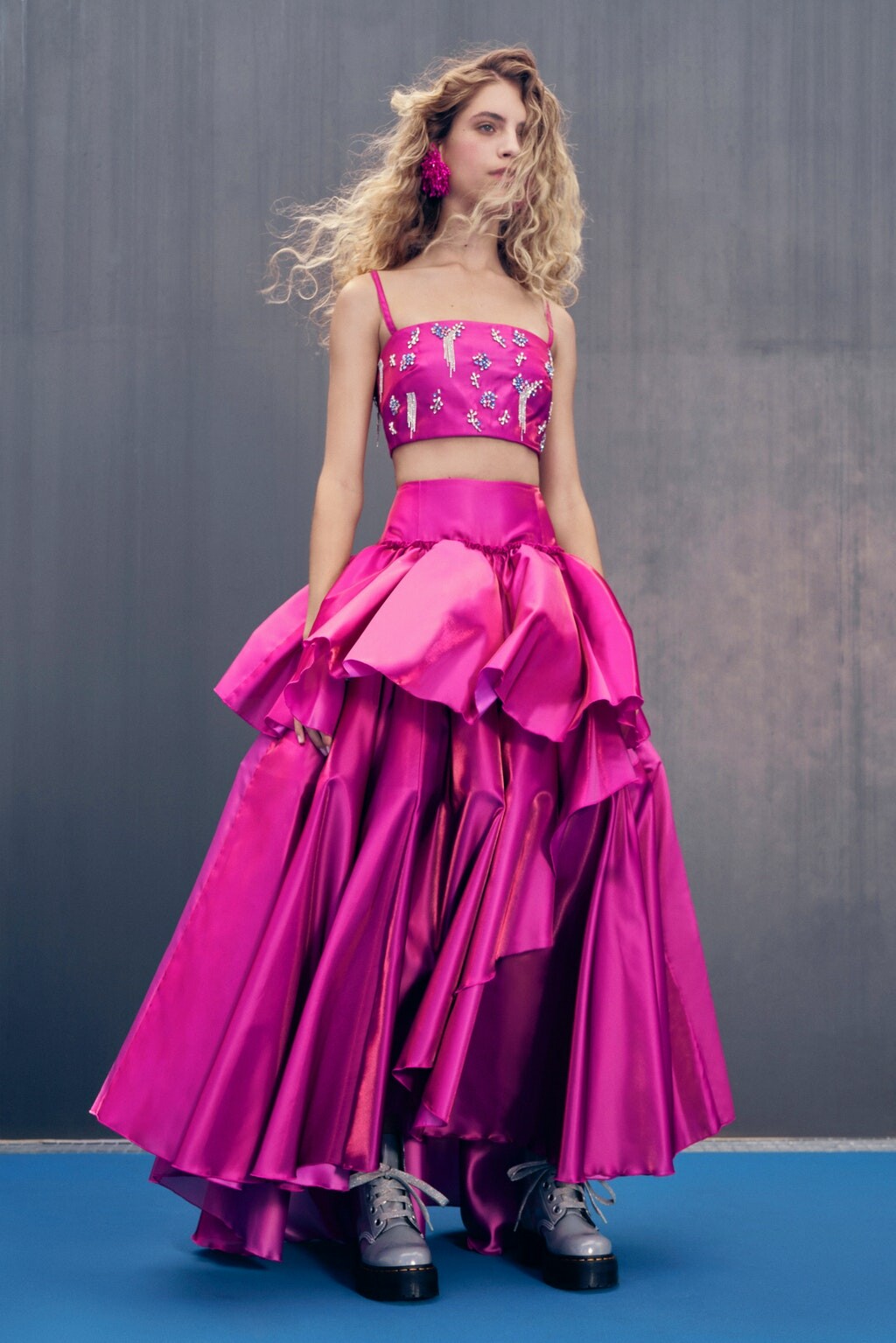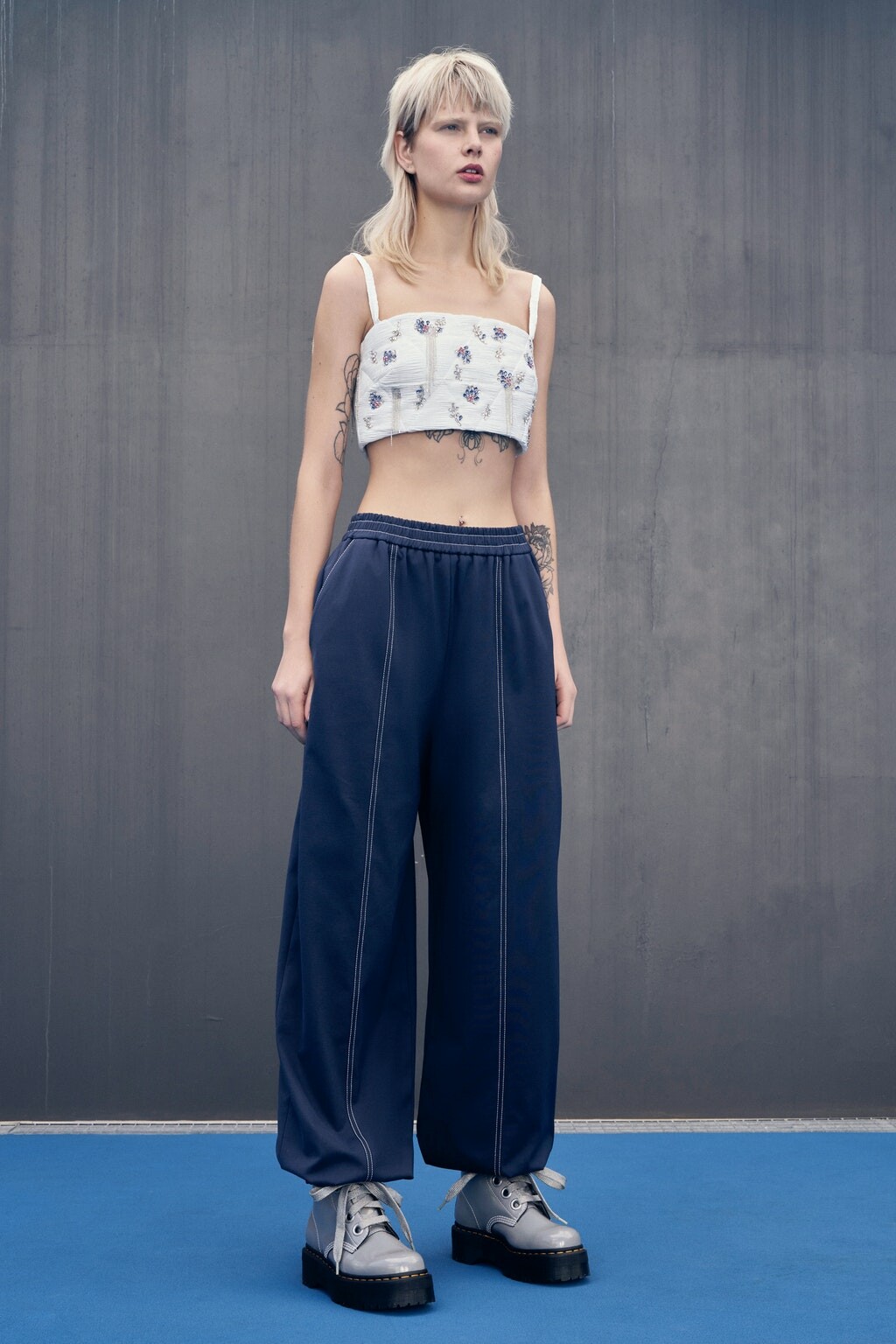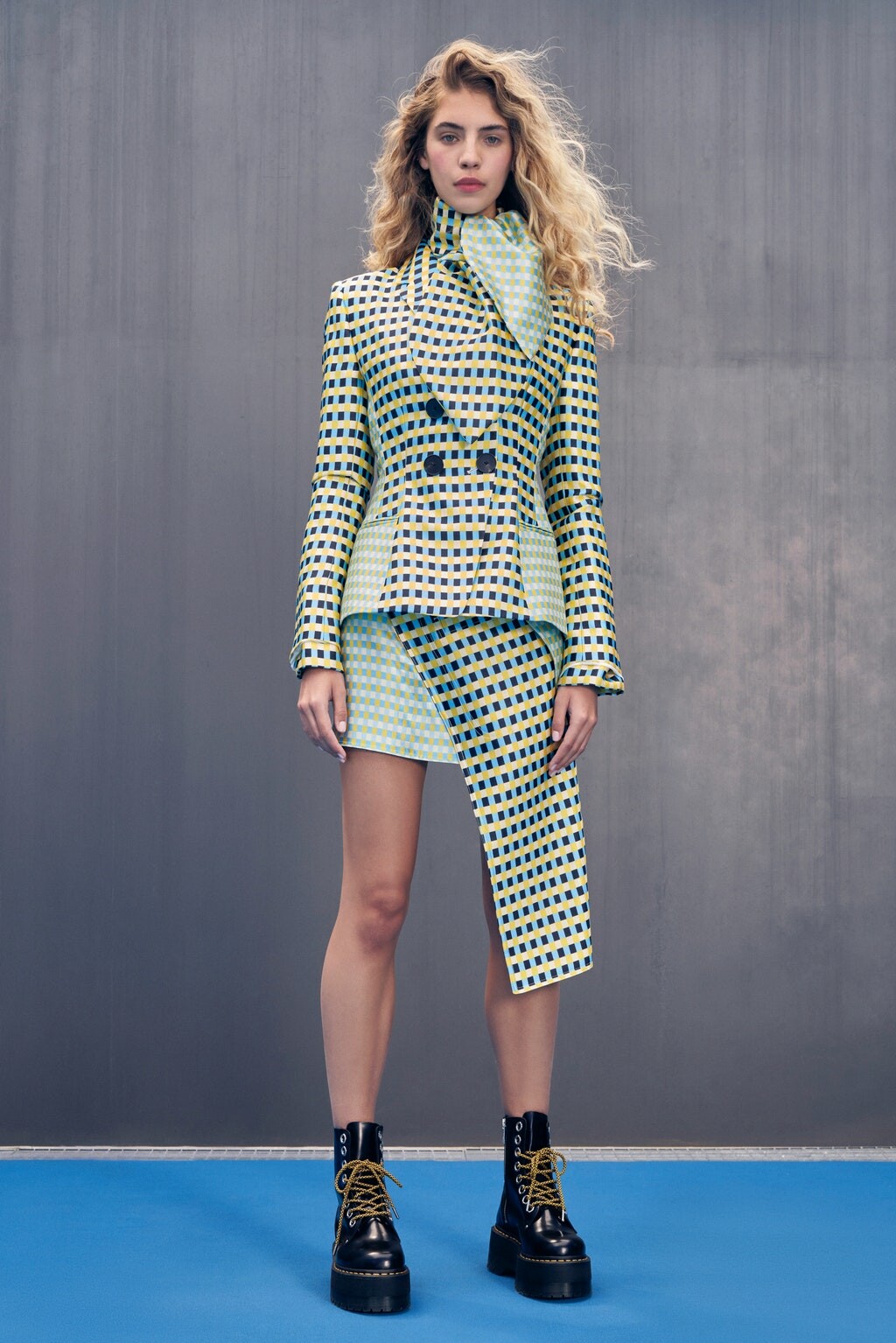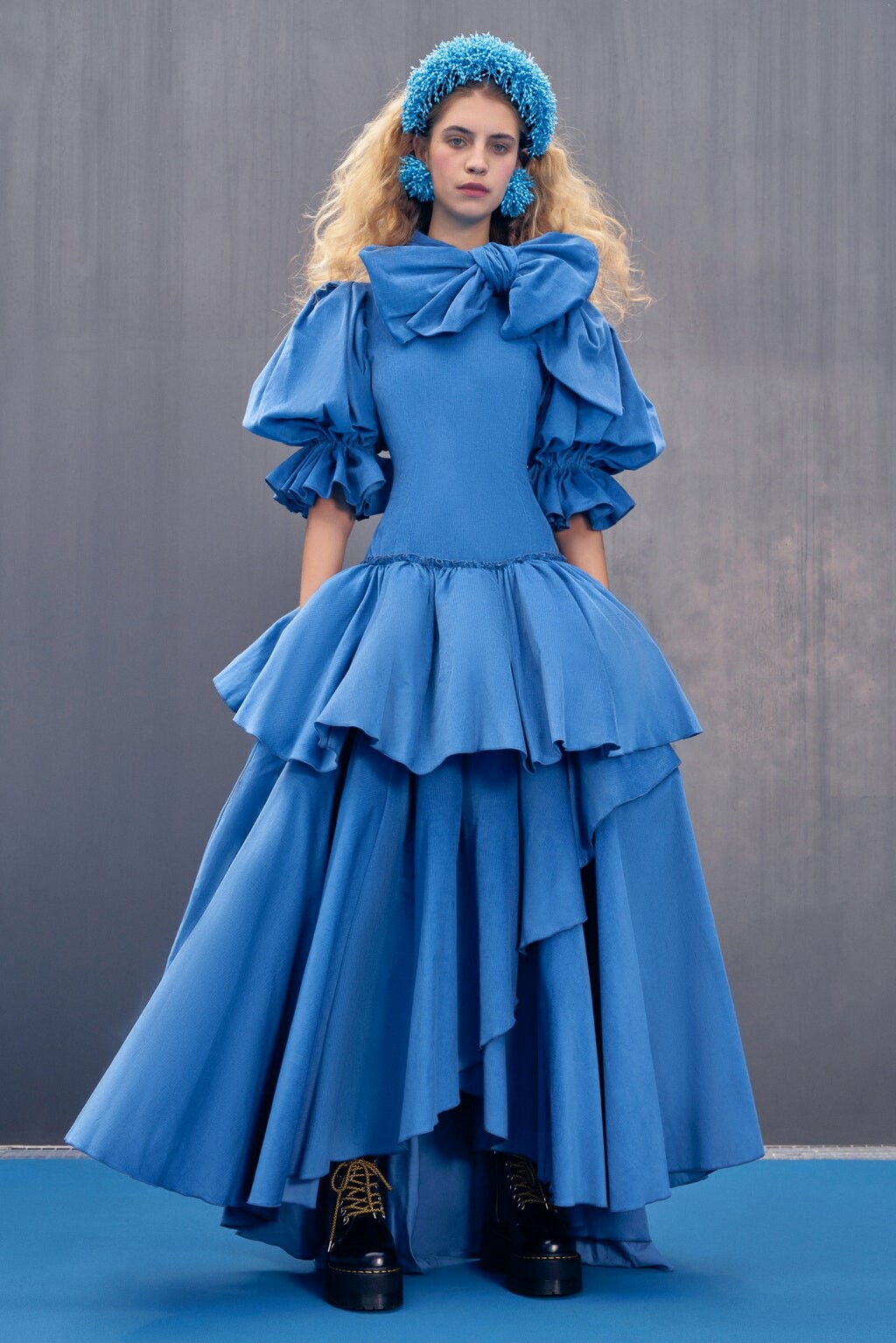 WEDNESDAY
Collina Strada
Collina Strada's collection centred heavily around the theme of animals, producing a series of "Collina-mals" – or models styled and posed to resemble certain animals. Collina Strada are known for tackling their collections with confrontational humour and underlying social commentaries, and their most recent show delivered this and more. Models layered in silky mesh materials and patterns are seen attempting to pose and walk like the animals shown flashing across the screen. The colour palette has an emphasis on vibrancy, with pinks, greens, and oranges used to give each look a greater playfulness. Accessories, hairstyles, and fabrics are made relevant to the specific animal the look is based on (keep an eye out for the praying mantis earring). Tie-dye, mesh, various prints, and excessive layering are all used to elongate shapes and build depth, making for a visually interesting – if not bizarre – set of looks.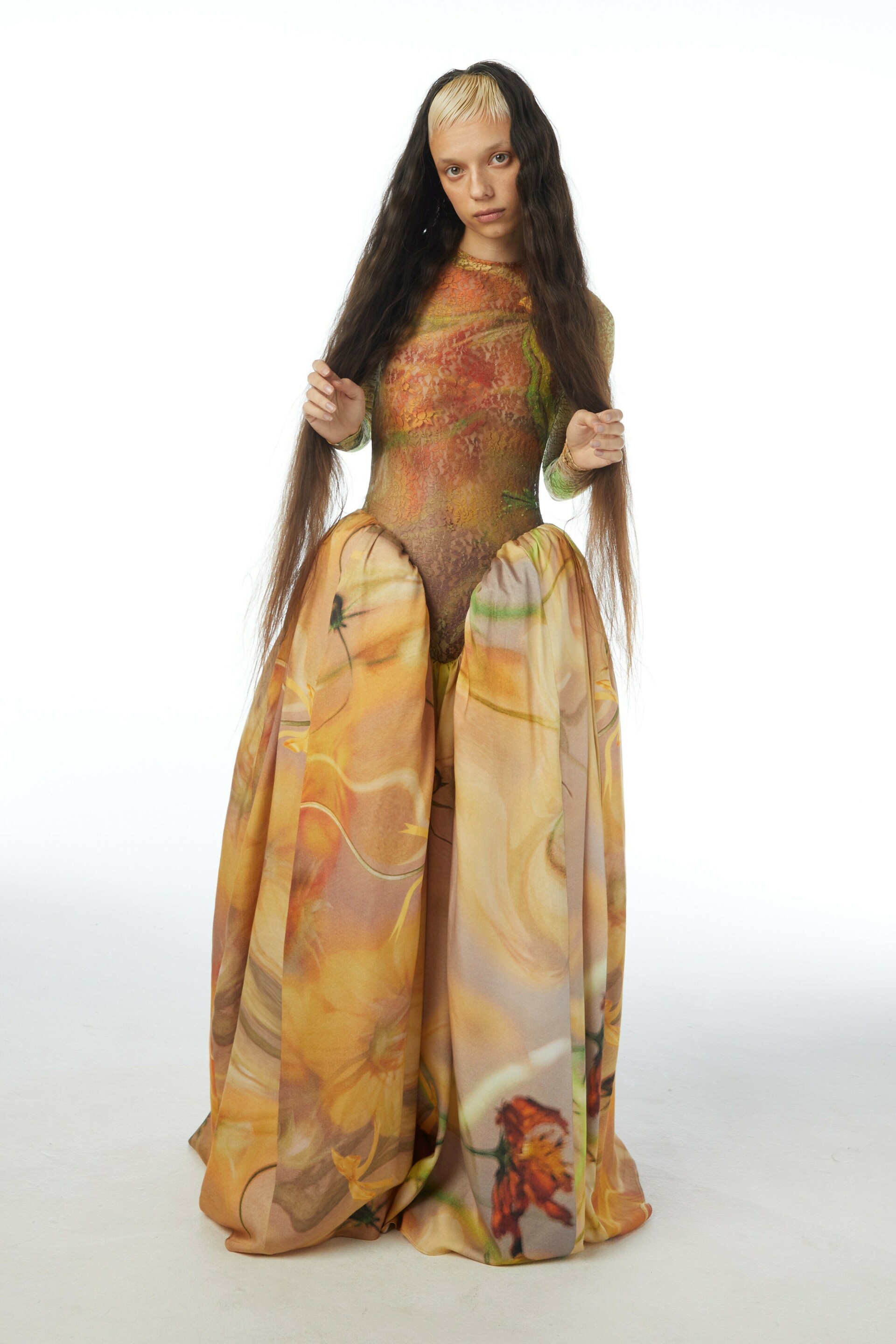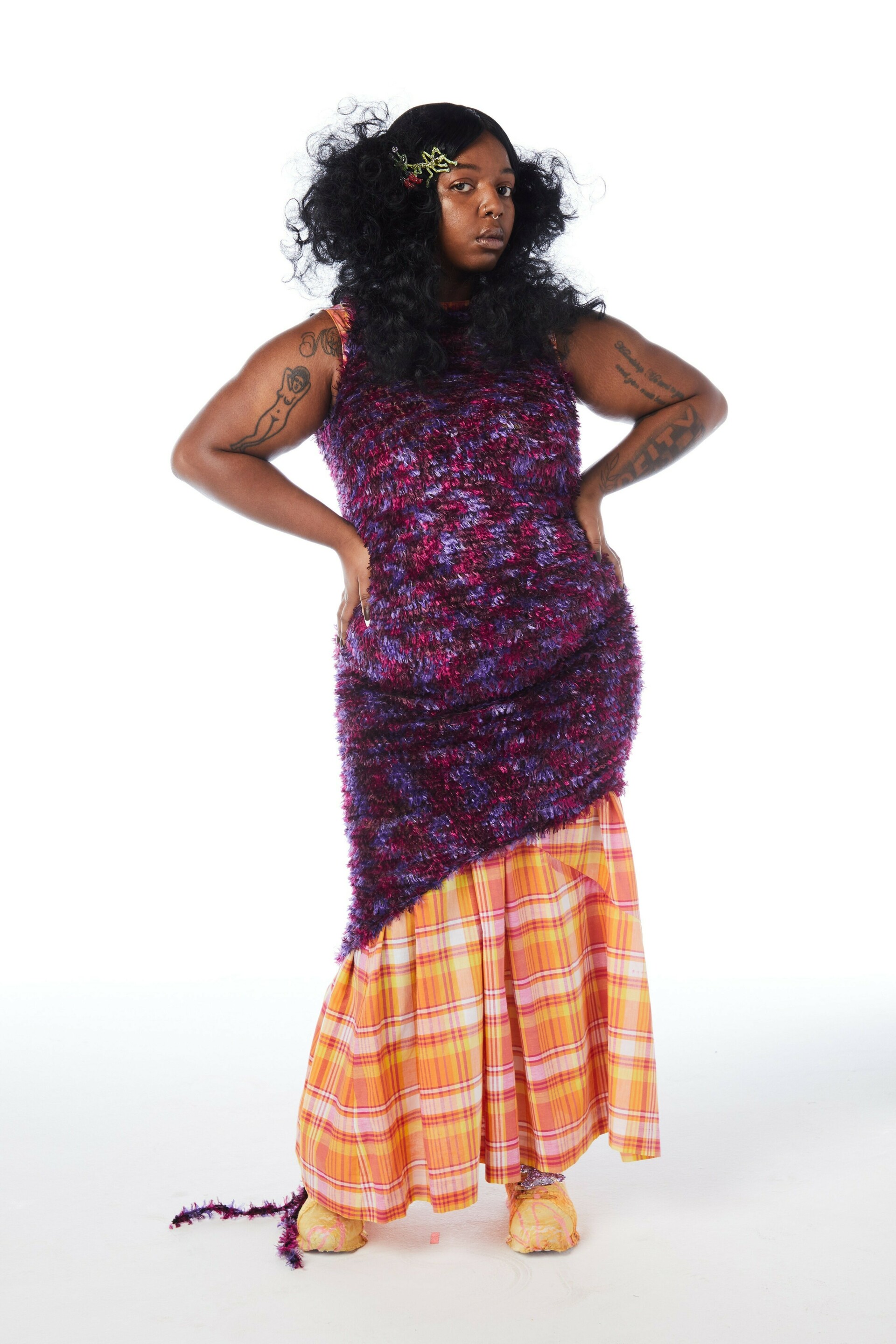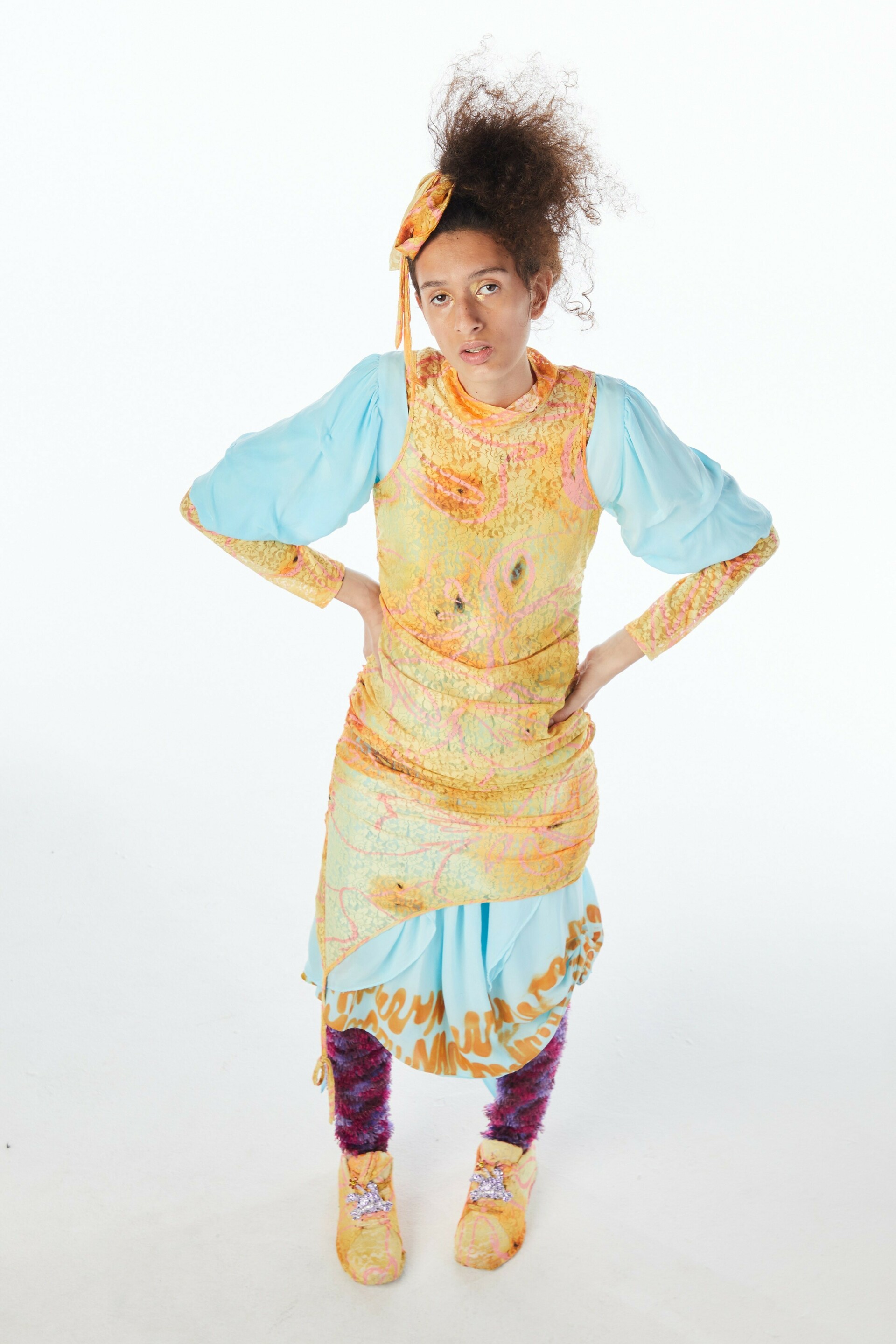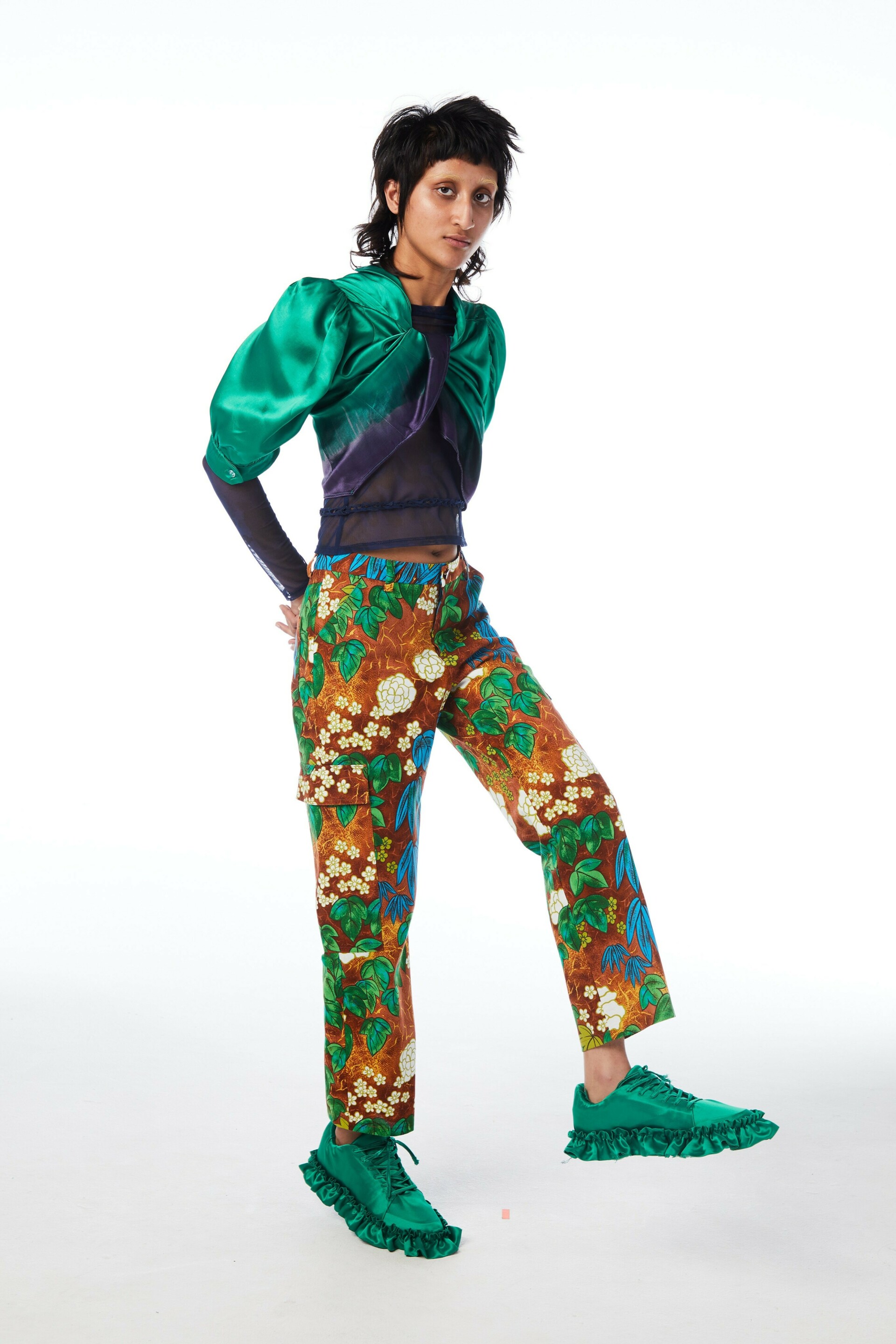 C+PLUS
Many designers went outside the box with their concepts this year, including C+PLUS. Designer C.T. Liu was inspired by Sigmund Freud's concept of the id, ego, and super-ego, which he used to create a conceptual space and narrative centring around consciousness. The collection was accompanied by a video that showed models traversing an empty planet before entering a conceptual space made up of reflective surfaces – a reference to the collection's theme of self-reflection and "awakening consciousness". The collection itself centred on a dark colour palette of browns, blacks, and reds, but was underscored by jewel tones and metallic textures. Coats, blazers, and waistcoats made up many of the looks on show, ranging in design with leather, prints, and metallic fabrics. The shoulders seemed to form a crucial pinnacle in this context, with Liu opting for shoulder pads, cut outs, and exaggerated collars to structure each outfit. Angular lines on the top half are contrasted with softer shapes on the bottom, made up of long skirts and wide-leg trousers. The overall impression was quite retro in its aesthetic, with the layering of pointed collars and lapels adding a 70s vibe to the mix.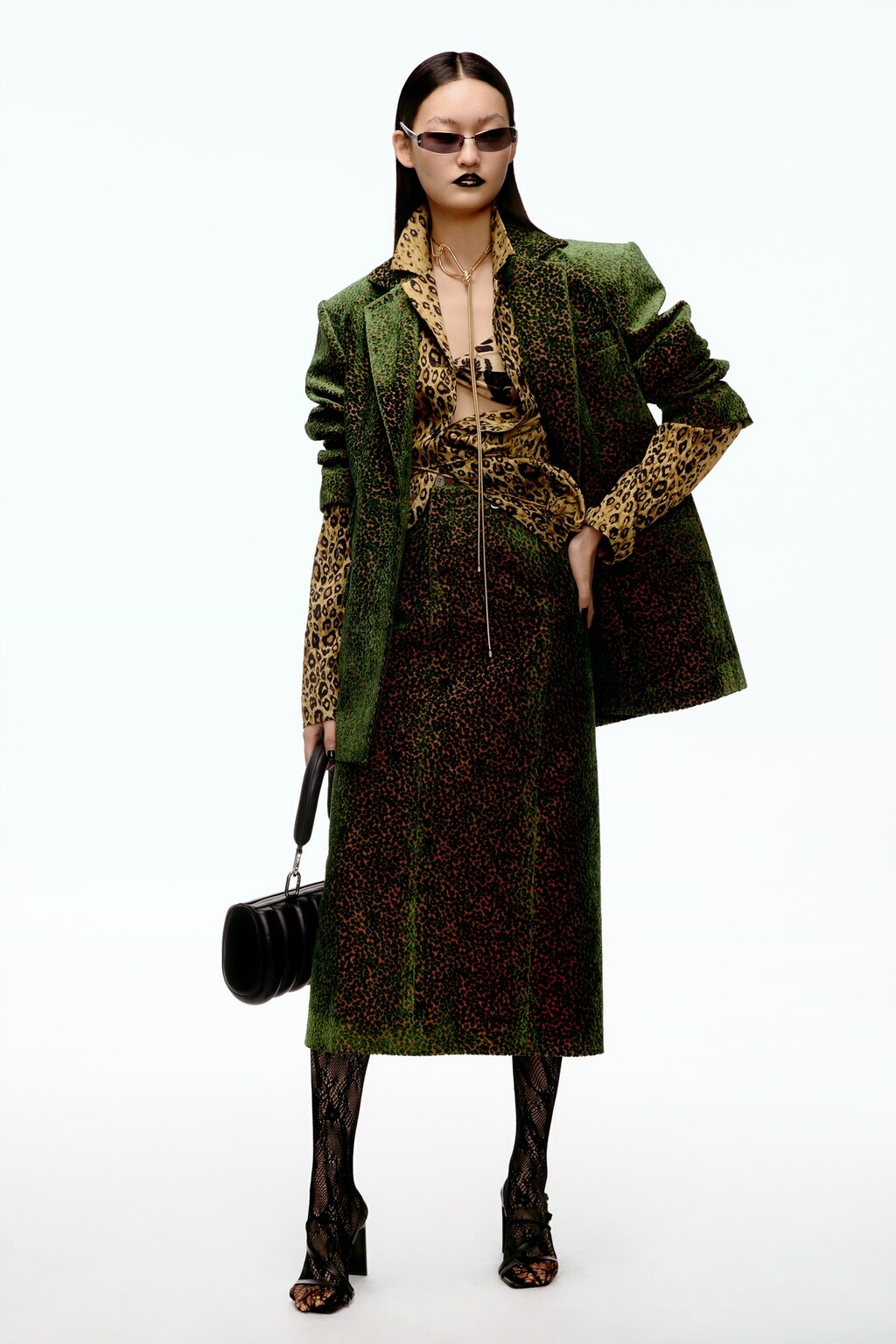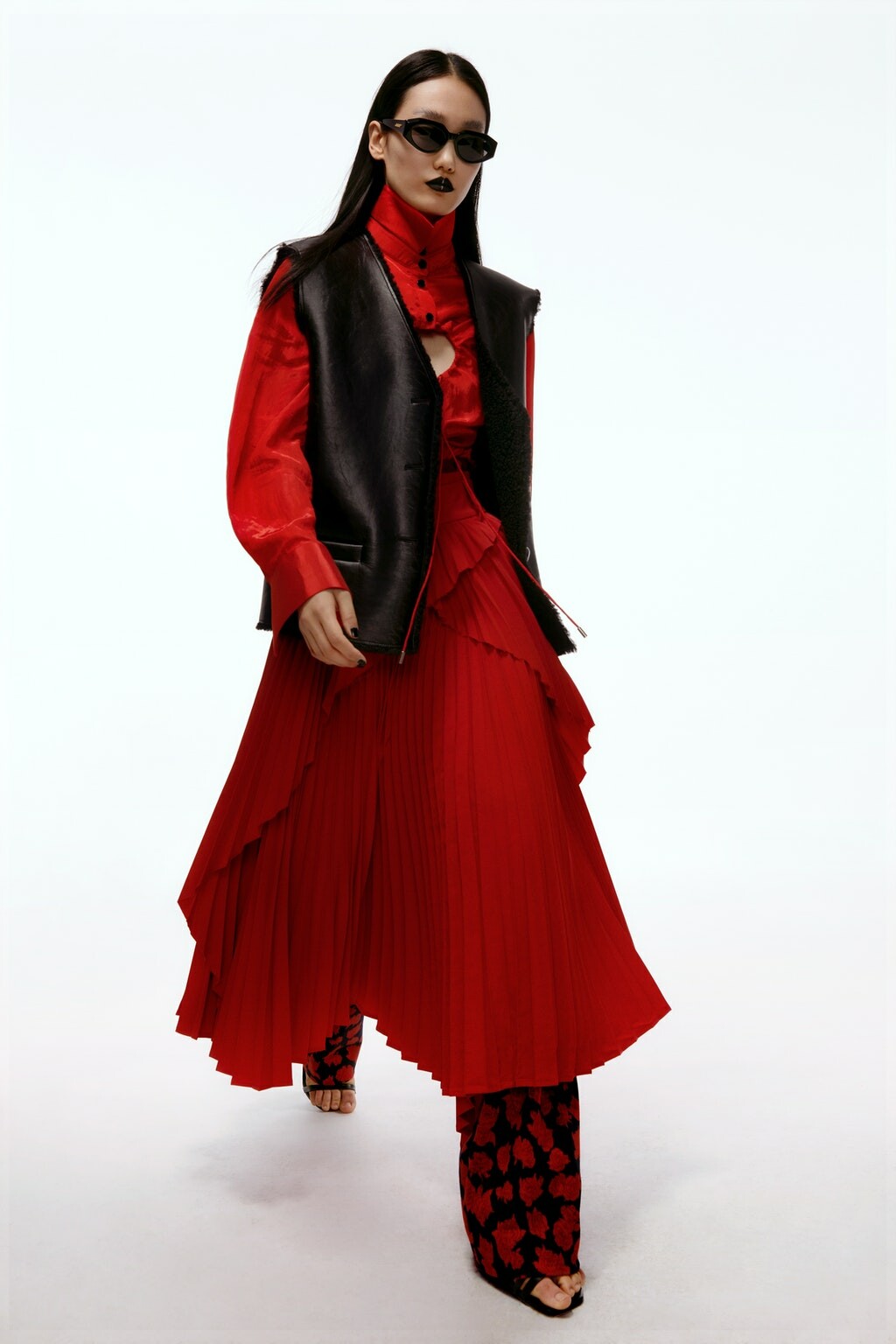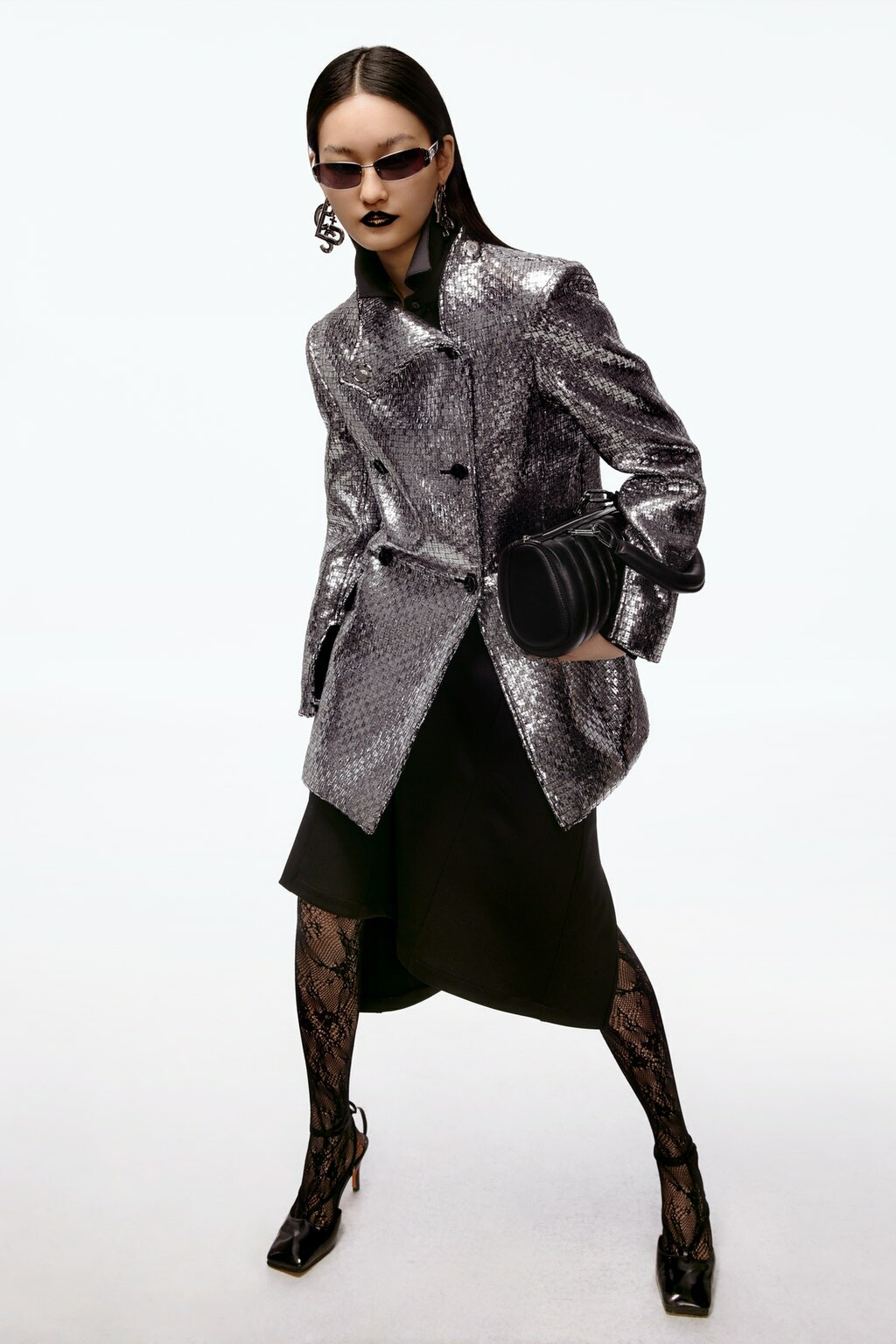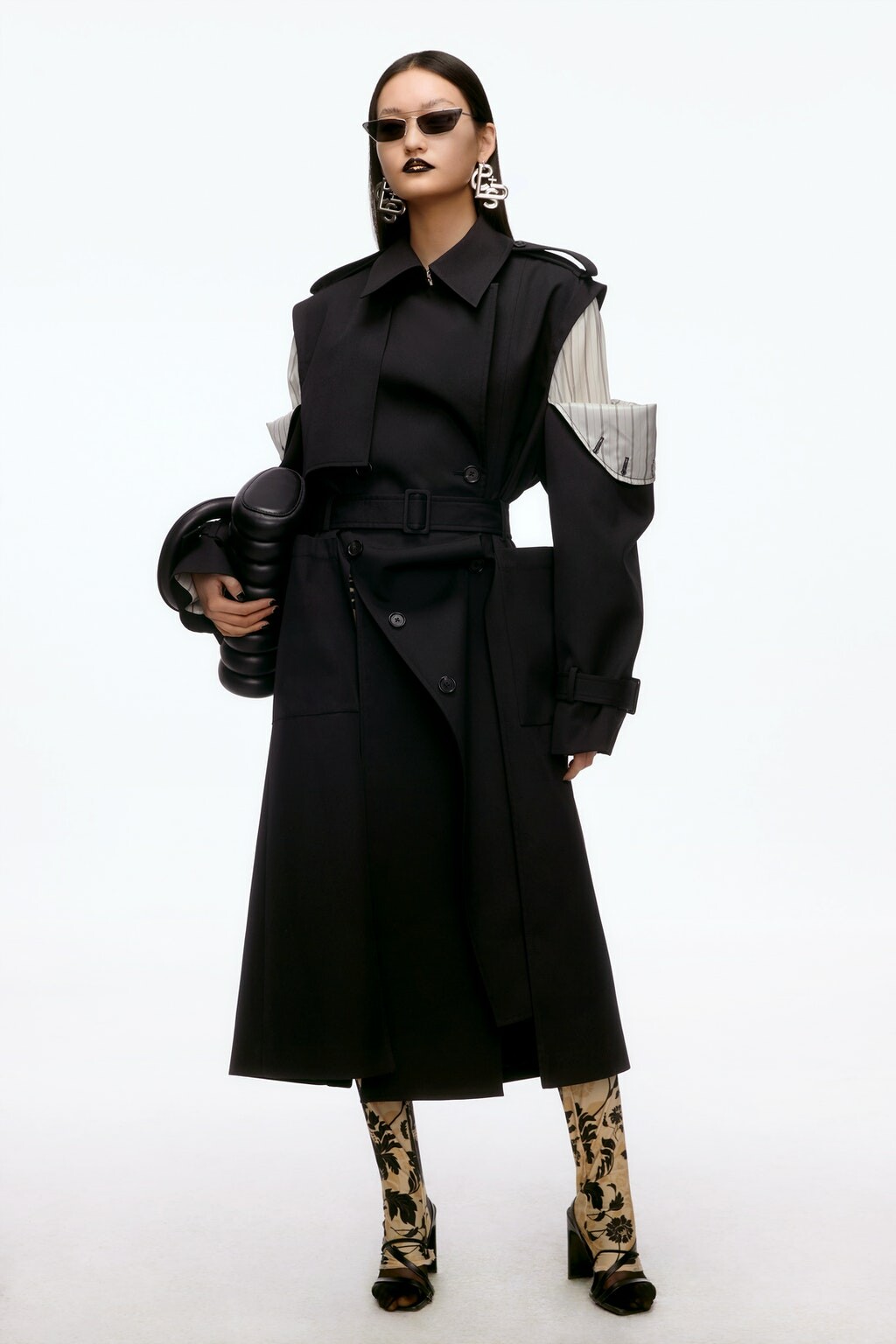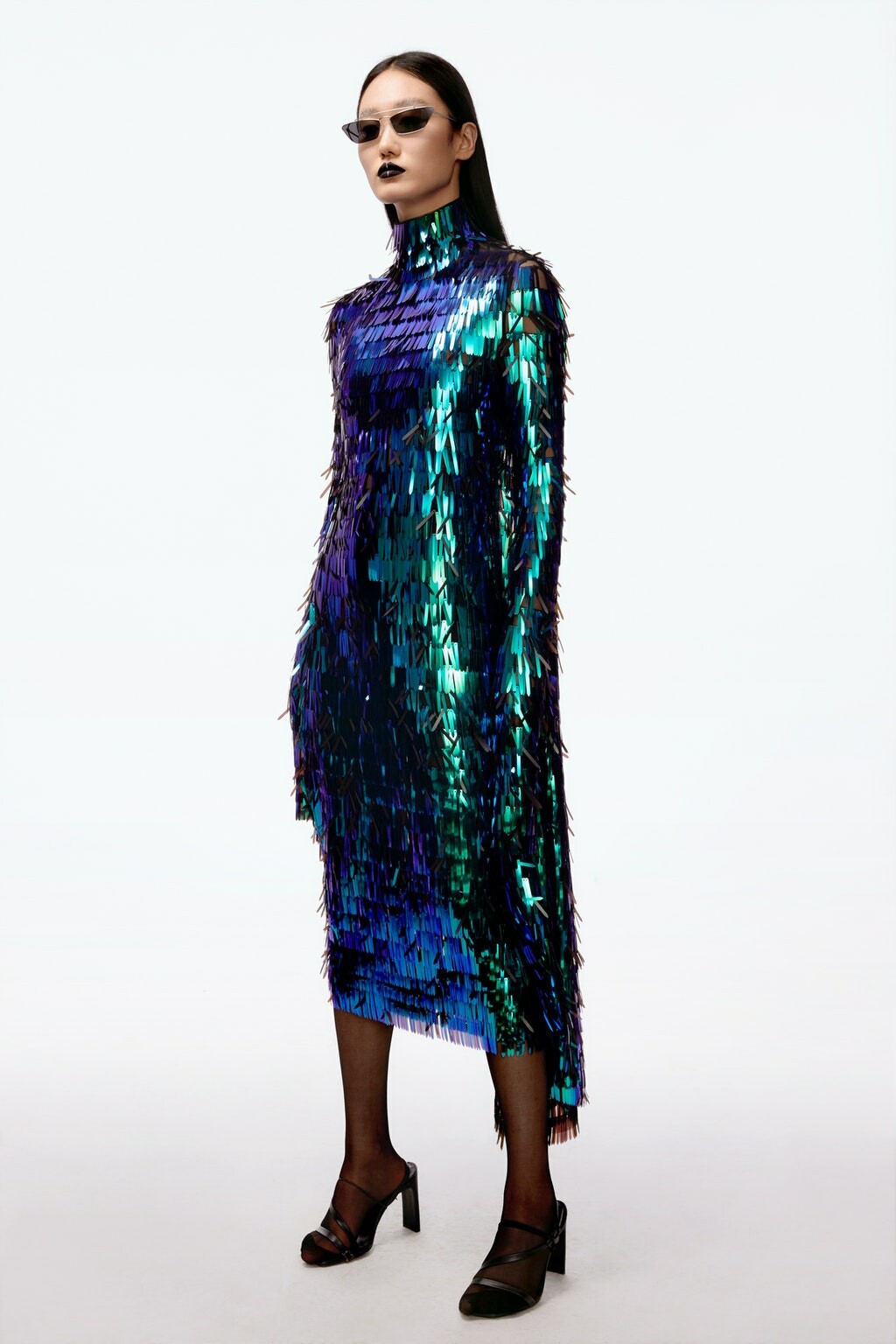 Bibhu Mohapatra
The collection created by Bibhu Mohapatra centred on the concept of celebrating historical success of the present moment through the relationship of artist and muse. More specifically, Bibhu Mohapatra based their collection on a celebration of the female muse – as companion, lover, and studio muse – and how they continue to influence art and empower other women. The collection establishes these themes by introducing fashion staples prevalent in the early half of the twentieth century: drop waists, velvet, and puffed sleeves give Mohapatra's looks a nostalgic angle that plays on the theme of the past. However, cut outs on the shoulders of some of these outfits help to bring them into the current age, incorporating timelessness with modernity. Unconventional textures from vegan leather and tulle create an edgier and more romantic aesthetic, respectively. Accessorised with chunky layered necklaces and dangling earrings, the collection balances between sophistication and sexiness – celebrating the female body and its elegance.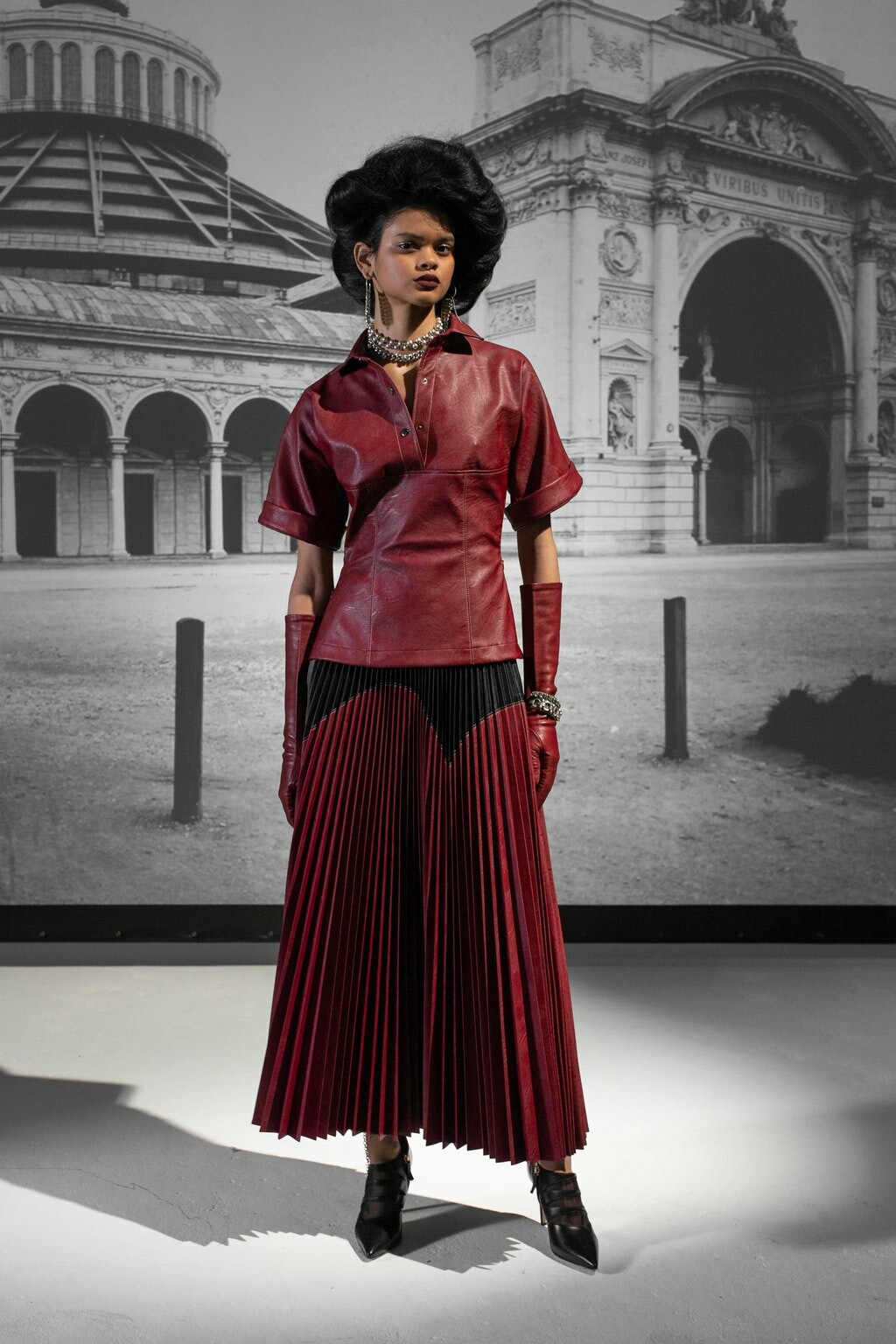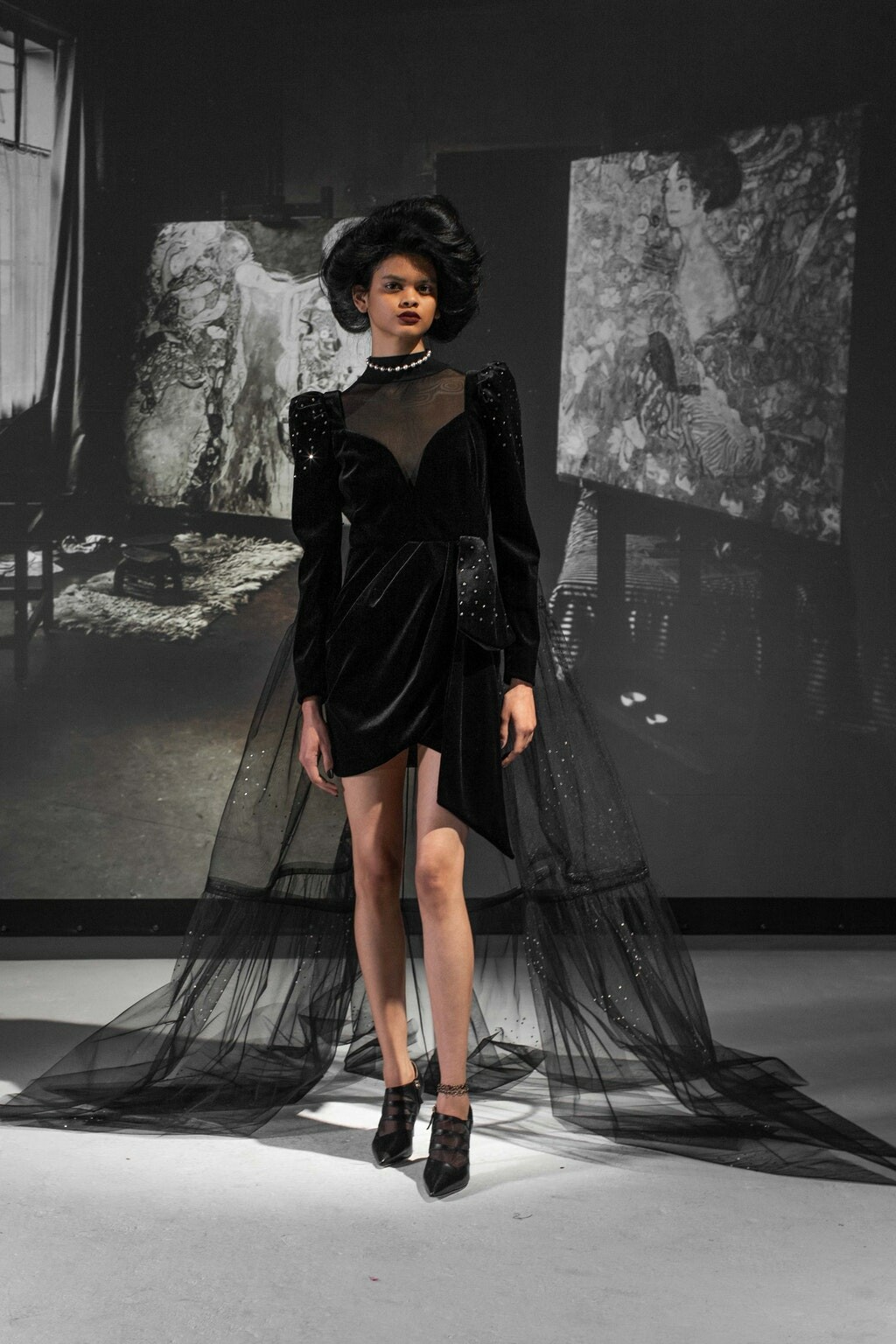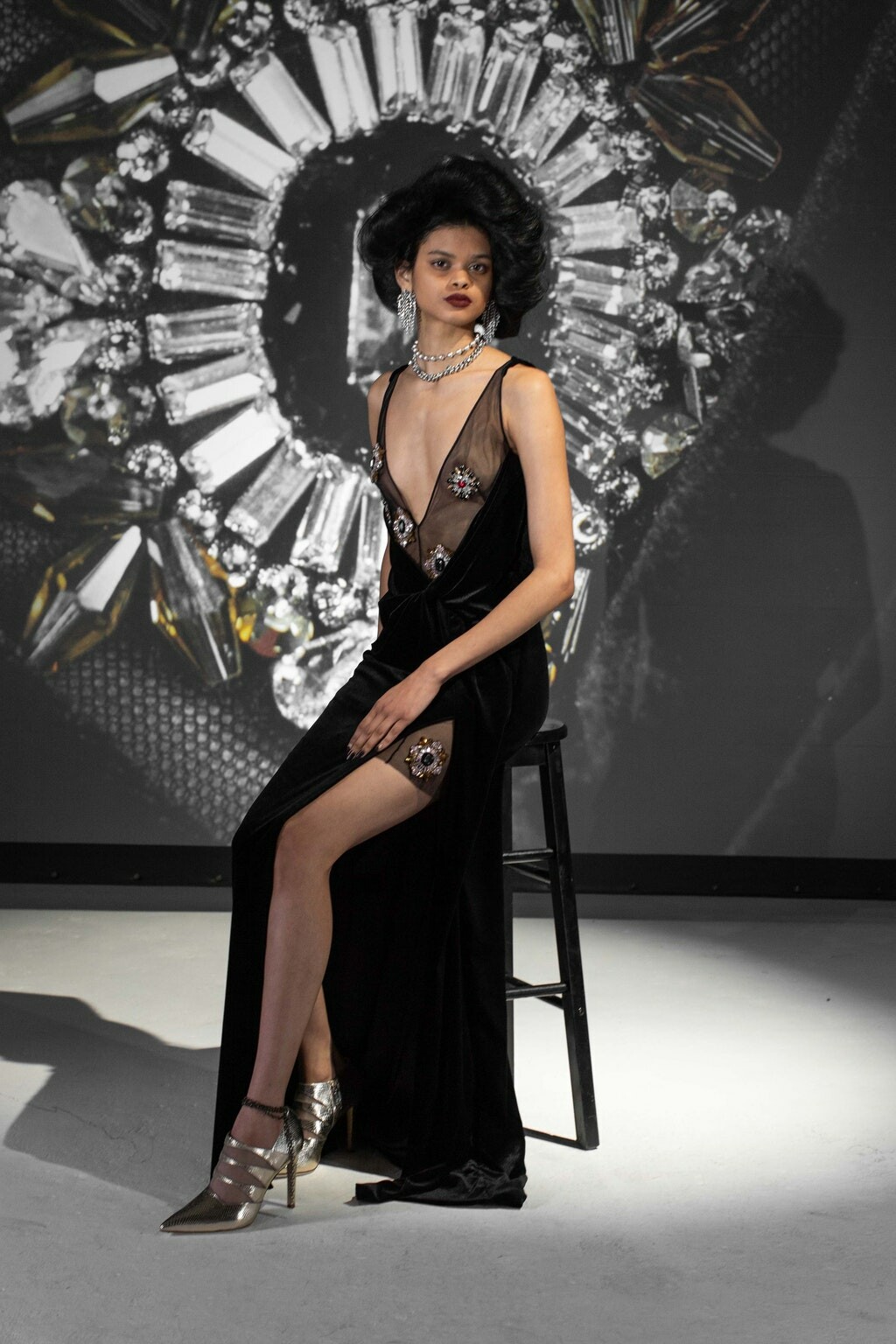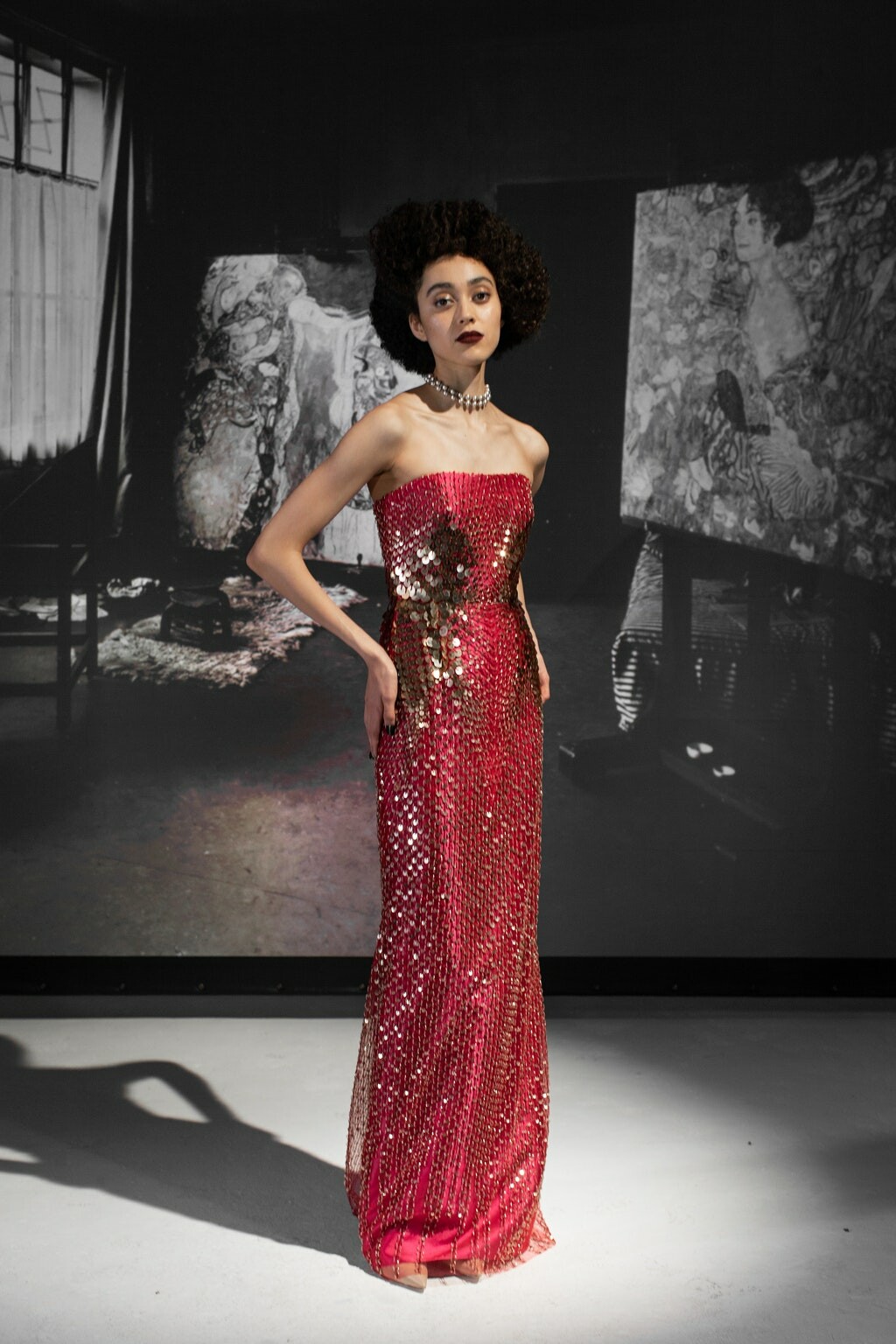 NIHL
Neil Grotzinger, the designer behind NIHL, draws inspiration from the concepts of masculinity and femininity, often bringing these together to create alternative queer commentaries. NIHL's FW21 collection builds on these themes with looks that could fit in any queer club scene. Building from an androgynous base, the looks produced have an emphasis on revealing cuts, sheer fabrics, and current trends that would likely be seen in clubs today if they were open. A standout from the collection was the bell-bottom, bell-sleeve jumpsuit, a see-through all-in-one piece that used boning ribbons to convey an underlying structure. This could be seen both on male and female models in white, green, brown, and yellow. The collection also features plastic jackets and trousers, as well as 'floss' dresses made up of several rows of ribbon.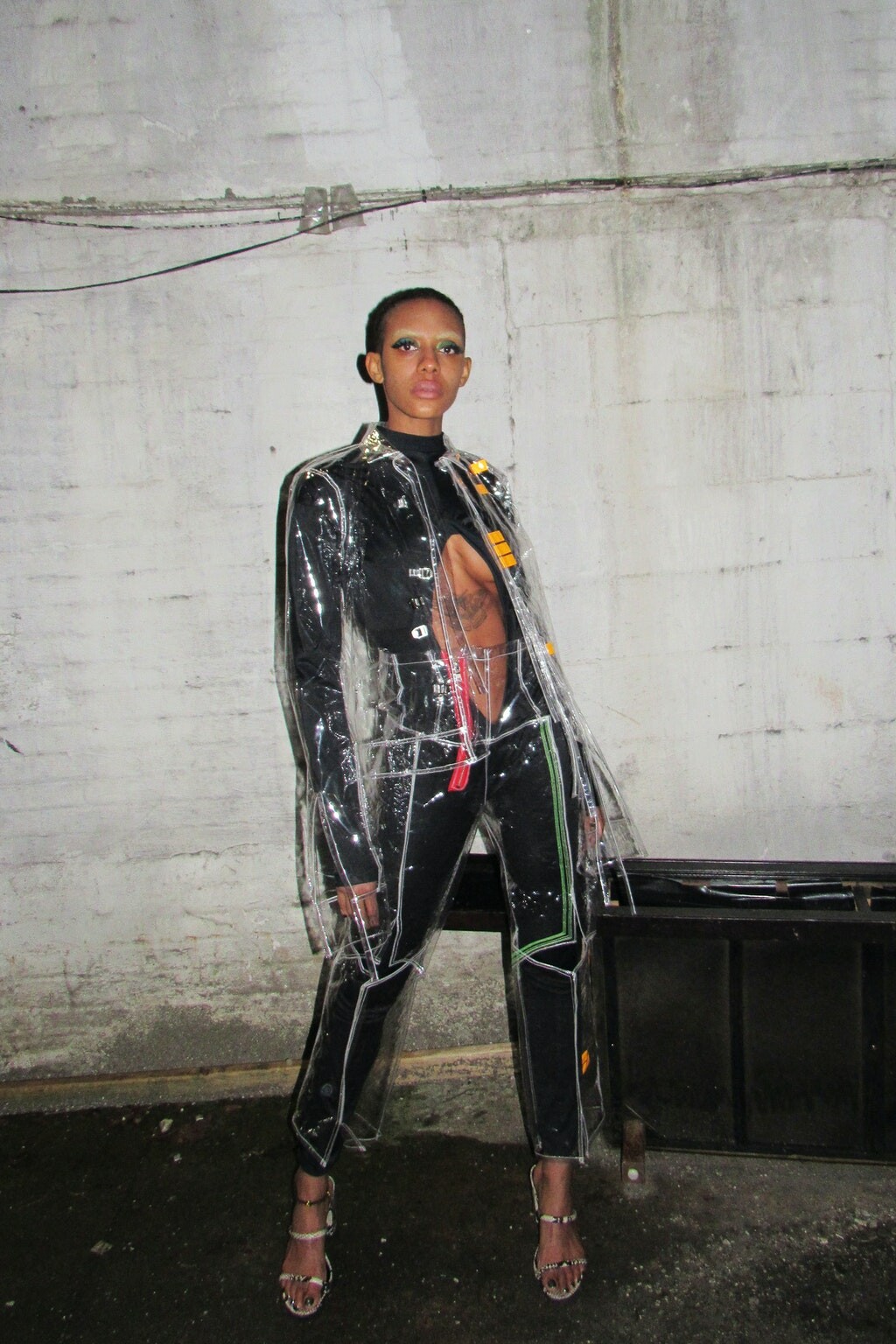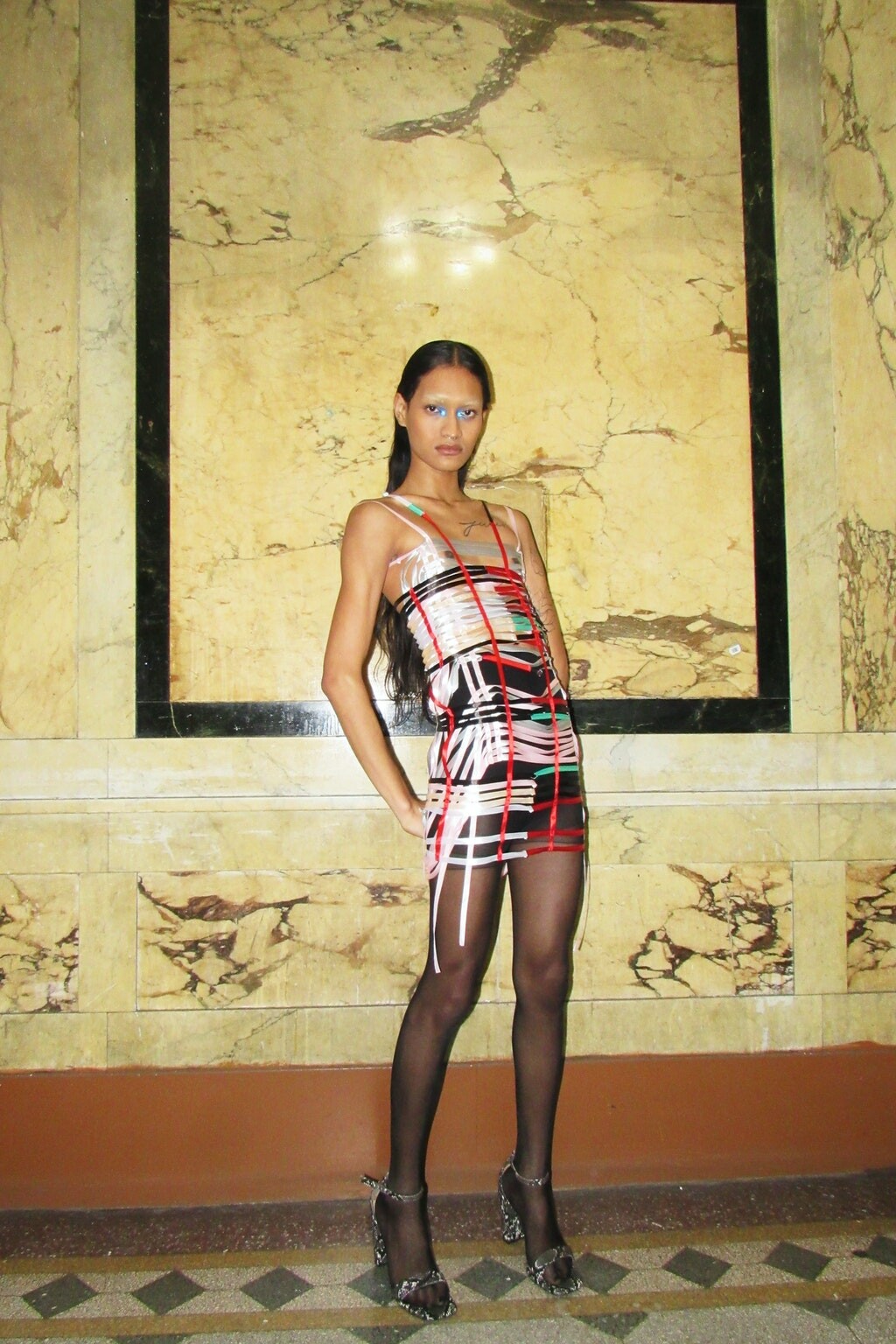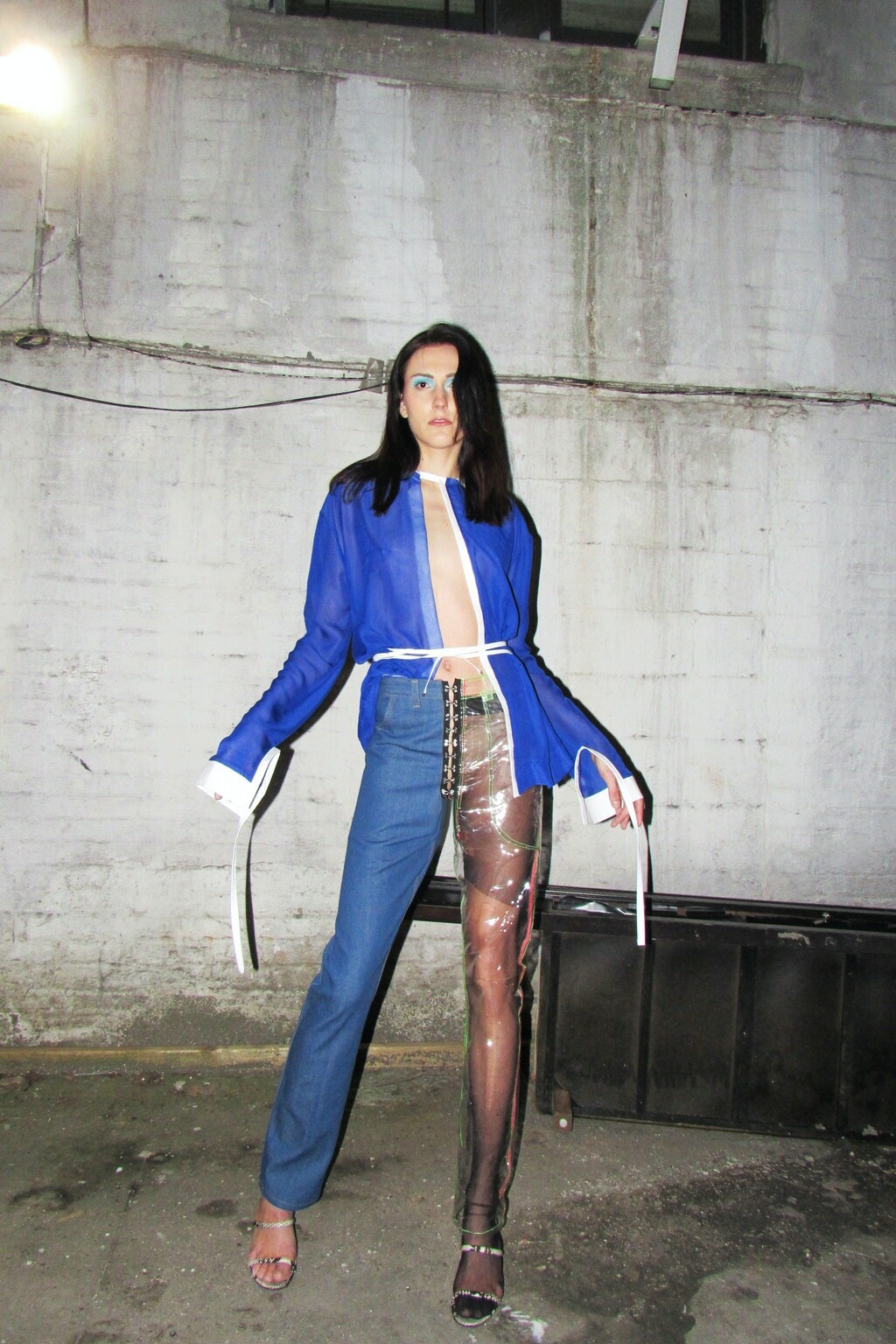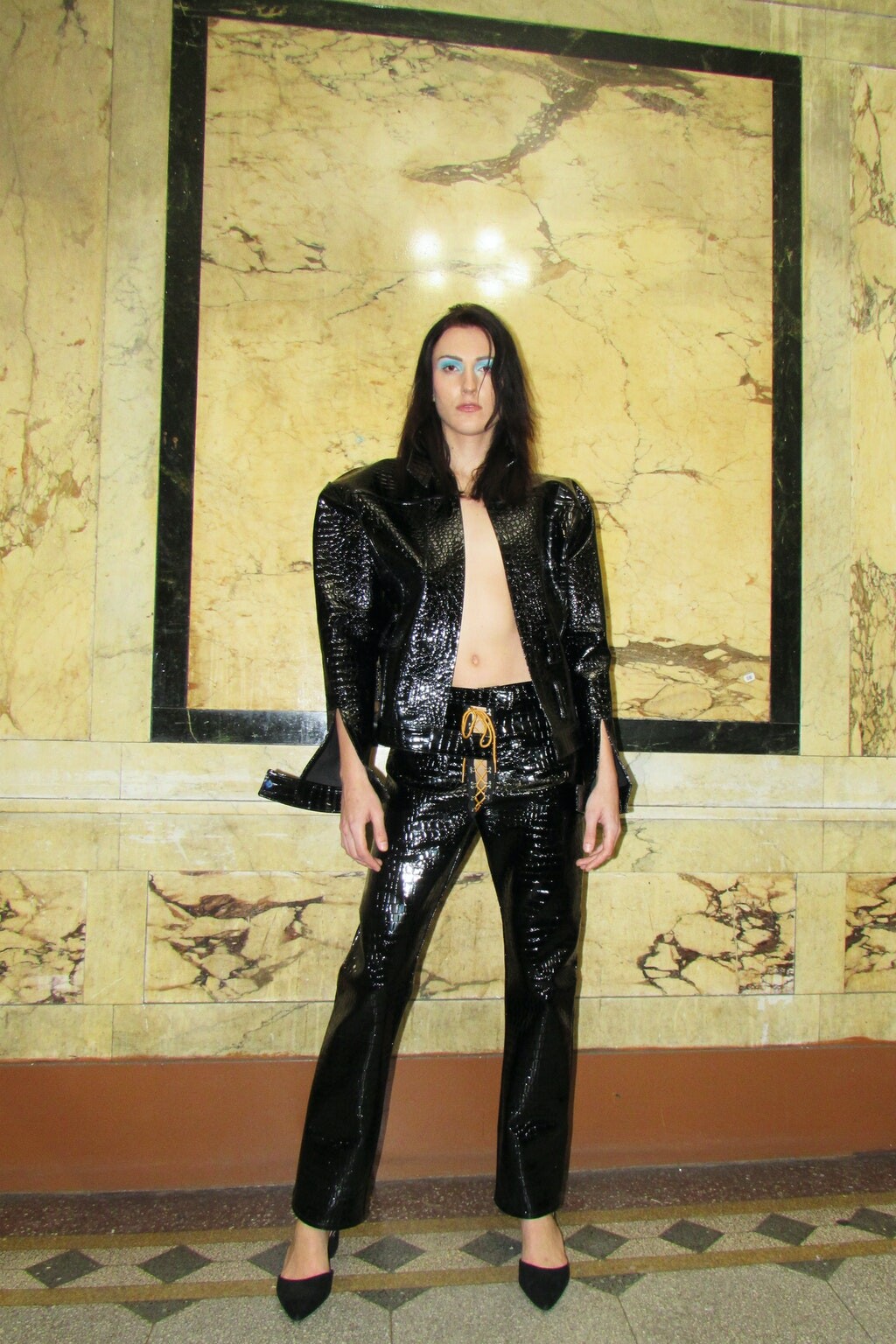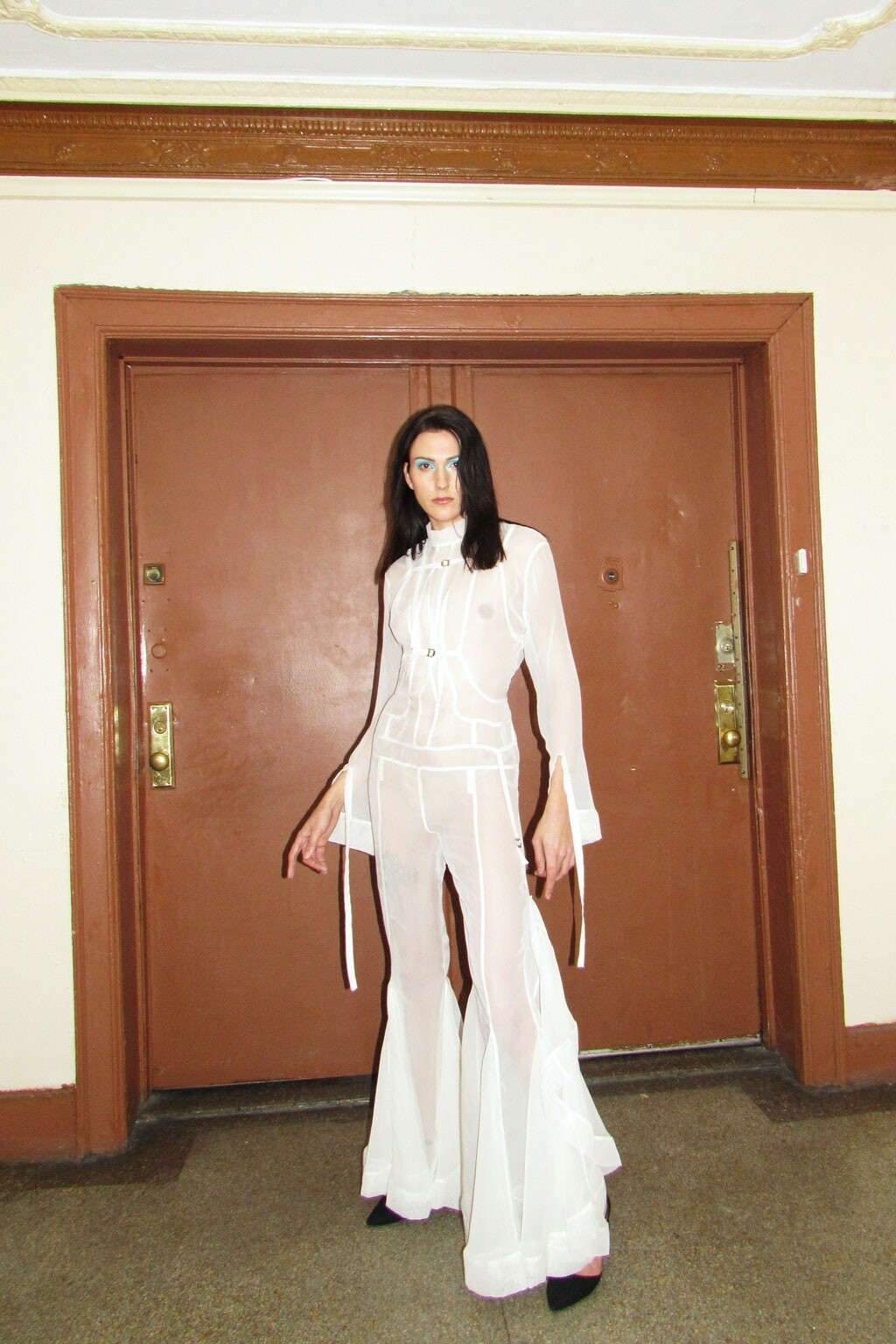 Kim Shui
Kim Shui's Fall 2021 collection wanted to encapsulate "what the KS girls would wear indoors on zoom". Exploring the looks that couldn't come to fruition in the past year due to the ongoing pandemic, Shui celebrates 'what could have been' in the present moment regardless of the environment. Silky, flowing materials are central to the collection, which are emphasised by the play of light on fabric. Ruching and large cut outs also featured prominently, with dresses largely kept in place by the natural curves of the models' bodies. Cut outs weren't the only current trend visible either, as Y2K staples such as the visible thong, midriff flossing, and wrap necklines also made up many of the looks on show. The majority of Kim Shui's looks were also styled with thing-high boots, elongating the line of the models' bodies and highlighting their silhouettes.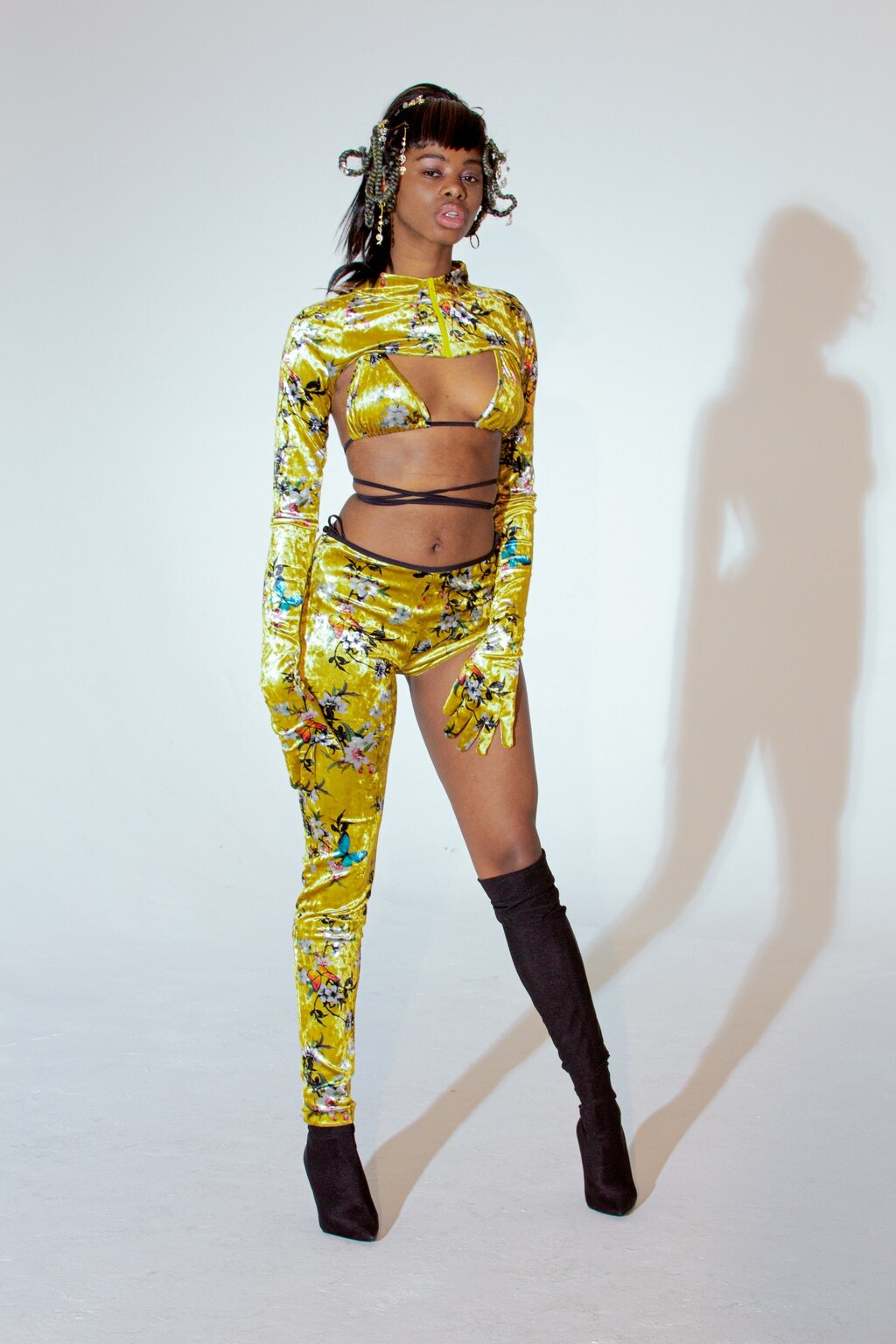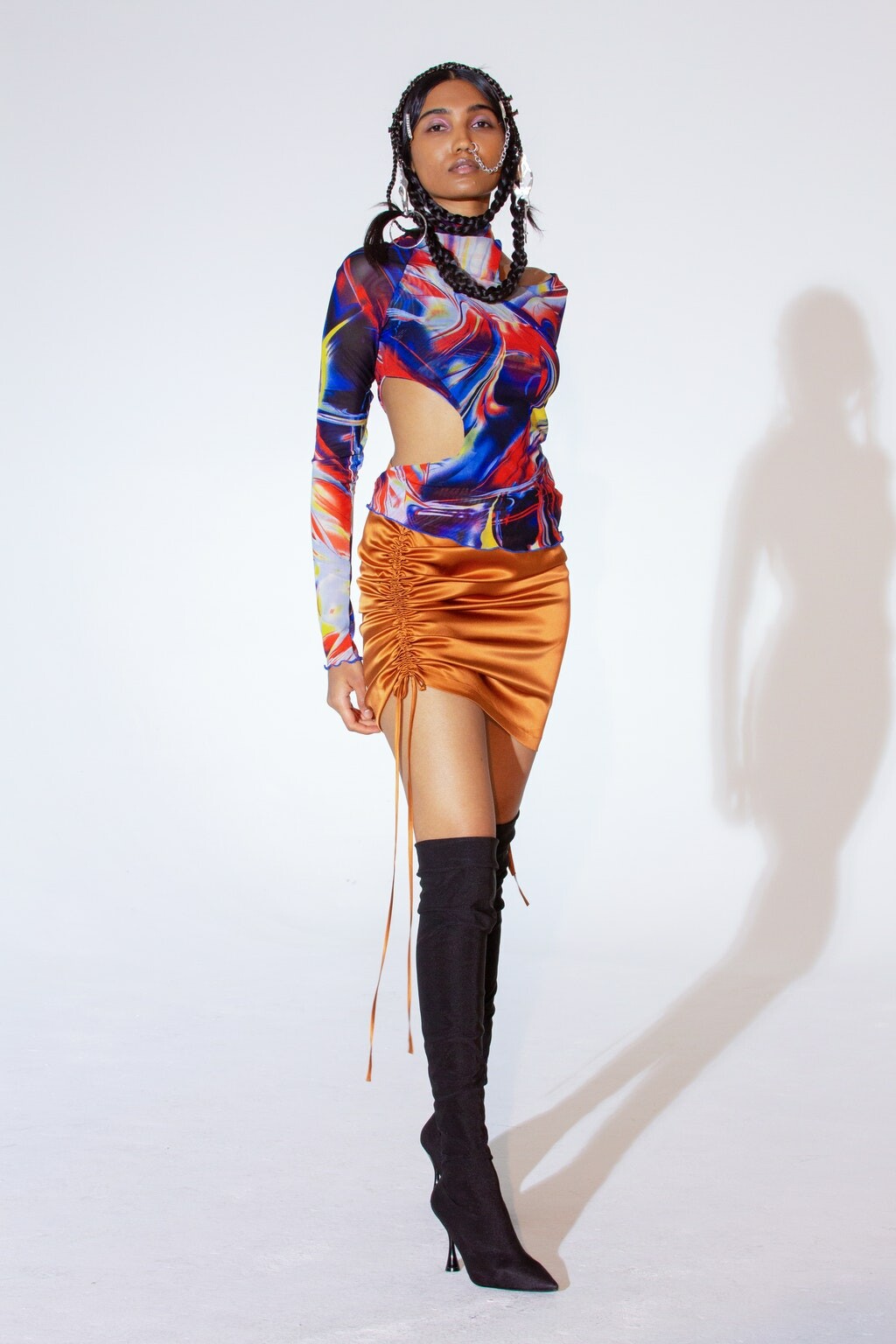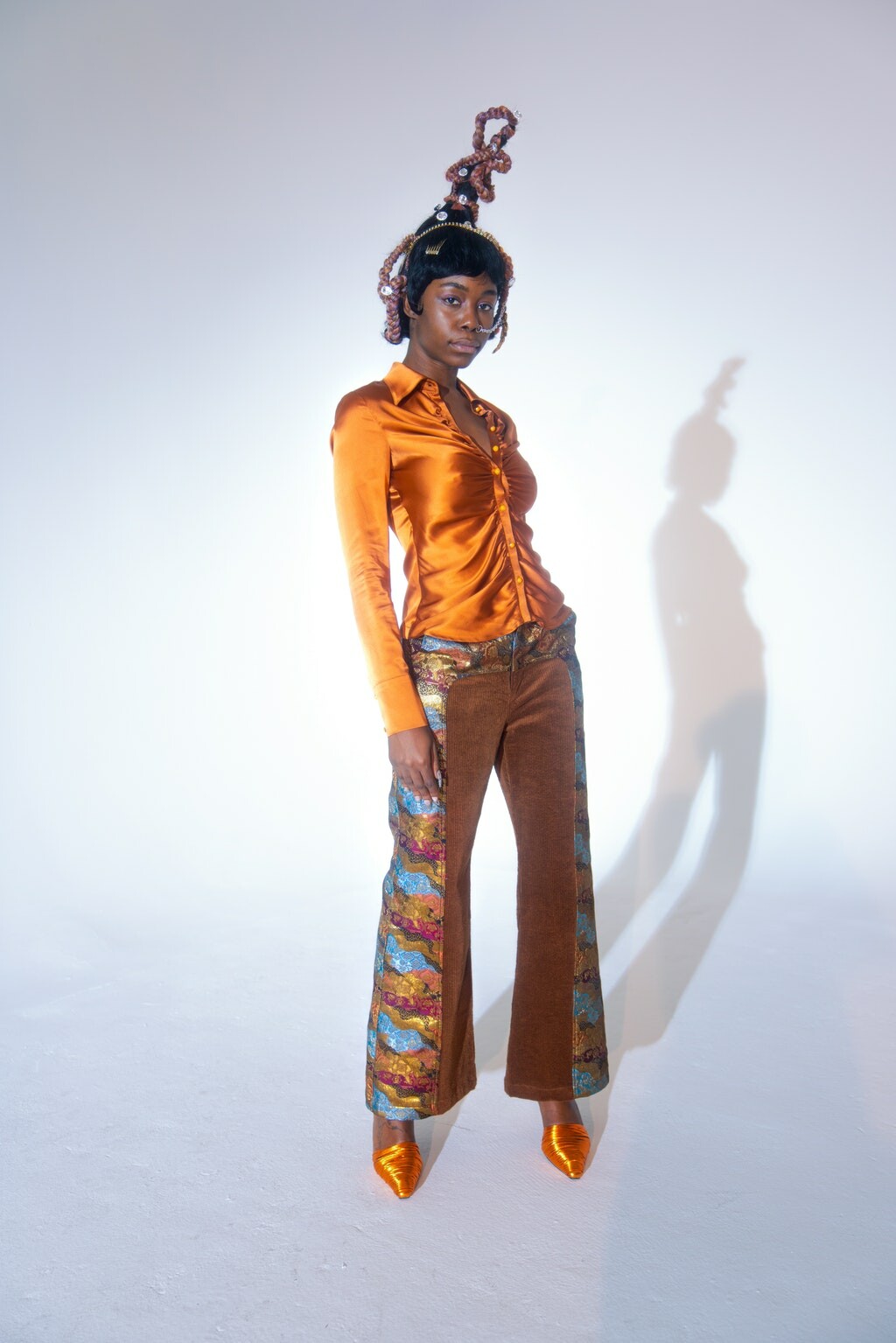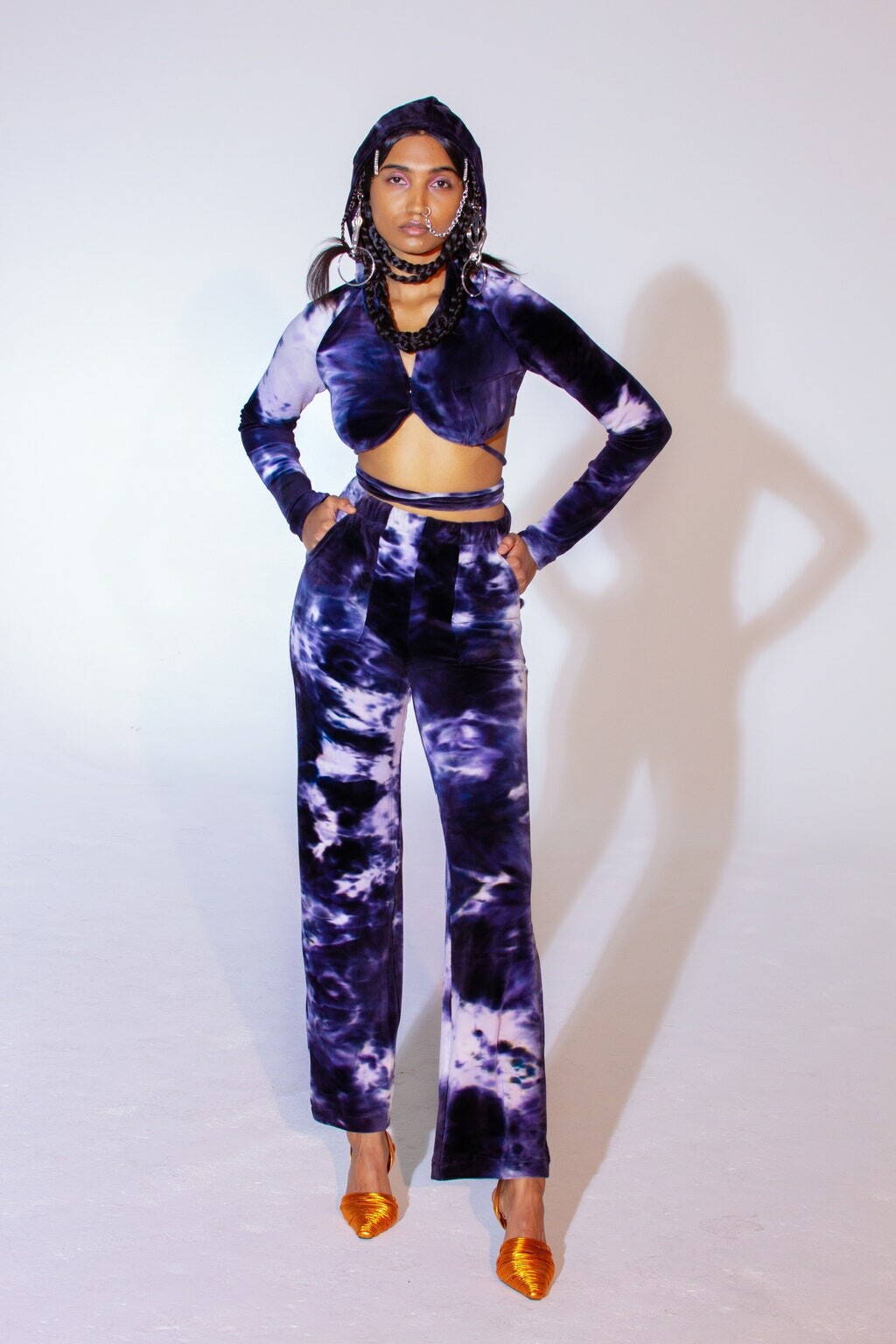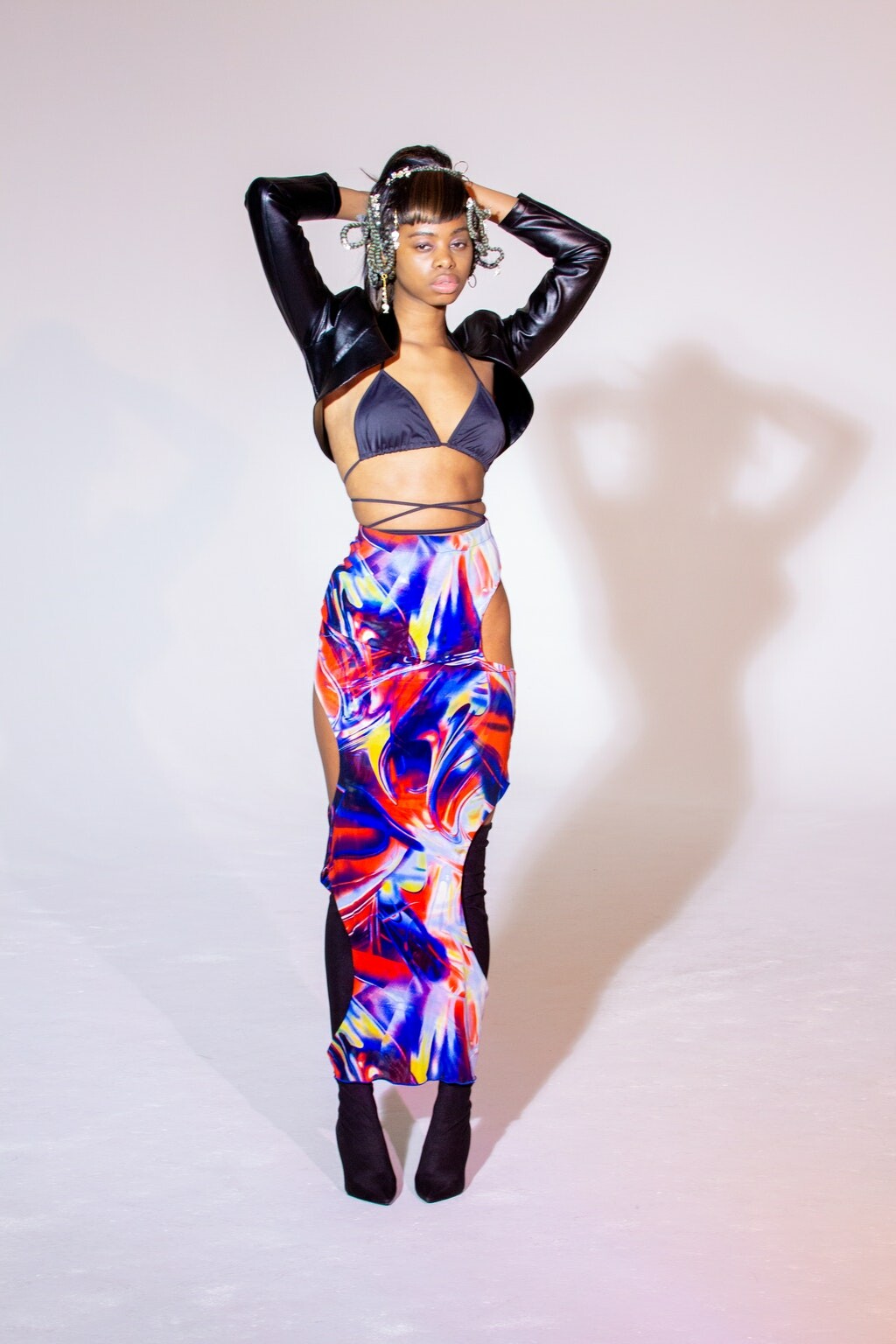 Words by Charlie Coville