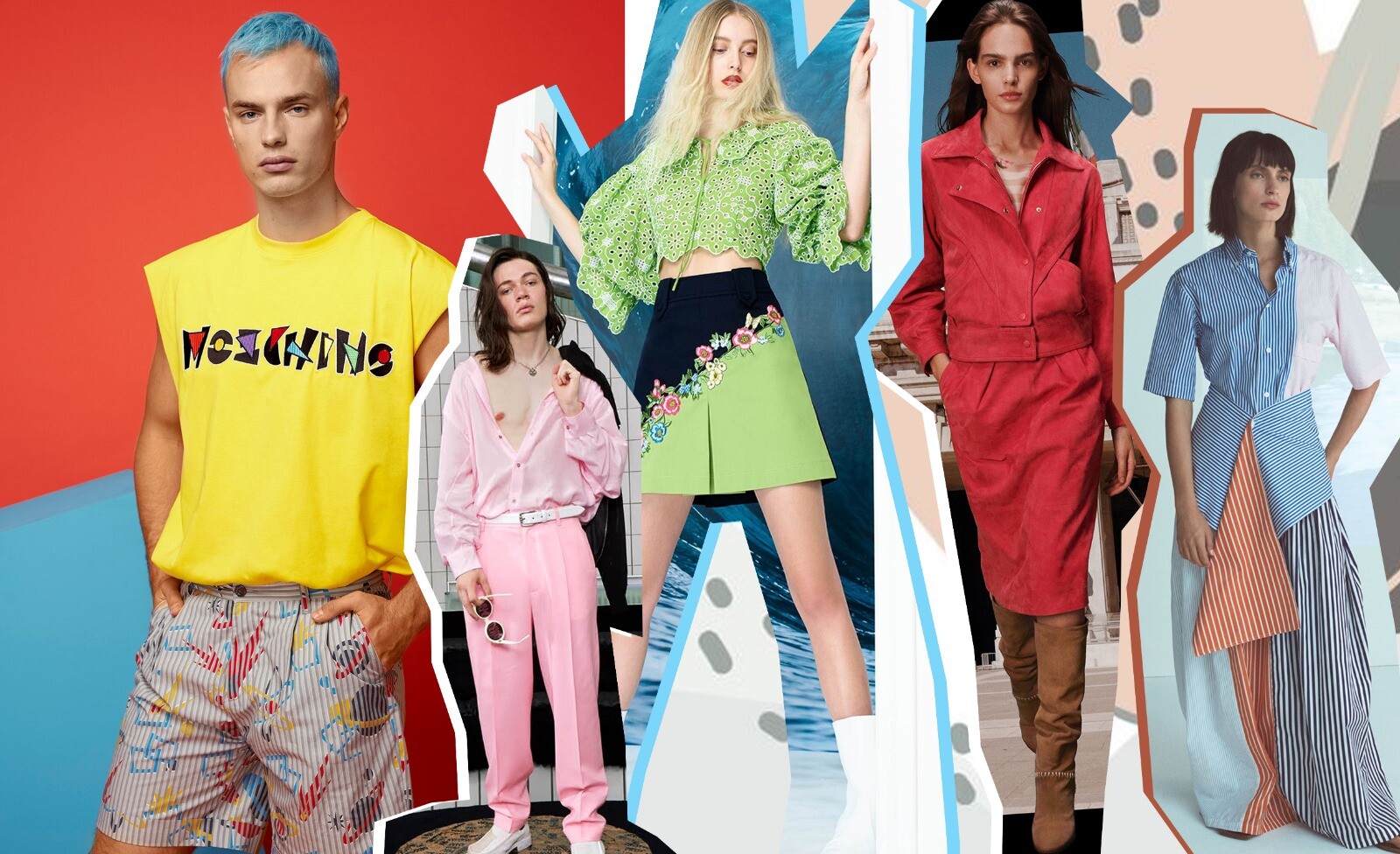 If there's one industry that has risen, adapted, and responded to society's newfound digital expectations, it has been that of the fashion industry. Following the footsteps of London Fashion Week Digital in June, yesterday luxury fashion houses took part in day one of Milano Fashion Week Digital to present their Spring/Summer 2021 collections and pre-collections. Amid the complexities and difficulties of the recent lockdown, Italian designers rose to the occasion to present to the world their thoughts and messages during the COVID-19 hardship on the Camera Nazionale Della Moda Italiana platform.
It may be a new, slightly unorthodox way of storytelling in the fashion industry, but in a moment where social distancing and safety is paramount, it still remains a dynamic event that will forever inspire the next generation of upcoming fashion designers. It was surely an event not to be missed.
MSGM: Non So Dove, Ma Insieme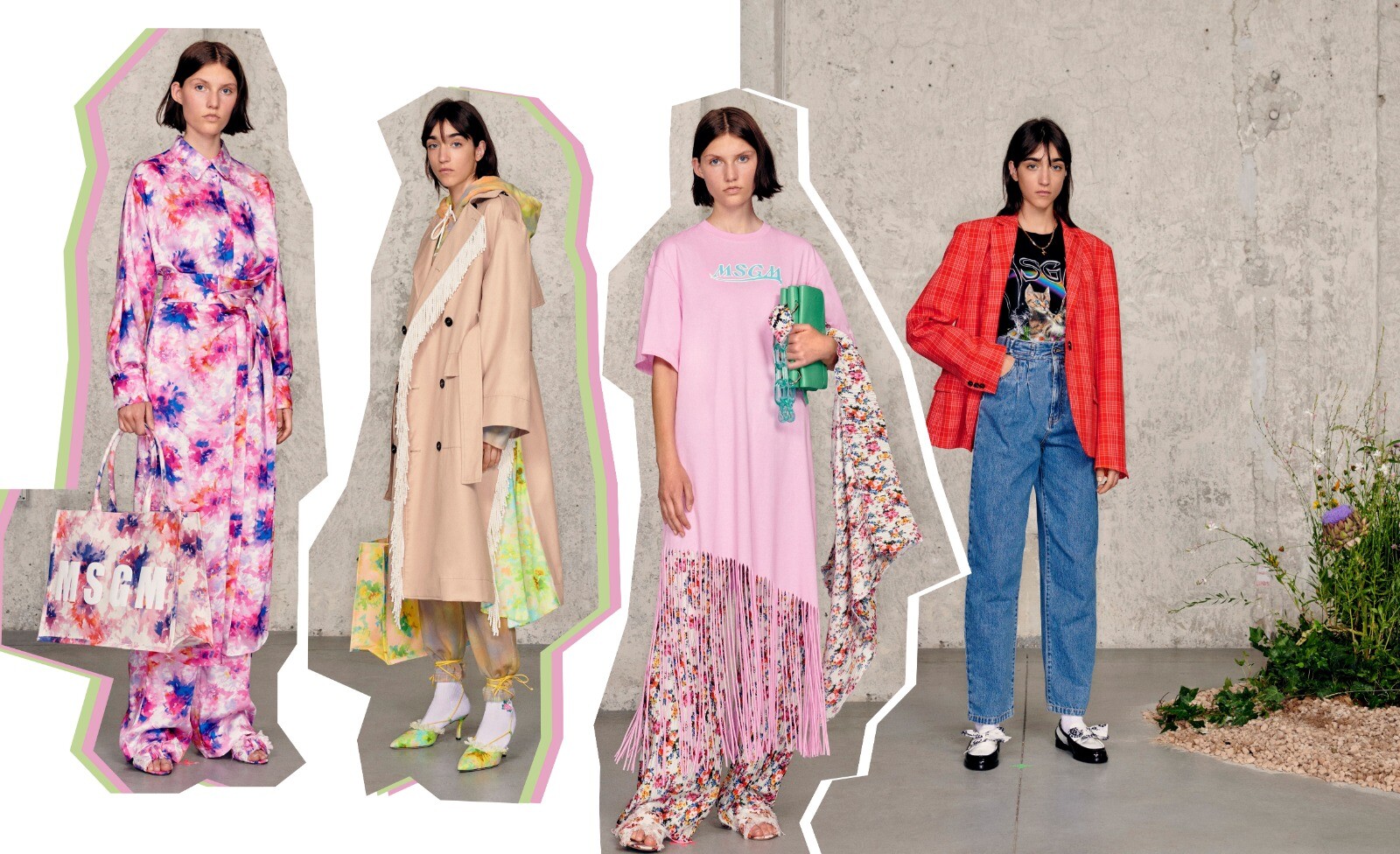 MSGM was the first to kick things off at the digital Milan Fashion Week with a very ethereal and sensual mini film; embodying the meaning of love and affection, capturing summer nights spent boozing up, partying on the beach, amongst the ones we love the most. Founder and Designer of MSGM, Massimo Giorgetti, divulged the video to celebrate freedom and friendship in the new generation through his clothes.
The designer said: "I wanted to tone down a notch the tone of voice, without losing the intensity and clarity of MSGM codes." The 2021 women's wear collection was infused with a feeling of passion and tenderness with plisse skirts, billowy floral dresses, and dreamy ruffles; inspired by a palette of floral hues including lilac, soft pink, and baby blue. The designer wanted to create a sense of 'escapism and liveliness' through an approachable collection that juxtaposed a feminine vibe with a tomboyish, casualness to each look.
MSGM Spring/Summer 2021 Youtube Channel
Magliano Carillon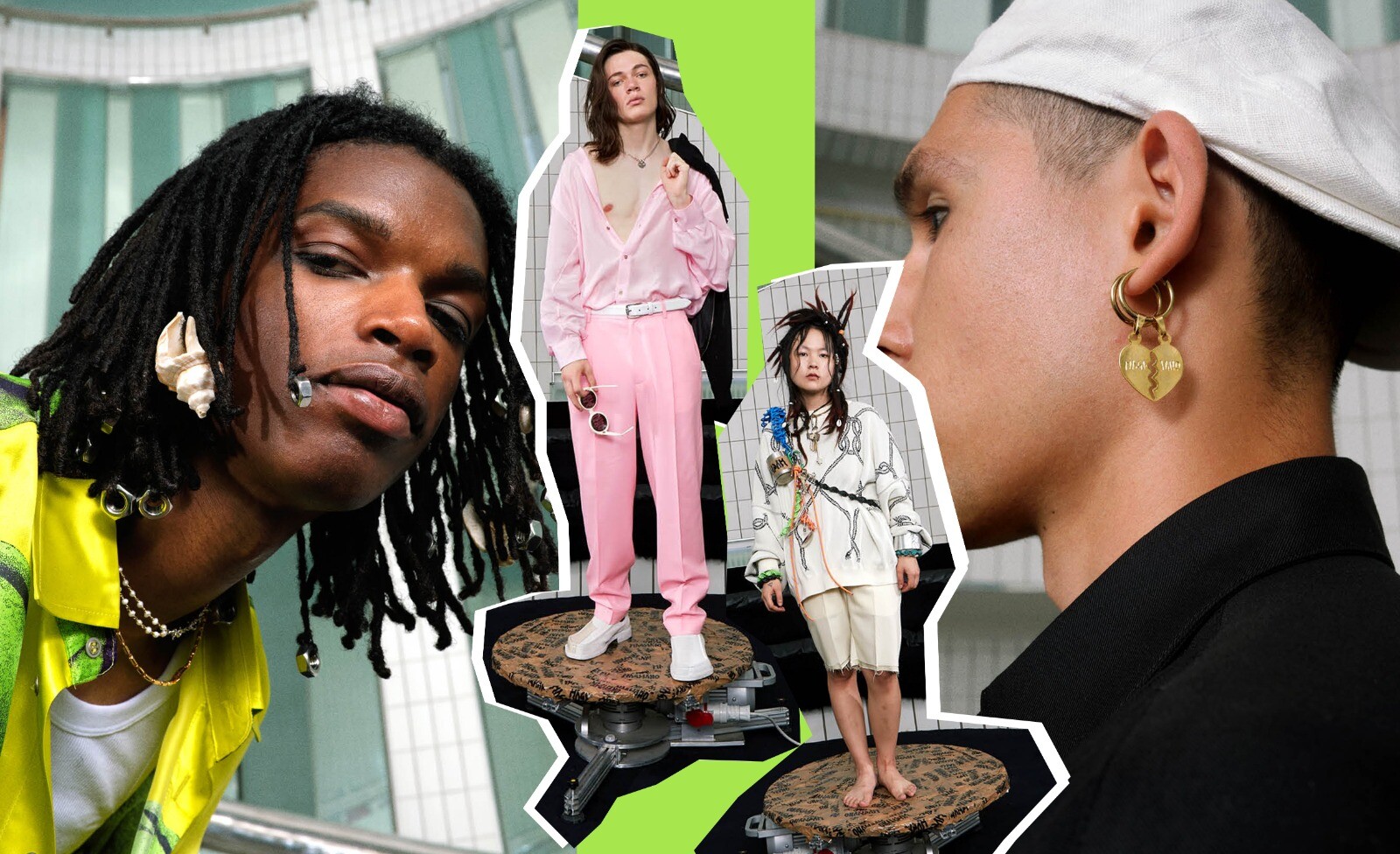 Migliano Carillon unveiled their SS2021 through an augmented reality feature film, summarising the brands ethos towards futurism and rebellious styling. The video featured eighties aesthetic models slowly turning on a spinning platform to showcase a collection of quirky yet classy apparel, all the while addressing the subject of gender and identity.
Magliano's collection is hinged on oversized apparel, herculean proportions and vivid colours curated through neon straight-leg pants, a mustard blazer, and a necktie off white shirt. The designer also included a terry-cloth white towel, worn as a midi skirt, paired with an oversized button vest. This latest collection really played on the boundary between masculine and feminine attrite through pieces such as a skin-tight cycling short embellished with lingerie details.
Magliano Spring/Summer 2021 from Official Youtube Channel
Plan C: Everyone is a Landscape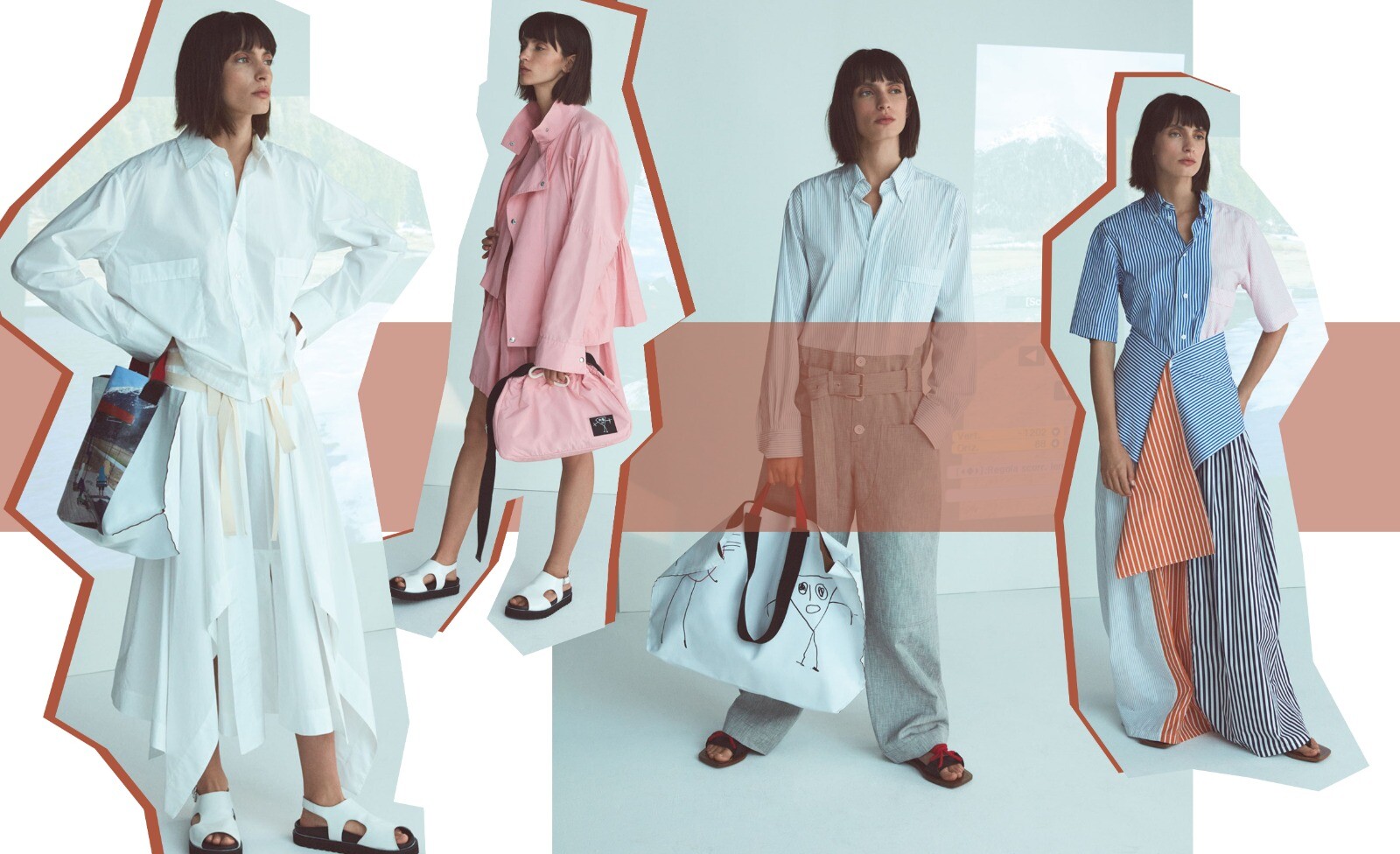 At 1 pm we were taken on a sensorial journey. Plan C by Carolina Castiglioni presented "Everyone is a landscape" to divulge the inspiration behind her Spring/Summer 2021 collection. Deep-rooted into the brand values 'edgy design, daring colour sensibility, experimentation and uncompromising quality' which was reflected in the 360-degree Google Maps inspired collection video.
Directed by Luca De Santis, the film is set in the Swiss Alps, where Carolina unexpectantly spent lockdown, indulged in untouched plains of greenery and deserted mountains. Therefore, her Spring 2021 collection was a sort of ode to her time spent surrounded by natural landscapes. As a testament to her unfound strength she discovered in lockdown, bold, block colours, oversized garments and floral patterns are favoured in her collection through geometric dresses, loose shirts and drawstring trousers.
Valextra: Sailing Through the Times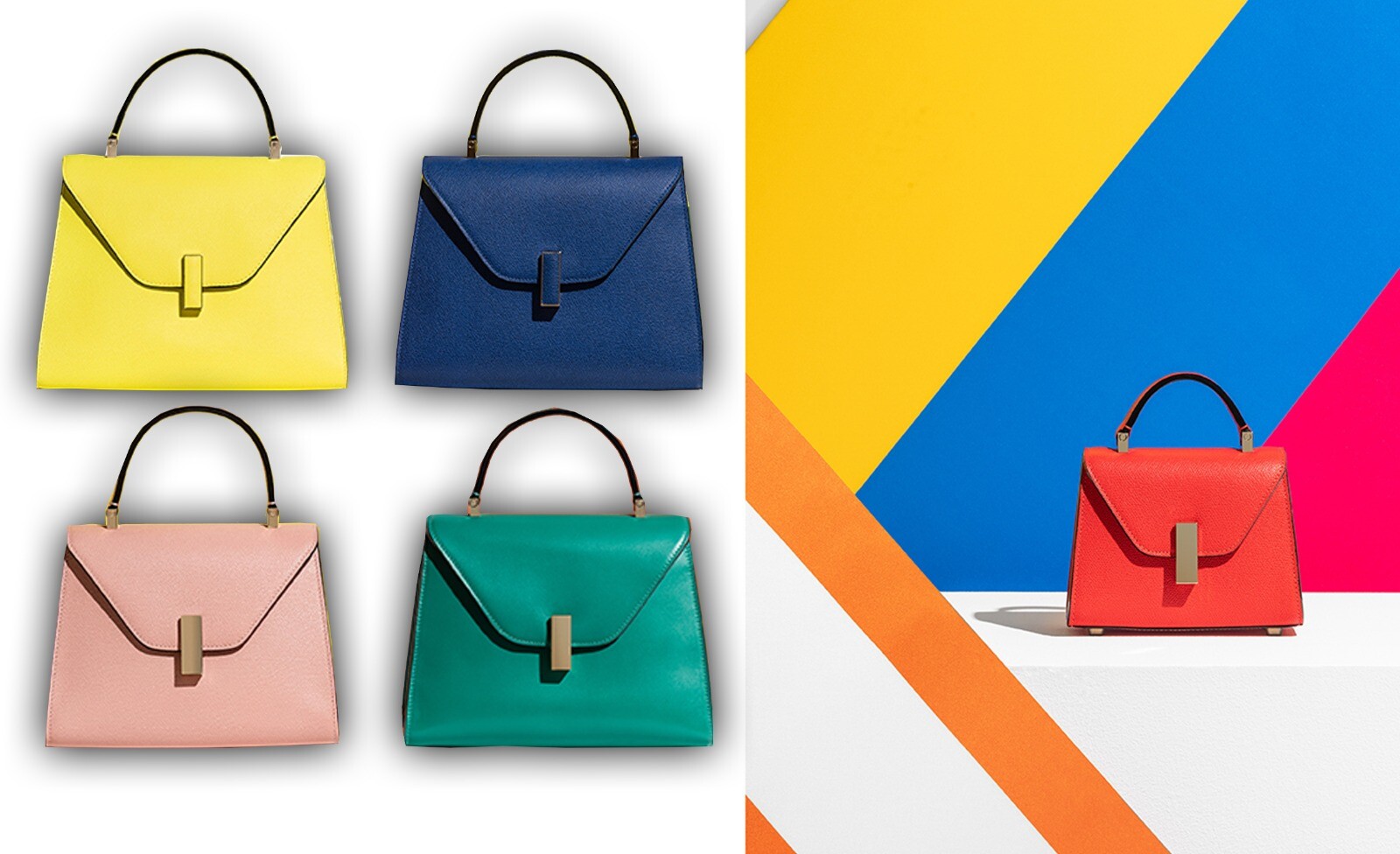 In a short collaboration video with Ratti, Valextra launched their 'Women's Timeless' collection exhibiting their latest generation of handmade leather bags. Simplistic yet practical has forever been the way forward with Valextra with structured, yet statement miniature bags being the forefront of this SS21 collection. Fuchsia, peach, red and cream front clasped wrist bags present are a timeless and chic fashion statement; that will forever own its rightful place in our summer wardrobe.
Prada Multiple Views Spring / Summer 2021: The Show That Never Happened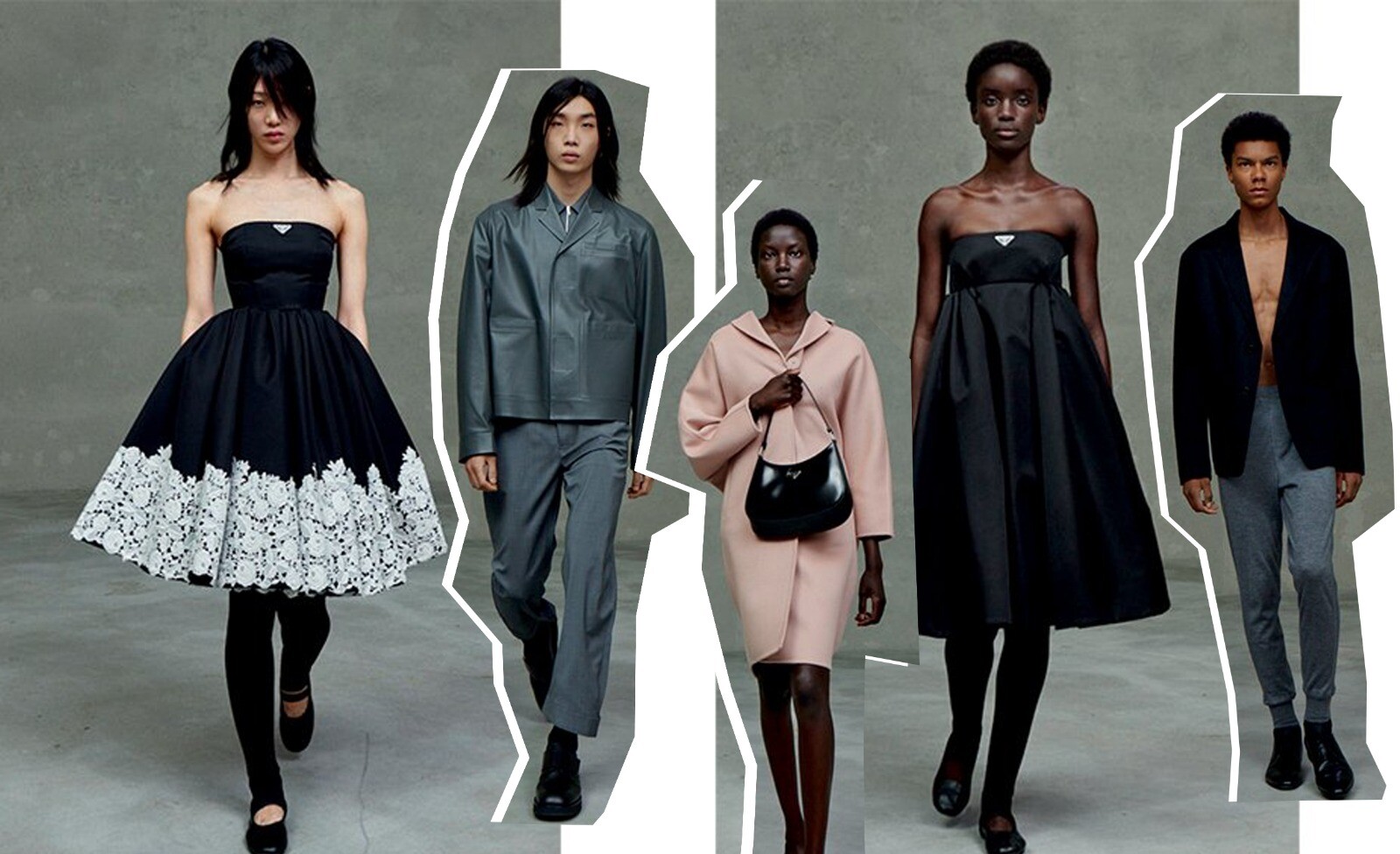 Arguably the most awaited unveil of the day, all eyes were on the Italian fashion house as they pushed the digital boundaries to roll out their latest collection. Following the announcement of Raf Simons joining forces with Miuccia Prada, the reveal of their 'Multiple Views' collection for Men's Spring/Summer 2021 was one to watch.
The collection was proposed in five chapters; interpreted by five designers; Terence Nance, Joanna Piotrowska, Martine Syms, Juergen Teller and Willy Vanderperre, who in turn used film to capture differing elements and "Multiple Views" of the Prada collection. Futurism, strength and fragility being the highlighting themes and to celebrate the multiplicity of opinions and viewpoints of the collection.
Prada Multiple Views Spring/Summer 20201- Official Prada Youtube
Speaking of the collections, they strike a balance between corporate and dynamism, classism, and futurism. All designed to resemble minimum through these complex times, the collection features a combination of, simple pieces, and then moves onto sportswear and edge. Looking at menswear, the collection speaks classism with sharp tailor-cut suits, knee-length trench coats and narrow fitted trousers. Then the reverse, introducing industrial fabrics including leather and Perspex.
Womenswear touches on elegance and femininity with satin slip dresses, monochrome sleeveless dresses and lace embellished midi frocks while injecting a sense of 'girl boss' through structured blazers and tailored shirt dresses.
Alberta Ferretti: A Tribute to Italy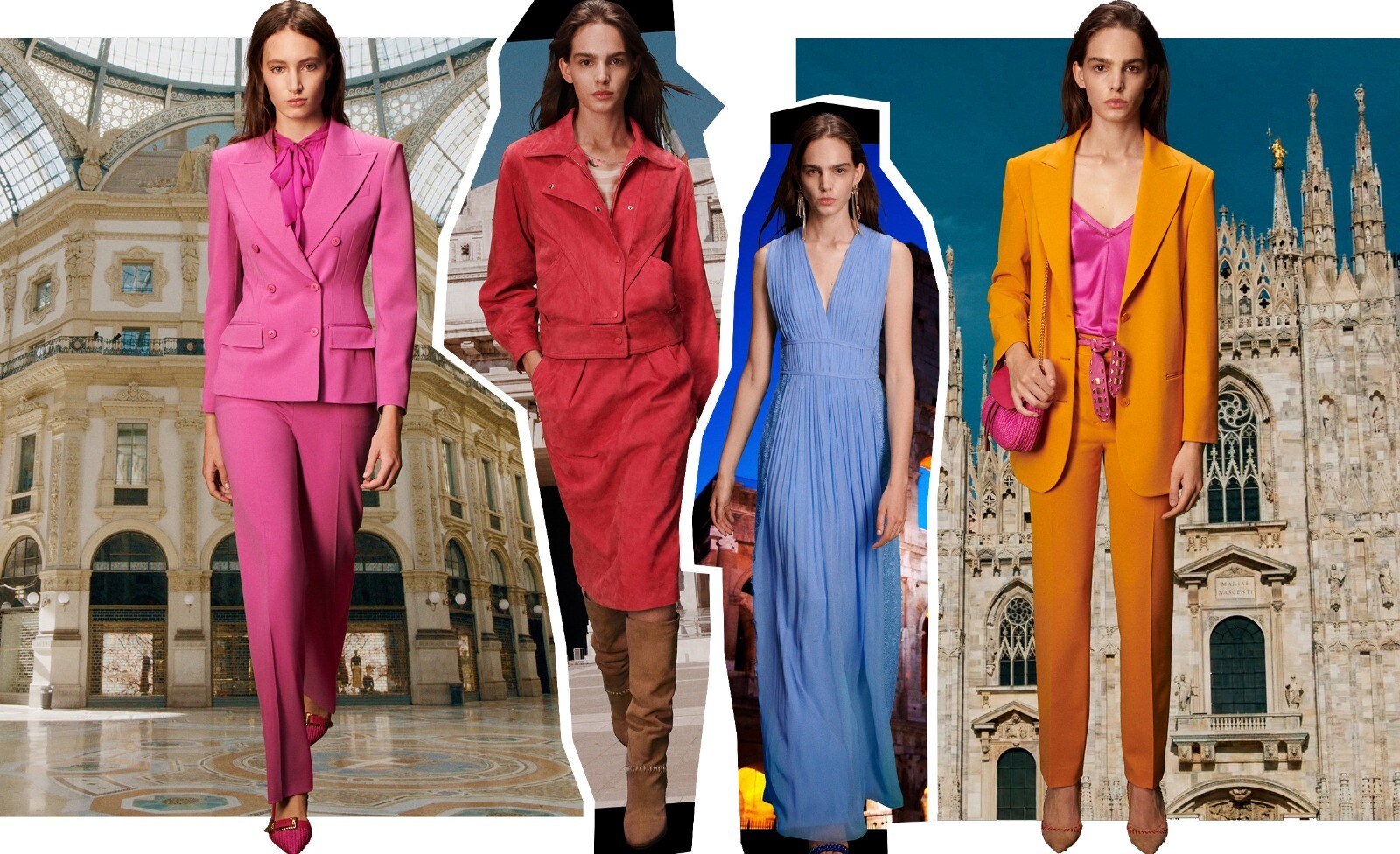 Named as a 'Tribute to Italy', the Alberta Ferretti Resort 2021 collection injected a dose of optimism through a palette of bold, confident colours including fuchsia, bright orange and cherry. Italy being one of the initial countries to go into lockdown, Ferretti wanted to use this collection to bring back spirit and life. Speaking of the collection, she said: "We're surrounded by beauty. Our empty cities, shrouded in the silence of the lockdown, were magnificent. I wanted to celebrate that."
Digitally shot in front of famous Italian backdrops; including Venice, Rome and Florence the Resort collection is enriched with femininity to deliver a collection that features both evening wear and quotidian dress. The collection dips into discrete glamour and sexiness with silk blouses, dresses and nightwear embellished in extravagant print and floral work; as well as including a corporate vibe through pink, orange and cobalt blue suit sets.
Alberta Ferretti Resort 2021- Official Youtube Channel
Vivetta: Il Gioco del Pensiero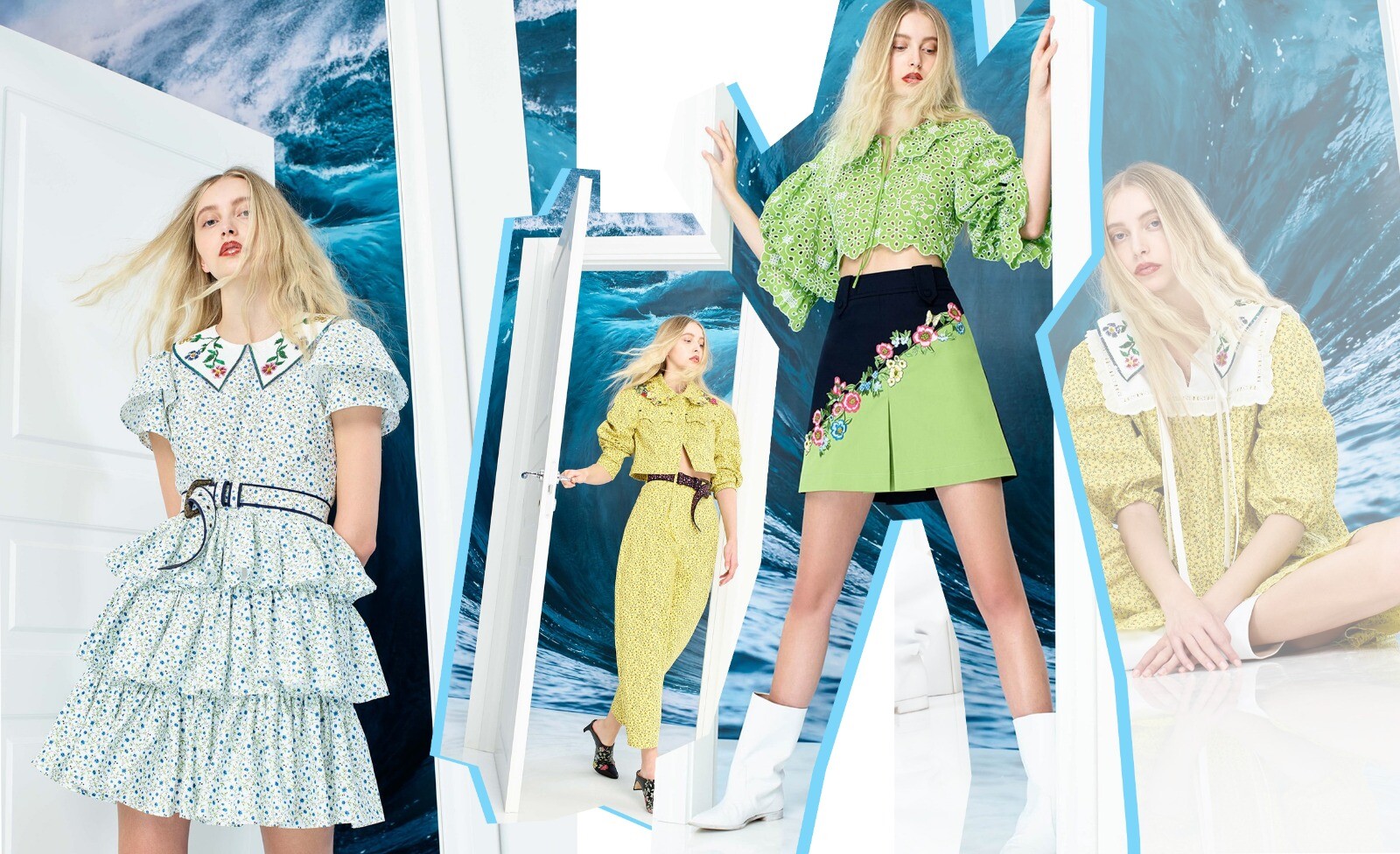 Nothing explains this latest collection but sweet and authentic. Vivetta Ponti used the inspiration of nature and wilderness to draw inspiration for her Resort 2021 collection.
Subtle florals, blossom print ruffles, miniskirts and breezy dresses embellished with statement collars and ruffle sleeves are highlighted in this collection.
The micro-floral motifs, used to reflect Ponti's countryside quarantine, are inspired by blooming flowers and based on a 'fairy-tale' colour palette of mint green, white and primrose yellow. A soothing and peaceful collection that was created to balance the worries from the surrounding world.
Vivetta from VRAI magazine Youtube Channel
Edithmarcel: Workout SS21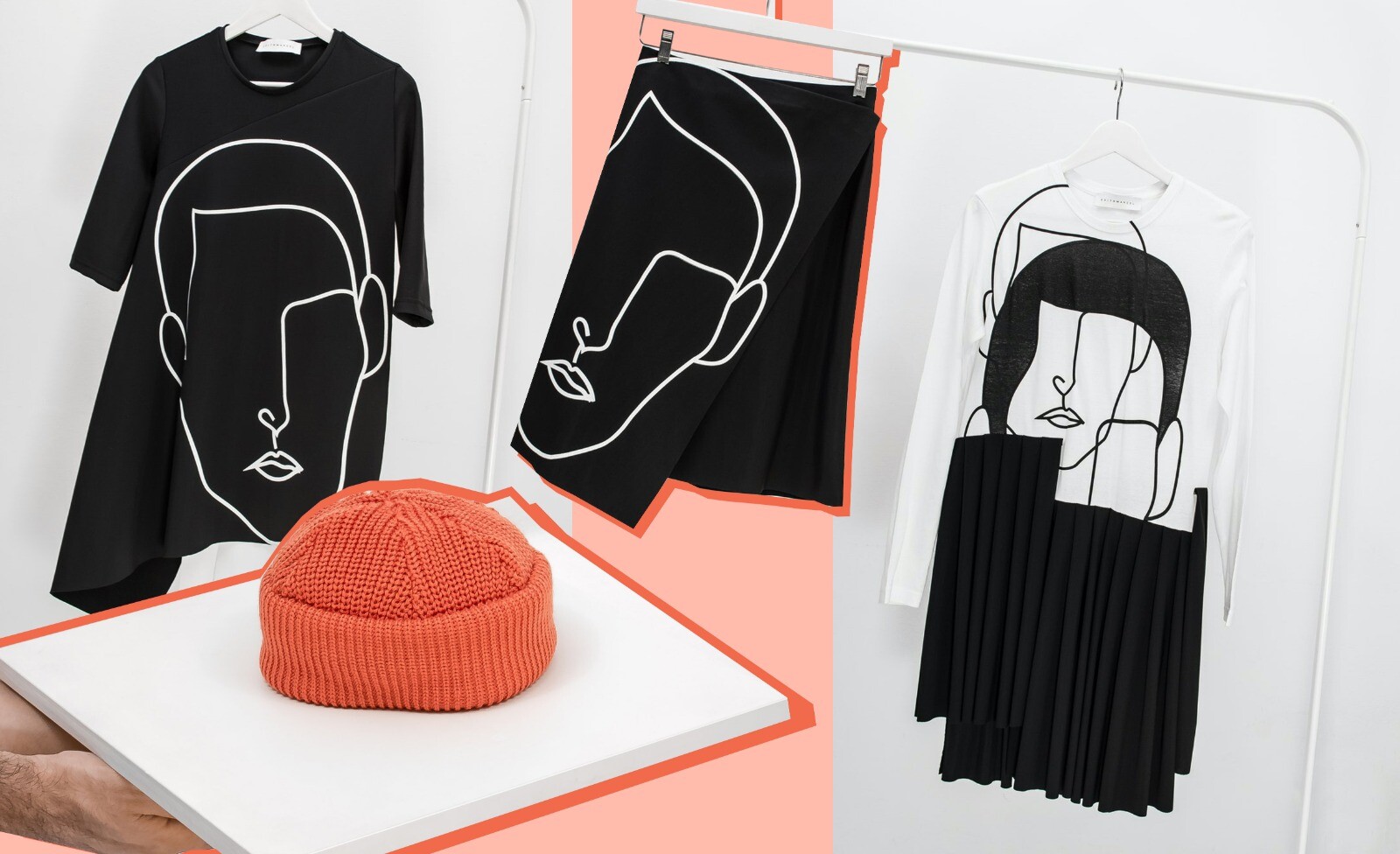 To display Edithmarcel's S/S2021 workout collection, we instantly thought of John Travolta and Jaime Lee Curtis sweating and thrusting in 'Perfect'. Let's be honest. The launch video was narrated by a motivational 1980's fitness instructor, cutting out to reveal pieces from the collection. The monochrome geometric face print that is highlighted in the collection is a simplistic yet effective motif and, as versioned by the brand, works towards genderless fashion producing a very wearable and adaptable collection.
Edithmarcel Spring Summer 2021 from Edithmarcel Youtube Channel
Moschino: Spring-Summer 2021 Menswear Pre-Collection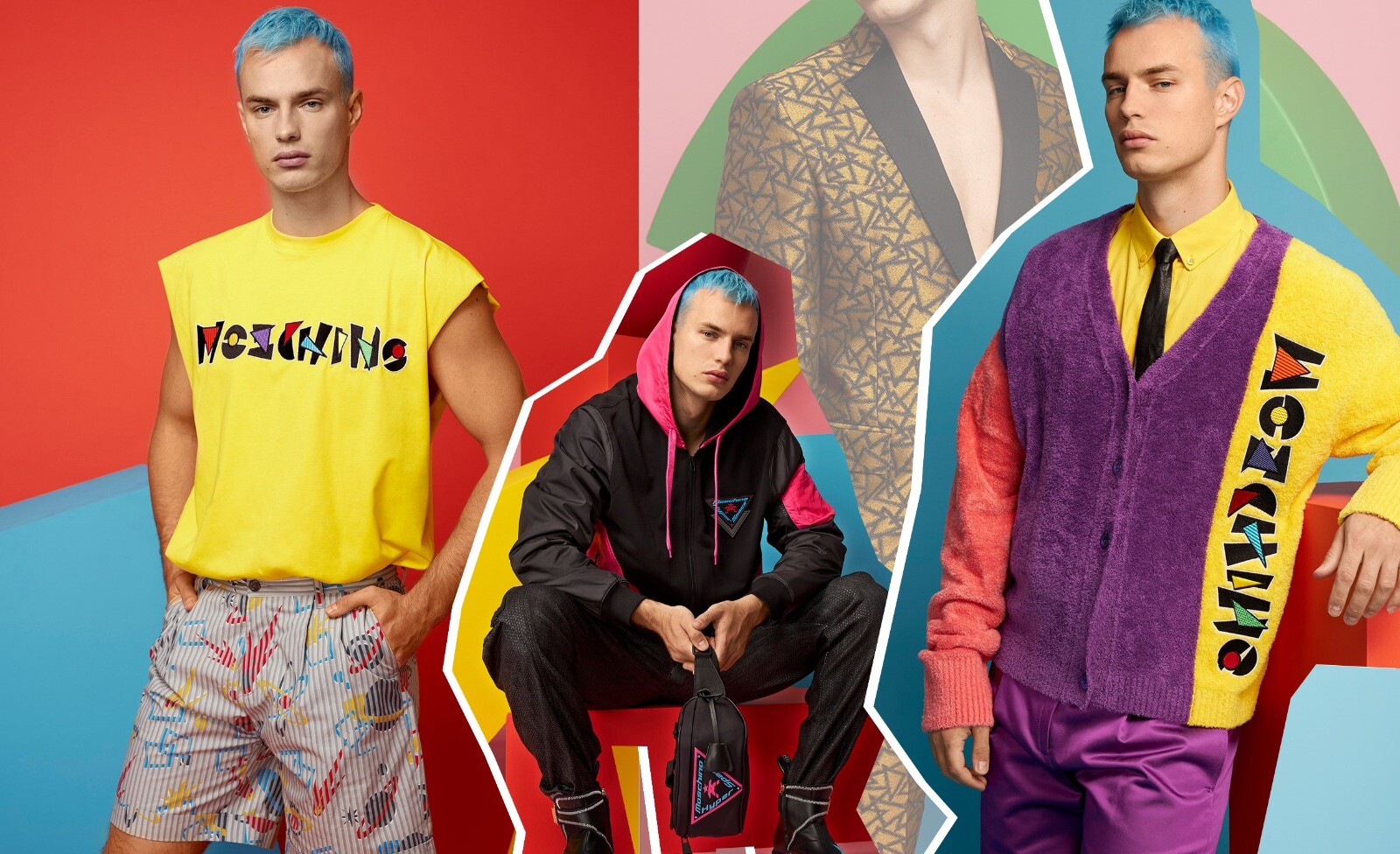 A play on geometric shapes and vivid colours to infuse optimism and joyfulness took centre stage in Moschino's latest collection. Moschino has forever been known to inject fun and creativity into its brand; well nothing has changed. Bold, bright, vivid and instantly captivating, the SS21 Men's Pre-Collection is a collection for the daring. As expected, the Italian fashion house has not held back with its striking embellishments including polka, stripe, stars and incorporating an out-of-space theme of planet and spaceship embroidered apparel. This next collection is one to keep an eye out for.
Moschino Spring/Summer 2021 from Menswear Youtube Channel
Philipp Plein: Fashion is Dead
'Fashion Is Dead' from Official Philip Plein Youtube Channel
To bring day one to a close, Philipp Plein showcased his 'Fashion is Dead' fashion week film to present his Men's Spring Summer 2021 collection. The eerie reflection video captioned in his Instagram 'Fuck the Virus' recognised the struggle of 2020 and the major devastation it has had globally. Specifically highlighting the impact on the fashion industry with intense newsreels and a voice-over naming the virus a "disaster for global magnitude." Slightly apocalyptic feeling, the designer introduces his collection featuring himself as the centre man. Striking a balance between contemporary sportswear and a 'dressed to kill' aesthetic.
Words by Clare Stephenson
Graphics by Georgia Walters