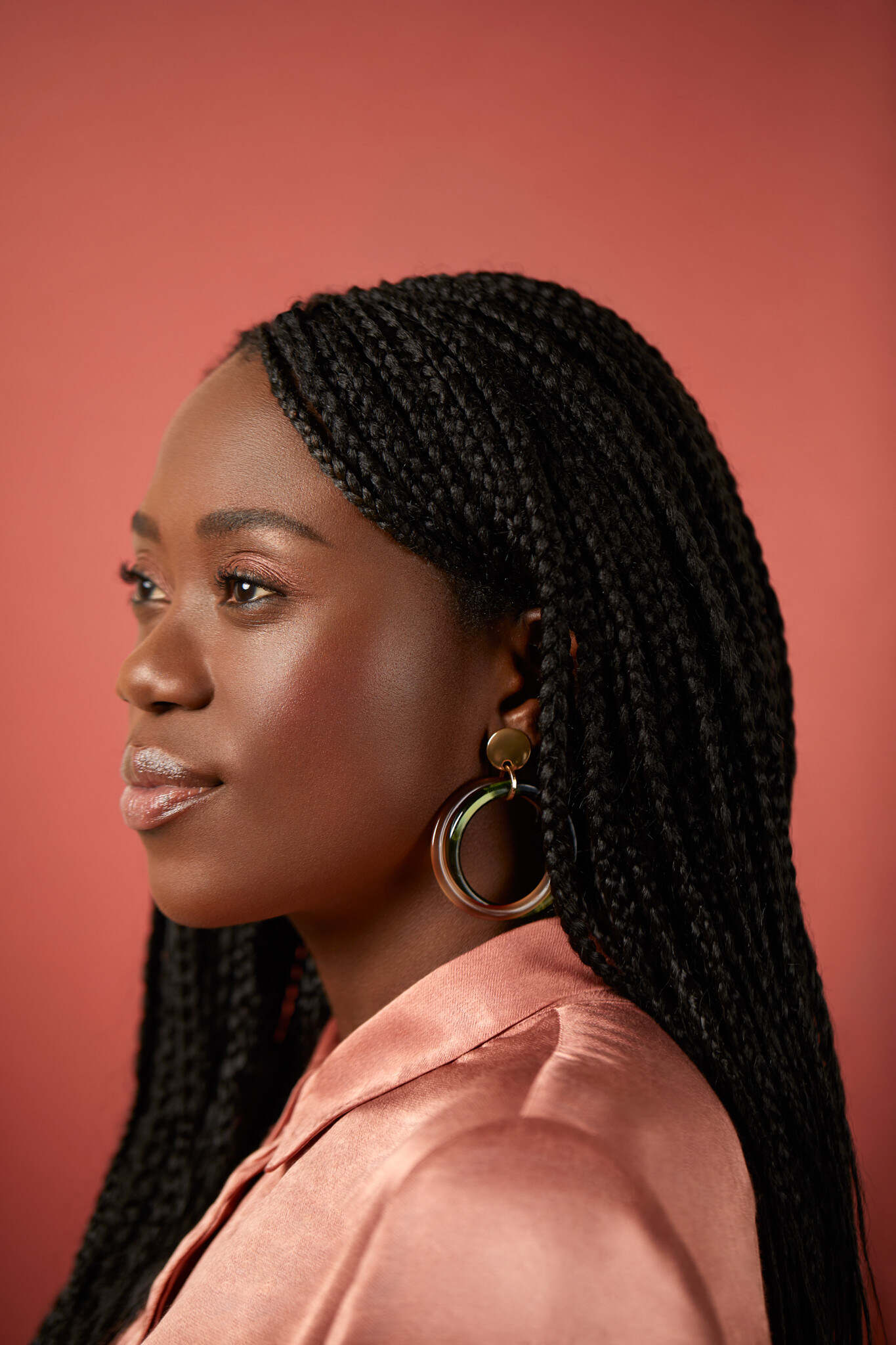 Trailblazer Noelly Michoux shares her mission to redefine an industry with her newly-founded customised skincare brand 4.5.6 Skin, that looks to address the global beauty market gap for non-caucasian skin. Through a clever blend of science and education, 4.5.6 focuses on providing for those with melanin-rich skin on an empowering level as well as a topical one—ensuring a bespoke customer experience with every product. But aside from the innovative business model, recyclable packaging, and clinically advanced formulations, we're even more excited to learn about the inspiring woman with a trailblazing attitude and bubbly personality to match, who made it all happen.
We caught up with Noelly to learn more about her incredible journey towards entrepreneurship, and all of the trials and tribulations that went along with it—but additionally, how she unwinds from her hectic schedule through podcasts and Cameroonian music. And whilst there are still challenges when juggling between motherhood, wifehood, and a brand-new business, Noelly's proving that it's not only possible to become a successful entrepreneur—even in the midst of a global pandemic—but she's also motivating us to do the same and encouraging those too afraid to take that first leap, to just do it.
And as a strong pioneer for women everywhere, we can't help but feel in awe of her resilience and determination throughout the entire process. But with such a passionate and driven CEO at the helm, we have no doubt that 4.5.6 Skin will succeed in their goal to close the knowledge gap—and the skincare race gap—once and for all.
Hi Noelly, it's so lovely to meet you! Would you like to tell us about yourself and your skincare journey?
Hello Voir! Well, it wasn't my plan to become an entrepreneur at all. I'd just been frustrated with beauty products in general as a dark-skinned girl growing up in Normandy, where trying to find anything was a real struggle. My mum would bring butters and oils from Cameroon, but obviously as a young person you were drawn to the beautiful things that your friends were using instead. And at first, I attributed the lack of products to me living in a small village, but when I moved to Paris with hopes for more options, I was left so disappointed! Then I moved to London with high expectations thinking it would be different, but I was still faced with the same problem, and then again when I went to the US. I became obsessed, and by that time I'd become quite the skincare addict to the point where I learned how to look at a formula and then be like, 'yeah, this isn't going to work for me.' So that's when I identified through my own struggle, the link between people who have melanin in their skin, and those not being satisfied with what the beauty industry had to offer. But it wasn't until I started working for this ecommerce agency that specialised in French luxury beauty products, that I realised there was a much larger issue and I wanted to do something about it.
Talk us through the journey of creating 4.5.6 Skin, where did it all start?
When I had my first child in 2013, I got the pregnancy mask, and the hyperpigmentation was so bad I was thinking, 'seriously? Here we go again with the trouble. You really need to do something,' but I didn't. I wasn't ready. But when I had my son in August 2017, I thought there's just no way I can go back to working for anyone, and that's when the truest part of myself was telling me, 'this is what you need to be doing, this is your calling.' So I decided to ignore the voice in my head that said I would fail, and in early 2018, I just wrote a concept for this melanin driven skincare brand that would offer topical solutions fitting the melanin skin principles (instilled with nutraceuticals), then just topped it off with a mission to close the education gap. Because even just finding out about how melanin skin works healed me because I knew then that my skin wasn't the problem. It was empowering. But it wasn't until I joined the French Cosmetic Valley network after my first formulator bailed mid-production, that I was put in touch with my now co-founder Iman, a Tunisian woman who's a doctor and pharmaceutical skin expert with a history in nutraceuticals and prescriptive skincare for melanin-rich skin. I mean, god sent her, obviously. Then we teamed up with New York City based dermatologist and melanin skin specialist, Dr. Charles, and began setting up production from the LVMH Research Centre labs. Although, it wasn't long before we realised, we had to create our own lab because we were operating in an industry that's really only set up for white skin. And when you want to challenge the status quo, you can't do that in someone else's lab with someone else's process that isn't set up for the audience you're trying to serve. So we turned around and said, 'we need to start our own lab.' And then we created these amazing products that actually understood how melanin-rich skin works, manufactured and customised them for our clients, and sold them through our own website. I think for a brand like ours with huge ambitions, who want to do it the right way, you have to do that with freedom and independence.
And tell us about the name 4.5.6 Skin, how did you come up with it?
Oh yeah, that wasn't the initial name actually [laughs]. It was RYS, which stands for 'reclaim your skin.' So that was when I first created the company, but if you get an invoice from me, it won't be 4.5.6 Skin, it'll be RYS Cosmetiques because I thought, 'I'm going to have many more brands, and this is the mother company, so why not. Let's do it.' But as we were specifying the branding for our target market, we just knew that the name wasn't going to work out. I asked myself how can I find a name that would make the Latina girl, the Middle-Eastern girl, the mixed race girl, and the black girl all understand that this is about you, without getting into the social cultural past of society. And when we were looking for a different name—I was working with this guy Patrick Fizz and he's coming up with things, I was like, 'that sounds too French, that's too generic, that's too urban. I don't want anything urban.' [Laughs]. Then I thought, 'why are we even going this far? We're making skincare for the skin phototypes four, five, and six, let's just call the brand 4.5.6.' Everyone laughed but then we were like, 'yeah, since we're trying to be different anyway, why not be different with naming the company too?' And that's how 4.5.6 stayed.
How was it to actually press the launch button during a pandemic, what were some of the challenges you found?
It was a weird time; the first thing that happened with Covid was the closure of our packaging manufacturer in Italy. We had this whole process going on for months where we were going to do this glass packaging with colour blocks. It was beautiful. But from there we thought that maybe we're investing too much in the packaging, and that's not what we should be doing. Plus, it's just not in our DNA; we're trying to be that brand that's all about what's inside the bottle. The second thing was that we'd just started working on our lab, but then the whole construction area was shut down due to Covid… We were supposed to launch in June 2020, and that didn't happen. But the minute the French government gave the green light to go back to work, we were lucky enough to have our team continue construction. So we ended up solving our issues with Covid; we found a small packaging manufacturer, got smaller quantities of frosted glass, and we bought a machine to actually personalise our packaging at the lab. At the end we thought, 'if this ever happens again, we're not going to get caught up in the middle this time.'
So, you're all prepared now?
Absolutely. We can buy unmarked glass packaging so we can do the whole customisation in the lab, and that's it. So that was sorted, and the lab was sorted. Then we just spent our days on the phone chasing people, asking where the orders are to get the ingredients; because that was another thing, sourcing the ingredients. It was so hard for us to select those that really fit our formulation principles. I remember in the middle of formulation, we had to stop working with this supplier with whom we had 80% of our ingredients because we could no longer get the small quantities that we'd been previously promised. And we just thought, 'okay child, bye bye. Now let's find a new supplier.' [Laughs]. Iman and I, we're hustlers; we're not going to compromise. And although it was so hard to get the actual product, it happened because we were so relentless. So I'd say that Covid really strengthened our position as a fully integrated brand, and we knew it was really the right decision. We overcame the trials to best serve our customers' needs, and altogether I think it was an exercise for resilience that only made us stronger.
Noelly, we think you're so inspiring! What a story so far. You mentioned that this idea had been in the works since 2013 but with so many barriers along the way, how did you manage to stay motivated?
Yeah, a lot of the time I felt like crap. Just looking at my background, I wasn't born in the West, I was born in Cameroon and I come from very challenging circumstances, but I think my whole life built me to be the most resilient person [laughs]. Even though I have highs and lows, the vision stays, and I will always find my way back to it by continuing to believe in myself. And remembering that the worst thing that can happen is that I'll be rejected, but so what? I think that's what really keeps me pushing; the idea that even if it doesn't work out then at least I would know that I'd given it my absolute all.
What's been your most rewarding moment since launching 4.5.6 Skin?
I think the most rewarding moments are when I get those customers who send messages saying, 'thank you so much for existing, you guys are doing such amazing work,' or even when they come back and say, 'this isn't working for me.' So, we're like, 'okay, fine, tell us what's not working because we do have this lab where we can change things up for you.' And for those who we've done that for come back like, 'I've never seen this before, the fact that you guys can actually reformulate and switch up my formula, and now this is working so much better for me… I don't know what to say to you guys but thank you.' For me, that's one of the best things. So, when I see a customer sending us a letter saying how much they have trouble with their skin, how they've given up and they're just patching it up with makeup, that really resonates with me because I've been there.
Earlier you talked about staying motivated, what other advice would you give aspiring beauty entrepreneurs who are inspired by your story?
I'm personally still figuring things out so I don't feel like I have a lot of advice to give anyone, but the advice I would give is that even though you might not come from a successful background, that doesn't mean you should stop showing up to the world the way that you want to. Really get close to your own power, your emotions, and your aspirations. Listen to yourself and know that sometimes not knowing can be a blessing in disguise, because when you know everything then you realise how hard it's going to be and you can just get discouraged. What I've found during this whole process is that I never knew how to do anything (really), but just having that attitude and putting that energy out there, I was always able to figure it out.
If you could go back to 2013, would you do anything differently?
If I had the courage, then I would've done this a lot sooner, but that's not a regret. I'd just tell myself to get out there and stop being afraid.
What's your favourite product from the 4.5.6 Skin range?
You know, that's the most difficult question that people ask me because I'm like, 'what? You want me to choose? I can't!' I love all of my products of course, but there's one product in particular that gets me and it's our cleansing oil. Because my skin is so dry and it gets dehydrated (it's also super sensitive), when I use this product it's like putting a balm of goodness, self-care, and love on my face, and then it feels like the whole burden of the day is melting away along with the dirt and pollution. Then when I rinse it off, I'm left with nothing but comfortable and clean skin, and it really feels like a full reset for me. So, yeah… If you were to ask me which product I'd take to a deserted island, that would be the one. And if you ask me to go without it, then that's going to be a problem because I'm addicted to it.
How do you wind down and take a step back from everything?
Oh, I'm bad at it. I mean, really really bad at it. I'm a new entrepreneur, so this lifestyle isn't normal for me and there's still so much fear surrounding it that I'm lacking the ability to disconnect. But when we went through the first lockdown last year, I had both my kids at home due to the schools being closed, and just being able to look at them, that really allowed me to be like, 'okay, something needs to change here.' In the mornings I have a yoga class, and I see this amazing mental coach who gives me tools on how to calm myself down and how to compartmentalise my life. Although just listening to Cameroonian music and dancing like I'm back in my village is super healing for my soul too. Something that I love as well are podcasts; they're my go-to source for information.
Do you have a favourite quote or saying?
'Beauty starts with knowledge.' And right now, that's my favourite quote because it pertains to my business the most.
And you mentioned that you love listening to podcasts, do you have any favourites?
Oh, yes! I've been listening to The Life Coach School Podcast for years now where this woman called Brooke Castillo explains the five elements of how life works; your circumstances and how they impact your thoughts, how your thoughts affect your feelings, then how your feelings inform your actions, and finally how your actions create your results. I love, love, love her podcast [laughs]. I listen to it almost every day. There's also The Daily, The Glossy Podcast, and Generosity With Yourself because I love listening to these stories of entrepreneurs on how they started and about their journey; they give me hope. Recently I've also been listening to Techish by this British girl called Abdesi; she's amazing, and I'm sticking with her next week too. I'm such a huge fan! Rhys from NPR News Now has such an incredible interview style too if you want to listen to the most heart-breaking family stories. So yeah, there's a bunch of them that I listen to. I just love podcasts!
Interview By Jyoti Matoo, Words By Vinona Baines