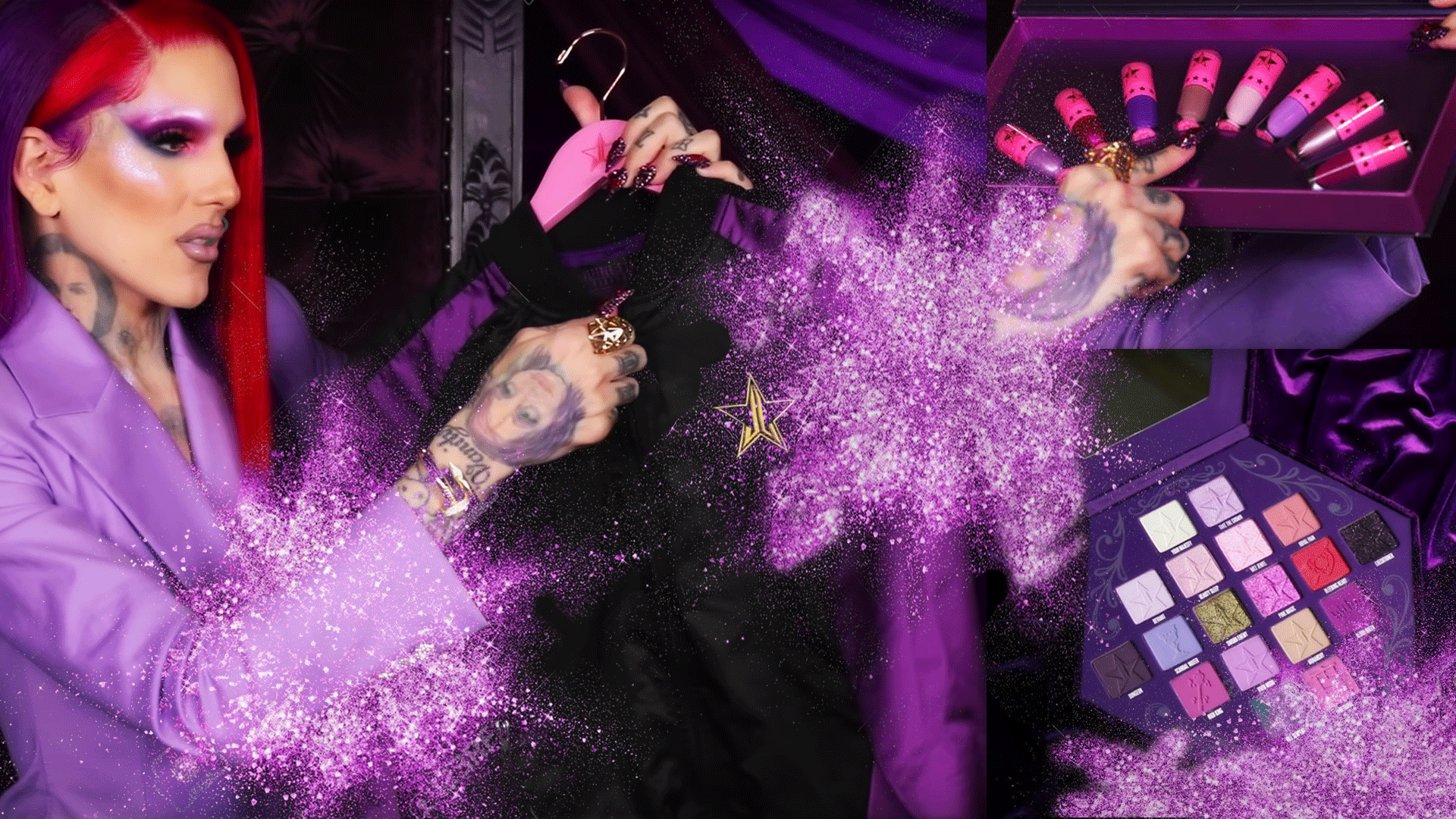 'Hi, how are ya?'. The make-up Queen himself Jeffree Star has absolutely done it again and smashed out the park yet another collection, bound to sell out on the launch February 21st. Jeffree Star is an internet phenomenon; not only does he have 15.8 million Instagram followers, but thanks to his YouTube, other social media platforms and his luxury cosmetic company he has a net worth of 200 MILLION USD!
Here's to us regular honeys saving for 12 months just for a sunny break. So let us crack open a red bull and dive into the goodies.
This is the 3rd instalment of the Jeffree Star Cosmetics 'Blood Line', there was Blood Sugar, Blue Blood and now Blood Lust. With a stunning royal purple theme Star uploaded a video Tuesday 12th February going through all the ins and outs and what we should expect for this greatly anticipated launch. The video featured the star (pun intended) product being the Blood Lust 18 pan eyeshadow palette ($54) consisting of purples, violets, a stunning metallic red and teal. The palette is made up of JS's iconic shadow formulas, the mattes, metallics and now a brand spanking new 'wet' looking formula. The packaging for this is as gorgeous as always; A stunning purple crushed velvet hexagon box, with an iconic silver crown as the main focal image.
'Blood Lust Palette & Collection Reveal!' on Jeffree Star's YouTube channel
Interestingly the public's response to the first look at the collection was less than overwhelming, in fact, a lot of people were criticising how the colour scheme was slightly duller than some of his previous work, but JS hit back and said it was exactly what he wanted. Maybe he could have splashed a metallic gold or silver in there to lock it all together but hey, he's the millionaire CEO!
The stunning eight-shade 'Queen Bitch' mini bundle of velour liquid lipsticks – a JSC fan favourite formula ($52). Featuring all matte lips, the colours stick with the purple theme: fuchsias, nudes and violets. Our favourite is definitely 'Berries on Ice', a gorgeous deep fuchsia which would be so stunning with a cat flick and some fake freckles. We also have five new coloured glosses ($18) ranging from icy lavenders to pinks with an iridescent shine.
The JSC exclusive Extreme Frost highlighter: The idea of this product is that the ingredients are so incredibly pure and fine that it creates this unbelievably light formula of a wet-looking glow. To see the new shade that's launching called 'Choking On Ice', check out the reveal video where you can see Jeffree apply some product to his cheekbone.
Besides the make-up goodies JS also is bringing out a bunch of non-make-up merch, ranging from cannabis grinders to clothing to bags.
So, bring on February 21st because we are so lusting after these products.
Launching February 21st at 10am PST on Jeffree Star Cosmetic's website, as well as Beauty Bay and other retailers.
Words by Sophie Smiler
Graphics by Séverine Denis-Lessard
, , , , , , , , ,