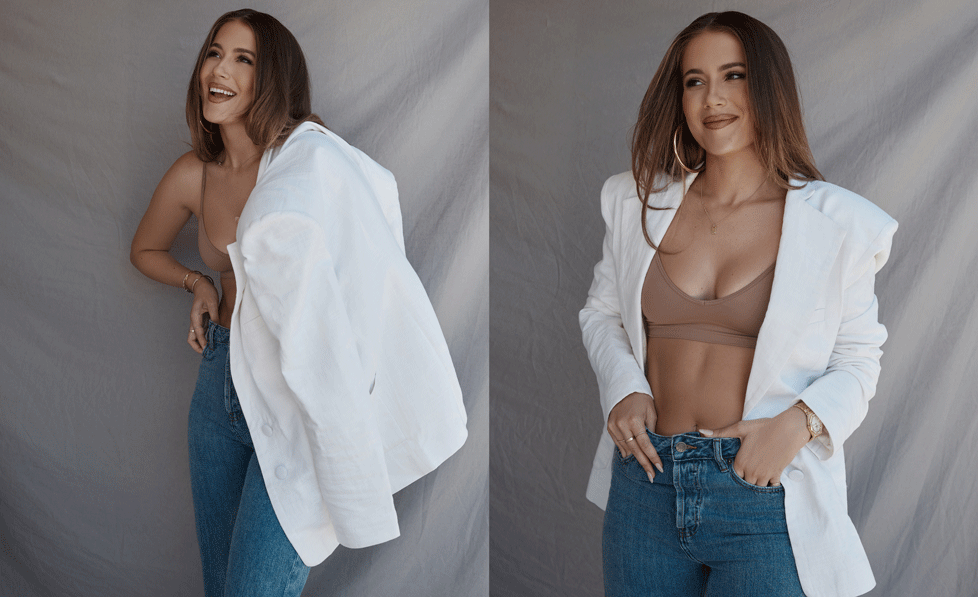 Growing up in East London, all she had, and ever needed, was an entrepreneurial mindset and a passion for an industry that would forever in time change her future. Not only as a woman but as a leader. Now a CEO, industry tycoon, and an absolute girl boss, she has transformed a 17-year olds teenage dream into a multi-million fashion empire. This is Conna Walker.
Seemingly overnight, House of CB, her affordable luxury fashion brand, magnified from a small eBay seller to a Hollywood name. Worn and adored by the likes of Beyoncé, J-Lo, and the Kardashian sisters, Conna has gone from strength to strength in building a dynasty that has redefined female fashion.
Starting her journey with nothing but a three-thousand loan in her pocket from her father, a supportive family network, and a drive like no other, once she found her vision there was no holding her back. 10 years on, she has reigned over the fashion industry, soared on social media with 2.8 million followers on the House of CB Instagram, and has earned a rightful place on the Forbes 30 under 30 list. Conna really is the pinnacle of and has no plans to slow down. All driven from sheer tenacity, a killer instinct, and the help from a powerhouse team, she is living the ultimate definition of a dream that was built from the ground up.
"I don't think University is a key factor for Entrepreneurship, it can of course certainly help, but much of entrepreneurship is based on intuition, learning from failures and a state of mind. It's more important to just go for it, take a chance, and keep trying whilst still being critical of yourself. I was very lucky to have the support of my parents. I didn't need to pay rent and lived at home etc. They're also super entrepreneurial so I was learning from them from a young age."
Sitting at the heart of House of CB has always been to celebrate the power of women, and Conna is all for it. Knowing what she wants and how to get it is empowering. Being respected is empowering. And being heard is empowering. So, it's only right that this ethos is reflected through what she loves to do. How have you stayed true to the values of House of CB?
"Having a solid brand story is very important, ours has simply always been about women. We always wanted to design clothes that highlight both your femininity and strength. Every decision we make we ask if it matches our brand values if it doesn't then we don't do it. Our style has evolved over ten years, but our core has always been the same which is why I think we have lasted. It's super important to evolve your product and still stay on brand, which can take some time to learn how to balance!"
10 years of building her bed of gold, it's no surprise that Conna has experienced every triumph and pitfall. Leaving school at almost 18 years old, not being taken seriously was the 'welcome to my life' phrase she got used to putting up with. Now, not only as of the founder of House of CB but also its sister brand Mistress Rocks, men have no influence on her and uses her social media platforms to encourage female leaders. Conna really is the epitome of a businesswoman. The essence of a role model and an absolute boss is not taking shit from a.n.y.o.n.e.What's your message to women who feel suppressed by men in the industry?
"Listen to your own intuition, make your own decisions, and don't be afraid to say no. Unfortunately, you will face times where people are sexist, from landlords to bank managers but you have to keep pushing through, prove them wrong. The great thing about having your own company is, for the most part, you get to choose who you work with. So, find a great team that fit your values and work with people who understand your direction."
Like all things in life, roads to success aren't always straight. It takes a certain person to turn those failures into wins. And Conna is no armature in learning from setbacks. How have these positively shaped House of CB to be the brand it is today?
"I've made so many mistakes! It took me a really long time to 'perfect' the brand and have a true understanding of it and my customers. I've created products that weren't on-brand and didn't sell, I've also created products that were too soon for the brand and also didn't sell, those mistakes made me realize what was working and helped me identify a real brand voice. Making mistakes is great. It's how you learn, and you shouldn't be afraid of it. If we don't try, then we won't know!"
Taking a leap of faith in an industry that is forever evolving is a risk that many business leaders struggle to take. We are living in an era where being unique and unapologetically different is valued. It's how we stay on top of our game. So, with much competition and talent out there, what sets House of CB apart?
"I think the main things that differentiate us are our quality, price point, and design. What we are most known for is our quality and honestly, it is really fantastic. Each item takes about 12 weeks to develop to ensure the perfect fit, finish, and cut + we make them last years."
Embracing the female form and championing women empowerment has forever been a value that Conna cherishes, especially through House of CB. As we progress in the world to create a more accepting and confident generation of women, the way women feel is what truly gives Conna the drive to inspire women through her designs. And it's a value that needs to be preached. Why is body positivity so crucial for the brand?
"I used to be our fit model for years, so I would try every single item and give feedback on how I wanted it to fit and feel (which I still do in terms of feedback, I just am not the fit model anymore haha). How women feel wearing the items has always been at the core of the brand. If it doesn't fit well, make you feel good or isn't top quality then it won't go through. That's why they take so long to get right but so worth it in the end."
For Conna, House of CB has always been about being fashion-forward and to appeal to the modern customer. Booty body cons and figure-hugging corsets have stood at the forefront of House of CB. Now, she is injecting her flare into a new fashion venture. Releasing a range of sultry slip dresses and strapless gowns, what gave you the inspiration to design wedding dresses?
"I used to 'design' wedding dresses when I was a kid waiting for my parents to finish work. I never really cared about getting married, but I loved the dresses so much. My mum still has a book of the designs, so it's always been something I've wanted to do. Fast forward and one of my friends was engaged and we went dress shopping and I was horrified by the options and the prices. Bridal gowns are so expensive, often made from not great fabrics and often with less than flattering fits. For a one-time wear dress, it just seemed insane to me so I really wanted to create pieces that are our signature quality, beautiful designs, and affordable – especially for the quality that they are."
Unpredictability has been the word of the moment. And is a word millions of business leaders have feared over the hardship of the Coronavirus Pandemic. However, the fallback was in no comparison to the power of her comeback. How did you keep yourself and your team motivated?
"We are very fortunate to be in a great place financially as a company, so we took a little break. We didn't have any new releases for about 2 months and had everyone working from home. Although worrying times, it worked out as a great time for everyone to reset and refresh, myself included, and come back with some great ideas. It was and still is, of course, such an unpredictable time, but I have a solid, talented team who really loves the brand and we've come up with some great product introductions this year. It's important to be easy on yourself and your team at times like this. I think that's the best way to keep everyone motivated."
Since the pandemic, everyone's mental wellbeing has taken a toll. A pandemic in itself. With her signature phrase being 'everything is figure out-able', Conna shares her advice on keeping a positive mind and strong self-belief during a time of political and emotional unrest.
"Some days aren't gonna be great and that's fine, don't hold yourself to unrealistic standards, take breaks. Simply do your best, do what you can, and try your hardest (and smartest.) Also try to take the time, where you can, to be re-inspired. One of my favourite sayings is 'everything is figure out-able' and I always go back to that when I feel like I can't figure out how to deal with something."
QuickFire Questions with Conna:
1. What message lies for you at the heart of House of CB? Women are the fucking best (We preach that!)
2. What are your top three rules to success when building a brand from the ground up? Good products, good brand story, and a cohesive voice. This includes images and aesthetics.
3. Looking back to the start of your career, what defining moment represents how far you have come as a brand?
The neon bandage dresses to what our products look like now. I loved them back then but just seeing the product growth is great.
4. What was your biggest career triumph?
The week Beyoncé wore House of CB every day!
5. What is your personal definition of 'hustle'? Not giving up, but being realistic, critical, changing direction when you need to. This also applies to everything, not just entrepreneurs.
Truly paving the way for emerged and emerging female bosses, Conna is a voice and an inspiration for those wanting to make a change and to build a brand in what they believe in. Preaching to always believe in yourself and to stand up for what you believe in, Conna radiates determination and gumption that the last few months have stolen from many. But now, we are all standing beside her to make a comeback fiercer than ever before.
In only ten years she turned a 17-year old's dream into a global phenomenon, and we cannot wait to see what's in store for the next ten years to come.
Words by Clare Stephenson
Graphics by Georgia Walters