Photo Credit: DOUCAN
Seoul Fashion Week packed a colourful punch as it rounded off this month's string of seasonal shows. With shows taking place under strict quarantine safety measures, the events of the week were devoid of audiences and instead live streamed via the show's website and YouTube channel.
One of the most exciting changes to take place with this year's Fall/Winter shows in Seoul was the change of scenery – and no, we're not talking about the digital takeover. With the pandemic enforcing the closure of many major tourist attractions, designers were encouraged to stage their shows in these empty spaces for the first time in Fashion Week history. Models were seen strutting through the likes of the National Museum of Korea and the National Museum of Modern and Contemporary Art, as well as the Han Riverside Park and the Oil Tank Culture Park.
With an array of talented designers taking to the virtual runway for another week, it seems that fashion has found a new rhythm befitting the post-pandemic age. Seoul Fashion Week was another treat for the fashion-hungry, and ultimately did not disappoint. Read on to see some of the designers and brands that caught our eye this season.
Oct31
Headed by designer Sunil Kim, Oct31 seeks to express the classic value of traditional fashion in womenswear; the result is a FW21 Collection that incorporates the strong silhouettes of tailored suits into a feminine rhetoric. Supported by a limited colour palette of black, white, beige, grey, and russet, the Oct31 collection is based around classic outerwear. Blazers, vests, leather jackets, and ballooned trench coats are dramatically styled with long, textured skirts and wide leg trousers. The addition of leather gloves to each outfit only adds to the classic look and narrative; we can imagine the women wearing these clothes out on a long drive in a vintage motor vehicle. Stand outs from the collection include a sleeveless blazer styled with a long wrap skirt and elbow-length gloves; a russet suit; and an oversized pinstripe blazer belted over a feathery-textured skirt.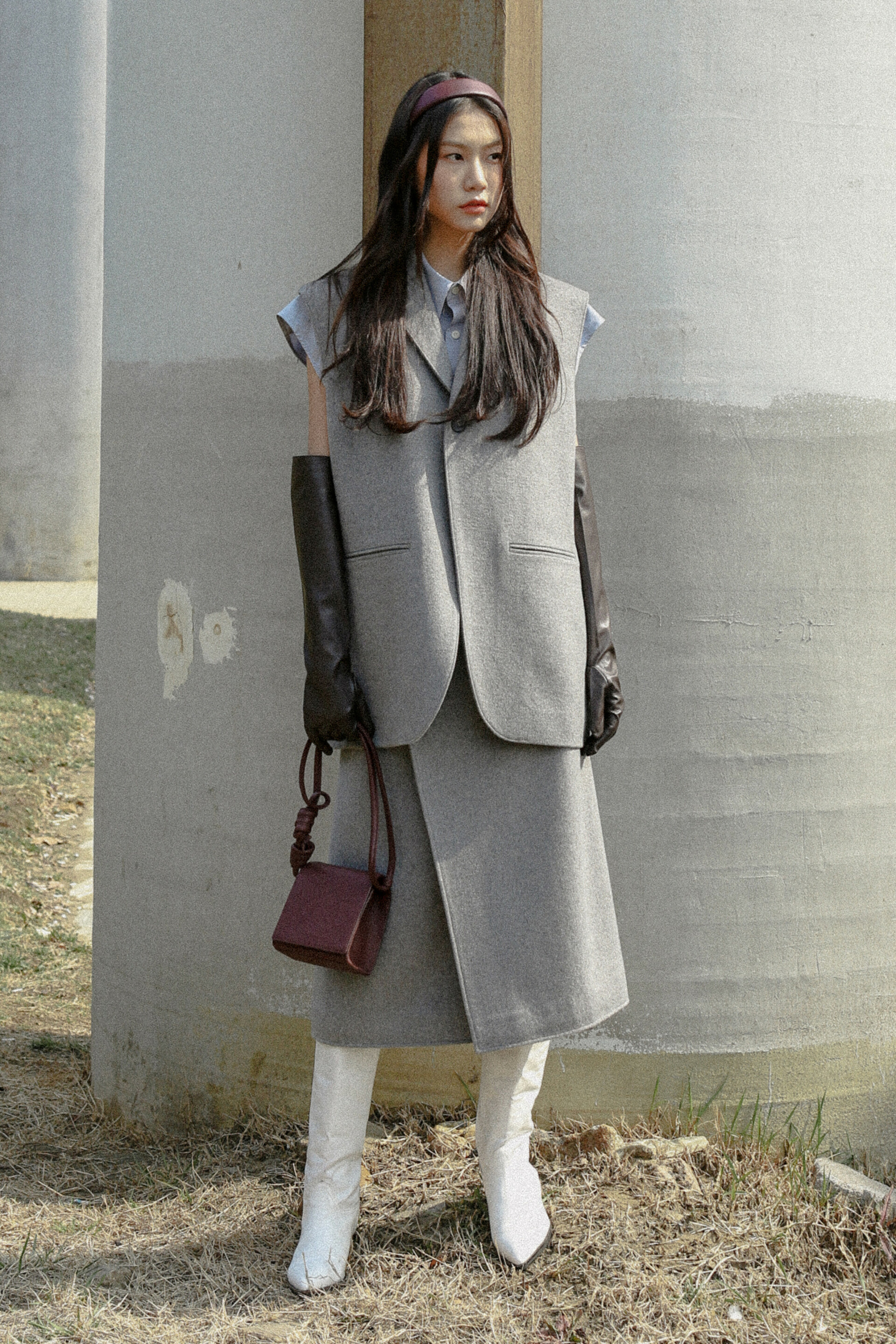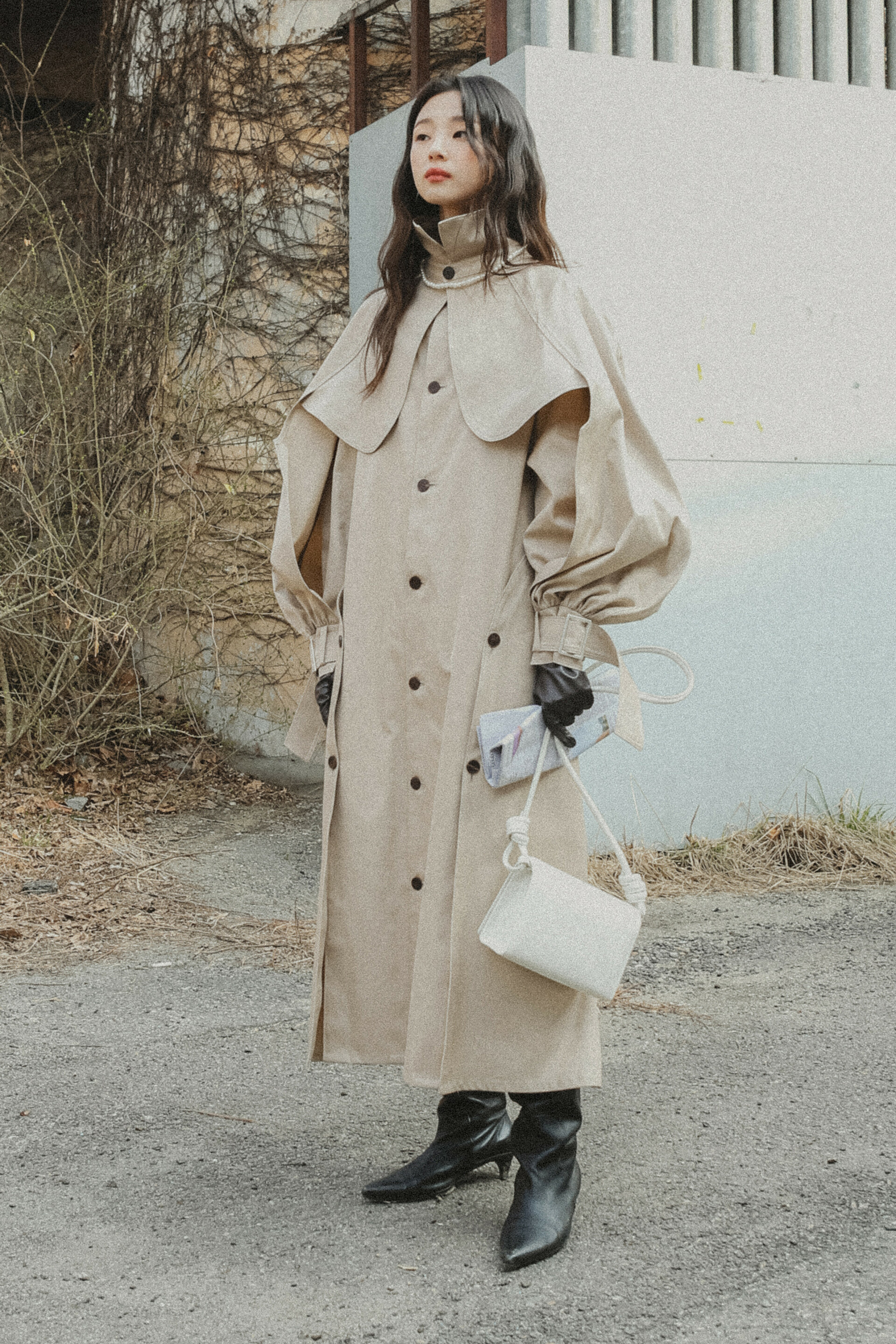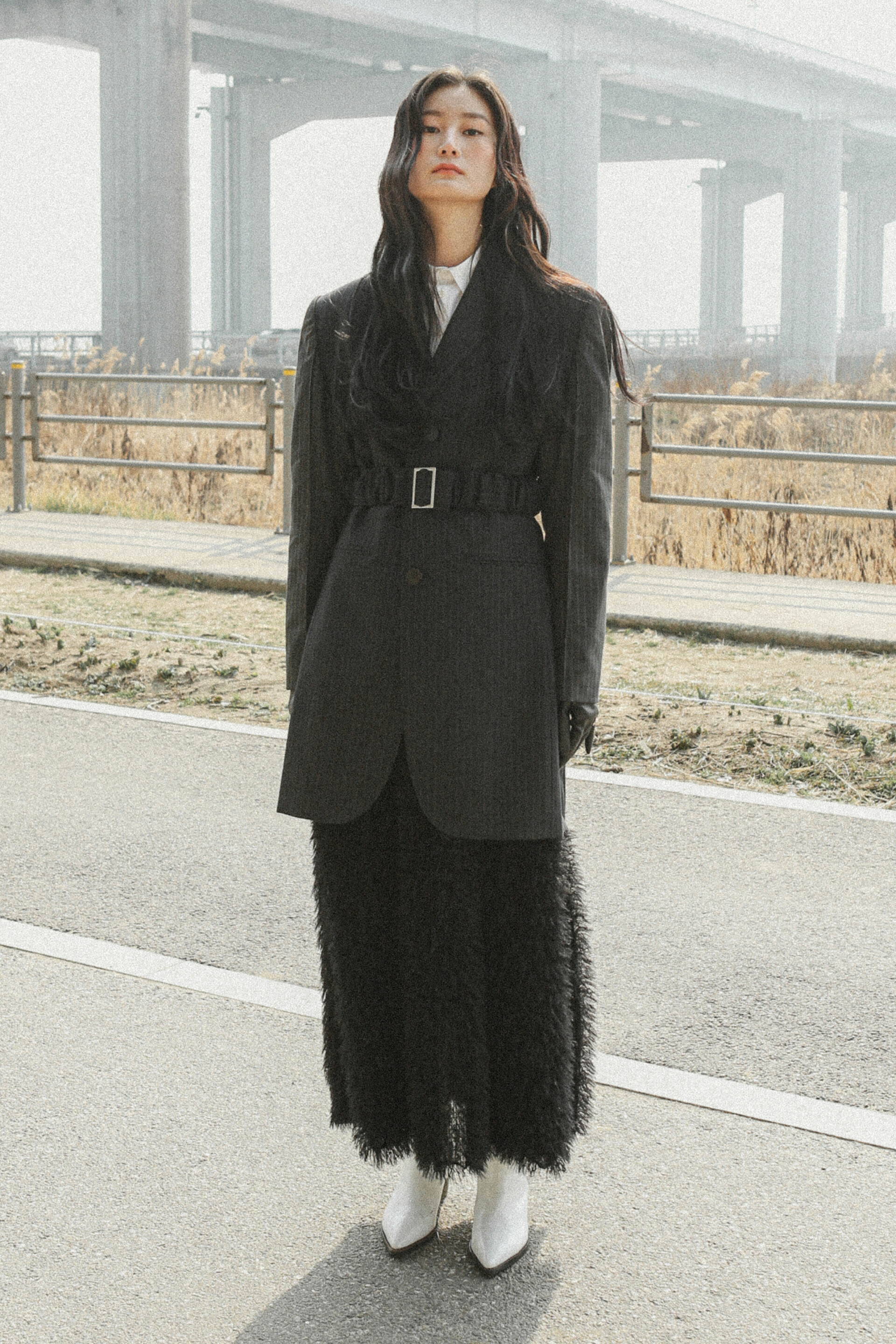 KWAK HYUN JOO COLLECTION
The KWAK HYUN JOO COLLECTION marries an individual's unique sense of self with the visual language of career fashion, emphasising modes of self-expression through references to streetwear. Draped and oversized fabrics are used to create relaxed silhouettes, transforming traditional pieces like suits into a more casual look. However, it's the mixing of prints that arguably steals the show; bold patterns like check and tie dye are juxtaposed with graphic imagery and textures, creating a visual palette that just falls shy of being too much. These patterns take on bold colours, opening up the colour scheme of the collection with brighter tones that we don't usually see in colder months. These vibrant tones bring a liveliness to the season that captures the youthful vision of the brand.
HOLY NUMBER 7
HOLY NUMBER 7 create "romantic streetwear" that highlights the designers' Christian faith. Each season, the brand aims to use their collection to tell a positive story based on the Bible. For FW21, HOLY NUMBER 7 quoted Genesis 9:7: "As for you, be fruitful and increase in number; multiple on the earth and increase upon it." With an emphasis on this theme of abundance, the brand decided to use their collection to raise awareness of textile waste and environmental pollution. In doing so, the collection integrates sustainable practices such as the use of deadstock fabric. HOLY NUMBER 7 demonstrate that sustainability can still be stylish with a bold colour palette, mixed patterns, and layered silhouettes. Carrying a vintage vibe that still manages to look relevant and contemporary, the collection playfully mixes texture, colour, and pattern to create edgy streetwear. HOLY NUMBER 7 aren't subtle in their layering technique either, packing together undersuits, skirts, shirts, waistcoats, corsets, and blazers (often in one look). This tactic offers a rich visual landscape that begs the audience to take a closer look at the interwoven details of each outfit.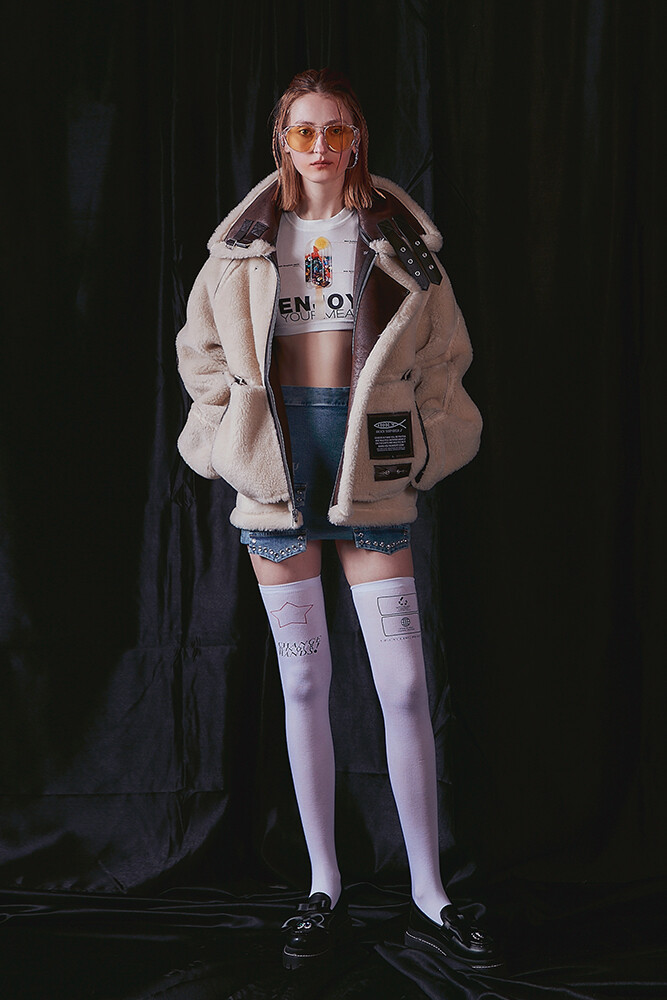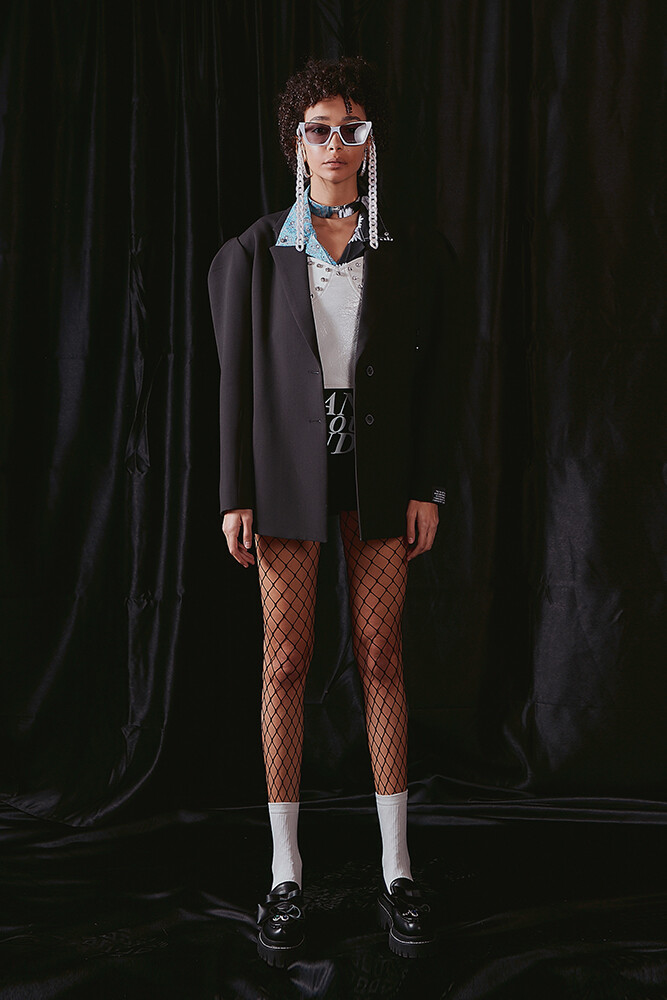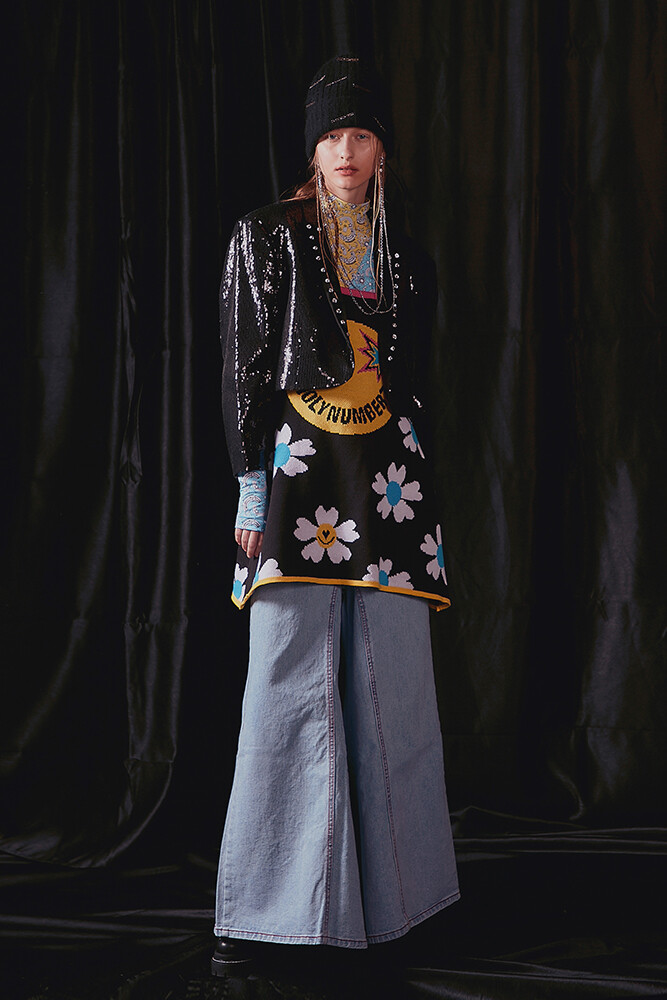 GREEDILOUS
Unique print and pattern design lie at the heart of the GREEDILOUS brand. Multiple prints and colours run through GREEDILOUS's FW21 Collection, providing cohesion through their arresting treatment of colour and exciting play on optical illusion. The chessboard motif is a common theme throughout the collection, manifesting both in check patterns and chess pieces. The maximalist approach of designer Park Youn Hee is a dynamic contrast with other designers' preference for structured minimalism; you won't find simplicity here, but you will find fun. Notable looks in the collection include a patterned blazer and pleated skirt in pink, red, choral, and turquoise; a red, black, and blue chessboard bomber jacket layered over a matching skirt and sheer star-patterned top; and a black leather jacket and skirt combo featuring heavy floral embroidery on the sleeves and hem.
BIG PARK
Park Youn Soo's brand BIG PARK is all about using signature items to construct an urban wardrobe. Their FW21 Collection is dominated by a mix of pastels, primary colours, and neutrals, which are complemented by loose and flowy silhouettes. The outfits on show also incorporate fragments of artistic prints and images, like Sandro Botticelli's Birth of Venus, which elevates the femininity of the collection as a whole. These visual references to female beauty are highlighted by long tulle skirts, ribbons, and dramatic peasant collars. However, these arguably more delicate details sit alongside heavy leather coats, boxy hoodies, and wide padded shoulders, injecting an understated edge that helps situate them in the urban visual landscape.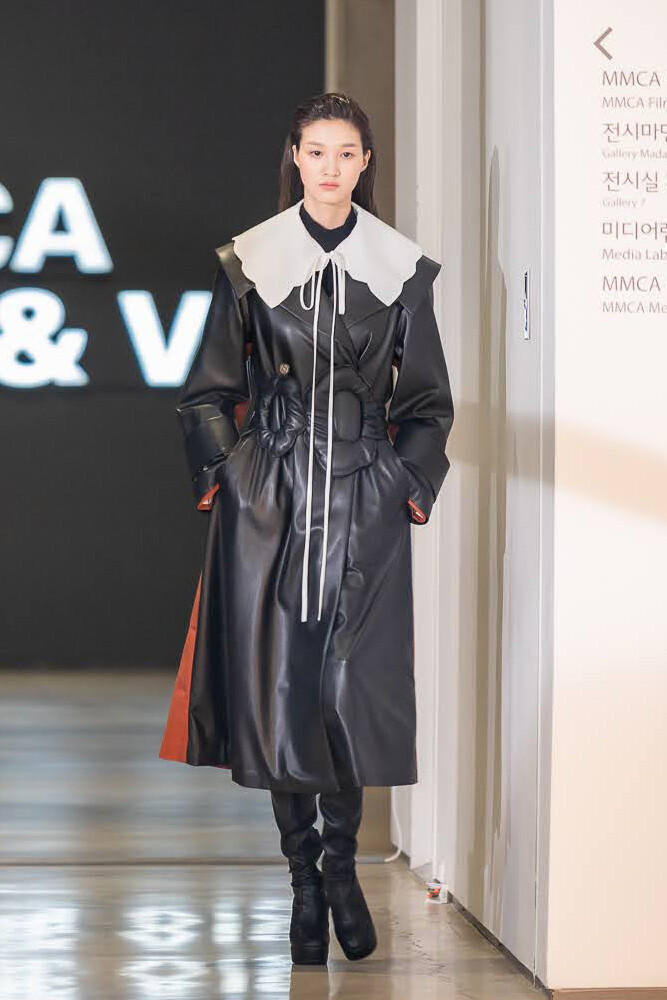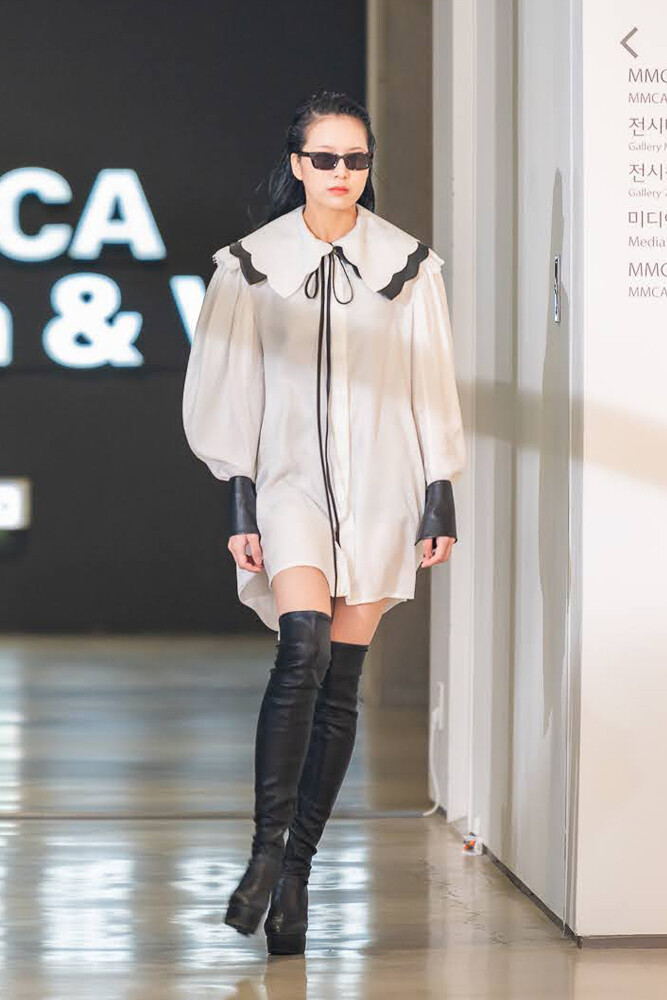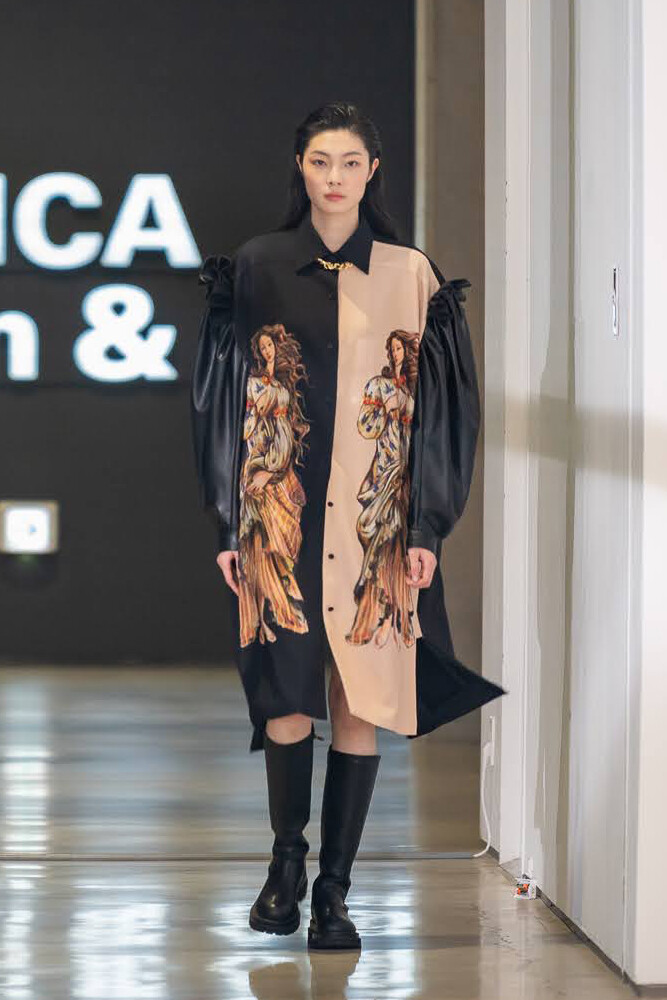 ENSUE
Launched in 2019, ENSUE is one of the newer brands to take to the digital runways of Fashion Week. Designer Ensue Hwang punctuates her brand with a contemporary romanticism that "combines the innocent beauty of a girl with the sophistication of a lady", emphasising delicate femininity through luxurious materials and refined silhouettes. ENSUE's FW21 Collection follows this narrative with its heavy use of lace detailing and ribbon, which simultaneously decorates long gowns and pleated miniskirts. Sticking to a strict colour palette of black and white, the looks on show have a clean and sharp appearance that complements the tailoring of some of the collection's more structured pieces – in particular, its peplum corset tops, long coats, and suits. ENSUE create a collection that celebrates feminine elegance and the transitional overlap of youth and womanhood. One of the standout looks from the collection was a long white pleated dress with a ribbed crochet undershirt, styled with a black blazer and suit trousers.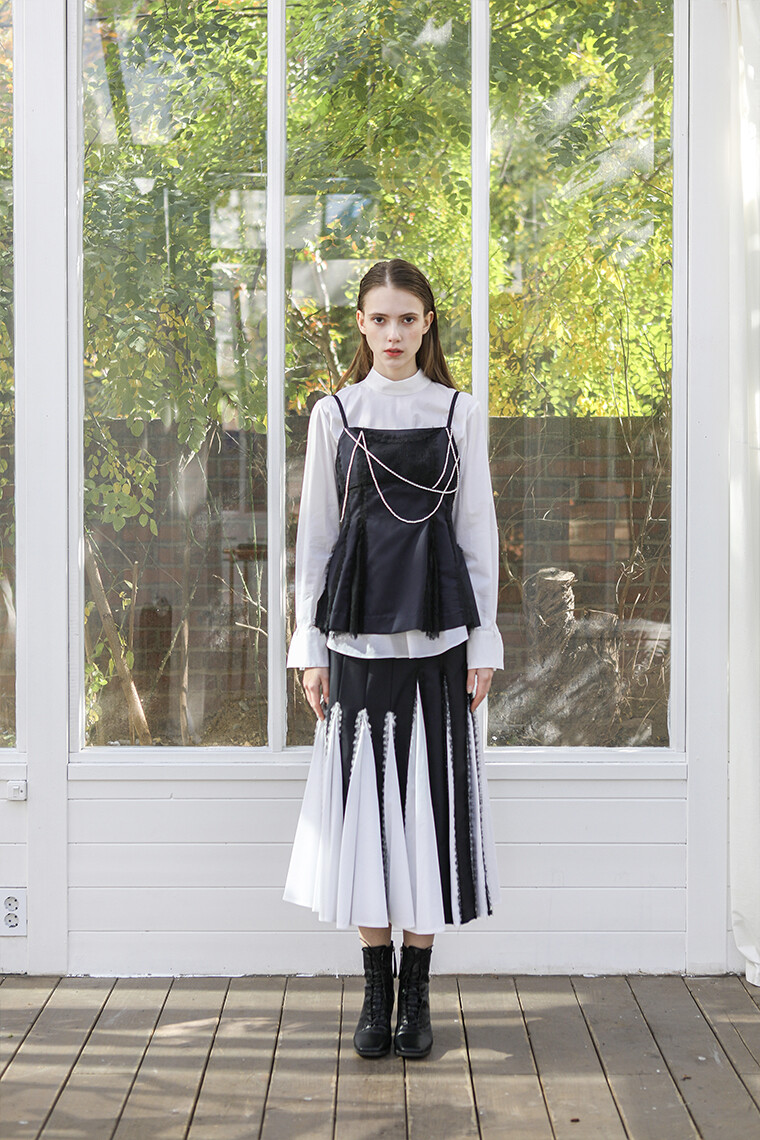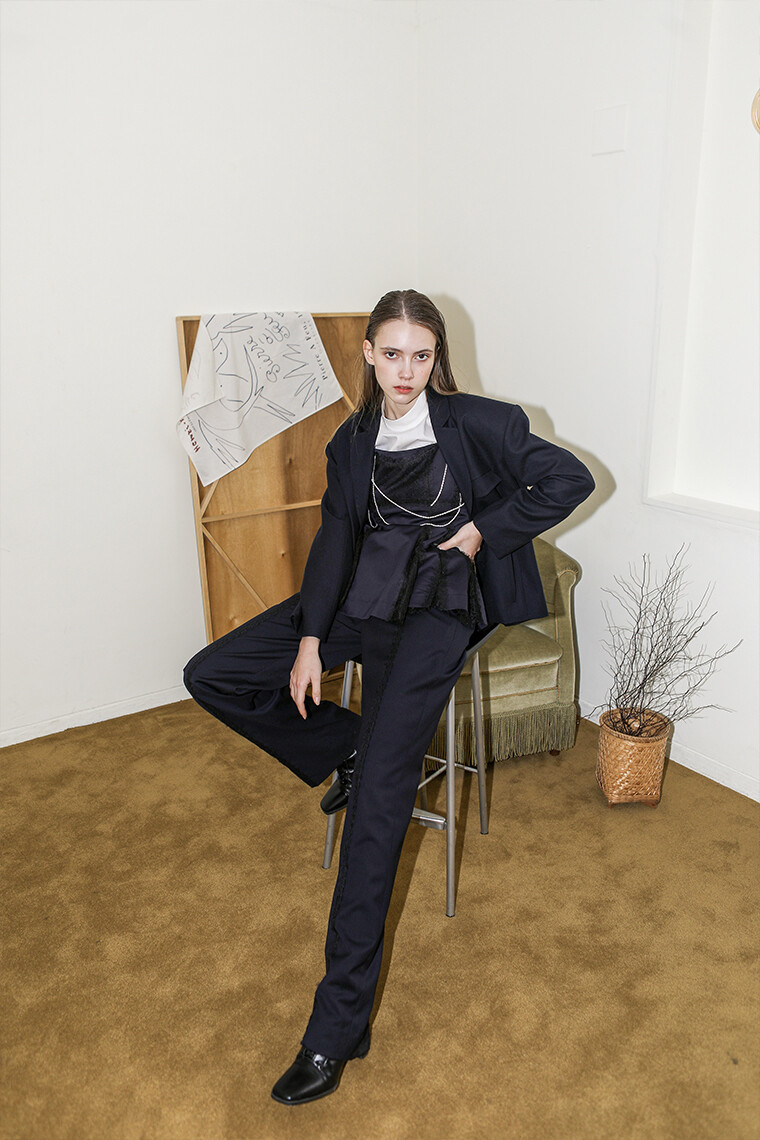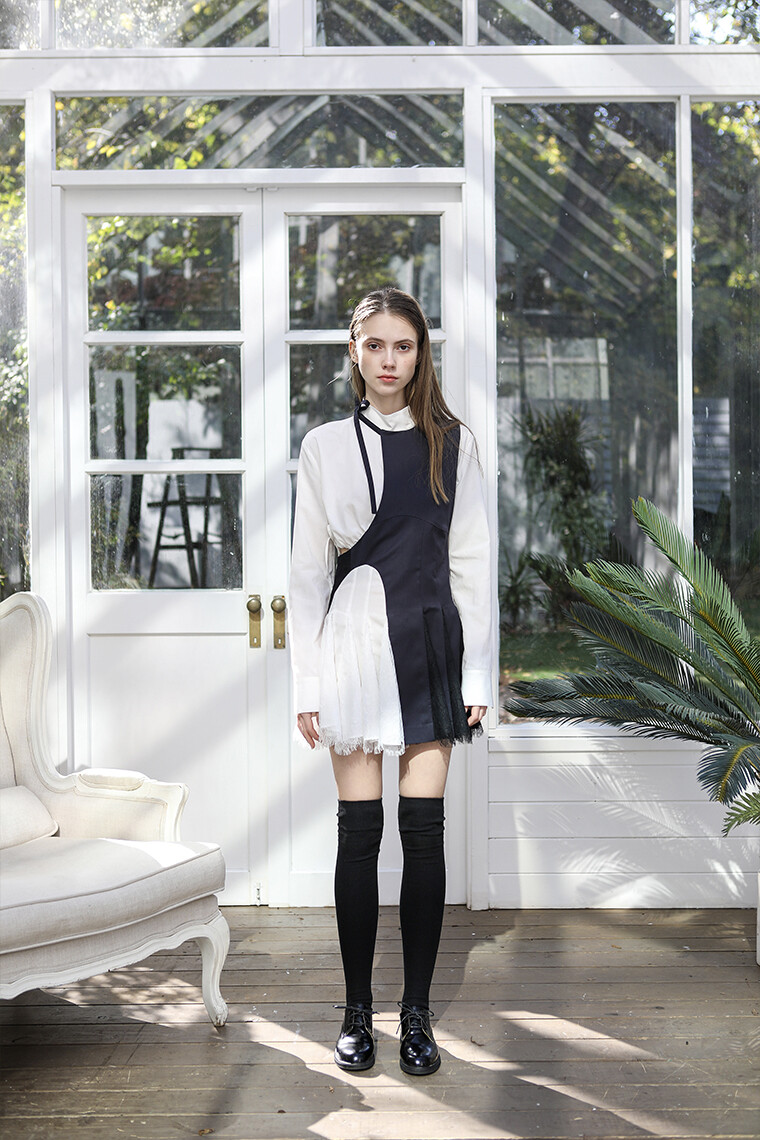 DOUCAN
DOUCAN uses graphic artwork to "reinterpret the oriental fantasy of nature, light, and age", with designer Chung Hoon Choi introducing new prints each season to create a distinctive collection. DOUCAN was one of the shows to watch this Fashion Week season – and rightly so, if the visual impact of the collection is anything to go by. Swirling patterns are a focal point of each outfit, taking the form of prints, beadings, and textured ruching. A detail of DOUCAN's pattern manipulation that makes them stand out is how they use it to create form and structure; by aligning swathes of fabric symmetrically across the torso and sleeves of a dress, the brand gives an illusion of depth that also highlights the model's natural curves. Pattern is often combined with blocks of solid colour on the shoulders, lapels, and belts, providing an interesting alternative to the cut-out trend. An outfit to look out for is the black floor length sheer gown covered in rows of floral print in primary colours.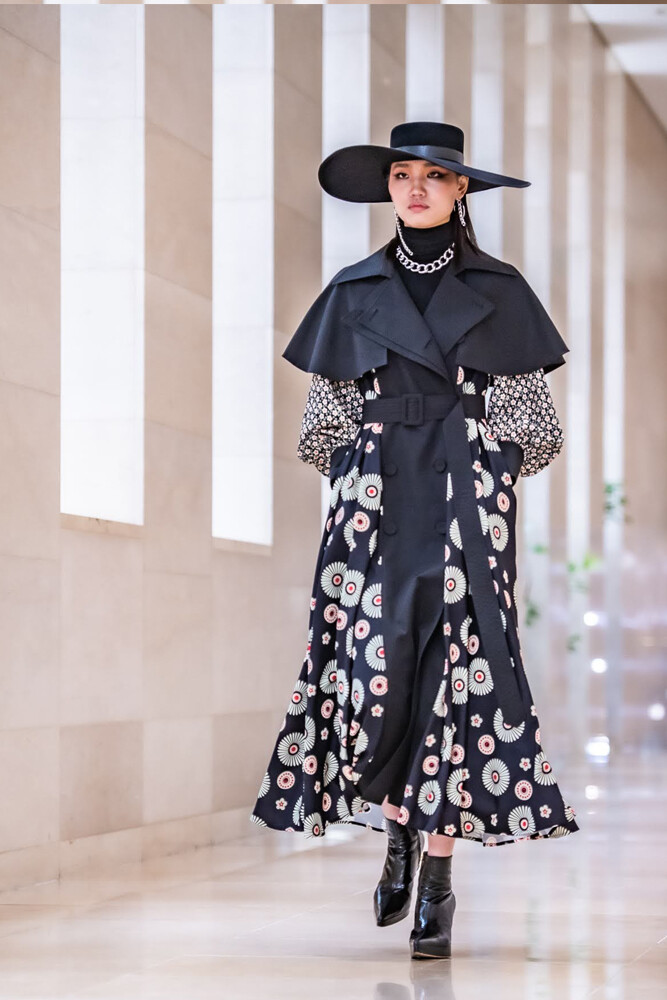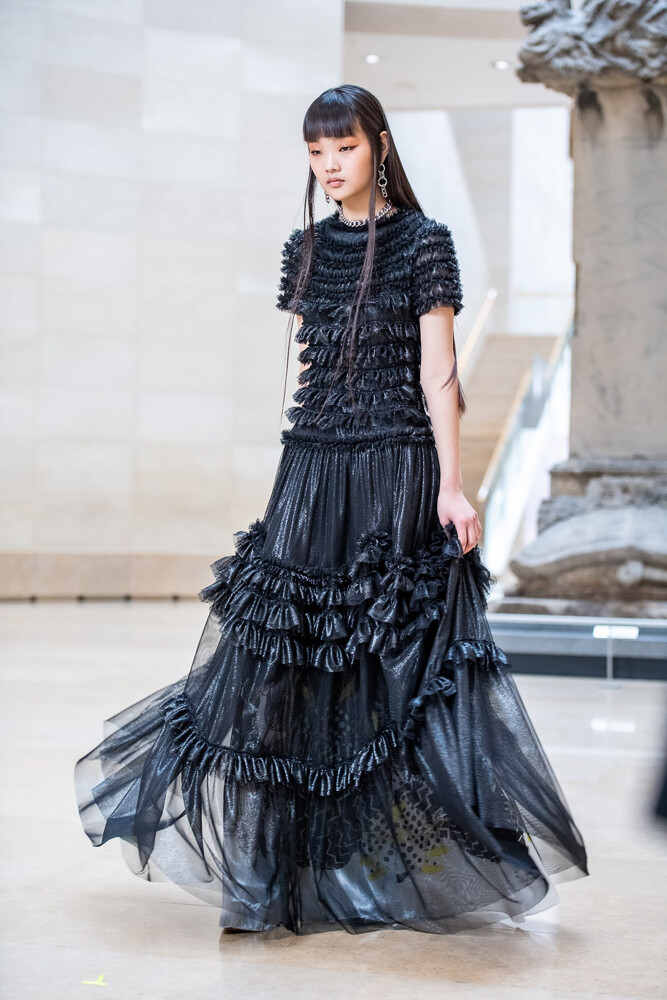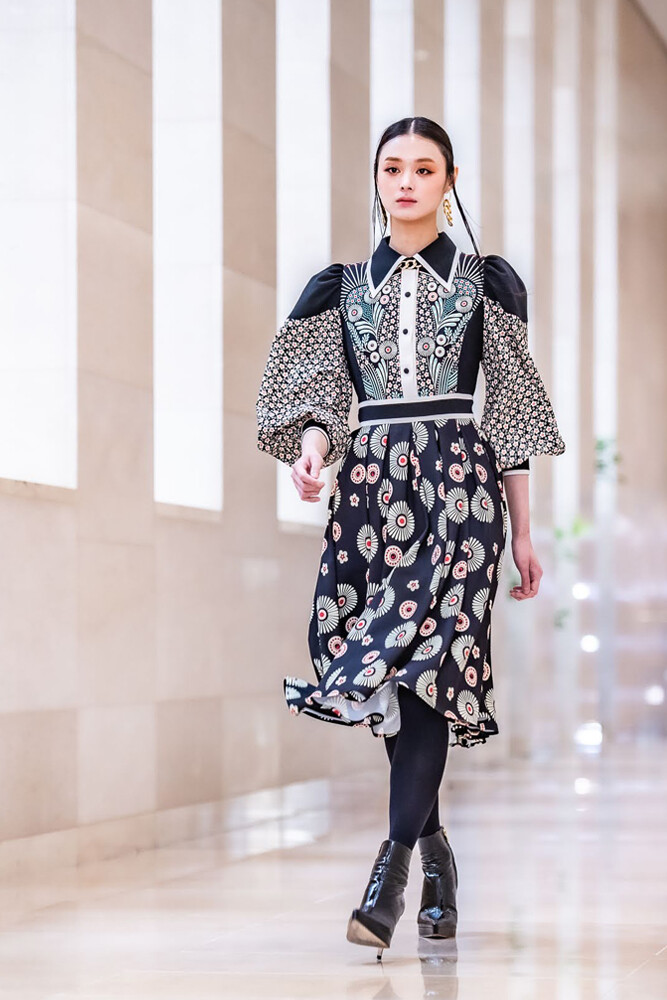 Words By Charlie Colville