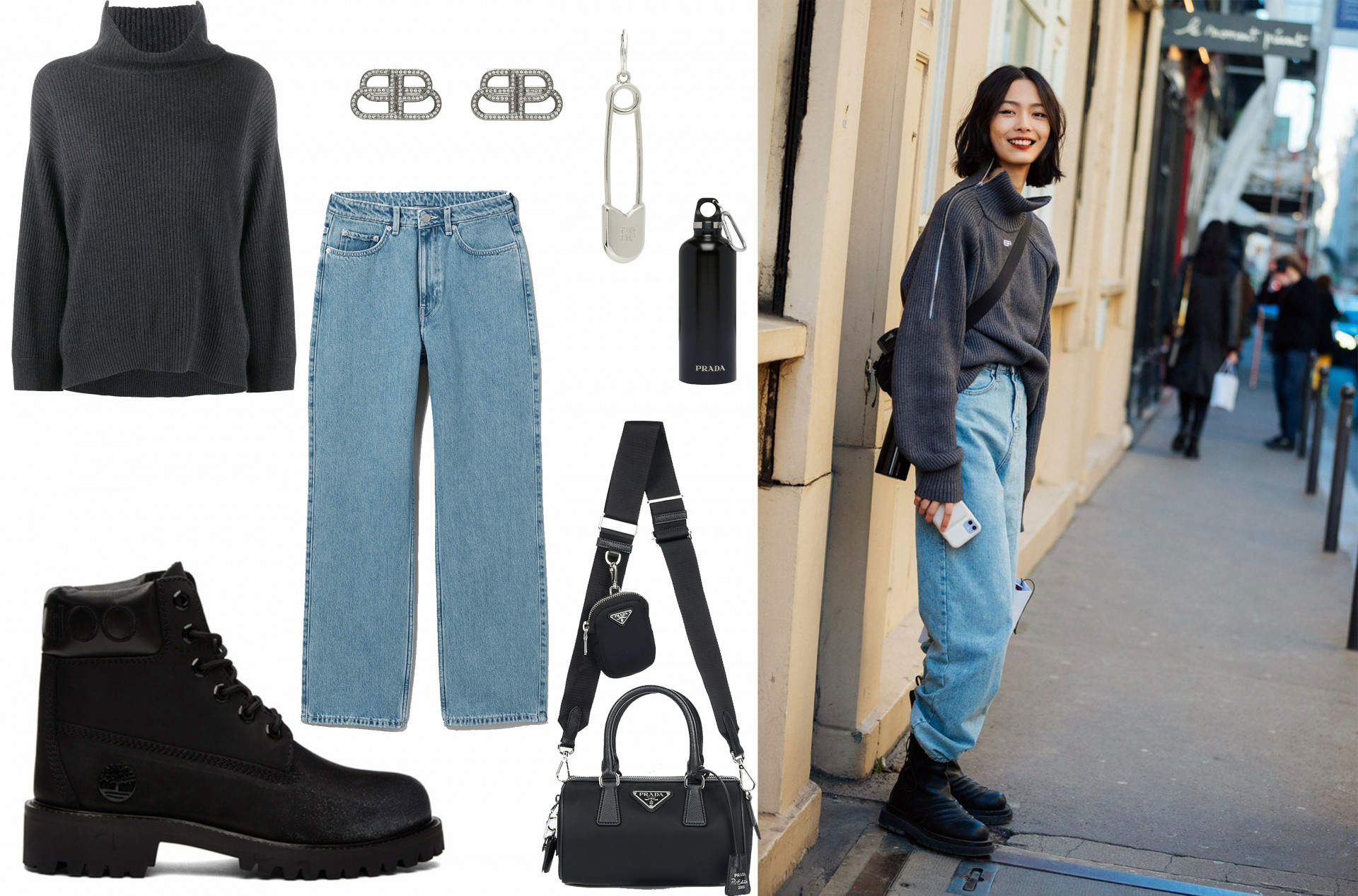 It has now been well documented that the pandemic is pushing us towards buying investment pieces. SSENSE's new drop includes two soon to be iconic pieces of footwear that are perfect pieces to invest in right now. Adidas have just launched their collaboration with Prada, and Timberland have launched a collaboration with Jimmy Choo. Here's everything you need to know.
Boot season is well and truly stomping its way towards us. Timberland, which have previously collared with Off-White and Supreme The boots are perfect for pandemic dressing, adding a level of model chic to any outfit that you throw on. And if you needed any more reason to get obsessed with these pieces, Timberland are going to be planting a tree for every pair of boots purchased.
The boots come in three styles, two of the designs are in the classic Timberland beige tone, one bears a crystal collar and the other is embossed with gold glitter. My personal favourite is the black boot with gunmetal glitter, which screams chic.
Meanwhile, Prada for Adidas reimagines Adidas's iconic Superstar trainers. The trainers come in three different colours, black, white and black, and chrome silver and white. This is the second time the two labels have collaborated.
The sneakers come in full grain leather uppers with the Prada logo embossed on the tongue, insole and rear quarter. This is paired with bold Adidas branding at the tongue and heel, as well as the signature three stripes which are on the sidewalls. The trainers have been crafted at Prada's Montegranaro facility in Italy, where roughly 100 employees have hand guided each pair of sneakers through a process which induces 100 steps. These new sneakers amalgamate the classic aesthetics with a chic on trend revamping. The two brands are a match made in icon heaven, and the sneakers are guaranteed to be coveted by everyone.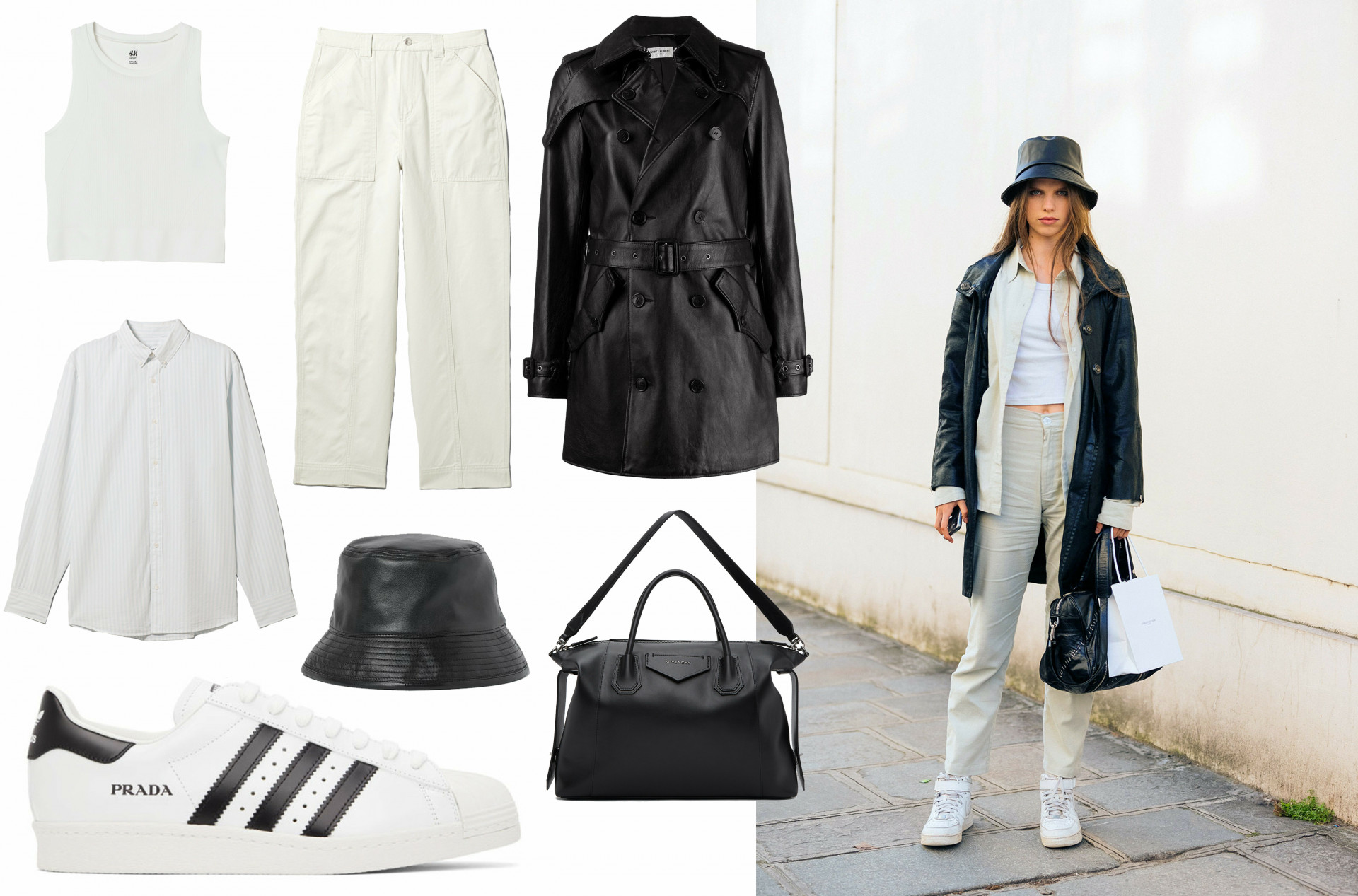 Jacket: Saint Laurent double-breasted leather coat (£3,375)
Top: H and M Seemless sports top, (£9.99)
Shirt: Weekday, Karim Stripped Shirt, (£23.00)
Trousers: Weekday, Gwenyth Trousers, (£45.00)
Shoes: Adidas, White & Black Prada Edition Superstar Sneakers, (£400)
Hat: H and M Black Bucket Hat, (£7.99)
Bag: Givenchy, Black Antigona Bag, (£1920.00)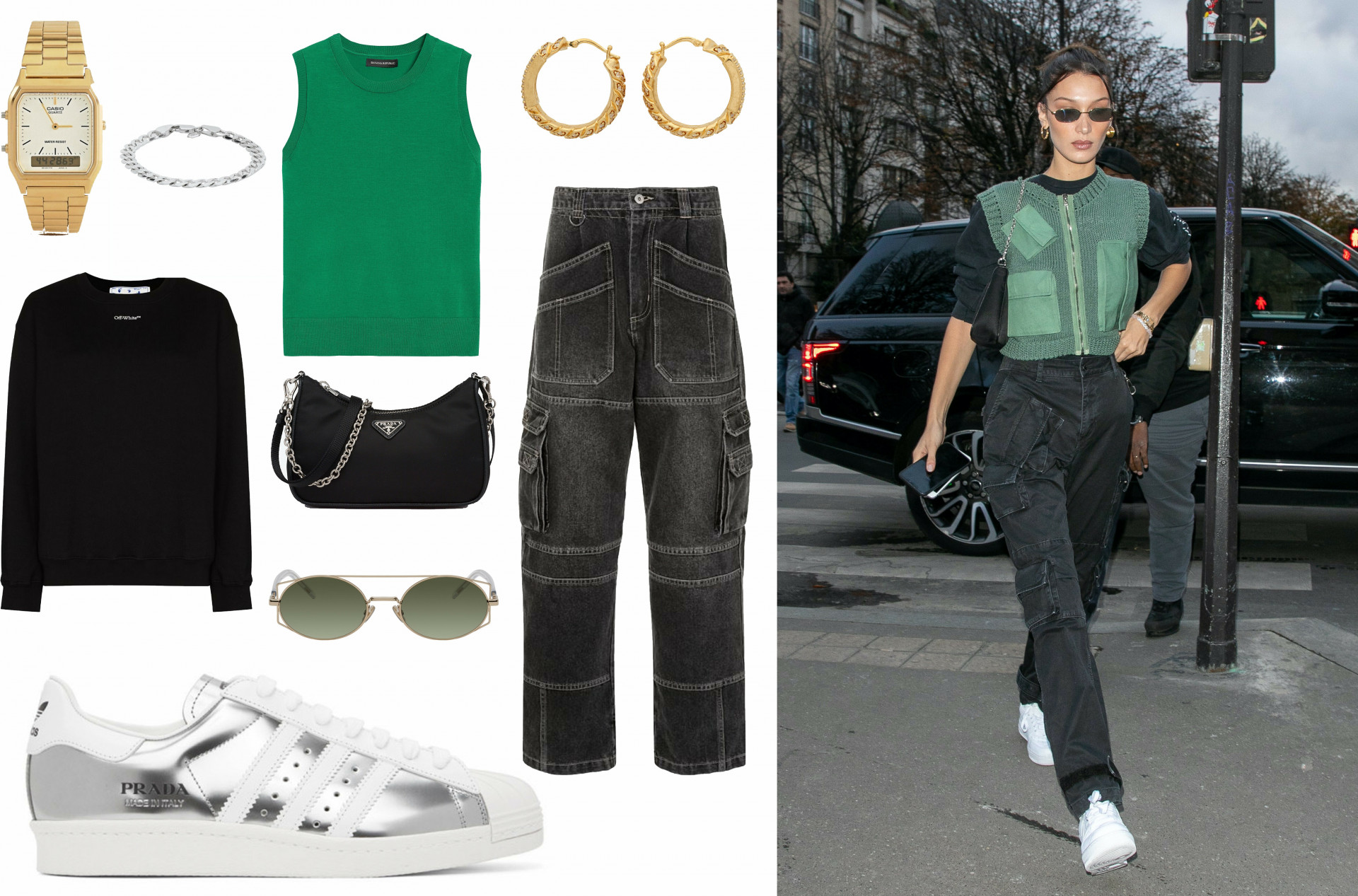 Sweater vest: Banana Republic, Stretch Cotton Sweater Vest, (£45.00)
Top: Off-White, Logo Print Sweater vest, (£480.00)
Jeans: Ground Zero Cargo Loose Jeans, (£500.00)
Shoes: Adidas, Silver & White Prada Edition Superstar Sneakers, (£400.00)
Bag: Prada, Chain Nylon shoulder bag
Sunglasses: Dior, Gold Architectual Sunglasses, (£510.00)
Earrings: Fendi, Medium Gold Earrings, (£490.00)
Watch: Casio AQ-230GA-9DMQYES digital bracelet watch, (£58.00)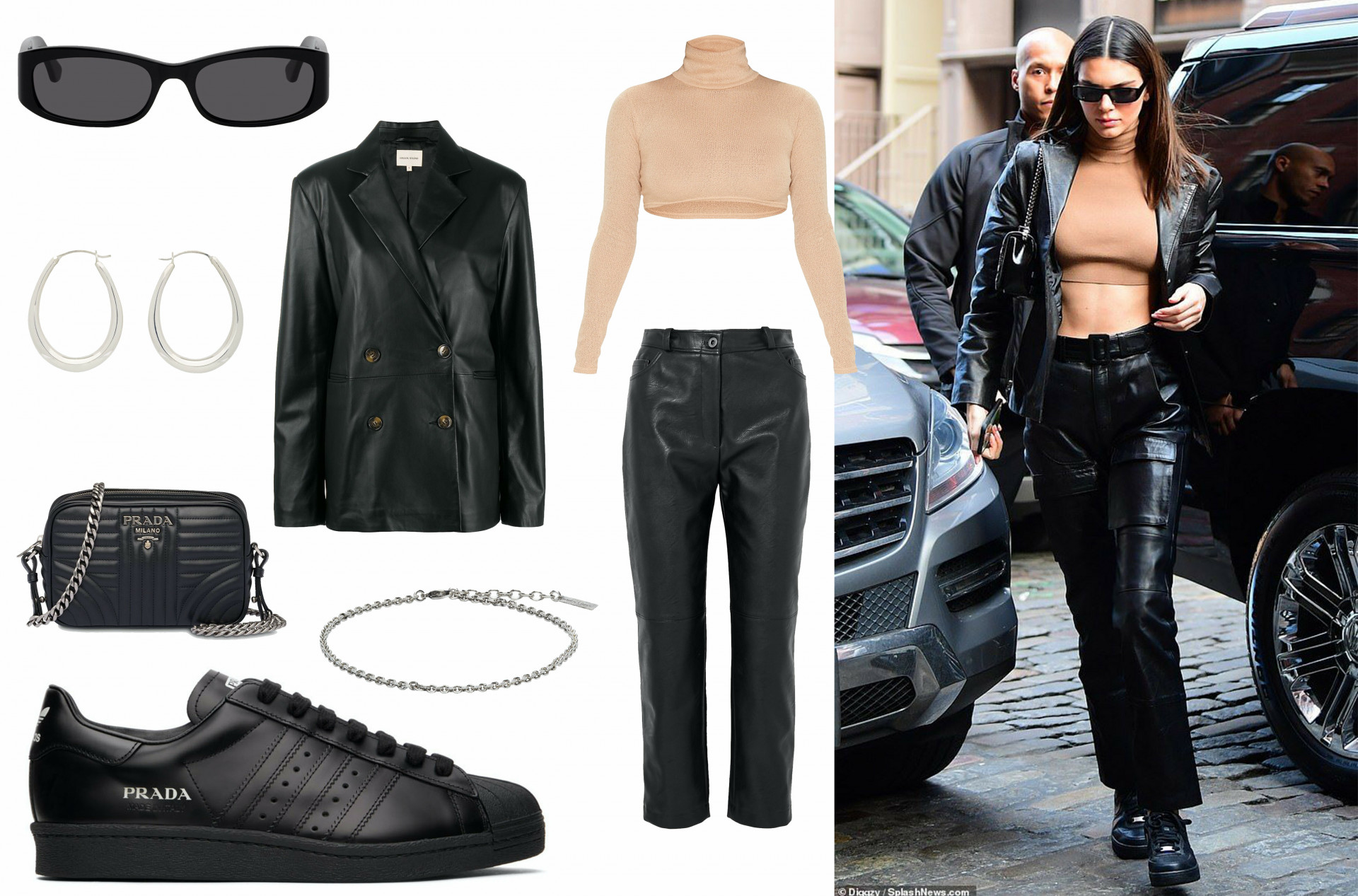 Jacket: Loulou Studio, Boxy fit double-breasted jacket, (£581.00)
Top: Pretty Little Thing, Light Weight Crop Top, (£3.70- sale)
Trousers: Stella Mccartney, Vegetarian leather straight-leg pants, (£565.00)
Shoes: Adidas, Black Prada Edition Superstar Sneakers, (£400)
Bag: Prada, Crossbody Bag, (£1,070)
Bracelet: Saint Laurent, Silver Logo Plaque Bracelet, (£155,00)
Earrings: Sophie Buhai, Silver Small Egg Hoop Earrings, (£390.00)
Sunglasses: Port Tanger Black Leila Glasses, (£250.00)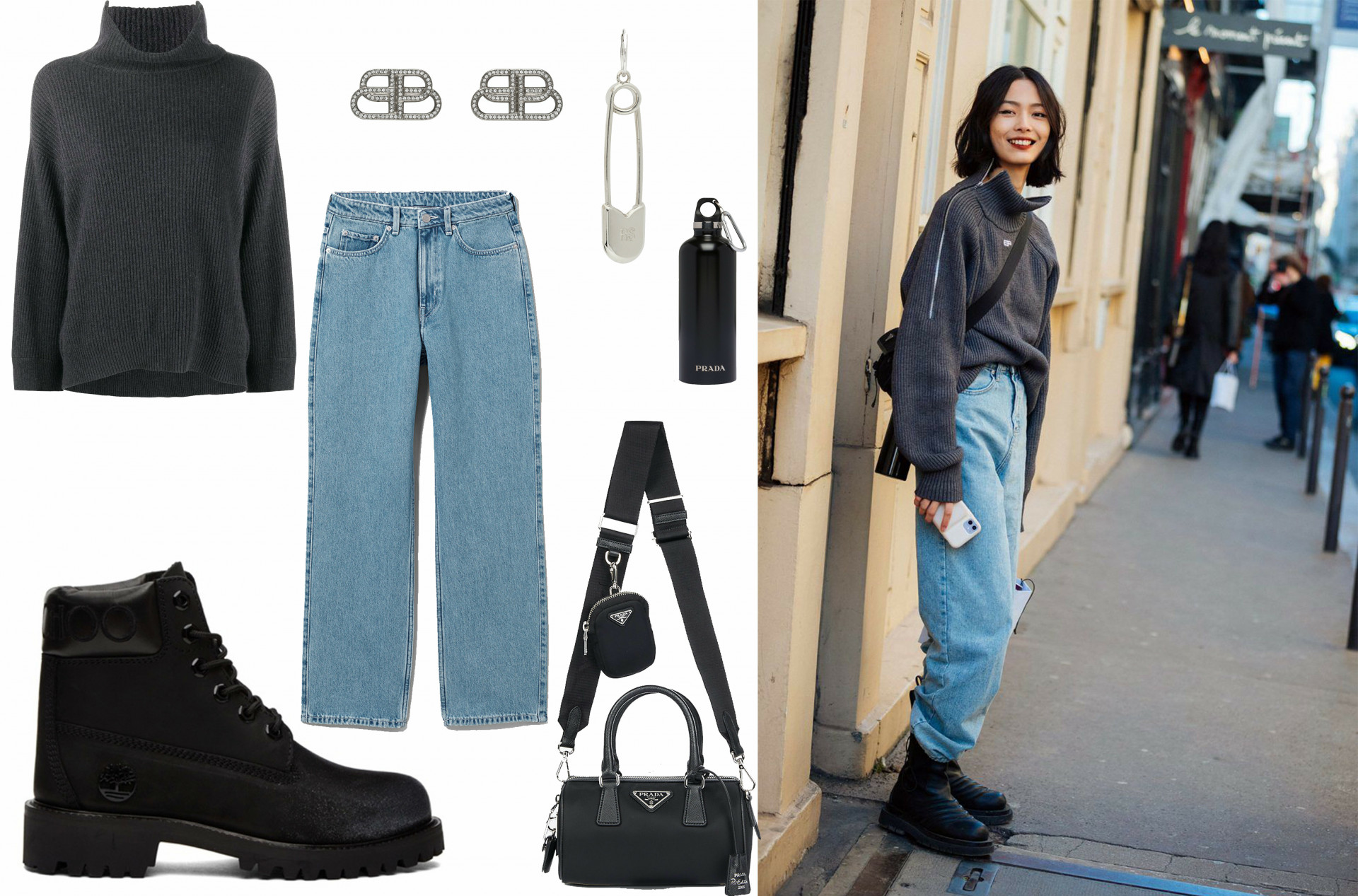 Sweater: Brunello Cucinelli monili-detail cashmere jumper, (£2734.00)
Jeans: Weekday, Rowe Extra High Jeans, (£40.00)
Shoes: Jimmy Choo, Black & Gunmetal Timberland Edition Lace-Up Boots (£495.00)
Bag: Prada, Bauletto recycled nylon shoulder bag (£1310.00)
Earring: Balenciaga, Small Stud Earrings, (£350.00)
Earring: Raf Simmons, Silver Safety Pin Single Earring (£115.00)
Water Bottle: Prada, Logo Water Bottle, (£60.00)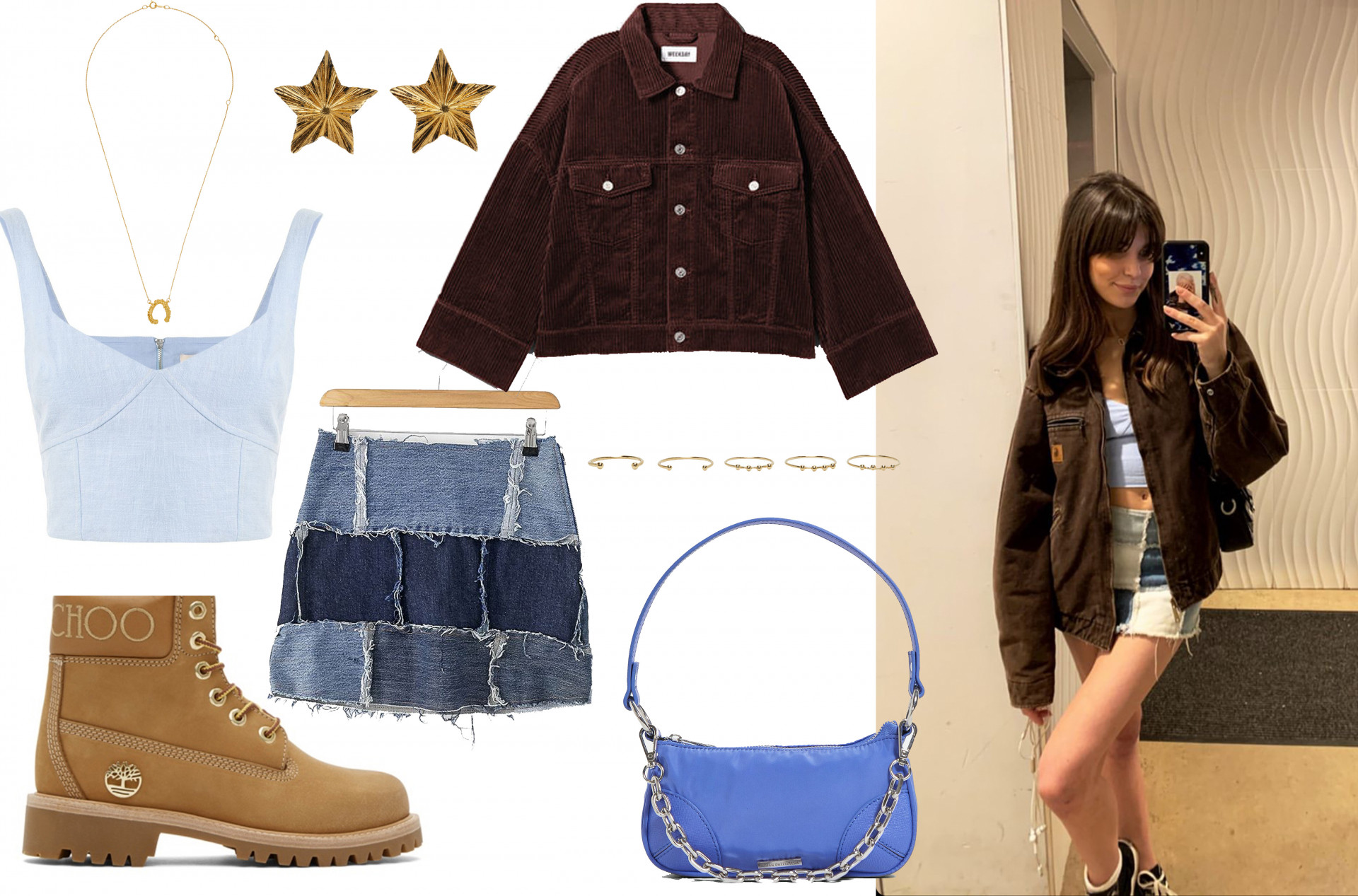 Jacket: Weekday, Cord Jacket, (£55.00)
Top: BEC + BRIDGE Anika fitted crop top, (£107.00)
Skirt: Urban Outfitters, Renewal Remade From Vintage Patchwork Denim Mini Skirt, (£49.00)
Boots: Jimmy Choo, Beige & Gold Timberland Edition Nubuck Boots (£495.00)
Earrings: Saint Laurent, Gold Single Star Earrings, (£220.00)
Necklace: Alighieri, Gold 'The Night Cap' Necklace, (£160.00)
Rings: Isabel Marant, Gold Nirvana Ring Set, (£65.00)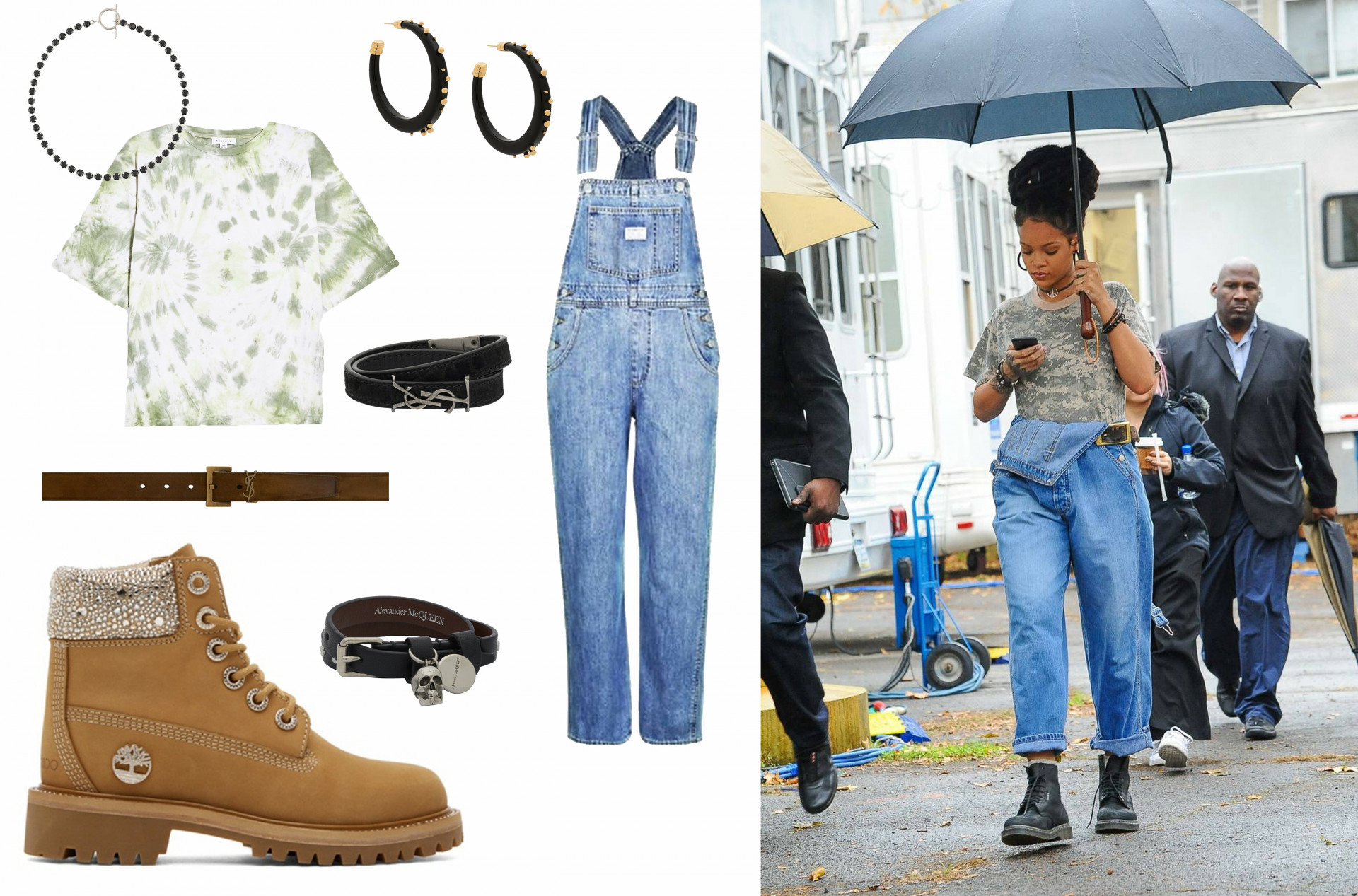 Top: Topshop, Green Short Sleeve TieDie top, (£16.99)
Dungarees: Levi, Vintage Dungarees, (£100.00)
Shoes: Jimmy Choo, Beige Timberland Edition Lace-Up Boots (£1095.00)
Belt: Saint Laurent, Brown Suede Belt, (£350.00)
Bracelet: Saint Laurent, Black Opyum Double Wrap Suede Logo Bracelet, (£245.00)
Necklace: Isabel Marant crystal-embellished choker, (£215.00)
Earrings: Gas Bijoux, Celeste studded hoop, (£195.00)
Words by Marni Rose McFall
Edits by Lucy Gifford