For some years now, the line between masculine and feminine has been narrowing. Society demands fewer distinctions, and brands are aiming to eliminate gender frontiers.
A tendency towards genderless clothing is arising, in favour for ambiguity in form and style – becoming ever-present both on the catwalk, and in our wardrobes.
Minimalist but colourful designs in the edge of androgyny that seek the support of a chameleonic industry to erase the social borders of gender forever.
From large firms to low cost textile companies, there is an emerging change of mentality towards genderless fashion that has been echoed through the launch of collections that blur the frontier of sexes. This does not imply femme men or masculine women, but a nod to a point where both sexes merge together, redrawing a neutral space in which the masculine and feminine peacefully coexist.
The conventional assignment of shapes and colours by gender – for example, believing that pink is effeminate and blue is for boys – has turned out to be a social construction that is losing more and more strength. Nowadays, genderless fashion goes far beyond a simple trend and represents an authentic reflection of social transformations. After all, the rules and stereotypes from the past are there just to be broken.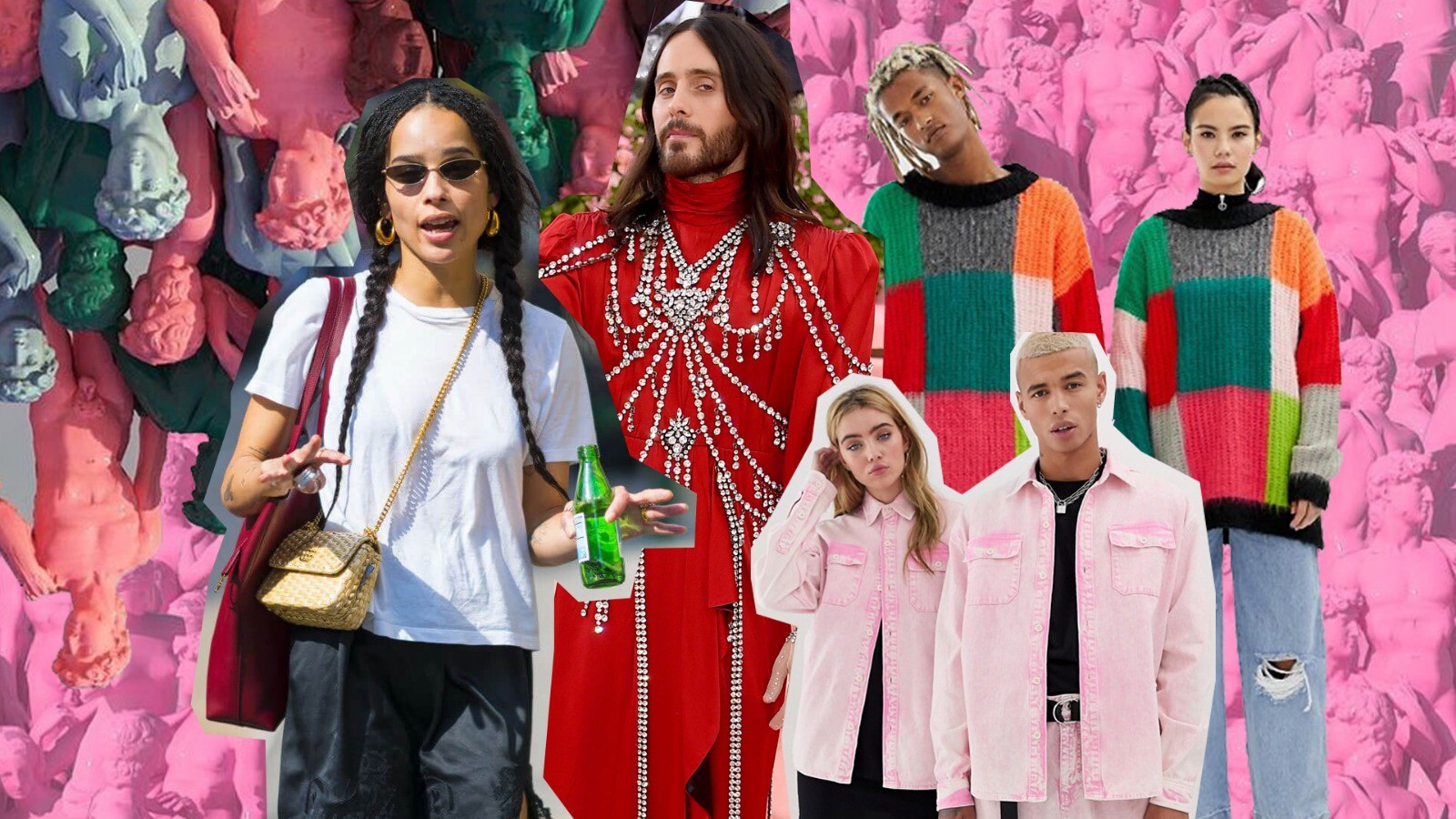 In recent years, we have been witnessing a progressive reduction of gender polarisation in clothing by reputed designers as Alessandro Michele. Creative director of Gucci and sponsor of a fashion without gender barriers, his debut was in 2015 Milan Fashion Week. He decided to go one step further and introduced this tendency straightforward to the catwalks: long-haired male models proudly wearing pink and historically feminine textiles like lace, velvet or satin. Female models walking around with shaved heads, tucked in XXL clothes. And this is not all: he presented the transsexual model Hari Nef as part of this edgy and vibrant AW16 Menswear Show – where she absolutely rocked it.
Following this trend, Zara launched its first unisex collection in 2016 under the name "Ungendered", characterised by neutral hues and basic lines that share sizes and designs. Since then, other affordable textile brands, like H&M or ASOS, have also joined the concept of gender fluid.
Androgyny is not something brand new in the fashion industry: Coco Chanel's tailored suits were the first clothing expression to empower women and fight gender stereotypes. Others, such as Yves Saint Laurent in the 60s or Calvin Klein in the 90s, were pioneers in betting on a unisex wardrobe. Today, millennials are the undisputed protagonists of these cultural transformations. The referents of the new generations -Cara Delevingne, Harry Styles or Zendaya- play with ambiguity and run away from labels.
So, what does agender fashion offer us? Skinny jeans, wide t-shirts, classic hats and tailored suits. Women who are willing to turn a maxi-shirt into a dress with just a belt and men who dare to wear patterns that were previously forbidden, such as flowers or animal print. In gender-fluid fashion, there are no right or wrong garments. Perhaps, genderless is the future of fashion. Blurred lines and more fluidity in the designs, freedom of choice and no differences between collections and creating clothes only thinking of the personality, not of the gender. At a time when young people do not feel the need to define themselves, the gender-fluid tendency has crossed the barriers of fashion and is presented as a new inclusive reality, where nothing is either black or white. The main challenge is to overcome prejudices and forget about what people say. Feel free to choose, free to dress, free to be yourself.
Words by Marta Eireos
Graphics by Sasha Green
, , , , , ,