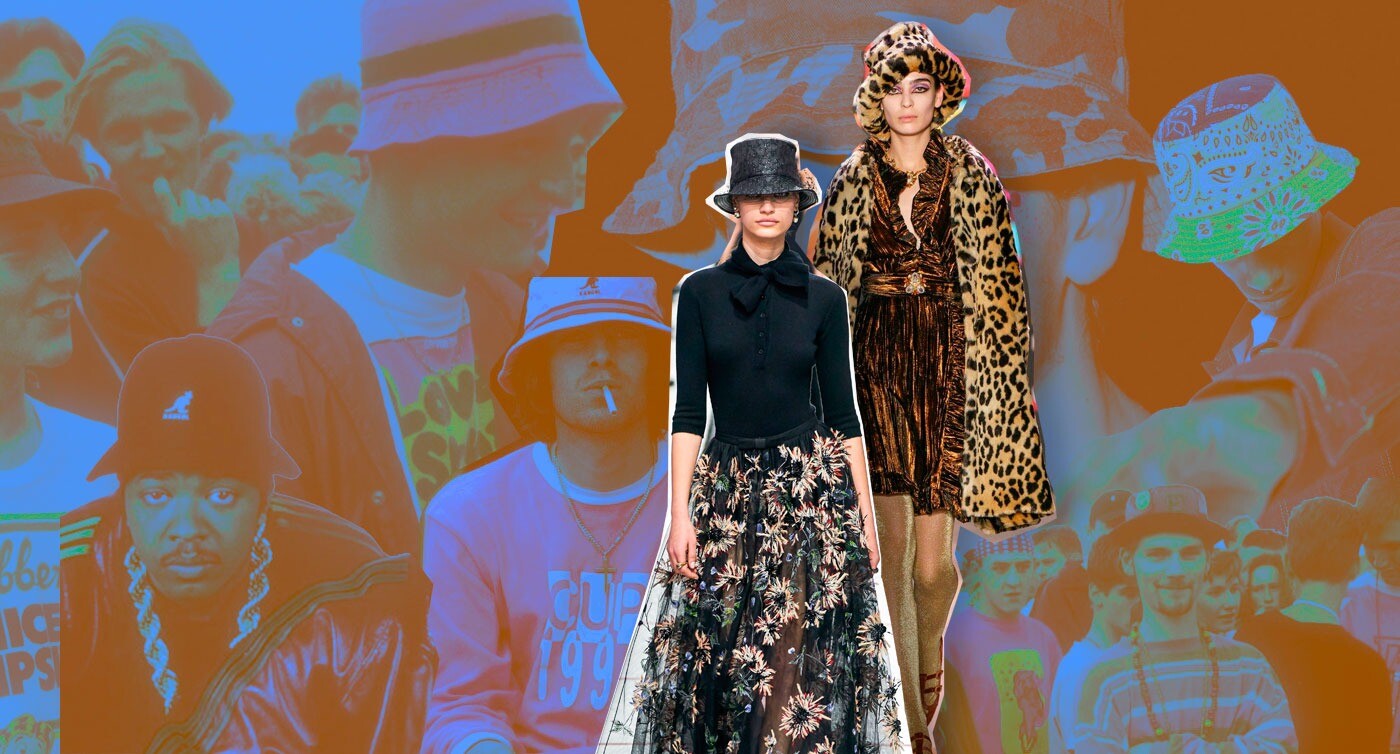 No accessory has been quite as polarising as the bucket hat. And this A/W, it has made a reappearance, this time with a luxurious overhaul. Anna Sui, Prada and Dior all showcased the relaxed, drop-brim hat in opulent new textures, giving the bucket hat a new lavish lease of life.
The bucket hat is the great equaliser – no fashion trend has simultaneously united middle-aged fishermen and catwalk models alike. Arguably, its most famous incarnation is during the rave underground scenes of 1990s 'Madchester' and atop the bopping heads of anti-establishment bands like the Stone Roses, Sticky Fingers and Oasis. After this, they were nicknamed the 'session hat', ideal for those sweaty-haired students and ravers dancing until midday the day after they arrived at the party.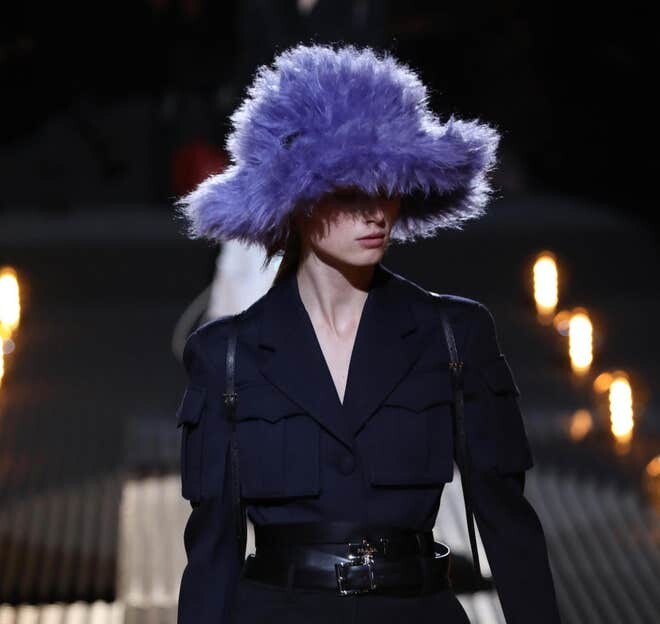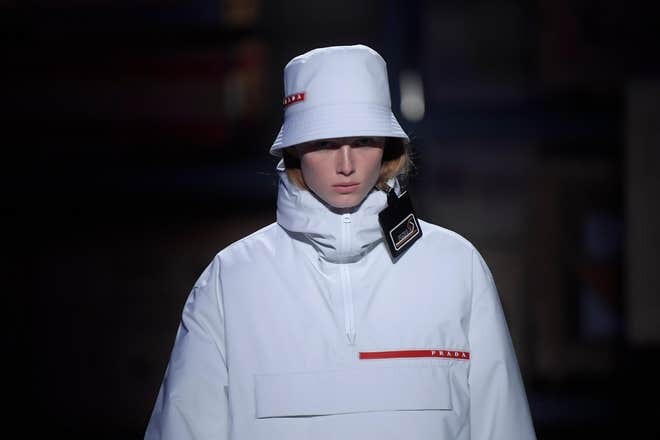 Now, they're making a re-emergence on the runways, this time with a sumptuous twist. Prada, Tom Ford and Anna Sui all espoused floppy, oversized bucket hats in rich purples and blues, resplendent velvet animal prints and faux-fur textures, making them winter-wardrobe appropriate, while Valentino showed us black, red and beige hats that seemed suited more to The Handmaid's Tale – perhaps an ironic nod to the current political climate. Dior gave us structured black leather and vinyl bucket hats with Parisian lace veil accents elevating them even further. Paired with utilitarian coats, cinched waists, and work-wear suits, the collection welcomed the bucket hat into the boardroom. Maria Grazia Chiuri styled a masterclass in gender-play, offsetting a leather androgyne bucket hat and buttoned up collared shirts with belted waistlines, full tulle A-line skirts and pearl chokers, effortlessly matching masculinity with femininity, flirting delicacy with utility. Prada also walked several styles down the runway, atop the heads of both male and female models, illustrating its versatility and unisexuality.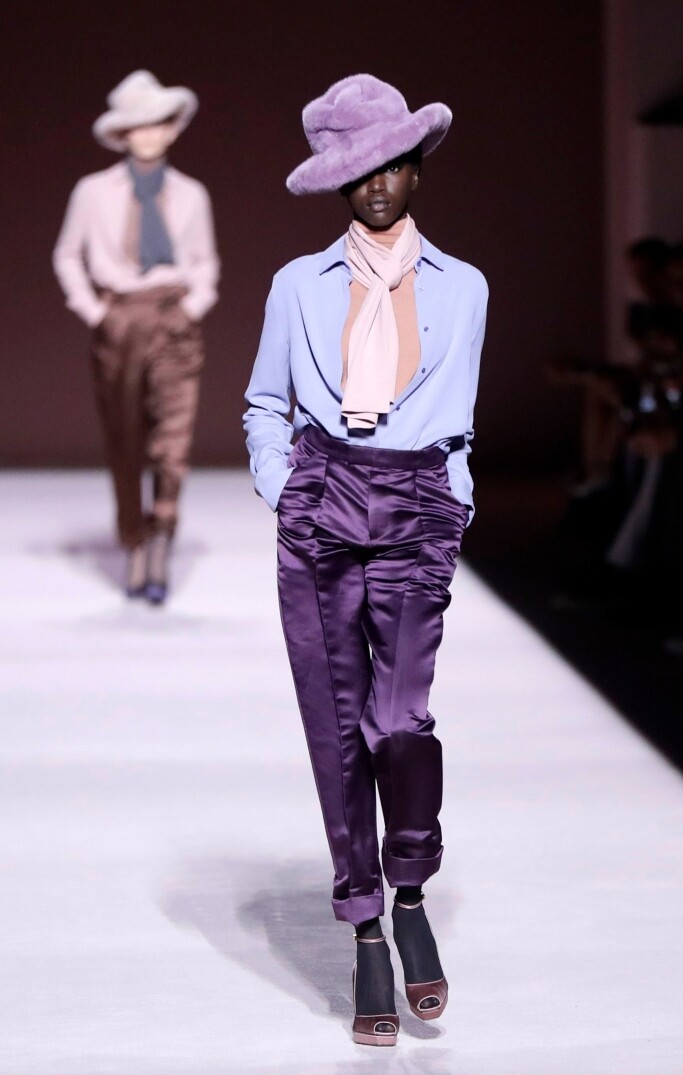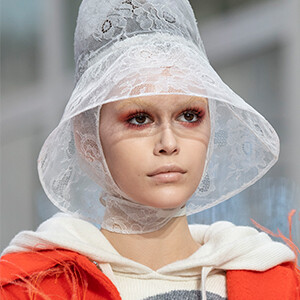 Love them or hate them, bucket hats are back in a big way. The redux of the bucket hat could be seen as politically reactionary, appealing to the gender anti-conformists and reminiscent of counter-cultural figureheads, certainly echoing Atwood's vision in Valentino's case. Fashion has always been a precursor to social movements, so maybe the bucket hat signals the next big thing; unisexuality beckons an inclusive and exciting future, breaking moulds and creating new boundaries regarding sexuality and gender. So whether you're heading to all-night rave or an all-nighter in the library, chuck a bucket hat on. Fight the system.