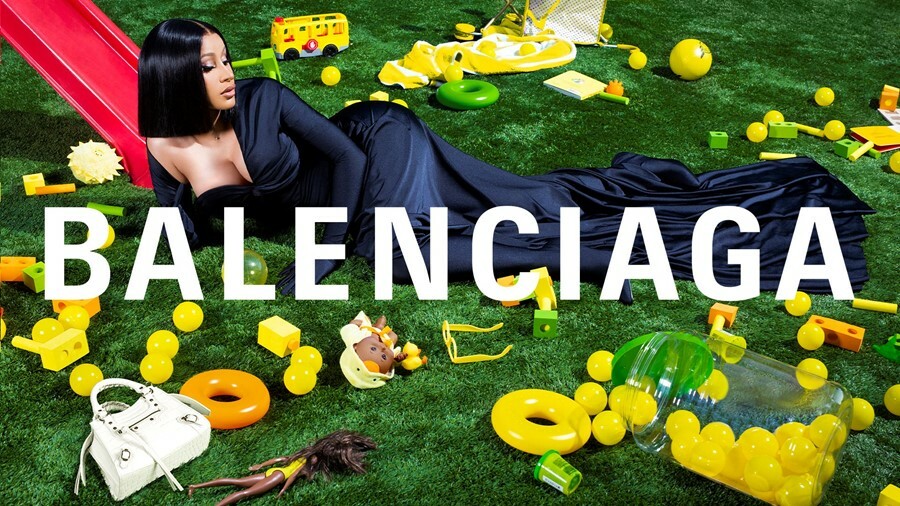 Soon after releasing her summer hit 'WAP', Cardi B once again took over social media announcing her collaboration with Balenciaga for its fall 2020 campaign.
The rapper shared the news with a promotional image for the AW collection which unveils her as the new face of the brand. Believe it or not, this is the first time a celebrity has been cast for a Balenciaga promotional campaign since 2015 and Cardi's first- ever campaign for a luxury fashion brand.
Balenciaga is known for switching out celebrities and influencers in favour of lesser-known models and creative figures, but this time creative director Demna Gvasalia opted for innovation.
Captured lying on a patch of artificial grass and surrounded by bright yellow toys, Cardi showed off a head-to-toe Balenciaga look with the label's new Neo Classic white handbag. Gvasalia himself styled and selected Cardi B's look: the rapper is seen wearing a fluid black evening gown with an asymmetric neckline and built-in gloves with a matched sharp bob. According to the brand, the rapper shot the picture herself in Los Angeles during the lockdown in what seems to be Kulture's playground.
With the image now being showcased until the end of September on a giant billboard on the side of the Louvre museum in Paris, the rapper couldn't contain her excitement. On Instagram, Cardi wrote: "Ya lookin at the face of a @Balenciaga campaign! I remember how I felt seeing myself on a billboard in NYC Times Square but PARIS! Wish I was there to see it in person!."
From rapping about liking 'those Balenciagas, the ones that look like socks' in 'Like It' and being the 'Balenciaga Mama' in 'She Bad', Cardi B surely saw her dreams become true with this campaign.
Cardi B, Bad Bunny, and J Balvin- I Like It (Official Video)
Words by Gennaro Costanzo