Megan Thee Stallion and Dua Lipa are renowned for their love of exquisite fashion pieces
with a risque edge, so it comes as no surprise that the superstar duo's new music video is
bursting with freakishly fabulous fashion looks. As the mastermind behind the 'Sweetest Pie'
video, Megan Thee Stallion worked with stylists Eric Archibald, Lorenzo Posocco and Marta
Del Rio to channel her love for fashion and horror through alluring looks that nailed the
fantastical aesthetic of the video.
In a glamorously wild opening scene, the two stars evoked femme fatale fever in
Schiaparelli- a likely brand choice for the fantasy-inspired video as the Italian fashion house
is renowned for all things abstract. Megan's empowering lyrics were reinforced by the
skin-tight latex gown she paired with traditional Schiaparelli accessories (taking the form of a
chunky gold necklace and an oversized circular hat). Meanwhile, Dua emerged from behind
the rap star in a medusa-inspired gold swirled gown, as both looks set the scene for a wil
ride of iconic fashion fantasy.
Switching the vibe entirely, the next scene was something from a Candyland dream as the
pastel-hued walls matched the Alice in Wonderland-style scene. Mimicking the sweet
setting, Megan danced in a monochromatic mint look, complete with a corset-style bodysuit
that dripped with pearls. The look was paired with tall leather boots in the candy-inspired
shade. As if Meg's look wasn't sweet enough, Dua's second outfit kept to the song's playful
theme with a crystal-embellished tee and sultry leather boots.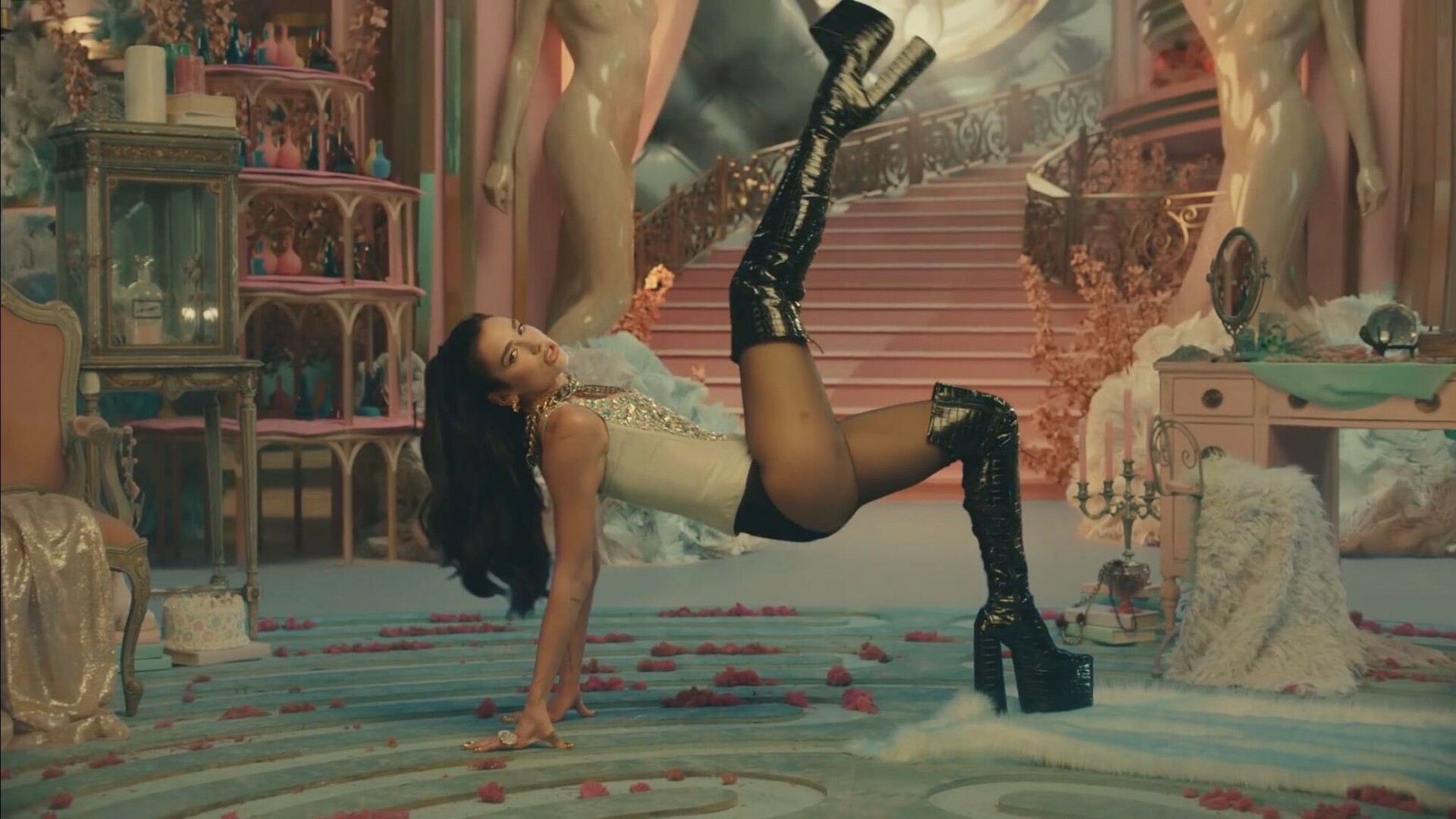 While every look in the video was a vision of outlandish charm, the third firey looks were a
definite highlight. Drenched in emeralds, Megan showcased a goddess style cut-out bikiniattached to a crystal-embellished choker that clearly drew inspiration from Egyptian
mythology. Meanwhile, Dua wore a spiky black number; her two-piece was finished with
freakish mythical spikes and the iconic knee-high boots that were proving themselves to be a
staple accessory in the video. The bold and dangerous looks served to juxtapose the sweet
and sultry lyrics sung by the stars.
The video's abstract fashion pieces finished as strong as they started. As a penultimate look,
Megan donned a sequined scorpion-embellished sheer bodysuit, while Dua kept to the
video's 'witchy' aesthetic as she burned at the stake in a Mugler-style mesh cut-out dress.
The video's finale brought us goddess inspired finesse as the two stars posed among the
fiery setting in sheer gowns, Megan sported a silver bikini under a white cape that contrasted
Dua's off-grey transparent look.
Each look in the video delivered a freakishly sexy style while reflecting the empowering
message behind the song. If this is only the first taste of the delicious looks Megan will be
serving with her upcoming album, we can't wait to see the rest of the sultry looks the star has
in store.
Words by Olivia Booth
Photo Credit: Megan Thee Stallion Instagram