Full of bright and colourful incandescent incarnations
Milan Fashion Week has sadly come to an end, but that doesn't mean we're moving on. A bountiful display of Spring/Summer 2019 looks gave us a plethora of inspiration and must-haves for the new season to come. Here is a shortlist of the most enthralling.

Philipp Plein
Studs, sparkles and spikes: Philipp Plein showed an edgy runway complete with camo printed garments, studded rocker chic jackets and spiked over the knee boots. This collection is a glamorous rock and roll offering for spring: PVC, leather and Metallica font, we don't know about you but we're ready to rock it.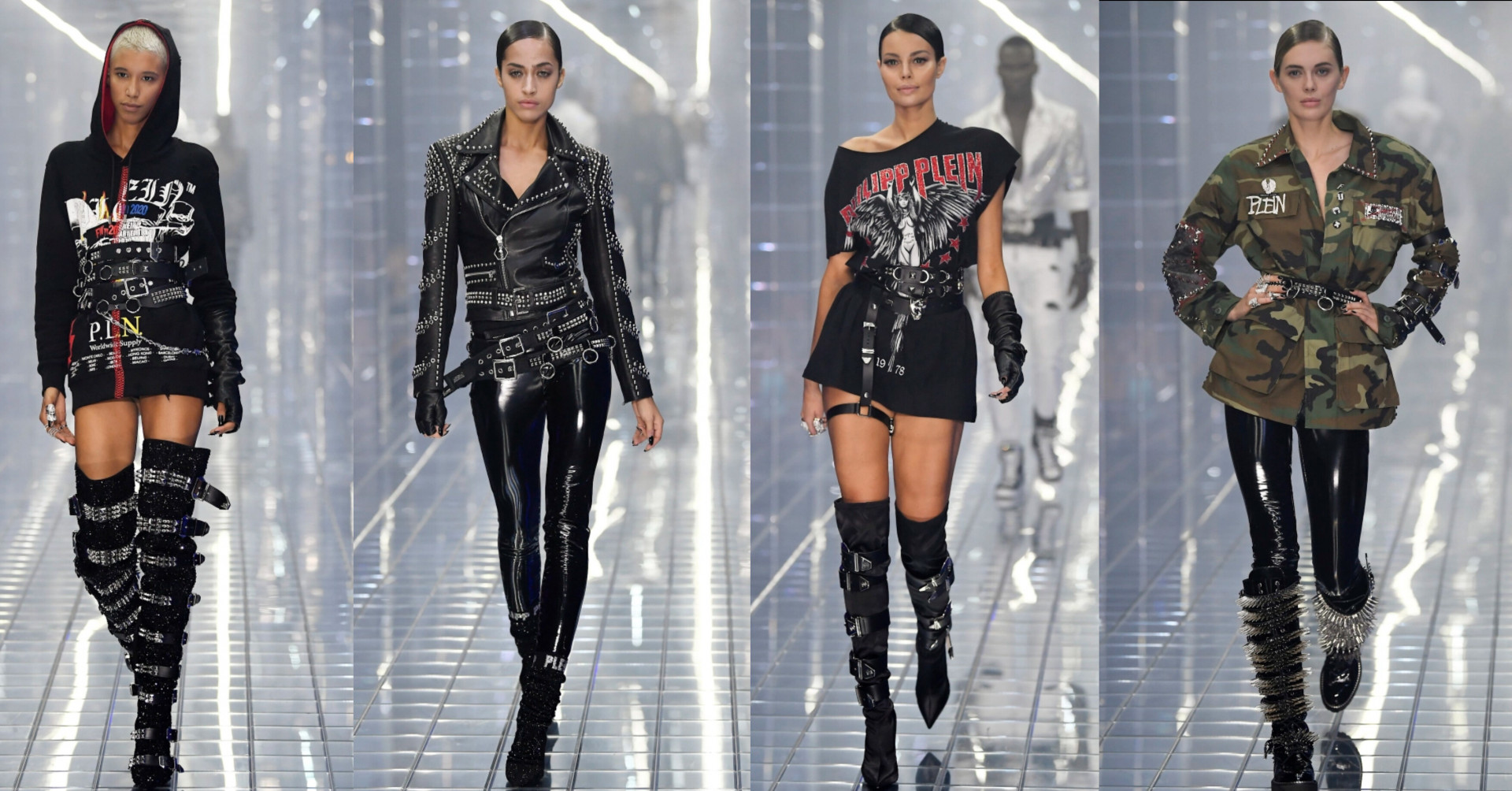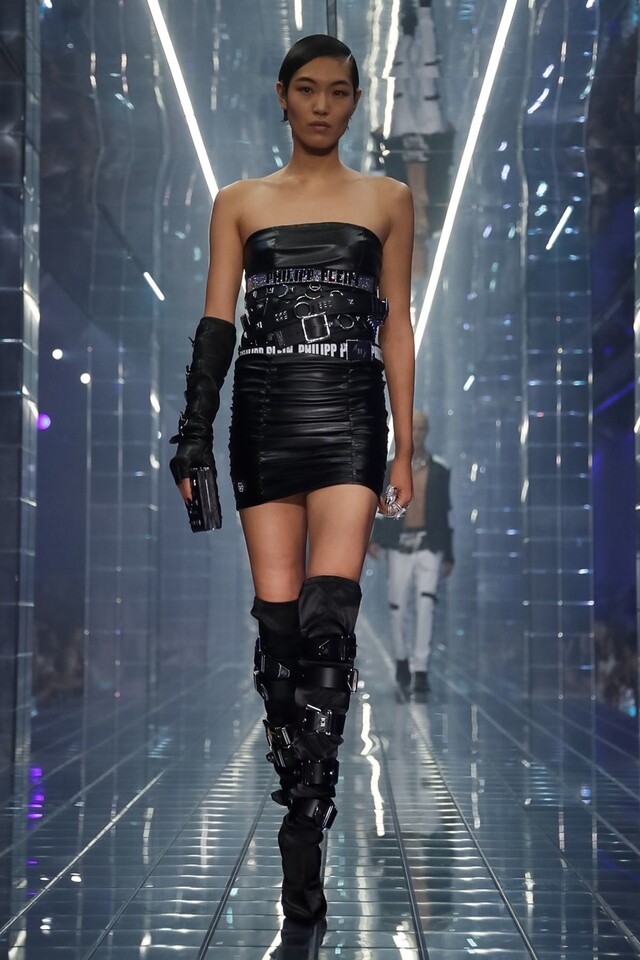 Versace
Versace's runway show was a collection of bright floral prints, trippy tartan and layers of bold colour. Bright dresses with matching trainers graced the runway, models wearing matching checkered suits complimented the variety of prints that were shown. Chunky heels, neon green and cute florals gave us a kind of 90's feeling, and let's not forget the sultry black dresses nipped in at the waist and split up the side that created a wonderfully flattering silhouette.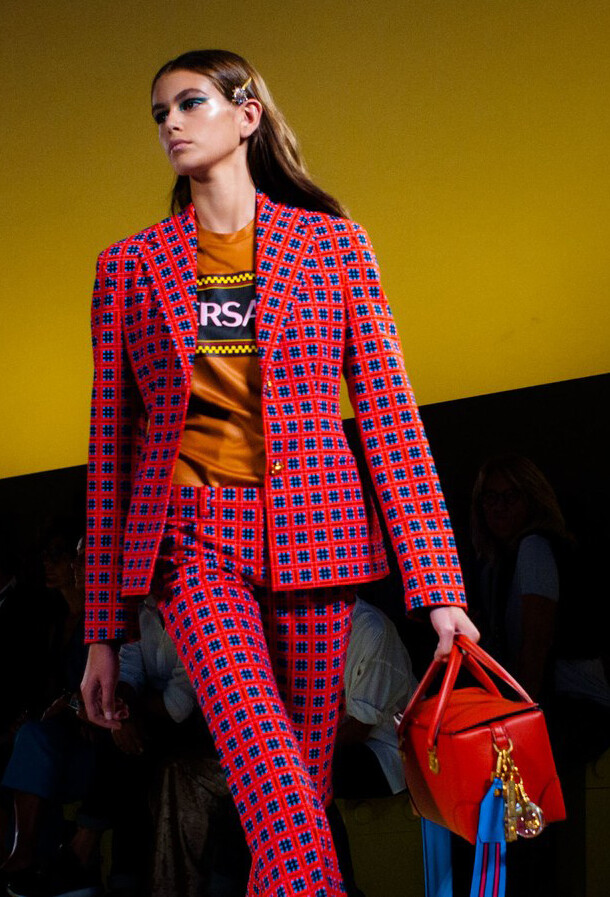 GCDS
Khaki, collars and camo: GCDS gave us smart skirt and crop top combos, high fashion boiler suits and over sized clean cut coats. Not forgetting the hint of neon that dazzled the runway. Knee high lace up boots complimented the bright colours perfectly, giving the ensembles an element of street style. How can we forget though, the under boob trend making an appearance but with a twist: 3 boobs. Add a hint of Pokemon and you've got an exciting and interesting collection. We're loving this straight out of the year 3000 vibe [cue Busted] and will happily take on some neon this spring.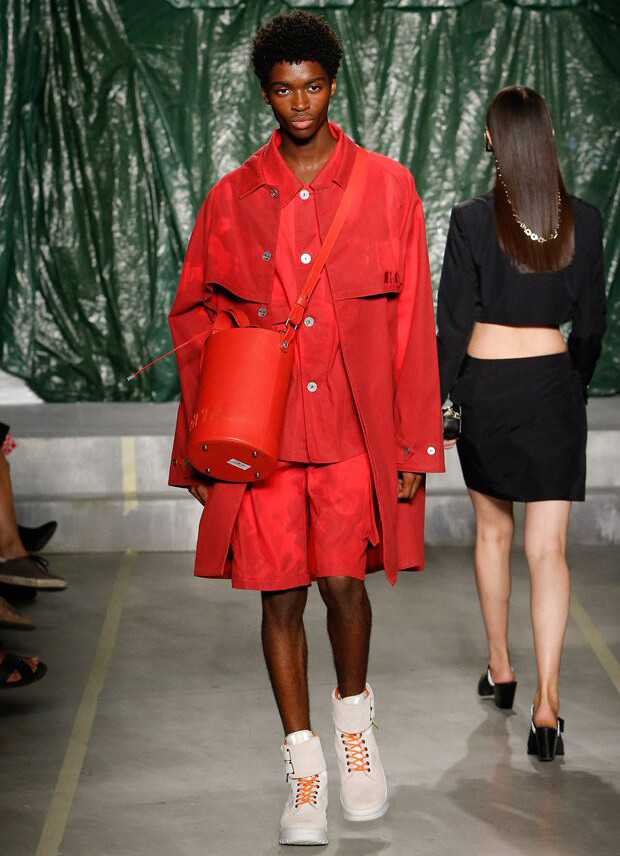 Prada
In search of some alien-esque glasses? Prada has exactly what you need. Alien eye sunglasses complimented the models' spring fashions. Knee high socks and berets were among some of the other accessories that flattered the spring collection. Sleek coats and collared shirts juxtaposed with bright tie-dye-sque dresses made for a collection that offered us tremendous choice. Not forgetting the eye catching repeated prints along with bright greens and oranges this collection gave us some fashionable must-haves.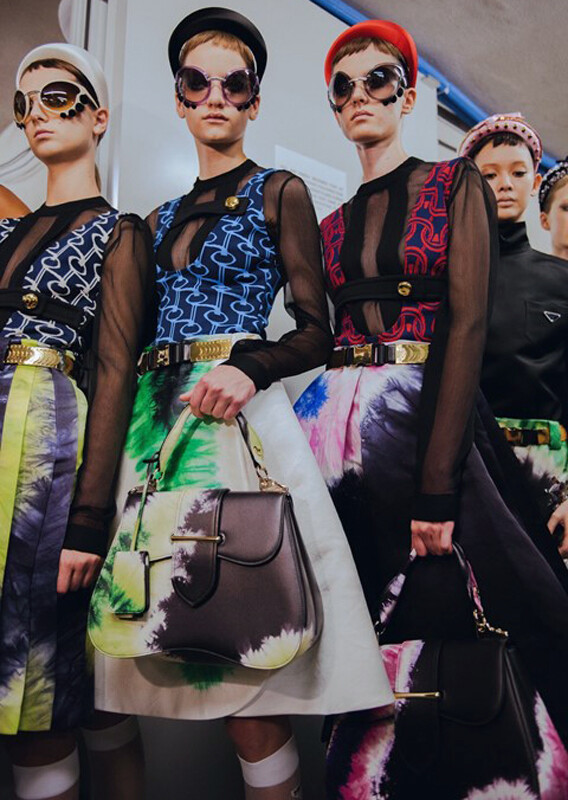 Emporio Armani
Standing out in bright blues and greens, the Emporio Armani runway radiated with splashes of bold colour complimenting neutral shades. Floor length fringe dresses in shimmering blue gave us a glamorous but fun aesthetic. Snakeskin print jackets in unnatural colours paired with pointed shoes showed a chic neon look. As well as the neon though we were given soft and flowing muted pastels, a more traditional take on spring.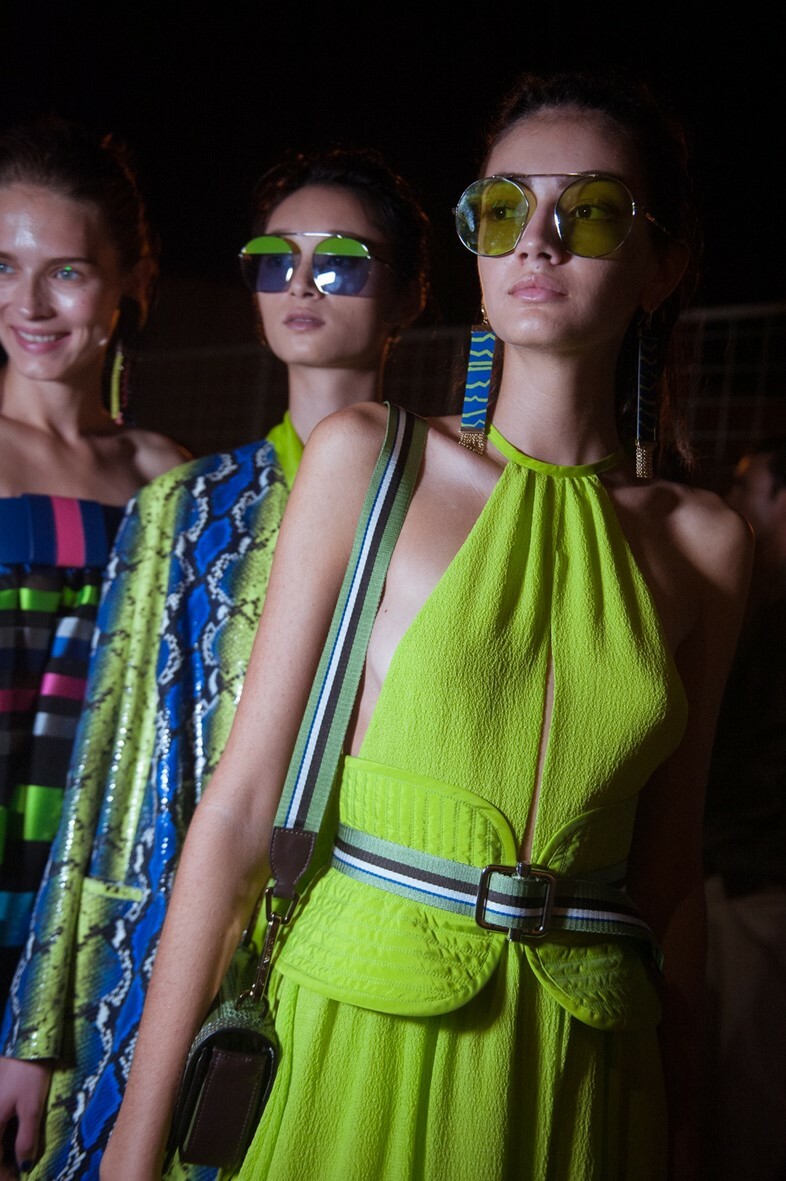 Moschino
Colouring outside the lines: Moschino SS19 gave us scribbles and sketchy prints in a marker pen fantasy. Clear coats coloured in with huge brush strokes, prints that look as if from a colouring book and a model who straight up looked like a mannequin, Jeremy Scott sent down models in a collection that was from a fashion illustration sketch book which had come to life.
Thimbles for hats, scissors as dresses: this collection showed us a fun and colourful take on spring- who wouldn't want to look like a walking illustration?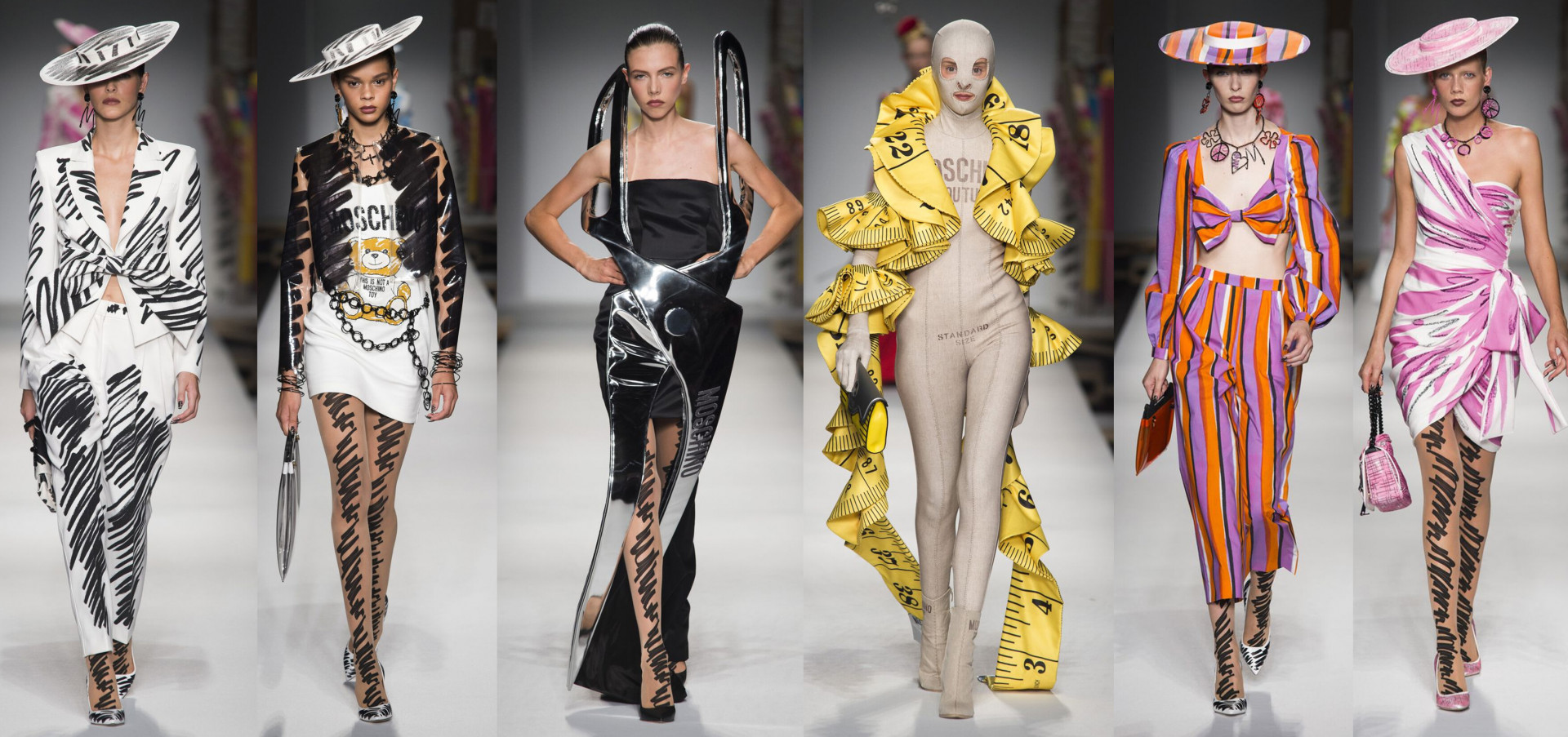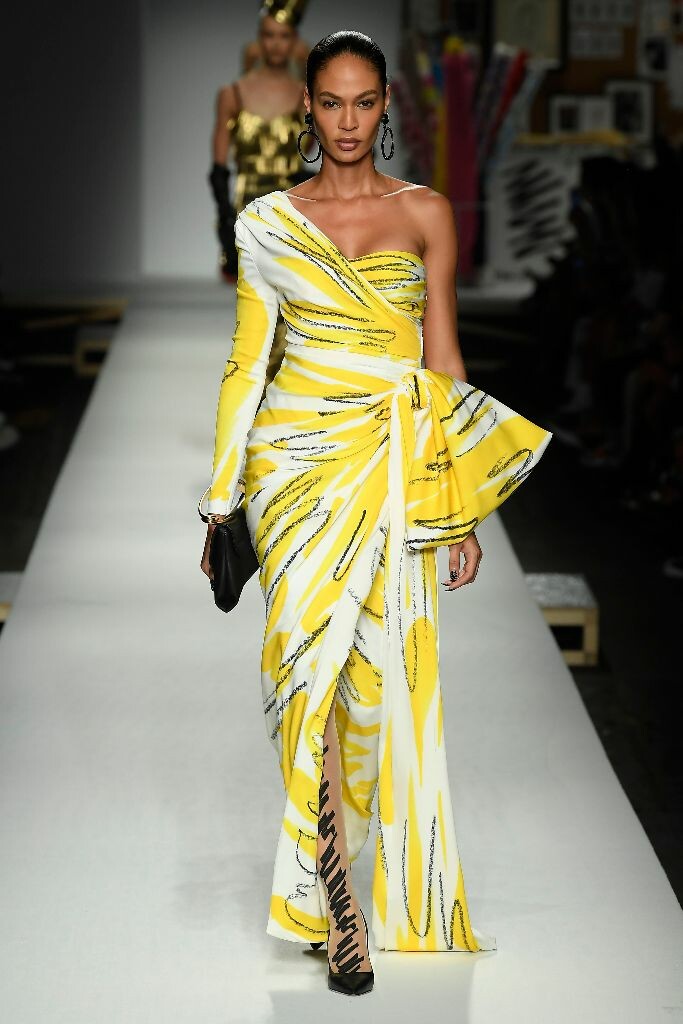 MSGM
Inspired by the Depeche Mode song 'Dream On' MSGM gave us a collection sporting the message to 'Dream! Dream! Dream!'. Knitted dresses and soft florals showed us a bright and high fashion take on spring. The florals were bold and almost looking like oil paintings, giving us a fantasy vibe which we adored. Orange, pink, blue, red and green this rainbow-tastic collection showcased tie-dyed garments, matching suits and PVC cowboy boots….Yes, PVC cowboy boots. Looking to appear a bold vision this spring? MSGM has everything you need.

Milan Fashion Week has proved to be full of bright and colourful incandescent incarnations, and we can't wait for the winter to end..
Thank you for engaging with Voir Fashion Digital.
It is important that we communicate a unique brand of fashion, beauty, trends and lifestyle to you on a regular basis, all we ask is that you share our content, and subscribe to receive even more exciting updates and competitions directly to your inbox.