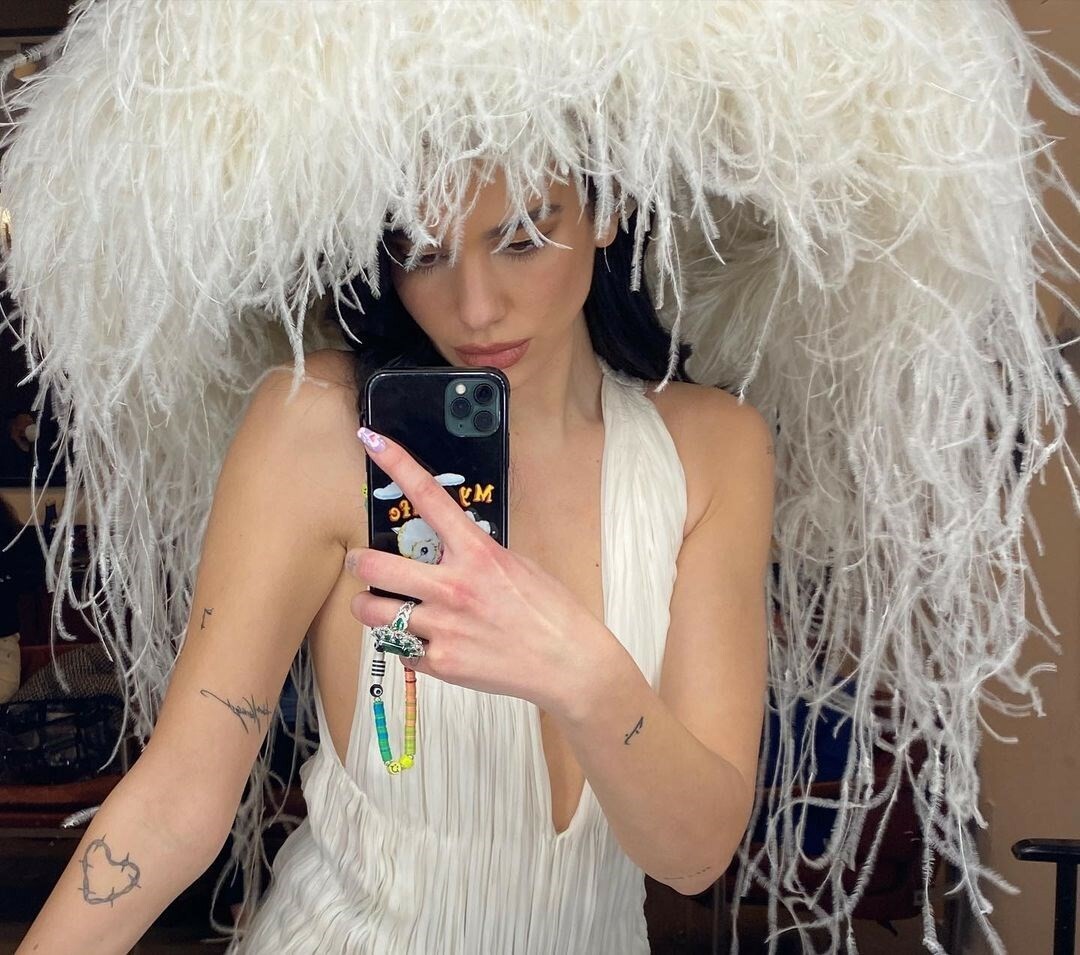 We've been relying on some good outfit inspo to cheer us up a little whilst we're on our daily lockdown Insta scroll and thankfully, Dua Lipa has blessed our timeline.
Dua's album, Future Nostalgia helped us get through the start of the 2020 (we needed something) but she hasn't let us down since then either. Lockdown has had us in a cycle of pyjamas and sweats, but Dua Lipa has been pulling through with some real looks that have inspired us to get all dressed up for ourselves.
Dua Lipa is high-key doing everything right when it comes to both music and fashion. As her music career has grown, so has the collection of killer pieces in her wardrobe. It's no wonder she has amassed a platform of 63,162,465 monthly listeners on Spotify and 59.3 million followers on Instagram since her tunes and threads are head turners. From cultivating trends to rocking custom pieces and independent names, we're taking a look back at Dua's fashion record.
The Met Gala has consistently always had celebrities turning out some amazing looks, so it's only fitting to start with Dua Lipa's 2019 Met Gala look. Dua Lipa's Met get-up was a stunning Atelier Versace by Donatella Versace psychedelic look which absolutely nailed the theme.
There's a lot to unpack here – the peplum style skirt with matching leggings and a beautifully embroidered bodysuit – this look alone is enough to get us adding some bright, bold, colourful pieces to our wardrobes ASAP. We also can't ignore the hair here either, Dua's hairstylist Anna Cofone (@annacofone) knocked it out of the park with this the-bigger-the-better do. Dua's do was a yes from us.
Dua Lipa doesn't just have one iconic fashion moment though – her career has pretty much been filled with looks that are to die for. Our other favourites?
The bra and track pants. Dua Lipa is basically the unofficial queen of this look. The lingerie as daywear trend was soaring in 2018, and Dua Lipa really cemented a specific styling of this; an underwire bra with track pants. Iconic. One of our favourite combos for this being from her concert in Dublin, Ireland, where she rocked a lacey blue La Perla bra with purple track pants.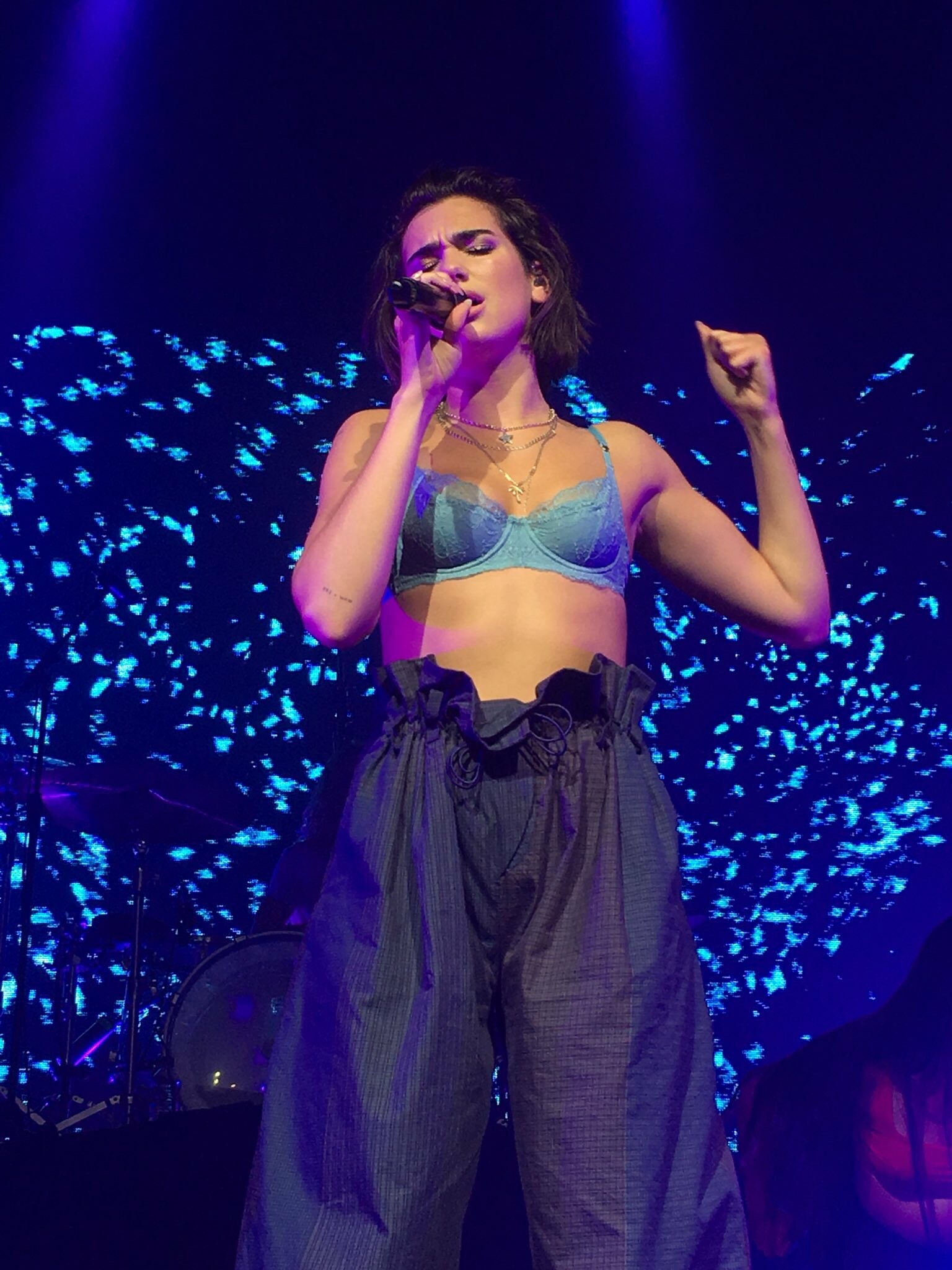 We really can't discuss Dua Lipa's fashion without addressing her latest looks at 'Studio2054' though. Her custom Mugler was one of her most jaw-dropping pieces of the night, though her stylist, Lorenzo Posocco (@lorenzoposocco) did not falter when it came to the rest of her looks that evening either. Her custom The Attico and Alexander Wang pieces did not miss the mark either. Dua's 'Studio2054' event was generally just iconic in terms of fashion moments, a real milestone in Dua's fashion history.
With a great following and great style, however, comes great responsibility. Dua does not shy away from responsible fashion either though; wearing a LOT of independent brands (yay for us, because some of these looks don't even break the bank!). One of our favourite independent names that Dua has donned is Juliet Johnstone. Juliet is an LA-based artist and model who up-cycles trousers, tees, and more with some beautiful paintings.
Dua has rocked a Juliet Johnstone tee and trouser combo before now, looking like a noughties dream. We know Dua's got at least two pairs of tops and one pair of trousers tucked away in her enviable wardrobe because Dua hasn't shied away from showing off her Juliet Johnstone gems on social media. Dua Lipa isn't only making huge strides in the fashion world in terms of killer looks; she's promoting beautiful clothing that doesn't harm the planet. Speaking to Vogue, Juliet Johnstone said that her pieces are very anti-fast fashion, that her intentions were never to make a profit from waste, but just to create art. 
Demonstrating her love for indy brands even further, in her hit with Calvin Harris; 'One Kiss', Dua lipa's dancers were also adorned in super cute glittery blue wear from the independently owned Elsie & Fred. Started by three siblings; Leanne, Natalie, and Ryan Haynes, the brand is named after their maternal grandparents and Dua Lipa's dancers make her Elsie & Fred pieces look just as cute as the brand name.
Dua Lipa has been busy, blessing us with killer music, clothes, and places to shop sustainably at. We're sure we haven't even seen half of the iconic fashion moments that Dua will bless us with throughout her career though. As she keeps producing records, her fashion record remains impeccable.
Words by Megan Selway