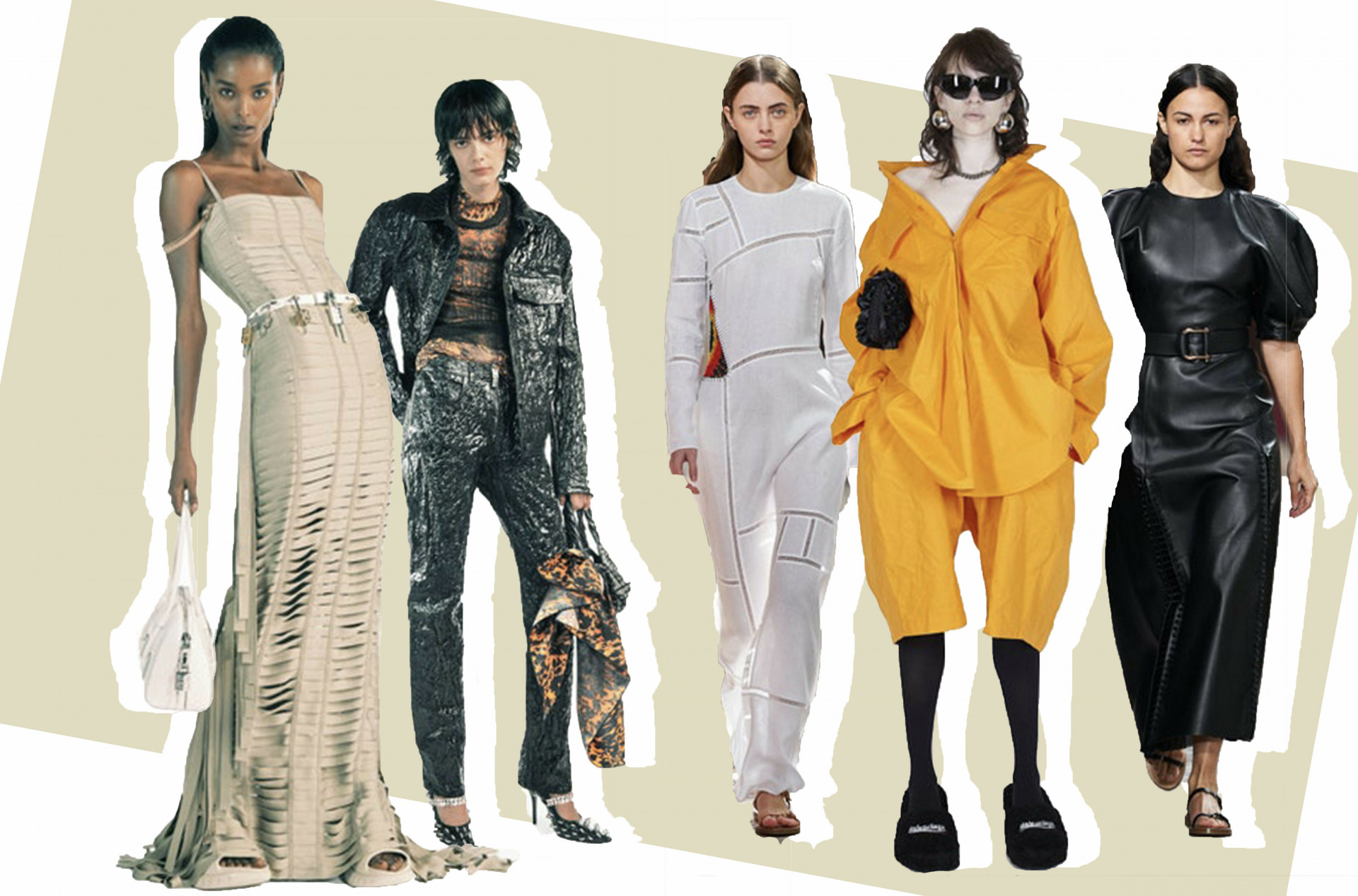 Givenchy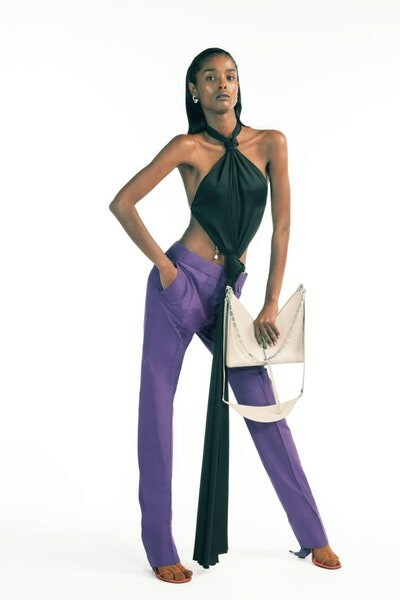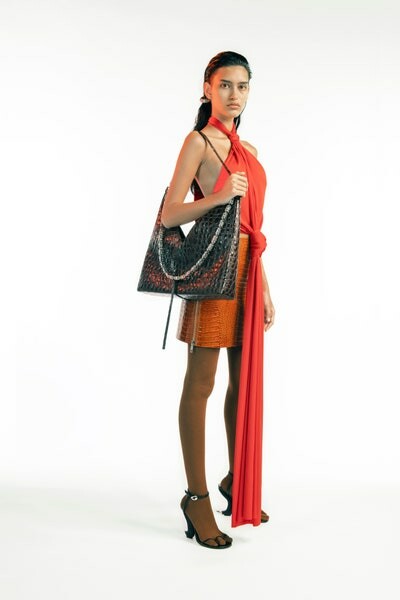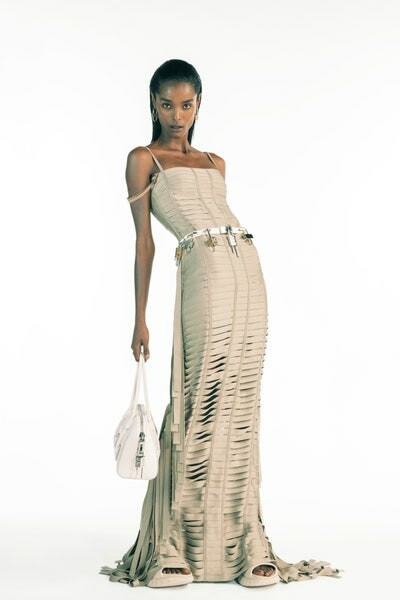 Givenchy SS21 Collection via Vogue Runway
Givenchy's SS21 collection is electric. This collection was Matthew M William's debut with the house – a 34-year-old urban wear designer whose role at the house marks a new age of creative ingenuity for Givenchy. William's has been grouped with designers like Virgil Abloh and Kim Jones, and looking at the collection you can understand the comparison. The designs amalgamate the elegant and the relaxed, with pieces nodding to the house's style but infusing it with the new dynamic of streetwear.
William is obsessed with texture which is very apparent looking at the collection. Standout pieces included huge oversized bags and blazers with exaggerated silhouettes, not to mention the half-nude outfits – Dressed in tiny briefs, oversized jackets, and tiny handbags that bear a level of detail that is equal parts precision and genius, boldly exaggerating the silhouette and drawing attention to the models' bare skin.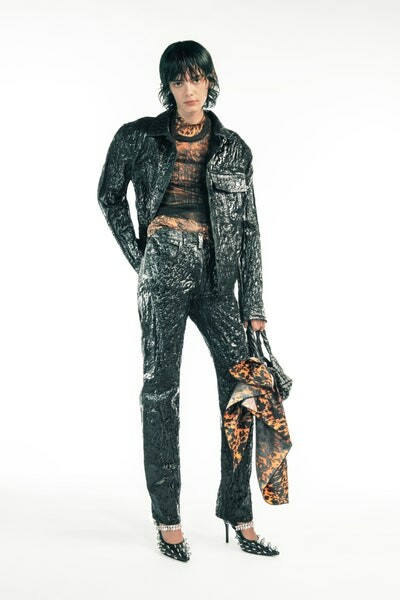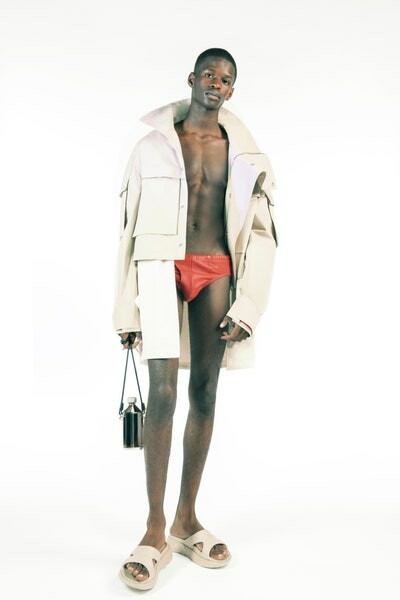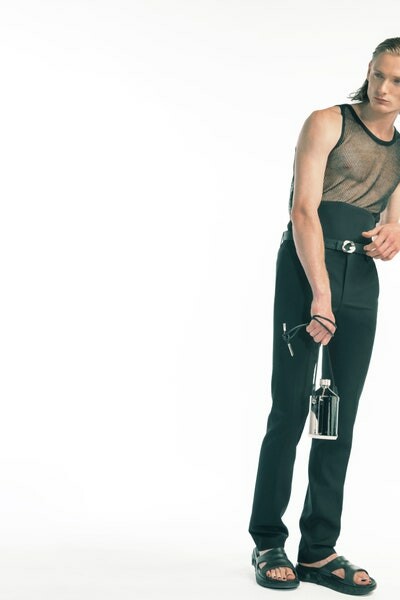 Givenchy SS21 images via Vogue Runway
The collection also bore ingenious takes on some of this year's biggest trends. Of course, there was an abundance of leather, and mesh designs, adding a sense of SNM chic. There were also futuristic notes: tops in a box shape, ranging from plain tonal black to brown croc leather, this added a Star Trek but chic element to the collection.
Corsets were also front and centre, with designs in leather accompanied with billowing trousers, there was a level of edge added to the phenomenon of naked dressing.
Gabriela Hearst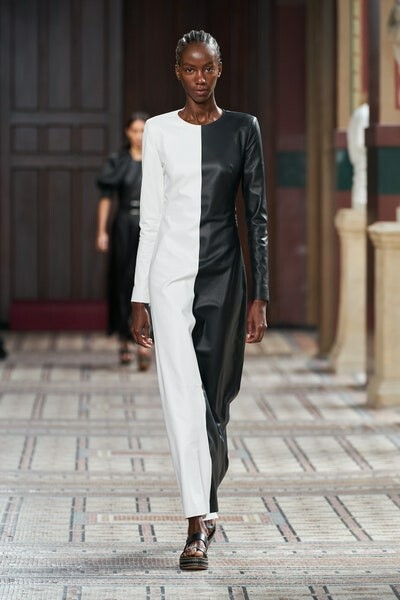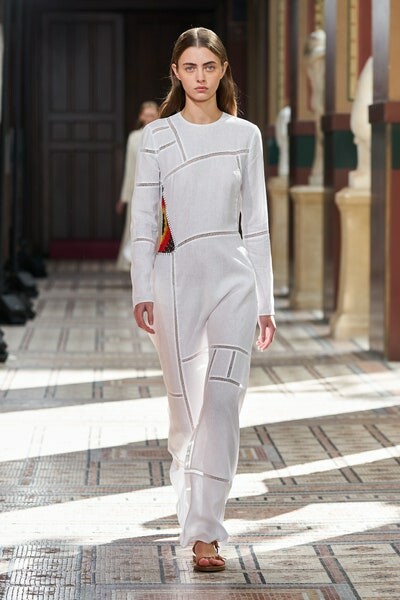 Gabriela Hearst ss21 Collection via Vogue Runway
Last month, Hearst was named CFDa's Womenswear Designer of the Year: she is the fist woman to win the prize in five years. In line with that success, her collection for SS21 is a considerable achievement. Hearst's effort surrounding sustainability this season are also of note – offsetting the Carbon footprint of the show by donating to an NGO that protects the Amazon rainforest, she also continues to use upcylced materials and deadstocks in her collections. Hearst's collection was inspired by a shell bracelet from Easter Island – leading her to explore sacred geometry, pointing to spirituality and a kinship to God as a geometer of the world.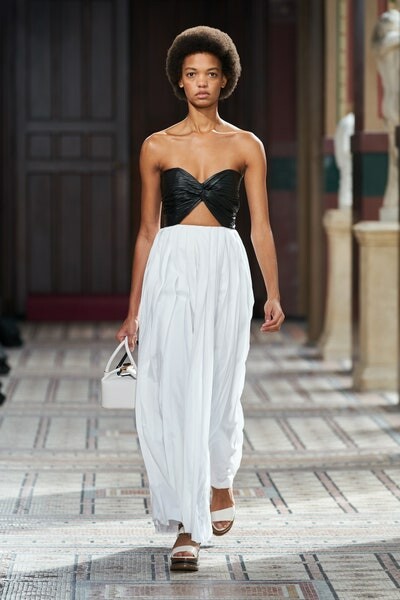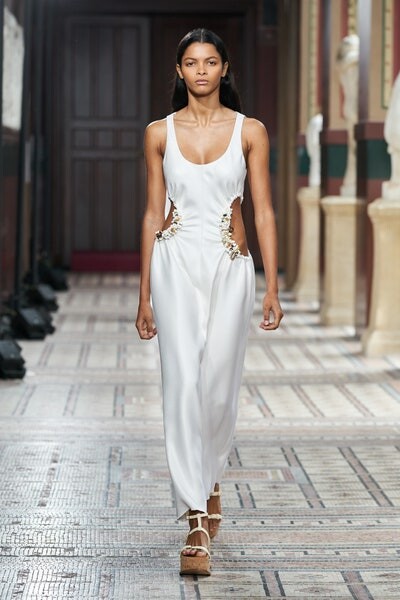 Gabriela Hearst ss21 Collection via Vogue Runway
The collection is a masterclass in chicness and minimalism. The majority of the designs were in black and white, with the occasional interjection of colour in reds, oranges and purples. Dresses in silks and leather, with simple silhouettes that lend an air of effortless glamour to the collection. The most ambitious designs were the ponchos – oversized and billowing in vertical stripes and leather dresses with puff sleeves and tiny, sinching waist lines.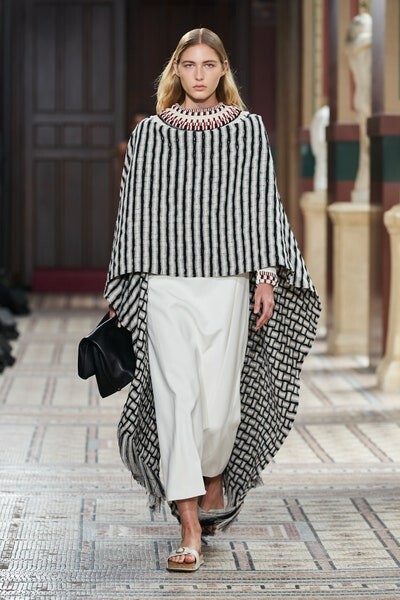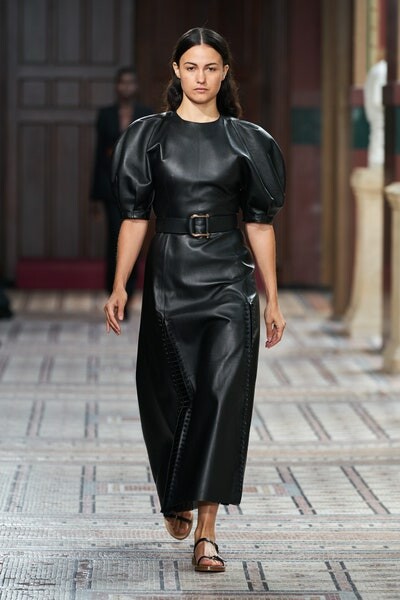 Gabriela Hearst ss21 Collection via Vogue Runway
Andreas Kronthaler for Vivienne Westwood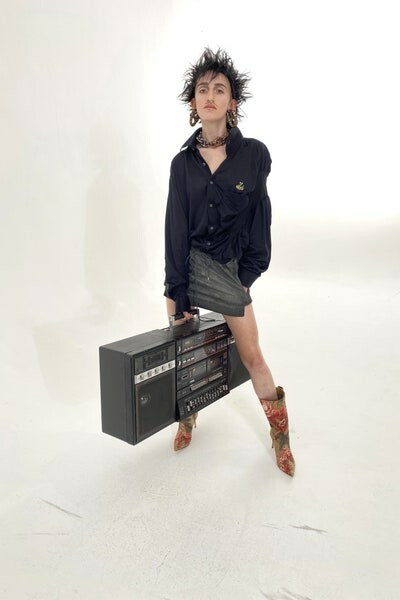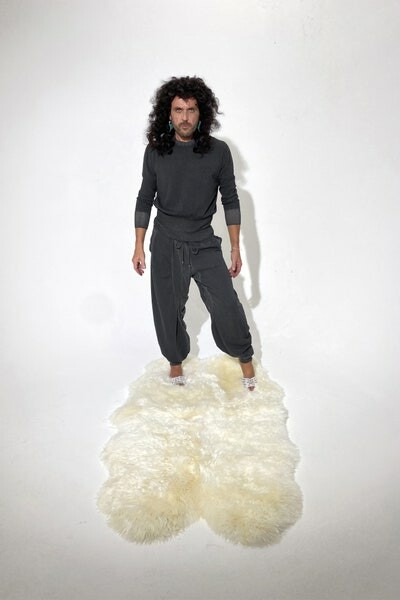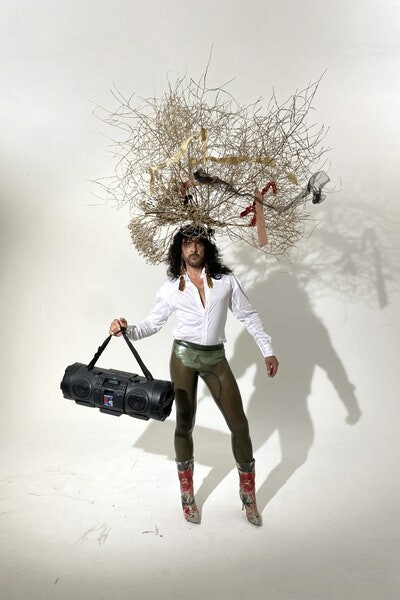 Andreas Kronthaler for Vivienne Westwood SS21 Collection via Vogue Runway
This collection is exactly what you would expect from the mother of punk. Energetic, edgy and ingenious, Andreas Kronthaler for Vivienne Westwood injected a much-needed jolt of life into the bleak landscape we are currently in, proving once again that fashion is a mirage of hope and optimism right now. One of the things I find most exciting about this shoot is the minimal approach the house took, shot by Kronthaler with only four models, this approach is nothing if not proof of the new age of fashion that we are moving into. The designs are confrontational – loud tartans, Edwardian Esque ruffles, metallic dresses and eccentric headdresses, this collection is completely archetypal of the Westwood brand and reminds us that even in the darkest of times, Westwood is there to inject life, disrupt expectations and dismantle the status quo.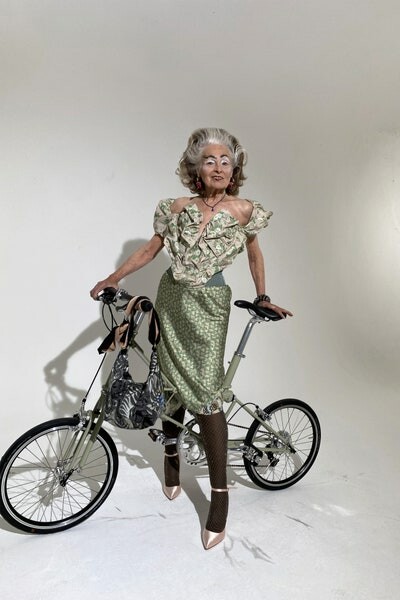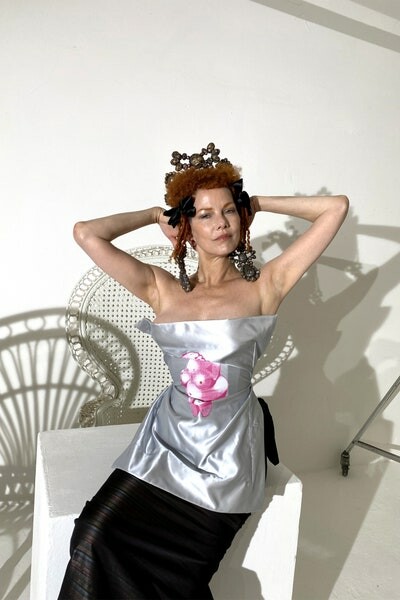 Andreas Kronthaler for Vivienne Westwood SS21 Collection via Vogue Runway
Hermes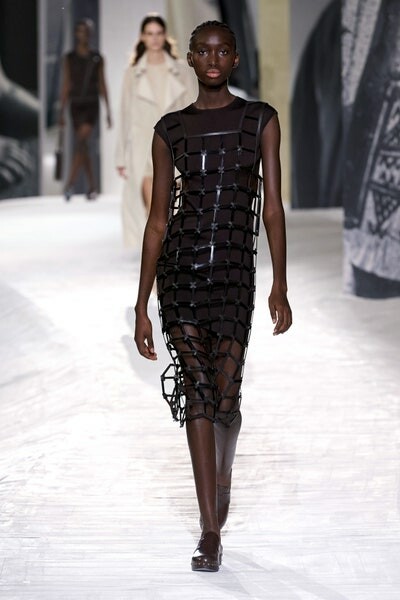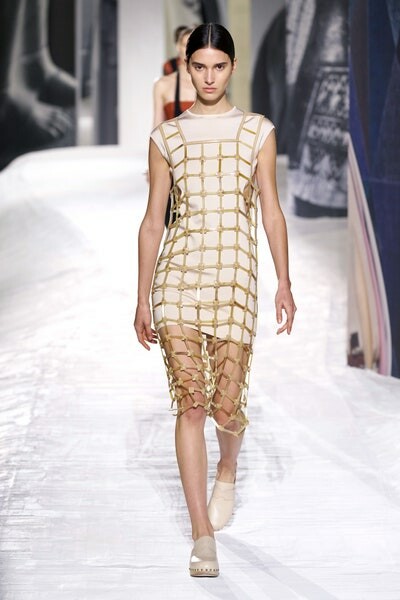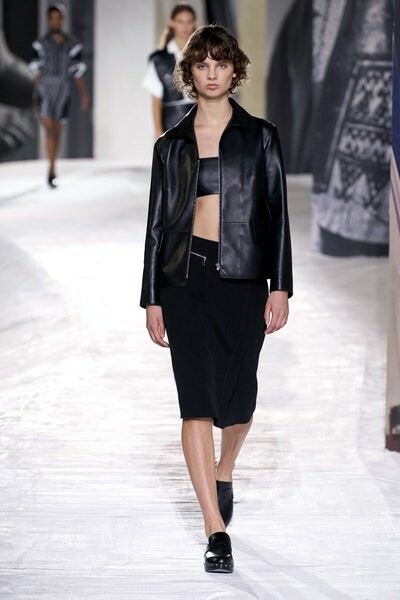 Hermes SS21 Collection via Vogue Runway
If you were to distill the essence of a French girl chic into a collection, it would be Hermes SS21. This collection was all over Instagram this past weekend and for good reason. Think nonchalant sensuality, enduring style and a total sense of je ne sais quo, with fishnet dresses and aprons in rigid lines lent the collection an air of fetish, an essence of desire swims through the collection. The designs are timeless and seductive and embody the kind of style that most mortals can only hope to someday replicate. Emily in Paris could never.
Hermes | Spring Summer 2021 | Full Show via FF Channel via Vogue Runway
Balenciaga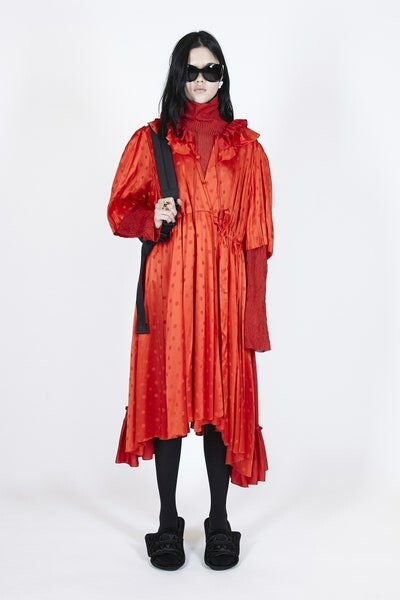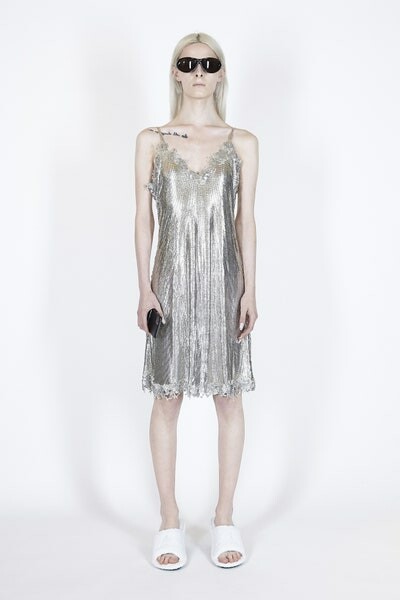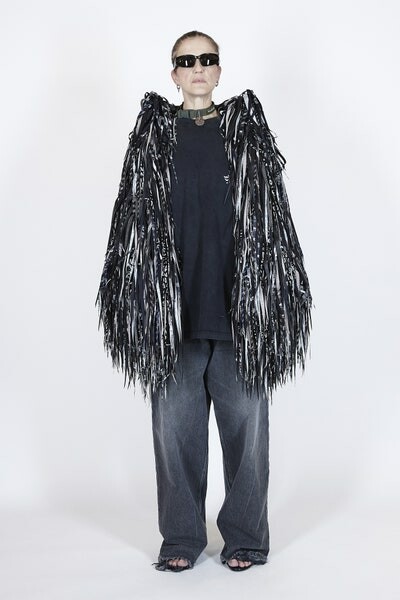 Balenciaga SS21 Collection via Vogue Runway
Think modern glamour, but then think again because Balenciaga just reinvented it. Balenciaga decided to debut their SS21 collection with a music video, drawing inspiration from an 80s track by Corey Heart which sings the line – 'I wear my sunglasses at night'. Encapsulate that and you're in the mood for this show. The collection continued Balenciaga's pledged to be more sustainable – 93.5% of the plain materials are certified sustainable or upcycled and 100% of the pint bases have sustainable certifications. As collections become more sustainable, there is a sense that something different is happening, a new energy being distilled into vibrant new pieces and this Balenciaga show completely reflects that.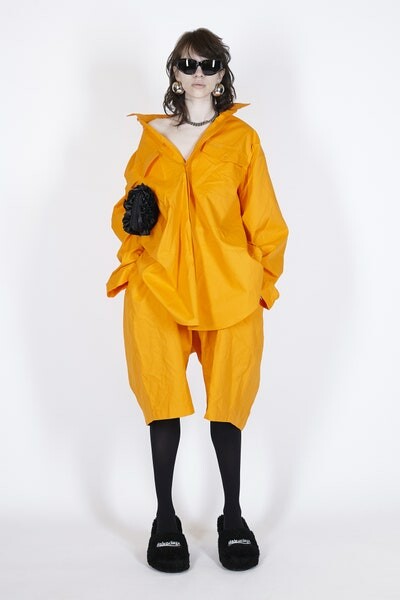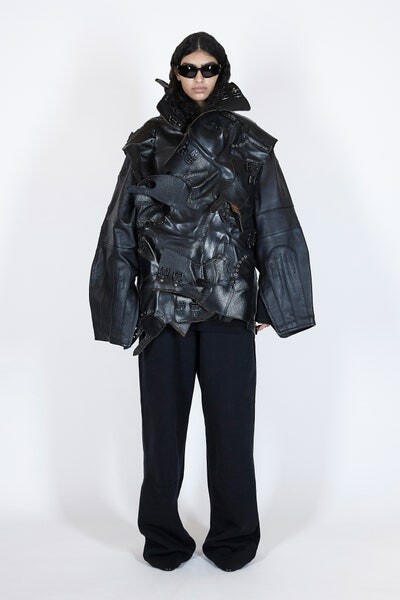 Balenciaga SS21 Collection via Vogue Runway
Demna Gvasalia, the creative director of Balenciaga was dedicated not only to making the collection sustainable but uni everything from sex to size. This new approach marks a new age for both the house and for fashion, as we move toward a new inclusive and kinder industry, this new energy is felt throughout the collection. The designs are simple and elegant, long silhouettes oversized coats and fringing, with notes of streetwear from puffer jackets to logos and chunky trainers. Vibrant, engaging and innovative, this collection is truly something to be excited about.
Words by Marni Rose McFall
Graphics by Frances Scott