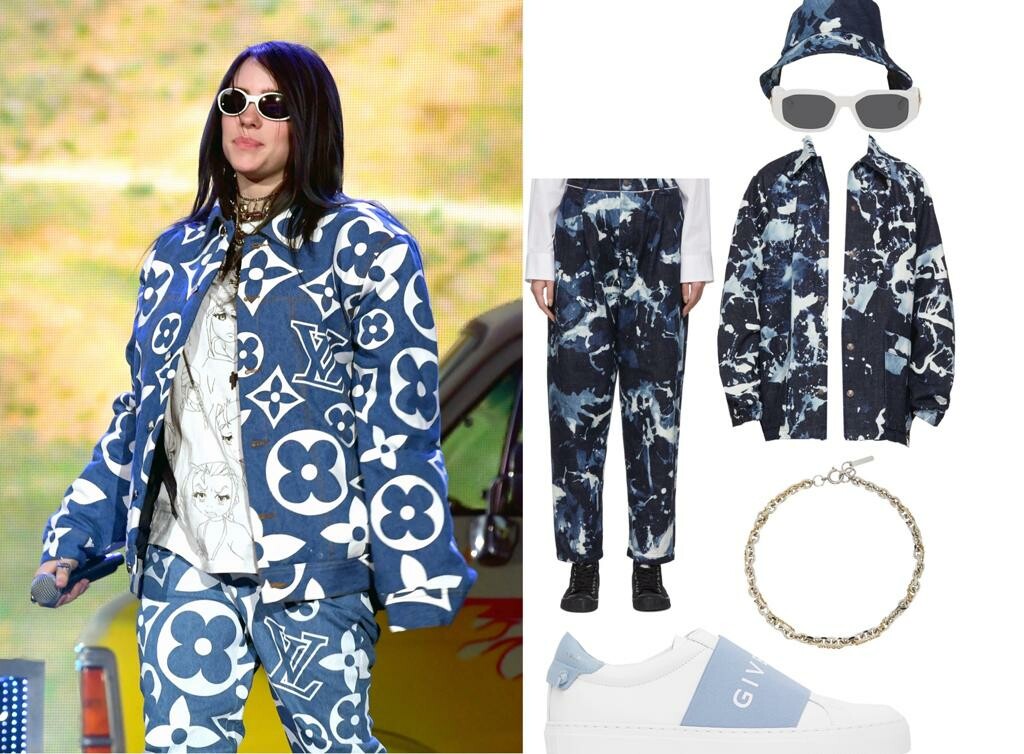 Ever since Billie Eilish burst onto the music scene by releasing a heartfelt ballad called 'Ocean Eyes' on Soundcloud back in 2016. Don't think it'd be wrong to assume that no one would imagine the level of superstardom she'd reach in just a few years. Ever since she dropped that track it's been nothing but a meteoric rise for the California native. In the last two years, the teenage pop sensation has released her number-one debut studio album and picked up award after award including Grammy's, VMA's, AMA's, and Brit awards.
It seems that Billie's recent domination of the music industry will only be the tip of the iceberg for her as her potential seems to have no limits. We've never seen an artist appeal to so many people, pop fans listen to her, hip hop fans listen to her and even rock fans listen to her. One of the reasons Billie has been so successful is that her sound takes influence from so many places ranging from Tyler, the creator to Lana Del Rey.
Billie Eilish – Ocean Eyes official video
Her biggest influence, being hip hop, is what has perhaps made her music so huge considering that it's currently the biggest genre in the world. Her production is laced with booming 808 drums you're likely to find in a contemporary trap song and she carries herself with the confidence you'd expect to see from a rapper. Her versatility knows no boundaries as her album showed she can go from somber and heart wrenching to providing full-blown youthful and confident bangers in the space of a few minutes. She has songs for everyone and every situation, whether you want to cry, party or anything in-between there's a song in her catalogue for that.
Billie is almost the perfect artist for this current generation. Her whole aesthetic is made for the social media age, it's no fluke that she's managed to reach almost 65 million Instagram followers in such a short amount of time. Her fashion choices are one of the main things that made her stand out at such an early point, she wasn't dressing like other artists and now millions of kids are dressed like her. She has transcended music and made forays into the fashion world and recently collaborated with UNIQLO and the iconic Takashi Murakami for a new collection.
Billie clearly loves what she does, whether it's fashion or music she has always pushed herself to the limit in terms of creativity. It's great to see a pop star not sacrifice parts of themselves to gain mainstream success, Billie has done this all while remaining true to herself. She's never made what could be considered a typical radio hit, they've just become that organically. Ultimately, it's her willingness to remain unique that has got her to this stage in her career. She'll only get bigger from here if she carries on with this momentum and there's no doubt she'll dominate the charts for years to come.
Look 1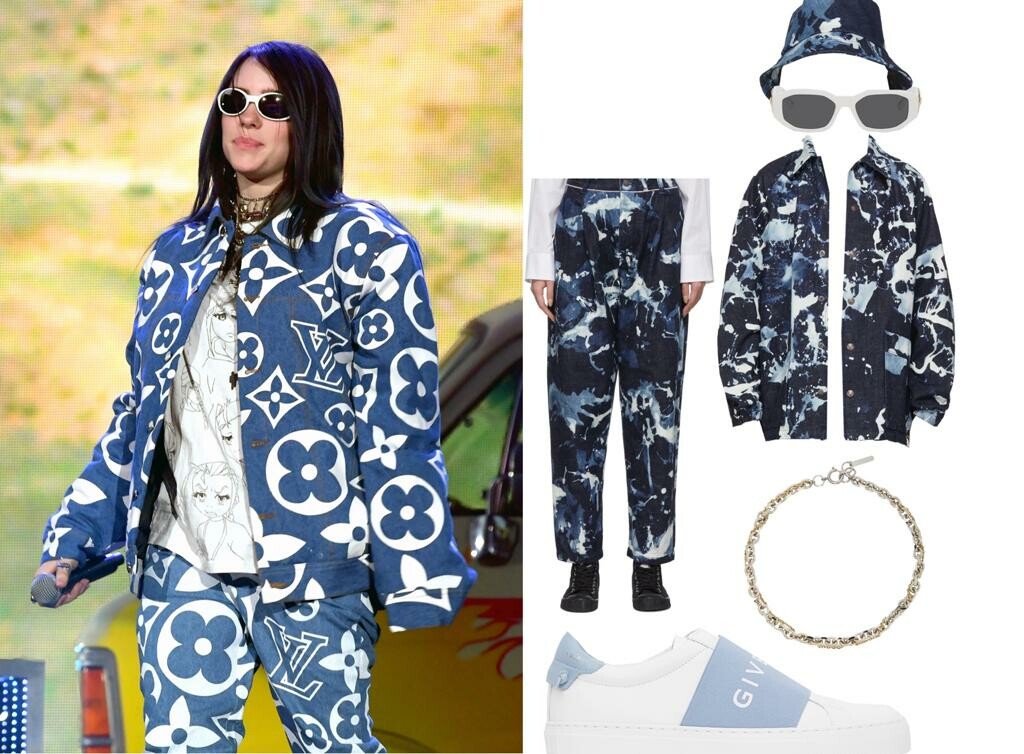 Jacket: Blue Blue Japan, Indigo Denim Kago Bassen Coach Jacket, (£319, sale)
Trousers: Blue Blue Japan, Blue Kago Bassen Jeans, (£219, sale)
Shoes: Givenchy, White & Blue Elastic Urban Knots Sneakers, (£480)
Hat: Blue Blue Japan, Indigo Kago Bassen Bucket Hat, (£98, sale)
Sunglasses: Versace, White Medusa Biggie Sunglasses, (£255)
Necklace: Justine Clenquet, Silver & Gold Dana Necklace, (£90)
Look 2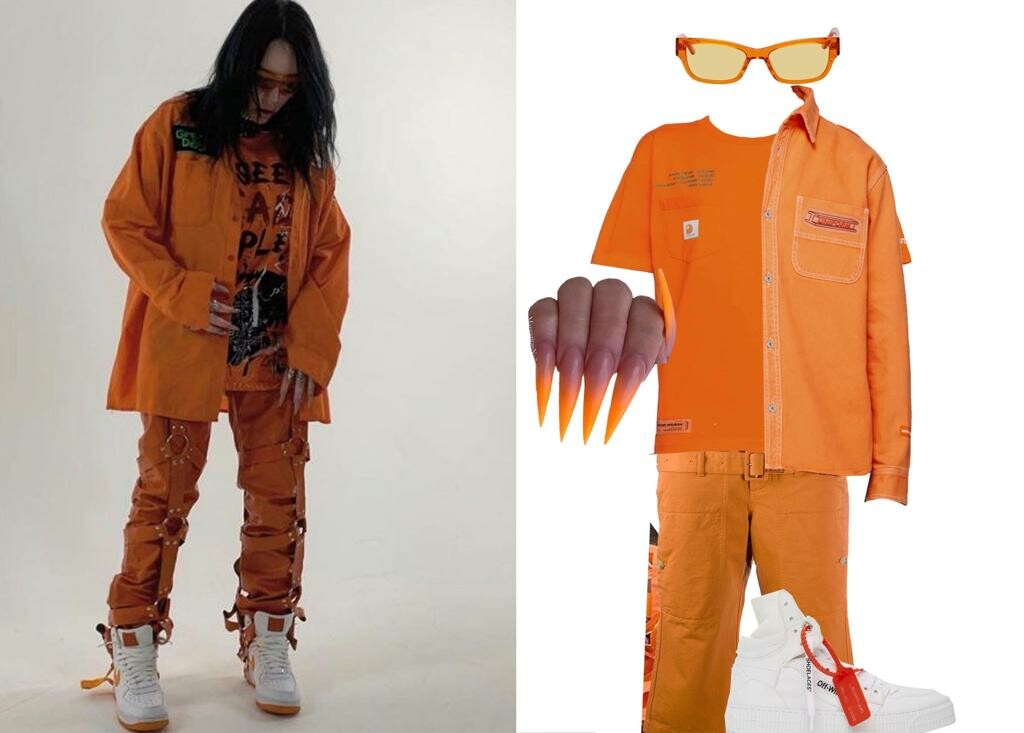 T-Shirt: Heron Preston, Orange Baby T-Shirt, (£120)
Jacket: Heron Preston, Orange Uniform Shirt, (£144 sale)
Trousers: Lanvin, Orange Double-Belt Cropped Trousers, (£348, sale)
Trainers: Commes des Garcons Play, Off-White Converse Half Heart High Sneakers, (£160)
Sunglasses: Han Kjobenhavn, Orange Root Sunglasses, (£100)
Nails: @margaritasnailz
Look 3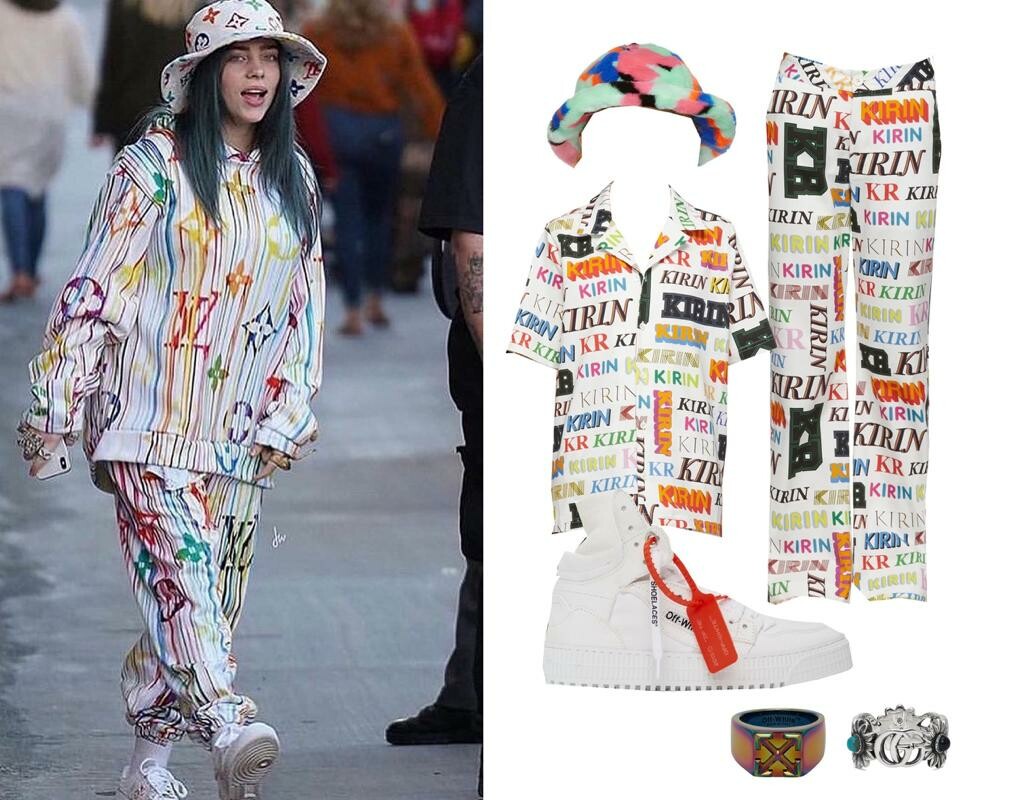 Shirt: KIRIN, White & Multicolour Typo Shirt, (£99 sale)
Trousers: KIRIN White & Multicolour Typo Trousers, (£124 sale)
Shoes: Off White, White Off-Court 3.0 High Top Sneaker, (£500)
Hat: KIRIN, Green Faux Fur Cloche Hat, (£77 sale)
Ring: Gucci, Silver GG Flower Ring, (£290)
Ring: Off- White, Multicolour Anodized Ring
Words Chris Saunders
Graphics: Latisha Fleckenstein