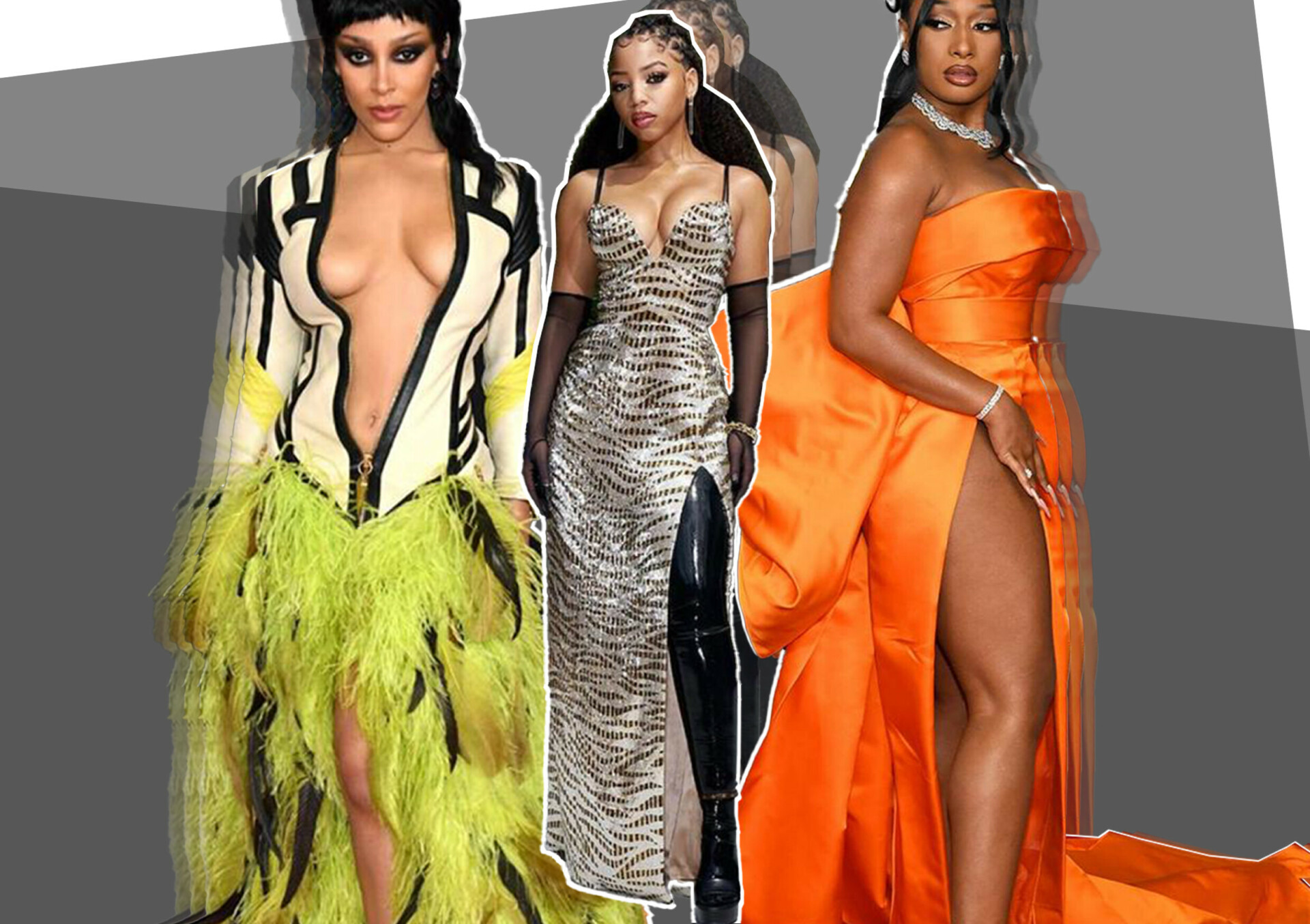 After postponing the show for two months, the 63rd Annual Grammy Awards hit the red carpet with a bang that left us reeling. The Grammys are known for pushing the boat out with attention-grabbing outfits intended to elicit a double take, but this year was a real treat for anyone with a love for both music and fashion.
Moving the show from January to March shaped the fashion landscape last night, as many of the outfits on show appeared to herald the approach of spring; florals, pastels, and flowing shapes stood out amongst the usual sight of rich winter tones and metallic accents.
Last night's Grammys was a night of firsts, too. Beyoncé, who led the night with nine nominations, became the most awarded singer and female artist of all time, while Taylor Swift became the first woman to win album of the year three times. Women were central to the celebrations of the night, as marked by the performances of Billie Eilish, Haim, Dua Lipa, Taylor Swift, Megan Thee Stallion, Doja Cat, and Cardi B.
With talent interwoven into every facet of the evening, it would be a crime not to highlight and celebrate the people who have continued to bless our eardrums during lockdown. Check out the looks that stole the show below.
Beyoncé
The 63rd Annual Grammy Awards was a career defining moment for Beyoncé, who won four awards including Best R&B Performance for 'Black Parade' and Best Music Video for 'Brown Skin Girl'. Her nominations alone have broken records, making her the most nominated woman at the Grammy Awards – but now she holds the title of most awarded singer (male or female) in award show history. Girls may run the world, but Beyoncé leads it.
The singer glowed on the night too, dressed in a black Schiaparelli mini dress that showed off her hourglass figure. The chic, ruched leather dress was an iconic look of the night, evoking a 90's vibe through the deep V neckline, gloves, and black tights. These fragments of nostalgia perfectly summed up Beyoncé's decade spanning career, emphasising the successes the singer has had since her early days in the late 90's.
H.E.R.
H.E.R. took home Song of the Year with 'I Can't Breathe', marking the singer's first Grammy win. A culmination of the effects of Black Lives Matter, the record truly reflected the social issues we were forced to confront in 2020 and illustrated how the music industry continues to lead the way in their discussion.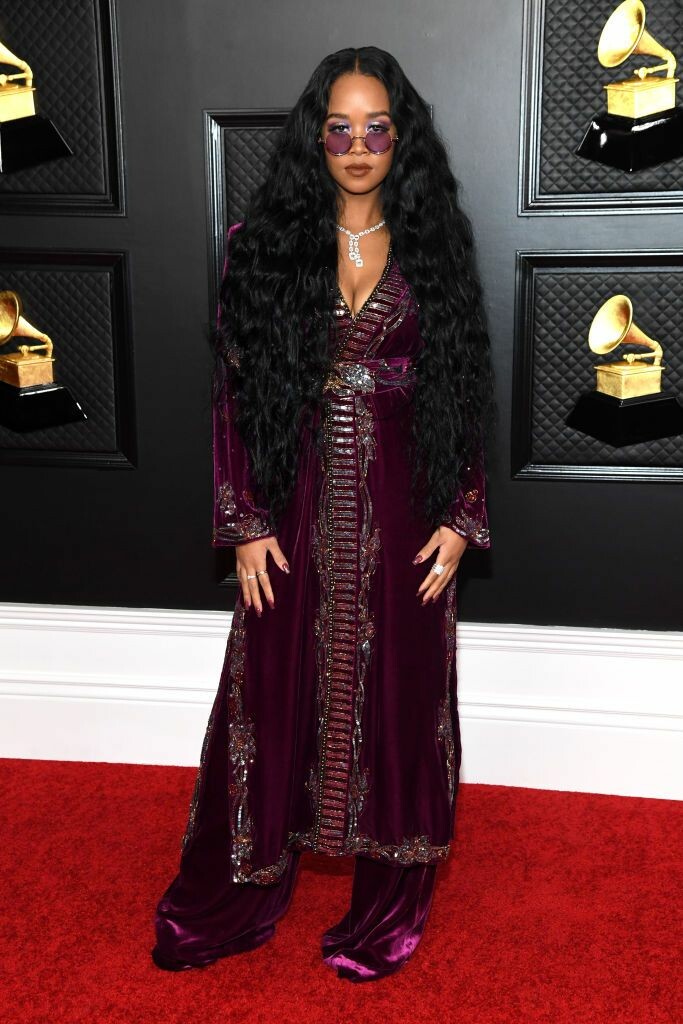 H.E.R. hit the red carpet in a Salwar Kameez and pants combo from Dundas. The velvet texture and rich purple colour of the fabric gave H.E.R. a luxurious appearance, which was carried by the relaxed fit of the outfit to emphasise the singer's brand of casual elegance. Accessorising her outfit with a pair of purple circular sunglasses, highting the 70's retro appeal with a nod to the musician and peace activist John Lennon.
Billie Eilish
Nominated for four awards and taking home two, Billie Eilish commemorated the 2021 Grammys with her second Record of the Year trophy – her consecutive time winning the award.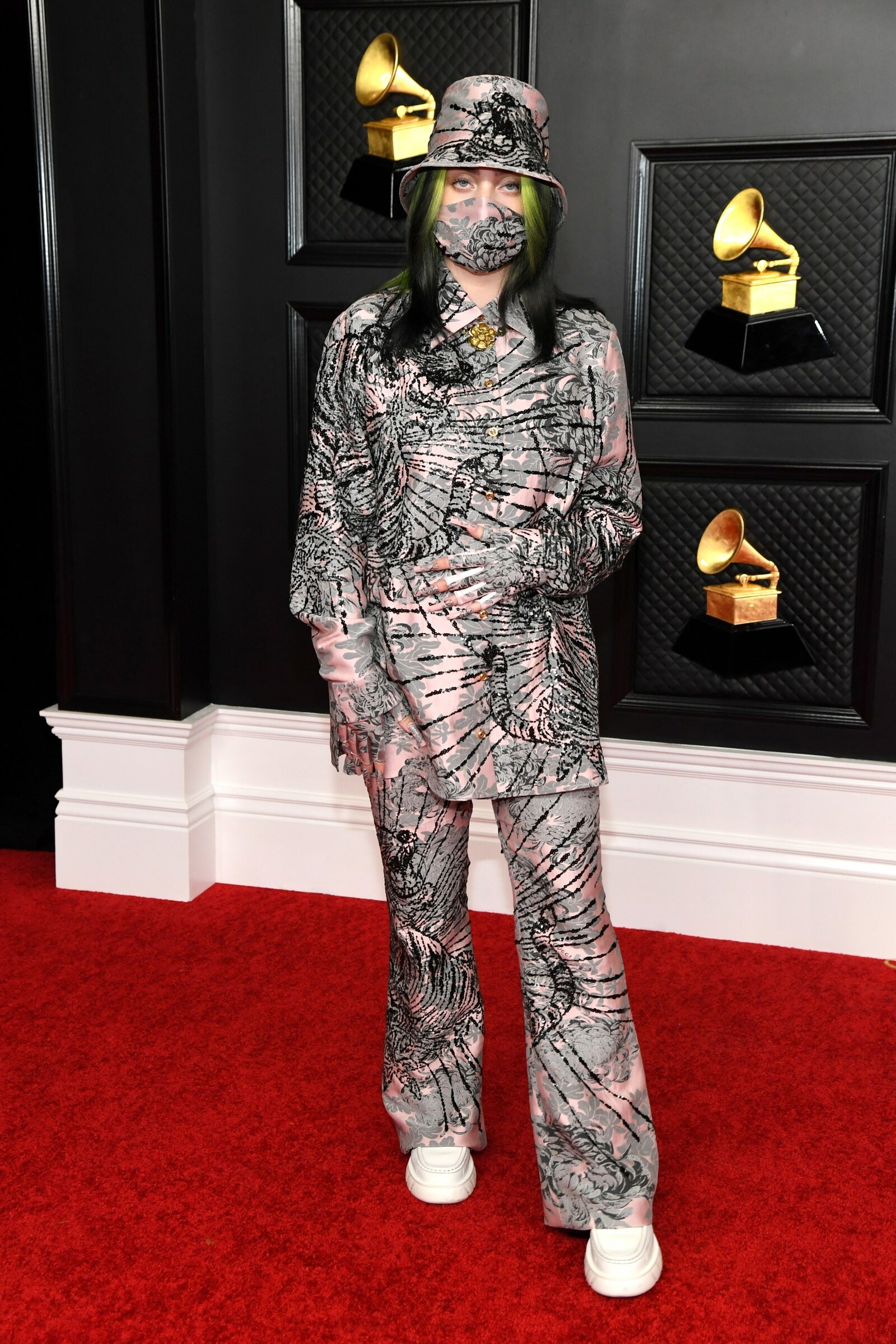 The Grammys are noted for enabling artists to hone their visual brand through their clothing, and Billie Eilish was no exception to the trend. Rocking up in her signature loose fit, Eilish wore head-to-toe Gucci – face mask and all. The pale pink notes in the fabric's pattern highlighted a spring-inspired colour palette, as emphasised by the floral shapes that blended with the shimmering black outlines of tigers.
Megan Thee Stallion
Bagging three Grammy Awards, including Best New Artist and Best Rap Song, Megan Thee Stallion burst onto the award show scene with a vengeance this year. Her first ever Grammys saw Stallion not only win the night, but perform it too, as her first live performance of 'WAP' with Cardi B broke the internet overnight.
Stallion turned heads on the red carpet with a vibrant orange gown from Dolce & Gabbana, casting a sexy silhouette with a waist-high side split. The dress pays homage to old-school icons such as Marilyn Monroe (in particular her pink dress from Material Girl) with its form-fitting design and exaggerated bow. The overall look was a bold power move that emphasised Stallion's viral status in the current music landscape.
Dua Lipa
Nominated for six awards this year, and winning Best Pop Vocal Album for Future Nostalgia, Dua Lipa made her mark as a consistent hit-maker in pop music. Celebrating all things feminine in her performance medley, Lipa's glittering pink mini concert was the perfect combination of vocals, energy, and sequins.
The word 'stunning' cannot even begin to describe the Versace ensemble Dua Lipa wore on the red carpet. Made up of a see-through, metallic mesh fabric, Lipa's dress transformed her into a glittering supernova. The baby pink colour palette, cut outs, and embellished butterfly on the front of her gown also paid tribute to her album Future Nostalgia, utilising early 2000's staples that perfectly capture the 2021 rebranding of Y2K fashion.
Taylor Swift
Taylor Swift is a well-known name at award ceremonies nowadays, setting a standard for bagging awards and breaking records. Winning Album of the Year with Folklore, Swift continues to demonstrate her unwavering grip on the music scene.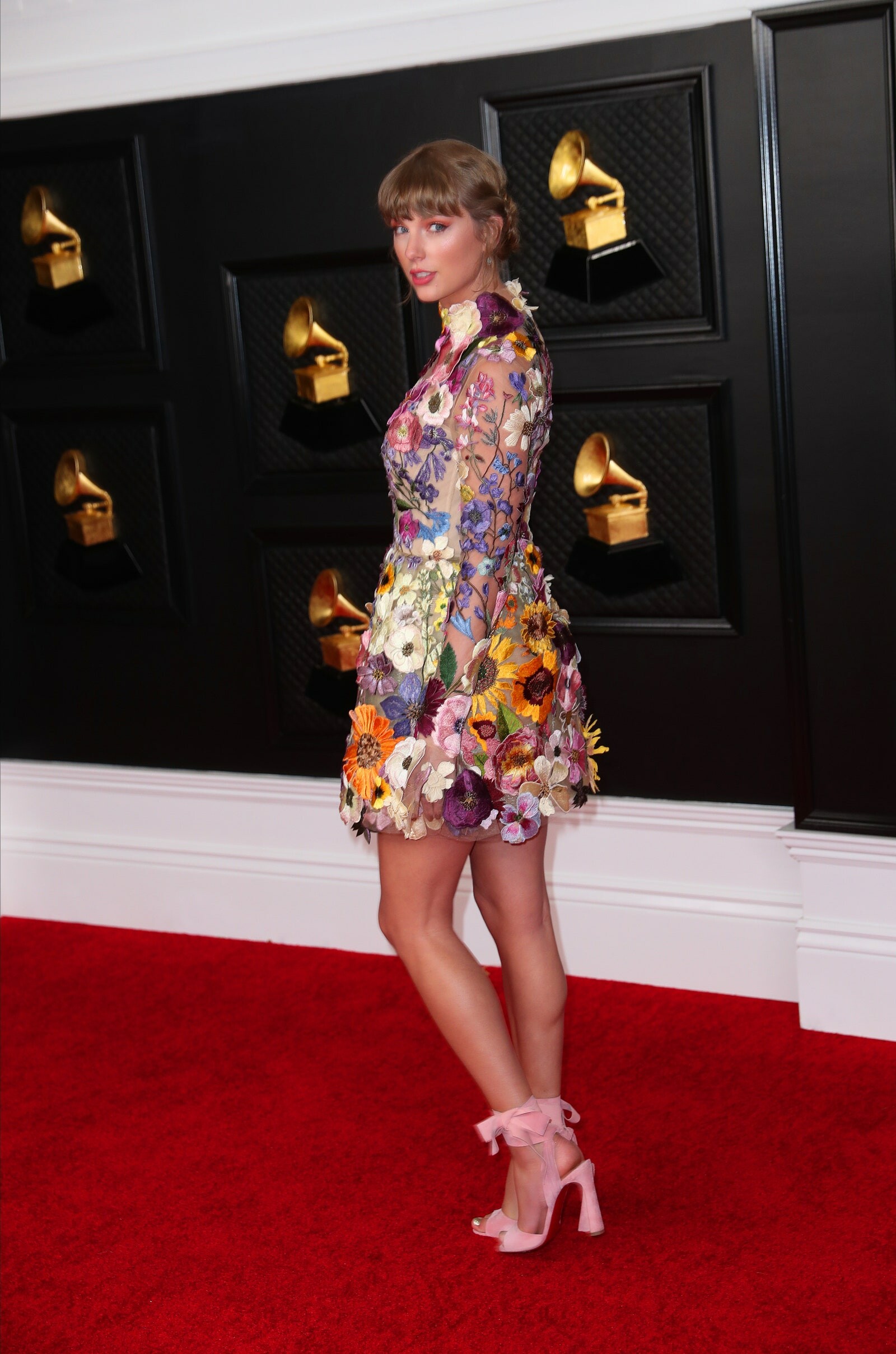 Swift's outfit well and truly announced the arrival of spring. A flower-infused mesh mini dress from Oscar De La Renta, Swift appeared fresh and vibrant while still playing to the more delicate and feminine themes of her musical brand. With spring comes new beginnings, and by marking 2021 with the re-recording of her discography since her master recordings were sold to Scooter Braun, the singer truly commemorated a new chapter her musical career that was reflected in her outfit: fresh and defined only by herself.
Harry Styles
Picking up his first ever Grammy award, Harry Styles won Best Pop Solo for the chart-topping 'Watermelon Sugar'. The singer also opened the main ceremony with the track, hyping up the audience for the night with a warm, feel-good vibe. Dressed in a custom Gucci leather suit (no shirt needed) and green feather boa, Styles' eccentricities made us long for the return of live performances and booming visuals.
Styles' red-carpet look emulated the same level of chic as his stage clothes. Another custom Gucci outfit made up of a yellow check blazer, peachy-toned sweater vest, and velvet brown trousers – as well as the now iconic feather boa – Styles showed he wasn't afraid to mix patterns and textures to demonstrate a vibrancy similar to his musical offerings.
DaBaby
DaBaby was launched to a new level of mainstream fame in 2020, leading to his being nominated for six awards at this year's Grammys. The 'Rockstar' singer was also invited to perform at the main ceremony, where he was joined by Roddy Ricch and Anthony Hamilton. A white suit and Chanel brooches never looked so good.
For his red carpet look, DaBaby followed the floral trend with a dark suit accented by colourful flowers and metallic vines. Accessorised with a red and green hat, DaBaby perfectly captured the vibrancy of the coming season while staying true to an image of sophisticated luxury. Although it could be said DaBaby's daughter stole the show in a custom Alani Taylor gown on the singer's recreated red carpet!
BTS
South Korean boy band BTS became the first K-Pop act to receive a Grammy nomination this year with their single 'Dynamite'. The retro-inspired track was their first song to be recorded fully in English and saw a huge wave of success throughout 2020. As the penultimate act to
perform on the night, BTS continued to make history as the first K-Pop act to also perform at the award show.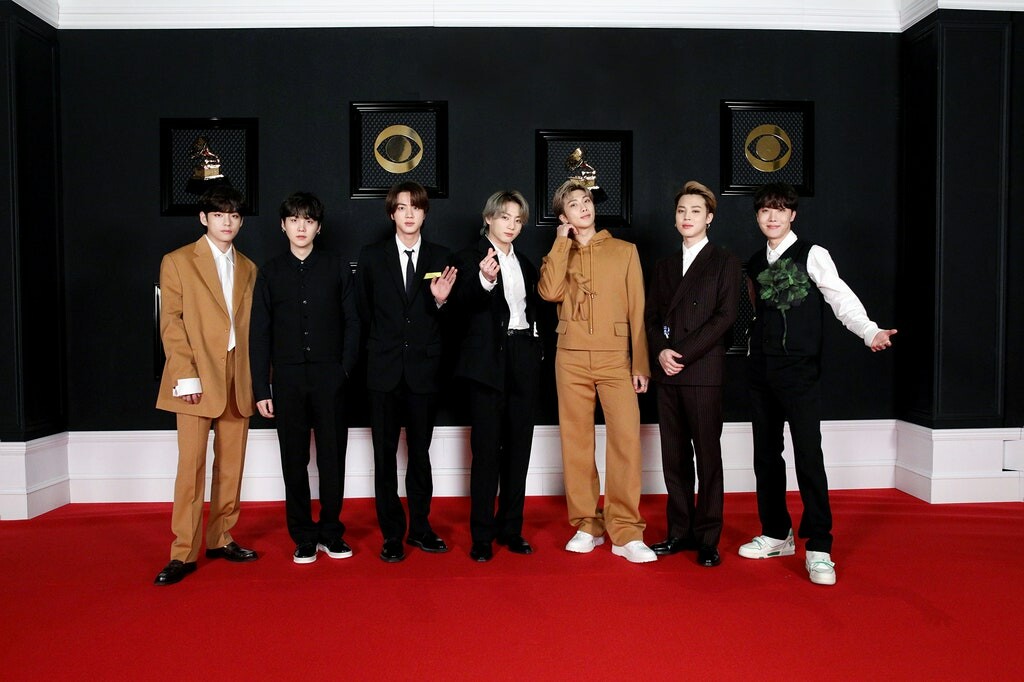 The seven members dressed for the occasion in a myriad of Louis Vuitton suits, which channelled Virgil Abloh' interest in marrying the brand's signature tailoring with sportswear elements. Blazers and vests are mixed with hoodies and wide-leg trousers to create an effect of relaxed effortlessness. With a colour palette of traditional black, beige, and green, the members of BTS promote a simplistic image that still encapsulated a current and youthful energy.
Words By Charlie Colville, Graphics By Victoria Zhao