'Then, after winding down a dark, unpromising country lane, suddenly it was before you. A glittering one-night fantasy world constructed for your pleasure.' Sheryl Garratt, Adventures In Wonderland.
You'd struggle to tell the difference between a photo of a wide-eyed Manchester student in 2019 and a 90s hardcore raver, were it not for the grainy photograph quality and distinct lack of non-biodegradable glitter. Subcultures, like fashion trends, are bound together by a visual language, a coded aesthetic that communicates to others within the same scene that you too are part of that ideology, that tribe.
Sweet Harmony: Rave | Today is a groundbreaking immersive retrospective exhibition curated by the Saatchi Gallery. Headlining the experience are artists and photographers, devoted to capturing and presenting a revolutionary ethnographic field report on rave culture through the voices and lenses of those who experienced it. The exhibition, which opened its doors on 12 July 2019, recaptures the landscapes that emerged from the acid house scene and narrates the ascendancy of rave culture with the youth of today.
'We used to travel really early, it was incredible because you'd get so excited, and you really didn't know who you were looking for. You never knew anything. All you had was this phone number. You'd hit the service station, and there would be all of these young people hanging around, and you'd be like, "is it on? Is the rave on?"' Lee Garrick talking to Sheryl Garratt.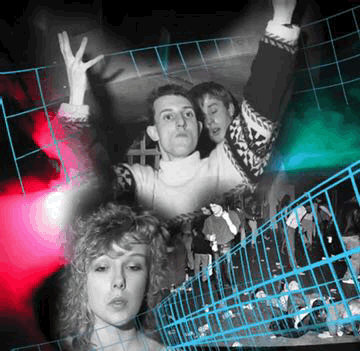 The exhibition features a multitude of multimedia room installations, experiential spaces and audio-visual pieces seeking to challenge conventional forms of interaction with art, curated by some of the rave movements' most prolific and authentic visual commentators. 'Getting to the Rave' was one such experiential room. It is the first installation you come across, a room plunged in darkness apart from a fake petrol pump aglow with neon lights. It has numbers for rave hotlines scrawled up its side and flyers on the ground. Sheryl Garratt writes in Adventures In Wonderland, 'Garages and service stations were bustling, with rainbow-coloured clubbers grinning at each other from open car windows, swapping news and clues. "Where are you from?" "Where's that?" "Heard anything?" "What are you on?"' As you look closer you can't help but notice the price of petrol at £0.38 per litre which, I have to say, was the most shocking thing in the entire exhibition.
Unflinchingly fun and filled with anticipation, and much like the petrol stations that came before, you hear a thumping noise goading you in the distance. As you make your way through the dark, you find a hole in a chain wire fence, pulled open, mimicking sneaking into an illegal rave. You have to bend to walk through the improvised hole towards the yellow industrial strip curtains with the infamous smiley face sprayed over them, enticing you in. You know you've arrived.
'You were part of it. And being there, dancing in that field with thousands of others who all seemed to be feeling the same as you, to be on same buzz, was the best feeling in the world.' Sheryl Garratt, Adventures In Wonderland.
This spirit of egalitarianism underscored the zeitgeist of the rave scene, openness to people from all backgrounds and an openness to other-worldly experiences through drug-use (or misuse, depending which camp you fall into). In a world of ever changing politics, austerity measures and revolution, a rave presented a smoggy space (or indeed, field) as British DJ and writer Bill Brewster surmises, 'Peering through its foggy prism, suddenly, we were no longer alone, but one giant collective of smiling happy people.' The room you walk into is covered wall to wall with photographs of blissful ravers, in a state of nirvana, chewed cheeks, their unbridled movements captured in a blurry photograph. The hedonism is palpable, their uncompromised movement: infectious.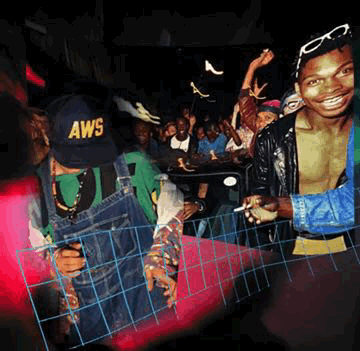 The most eye-catching installation of the exhibition is the upturned Lotus car, rotating by its chassis hung from the ceiling. Its brake lights are on and specially curated music, commissioned and produced by Mylo, blasts from the stereo. British born Vinca Petersen's expansive piece is also particularly arresting, reaching far across an entire wall in a handcrafted collagic timeline chronicling major life experiences throughout the past few decades. Petersen's photography portrays close-up, fragmented, encounters of the 90s rave club-scene through the lens of a female raver, capturing the unseen stories of the acid house scene at its peak in a raw, extemporaneous form. Her journey is quite incredible; the miles she travelled to attend these raves, and the bits of life that happened in between, culminating in a satisfying ending – I implore you to discover that yourselves.
'Raves were set up like places of worship – sound systems arranged like Neolithic stone circles.'
The exhibition obviously centred around music, with music stations peppered throughout the exhibition; 'Visitors are invited to step into the glory days of rave culture and immerse themselves in the visually stimulating recollections, accompanied by Spotify curated playlists by music personalities related to the sub-genres of Detroit Techno, Acid House, Happy Hardcore, UK Garage, and Grime.' The 'repetitive beats' remain ubiquitous throughout the exhibition and they really are infectious. You'll catch yourself nodding your head or tapping your thigh, maybe even closing your eyes for a couple of seconds. You almost forget you're in an incredibly affluent neighbourhood – that is until you see a fellow observer walk past in a highly curated 'just rolled out of bed/my friends sofa' get-up with an equally rah accent that cuts through you; the illusion is unceremoniously shattered.
The end of the exhibition was perhaps the most poignant, where it brought the rave scene to the contemporary and made you perhaps rethink the nuisance that was Extinction Rebellion. We should have been proud of those peaceful protesters, the freshest form of counterculturalist, an emblem of antiestablishmentarianism, who used their rights and voices to cause disruption and provoke change. Like the protests that stemmed from the 1994 Criminal Justice and Public Order Act, their message was loud: we will not stand for this.
You leave the exhibition and emerge into sunlight, your eyes taking time to readjust to the glaring, overbearing sunshine, much like the ending of any good rave. This acts as perhaps the final, albeit unpredictable, immersive experience. Thereafter, you're plunged into the well-heeled streets of Kensington and Chelsea and normal life resumes and, suddenly, it's a little duller than before.
Sweet Harmony will run until 14 September 2019 at the Saatchi Gallery, London.
Images by Sasha Green