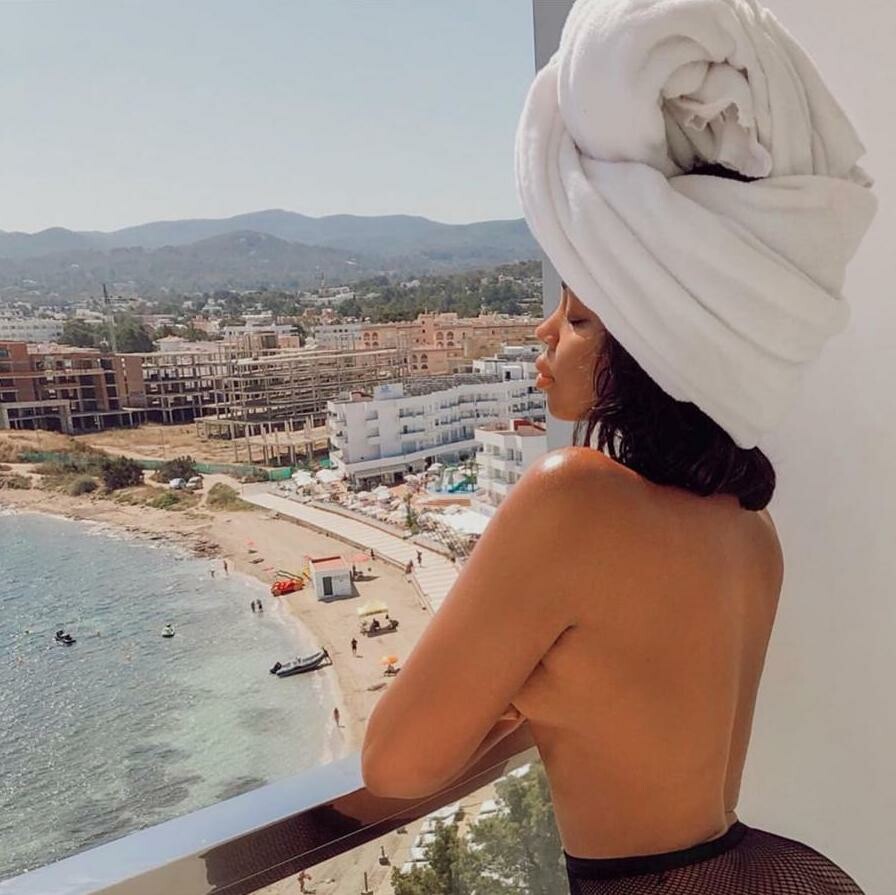 The stress of the current situation, along with a lack of exercise and an increase in comfort food and snacking, may be causing all of us to feel a bit 'meh' about ourselves, both physically and mentally. Voir has spoken to Master and Teacher of Reiki healing (a form of energy healing), Skylar Green, about her views on body image and how to manage the negative thoughts. Skylar believes that 'chronic stress and poor quality of thinking can consequently lead to how we see ourselves…research tells us there is a powerful connection between the body and the mind'. During this period, we should all be easier on ourselves, encourage the mindset of 'my weight doesn't equal my value'.
Body image is a combination of positive thinking and active work. Small steps like positive affirmations will help you bring body confidence while making sure to be active whenever possible is also helpful. If you are dealing with negative body image, Skylar recommends these four steps to help find positivity:
1). Exercise
25-Minute Pilates Workout to Tone Your Abs, Butt, and Arms by POPSUGAR Fitness
Flat-Belly and Tight-Booty Cardio Dance Workout by POPSUGAR Fitness
Exercise in any form- it will reduce stress, release endorphins and keep you fit. Even if it's just taking the dog out for a walk, or dancing around the kitchen while the coffee brews, it will make you feel happier and you'll feel better for having done it. Make it fun and blast your favourite tunes and enjoy yourself, it doesn't have to be a chore.
2). Mantra Meditation
5 min Mantra Meditation for Beginners – Easy Guided Meditation by Yoga with Kassandra
4 Minute Guided Mantra Meditation by Yoga with Candace
Mantra mediation- Mantra is a powerful type of meditation that is practised through sound vibration, either chanted aloud or whispered. It helps to relieve stress, helps you to attain peace and connect to your true self. As you continue to practice this, your poor body image will disappear.
3). New Hobbies
21 Low-Cost Empowering HOBBIES Worth Trying by Alexandra Potora
15 Self Care Ideas for Coronavirus Quarantine by Lavendaire
Find a new hobby- take this time to think about yourself and what you enjoy doing, maybe something you never usually have time for like baking or crafts. Whatever you choose to do, do it with gratitude that comes straight from your heart as this can transform your life.
4). Reiki
There are many ways you can lower stress and encourage some body positivity. Meditation is widely known to help bring peace, but the energy healing practice, Reiki, has also been proven to help benefit towards a better body image. Stress and anxiety can affect your appearance so learning to control it will help physically, as well as helping your mindset. Skylar's tips to incorporate Reiki practices into our daily lives involve undergoing a level one course in Reiki. This helps us attune and to learn the healing techniques, she explains; 'Attunement is the energy transmission through the teacher to the student, where the student's body of energy is attuned to the healing energy of Reiki, which then enhances the student's ability to channel Reiki for the rest of their life'. For more help and understanding, you can download her e-book 'The Human: Mind and Soul'.
Having a peaceful attitude will welcome a more positive view towards your body, so, try and avoid focusing on any stress whether its work, money or virus related, and focus on bringing peace to yourself, not beating yourself up for being less active during this time or eating more.
Find out more here:
https://www.facebook.com/naturalpowerfreedom/
Words by Camila Karalyte
, , ,