Stunning shows have already been presented from Christian Dior, Marine Serre, Saint Laurent, Balmain, Rick Owens, and Raf Simons, and during the latter half of the week further designers, like Loewe, Balenciaga, Ludovic de Saint Sernin, Chanel and Louis Vuitton – not to mention, the anti-fashion world of Yohji Yamamoto, Issey Miyake, Comme des Garcons, and Maison Margiela – also took centre stage in Paris. Here is the rundown of what you might have missed from the eventful weekend of Paris Fashion Week!
Loewe
What is wearable? How do we wear garments? And how do clothes cover the body? These questions and more were prompted by Jonathon Anderson at Loewe's Paris show in the equestrian arena of La Garde Républicaine. The show opened with a series of long bodycon dresses altered with sharp points and edges breaking out from the natural body silhouette. Hard edges and boxy forms pulled the tight, knit fabrics into unnatural and unexpected shapes. Sculptural, metal pieces and structured, detached shoulder pads separated aspects of clothing to become garments and accessories in their own right – prompting us to consider how our clothes are constructed and how can we wear each element as individual pieces? Denim jackets and trench coats were presented as back-to-front dresses, collars became strapless tops whilst sleeves opened into capes, adding movement to stiff jean fabrics. Anderson proved his ability to balance in this collection by presenting an array of possibilities that we can look forward to wearing in Spring.
Photo Credits: Loewe SS/22 Runway
Issey Miyake
Titled 'A Voyage in Descent', swimming and diving were vocal themes at Issey Miyake's Spring show. The campaign video took place in what appeared to be the bottom of an empty pool. With the show lacking physical water, the movement of the ocean was replicated instead through the garments. Miyake's signature, numerous pleats allowed the pieces to naturally sway with the model's walk. The clothes also became part of the performance as intricate pleated dresses and skirts were constructed out of large circles, folding together to lay neatly on the ground, then picked up by the models as if unfurling paper lanterns. Easy colours of pale yellows blended with harsher grey, blue and purple tones to create gentle contrasts in the fabric of dresses. Comfort and asymmetry were further staples of Miyake's clothes embodied in the show, with high neck dresses relaxing into loose midi skirts and black and white office wear adopting a casual look through cut-outs. Moving from neutrals, a series of dresses in large, floral patterns embodied summer. The collection included classic silhouettes expected from Miyake, returning to practicality through comfortable formal wear and athleisure in the form of biker shorts and tennis skirts.
Photo Credits: Issey Miyake SS/22 Runway
Nina Ricci
Also travelling to the sea for inspiration was Nina Ricci. Bringing together the beauty and serenity of mermaids with realities of environmental concern, the creative directors, Rushemy Botter and Lisi Herrebrugh, gathered unusual fabric for this collection. Chunky netting was used for layering over trousers or wrapping around the head, whereas scuba material was reconsidered as chic coats. The different components of scuba diving, like head coverage, bodysuits, and heavy material each contributed to the collection individually. Sheer and heavy fabrics were layered together, with reveals to pops of colour created through cut-outs to mimic gaps in literal fishnets. The collection brought together a romanticised vision of the ocean through bold blues and greens, with reality through harsh materials and trapping, nets and zips covering the face.
Photo Credit: Nina Ricci SS/22 Runway
Yohji Yamamoto
Yohji Yamamoto's continual refusal to acknowledge the current trend cycle proves his role as one of the few anti-fashion designers remaining. Presenting a Spring/Summer collection of almost all-black looks makes a powerful statement. Opening with a series of long, black dresses of deconstructed pieces, drapery and thoughtful tailoring is recognisable Yamamoto. More constructed tailoring appears in black trench coats with an altered silhouette, creating an extra cinched waist and broader shoulders. Accents were added to the predominantly black looks through punk aesthetics, like silver chains and mismatched white, lace and leather fabrics. Three successive ballgown looks closed the runway, constructed to reveal the boning structure underneath the layered fabric.
Photo Credits: Yohji Yamamoto SS/22 Runway
Alexandre Vauthier
A refined collection of tailored suits and jackets, flowing jumpsuits and colourful fur were presented by Alexandre Vauthier for PFW. The variety of materials and patterns added excitement to the collection, with an endless possibility of silhouettes explored. A pinstriped, boxy suit was a statement look that contrasted the silky evening gowns and jumpsuits, often paired with matching boots in the same shiny fabric. Overall, the looks were directed by their fabric, producing a variety of garments all suitable for the transitional time of Spring.
Photo Credit: Alexandre Vauthier SS/22 Runway
Vivienne Westwood
Opening with New Romantic-style sleeves, loose drapery and unexpected silhouettes, Andreas Kronthaler is continuing the legacy at Vivienne Westwood. Detailed tailoring took the form of a structured latex cape-jacket merging into a baby pink, cut-out skirt. The collection moved between formal garments like oversized, suit jackets with ruffled sleeves to draped dresses, naturally covering the body. Loud patterns and bright colours also appeared throughout, with red mini dresses and deep shades of blue being repeated. Reconsidering the punk we associate with Vivienne Westwood is no easy task, but Kronthaler's ability to remake red, black latex and fishnets into 80s style cocktail dresses proves he is continually reinspiring the house.
Photo Credit: Vivienne Westwood SS/22 Runway
Balenciaga
The collaboration we did not realise we needed was between Balenciaga and The Simpsons for their Spring collection. Marge closed the runway in a glorious gold gown, with Anna Wintour, of course, sitting front row. The physical fashion show itself expanded on what we normally expect, with red carpet attendees, editors and celebrities, becoming part of the runway. The predominant all-black looks were signature Demna, merging oversized, fine tailoring with the baggy silhouette of streetwear. Typically full-coverage was in fashion with head-to-toe skintight bodysuits and layers upon layers with oversized jackets being featured throughout the show. Demna at Balenciaga never disappoints – this show is another example of his power to reinvent what we expect of fashion whilst constantly creating chic pieces.
Photo Credit: Balenciaga SS/22 Runway
Lanvin
Bruno Sialelli revisited art deco for Lanvin's Spring show. Most striking was the dreamy colour palette of rich purple, lilac, deep greens, and navy – not our first thought of Spring, but this was a refreshing new take on Easter pastels. You can be reassured, however, that florals for Spring were still present – this time made bold and abstract, printed to resemble pop art. The collection featured interesting silhouettes from delicately pleated babydoll dresses, to a matching set of a ruffled, bubble skirt with a bralette, and several structured, oversized blazers and trenchcoats which strayed away from minimalism. Bold, bright, and fun, this collection brought Spring liveliness to the refined 1920s art deco aesthetic.
Photo Credit: Lanvin SS/22 Runway
Ludovic de Saint Sernin
The flourishing label, Ludovic de Saint Sernin, continued his sultry aesthetic for PFW. His references to desire and sexuality are explored comfortably, making lingerie wearable for the everyday. Mini dresses were stringed together with exposed threads and openings, appearing in the same manner that tights run to expose threads and make the fabric sheerer. Cropped camis also appeared in the same manner, constructed in lines to produce less coverage, rather than from one piece of fabric. Sheer matching sets and bodycon cover-ups also played into the contrast between coverage and exposure often seen at Ludovic de Saint Sernin.
Photo Credit: Filippo Fior/Ludovic de Saint Sernin SS/22 Runway
Schiaparelli
Daniel Roseberry looked back to his predecessor Elsa Schiaparelli and her relationship with the Surrealists for this collection. The opening look of an incredibly wide cropped blazer with high waisted, tailored trousers immediately began to play with our perception. Umbrella hats, realistic ear motifs, and a bag with a cartoonish, sculpted face reflected the questions of reality and activated the subconscious which the Surrealists championed – Roseberry created unexpected human features and objects where we least expect them. We are also sure Freud (popular among the Surrealists) would certainly have something to say about the twisted, silk fabric which created a bra of rose-like flowers, along with a denim version of Madonna's iconic cone bra. As wonderful and weird as the collection was, the chic tailoring and formal aesthetic of Schiaparelli was highlighted in gold detailing and classic suit silhouettes.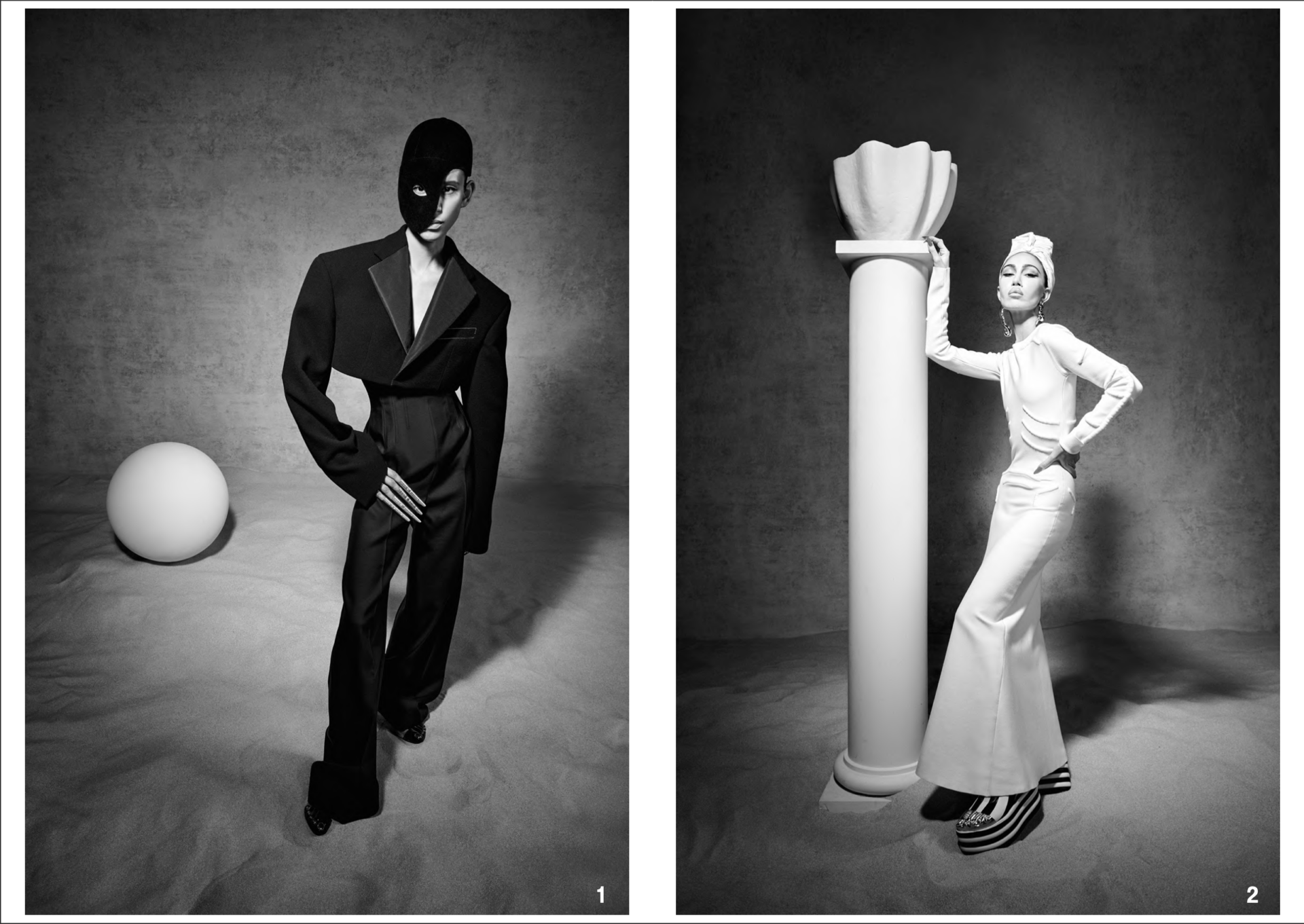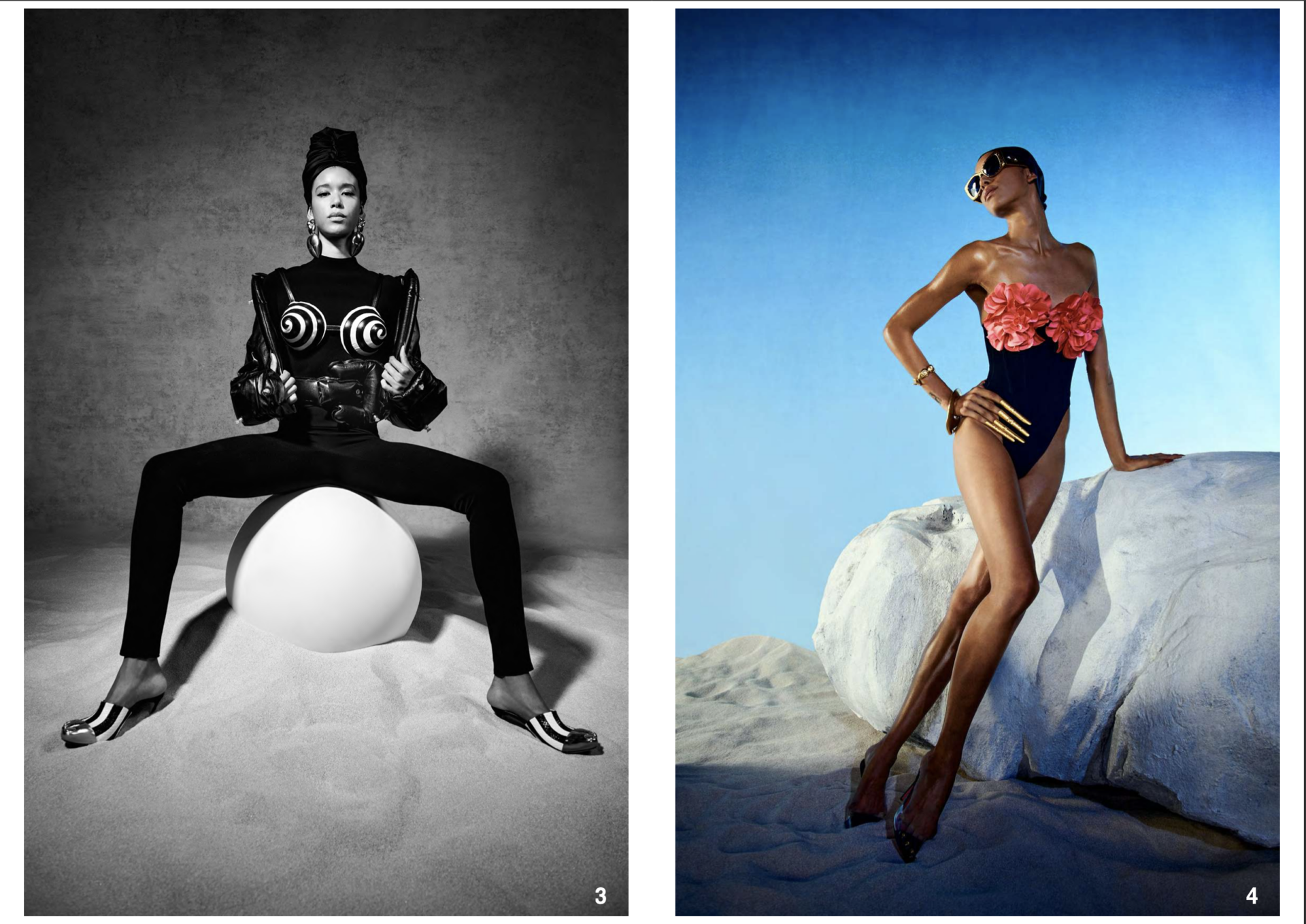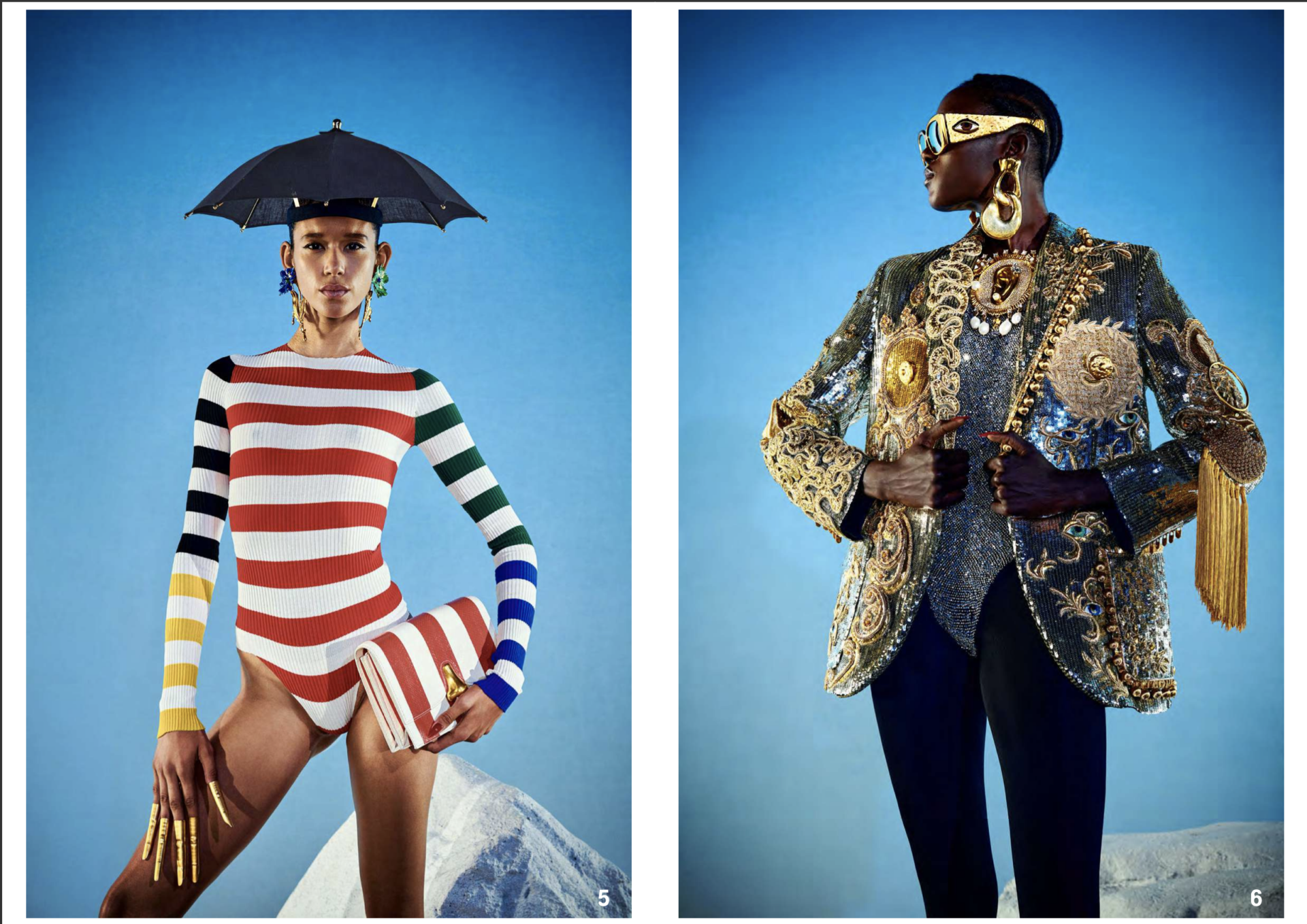 Photo Credit: Schiaparelli SS/22 Runway
Maison Margiela
Historical and mysterious describes John Galliano's Spring collection for Maison Margiela. The co-ed looks initially feel historical, inspired by the New Romantics – a significant reference point for John Galliano. Flamboyant, period-style references were included through elaborate hats, lace frills protruding from the shoulder of jackets, and layering of loose and androgynous garments. Rainboots exaggerated in size, with matching rain hats certainly suggests Spring showers was thought of for this collection, rather than the typical blooming and bright Summer we expect. By travelling through different settings in the campaign video, the collection constantly feels like it is reminiscing over the past, refashioning traditional outerwear and luxury fabrics into the fashion of today.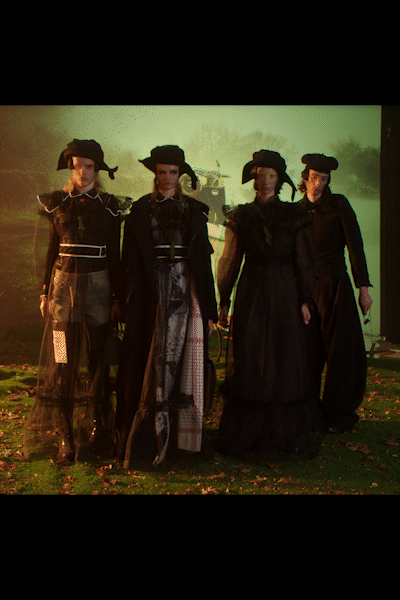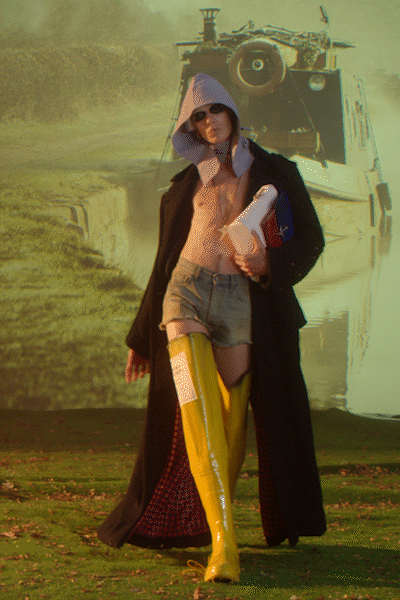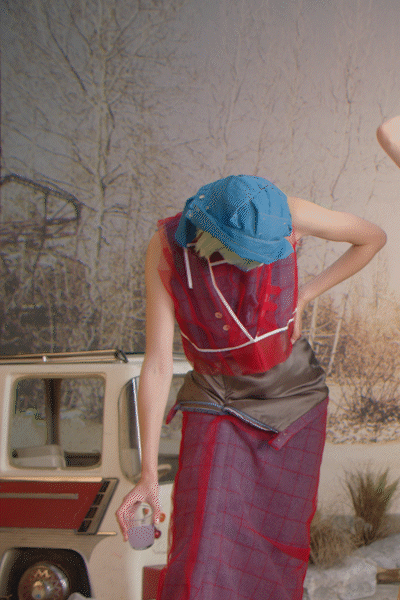 Gif Credit: Maison Margiela SS/22 Runway
Chanel
Chanel's Spring show at PFW saw a return to the beloved 1990s aesthetic created under Karl Lagerfeld's creative direction. Opening with swimsuits and bikinis, the dominant black and white colour palette accessorised with gold instantly recalled the rich, ornate designs of the late 1980s and 1990s. The tweed suit also was updated – constructed in a glittering, black fabric with gold trims and an elastic, cinched waist to bring hints of nightlife to a formal skirt suit. Striped pinafores, loose shift dresses, and colourful, flowing evening gowns were some of the other garments presented in both classic and updated forms, through alternative fabrics like leather used and hems shortened to become mini skirts or shorts.
Photo Credit: Alessandro Lucioni/ Chanel SS/22 Runway
Louis Vuitton
Drama and eccentricity was present at Nicolas Ghesquière's Spring show for Louis Vuitton. A extravagant setting with elaborate chandeliers decorating the catwalk was the perfect place for a collection bringing together historic silhouettes, layered beadwork, and (surprisingly) jeans. Whilst aesthetically feeling slightly like the Mad Hatter's tea party, Ghesquière was able to unite various period style costumes with common everyday items, like leather trenchcoats, to a create casual, wearable outfits.
Photo Credit: Alessandro Lucioni for Louis Vuitton SS22
Words by Caitlin Sahin