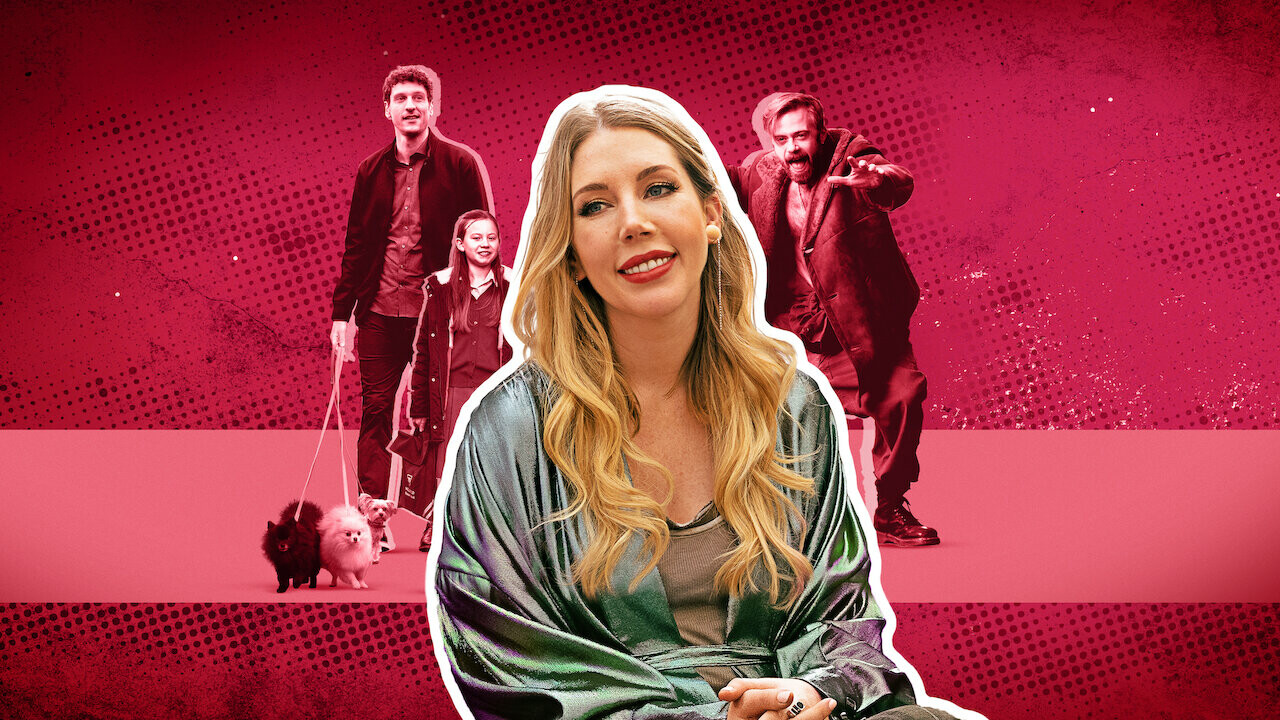 On-screen and in life, it's rare to see a woman do whatever she wants. Male characters have long had the privilege of speaking their mind without the leaden burden of having to be "liked", while women are often crushed under its weight. That's one reason why The Duchess is so refreshing: Katherine Ryan, who plays a semi-autobiographical version of herself, does and says what she pleases without batting a (glamorous, perfectly curled) eyelash.
Ryan plays a single mother whose quest to have another baby leads her from a fertility clinic back to her estranged ex Shep (Rory Keenan), a former boyband member who lives "off the grid" on a houseboat, plugging plums as the new superfood and playing chess against himself. He's a delinquent but loving figure in their daughter Olive's life, and Katherine's nemesis throughout the series as well as her co-parent.
The Duchess Official Trailer
Katherine's character blends many qualities of Ryan's stand-up persona: her filthy jokes, aggressive sexuality and brutal take-downs are oddly complemented by her sugary, hyper-feminine style. The outfits deserve special mention, not least because they somehow make her character a lot more palatable. The acidity of her personality clashes with her general aesthetic: hot pink trouser suits, glittery headbands, silk pyjamas with feather cuffs. Such princessy elegance seems important in a wider sense too – when was the last time you saw a single mum onscreen who had such an unapologetic, glamorous, self-confident style?
The show definitely has its missteps. In general, the insults are hilariously foul-mouthed; in one scene, Katherine's daughter Olive gets into trouble for laying into her classmates with the fervor of Malcolm Tucker: "unless you're a thong, quit riding my arsecrack". But at times, the dynamics seem misjudged, like when Katherine rails against a social worker for (very reasonably) refusing to recommend her as an adoptive parent. Full of self-righteous outrage and bile, Katherine hurls insults at the woman ("f**k you in the face"), who stands on the doorstep in silent shock. It's made more uncomfortable by the fact that the social worker is Black – if the scene was intended as an ironic comment on the self-serving superiority of the white middle classes, it doesn't quite come across that way.
Netflix- First Look- The Duchess
As the show progresses through its six half-hour episodes, Katherine's selfish disregard for others becomes a little grating. Her only loyalties are to her best friend Bev (Michelle de Swarte) and to her daughter – everyone else, including her kind and long-suffering boyfriend (Steen Raskopoulos), is fair game to be emotionally chewed up and spat out. As the plot develops, it gets harder to stomach the wreckage she leaves in her wake.
The most interesting parts of the series are where Ryan seems to be on a mission of her own – for example, to normalise discussions about cosmetic surgery. In one episode, Bev goes for a routine liposuction that takes an unexpected turn. This was surely a deliberate choice on Ryan's part, who has been vocal about her own cosmetic surgery (she has had fillers in her lips, jawline, and chin, as well as breast augmentations). In an interview with the Evening Standard in 2018, she spoke about the importance of talking about cosmetic surgery to avoid amateur, sub-standard treatment: "If we spoke about it more, we'd go to the right people". Here, she seems to be opening up the conversation.
Much of The Duchess is out to shock – the opening scene shows Katherine walking her daughter to school wearing a jumper with "World's Smallest Pussy" emblazoned across the front. In one sense, a world where women – especially single mothers – can speak their minds, care less about the approval of others, and wear whatever outrageous outfits they want is hugely appealing. But a little more empathy would go a long way; confidence doesn't have to come with cruelty. Words by Jaleh Brazell