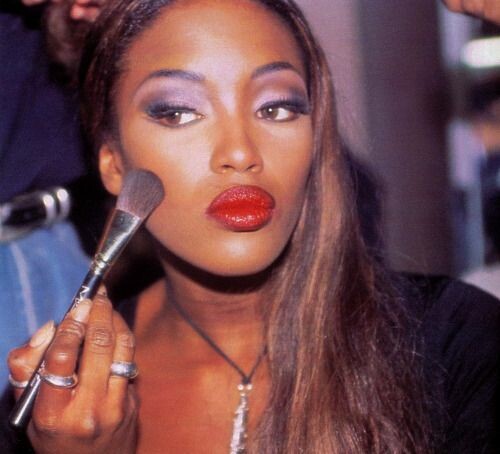 If you've ever wondered how Naomi Campbell has retained her flawless 90s supermodel pre-runway glow over the years, we can confirm it's down to a rigorous skincare routine that focuses on hydration and a mysterious concoction of powerful active ingredients. Straight from her bathroom sink, the now 50-year-old activist reveals her youth retaining beauty secrets in an exclusive video tutorial for Vogue. And although some steps remain elusive, we've broken down this scientifically backed regimen so that we too, can achieve that coveted supermodel complexion that we've all been looking for.
After cleansing, Naomi dives straight in with a healthy spritz of the La Roche-Posay Serozinc—a product renowned for its acne-fighting and cell repairing properties that's been a staple for the supermodel for a number of years. Over on her personal YouTube channel, Naomi exclaims, "zinc is so good for the skin. Zinc is like magic, but you have to keep spraying zinc constantly."
We may only reserve this power-house ingredient for our sunscreen, but zinc offers more than barrier protection. According to dermatologist Dr. Jennifer Herrmann, "zinc acts as an enzyme cofactor, it assists in collagen synthesis and DNA repair, which can help keep skin looking younger and healthier." No wonder she hasn't aged!
Naomi follows up with an at-home micro needling session, using a clinically sourced derma roller that improves serum absorption by a mind-blowing 300% while simultaneously increasing elastin and collagen production. Many skin concerns can be alleviated with this process, including acne scarring, fine lines, and enlarged pores. If you're unable to source this cell-renewing tool from your dermatologist like Naomi has, we recommend the Swiss Clinic Skin Roller for adjustable needle lengths to best suit your skin type.
Now, the next step remains a product mystery as the supermodel generously applies an undisclosed dewy serum to her freshly needled skin. We can only assume it's a pre-serum essence, a Korean skincare step that gently balances the skin barrier function with moisture binding ingredients that allows for full serum absorption. One such product is the Fresh Black Tea Kombucha Facial Treatment Essence, which has been described by e-retailer Cult Beauty as a "youth-preserving must-have that protects skin from pollution," by infusing anti-pollution and antioxidant properties.
Naomi does however press the importance of hydration, a valuable piece of advice that was passed down from her mother, "I've been taking care of my skin ever since I was a child because my mother always told me I had to moisturise; face and body. So that's one thing I've known for a long time, even before I was modelling." Adding, "I like skin to be shining and dewy. I don't like skin to be matte and dry, I think it ages you."
"I like skin to be shining and dewy. I don't like skin to be matte and dry, I think it ages you."

Naomi Campbell
And with this advice in mind, perhaps the most exciting beauty secret of all is revealed—a completely customised serum jam-packed with anti-aging and free-radical fighting molecules that we can certainly credit for her eternally youthful complexion. Naomi begins by putting a small amount of an unmarked serum into the palm of her hand, before adding a few drops of Vitamin E Nanoparticles.
Not only does this solution increase hydration levels, but most importantly it fights against any free-radicals that may have been caused by harmful UV rays—one of the key culprits behind premature aging. And that's not all, one drop of the Dr. Sebagh Serum Repair is added to the mix, incorporating skin plumping collagen with moisture boosting hyaluronic acid and glycerin to ensure continual skin elasticity.
The final addition to this customised formulation is a few pinches of the (what we assume to be) Dr. Sebagh Pure Vitamin C Powder Cream before being thoroughly mixed between Naomi's palms into a seamless consistency that is then massaged up the neck, along the jawline, across the cheeks towards the temples, and under the eyes.
At this point you may be thinking, but why the powder? Well, this specific formulation turns into a cream that is more concentrated than its liquid counterpart, allowing for accelerated and effective absorption thus yielding immediate results of brightening and tightening.
Our only addition would be to finish off with the Elizabeth Arden Prevage City Smart SPF50 Hydrating Shield—an antioxidant-rich sunscreen that not only protects our skin from ultraviolet rays, but also creates a barrier from environmental aggressors. Combined with vitamin C, this duo is proven to maximise photoprotection while boosting each other's efficiency. Ideal for daily use, this sheer and hydrating formulation has been favoured by celebrity makeup artist Nikki Wolff, who recommends, "apply over moisturiser and instead of a primer for a lovely base to makeup."
Looking back at Naomi's regimen, there's a clear underlying use of dermatologist recommended products and techniques opposed to trend-driven high street brands—a direction that has been gaining tract in the beauty community over the last few months with the steady rise of innovative technology and a newfound trust in the science community. And after seeing the results of Naomi's impeccable routine, we're quite happy to jump on that bandwagon too.
Words by Vinona Baines