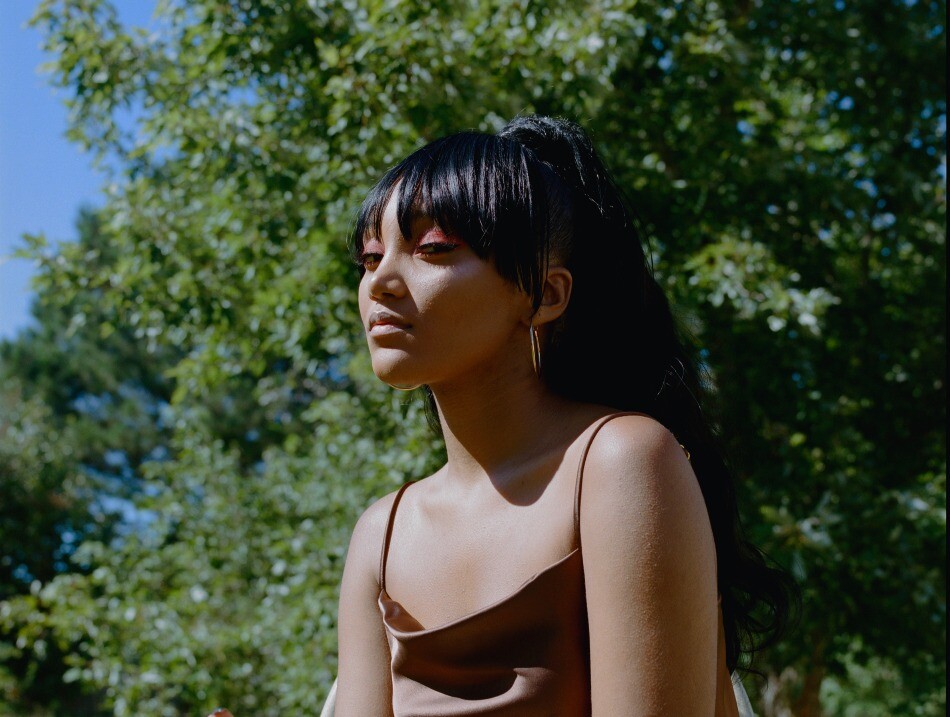 Jordan Kristine Seamón, also known as J.K, is one of our favourite artistic revelations of the year. If you've watched Luca Guadagnino's HBO's series We Are Who We Are you already know who we are talking about.
The Philadelphia native actress entered the entertainment industry radar through her role as Caitlin Poythress – an American teenager exploring her identity in a military base located in the North of Italy.
But J.K's creative path doesn't stop there, the young actress doesn't identify exclusively as such. Her talent also navigates in other realms, being a singer, songwriter, author, producer and basically all-round entrepreneur. Her debut album Identity Crisis is an exploration into her creative journey, a demonstration of her multifaceted talent, and a further reason for you to follow her.
Identity Crisis is a beautiful yet intricate LP full of musical versatility and relatable stories. At a first listen you will be able to notice the strong 90's influence which is followed by a hybrid of current pop and lo-fi R&B with songs like "the one for me" and "good & bad". And that's what we love about it, the experimental nature of this project and, of course, the J.K's sublime voice. If, like us, you are curious about the behind-the-scenes of this album Jordan herself made a documentary taking us on her musical journey with her.
But we still had quite a few questions, not only on Identity Crisis, but also on J.K's creative path and approach to the world of arts and entertainment… So who better than J.K herself to explain it to us? Keep on reading to find out more.
Hey Jordan, firstly, how are you? and how are you coping with the pandemic?
Hey, I'm doing pretty well. Things are slowly moving along for me and my career so I'm extremely grateful. I think the pandemic has been a struggle for everyone, but I'm lucky enough to have a good family at my side, and great friends that check up on me, so I've been keeping positive and staying productive.
How would you describe yourself and your career path?
I would describe myself as a very simple person. I am still figuring a lot out, so I feel young personally and professionally and I'm not afraid to admit that. There's been a lot of care and sacrifice that's been put into me and exposure and access to my passions, (from so many people, especially my parents), so I try to take my time and make good decisions in my personal life and budding career.
How did you first get into the entertainment industry?
I would say that I didn't officially get into the film industry until recently. But I had been working towards breaking into it for a while. I was in multiple youth groups and extra-curricular activities that helped me really harness my "talent". FreshVisions, Youth Theatre, and the Georgia E Gregory Interdenominational School of Music were the main places that I developed the skills that I still use to this day.
Musically, I've been singing since I was little… But when my Nana, Christine Lewis-Dukes, who was the greatest singer in our family, told me that I could sing, I never looked back. I also linked up with a girl-group initially in Georgia, before we parted ways and I went solo. I wrote my first single in response to that break-up and continued to move music forward in my life with the support of so many.
What role do you identify the most with?
I would say songwriter. I've always enjoyed writing in general. Songwriting allows me to deal with the ups and downs of life in a therapeutic way; a simple way. I have the ability to truly be alone with my thoughts and my soul. Songwriting helps me celebrate and heal.
Would you say that you have a stronger affinity with music or acting? Or do you believe that it is possible to be equally devoted to both?
Right now, I think that I am equally devoted to both. I put the same amount of energy into both. I'm not really sure how, but a lot of my inspiration for music comes from real life, so when I experience emotions from a role that I've secured or a friendship that didn't last, the more that I become exposed to things I am inclined to write about it. I would say that creates balance between my music and acting.
What is the biggest challenge you've had to overcome in the filming of We Are Who We Are and what lesson did it teach you? Did this lesson trespass the acting world and translate into other aspects of your life?
I learned a lot about how I handle challenges and express my opinions, based on the character that I was playing. I would often find myself afraid to express myself and truly let myself go in whatever it was that I was doing, but especially in life and acting.
Luca and my cast-mates really encouraged me to be courageous, speak my mind and let myself go when it comes to life and performing, and that has definitely been applied in my day to day life.
Now with music, I always try to remind myself to attempt to go that extra mile and own my vision and I was able to do that with Identity Crisis. I think this really helped bring a lot of authenticity to the project. All of these things definitely transfer into my personal life, especially during the pandemic, and the social justice issues that have been very difficult to deal with.
Did your acting experience in We Are Who We Are influence you or motivate you in any way when creating Identity Crisis?
Definitely! Playing the character Caitlin really influenced me to learn a little bit more about myself, as Caitlin was going through a sort of identity crisis as well. This simultaneous discovery that my character and I were going through inspired me to take the time to write some music which helped me understand what I was feeling.
How would you describe Identity Crisis as a musical project? And how would you describe it as a personal one?
Identity Crisis is a project that came from trying to learn and discover a little bit more about myself. It's a project about exploration and acceptance. Lastly, I would say that it is a strikingly vivid snapshot of young adulthood in flux, which runs the gamut of emotions from loss and regret to love.
What do you want your songs and overall music career to transmit to your audience, family, and friends? Is there a certain subject matter that you gravitate towards?
I just hope that my music brings someone, somewhere, some peace. I hope that people are able to listen to my music and use it to better understand how to deal with what may be going on in their lives. I just want to create art that gives people a little more insight into themselves and others.
Your self-made documentary showing the making of Identity Crisis is a very genuine and first-hand demonstration of the independent journey creating this record. Many artists often opt for a "professional/external" production for their documentary, why did you decide to create one independently? Does this decision in any way reflect or match the message you try to share via your music, if so how?
I wanted to have the creative direction over my very first documentary. And I am aware that sometimes when you bring external production teams into personal projects your own vision can get lost. I wanted to determine what I wanted to document and what message was going to be shown throughout the documentary. I have never been and I don't think I will ever be someone who is very flashy and showy, so the footage also reflects the idea that less can mean more. It reflects how I view myself, very relaxed and down to earth. The documentary also speaks to young artists about realism, learning your craft and the business aspects of it, all without depending on others.
In The Making of Identity Crisis you mentioned not knowing how to talk about your own music, why do you think this is? Do you believe it is something too personal to be explained and should be left to the interpretation of its listeners?
If I'm being honest, I'm still not really sure. I think it's for the same reason that I can't really talk about myself or describe myself. I don't write my music with the idea in my head that people are going to want to analyze it and try to deeply understand what my thought process was when I was writing or creating it. I write my music to help me understand myself a little bit more and to deal with things that have affected me or continue to affect me. I think as I get older I might be able to, but for now, I just like to leave it up for interpretation, I suppose.
Which one is your favourite song on the album and why? What differentiates it for you from the rest of the tracklist?
I would say my favourite songs are "thnx." and "drugging u". Both songs came from me taking a different approach to their creation, and in my personal opinion it really paid off. I enjoyed writing them. With "thnx.", I really put my heart and soul into those lyrics, and I think you can really tell. With "drugging u." I was hit with such an aggressive inspiration that, when I began writing the song, I was shocked at how quickly I was able to develop it. I was able to step outside of myself with "druggin u", through inspiration from a television show, so that was new. Of course, it's fictional and doesn't condone drugging anyone, ever.
Who are your biggest inspirations in the music industry and the entertainment one? Out of these inspiring personalities, which one is the one you would like to collaborate the most with and why?
I have so many inspirations that I can't even begin to list all of them. As far as music, I would love to work with Pharrell Williams. I think he is one of the most talented producers ever and to get the chance to pick his brain and study him in the music arena would truly be an honour. As far as acting, I've been lucky enough to work with so many amazing actors already. I would say I would really love to work with Ava Duvernay or Jordan Peele. Again both extremely talented creatives and just to even be in the same room as them and be able to take a little bit of knowledge from them would be life-changing.
How was it working with Kid Cudi in the acting realm, would you consider a music collaboration with your "fictional father"? If so, of what genre and style? It was so cool working with Scott (Cudi) because he is such a nice person and it's always amazing when you meet someone that you've admired for a long time and they are just as nice and kind as you hoped they would be. He has been a great ear and support system. I would definitely love to do a musical collaboration with him and we've had that discussion already, so stay tuned. I think the style and genre couldn't really be labelled since I think both of us are very open when it comes to making music. I think if we did collaborate it would be something that you really couldn't put in a box.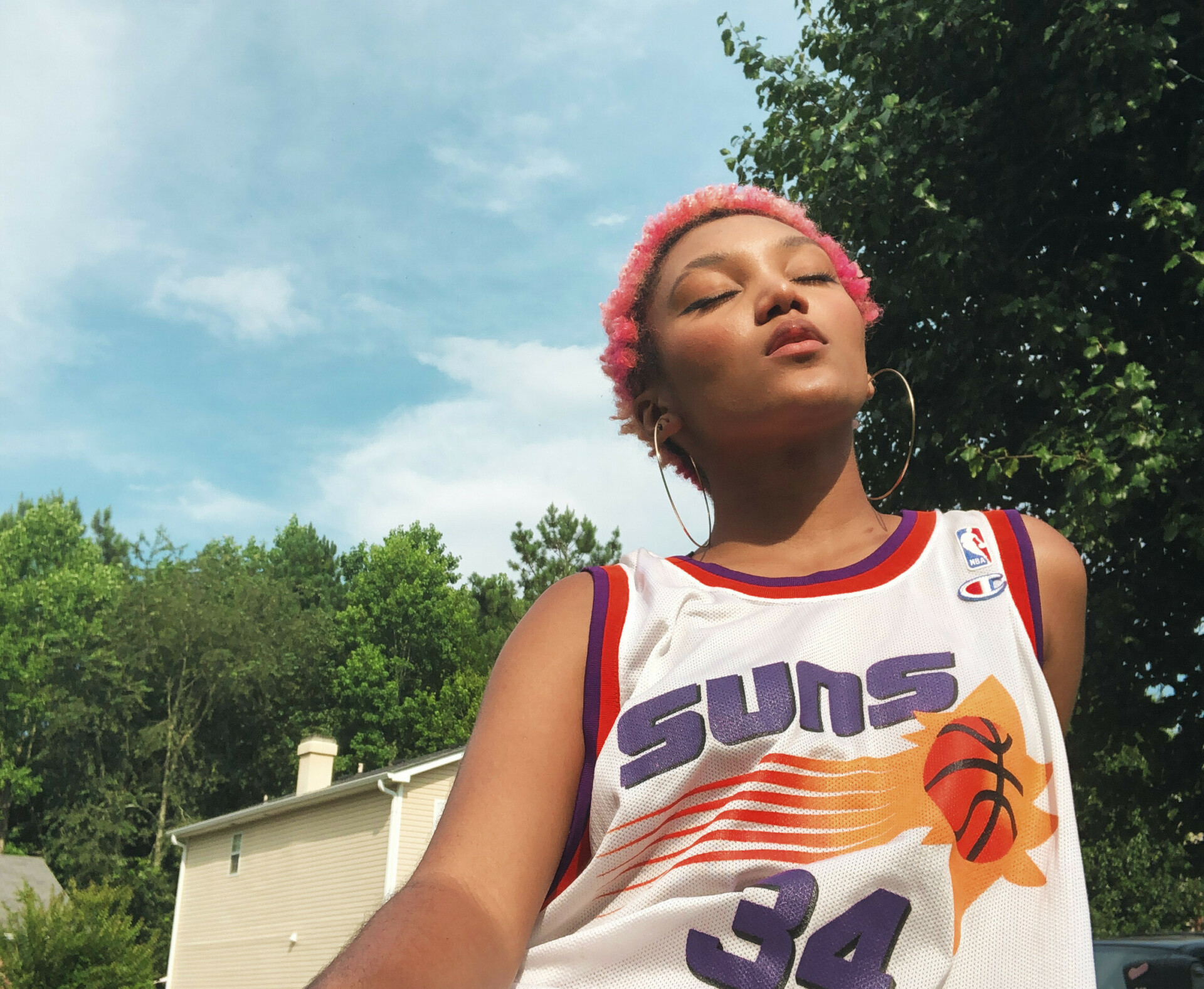 Your career and projects have also led to incredible fashion jobs and collaborations, is this something you look forward to expanding in the future? How does fashion relate to your creative path?
Definitely. Fashion was never something that I thought I would have any interest in at all. I never thought I was a very fashionable person so it was the last thing on my mind. Now that I've been exposed to so many different styles and brands and I've met so many amazing people that have taught me cool tips and tricks that I now follow around fashion, it's really become a form of expression for me.
Out of curiosity, what is one song that you are listening to on repeat at the moment? What are you binge-watching?
'I Wish You Love' – Nat King Cole and American Dragon: Jake Long
And finally, what would you like to work on next? And what projects can we look forward to?
I hope I get to do some more amazing projects like Identity Crisis. You can expect some new music from me, coming very soon! And I can't fully disclose it right now, but you will see me in some more film projects.
Words By Chiara Ferrari, Graphics By Millie Pollok