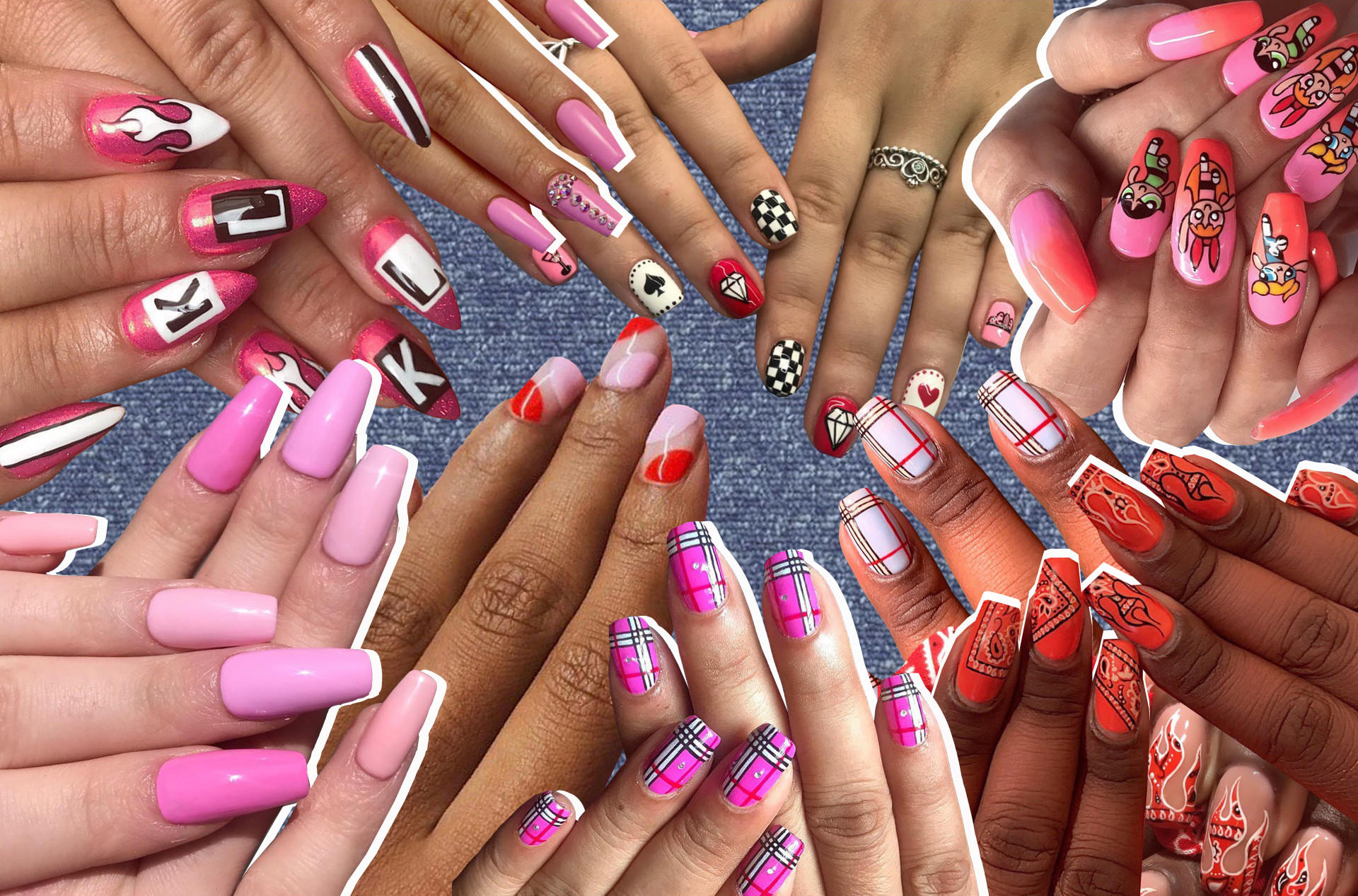 Is anyone else finding themselves obsessively scrolling through 'nail inspo' accounts on Instagram for at least an hour (if not more) a day, as you mourn the worryingly enjoyable smell of the acetone and nail polish cocktail that hits you as you walk in and the satisfying 'BBZZZZZZ' of the nail drills?
That heart-wrenching feeling as your stubby, depressingly short shapeless blob of a natural thumbnail stares back at you, with the beautifully extended and meticulously painted talons on the screen behind, reminding you of what once was. You had all nearly accepted the fact that you were going to have to begrudgingly bite the bullet of the bleak 'natural nail' life for the foreseeable future, hadn't you? Whilst I understand better than anyone the grief a lot of you are feeling right now as we all dearly miss our monthly visit to our nail tech's chair, we have found you the next best thing!Before lockdown she was painting the paws on the likes of Camilla Cabello, Bebe Rexha and H.E.R. But, in the face of adversity, Aliyah Rianna Johnson has decided to put her skills to good use and bless us with salon-quality talons at home, sending hand-crafted custom designed press-on nails right to your front doors! Aliyah's entrepreneurial spirit, creativity and positivity are allowing not just herself, but anyone nail obsessed to not only to survive in lockdown but to thrive! We realise a lot of you die-hard acrylic nail fans out there might be slightly reluctant to enter the stick-on nail world. So we had a chat with the person behind the press-ons that give you the 'salon look' without the salon. Here's what she had to say!
Check out Aliyah's video on how she creates her printed nails…
1).What inspired you to start selling press-on nails during lockdown?Before this period, and when I first started doing nail art, because my nails weren't always the longest, I'd sometimes buy press-on sets and sometimes re-design them; that was at an age where my mum wouldn't let me get acrylics so that was my alternative. When this situation began, I basically realised, staying in the house I'm not going to make any money. How am I going to flip this around so I can still have some sort of income so that I don't end up broke? I had loads of nails left over from when I'd done shoots, so I thought 'ok, I can transform these into press-on designs'. The first design that I did was the Ombre Louis Vuitton design- I thought I need to show people what I can do so that even if people get the craziest ideas in their head, I can somehow put it onto a nail. Then I did some Burberry ones, and then the day that I posted the Burberry ones, someone messaged me on Instagram and they wanted to order 3 different sets. I thought Oh Wow! I didn't expect it was going to take off straight away like that! One of the first designs that I did for her was this really colourful pop-art set. That one I really enjoyed doing, it was sort of like a little colouring-in book. I've got this little nail table set up next to my bed, and I literally sit there for hours just creating my little masterpieces. I love doing it, I still get that same buzz that I got going out and doing people's nails, but I'm just working from home and still managing to get some income!What advice would you give for maintaining press-ons?The main thing that's going to prevent them from staying on for a long time, is if you have oily nails. If your nail bed is quite oily, the glue can only hold onto it for so long. If you've got a rougher, dryer surface they'll stay on longer. In the packs that I send out to people, I include alcohol pads which you wipe your nails with first to dehydrate them. I also include a nail-buff bar, which you can lightly scratch the surface with. Then once you've dusted that off, I also include cuticle sticks, because one thing people do when they put on press-on nails is they end up putting them on the edge of the cuticle, and then if you get water that goes into there, they're going to lift of quicker than you have them on to enjoy them. With the cuticle sticks, you push your cuticles back to give you a nice area which you can place the nail into and then press it down with the glue on.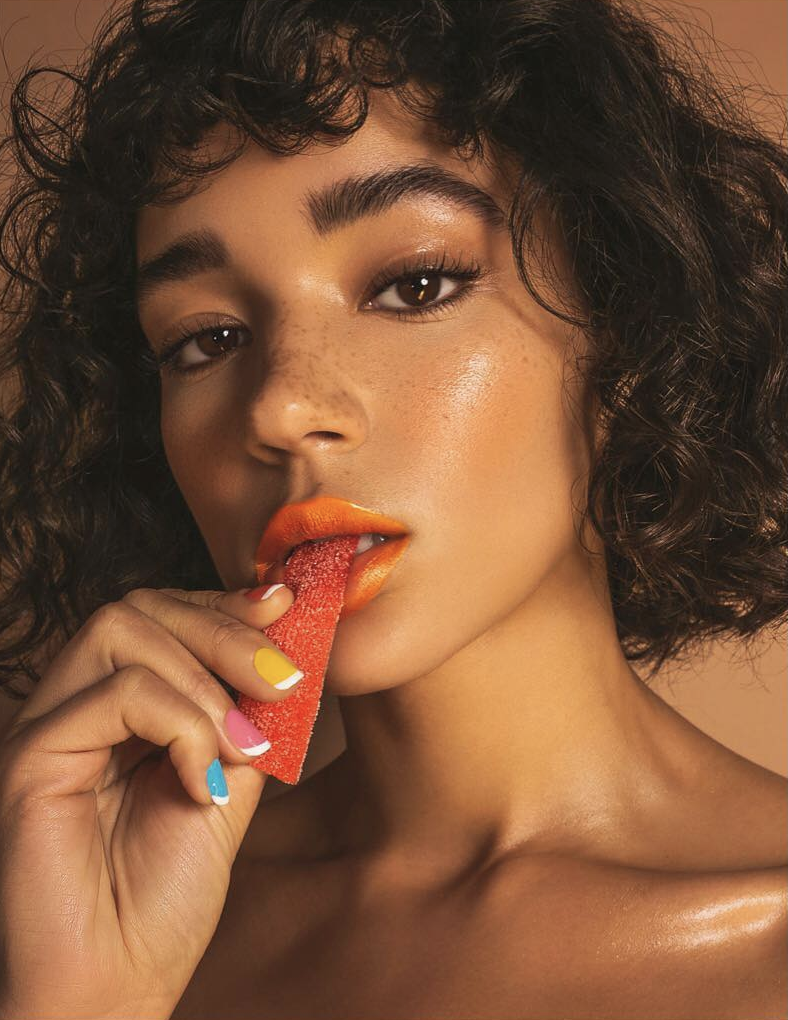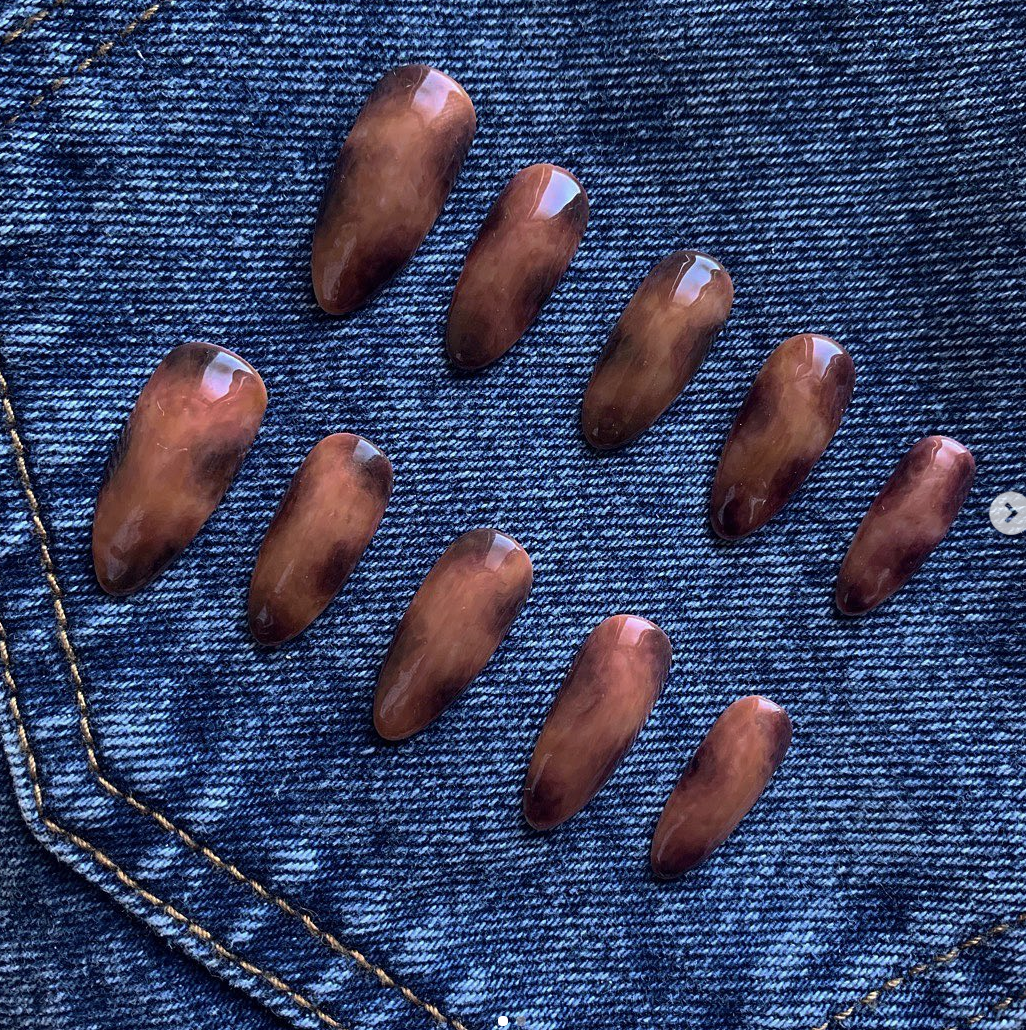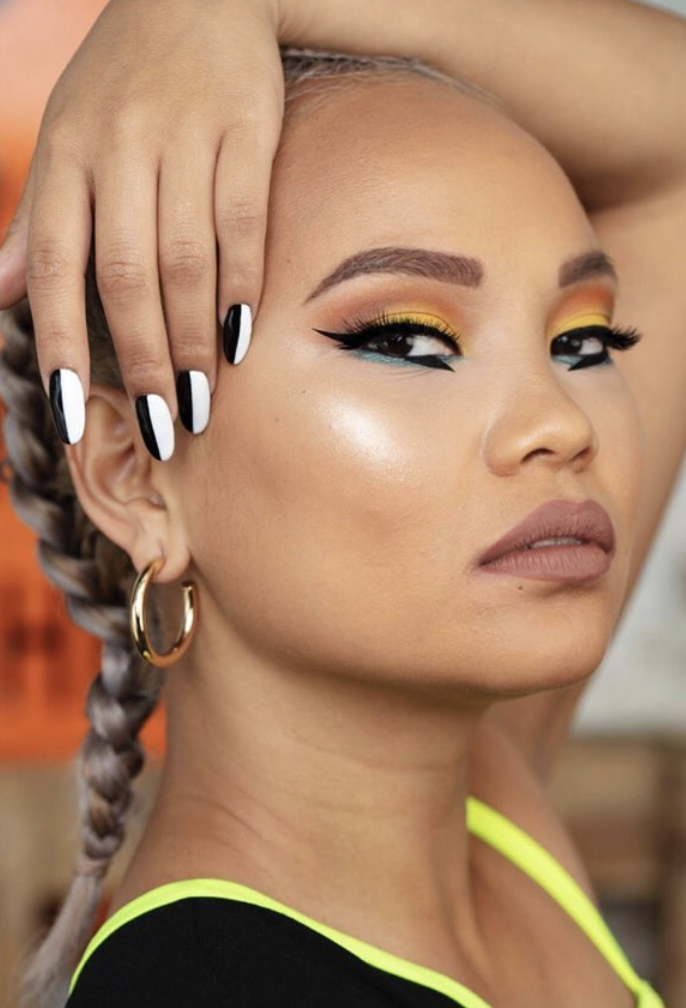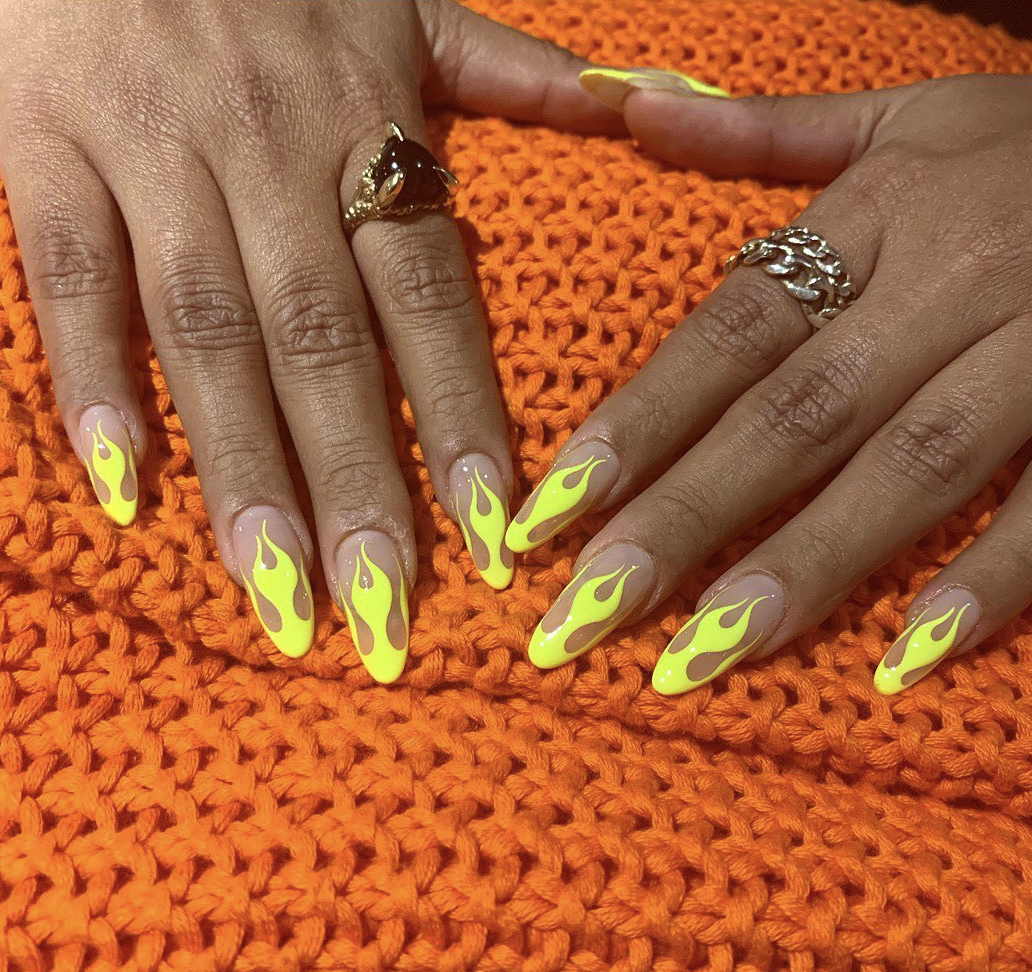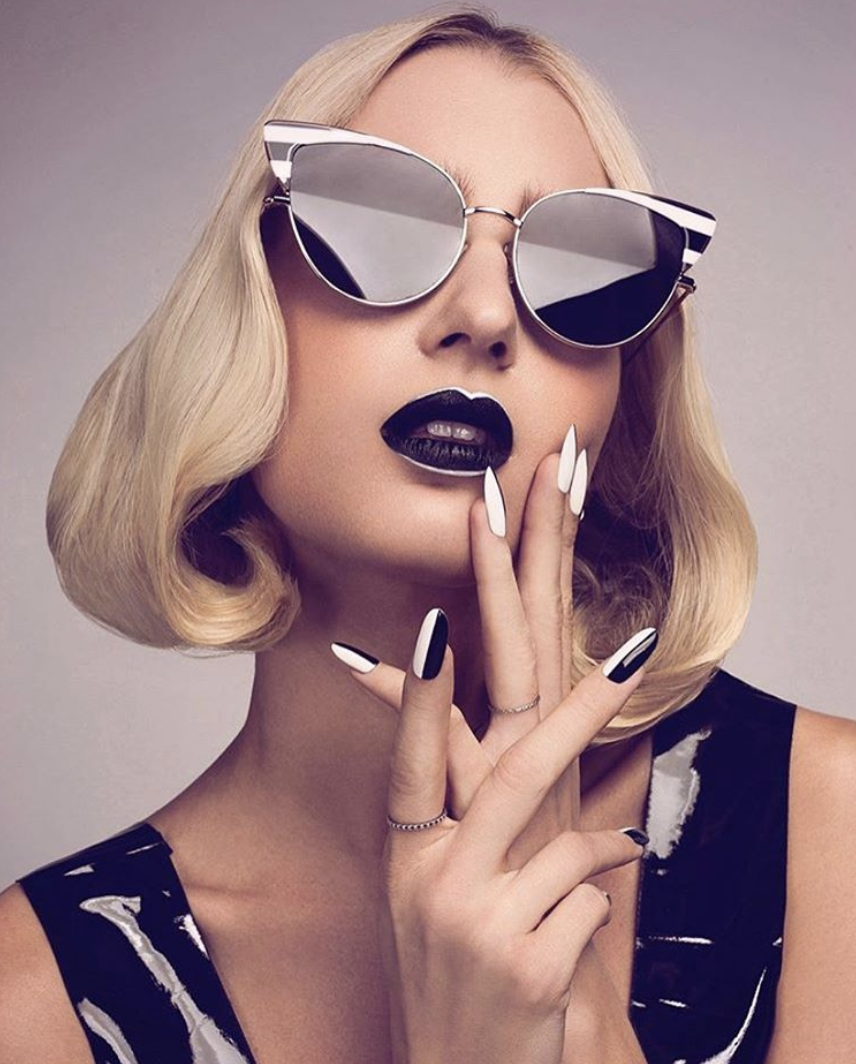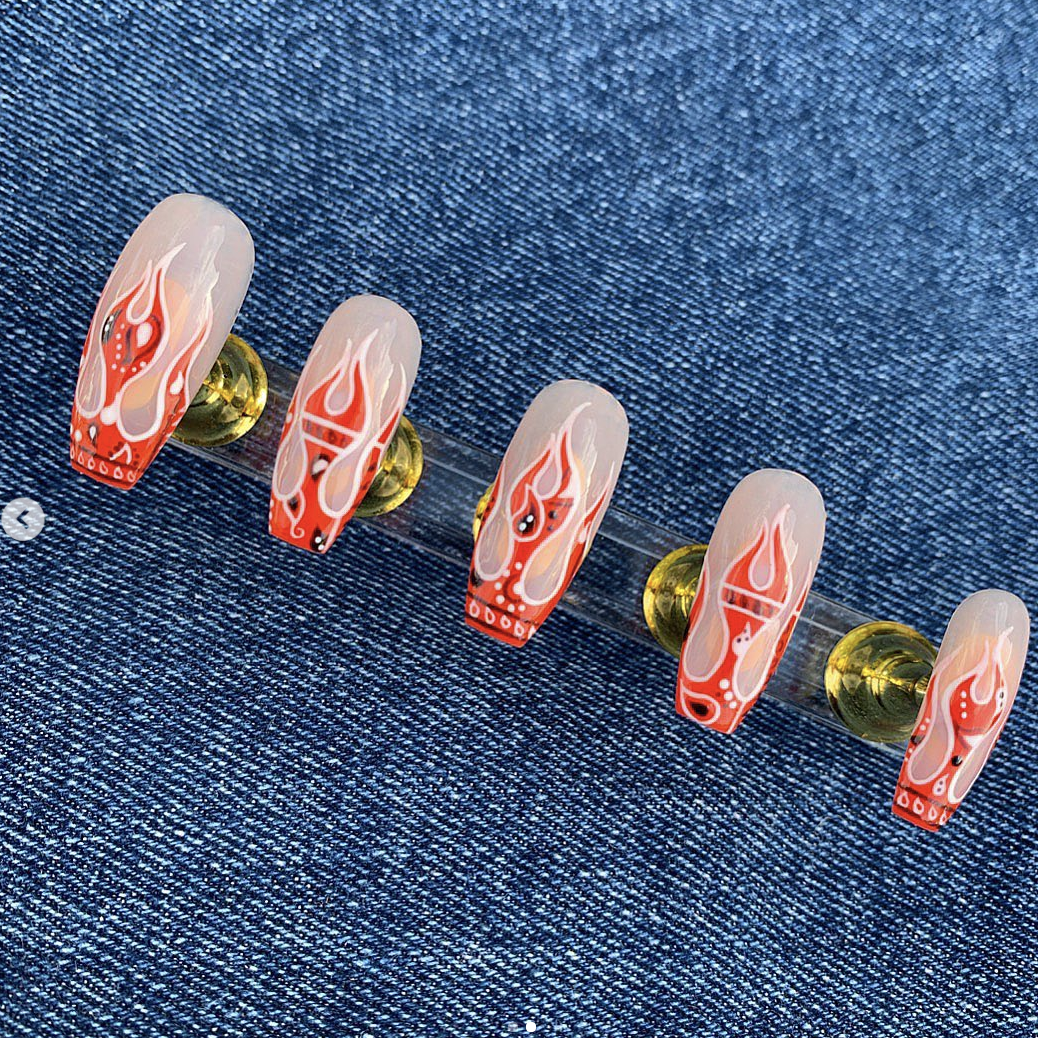 Nail designs done by @_arjenesisnails
How to make your press-ons last longer?Obviously, press-ons are not as durable as getting your acrylics done, so you do have to be more careful with them. I'd say if you are quite a heavy-handed person, go for a shorter length as opposed to longer ones. Because you'll end up bending them or snapping them and that's something you don't want to do. If you're doing stuff like the dishes or cleaning, wear gloves. Because any type of harsh chemicals could start to melt the nails, remember they're only plastic, but they're really great for a temporary situation!What's the safest way to remove them without damaging your nails?Obviously, you attach them with glue. So, the one thing you don't want to do is pull them off. Because that's going to damage your nail. If you had extensions put in your hair, you wouldn't just rip them out. With nails, it's the same process. You have to be careful and take time with them. The best way you can take them off without damaging your nails is to get some warm soapy water, keep your hands in it for about 10 minutes, and swish them around, and you'll be able to ease the nails off. Is there any particular glue you recommend?Most nail glues are the same, so the one I use is just a standard one. I will say, if you run out of nail glue, don't ever use super glue. I've had some people try to use super-glue and they literally can't get the nail off. What are your favourite nail trends, and any 'next hype' predictions?Tortoise shell- I love! Because it's like a little masterpiece to create with loads of layers and different shades, and there are loads of ways to do it. It also goes with everything!I never used to like flowers, because they were something I couldn't draw, but now I'm finding different ways to do them, so floral prints I really like. There are so many different ways you can do them, black, white, pastel, vibrant colours. I like a lot of abstract stuff. One of the ones I did recently, I did abstract with a lot of different nude shades. Doing Abstract allows me to be a bit freer with my designs. Because I find in perfecting how to do cartoons, it's very precise in how something has to be. So it's more of a challenge when I have to do something Abstract because I have to just let it flow, as opposed to making it exact.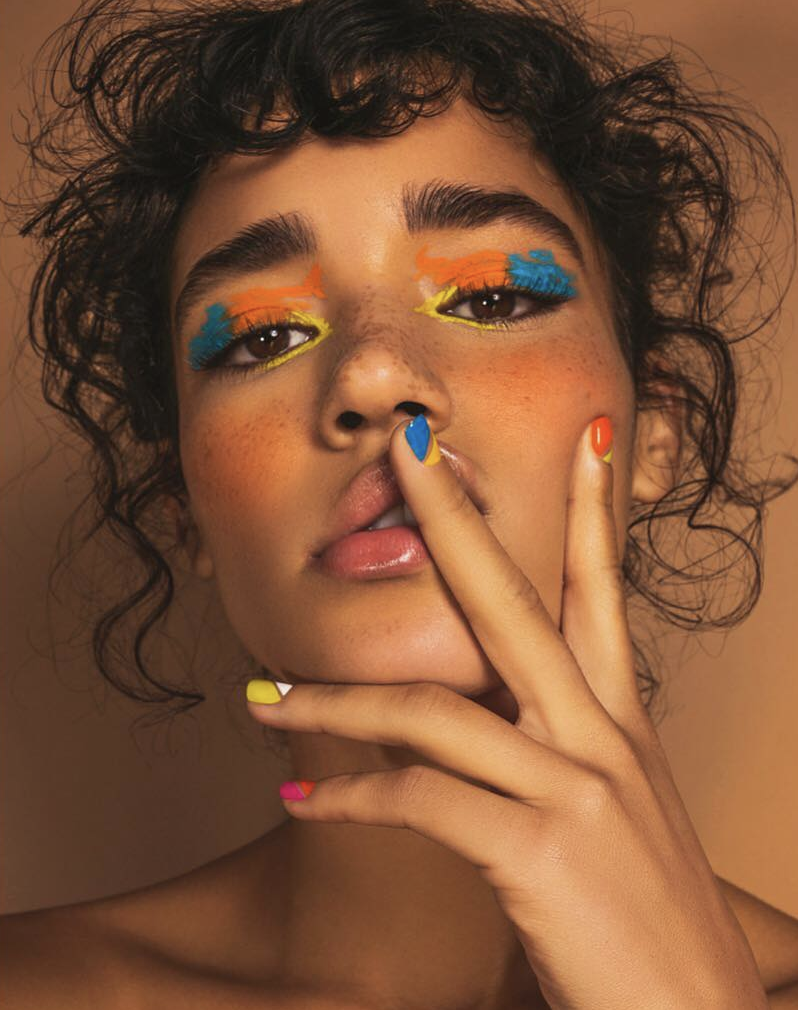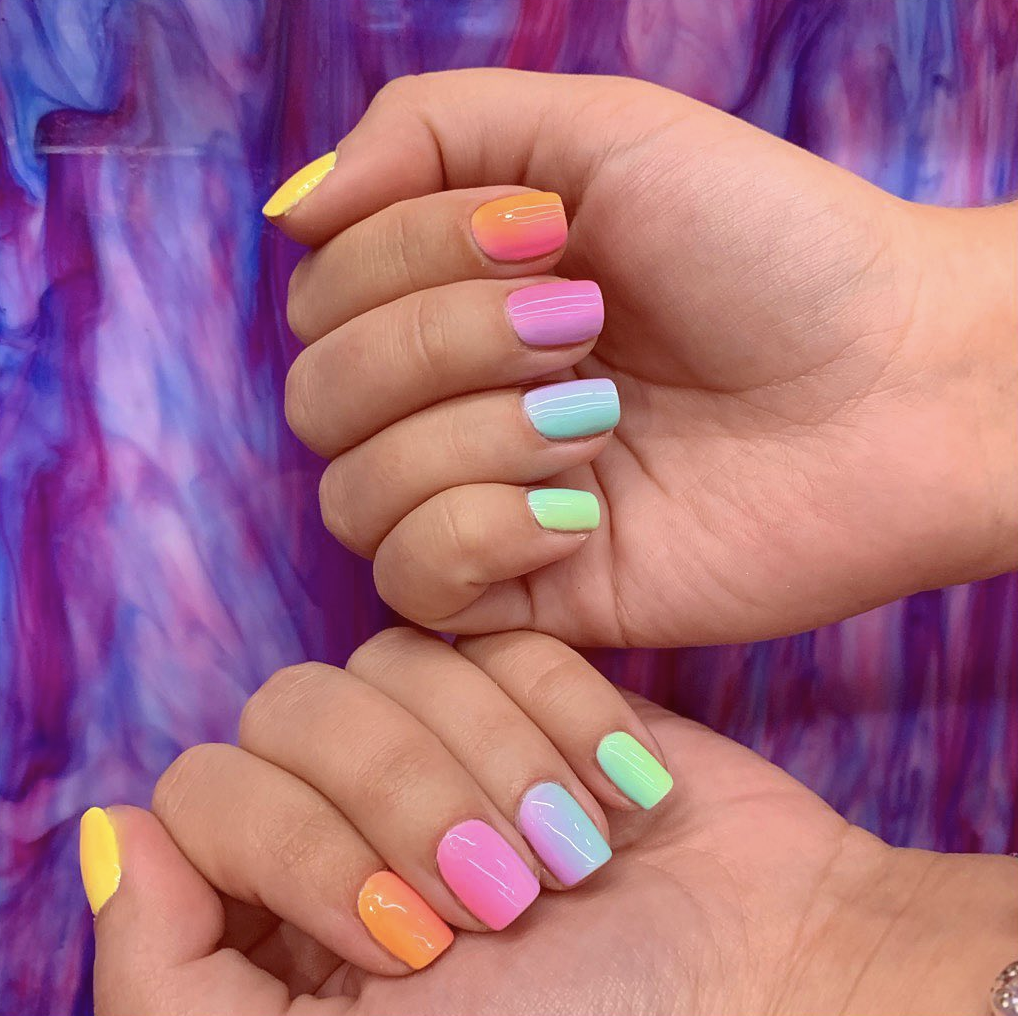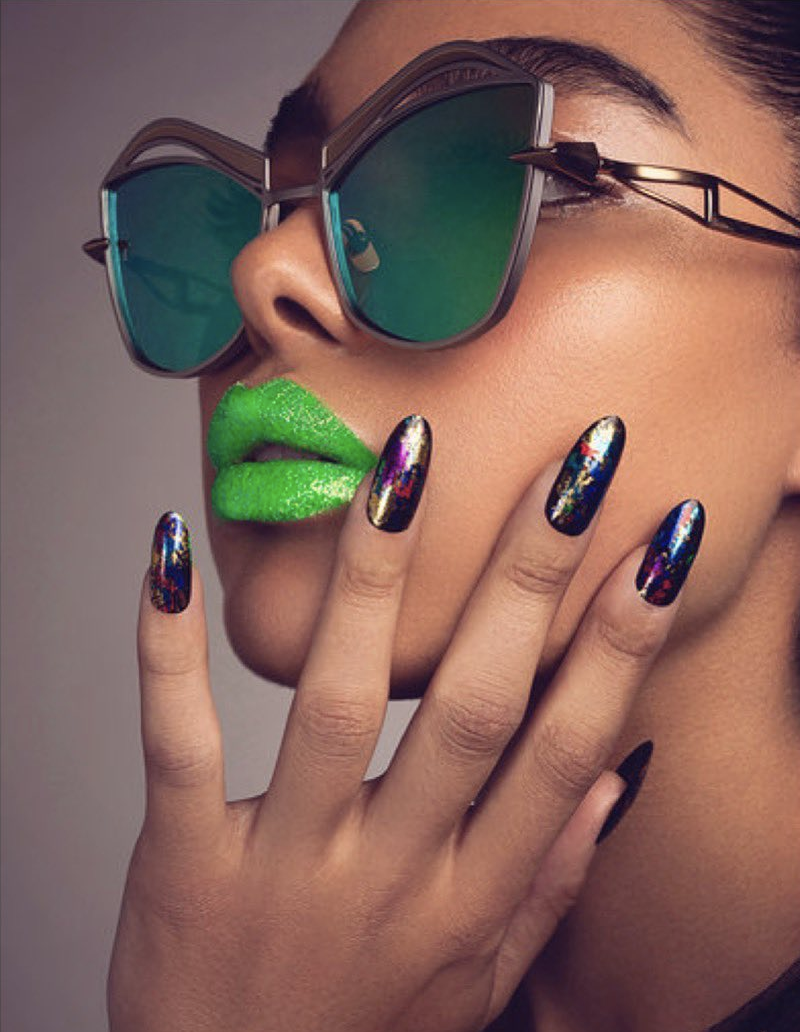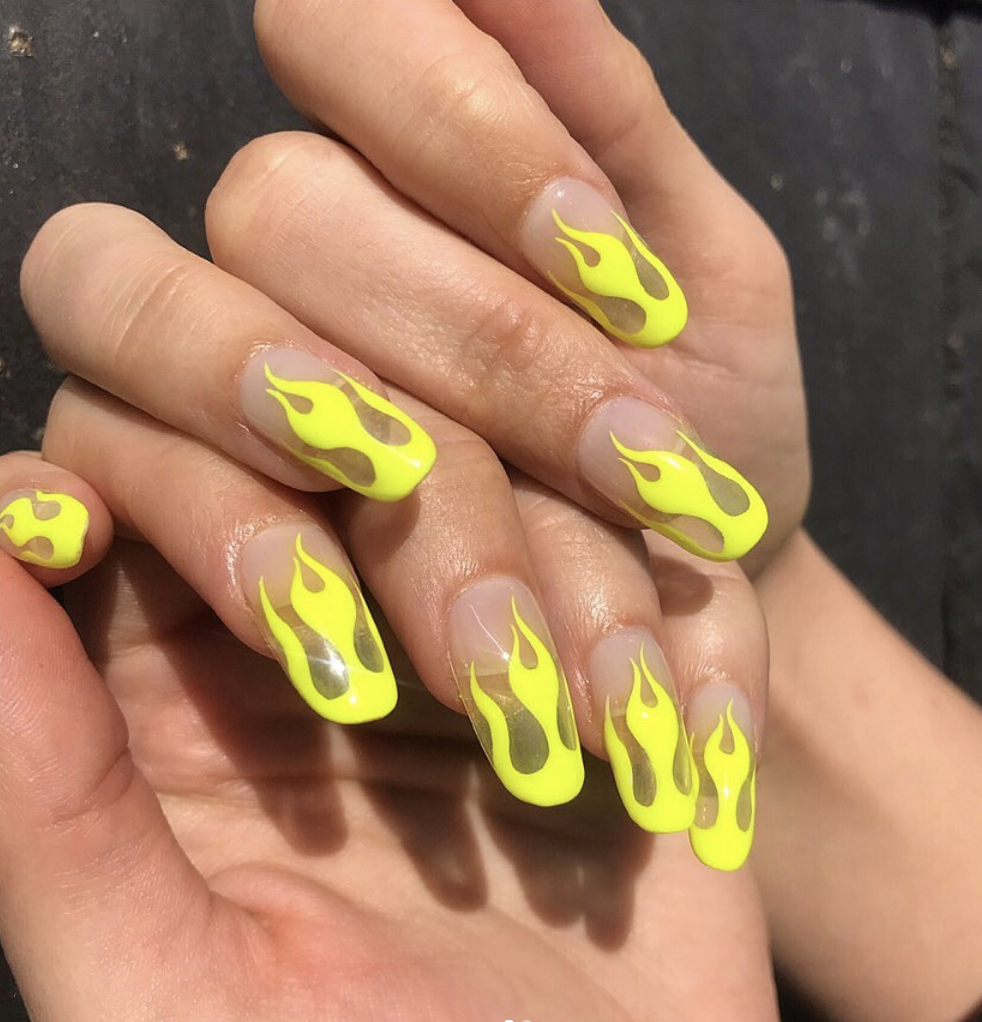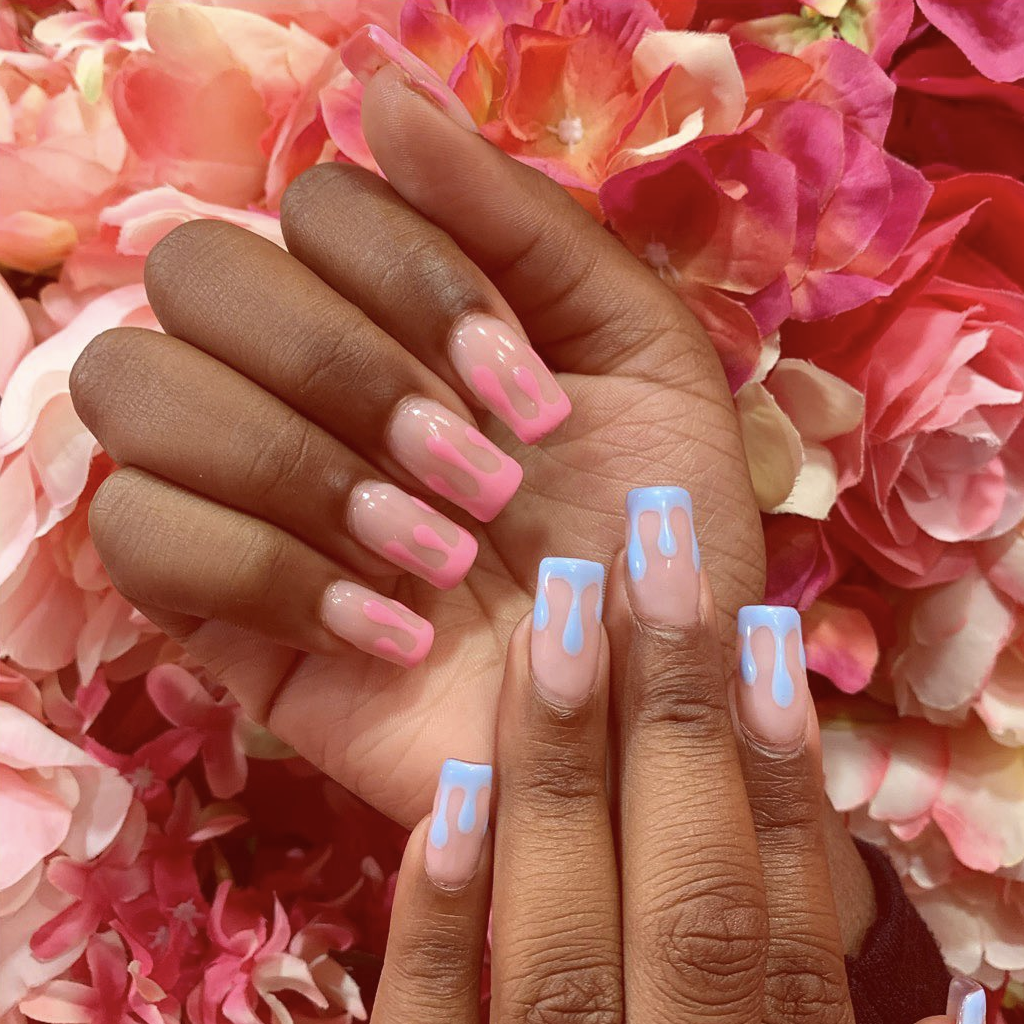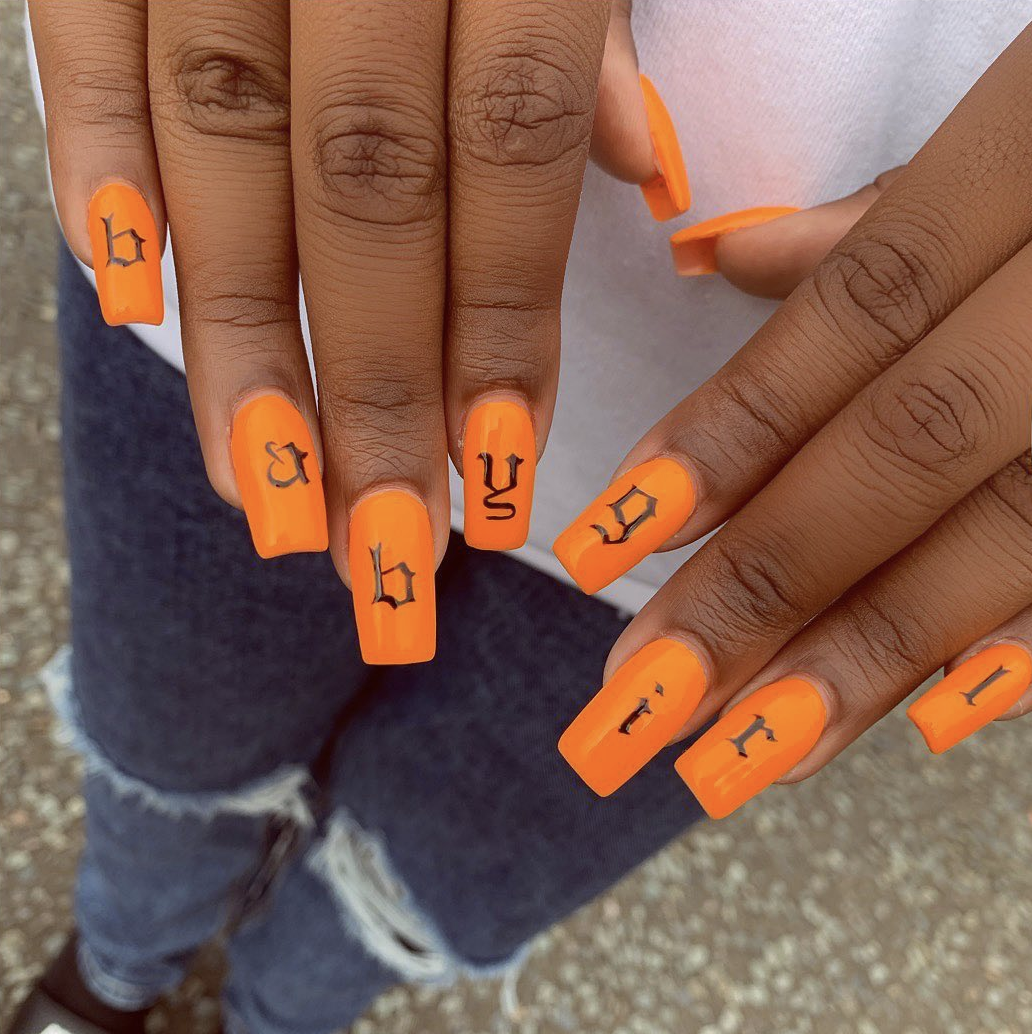 Nail designs done by @_arjenesisnails
Check out Aliyah's designs, and curb your salon cravings at home! @arjenesisnails
Words by Ella Winfield
Graphics by Katie Janes
, , , , , , , ,