Photo Credit: @DevonLeeCarlson
The time has finally arrived, spring is here and with it comes the easing of lockdown measures. With open outdoor bars and restaurants, we have re-programmed our priorities and spending time outside has become our new must.
However, even if we've all been waiting for this moment we must admit that the transition from at-home lockdown attire to presentable outdoors one it's not as simple as we imagined.
But luckily for us, social media is here to help… and who better than Devon Lee Carlson to guide us through this wardrobe change.
The 26 years old influencer, business owner and all-round creative has been taking over our Pinterest boards with her versatile style and fun approach to fashion. Her vivid looks that incorporate high fashion and streetwear are the perfect inspiration to get out of your lazy loungewear and prepare for these upcoming days.
Have a look at our favourite Devon Lee Carlson looks to recreate this spring:
Sundress With a Twist
Contrast for spring can be groundbreaking after all and Devon Lee Carlson has just shown us how. A patterned sundress, a contrasting blazer (preferably oversized) matched with some black pumps and your favourite accessories can elevate the simplest of spring looks while making the most out of classic wardrobe pieces.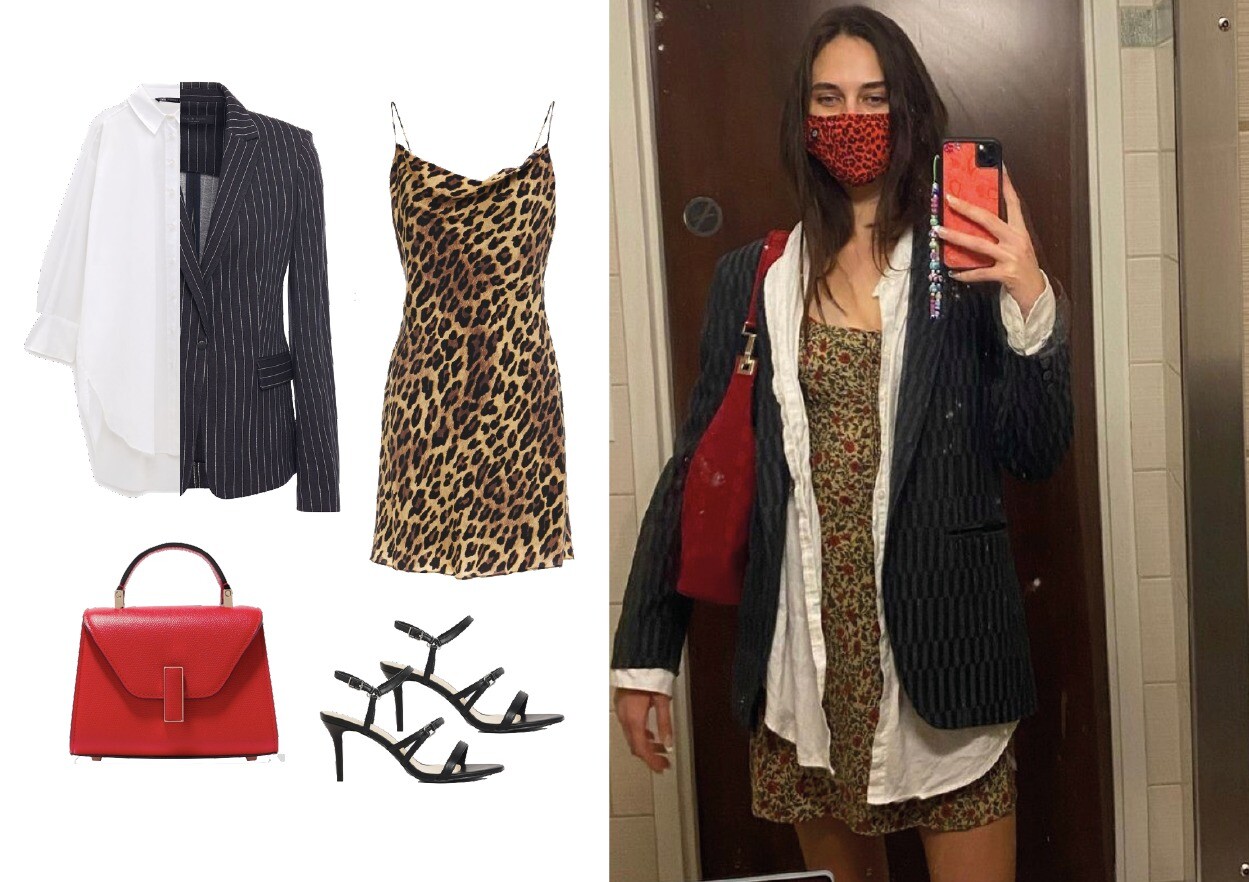 Low-rise Chic
It's hard for us to admit but low-rise trousers are back and they might be the perfect item to spice up your style and achieve that effortless yet chic look we all seem to love. But it doesn't stop there, instead of going for your usual low-rise jeans and a cute t-shirt why not opt for some textured trousers and a fun corset as seen here.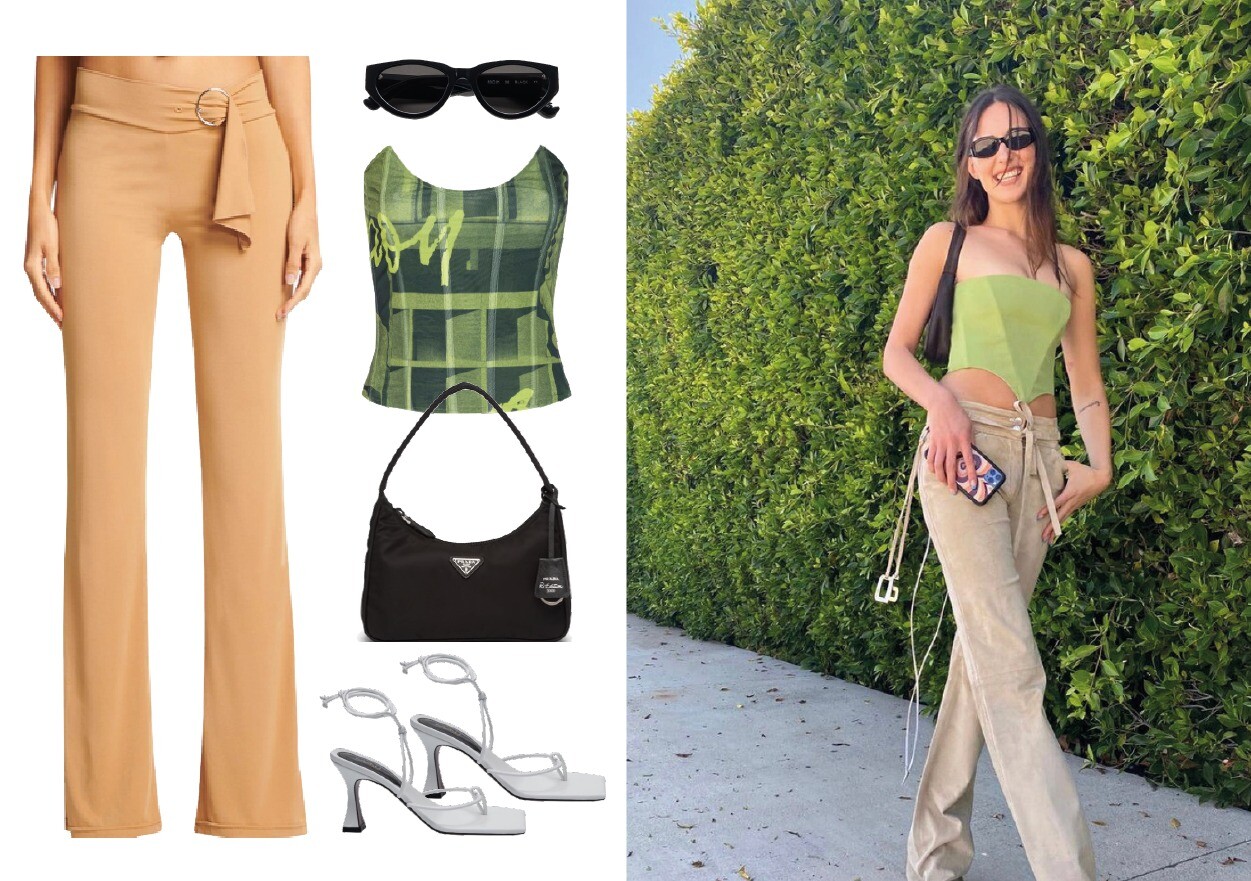 Western Romance
This silk all-white co-ord set together with the western style cowboy boots are a fun take on a romanticism-inspired outfit. One that includes our favourite elements from the iconic Orseund Iris delicate designs and Paris Texas rustic features. Oh, and let's not forget about red, a pop of colour in the choice of accessories that complete the look, making it send out with its colour coordination.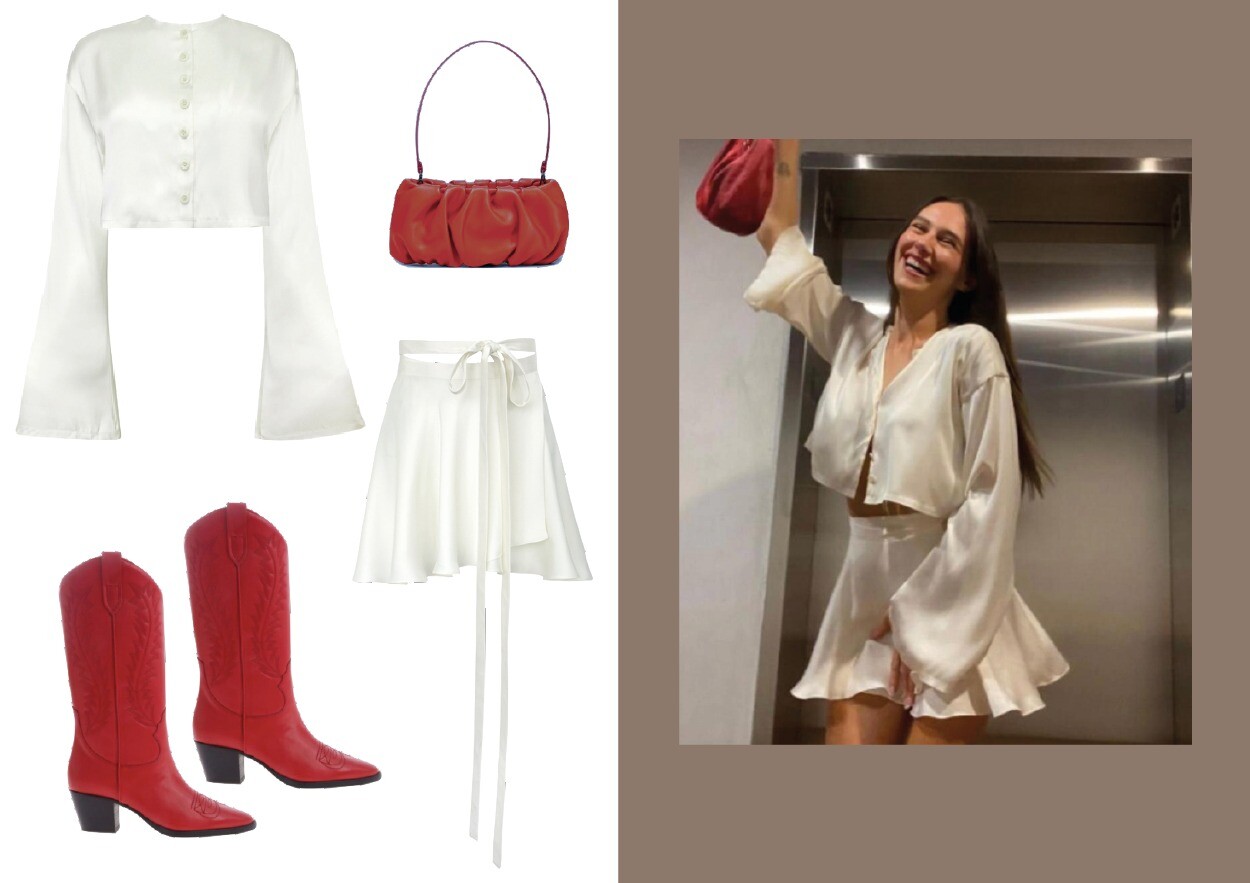 Elevated Casualwear
Who would've ever thought that a black floral blouse put together with neon-cycling shorts could look this good? Effortless, fashionable and undoubtedly comfortable. A picnic-ready look that's perfect for the days in which you want to look good but without trying too hard.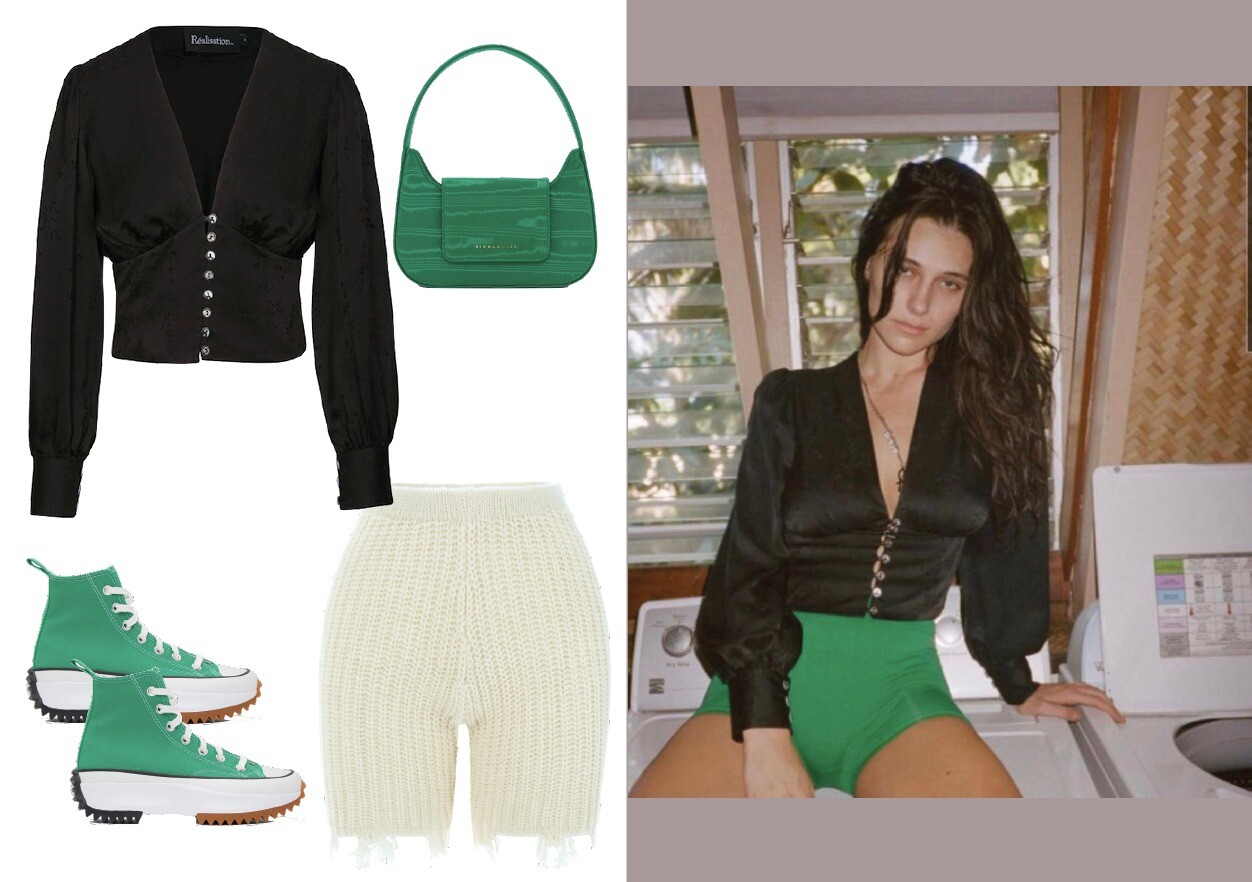 Jean on Jean
The queen of coordinated looks inspired us once again with this timeless jean on jean look. Jean jackets are a must-have in everyone's closet, especially for in-between seasons, they're easy to wear and can complete any look as shown here… even better if worn with a matching skirt, some 'extra' gold accessories.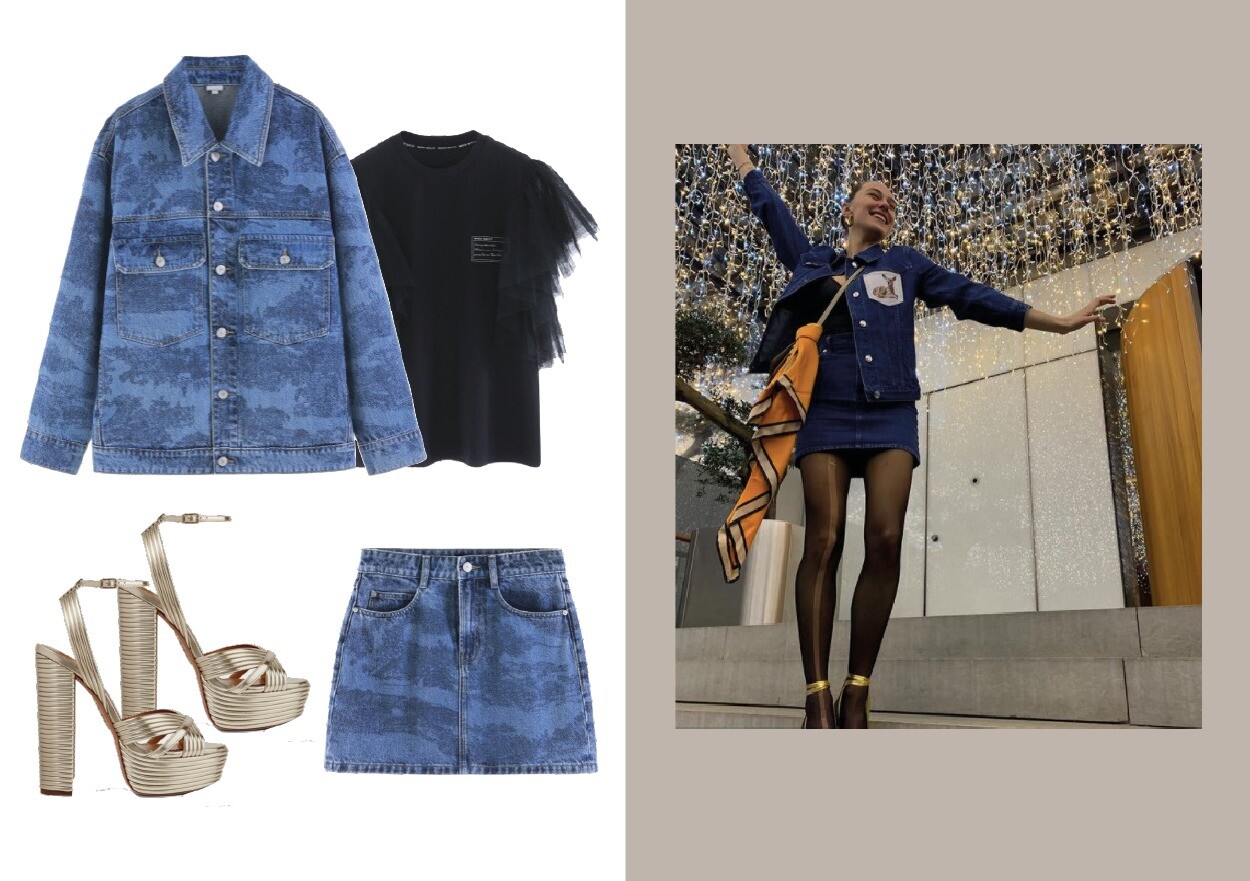 Versace, please
A look to kill for. The Versace La Medusa collection set with its neon colours, frill texture, and length mix-match is the perfect option for a sunny and elegant brunch with your friends at your favourite rooftop restaurant. If Versace is not an option (or a ratherun realistic one) don't worry, any set with a fun pattern or print can do the job and be a daring alternative to your usual suit or spring dress.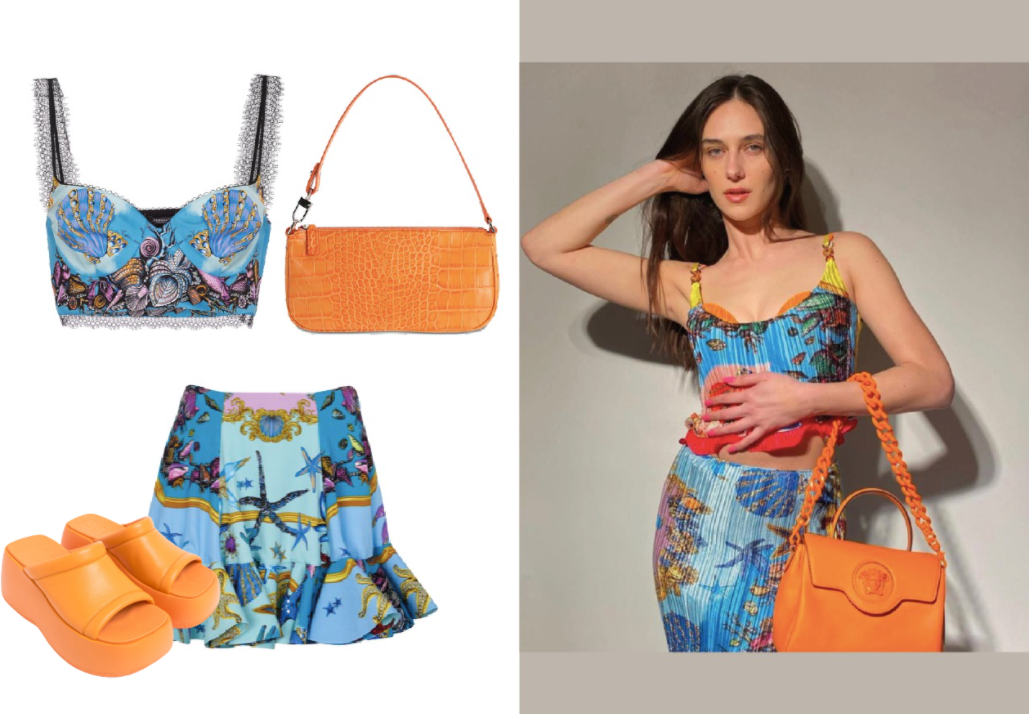 Words By Chiara Ferrari, Looks By Mia Carpenter, Graphics By Millie Pollok