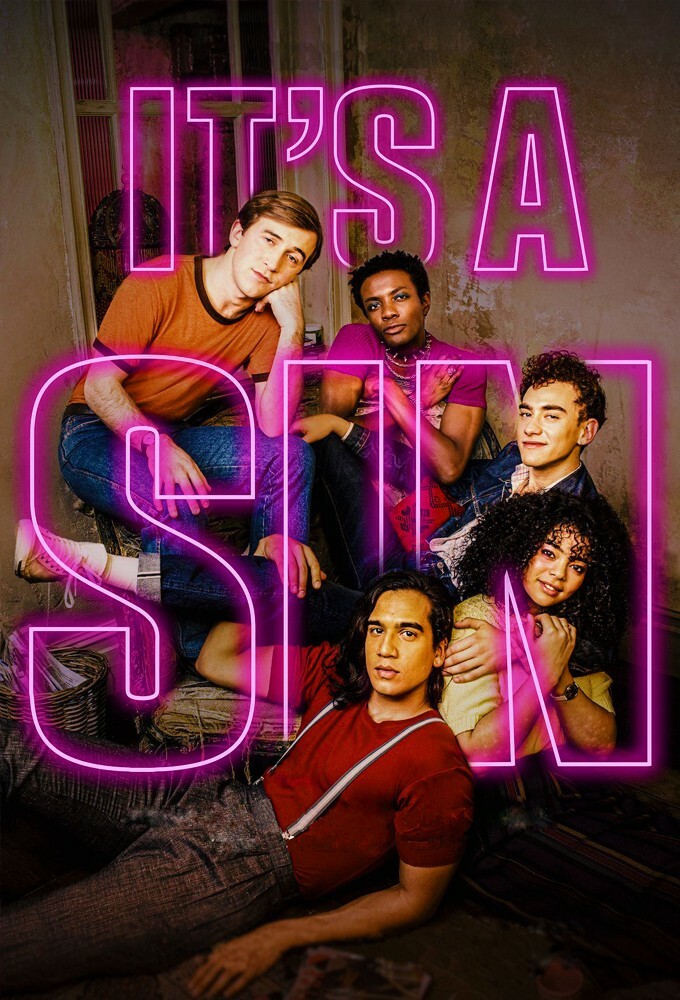 The Channel 4 series It's A Sin made waves recently for its exploration of gay culture during the 1980's, when the HIV and AIDS crisis began to unfurl in the UK. The show was praised for capturing the hearts of the nation and educating many on a topic that was considered very taboo in the past, with 18.9 million views on All4, this show has a buzz about it that will last.
Costume designer Ian Felcher took the reins for the characters' outfits, looking into 80's fashion beforehand to investigate LGBTQ+ culture, youth tribes, and overarching fashion staples. The result took many viewers back to the decade with its authenticity and diversity of references.
Jill Baxter (played by Lydia West) became an icon of the show as an LGBTQ+ ally, standing on the frontline to raise awareness of the growing pandemic and support those who were diagnosed. The character was based on Jill Nalder, an activist and actress who lived in London during the peak of the AIDS crisis. Noticing how many young men simply disappeared and later losing many of her close friends to AIDS, Nalder went on to raise money for research into the disease and visited many patients in hospital who didn't have visiting family.
Every time an episode of It's A Sin aired, #bemorejill would trend on social media platforms. In recognition of the importance of HIV and AIDS awareness and the strength of Jill's character in the show, we're taking a look at how to "Be More Jill" in both spirit and fashion. Check out our list below to see how you can incorporate a bit of Jill into your life and wardrobe.
High-Waisted Jeans
Jill's style is characterised by casual streetwear, and nothing says casual like a good pair of jeans. 80's trends favoured high-waisted fits that were snug at the waist (we love a good cinch) and fell into a straight or tapered leg. A common trend amongst teenagers was 'pegging' jeans – rolling them up at the cuff so that they fit snug around the ankle.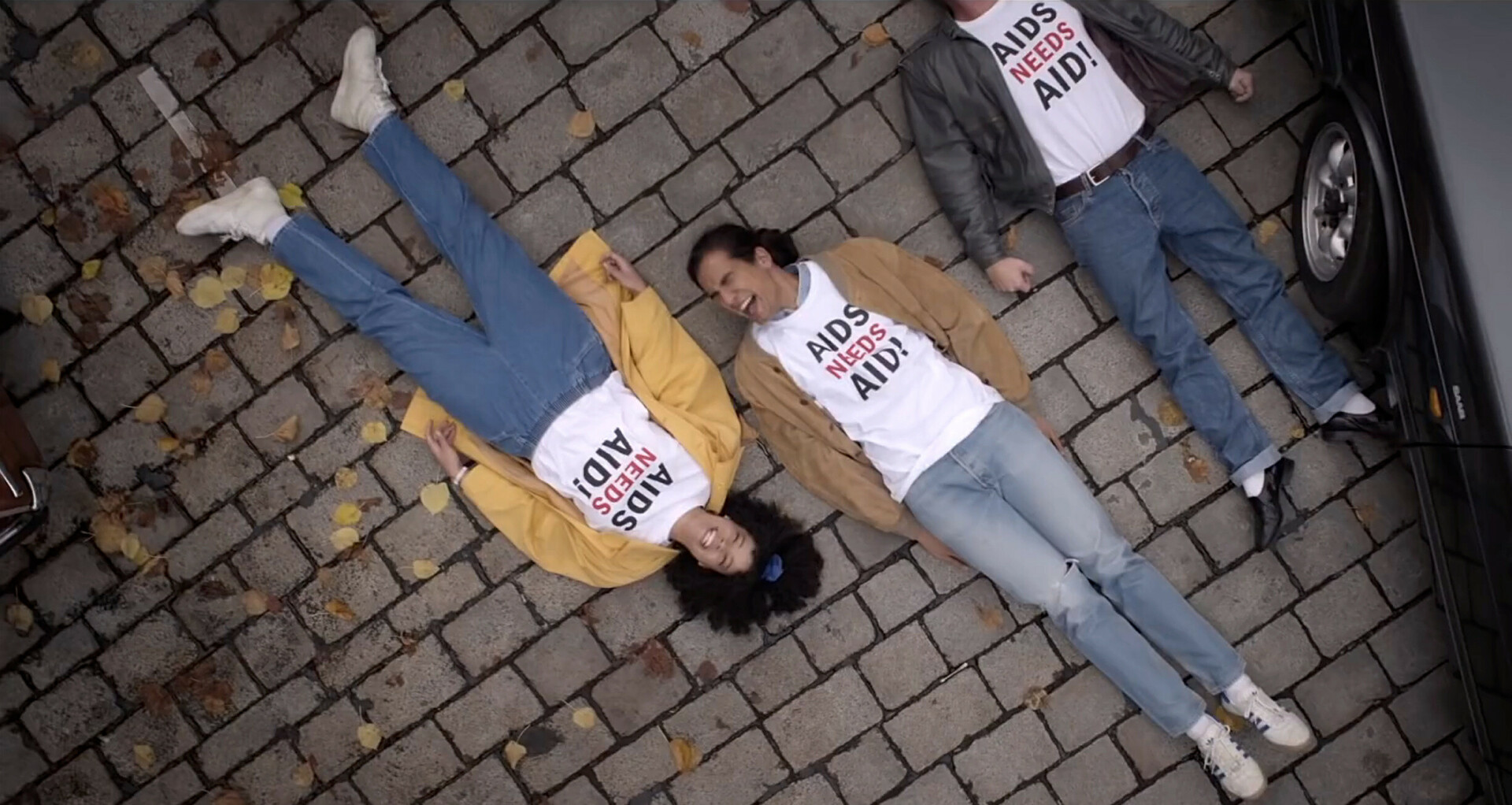 Denim Jackets
Most of the cast of It's A Sin can be spotted wearing a denim jacket or two, often paired with jeans in the same wash. Jill's denim jacket was a staple of her wardrobe, and you can see her wearing one throughout the entire series. More oversized than fitted, Jill styled her denim jacket with jeans, jumpers, and dresses, and in true 80's fashion wore an upturned collar.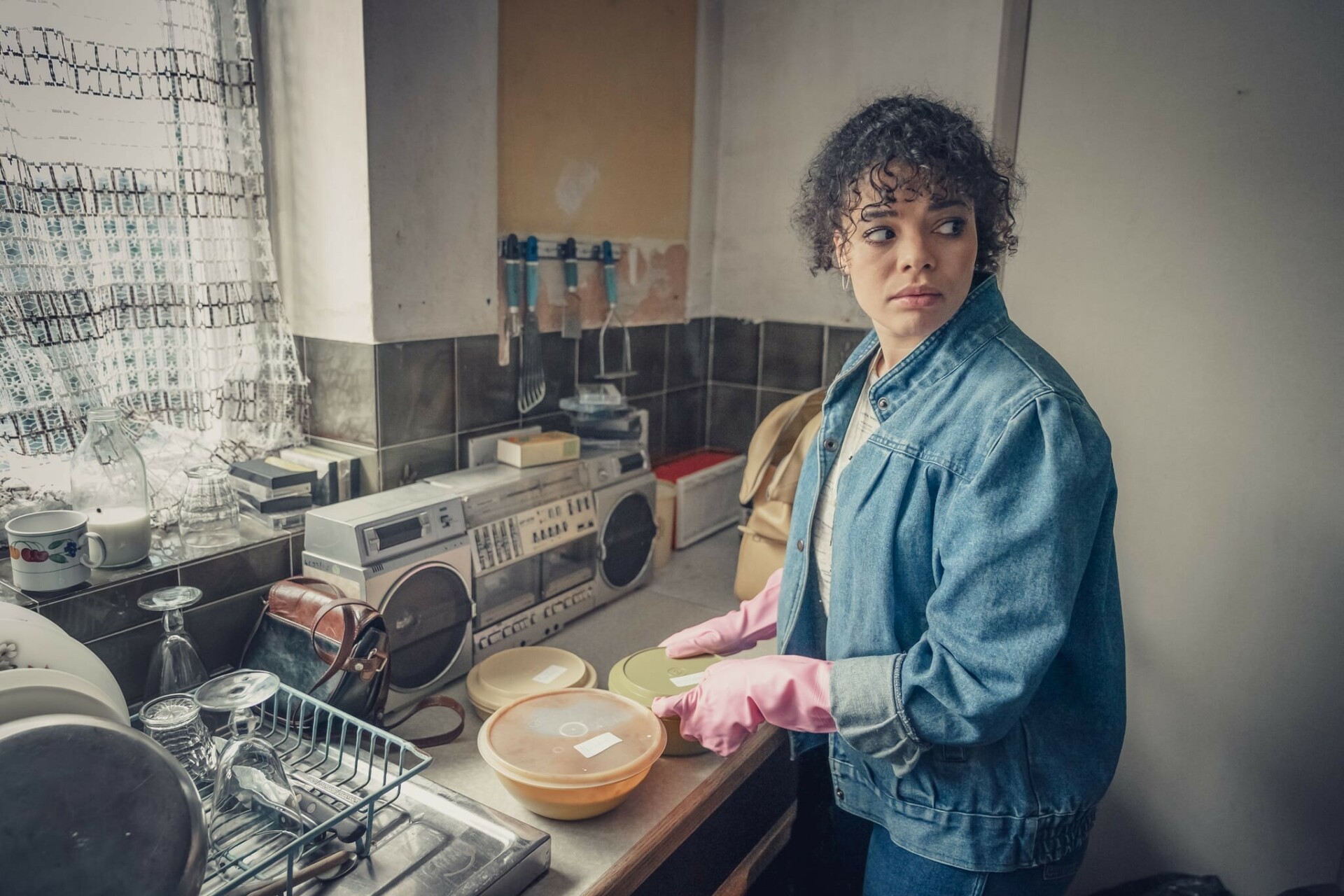 Blazers and Suits
The 80's saw more women than ever wearing suits, both for the workplace and as an edgy style staple of performance culture. The introduction of the shoulder pad created a new iconic silhouette that emphasised the angularity of the shoulders. Jill is seen wearing a suit for her singing performances with Ritchie, a look which plays on the androgyny and 'dandyish' suit styling of the New Romantic movement (which was made popular by queer icons such as David Bowie and Boy George). You can see that Jill pulls the suit together with an oversized white shirt, a thin black belt, dangling earrings, and a pink scarf tied around her neck.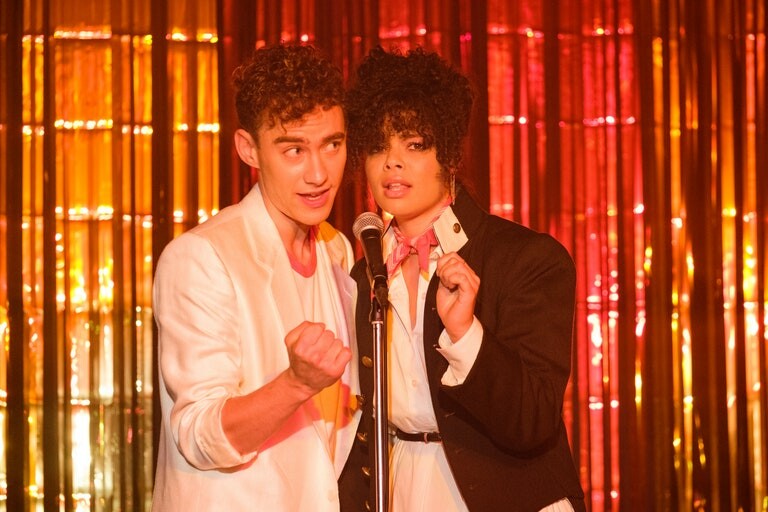 Oversized Jumpers and Cardigans
An oversized knit was a common trend of the era, and one which Jill is seen wearing on multiple occasions in It's A Sin. The oversized fit was popular amongst younger people at time, favouring bagginess and paired with denim jeans. Jill's jumpers and cardigans followed the trend by incorporating vibrant colours and patterns, from stripes and flowers to diamonds and block colours.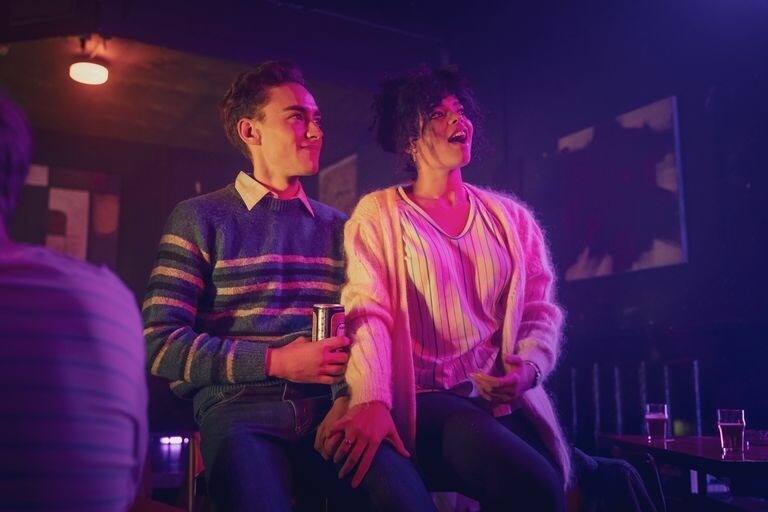 Shirts and Blouses
Shirts and blouses saw a revival of 1940's fashion, with an emphasis of collars, bows, and ties. Patterns became incredibly popular and included stripes and abstract patterns, as well as tropical and floral prints. Vibrant colours combined with silky materials gave the 80's shirt a glamourous finish that fit well in the club scene. Jill's turquoise shirt with faint diamond patterning is a prime example of this style; worn for a house-warming party, the shirt is a bright pop of colour that is emphasised by a pair of dark striped trousers.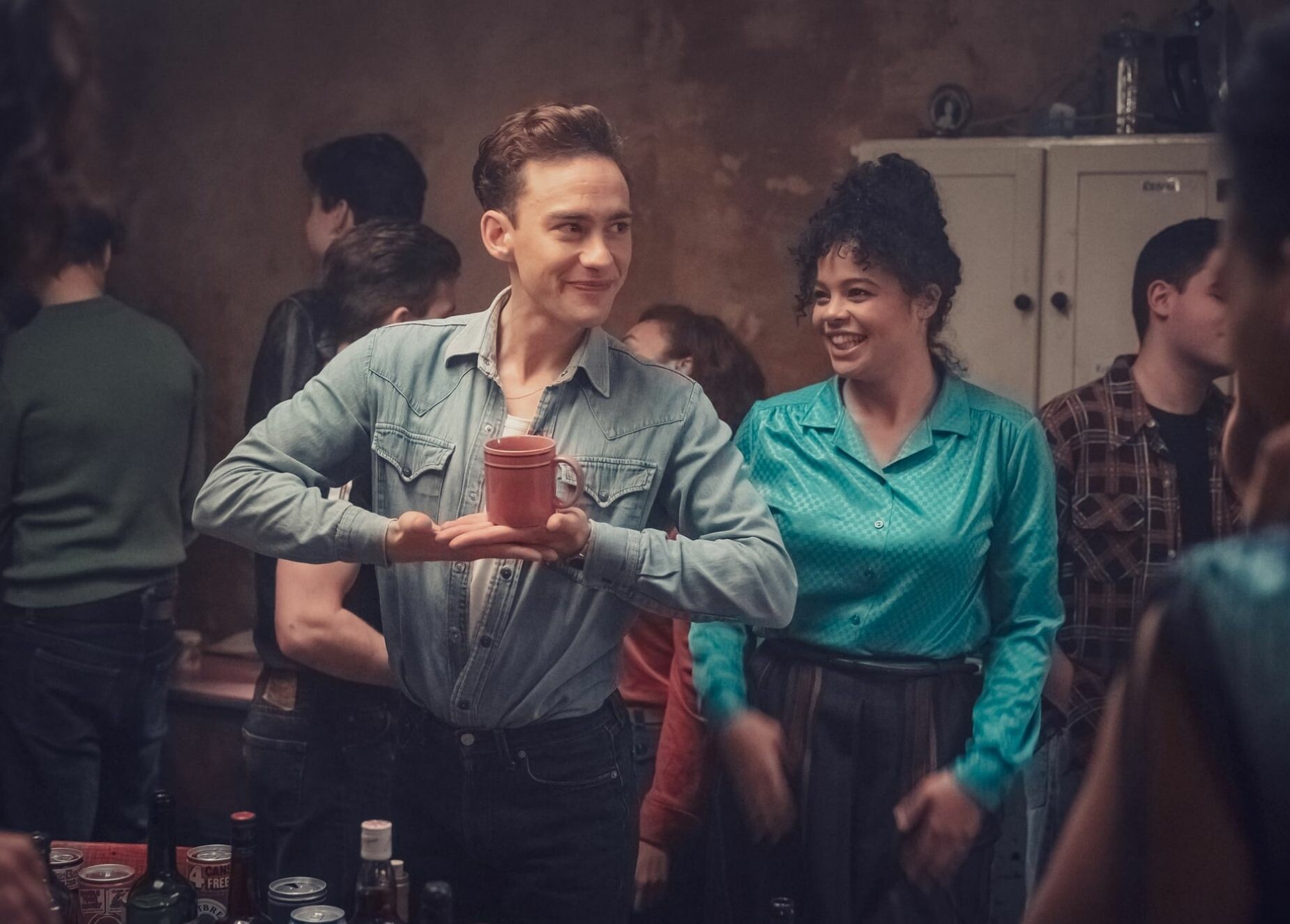 Graphic T-Shirts
The t-shirt was brought to the forefront of popularity in the 80's through the numerous ways prints could be applied to it. Images of celebrities, TV and film characters, and company logos such as MTV could be printed across the front of t-shirts to indicate a person's interest in current pop culture. The t-shirt also became more widely used for rallies and protests, as seen in Its' A Sin, where the cast are seen wearing t-shirts with the words "AIDS NEEDS AID!" for a peaceful protest against unethical practices of pharmaceutical companies. The t-shirt is a prominent symbol to raise awareness of AIDS in the show, and Jill's character is shown wearing hers proudly throughout the rally.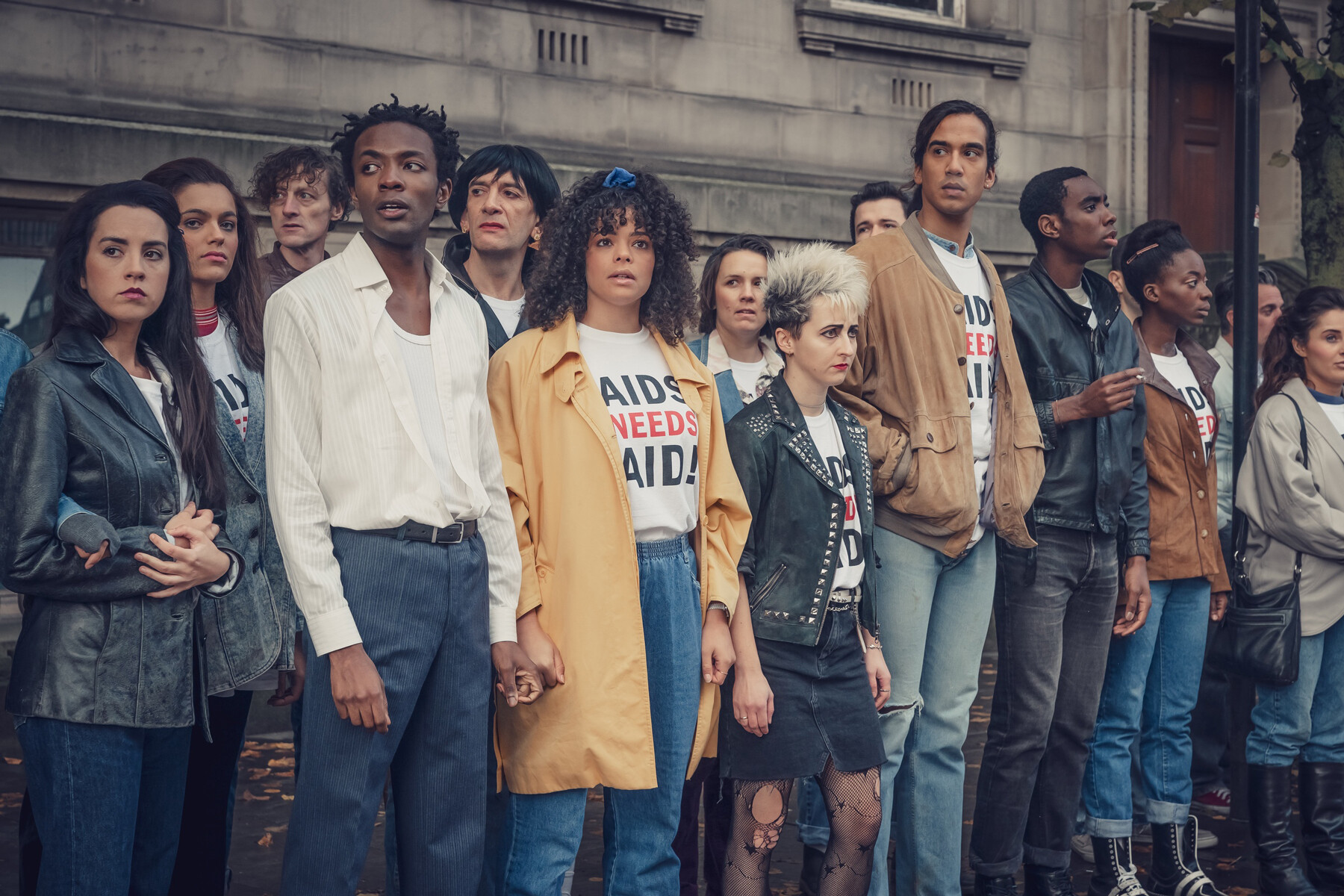 Shirtwaist Dresses
A shirtwaist dress – collared, buttoned down the front, and cinched at the waist with a belt – was a popular design for young women in the 80's. As with shirts, the style was a revival of 1940's fashion and was often put together with a denim jacket and lots of jewellery. Jill's mint-coloured shirtwaist dress is worn on a night out with the gang, bringing a brighter note to the more muted colour palette worn by the rest of the cast. Her dress falls below the knee and is worn with a thin belt, brown shoulder bag, and a gold watch.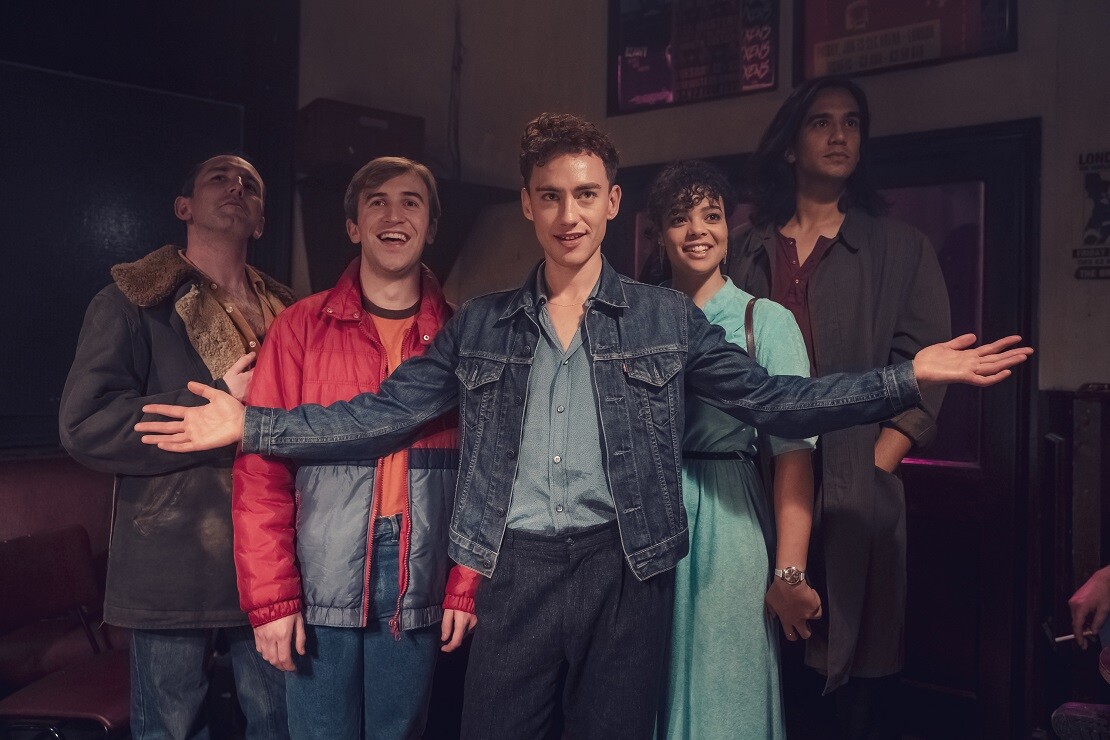 Chunky Jewellery
Big, bold, and flashy jewellery was on trend for much of the 80's, with an emphasis on stacking, mixing, and matching individual pieces to multiple variations of one look. Large earrings, in particular hoops and dangling earrings, were a popular staple of 'going out' wear and were often paired with matching bracelets and necklaces. Bangles and cuff were also often used to finish off an outfit, stacked together in twos or threes. The promotional posters for It's A Sin see Jill adopt this trend in all its vibrant glory, stacking multi-coloured bangles and donning blue tear-drop shaped earrings to offset her dress.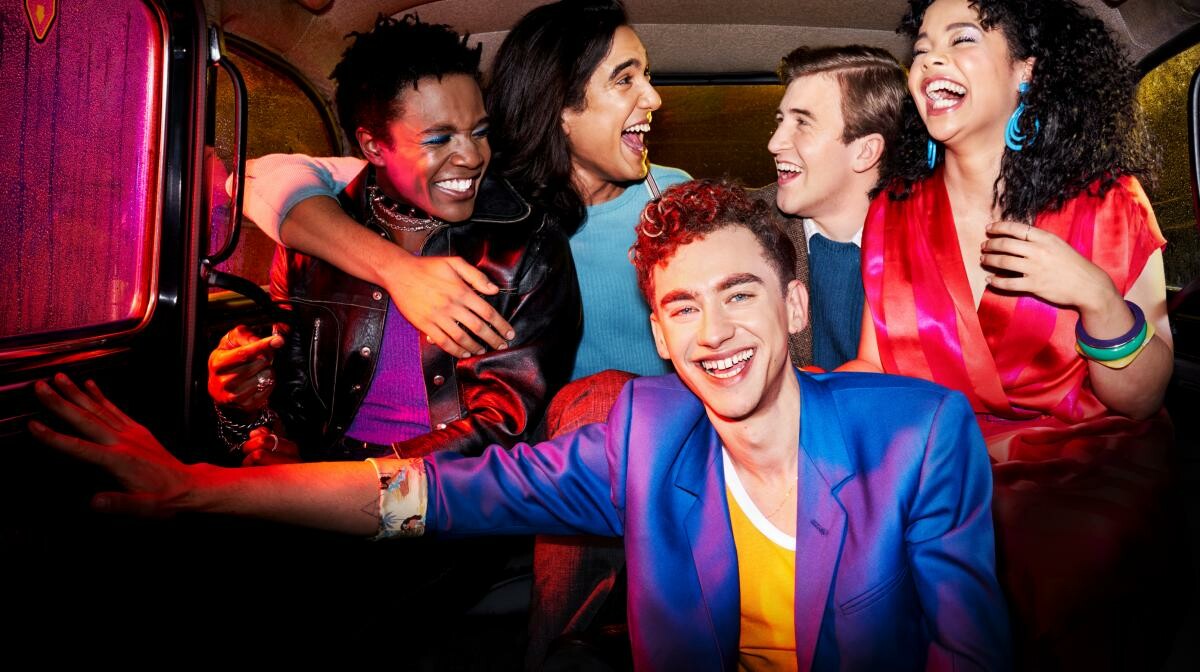 Hair Accessories
The hairstyling of the 80's is iconic for more than one reason. Voluminous curls were all the rage, and bows, clips, barrettes, headbands, and scrunchies were the preferred means of styling hair. Jill is seen on multiple occasions were brightly coloured scrunchies to either tie her hair up or wear it in a half-up, half-down style. However, it was her use of a bandana as a headband that caught our eye. Seen wearing it during her first interactions with Ritchie, Jill's headband is iconic for its incorporation of colour and a large bow.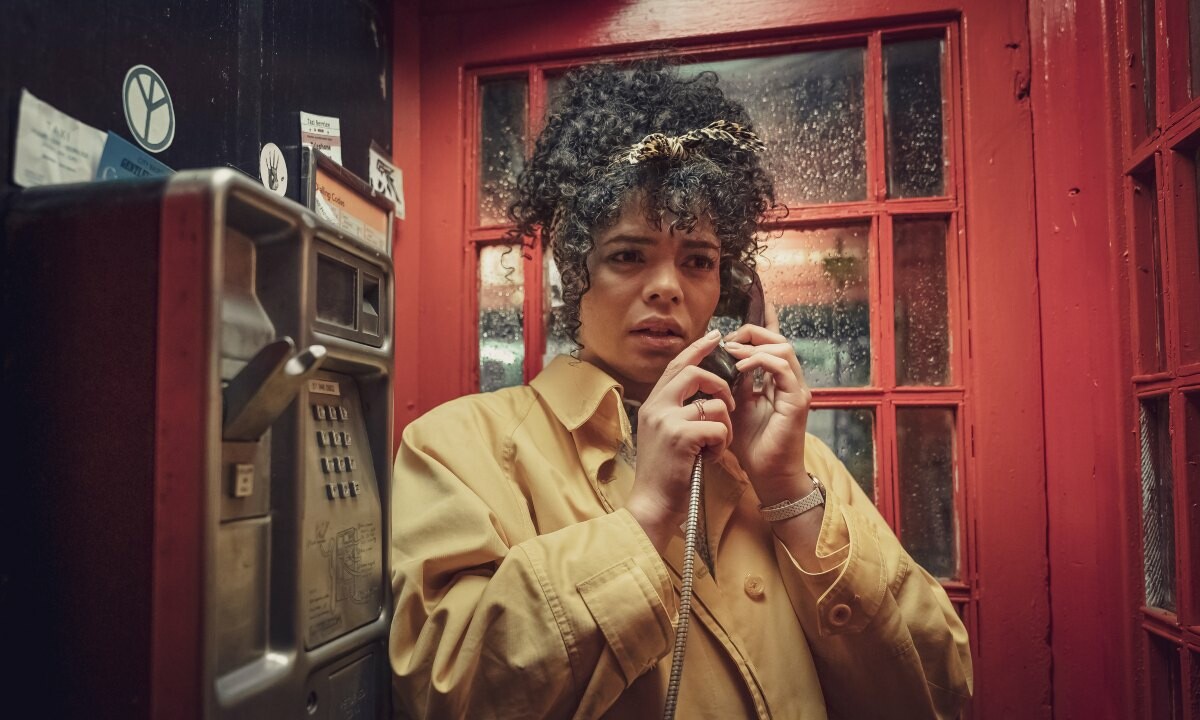 Words By Charlie Colville