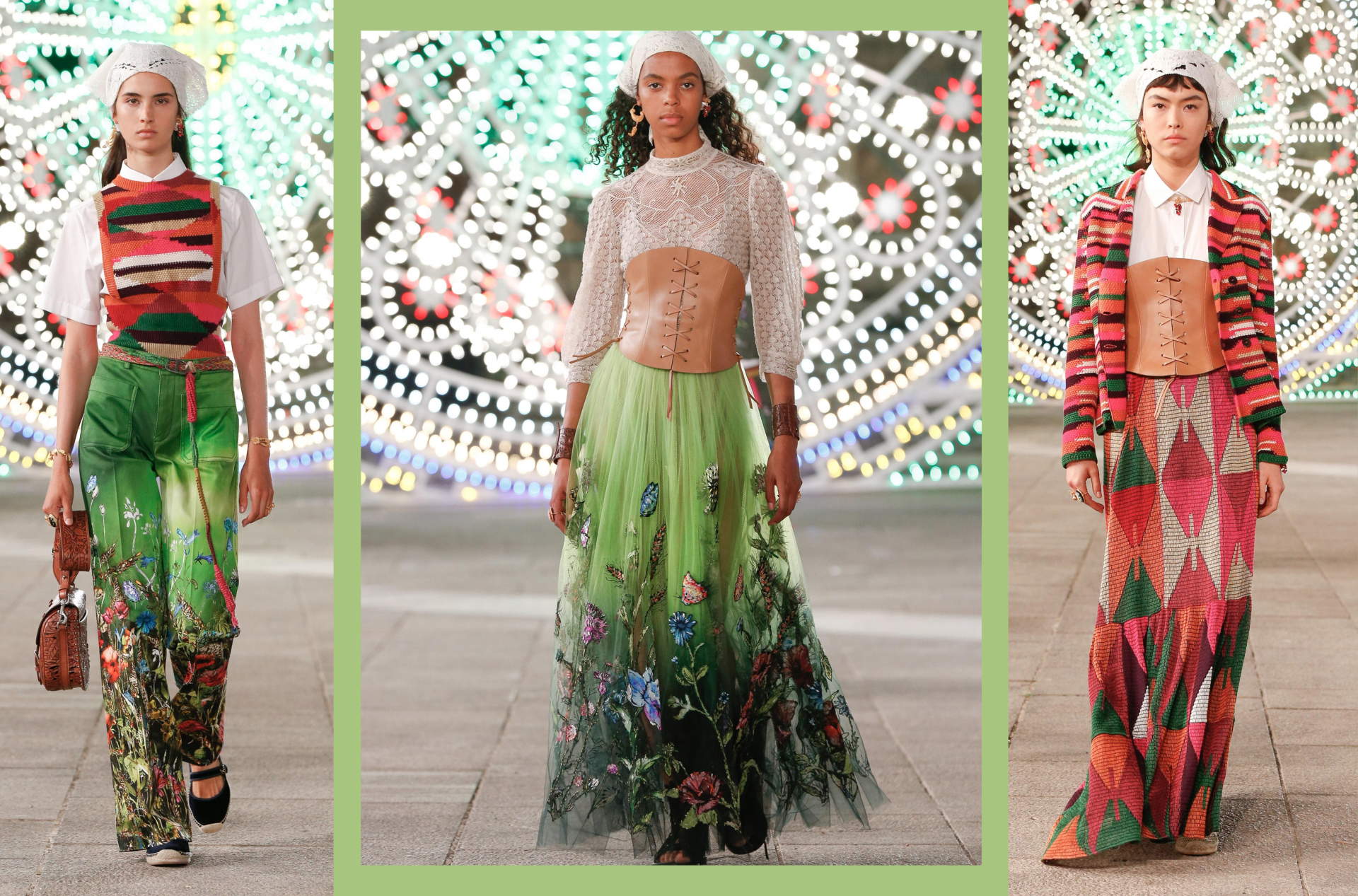 The evening of 22 July 2020 saw the Dior 2021 Cruise Collection appear in a charming square at Lecce, a city-based in the southern Italian region of Puglia. In favor of an entirely digital display, Dior has risen to the challenge of a physical event proving in true fashion style that the show must go on! Only a limited audience were able to admire the work at this beautiful historical setting, but for the rest of us who tuned in to the digital stream, there was an abundance of culture taking us on a mesmerizing and magical evening in Italy, even if we were at home.
As the show began the atmosphere was more alive than ever. A subtle glimmer of lighted quotes framed the town square as a group of dancers stood still amongst the darkness. As anticipatory music began to rise a model could be faintly seen, an enchanting burst of colour lit the entire square: a captivating entrance for the 2021 Cruise Collection.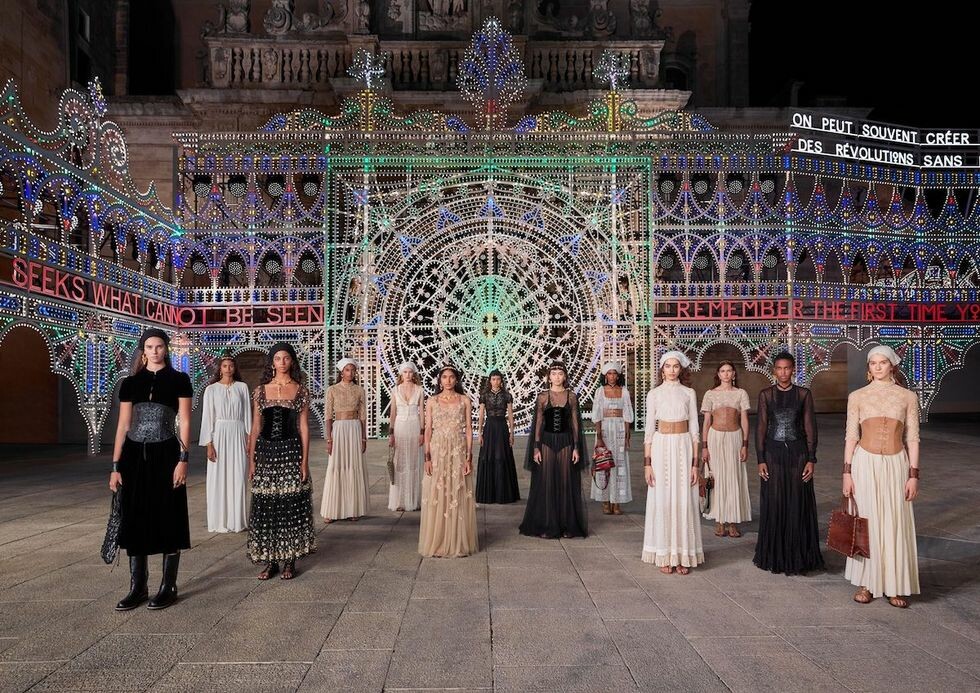 With its depth of culture and ancient traditions, the rural region of Puglia formed the inspiration for this collection. The blissful Italian landscape is illustrated through delicate longline dresses which are embroidered with flowers and wheat; their floaty skirts being accentuated with a brown bustier. An accompanying Christian Dior bag bursting with ears of wheat completes the look for those seeking that definitive rural Italian ambiance.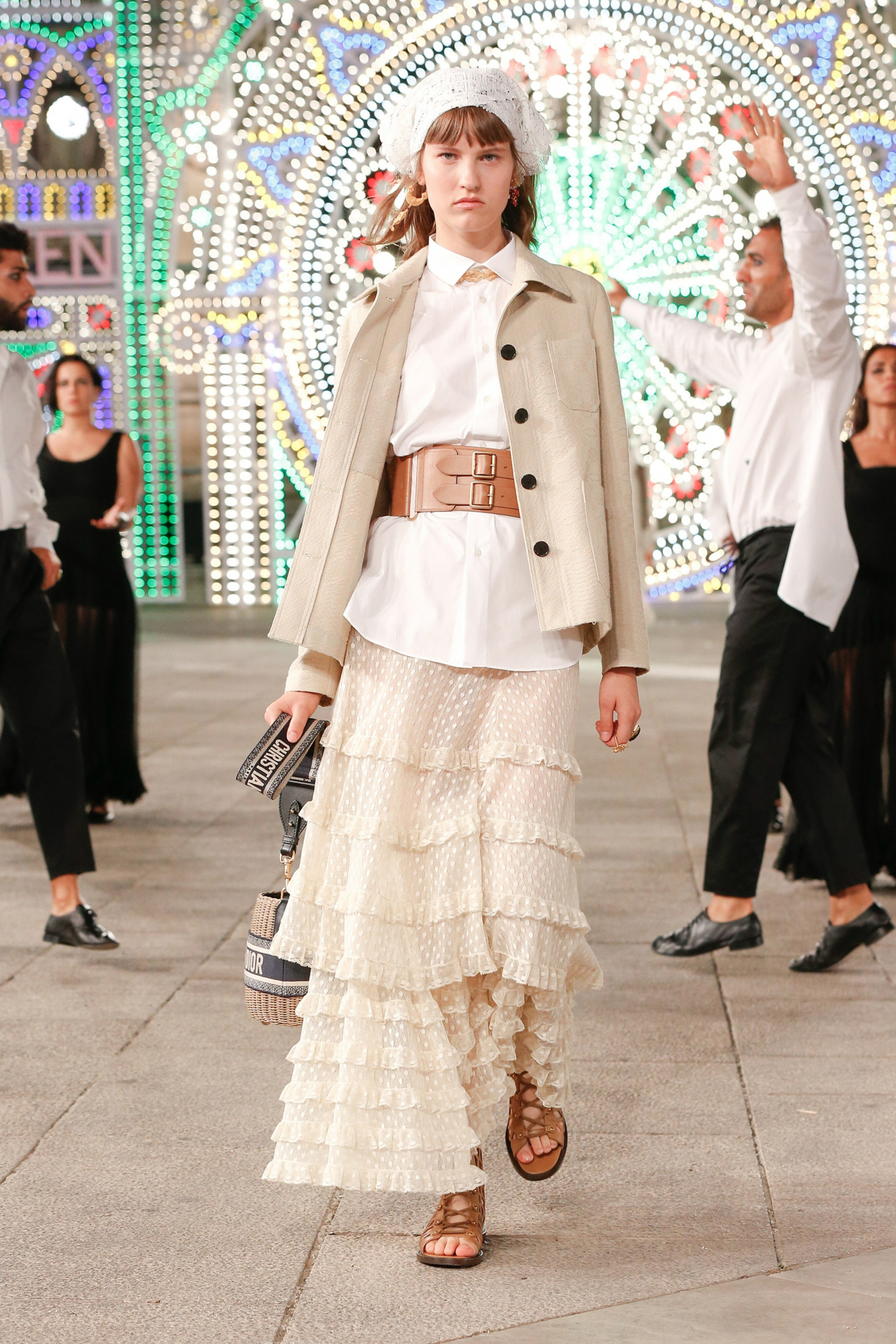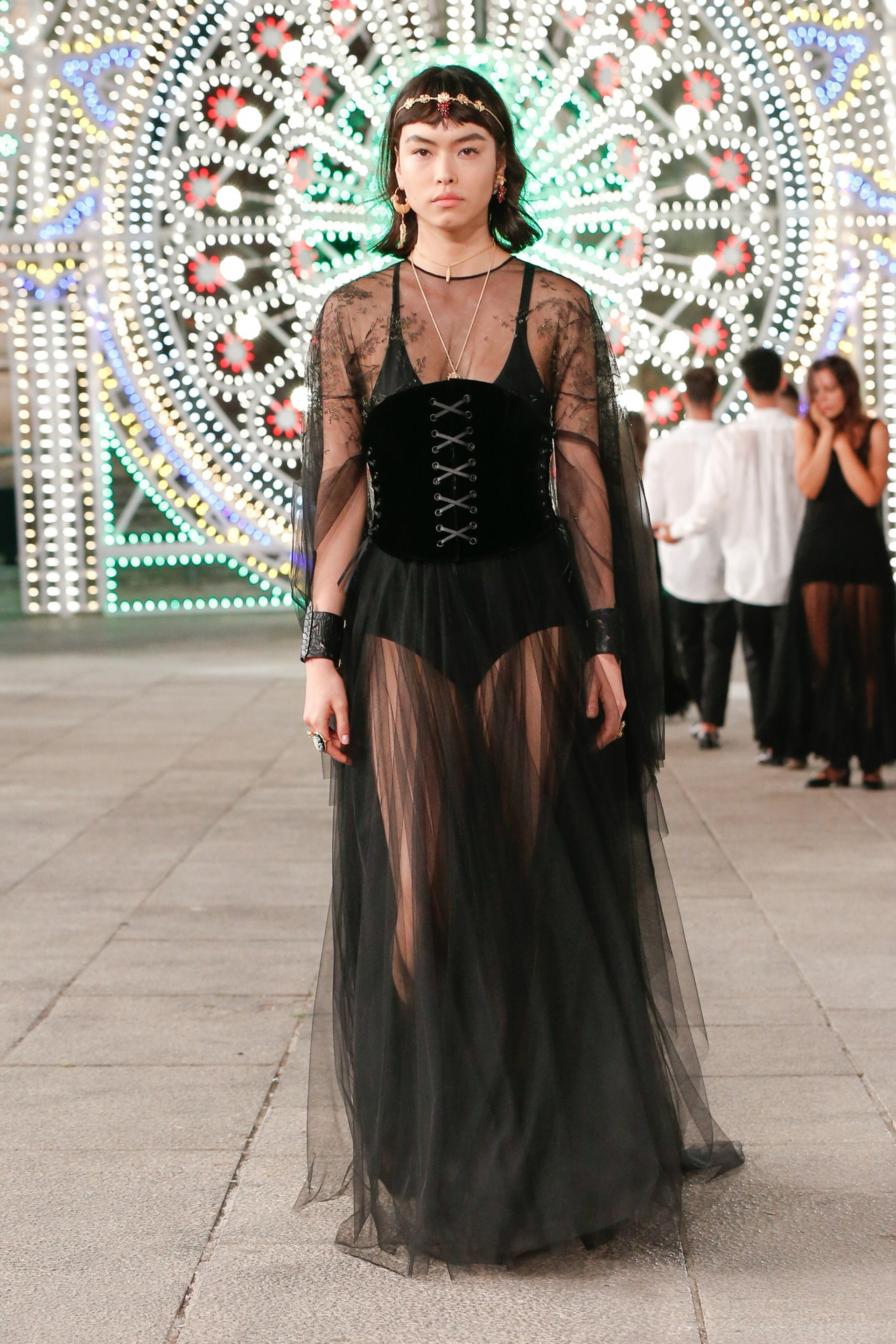 Dior Cruise 2021 Collection via Vogue
With models showcasing lightweight linen skirts, trousers and suit jackets we can only imagine roaming around Puglia on a warm Summer's day. A versatile companion, the headscarf stood out as a charming addition to nearly every daytime look. For an evening rendezvous, the finale dress is sure to spark a romance. A delicate gown of burnt sienna is embellished with rural-inspired embroidery of flowers and animals, paired with a matching bustier, cuff bracelets and sandals. Of course, a gold tiara completes the ensemble; we would expect nothing less from Dior.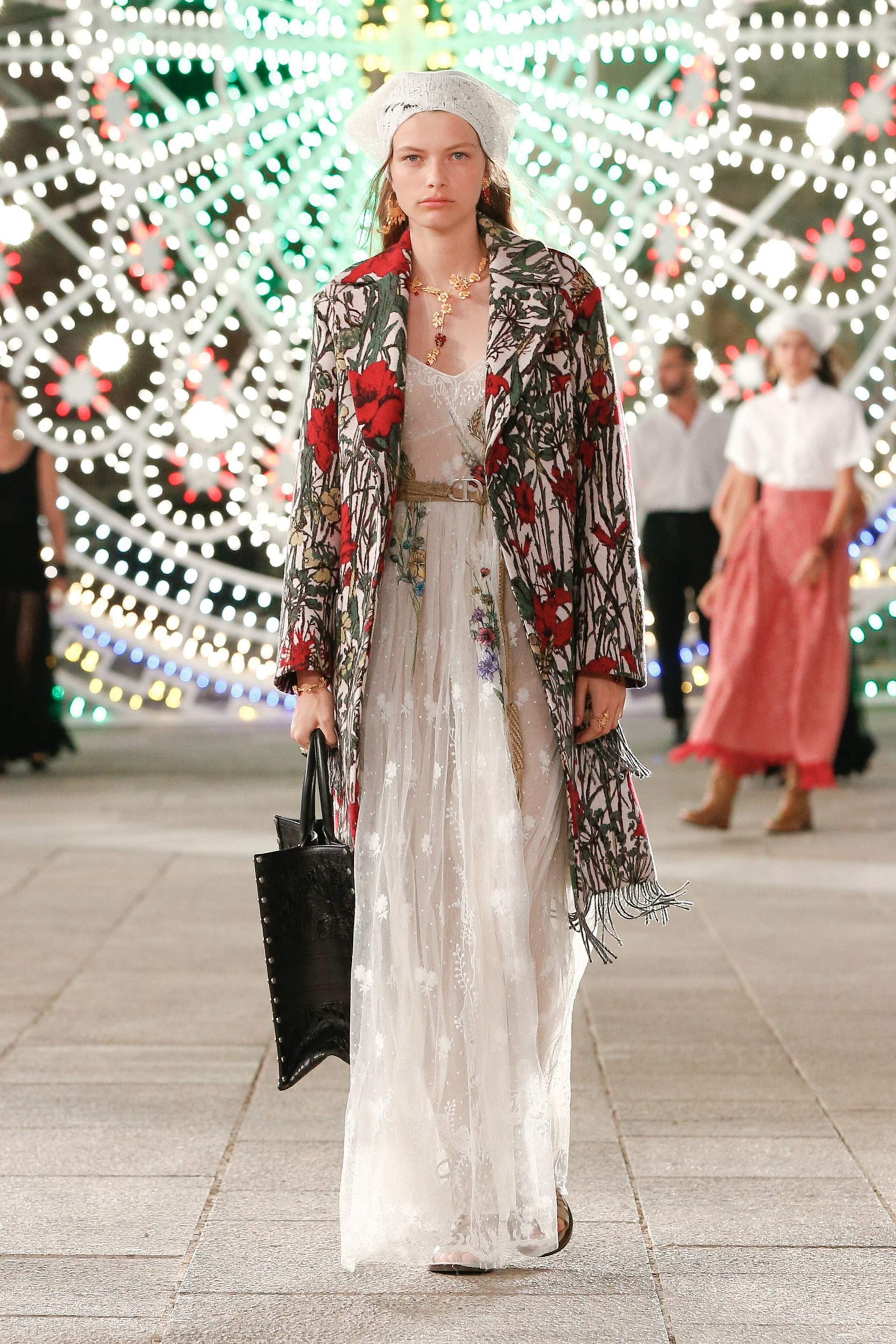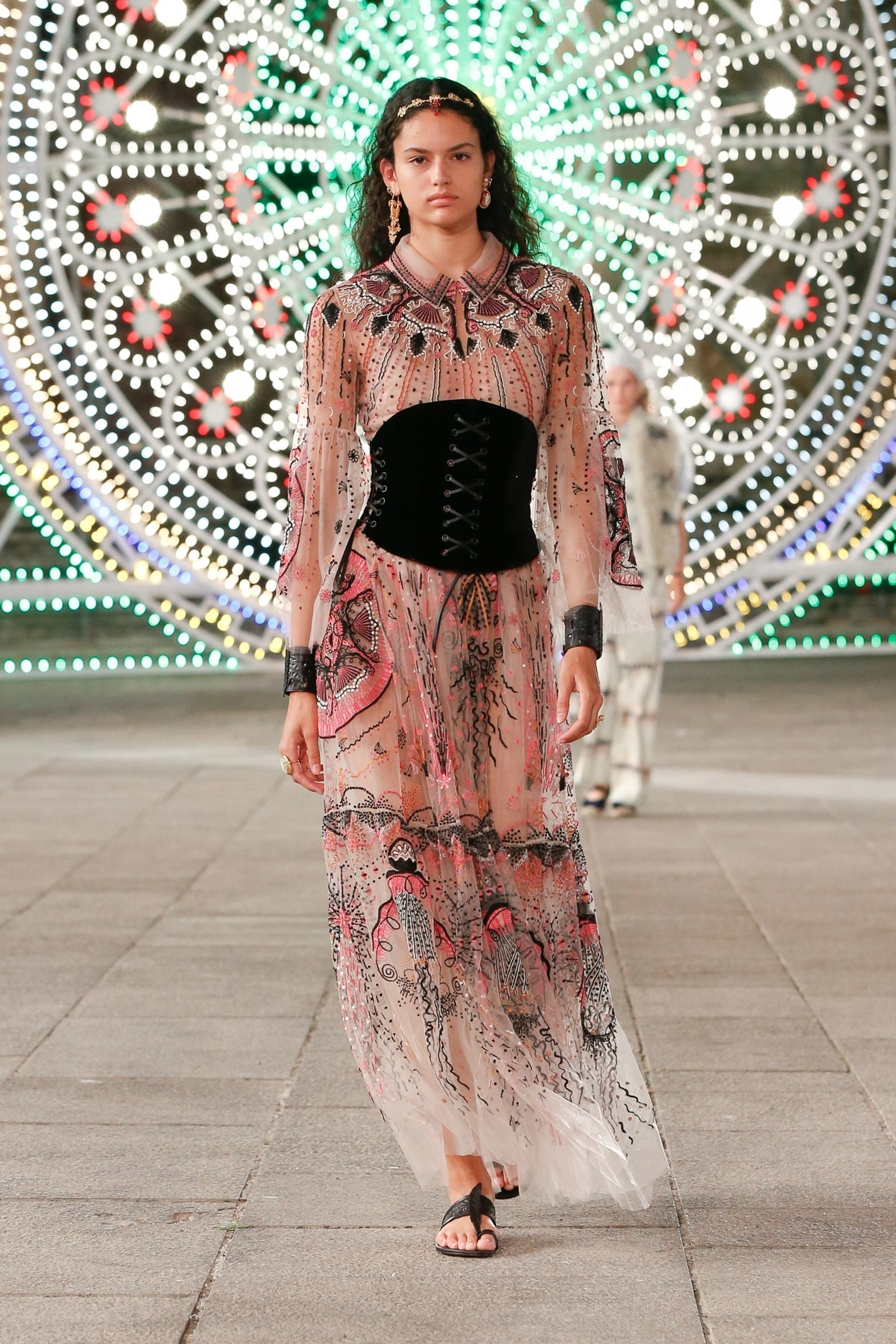 Dior Cruise 2021 Collection via Vogue
The highly intricate and skilled embroidery technique of tombolo is woven throughout Cruise 2021, the craft of local artisans forming a significant part of the collection. Speaking about the collection on the Dior site, Creative Director Maria Grazia Chiuri shares how "something that was very important to [her] was conveying how much craftsmanship value there is in Puglia and how important it is, especially for younger generations to reinvest in this". With family ties to Puglia through her father, Chiuri shows support for the local community and a desire to celebrate the cultural traditions of the region.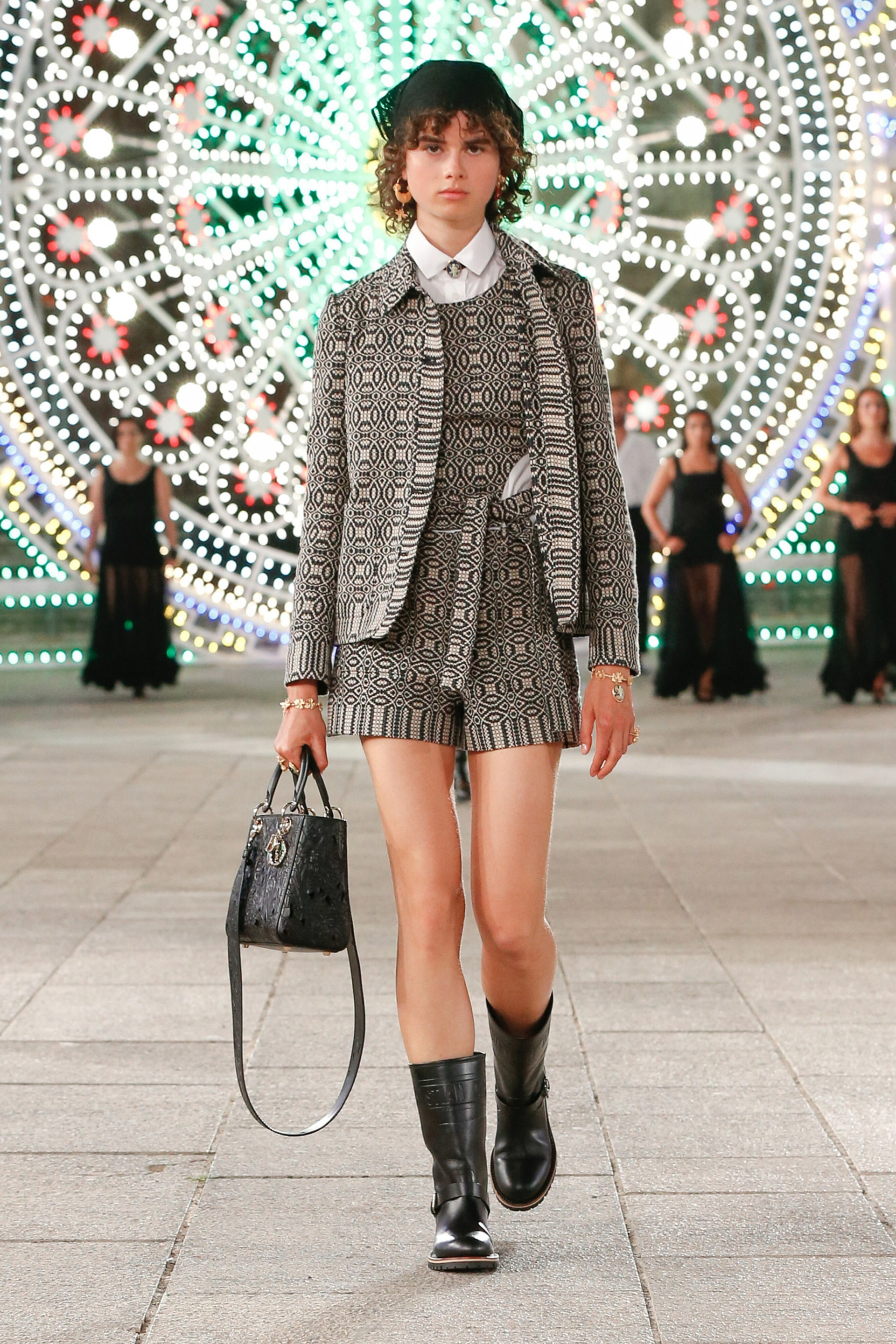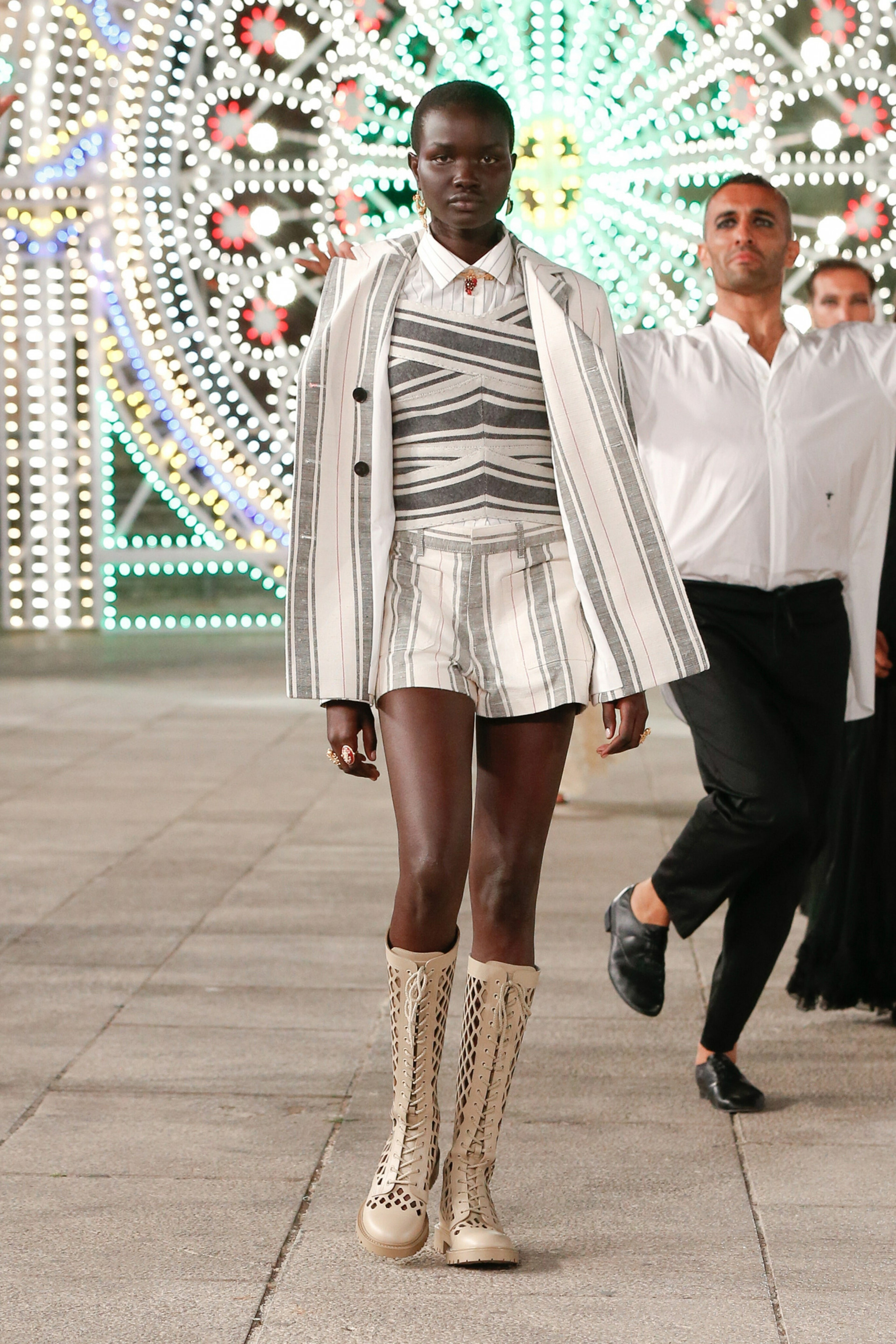 Dior Cruise 2021 Collection via Vogue
According to Vogue, CEO of Dior Pietro Beccari also stated "We would like to send a message of support, hope, and rebirth to the world, to the big suppliers and the small ones. Many still don't know how to survive, so this move is so important for the artisans that we need to preserve. We want to give them a reason to restart." With ninety beautiful looks and a spectacular show, Dior has succeeded in the worldwide recognition of talent from local artisans, artists, musicians, and dancers.
The Dior 2021 Cruise Collection was an artistic extravaganza, and we can only admire how the collaborative efforts of those involved came together to host a wonderful evening of fashion and performance. I am sure we can all agree that this show stood out this season and is one we might just have to watch again…
Dior Cruise Collection 2021 via Dior Youtube Channel
Words by Brooke SavinoGraphics by Clare Stephenson