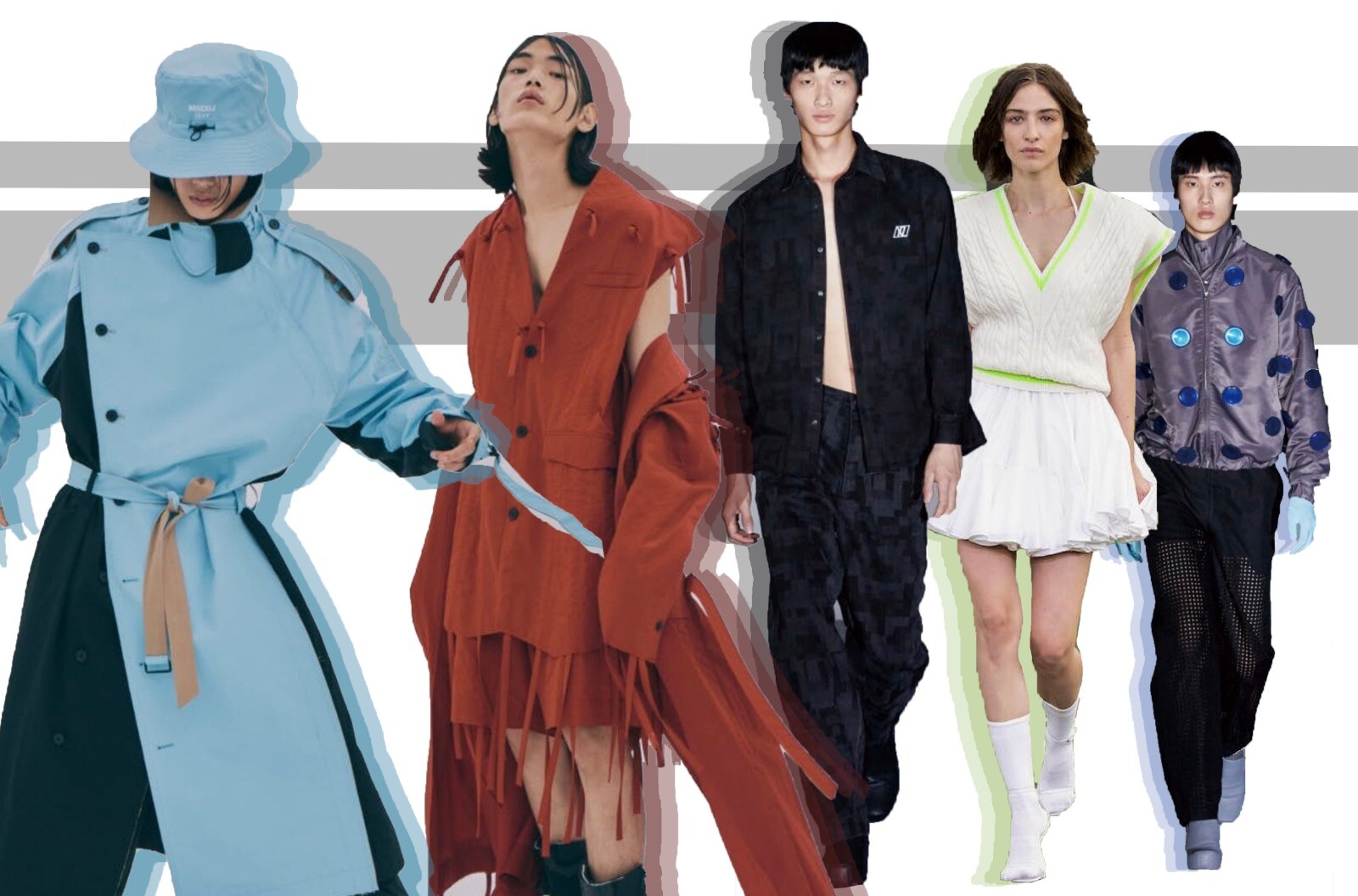 David Koma SS21 Collection, Xander Zou SS21 Collection, MAXXIJ SS21 Collection, Pronounce SS21 Collection
David Koma
Wimbledon may have been cancelled this year, but London-based designer David Koma still brought his SS21 collection to the tennis court. We mean it literally: his digital runway saw models walking around a grassy court perimeter, complete with net and scoreboard.The looks were infused with the preppy glamour of the game, but had added twists of fun and humour; there were glittering white tennis dresses, blazers decorated with a tennis racket on the back, and sweater vests edged with neon yellow. Models walked holding single tennis balls, or trainers, or with a racket slung across their shoulders – a vivid character portrait of the most elegant players (or courtside spectators) you could expect to see on the grand slam circuit.
David Koma SS21 Digital Runway Show
Koma is known for his sculptural, structured dresses, and these designs continued that trend; corset-like bodysuits with exaggerated hips appeared in a range of colours, worn with trousers or white mini skirts. There were strong asymmetrical lines throughout, including a one-shoulder mini dress with a striking cut-out panel at the hip.
As the light faded, the show turned towards evening wear. Flouncy ballerina skirts were exchanged for floor-length gowns, although the sporty theme continued in more subtle form. A string tunic dress made up of glittering jewels was still worn over electric blue cycling shorts – halfway between a party and the gym. Given that (for us at least) a lot of the fun at Wimbledon is down to the outfits, Koma has offered us a much-needed substitute here. Game, set, match.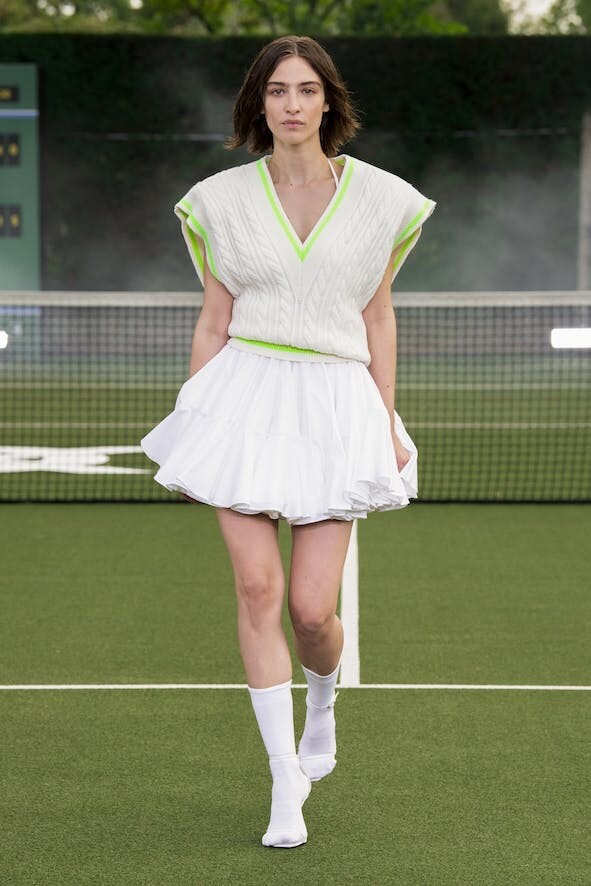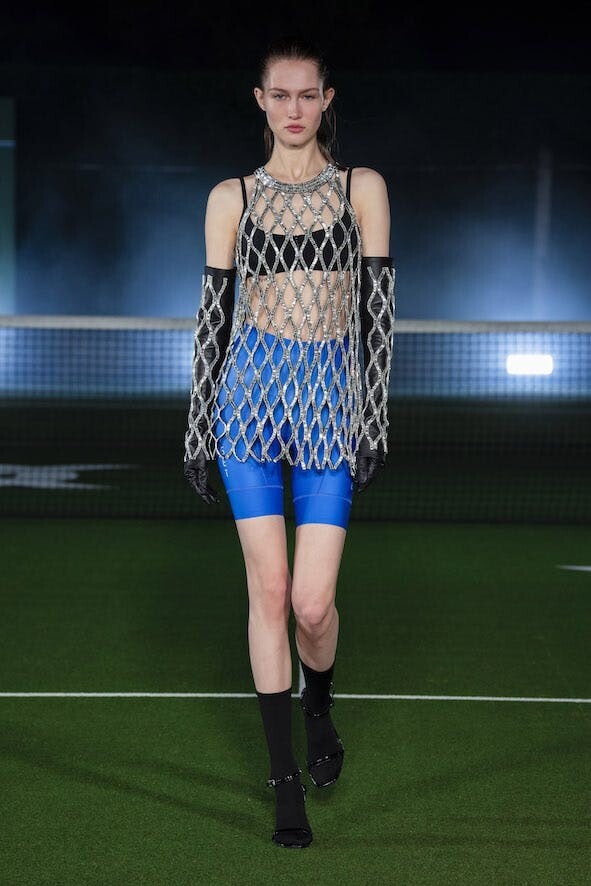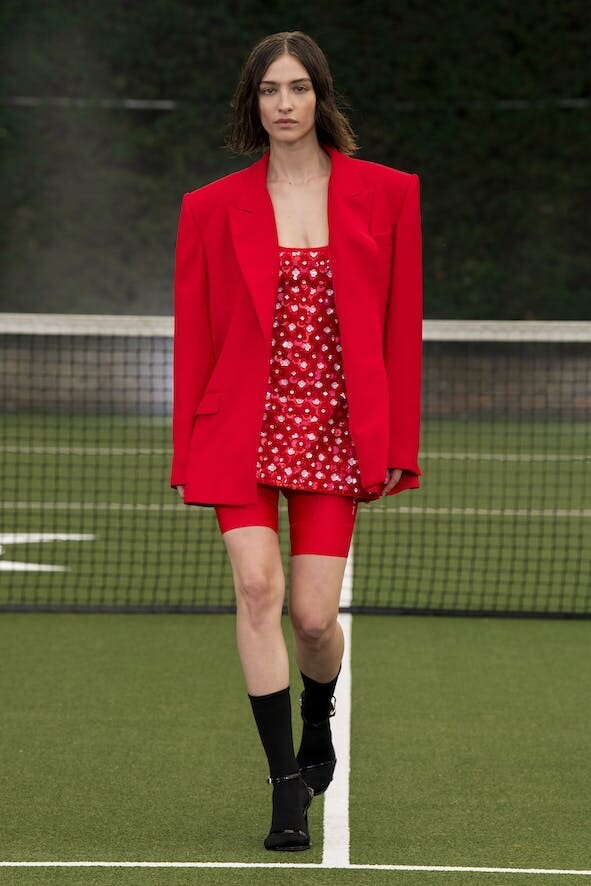 David Koma SS21 Collection via Vogue Runway
Xander Zhou
The first Chinese menswear designer to show at LFW, Xander Zhou is known for combining tradition and modernity, imbuing his designs with a futuristic aesthetic. In this digital runway show, models walked in a pared-back setting of white walls, evoking a clean, almost computerised atmosphere. The first few looks were made up of shirts and trousers in simple colours (grey, black, or white), with a flash of excitement conjured by the styling; the models' necks, chests and arms were covered with sparkling circular crystals.
Then came a series of denim designs; a blue shirt and jeans with faded black around the seams, followed by a similar denim ensemble in a tessellated pattern. The tetris-like blue blocks were accompanied by the sound effects of a computer bleeping – perhaps a discreet nod to the "physical" nature of LFW this year.
The silhouettes remained traditional, with variations in colour; a silky shirt in azure blue was cut with a low V-neck, while a canary-colored shirt was decorated with discreet floral motifs around the shoulders. Later, sparkle made a reappearance: colorful reflective circles embellished a range of items, from a grey jacket to a black short-sleeved roll-neck.Zhou has coined the term "techno-orientalism" to describe the style of his work. The phrase is useful for describing the main motif of this collection: a traditional dragon appears on many of the shirts, depicted as a collection of small eyelets in the material. It comes across as an original, futuristic reimagining of a familiar design – and given Zhou's track record, we would expect nothing less.
Xander Zhou SS21 Catwalk
MAXXIJ
This was the LFW debut for Korean designer MAXXIJ, whose 'Escapist' menswear collection was showcased against the backdrop of a modern, industrial cityscape. The designs centered around loose, oversized tailoring with deconstructed details – exaggerated trench coats with long straps billowing off the hem, or navy blue jumpsuits in a luxurious satin texture.
The palette was muted; many pieces were made in a two-tone of pale and navy blue, with panels and pockets picked out in contrast. Given the neutral shades in most of the collection, one stand-out look was a bright red coat with long straps trailing from its edges – the cascading lines of material rippled around the model as he walked.
The cuts and colours were often unexpected and striking; a pale blue trench coat was designed with asymmetric buttons, while a two-piece of shorts and a jacket was made in a sleek, smudgy pattern, like the colours of graffiti running after rain.
The models strode around the city streets soundtracked by a contemporary cover of Fleetwood Mac ("you will never break the chain"), lending a sense of determination to MAXXIJ's work. The collection fused industrial, urban shapes with luxury fabrics and daring tailoring – an exciting debut for an up-and-coming designer.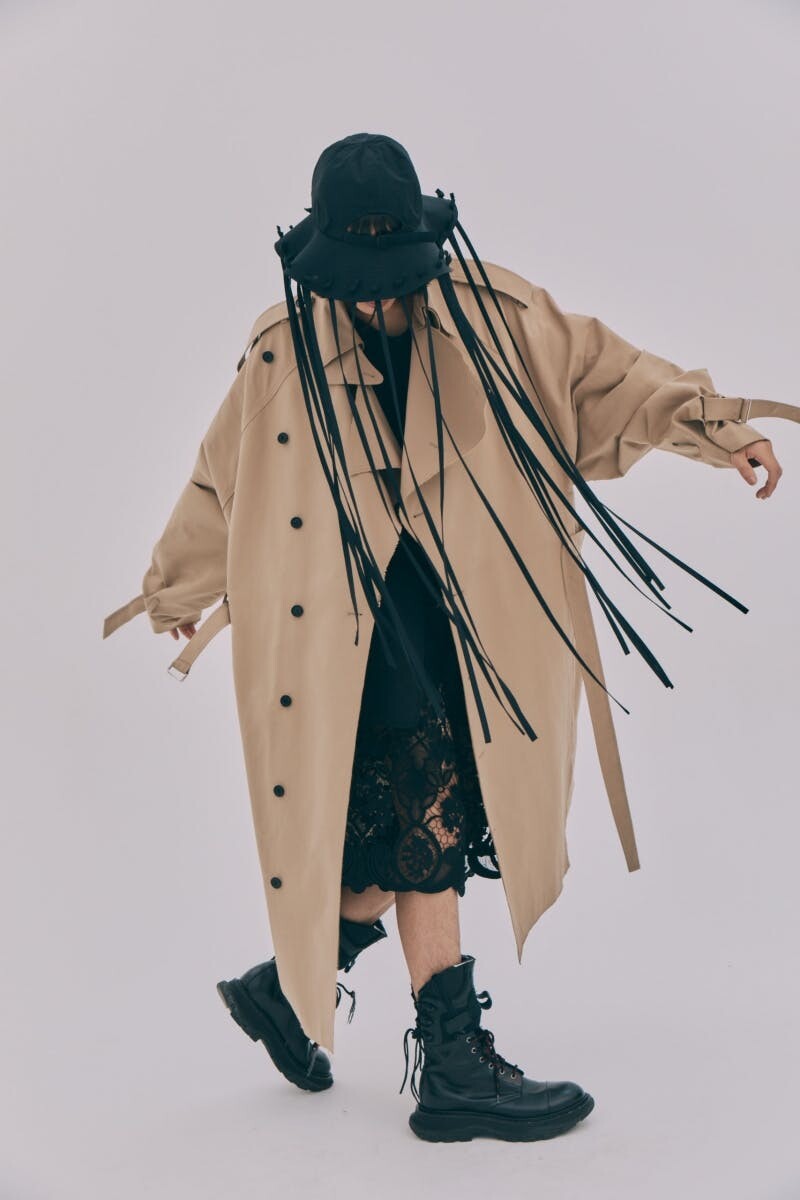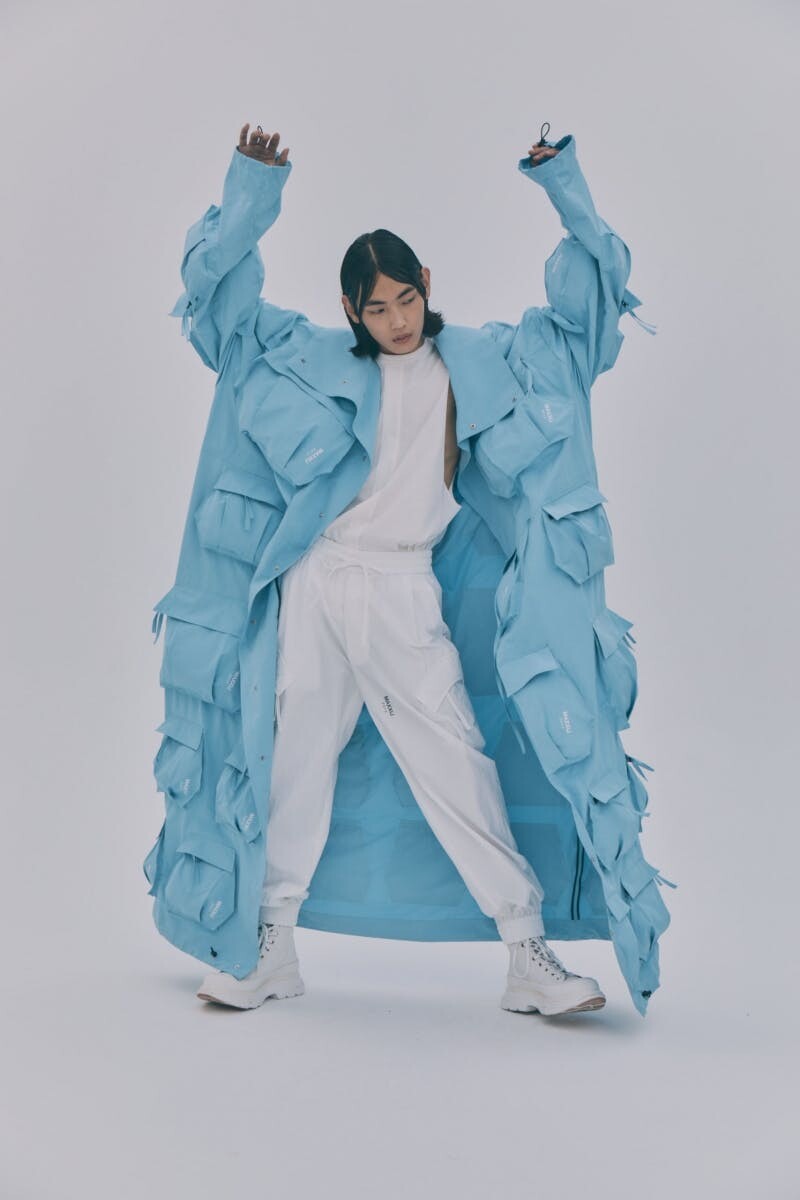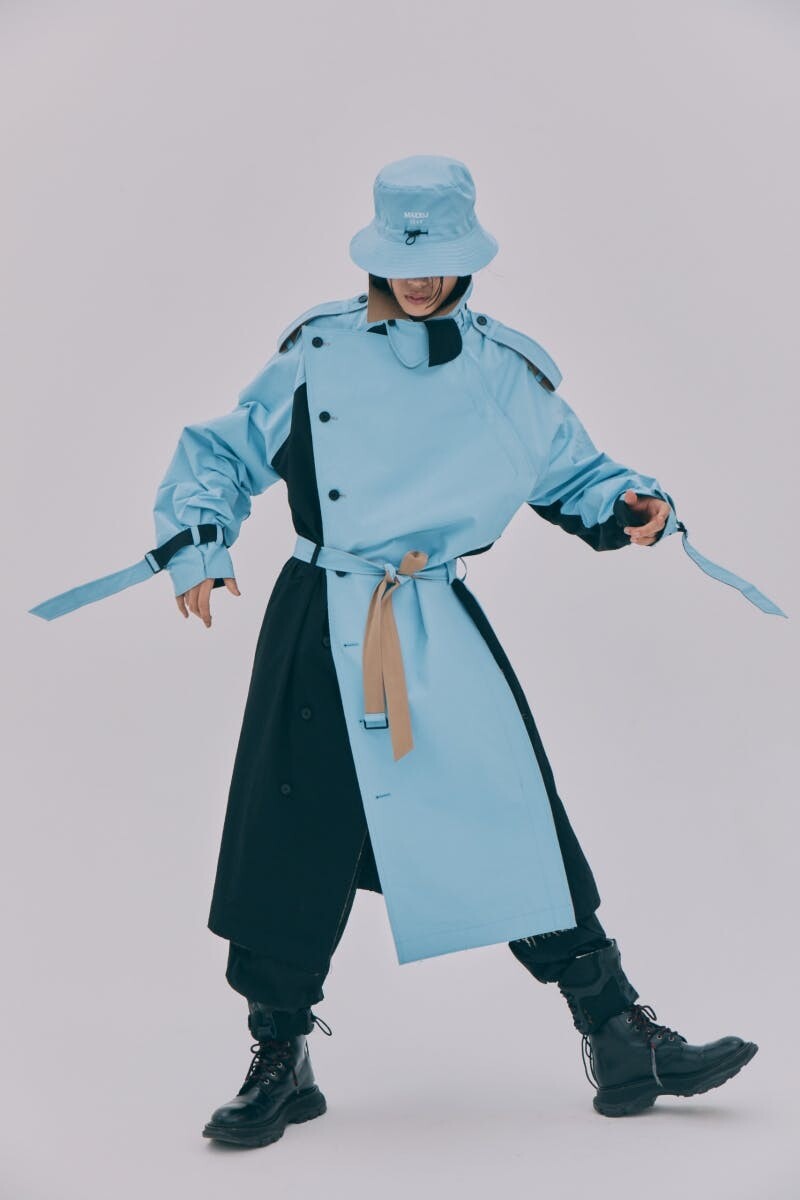 MAXXIJ SS21 Collection
Pronounce
Pronounce SS21 London Fashion Week
Founded by Yushan Li and Jun Zhou in 2016, Pronounce showcased its SS21 collection through a live video of the socially-distanced runway show. The collection was an eclectic mix; the main recurring feature was a piece of coloured silk wrapped around the torso, which fell away behind and trailed theatrically down the back. This silhouette ranged from the casual (blue silk over a black vest top) to high octane glamour: in one look, a pink womenswear suit was decorated with tiny dangling jewels, and layered with an asymmetrical sweep of metallic silk over the top.
Contrasting textures also formed a central focus; among the menswear, a brocade silver jacket was belted over grey trousers – one leg shiny, the other matte. Shades of olive and khaki green predominated, but the use of lilac stood out the most – especially in a fantastic oversized women's suit, equal parts louche and authoritative. It would be easy to imagine such an outfit becoming a sophisticated staple of next summer's holiday snaps – presuming, of course, that next year's holidays still go ahead.
Words by Jaleh Brazell
Graphics by Frances Scott