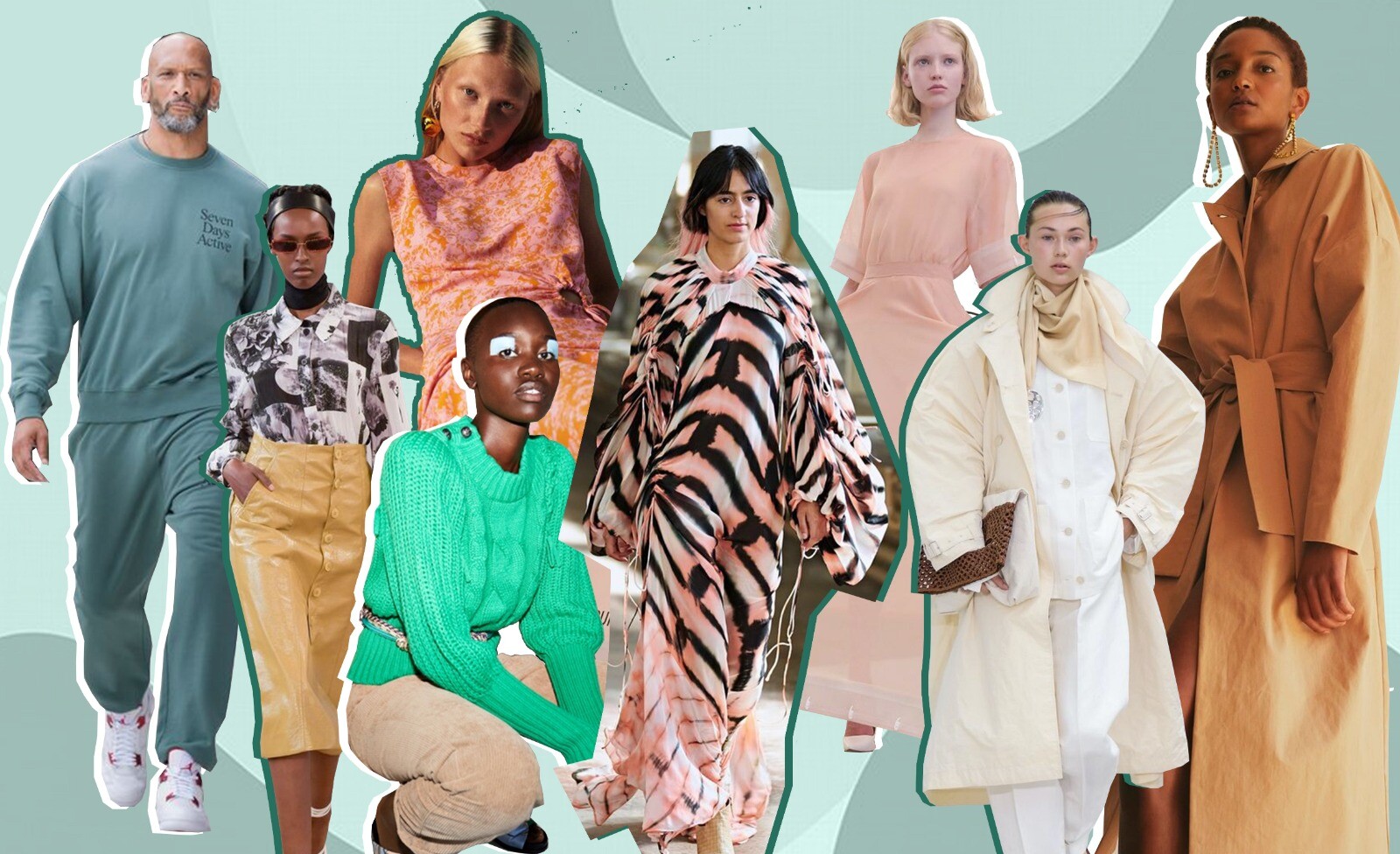 This Summer the digital adaptations for Fashion Week have been truly remarkable. Despite the challenges faced by the Industry, the shows have gone ahead digitally in high spirit and it has been a success! From London in June to Milan in July, Monday 9th August marked Copenhagen's turn with a three-day whirlwind of fashion talent. While all these elements have started to disappear with the new generation of small early 2000s brands becoming internationally recognized labels, the Spring/Summer 2021 collections are truly cementing the new Scandinavian look: youthful, playful, cheerful. Here is a rundown of Copenhagen's key Spring/Summer 2021 looks.
Part One: The Best of Copenhagen Fashion Week
Malaikaraiss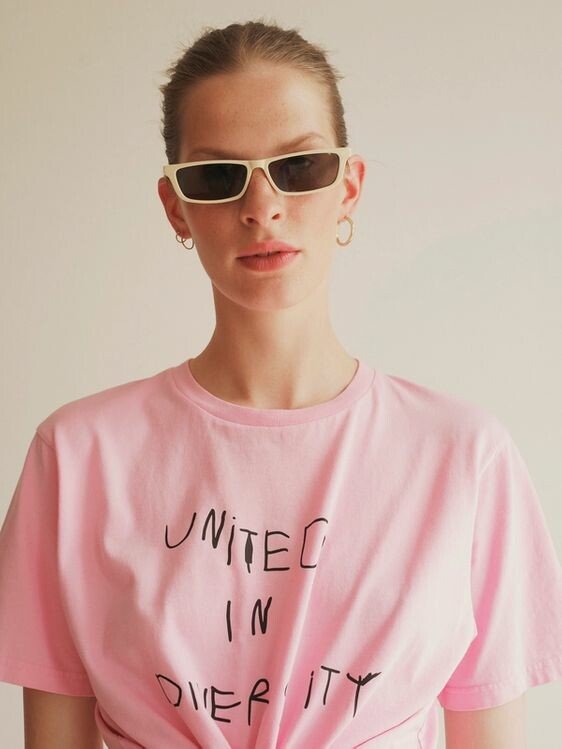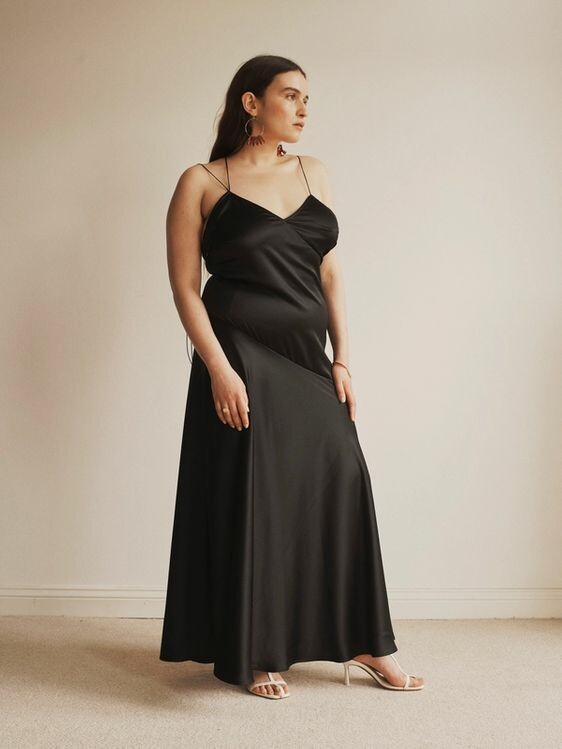 Malaikaraiss SS21 Lookbook
Malaikaraiss made a strong debut at Copenhagen offering a combined physical and digital approach with a film and pop-up event. The collection "United in Diversity" is aligned with the classy yet casual attire of the Brand. Sharp suit jackets are effortlessly paired with slouchy trousers and chunky trainers; slip dresses prove an elegant option for a day or evening affair.
Bright and pastel colors dominate the collection and an unmissable dash of playful print correlates with an uplifting theme. At the event's online Q&A the Designer shared her belief that you are "most powerful when you are just being yourself" with the film enhancing these values with the spoken words "unity is love" and "love holds everything together".
Designers Remix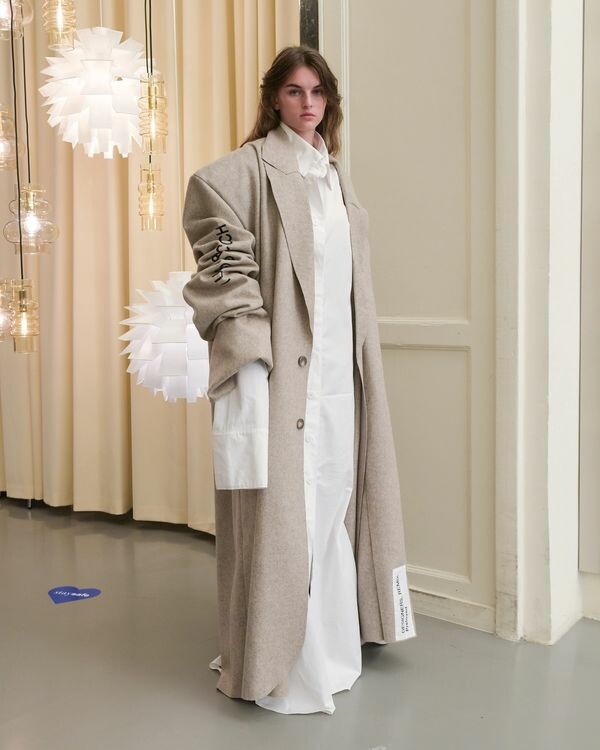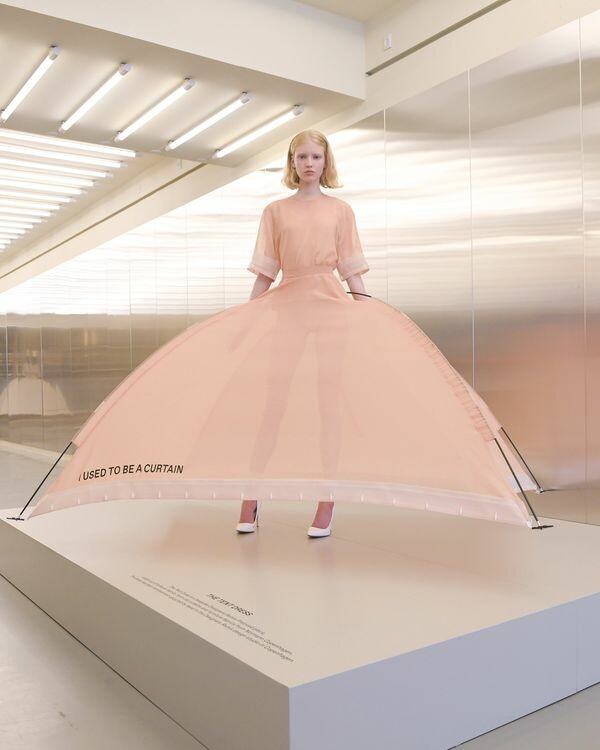 Designers Remix SS21
Designers Remix stood out on an opening day with their playful and experimental approach to dresses and outerwear. A trench style coat incorporates four sleeves (two from the arms and two from the hips) while another takes the oversized to the extreme with wide shoulders and exaggerated sleeves. The dresses are arguably the most captivating and expanded from the hip in a tent-like fashion. Captioned with phrases including "I used to be
a pillow" and "I used to be a couch" the Brand highlights their sustainable source of materials.
Mark Kenly Domino Tan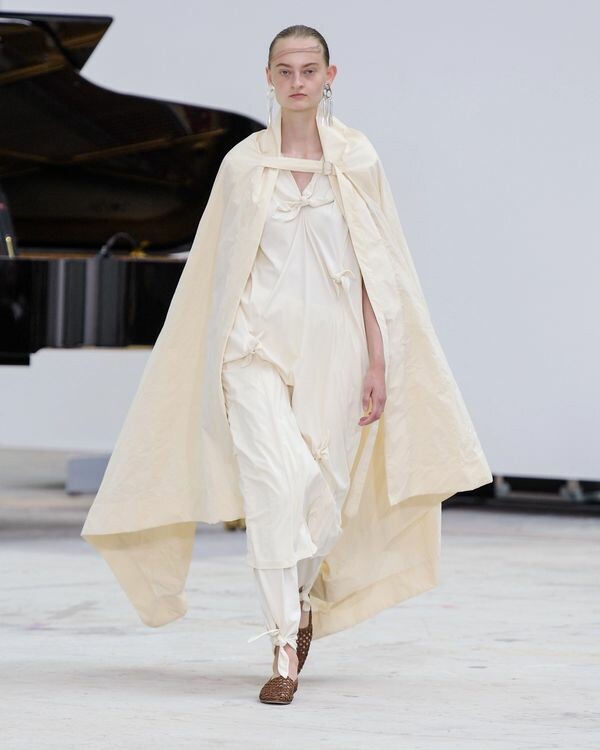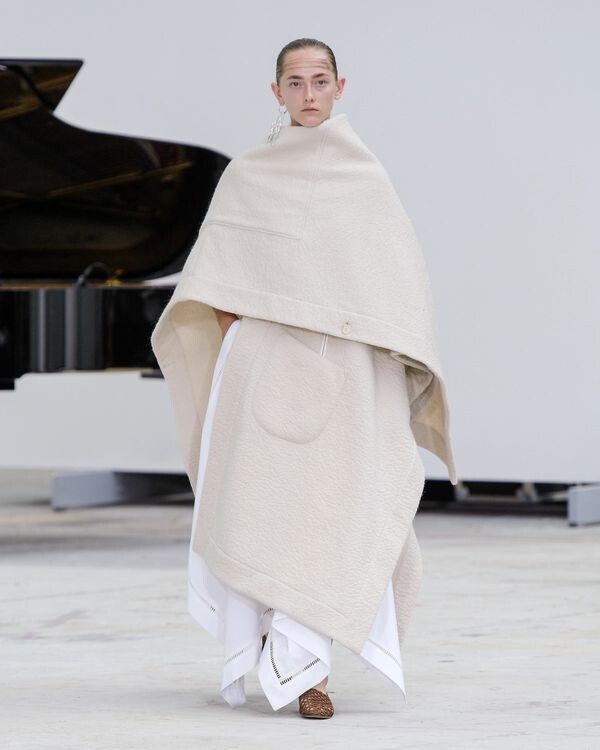 Mark Kenly SS21
Mark Kenly Domino Tan displays a digital stream of his Spring/Summer 2021 catwalk with a collection that encapsulates the timeless woman with a modern twist. The palette is kept simply limited to white, cream, beige and tan tones. Classic silhouettes are modernized; tailored suits are fastened by an inside diagonal strap, oversized-sleeved shirts obscure the hands and the cape style permeates across tops or stands out as a layered element. The longevity of Mark Kenley Domino Tan's designs is what makes them a forever and sustainable favourite.
7 Days Active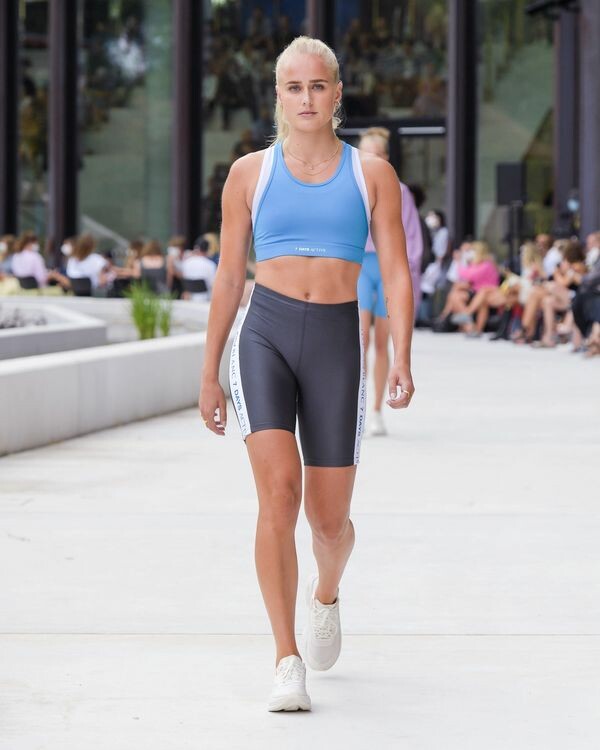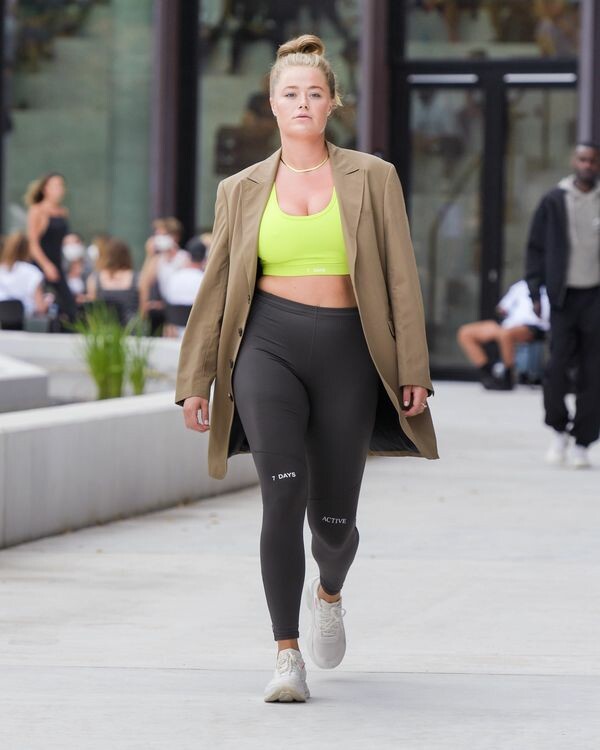 7 Days Active SS21
Since the label's launch in 2019, this year's display at Copenhagen Fashion Week marks the third major collection of 7 Days Active; a distinctive Brand that brings a trendy touch to Sportswear. The reliable cycle short is frequently spotted across the Womenswear. Paired with either a sports bra, t-shirt, baggy or sleeveless sweatshirt and finally a long coat they are a wardrobe must-have. Bright bursts of color are prominent throughout the entire collection bringing that hint of motivational energy to anyone of an active lifestyle.
Sorene Le Schmidt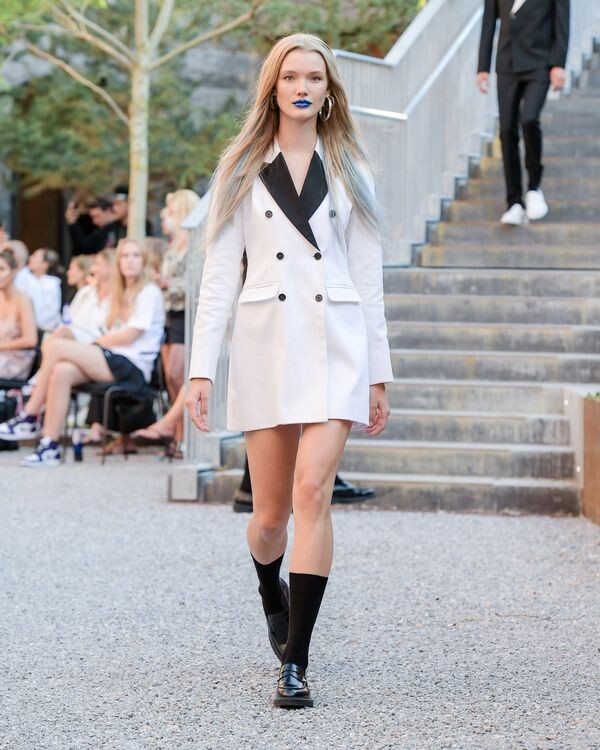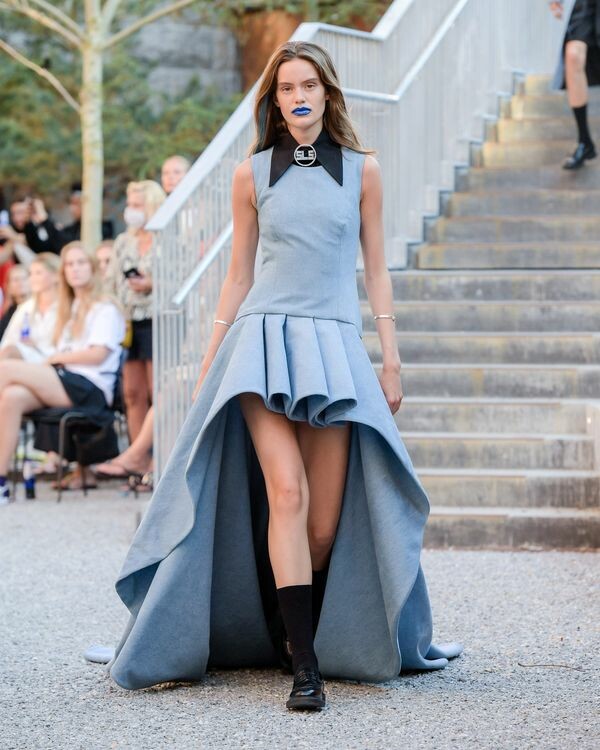 Sorene Le Schmidt SS21
A Brand widely recognized on Denmark's red carpet; we were anticipatory of Sorene Le Schmidt's collection release at 7.00 pm. Their press release describes how "old school tailoring" is the basis of the collection along with a "rockabilly" edge; an unexpected pairing of classic, rock, and country vibes that works wonders. The collection flaunted an incredibly cool vibe especially with the hip-hop music that accompanied the catwalk show. For womenswear, a sense of femininity is present with mini dresses, blazer dresses, and ruffled shapes. Key additions across the entire collection are calf-length socks and simple white or black shoes.
Part Two: The Best of Copenhagen Fashion Week
Samsøe & Samsøe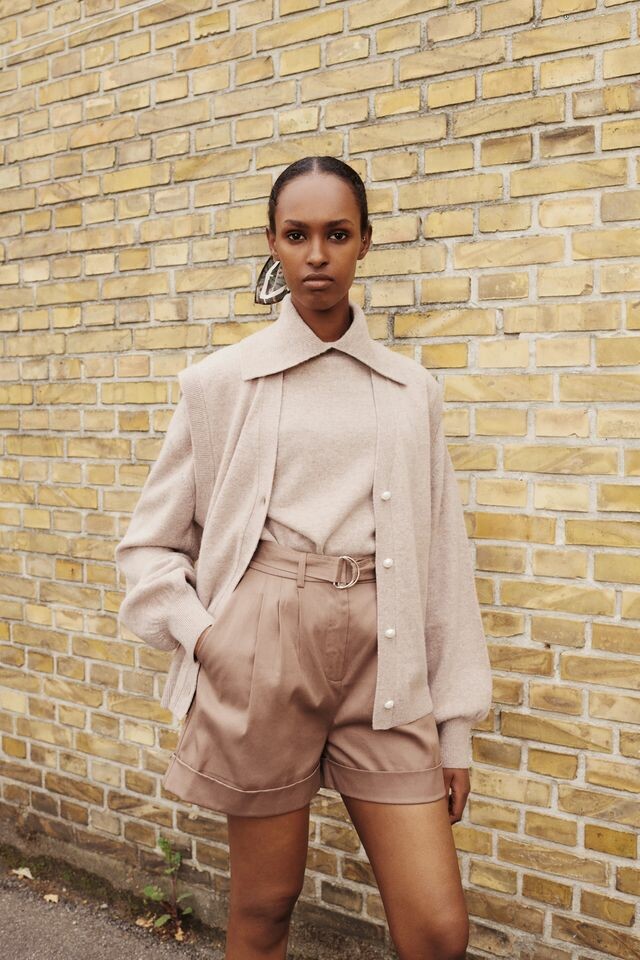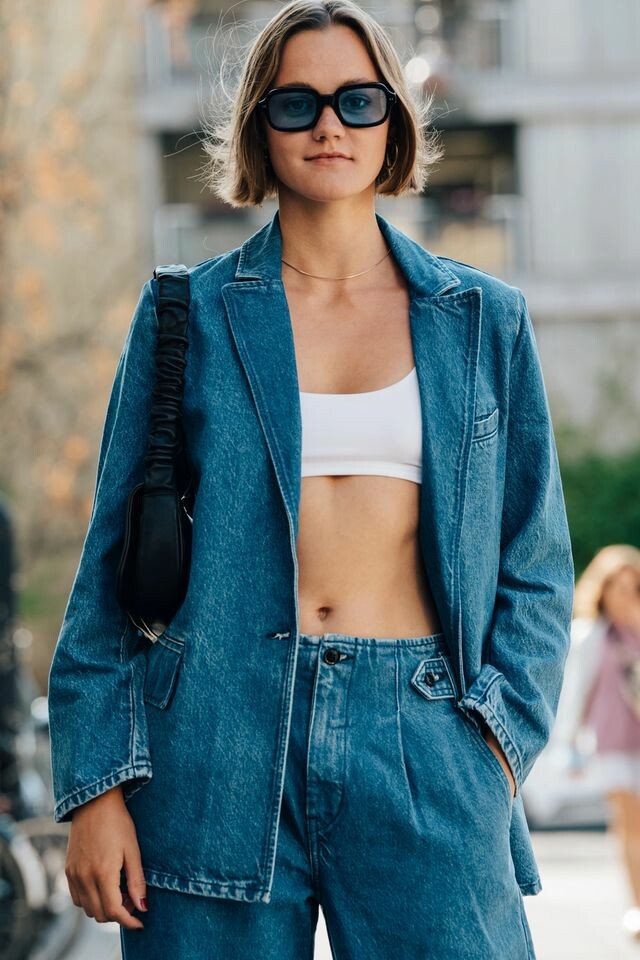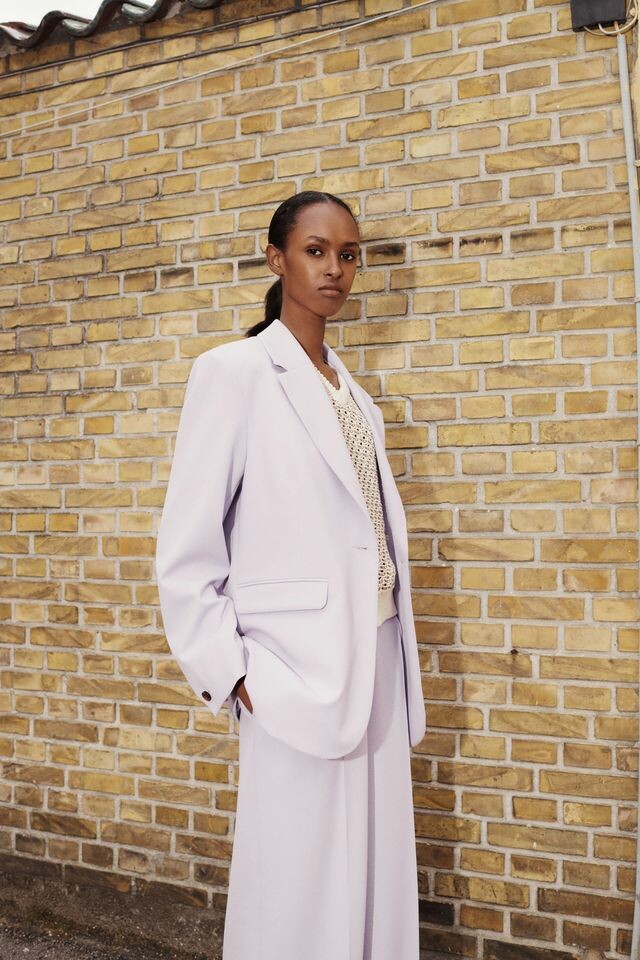 Samsøe & Samsøe SS21
Day two commenced with a digital film and physical showroom by international Brand Samsøe & Samsøe. There is a strong focus on global diversity and the multicultural dynamic of their base in Nørrebro inspired a collection close to home. The collection's geometric prints reference various countries and the overall earthy colour palette resonates globally. Denim tailored suits, oversized knitted sweater vests, and printed flare trousers evoke a street style edge while the more staple pieces capture Scandinavian chic.
Nynne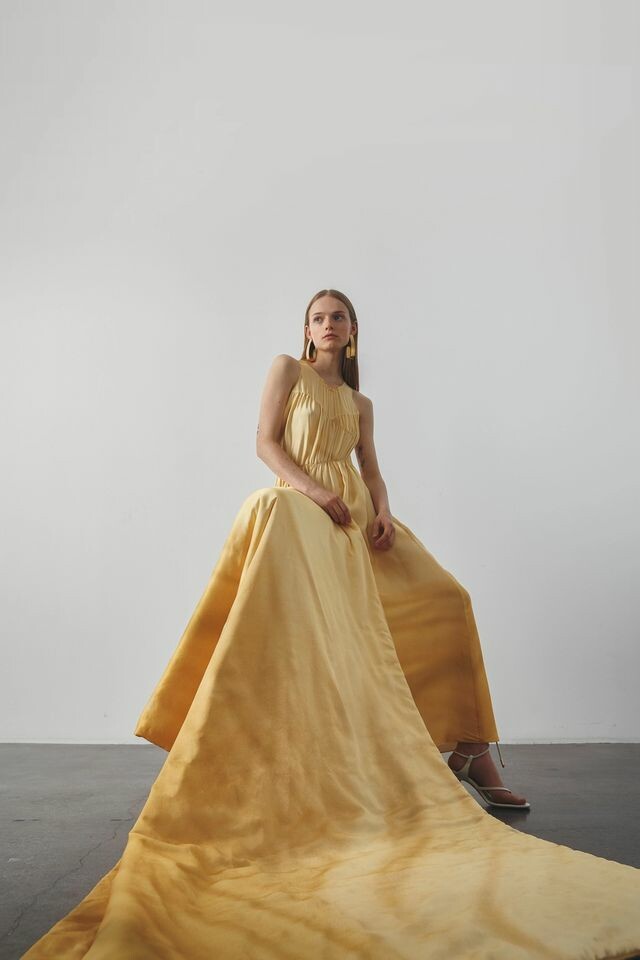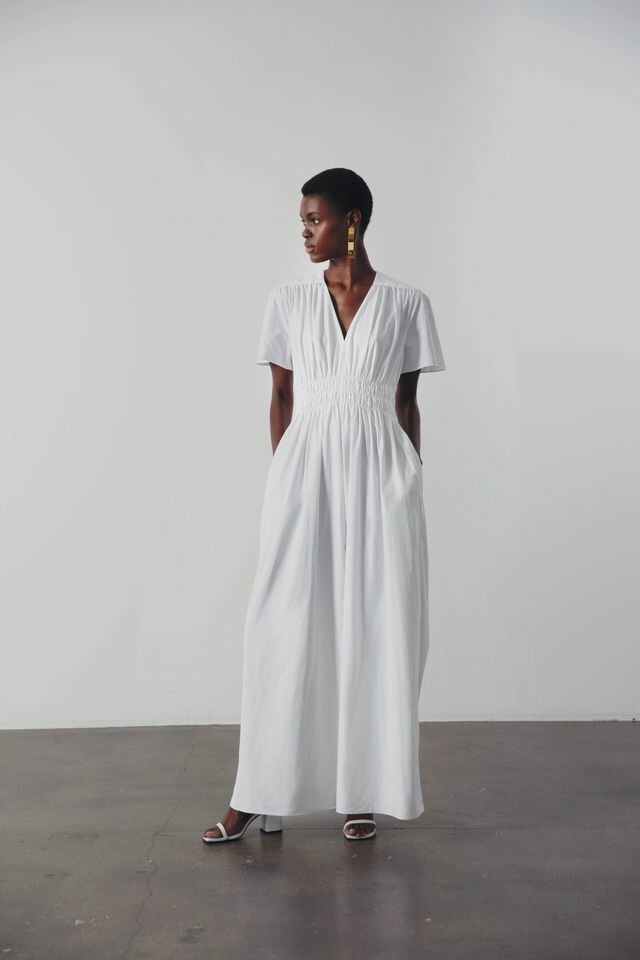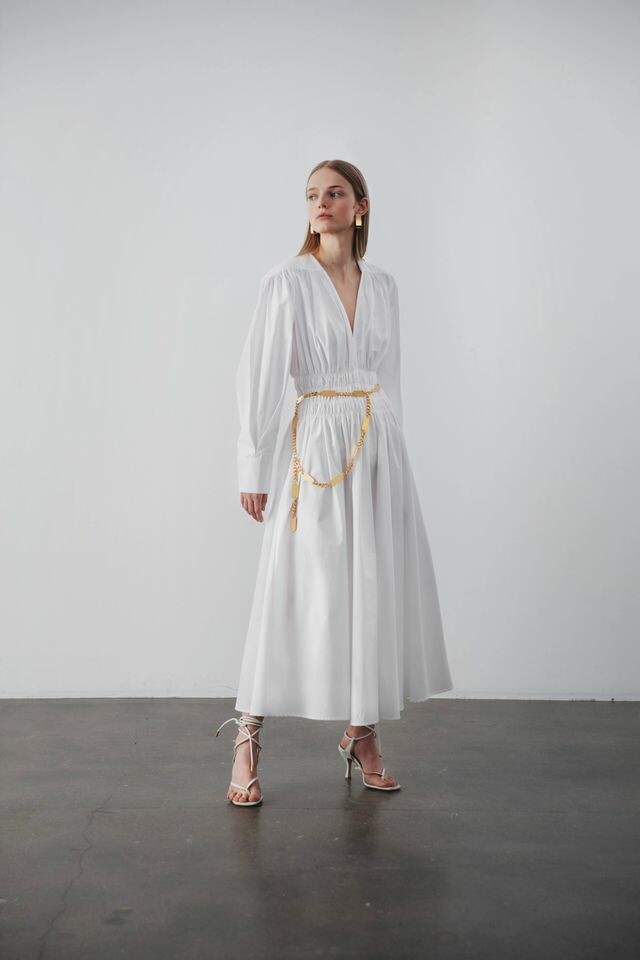 Nynne SS21
Nynne is another House that seeks to empower women through everyday pieces. Unlike Goya's colourful approach, Nynne is more minimal; focusing on practical design with charming detailing. The palette is subtle with mainly mono-colored looks accessorized with gold belts, a necklace or statement earrings. We love how Nynne has combined practicality with that touch of glamour! The paired back film is the perfect opportunity to appreciate the beautiful subtleties of this collection.
Remain Birger Christensen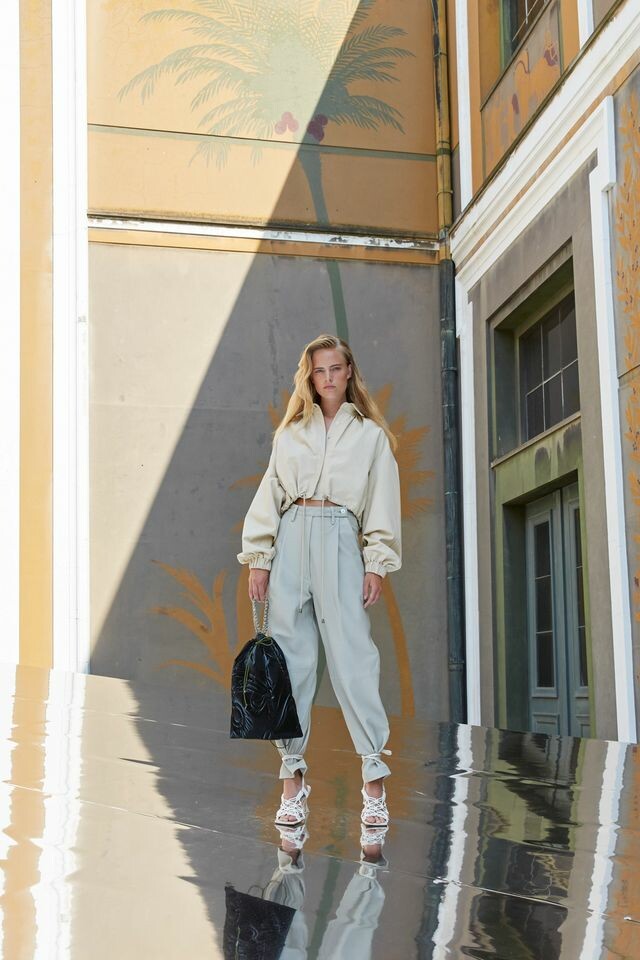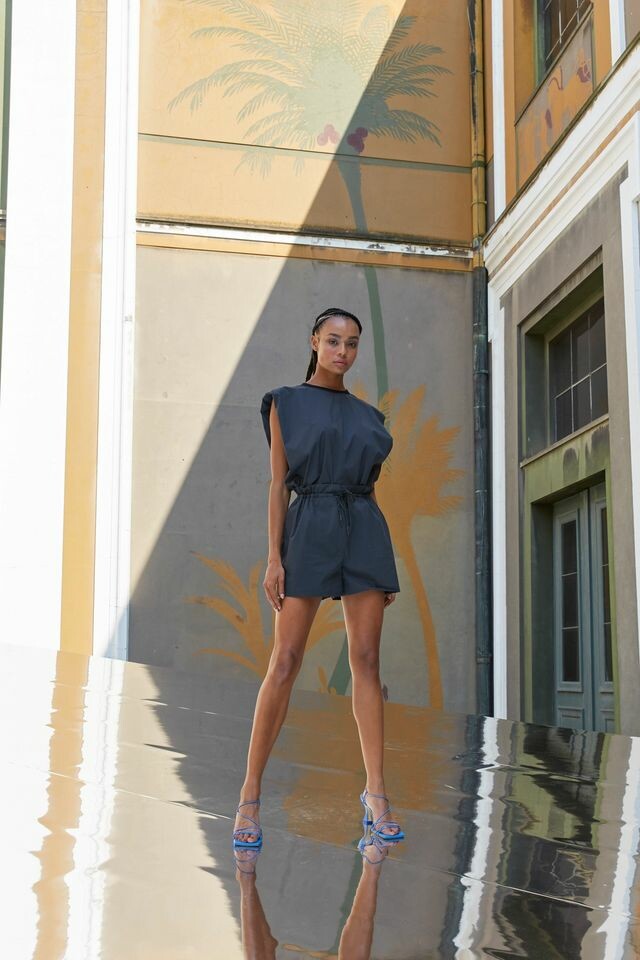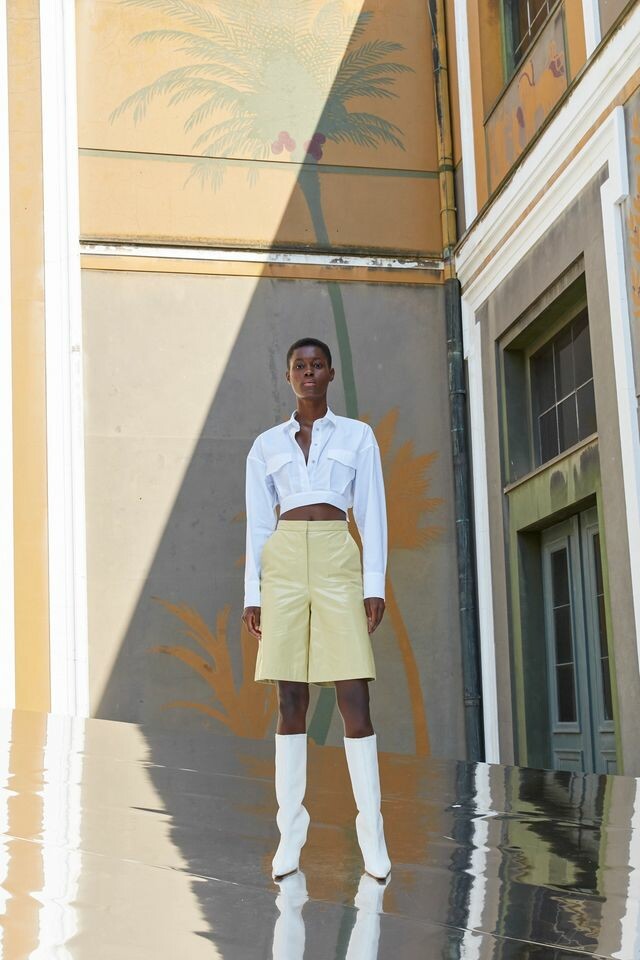 Remain Birger Christensen
We have seen various playful approaches to tailoring this year at Copenhagen but what makes them so special is their differing sources of inspiration. At Remain, this aesthetic is inspired by 60's icon Françoise Hardy; a French Singer/Songwriter recognised for the feminity she infused into pop culture. In their press release, the House notes how pleated waist detailing adds a sense of feminity while combinations of sportswear and classy coats and jackets subvert the formality of tailoring. The setting for the collection's display is captivating; set in a quiet courtyard with mirrors that glisten in the light. An accompanying film is also provided.
Rodebjer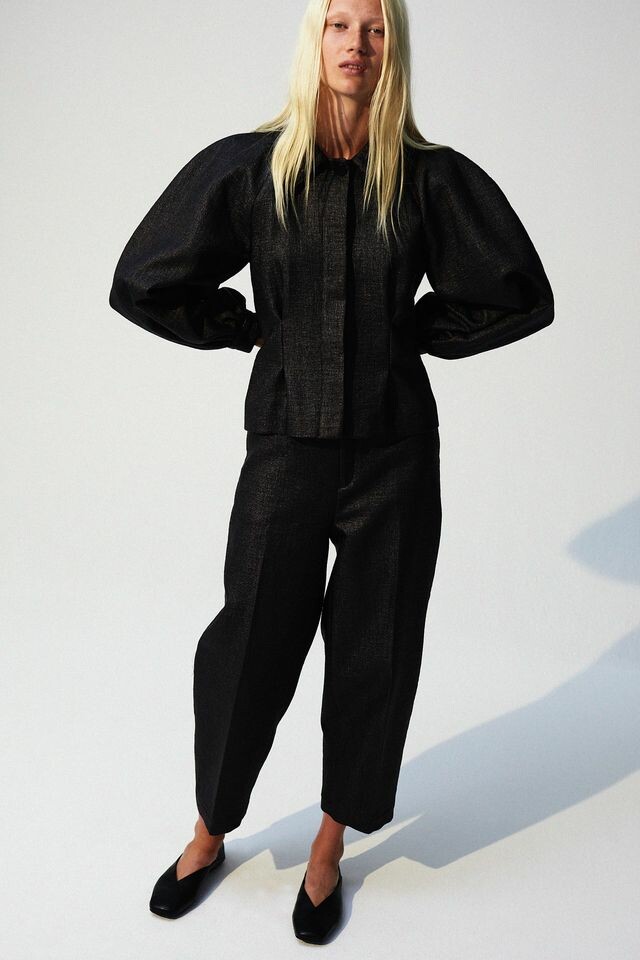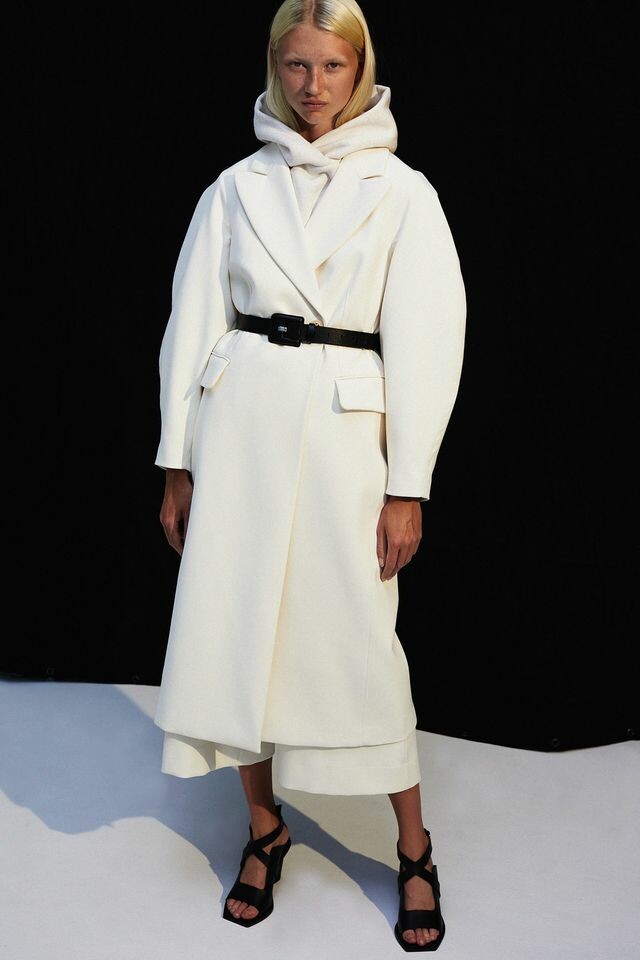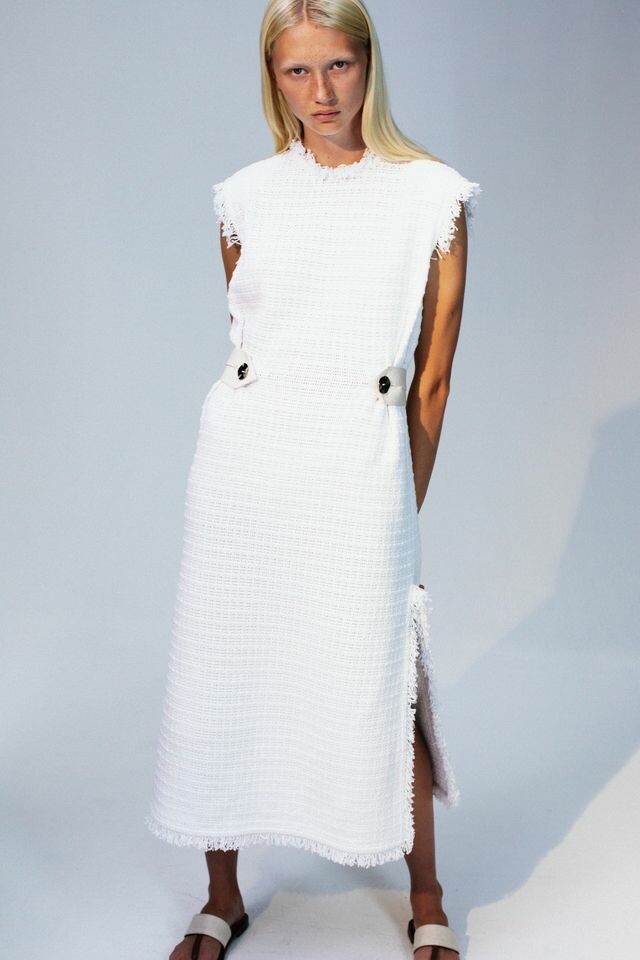 Rodebjer SS21
Rodebjer have been passionate about their purpose from day one, showing support towards both women and the environment. The courageous woman unafraid to be an individual is a
timeless inspiration for the Brand. Alongside these overarching themes, the collection is inspired by the "healing energy of creativity and finding great meaning in wisdom".
In support of their sustainable ethos, a timeless consideration is evident in Rodebjer's designs. Minimal looks of block colour are great examples of interchangeable wardrobe must-haves while the artistically inspired prints make an exciting contrast! The looks were shown via a digital film of Images.
Baum and Pfertgarten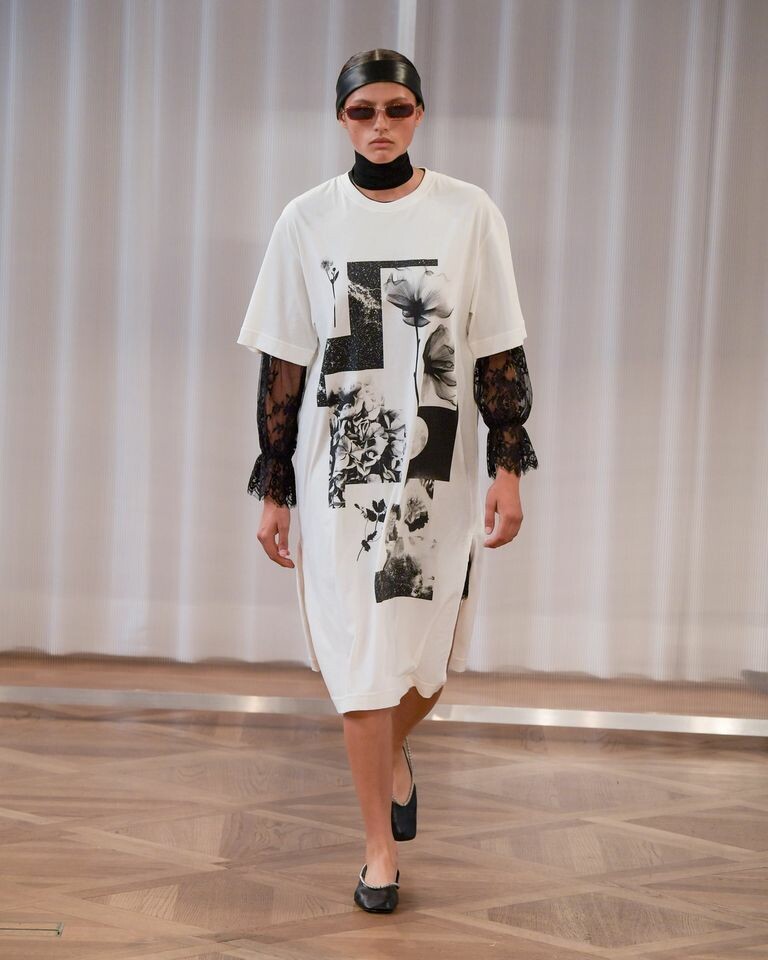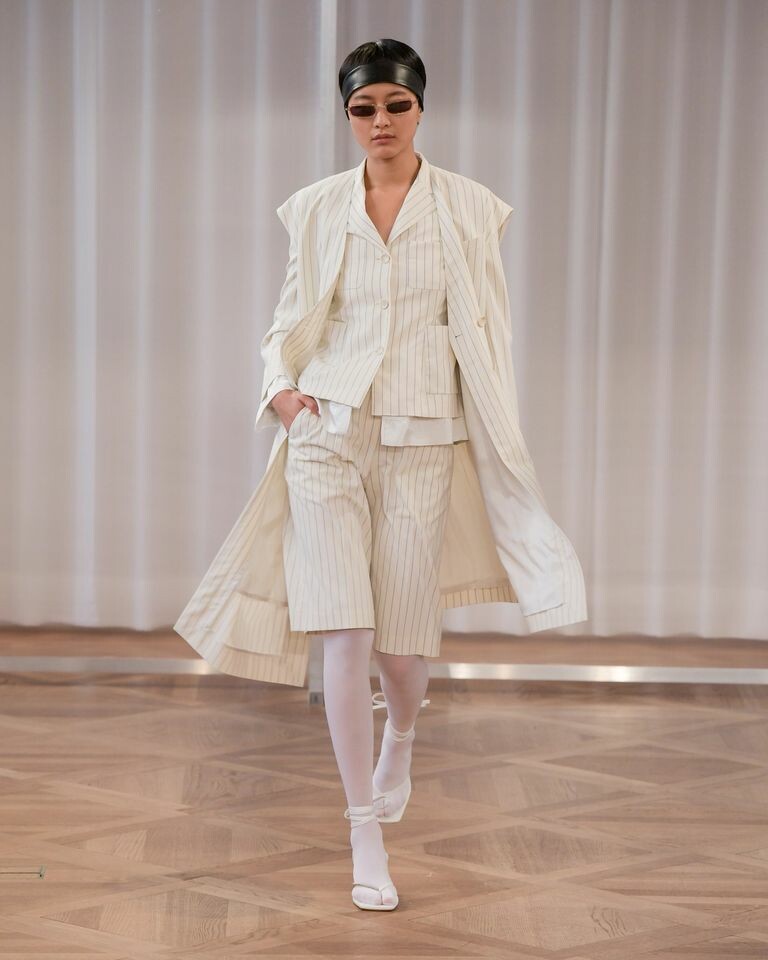 Baum and Pfertgarten SS21
Baum and Pfertgarten are all about having fun, bringing that uplifting touch of individuality and personal expression to Fashion. With a penchant for unpredictable juxtapositions, their Spring/Summer 2021 collection plays with bold contrasts. 'Clashing' pairings paradoxically work; a geometric printed slip layered over a polka blouse and a salmon-pink lace top paired with mustard-colored shorts are two of our favourites looks. Their pieces are exciting and call for individual experimentation! The leather-look made a strong appearance across midi-skirts, trousers, longline shorts, and jackets. A leather headband or retro sunglasses were the final flourishes.
Part Three: The Best of Copenhagen Fashion Week
HOPE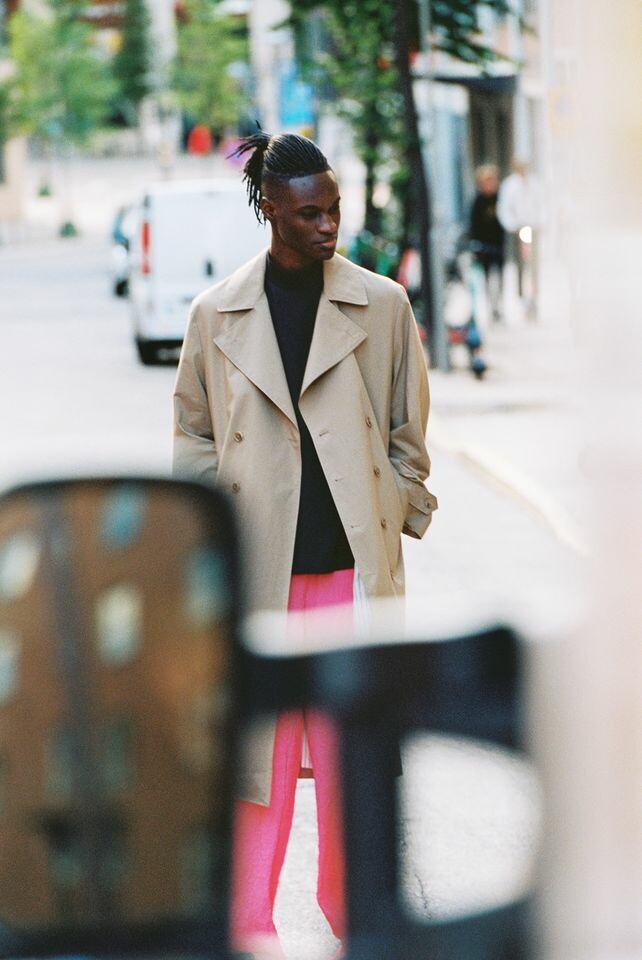 HOPE SS21
The day kick-started with HOPE. For HOPE, a collection needs to have a meaning and remain loyal to high-quality craftsmanship. In their Spring/Summer 2021 collection, creative director Frida Bard has made functionality the most important aspect of the collection. The playfulness of the garments is hidden in the oversized silhouettes which can be adjusted to all body types in an almost androgynous manner. HOPE distanced themselves from the common perception of Summer and invite instead the viewer to create their own reality.
Custommade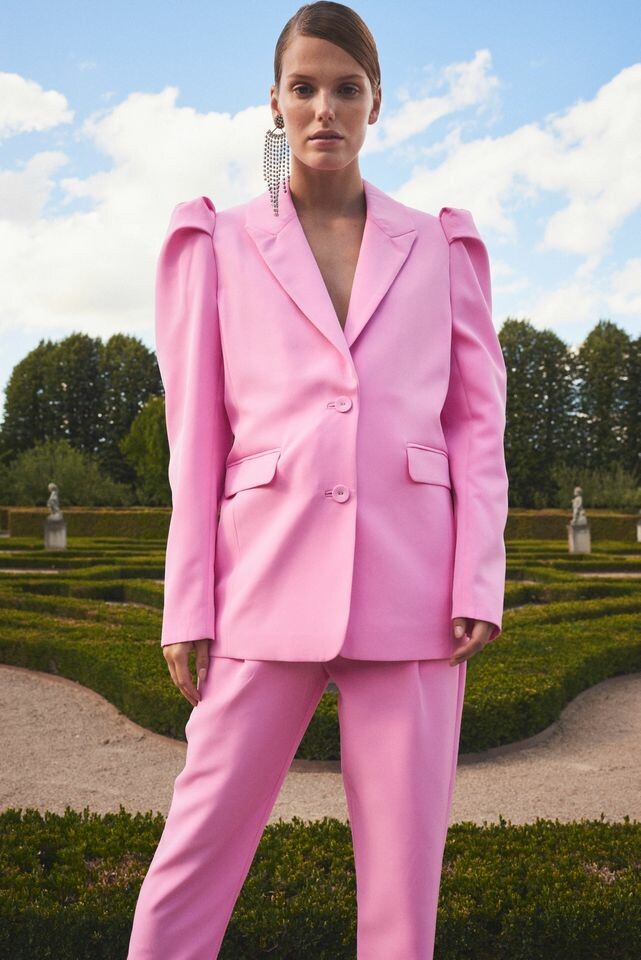 Custommade SS21
The sole purpose of Custommade is to create affordable luxury clothing and a world of fantasy, where the feminine can be free of any limitations A combination between the French and Italian styles, Custommade did not disappoint when showcasing their Spring/Summer 2021 collection. The patterns of the clothing are paired with unordinary accessories such as oversized pearls and pointy high heels decorated with oversized bows, which make the looks loud and bold. The almost princess-like look of the "muses" has us crave these luxurious pieces which are indulging but then what is better than feeling a little bit spoiled?
Helmstedt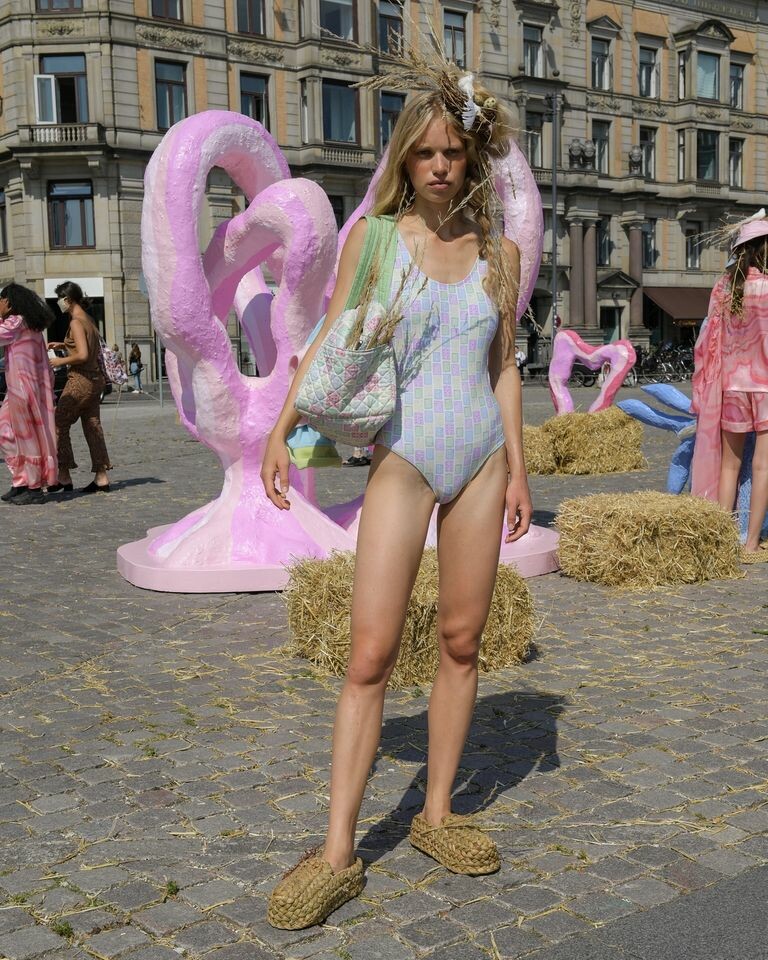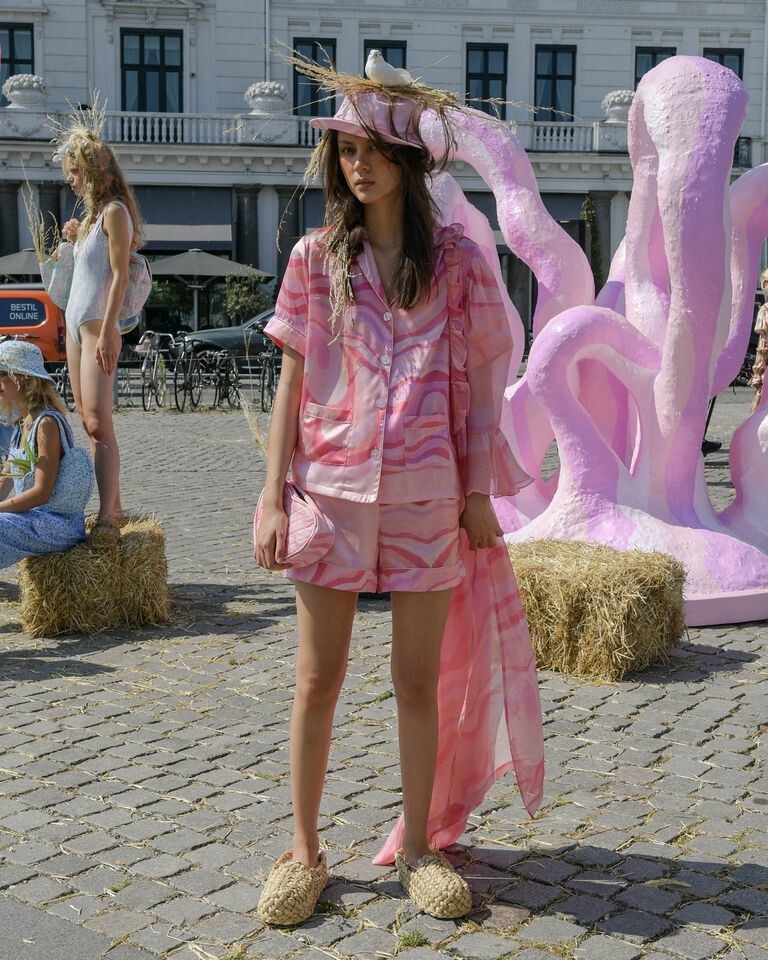 Helmstedt SS21
As usual, the bubbly and unconventional Emilie Helmstedt gave us a concept that uplifted our moods. In King's New Square the designer exhibited her heart-shaped bright pink sculptures, surrounded by bales of hay that made us long and hope for an outdoorsy 2021 Summer.
The sculpture that the designer created will be moved in different parts of Copenhagen to uphold the message of unity and help people stick together through these uncertain times.
Around the décor, models dressed in playful patterns and various textures made the passer-byes stop. Shades of baby blue and pink, re-imagined floral prints, and new shapes could be spotted on the oversized, flowy garments which are more about comfort than high fashion.
Marimekko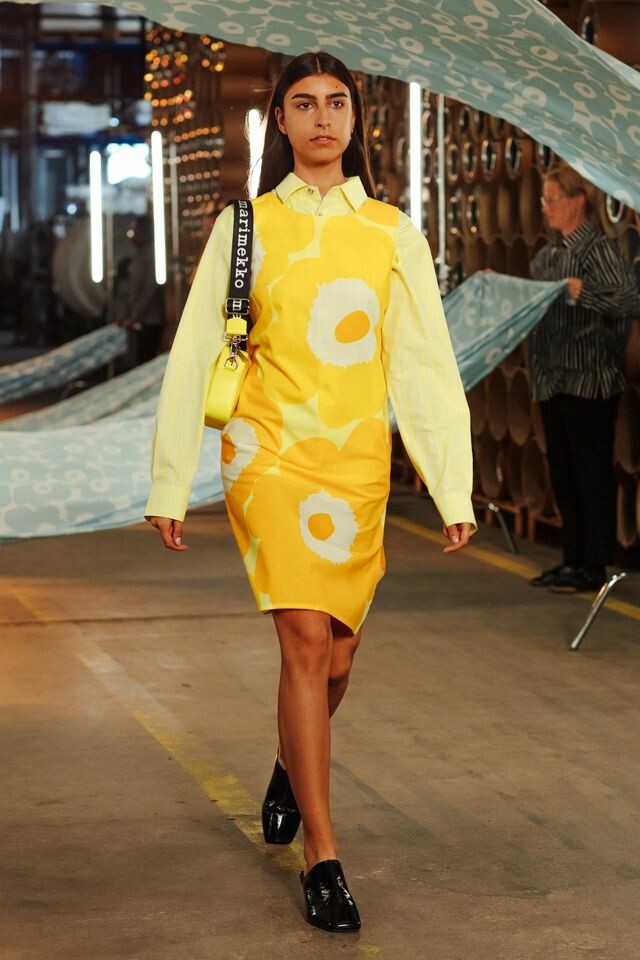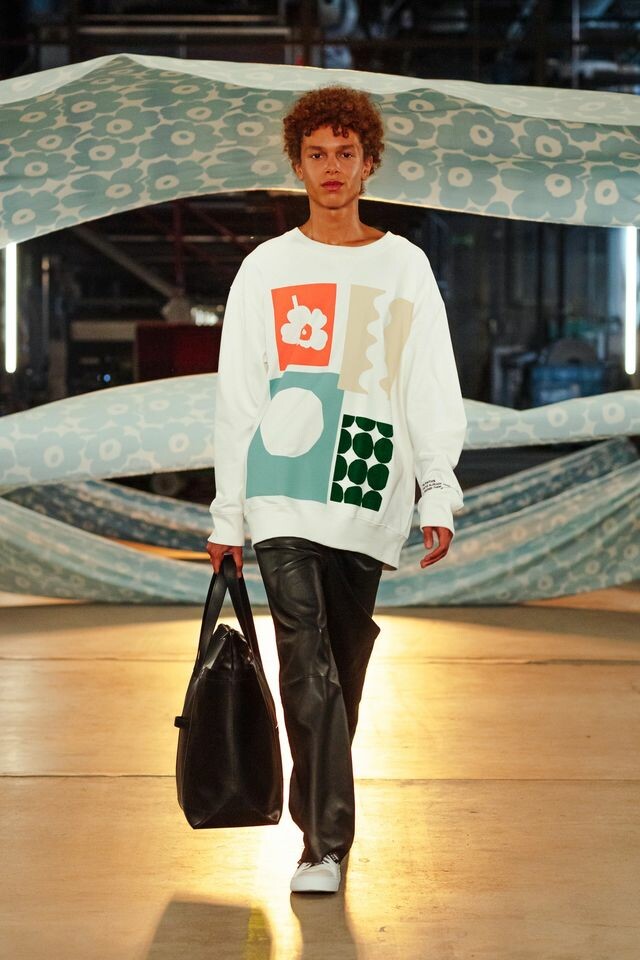 Marimekko SS21
Founded in 1951, Marimekko has always been about bold prints and colours. The longevity of the brand mixed with their playful ethos makes Marimekko a Scandinavian fashion powerhouse. With a print library containing 3500 prints, Marimekko manages to recreate old garments for the modern woman. Set in the brand's in-house printing factory, the show was filled with vibrant prints and colours, as well as new patterns combining Maija Isola prints (the poppy, the stones, the seagull) with Marimekko's founder, Armi Ratia's, quotes. The collection was created in collaboration with award-winning designers Antti Kekki and Matts Bjolin.
Rixo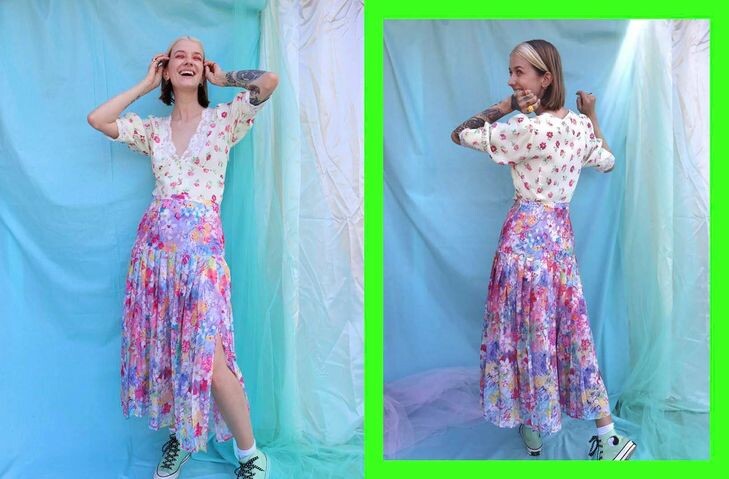 For Spring/Summer 2021 Rixo has gingham inspired dresses to offer, as well as an abundance of floral printed flowy maxi dresses and tops. What makes these pieces so amazing is their versatility: they are fit for a city break but also for the countryside or a holiday abroad. The simplicity of the silhouettes gets us thinking that we might even be able to wear these pieces during the colder months: thanks to the well-known Scandinavian layering fashion technique.
Copenhagen Fashion Week also impressed us with the selection of live interviews available. By far, our favorite was the conversation between American Danish actor, Amelia Hoy, and founder of FIIRI Agency, Mona Mohammed Ali. FIIRI is the first black-owned, all-inclusive modeling agency in Scandinavia. Check out the interview here
Words by Brooke Savino and Emilia Roman
Graphics by Georgia Walters