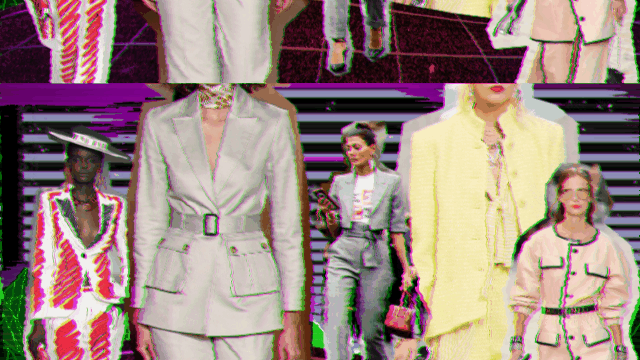 Female suiting, despite a somewhat popular opinion, is no new trend: think Coco Chanel's tweed, Yves Saint Laurent's Le Smoking and Maggie Thatcher's abundance of two pieces. But somewhere along the timeline of power dressing, ladies in suits took a dreary, corporate turn and were reduced to the BHS fitted three-quarter-length shirt and knee-length pinstripe skirt combo we saw on the likes of The Office and Bridget Jones' Diary throughout the noughties.
'Power Dressing' is a concept allowing women to assert dominance (usually within a professional environment) over their typically male counterparts by dressing in a certain way. In the 80's, it was all the rage, exhibit A: Working Girl's Tess McGill. The film's bitchy boss Katharine quotes Coco Chanel in what might be the most perfect way to verbalise female suiting: "Dress shabbily and they notice the dress. Dress impeccably and they notice the woman."
Fast forward (quite) a few years, and the office suit began to experience an ever so slight change of character. Yes, we're referring to the aforementioned BHS era. There was a (relatively lengthy) period in which power suiting failed to execute the 'power' element so effectively. That is, until now.
Lo and behold, 2017 saw suits for women resurface after something of a makeover. That is, the kind of makeover that may be recognised by some as the post-breakup-dramatic-hair-change. The bright, pastel and patterned suits still lining the rails of just about every high street shop and strutting the catwalks in various different shapes and sizes, are important. After all, how else will we successfully take over our evil bosses, Tess-style?
The best thing about suits has to be the fact that they manage to exist as perhaps the only outfit suitable for both a job interview and a wedding simultaneously. Not to mention just about every other possible occasion: first date? Dress it down with a t shirt and trainers for a cool, 'don't give a sh*t' vibe. Off to work? Take the blazer off for your sweaty underground commute and pop it back on when the afternoon air-con gets a bit much. Grandma's Sunday lunch? She'll be sure to tell you that you look 'very smart'.
In conclusion: we're fans of power dressing. Now get that bread, girl – and do it in your two-piece.
By Pippa Simmonds
Artwork by Sasha Green