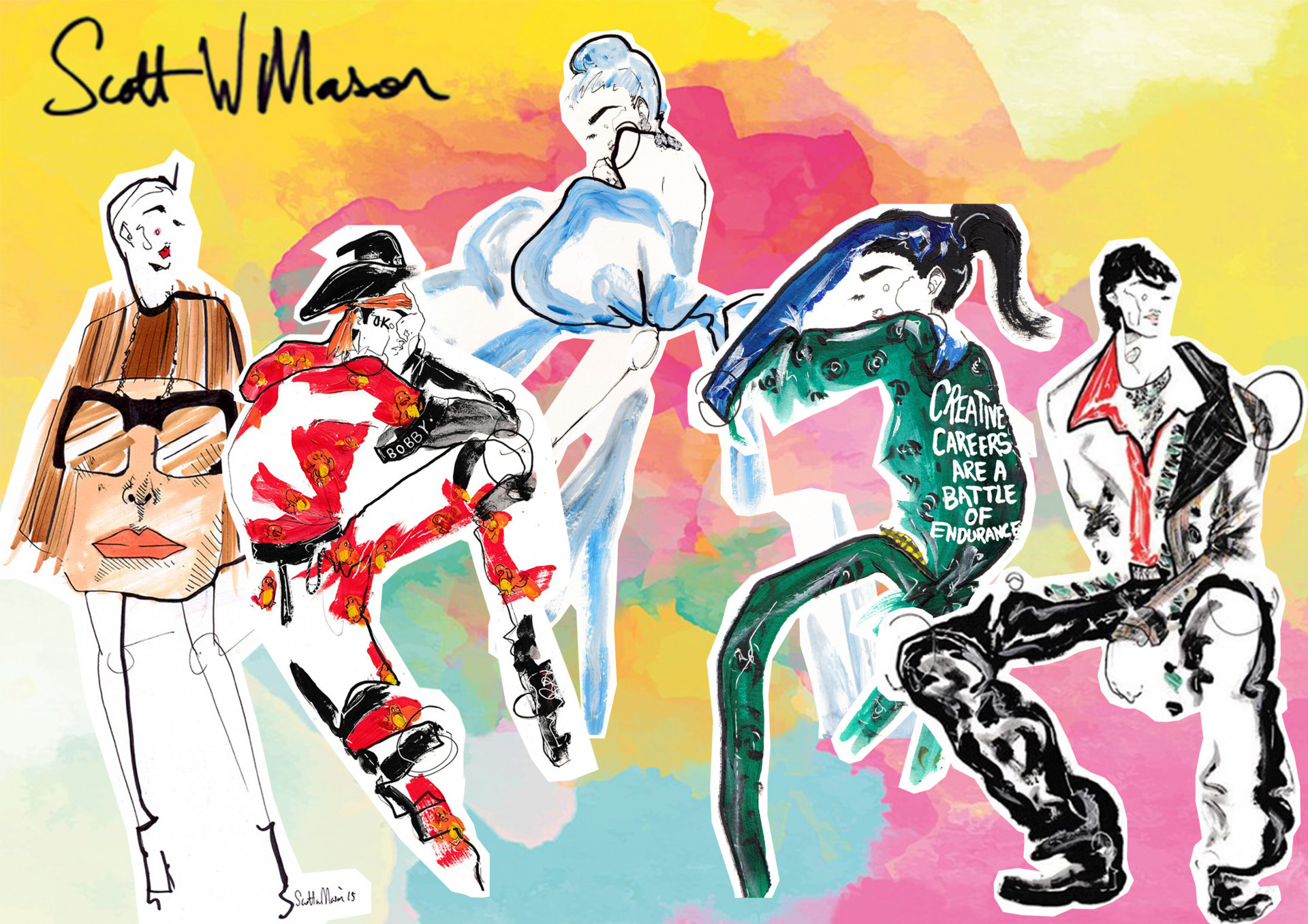 From fashion photography to front rows of Fashion Week, London fashion illustrator Scott W Mason talks to Voir about his fashion inspirations, favourite illustrators and fashion week surprises. He describes his creative style, his inspirations and his process.
Scott's collaborations include brands Apple, Selfridges, Alexander McQueen , Axel Arigato, Ted Baker, Reiss, House of Holland, Danone and SkinnyDip London.
You studied Fashion Photography for your BA degree but went into fashion illustration. How did that story unfold for you?
I've drawn a lot longer than I've ever taken photos. I used to draw a lot and then I started watching America's Next Top Model, as embarrassing as it is, and I used to love the photoshoots that were from there because they're quite extravagant. I was like a 12-year-old kid so I could not afford to do those type of photoshoots, so I started to draw my ideas out instead, and that's when I sort of took a more fashion approach. I was still quite young, I couldn't draw as well as a photograph can capture something so I went back to photography and then I went into uni to do fashion photography because I thought it's easier than drawing in a way. After a while I realised I can't take photos for shit! So I ended up spending the rest of my three years at uni drawing on my photos just to get a decent mark so that's kind of how it turned around again. I literally just thought drawing was so much easier and cheaper.
You would say that fashion always was a focus of your work, like it's always been a calling hasn't it?
Yeah, I don't know why but I'm just excited by the structure of clothes and I guess its expression of it. I'd think that when you're doing a drawing of something that includes fashion it's more of a purpose to it because you're illustrating something rather than just making something from the top of your head. People are always like what's the point in drawing? And I'm like "Argh, there's a reason behind it!" I mean it's not really needed but I mean you could say that about a lot of things. It's just an artistic expression and creativity, it doesn't have to be, you know for sole purpose of studying something.
Click on image to enlarge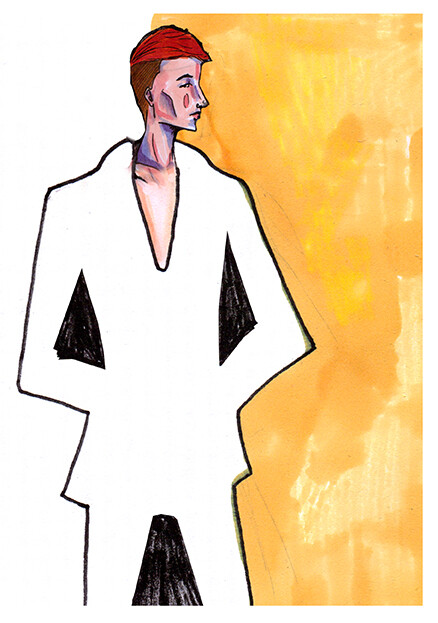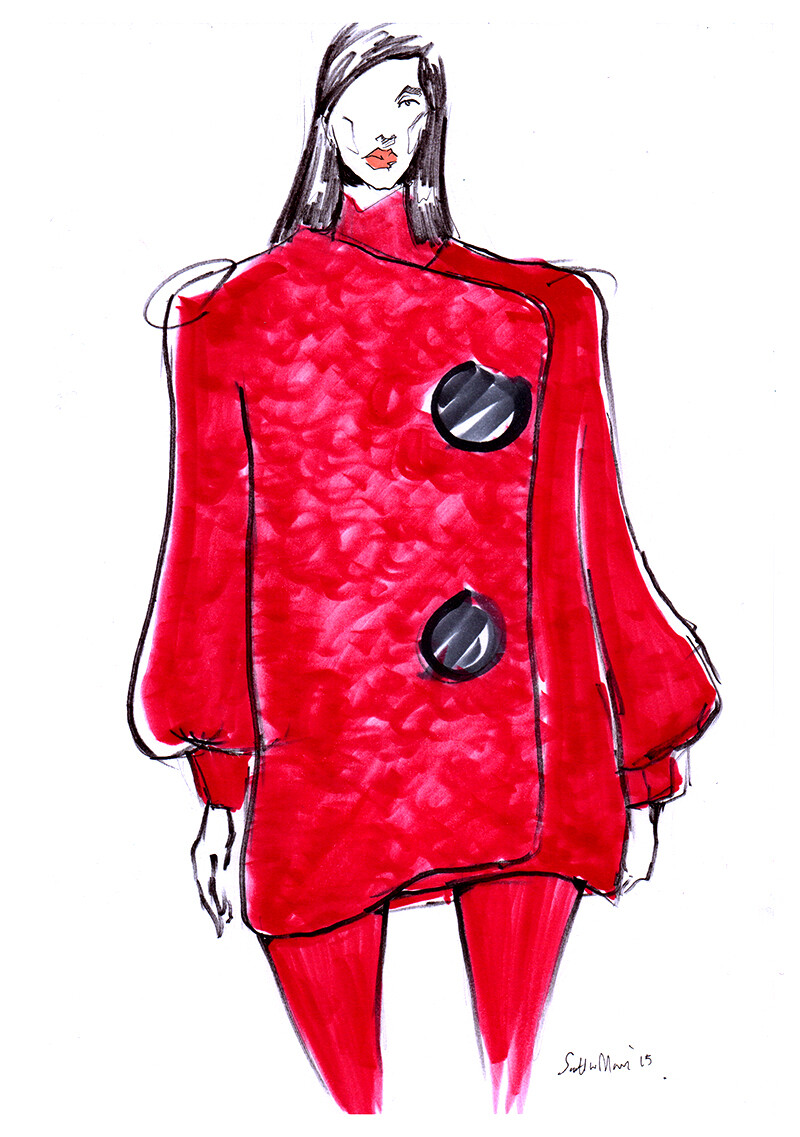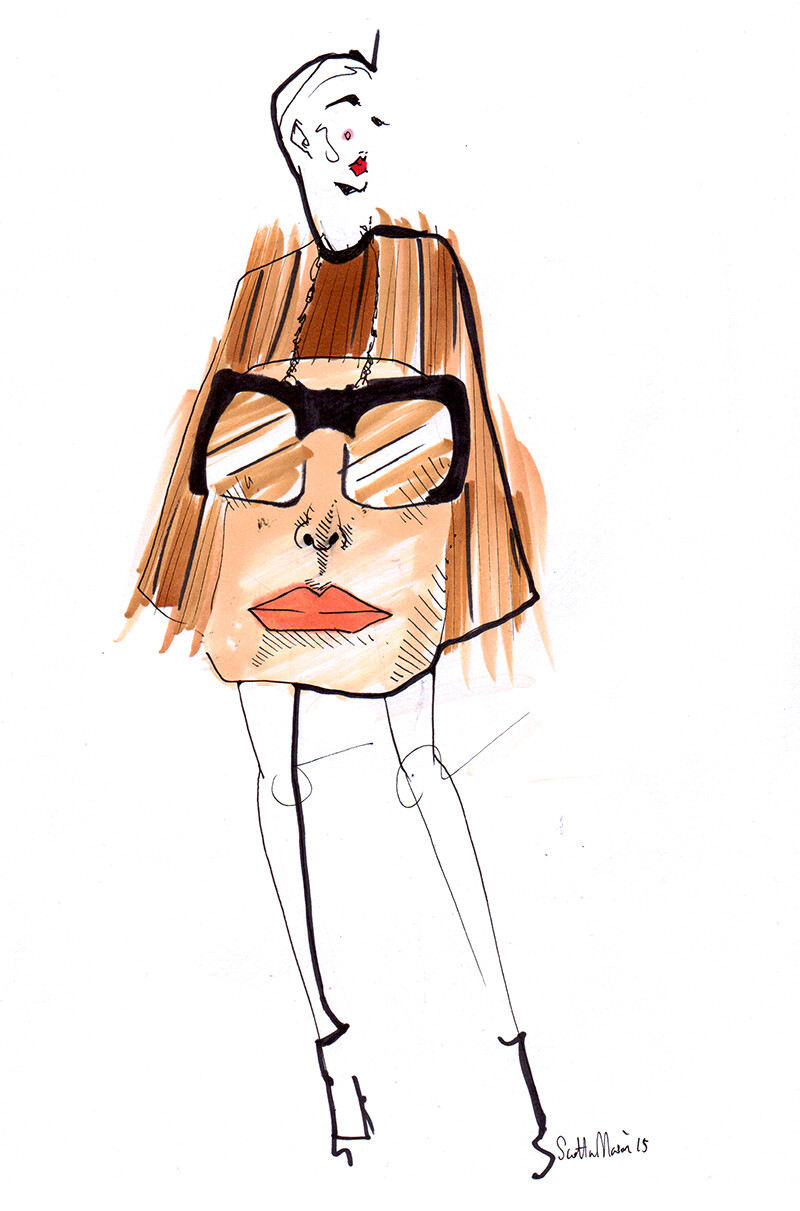 We absolutely love your colourful and creative pieces. How would you describe your own illustrative style?
I'd probably go modern, minimal, maybe abstract because sometimes I show people my work and they're literally like "what the f*** is that?" Maybe textured. I guess you see it more in person rather than in scans but the paint strokes add a bit of depth to them. We'll add bold in there for good measure.
What do you enjoy most about being a fashion illustrator?
I still get excited by, it sounds silly, but a blank piece of paper because when you start out you don't really know what's gonna happen and what you're going to end up with so even after drawing for 20 years it's still exciting to be like "Ah what can happen?" But being a fashion illustrator, I think it's sort of a cooler illustrator which really isn't fair or true but because people perceive fashion as being such a cool industry if you do anything to do with that they're like "Oh my god, so cool!" My favourite thing is it's not that well known and it's not quite as mainstream as so many other things so it's quite a niche.
Where do you get your inspiration from for your new illustrations?
If I'm scrolling through Instagram and I see a pose that sort of captures my eye then I want to draw something similar and inspired by that. Or just watching fashion shows, I was scrolling through Paris Fashion Week today and I saw like 100 looks I want to draw and I'm trying to pick which ones. Because the first and foremost thing that inspires me is obviously the clothes.
Click on image to enlarge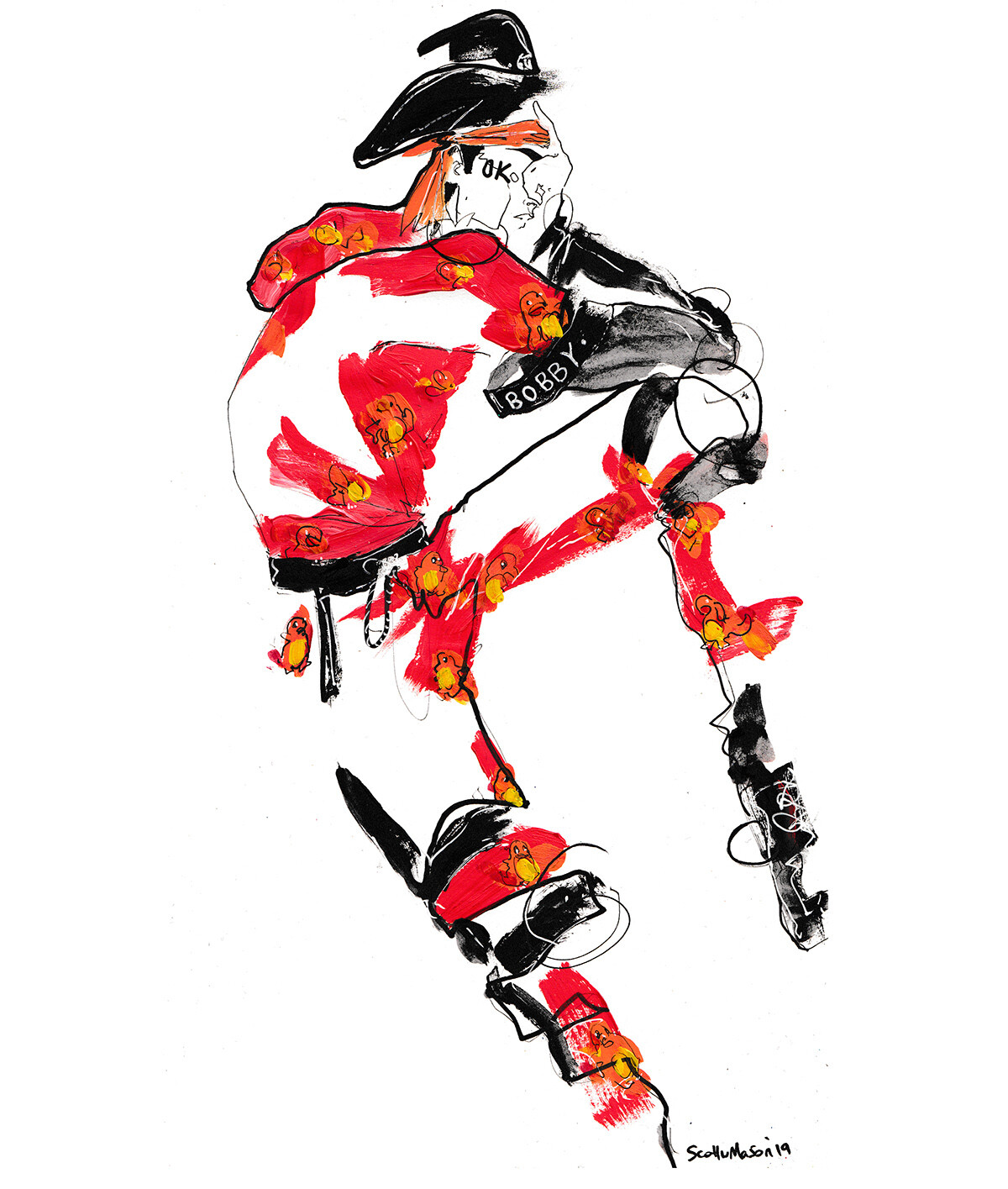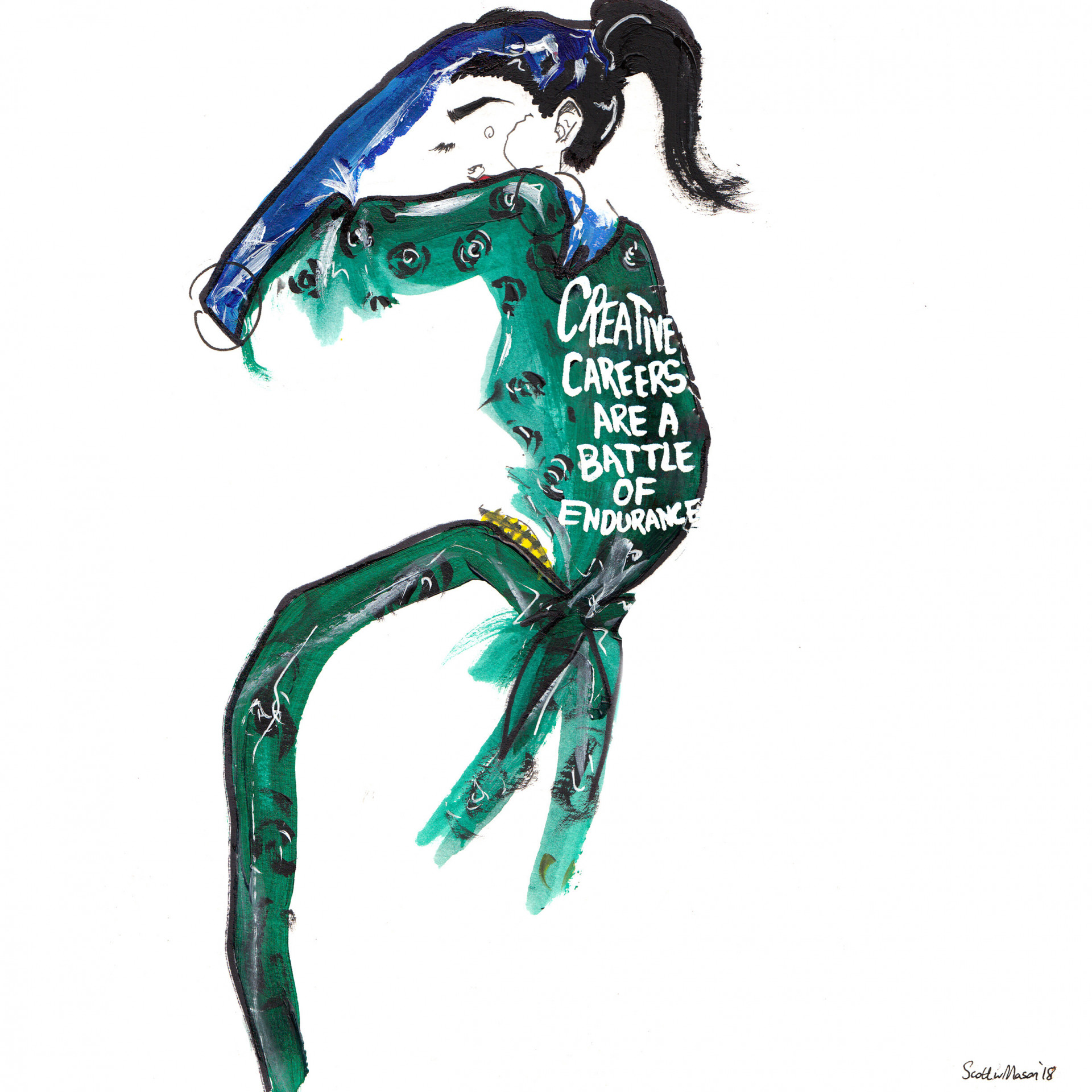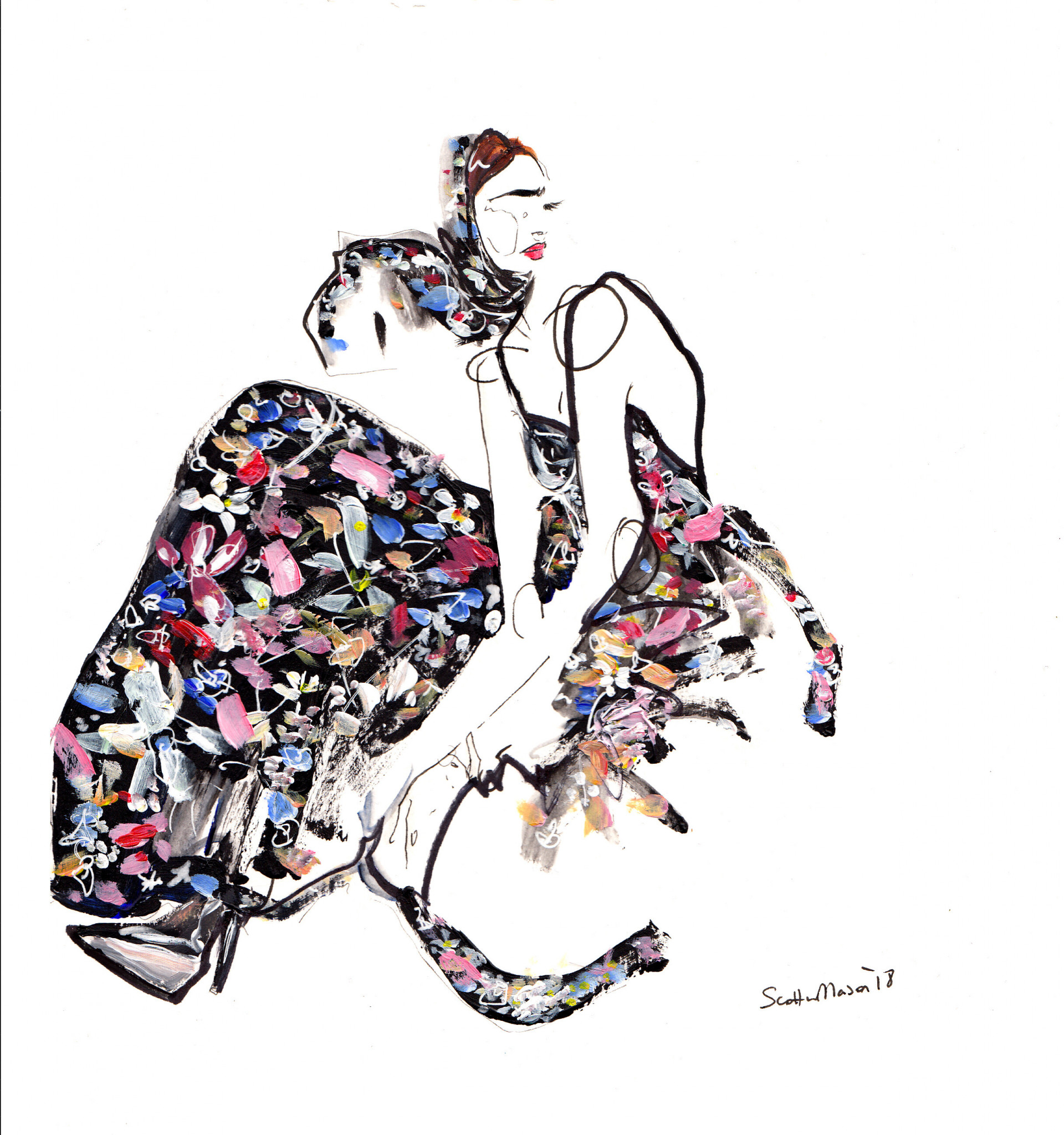 What is the most important aspect for you when creating a new piece? What is the one thing you prioritise the most?
I don't prioritise getting it that similar to the actual garment. I think I just prioritise having a nice-looking drawing, it's all quite subliminal and you don't really think about it. I think I prioritise the pose the most because I think the pose brings emotive or a story to the piece.
What attracts you to a garment? What are the first details you look at?
It used to be hemlines because if someone had a lot of stuff with hemlines and a lot of strong shapes I'd sort of see the black linear line in my work and I'd automatically apply it to that. But that was when I used to work just mainly fineliner and not a lot of colour. But now I think print is what really inspires me because I'm obsessed with drawing floral prints at the moment and I think everyone is getting bored of it on my Instagram. I can't stop. Yeah, I'd say floral prints I'm obsessed with, and gloves.
Why gloves?
I'm not sure, I think the way you can draw a hand and add in the crease of the glove and then you can add shadows and highlights to it. I think it's so I can cover up really bad drawn hands because I make it as abstract as possible, but one of my favourite illustrators I think drew a lot of gloves
Who is your favourite illustrator?
Tony Viramontes. His style definitely inspired me a lot and then Egon Schiele I adore as well, so I think if you look at those you can probably see the aspects of stolen. Subconsciously but yeah.
What is the process illustrating for a live show? How quickly do you have to work?
Oh god it's a nightmare. I gave it a rest for like two years because I was being so socially reclusive and didn't want to go. And then I went last September for a few shows and I completely forgot how quick it is and how stressful it is. What I tend to do is I like to pick up key details so if it's just stuff that catches my eye like maybe the hairstyle they're using and the makeup, little buckles or just little aspects of that it's sort of like a log for me. I'll remember when I go home like "Ah, I wanna showcase that detail." It's true you can't end up with a good drawing at the end of a fashion show because it's just impossible. That's why presentations are great for illustrators because you know they're on for like an hour, two hours, you can actually get time to do something.
Click on image to enlarge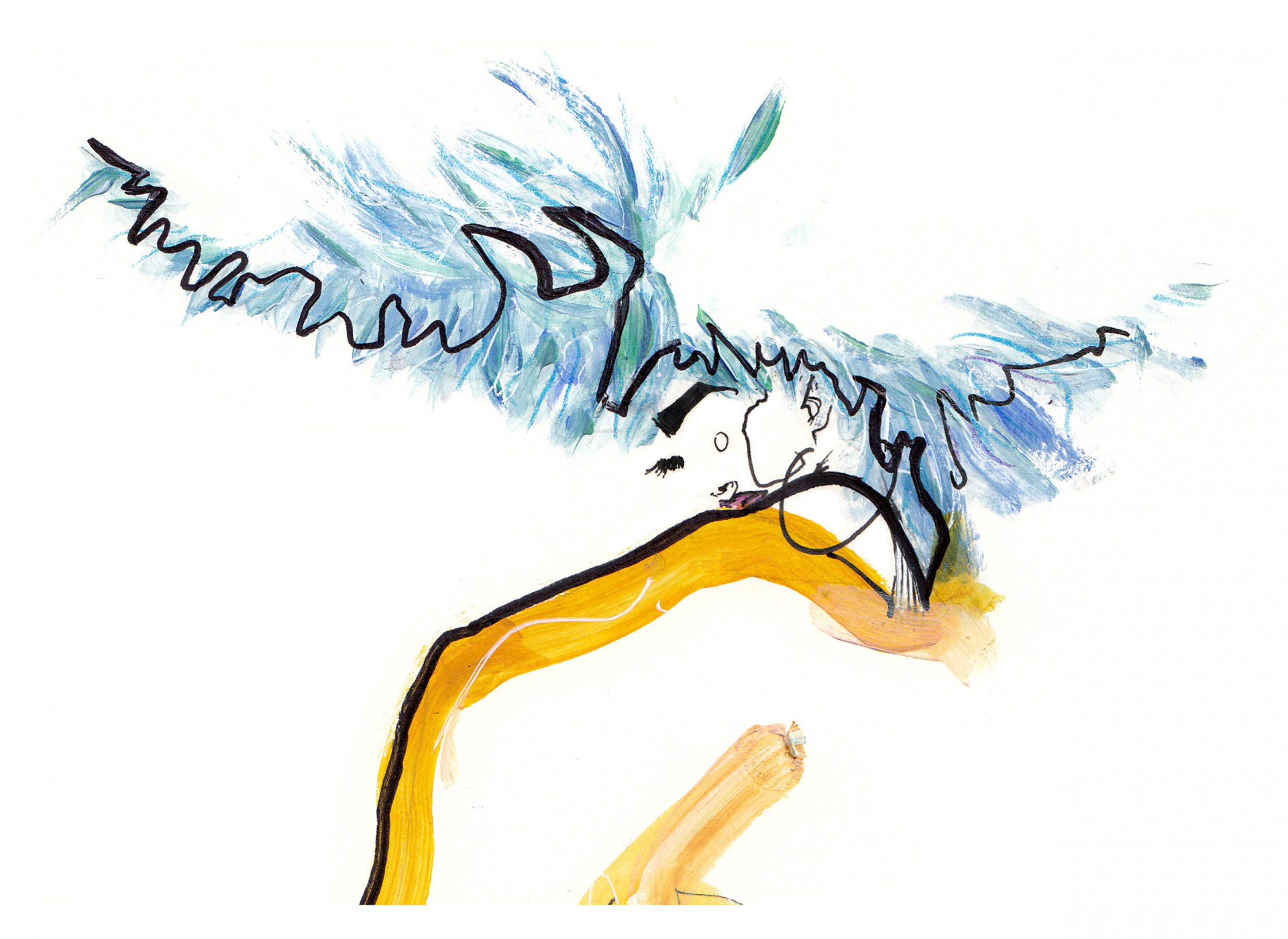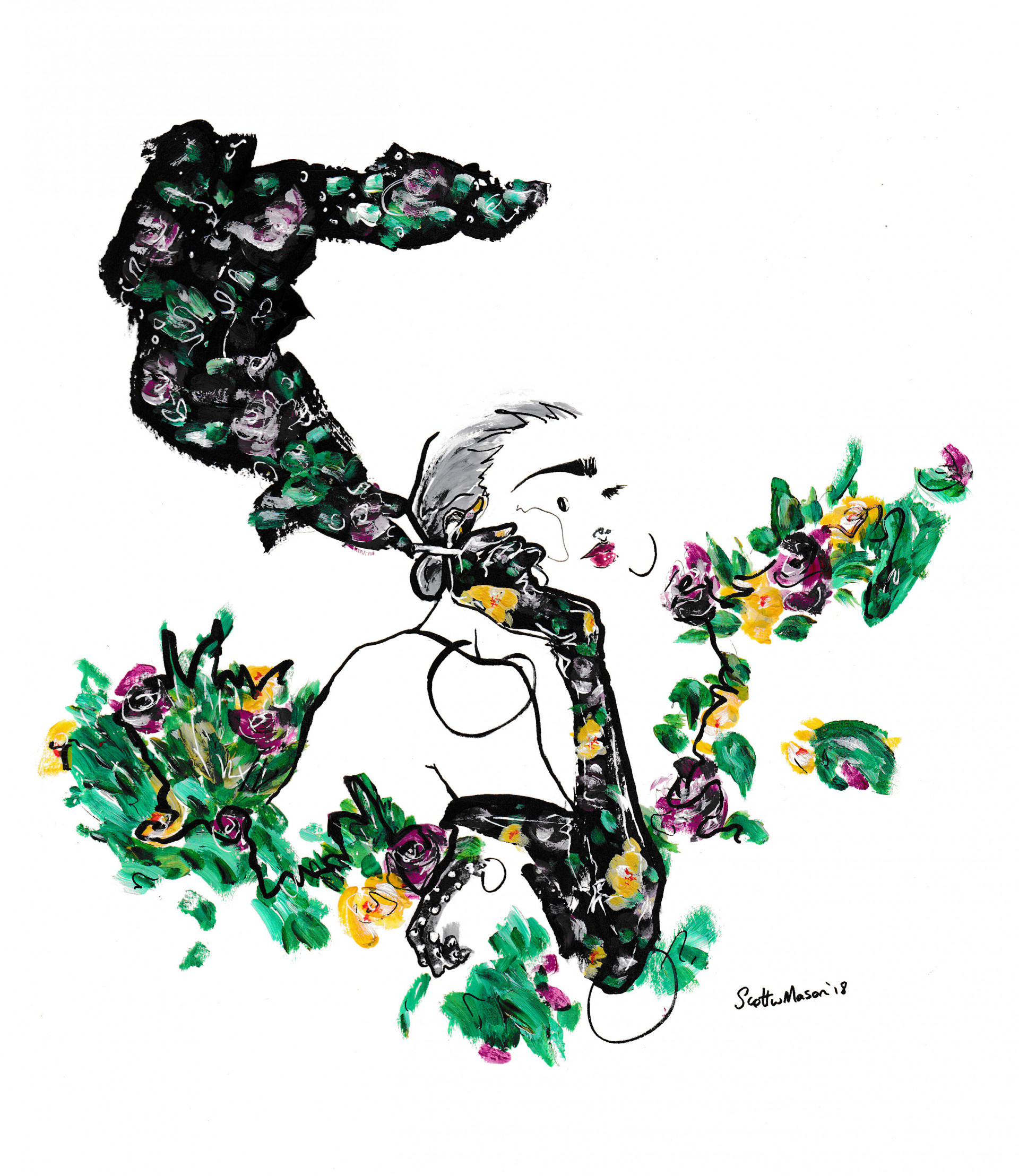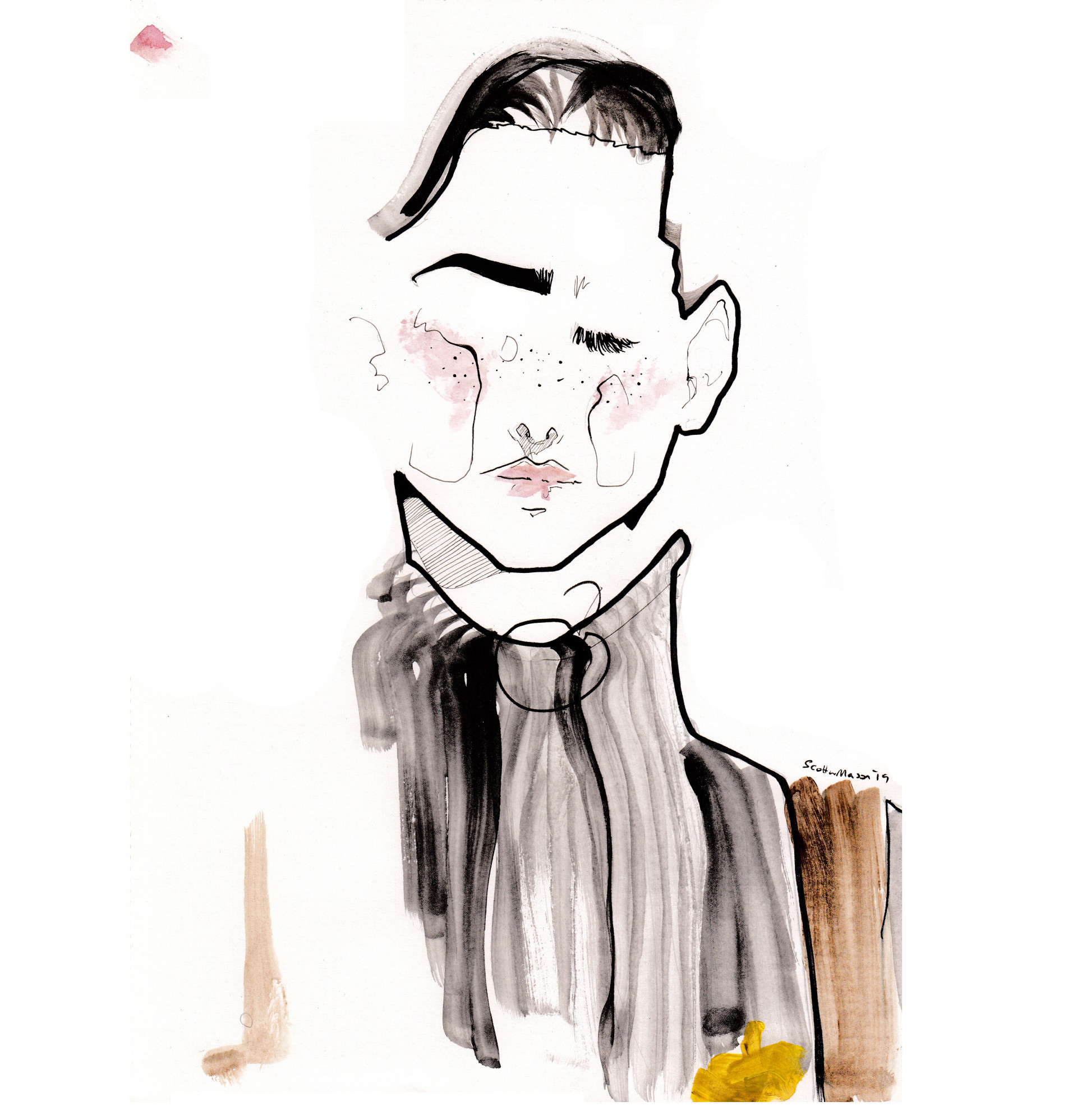 So out of the fashion shows you've been at, who has approached you that has really surprised you that you didn't really think you were going to meet?
What's surprised me most about fashion week is I got recognised a couple times last time and I was like oh my god! It's so bizarre to have someone come up to you and recognise who you are because you just kind of post online and don't think about it and you kind of forget that people do see and take note of who and what you are. But no, I haven't actually met any celebrities or designers as of yet as far as I'm aware. If I have, I've forgotten because I was drunk.
Is there a particular brand that you'd love to collaborate with that you haven't yet?
Kenzo was always one I used to love when I was at uni. That would be so cool. Just a brand that's slightly out of the box. Kenzo would be a cool fit or there's Axel Arigato who I've done a few events for, but I'd love to do a design for a print for a shoe or something. I'm just fed up of seeing my work just as a piece of paper, so I just want to go and get my work and apply it to something. So, whether that's clothes or a product or something like that, it'll just be cool to see it in action rather than just an object.
What piece of advice do you have for Voir readers who are aspiring fashion illustrators?
I would say just draw constantly because the one thing you always fall back on is your ability. Instagram is incredibly important, do it as much as you can. Draw celebrities and tag them to get them to repost you. It's the best free marketing tool you've got and it's the only way unless you've got a million people you know in the industry already, that's your easiest foot in the door. Your style is incredibly important because that's how people recognise you. But it's a tricky one because you can't actively go out and search for a style so you've just got to take inspiration from everything and keep working and then your style will develop over time. Don't do what everyone else is doing. Stand out from the crowd, baby! Oh, and contact people. Don't be scared because I've always been told that a closed mouth doesn't always get fed. Literally email anyone and everyone. If you're approaching any of these big brands, I will definitely say approach with some idea of what you can do for them in mind otherwise they're probably not going to get back to you.
Thank you for engaging with Voir Fashion Digital.
It is important that we communicate a unique brand of fashion, beauty, trends and lifestyle to you on a regular basis, all we ask is that you share our content, and subscribe to receive even more exciting updates and competitions directly to your inbox.