London Fashion Week came and went in a flash: and we've been blinded by the innovative and stylishly unusual fashion that walked the runways. We've selected some of the crazy but contemporary designers who are doing some unusual but extremely fashionable stuff to give you a review of this tornado of a fashion week. If madness equals genius these designers have definitely got it in the bag.
Wacky and illustrative: Matty Bovan gave us graffiti-like prints adding vibrant colours to his interesting silhouettes. His Spring/Summer 2019 collection is a perfectly chaotic amalgamation of bright colours and textures. Crocheted flowers over voluminous tulle skirts let us into a springtime fantasy of fairy tale dress silhouettes and edgy textural graffiti daydreams, and we love it.

Looking for coats that look worlds ahead of their time? Jarel Zhang has everything you need. Trench coat puffer jackets complete with puffer bows, strap details and even ruffles. Metallic, oversized coats with almost geometric silhouettes, even patchwork metallic pieces. Zhang gave us a whole new perspective on what a coat could be, and honestly we're totally ready to be consumed by a futuristic puffer.

Delivering us dark blue and denim, Dilara Findikoglu's SS19 collection did not disappoint. White and beige with gold detailing, blue PVC, reinvented black pinstripe suits: this runway gave us an edgy take on spring. Harnesses and corsets complimented looks, scarves that defied gravity added whimsicality to these inventive but edgy garments. Boldly embellished suits gave us a quintessentially Findikoglu feel, and we're now totally ready to take on any season.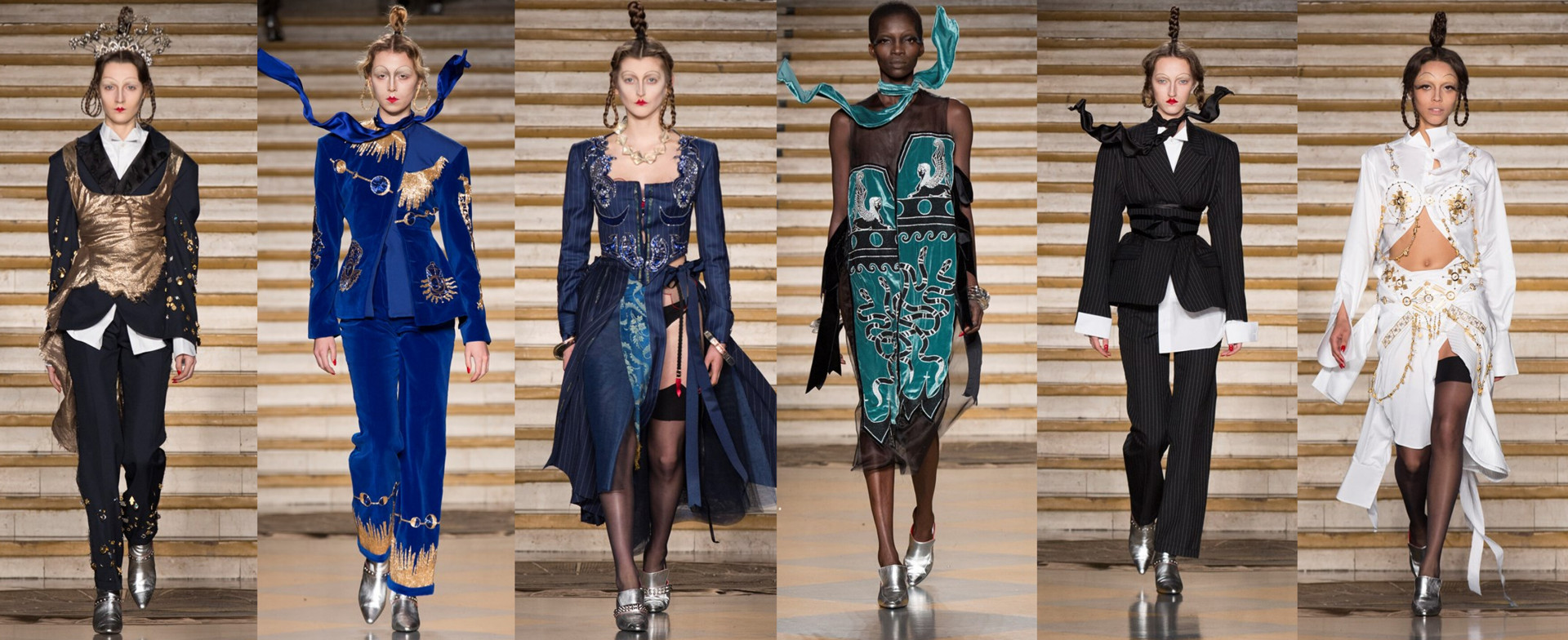 Rock and Roll pirates and socks with flip flops? Yep, that's what we're getting from MM6 Maison Margiela- but would we expect any less? Wonderfully ruffled shirts, pleated t shirt dresses, and beautiful silken fabrics gave us a collection that toyed with an edgy new romantic vibe. Bohemian style dresses and edgy prints, Margiela showed us a rebellious pirate princess kinda energy and we're here for it. Looking to feel like a modern Jack Sparrow? Maison Margiela has exactly what you need.

Black, red and leather all over: Gareth Pugh gave us an essentially Pugh collection. 80's shoulders with rhinestones, metallic pink leather dresses, red transparent PVC coats- this collection was every fashionable Goth's dream. Platform shoes complemented these looks of incredible dark fantasy. Trippy black and red prints, patent leather in an array of colours and classically black looks gave us a collection that would an edge to anyone's wardrobe.

Thanks to London Fashion Week we've been blessed with array of strange but beautiful styles, and we couldn't be more obsessed. Whilst mainstream designers continue to push the boundaries of what's mainstream, it's designers like those in this article that create unusual but contemporary, strange but stylish looks, and we love that.
Thank you for engaging with Voir Fashion Digital.
It is important that we communicate a unique brand of fashion, beauty, trends and lifestyle to you on a regular basis, all we ask is that you share our content, and subscribe to receive even more exciting updates and competitions directly to your inbox.