Thom Browne's Autumn/Winter 2018 collection has showed us that grey, is the way.
Structured blazers and pointed brogue heels, Thom Browne just spruced up your business attire. Okay, we'll admit we wouldn't take a trip to the supermarket in some of Browne's more avant-garde garments, the skirt that's seemingly made of grey breasts for example, but he's made us rethink how much grey we actually need in our wardrobe; turns out, a lot more.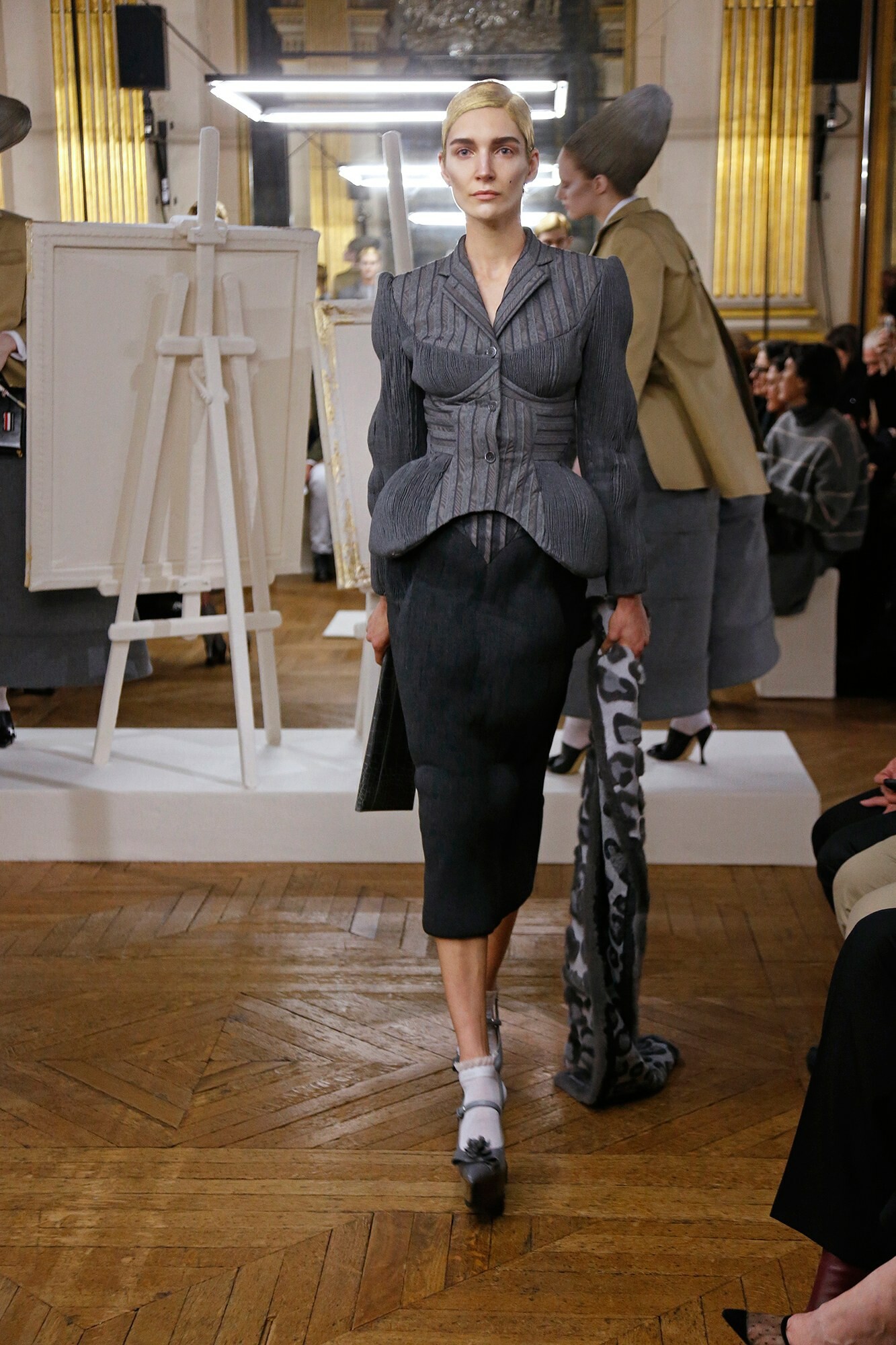 With inspiration behind this collection being a painted vision of what Vigée Le Brun wanted to be in the 21st century, the female power connotations of this show are enough to get us excited. The show, set up like an art studio with female artists strategically lined up at easels along the runway, set the scene for what was to come.
For those needing a quick brush up on art history, Élisabeth Louise Vigée Le Brun was an 18th century artist, famed for being Marie Antoinette's official portraitist in a setting of extreme male control. These garments both as outfits and as individual pieces speak as showstoppers that provide the elegance to make a woman feel liberated and powerful.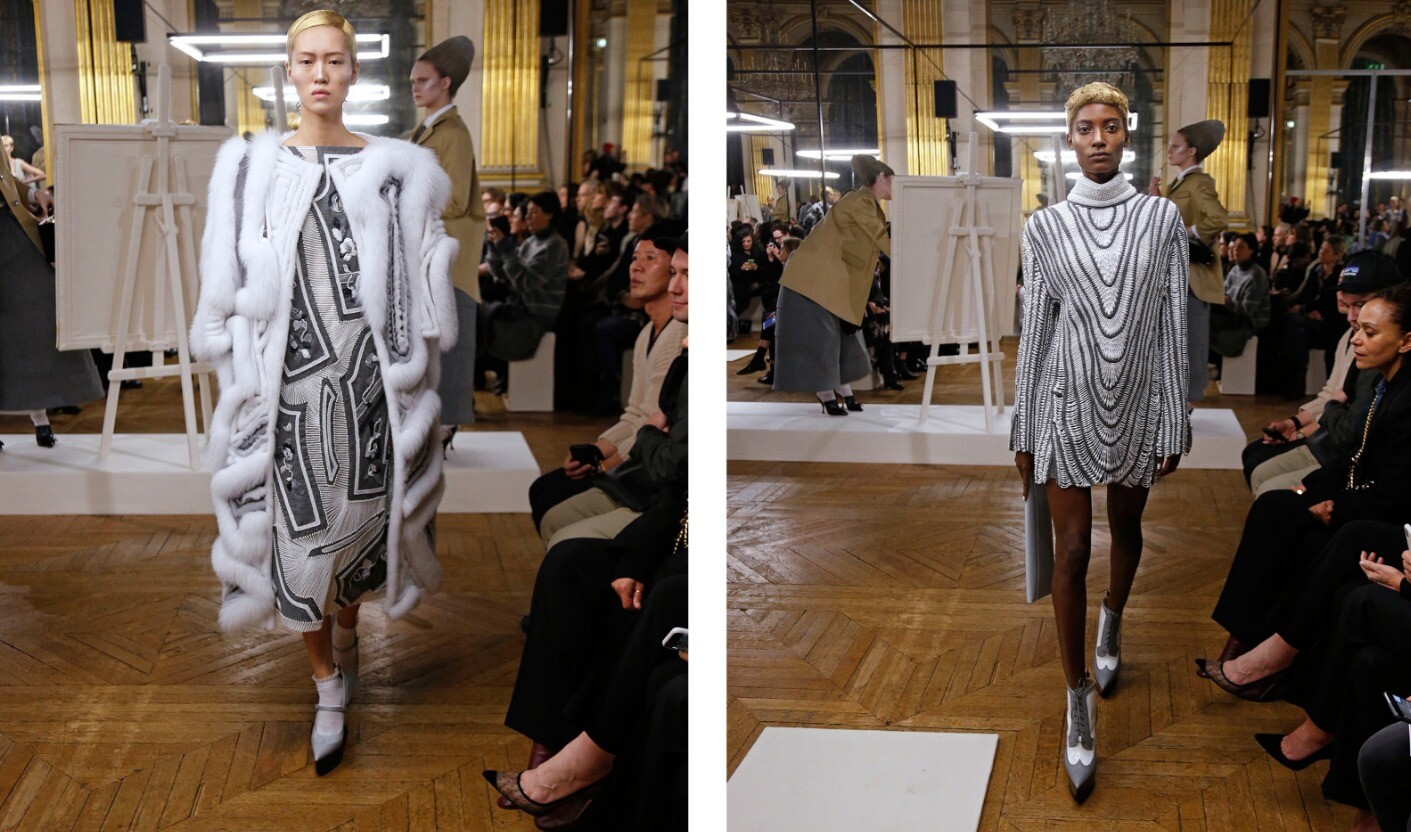 The silhouettes on the runway were everything, ranging from the sleek and almost form fitting shape of a re-imagined party dress to the large puffed out shapes deriving from sizeable voluminous jackets.
The fabrics in this collection are sufficient to make anyone go haberdashery mad, so many textures, prints, patterns and handwork. In fact, the handwork alone needs a special shout out, it truly takes the words couture craftsmanship to the next level. Throughout the garments there was a mix of beading, pearl studding and appliqué. The list of handwork could go on, each technique adding a new interest to each piece.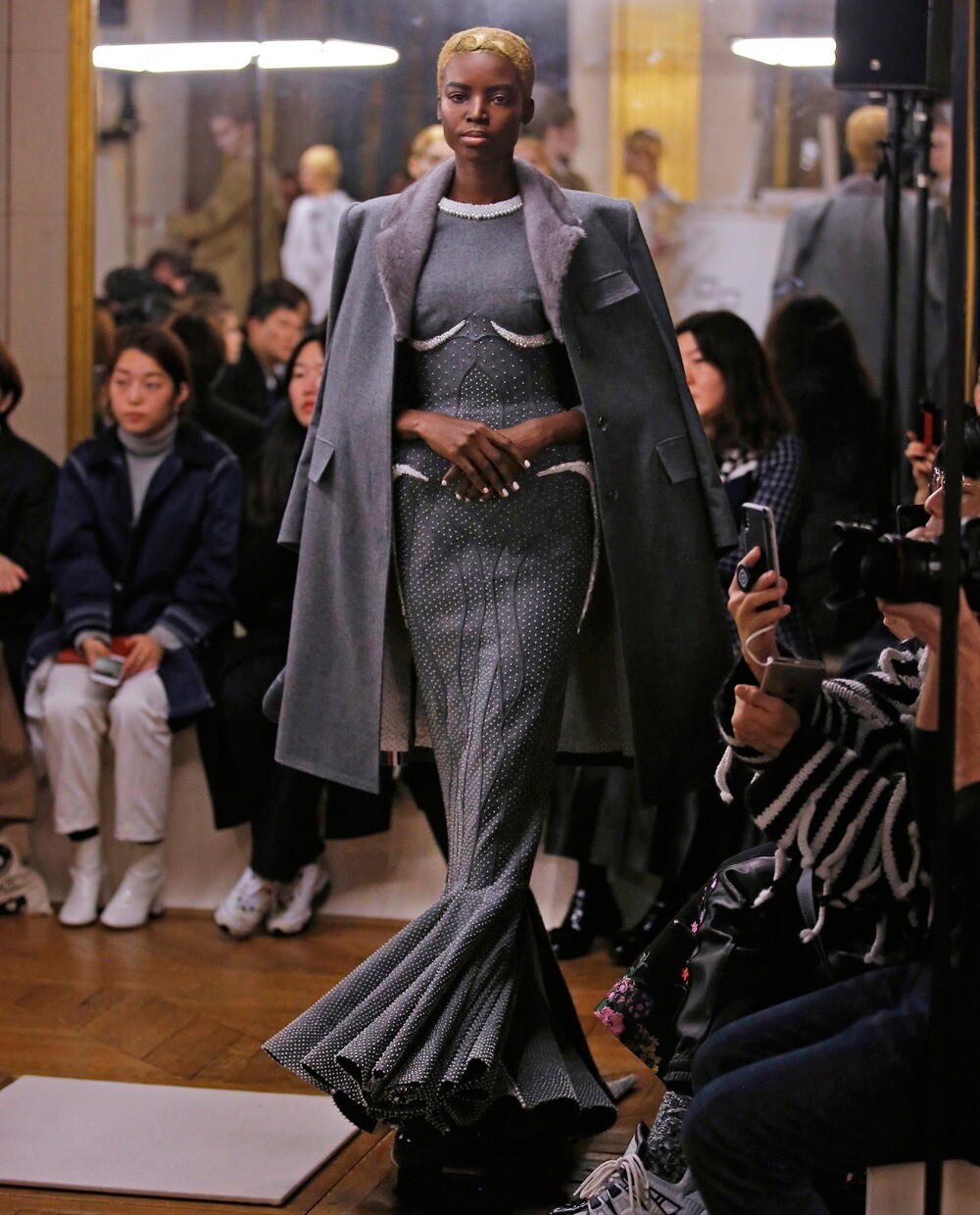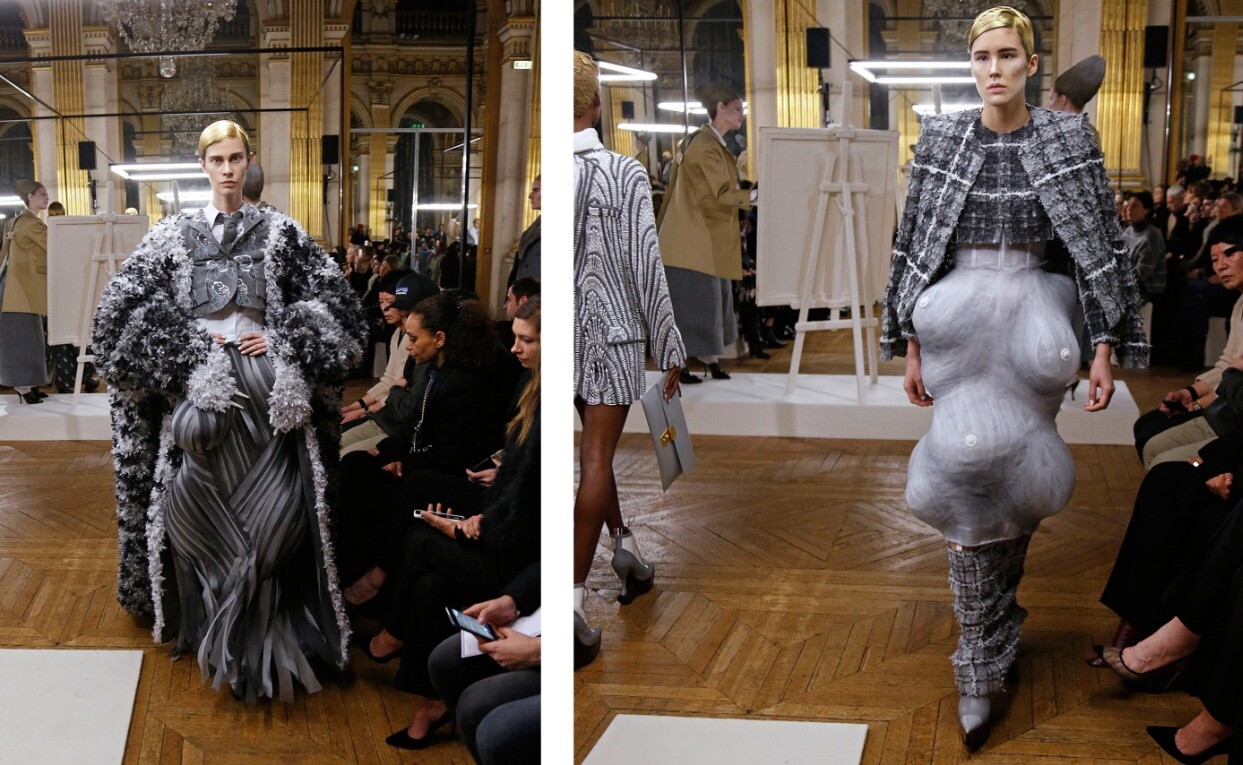 As well as breathtaking handwork, a plethora of texture and incredible silhouettes, this collection offers us some spectacular shoe options. It seems that as ankle boots circulate the fashion industry this autumn, Thom Browne is going in a different direction. Platformed and pointed, the shoes give us edgy yet classic vibes- especially the classic brogue pattern. Who wouldn't want a pair of them to wear in the office? They'd turn heads for sure.
Flowers reminiscent of roses are a prominent visual in this collection, not least for their connotations of femininity, but also Browne's appreciative nod to the flowers in the famous 1783 Vigée Le Brun painting 'Portrait de Marie-Antoinette',
Overall Thom Browne has awaken us to the elegance of the colour grey, whilst delivered a masterclass on how to reinvent formal wear. Through an offering of decorative pieces that exude texture and detail, garments that would simply make a room stare in awe at the craftsmanship, Thom Browne Autumn/Winter 18 is a couturiers eye in a ready-to-wear world, and a day at the office may never be the same again.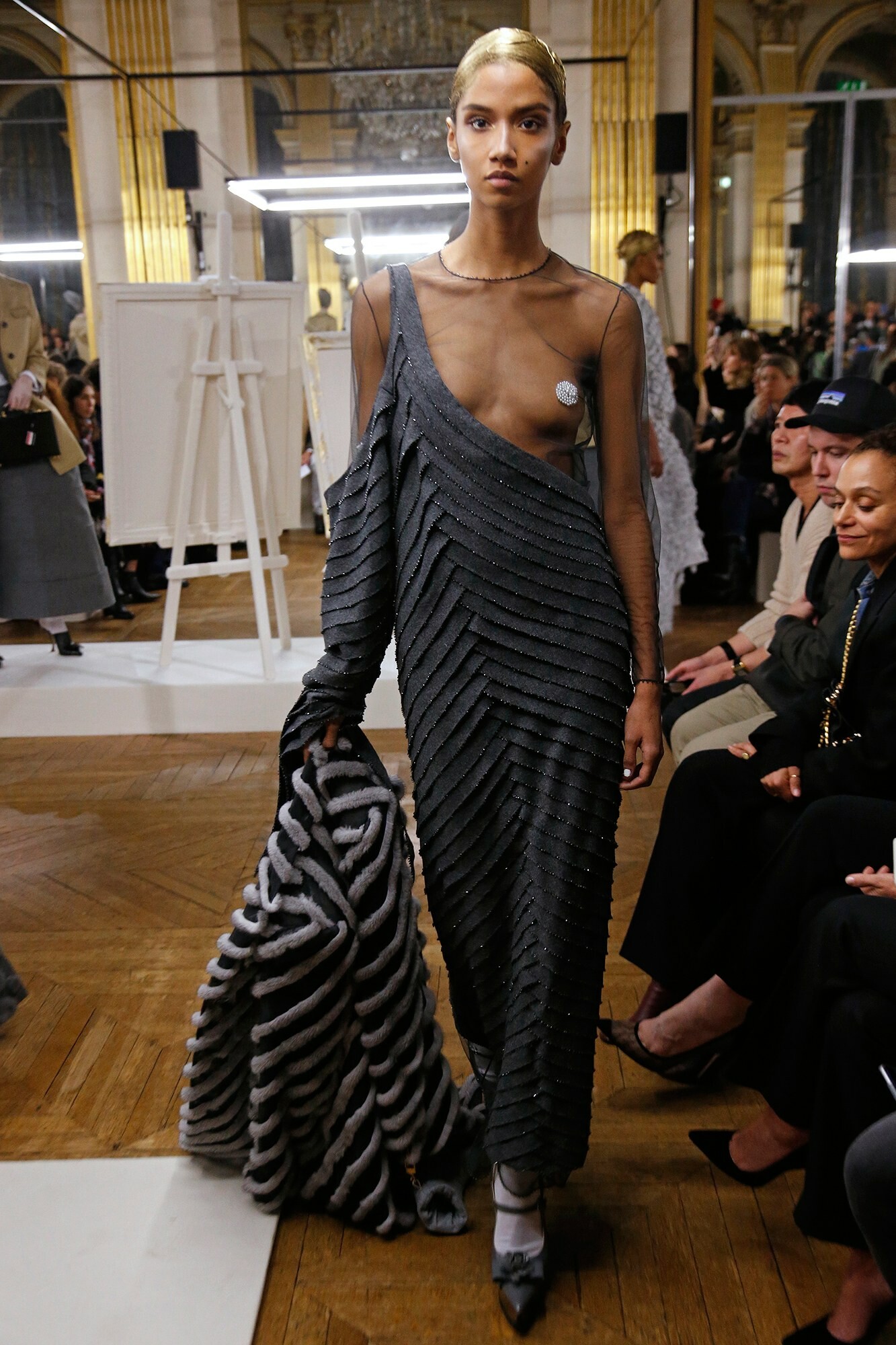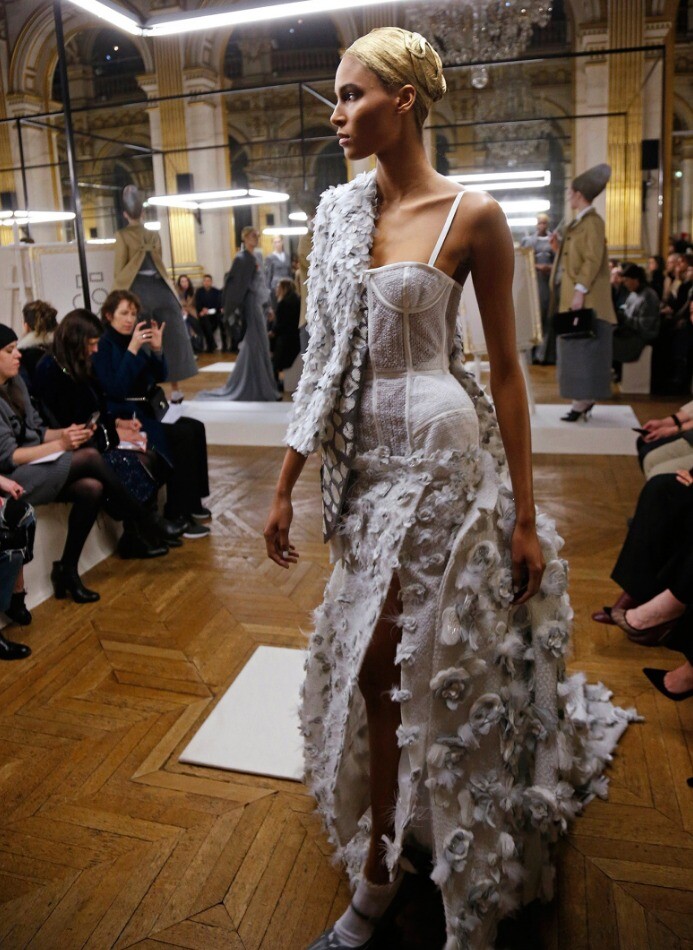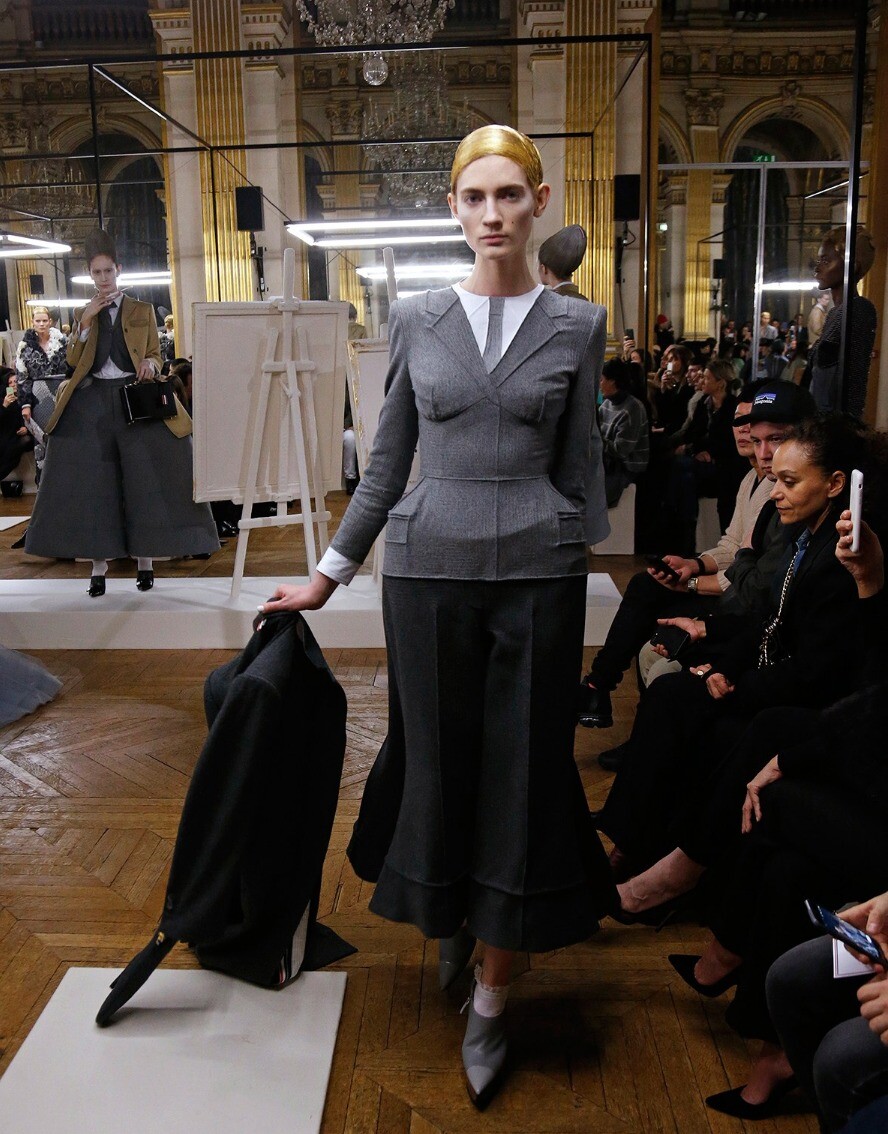 Thank you for engaging with Voir Fashion Digital.
It is important that we communicate a unique brand of fashion, beauty, trends and lifestyle to you on a regular basis, all we ask is that you share our content, and subscribe to receive even more exciting updates and competitions directly to your inbox.