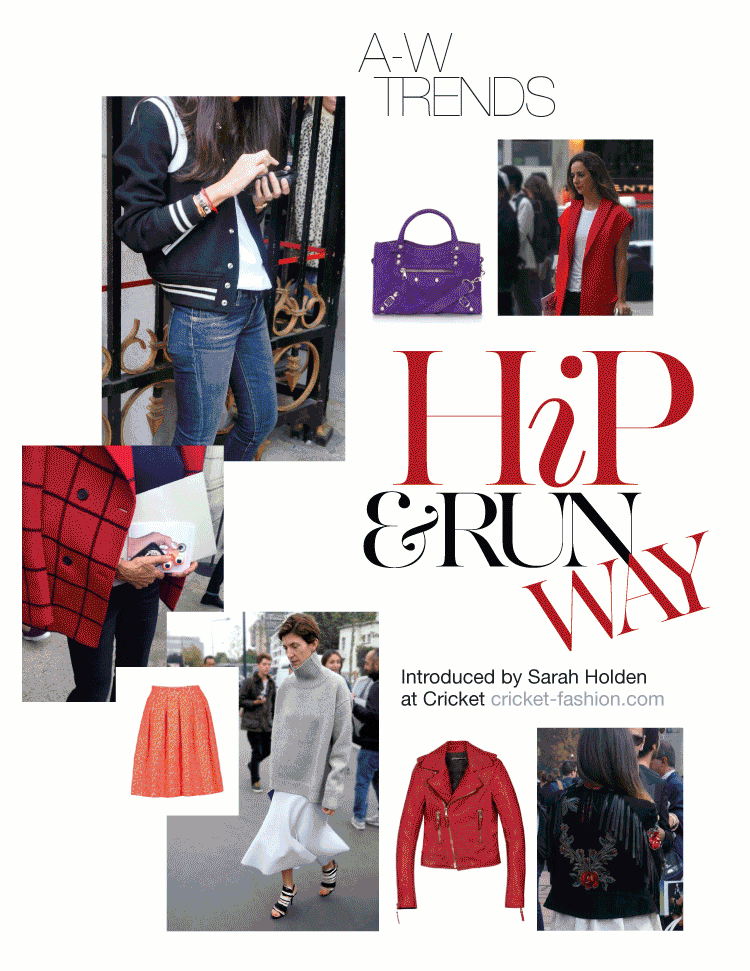 Fashion writing comes in all shapes and sizes, but anyone who opens a trend analysis with
"Move over Pretty, there's a new girl in town and she's riding the crest of cool….."
has in my eyes, already entered the vaults of fashion eloquence.
Step forward Voir's very own Sarah Holden, gifted in the art of trend journalism, and poised, ready to deliver seasonal trend reports to the eager fashion devotee. Autumn/Winter 2013 was a memorable season, and rather than dissect Ms Holden's offering, here is the entire article uncut for you to savour.
Hip&Runway
Move over Pretty, there's a new girl in town and she's riding the crest of cool….
There's been a definite shift in the fashion mainstream this season whereby functional became cool again, street became catwalk and an unprecious approach to dressing up took pole position. Cool is the new chic, grunge is the new polished and sultry femininity took a master class from the boys.
His and hers
Unisex cuts both ways this season. Whereby his was only formerly hers, oversized unisex sweatshirts and bomber jackets seen at Kenzo, Givenchy and Saint Laurent marked a style revolution for both men and women. Not just confined to street couture the trend worked it's way through the androgynous tailoring that stormed the same catwalks where even the most masculine of cuts boasted a feminine allure from the skinny zipped leathers at Saint Laurent, the outsized frock coats and tux jackets at Victoria Beckham and Stella McCartney and the sporty-luxe tailoring at Elizabeth and James.
Tartan Army
Tartan, plaid and fantasy checks marked a mood shift from minimal to maximal as fashion's new tartan armies took charge of the catwalks this season.
The traditional McQueen tartan was reworked with a contemporary spin whilst Stella McCartney and Céline cut an oversized silhouette from colourful combinations of Tartania. More than a fleeting trend, check-mania was also a firm favourite on the catwalks for spring and summer 2014 cast in zesty palettes on the catwalks of Céline and Carven and contrasted with painterly prints, bold graphics and feminine florals.
All Weather Leather
'Leather forever' is the style mantra of the fash pack each and every season and autumn winter's offerings came in their edgy droves- zip embellished mini skirts from Saint Laurent, stretch-leather skinnies from Les Chiffoniers and those to-die-for suede and leather trousers, sheepskin coats and biker jackets from Isabel Marant and Balenciaga, worn with the lightest of chiffon layers, sultry lace and heavily embellished counterparts for evening.
Fast-forward to spring and summer and all weather leather was hitting fashion's highest notes thanks to modern advancements in leatherworks – think pastel shades and feather-light options guaranteed to add a grunge-luxe edge to even the most polished of looks.
Great Lengths
Designers went to extreme proportions this season to deliver those great(er) lengths, mini and maxi proportions. Supersized knits versus super skinny trousers, hemlines hit the calf, jeans were given the crop and even accessories came under and oversized.
As heels came down, tops went up to reveal a fashion's newest erogenous zone – the midriff, another style keeper to 'bare' in mind for SS14 and the biggest trend in arm candy came from the 'mini' bags that emulated their supersized predecessors seen at Givenchy, Saint Laurent and Balenciaga to take from day to night • Sarah Holden
To enjoy more from AW13 season, click here