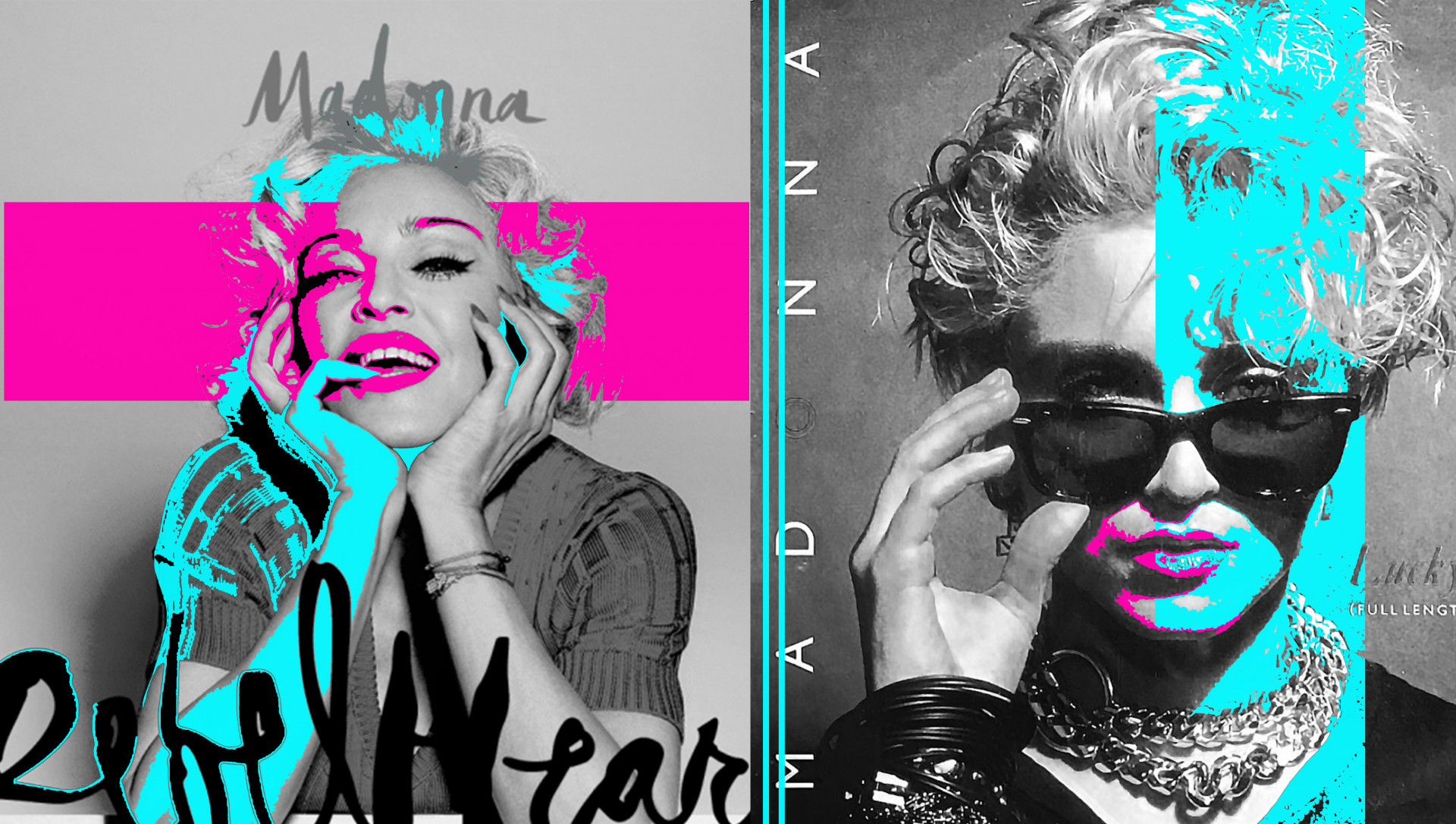 As Madonna's hit album like a virgin turns 35 years old the talented singer returns to the stage in London. Just because you know doesn't mean you understand Madonna has been an icon in the industry for more than 20 years from music to fashion trends Madonna's influence knows no bounds.
From grunge, glitz, to glam American pop singer, Madonna, pioneered a vibrant eighties, grungy and provocative nineties, and continues to embody these quirks in her 21st-century fashion. Madonna's looks in the last twenty years have been a compilation of her juxtaposing style: testy shades of blacks and greys, yet layering fabrics of cool-toned, poofy skirts; skin-baring leotards one day and head-to-toe suits the next; and of course, the odd channelling of Marilyn Monroe here and there.
Madonna kicked off eighties fashion with elastic accessories (remember all of those stacked rubber band bracelets?), vibrant colours, quirky patterns, and toppling head ribbons. Her youthful and psychedelic wardrobe continued with her second album release the following year. Upon the launch of Like a Virgin, the pop star was found in anything from lacy white dresses to black corsets and biker gloves. Throughout the eighties, Madonna covered all aesthetic grounds – this was the decade of both bright colours and shades of black and white, layered beads, pearls, bulky accessories, and lots of hairspray.
One of Madonna's iconic 80's looks: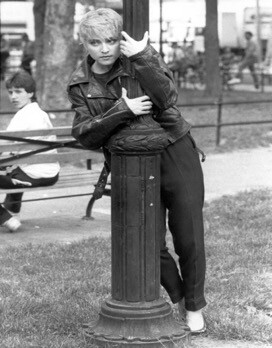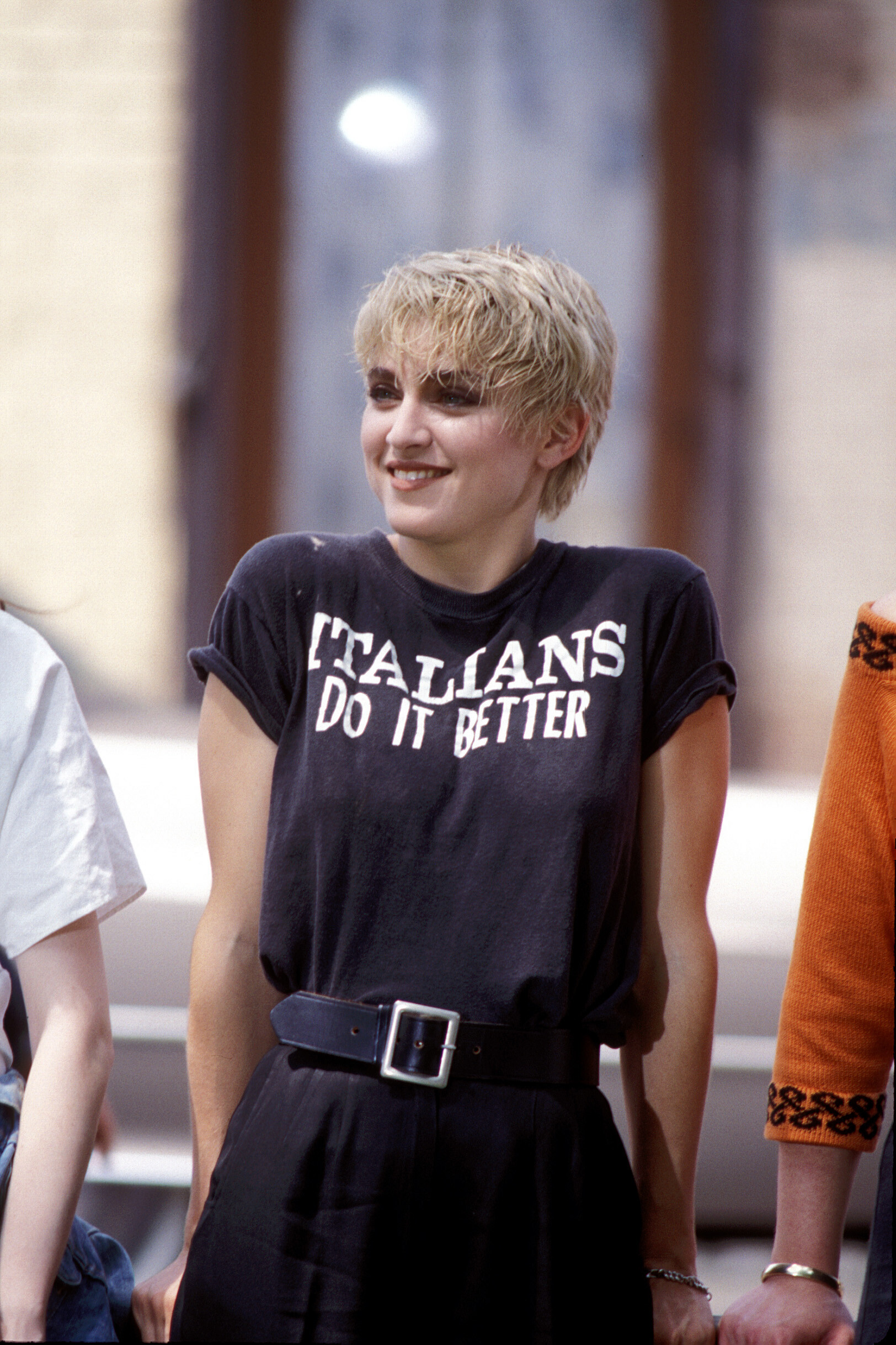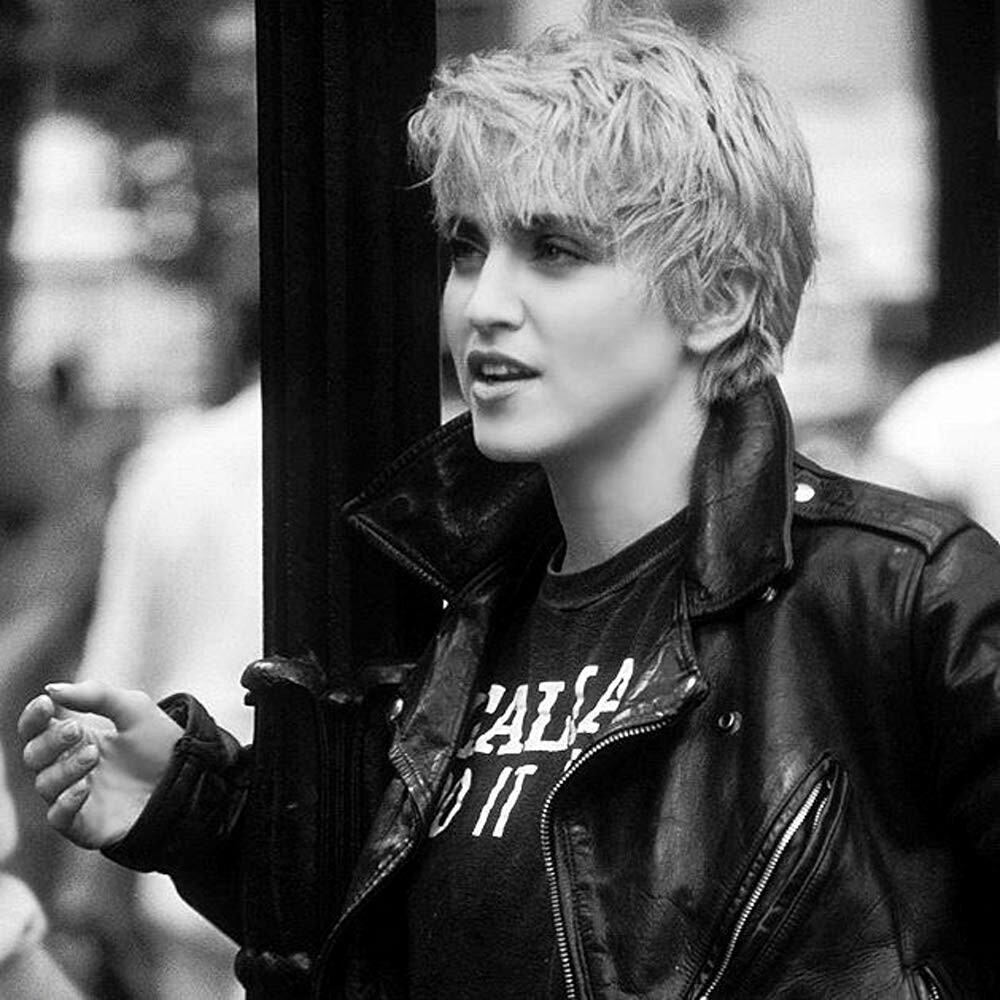 Madonna, 1986, in her music video for "Papa Don't Preach."
This look embodied a less revealing and edgier aesthetic for Madonna's eighties wardrobe. Leather jackets, waist belts, and all black gave this look the pop star's iconic balance of alluring and mysterious.
RECREATE THE LOOK
Trousers: Weekday Rosella Trousers (£45)
Jacket: Acne studios leather jacket (£1,200) or Missguided pleather jacket (£50)
Top: Old Skool Hooligans 'Italians Do It Better' t-shirt (£11.99)
Belt: B-LOW the belt black buckle belt (£143)
Shoes: Dolls Kill Spiked flats (£23.35)
As Madonna started to become a popular face in films, she closed out the eighties with grungier, more provocative looks, all trailing into her exceptionally variant, nineties wardrobe. A mashup of Victorian dresses, dazzling corsets, and topless suits launched the next few years of Madonna's fashion shock waves.
One of Madonna's iconic 90's looks: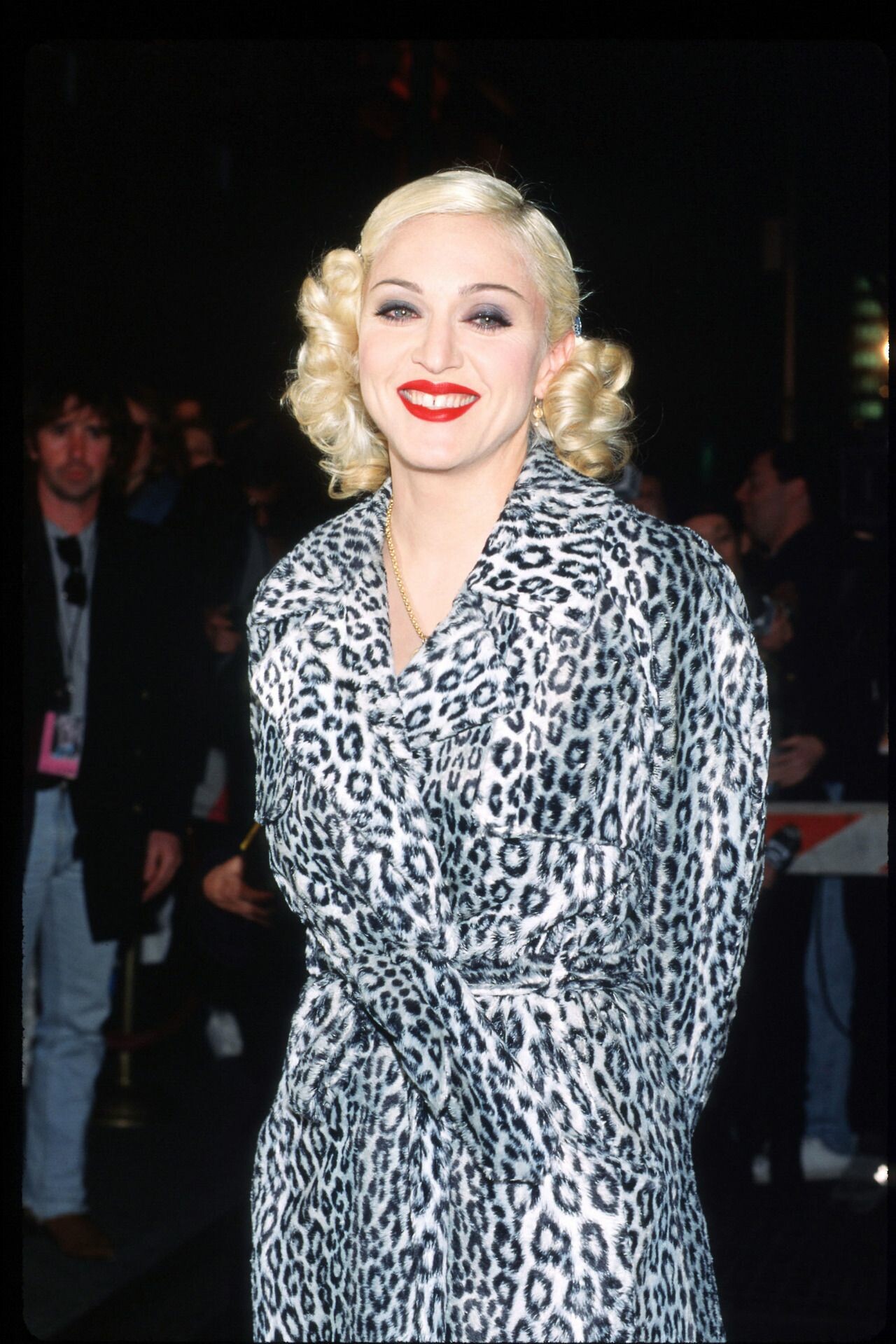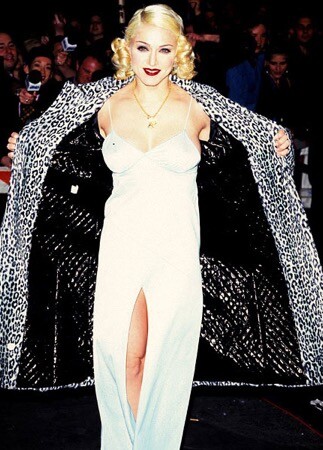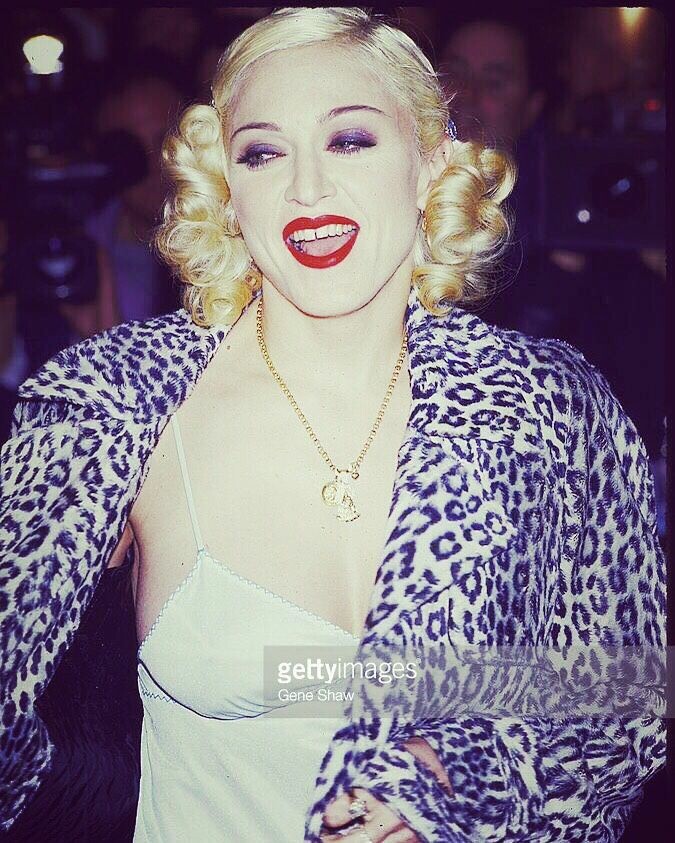 Madonna,18th March 1995 at her "Bedtime Story" dance party at NYC's Roxy nightclub
Simple, but classic, and easily recreated for almost any decade. A flattering white dress and animal print coat, with a punchy red lip is one of Madonna's most iconic looks from 1995.
RECREATE THE LOOK
Coat: Pink Boutique Grey Leopard Print Trench Coat (£49)
Dress: ASOS Jagger & Stone white dress (£75) or PrettyLittleThing white mesh maxi dress (£15)
Necklace: Chunky gold necklace from Etsy (£36.39)
Each of Madonna's album redefined a new era of fashion and trendsetting. With a collective fourteen studio albums, five live albums, three soundtrack albums, and a weighty thirty-five other releases, the artist has undoubtedly made countless, annually archetypal outfit debuts.
One of Madonna's iconic 2000's looks: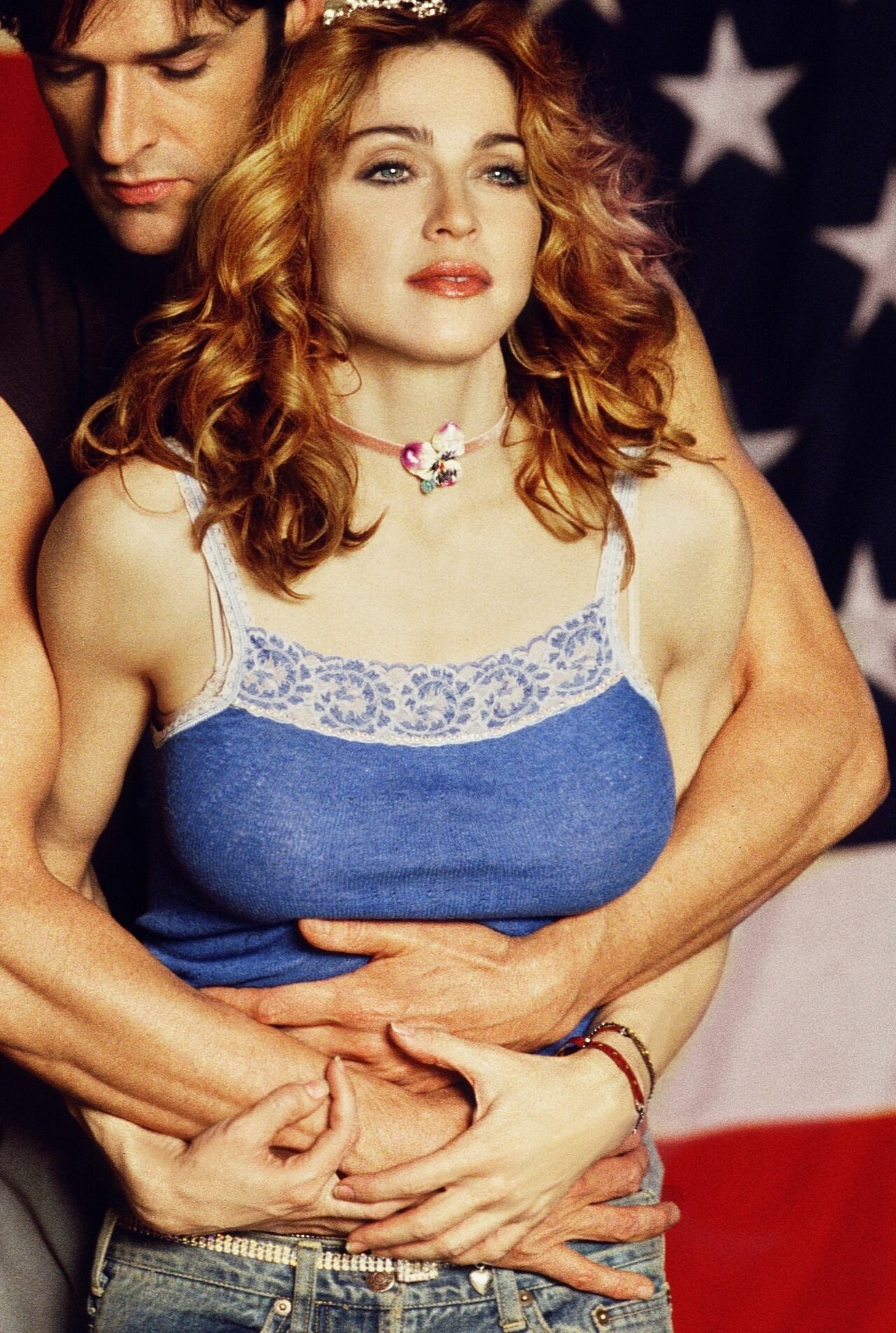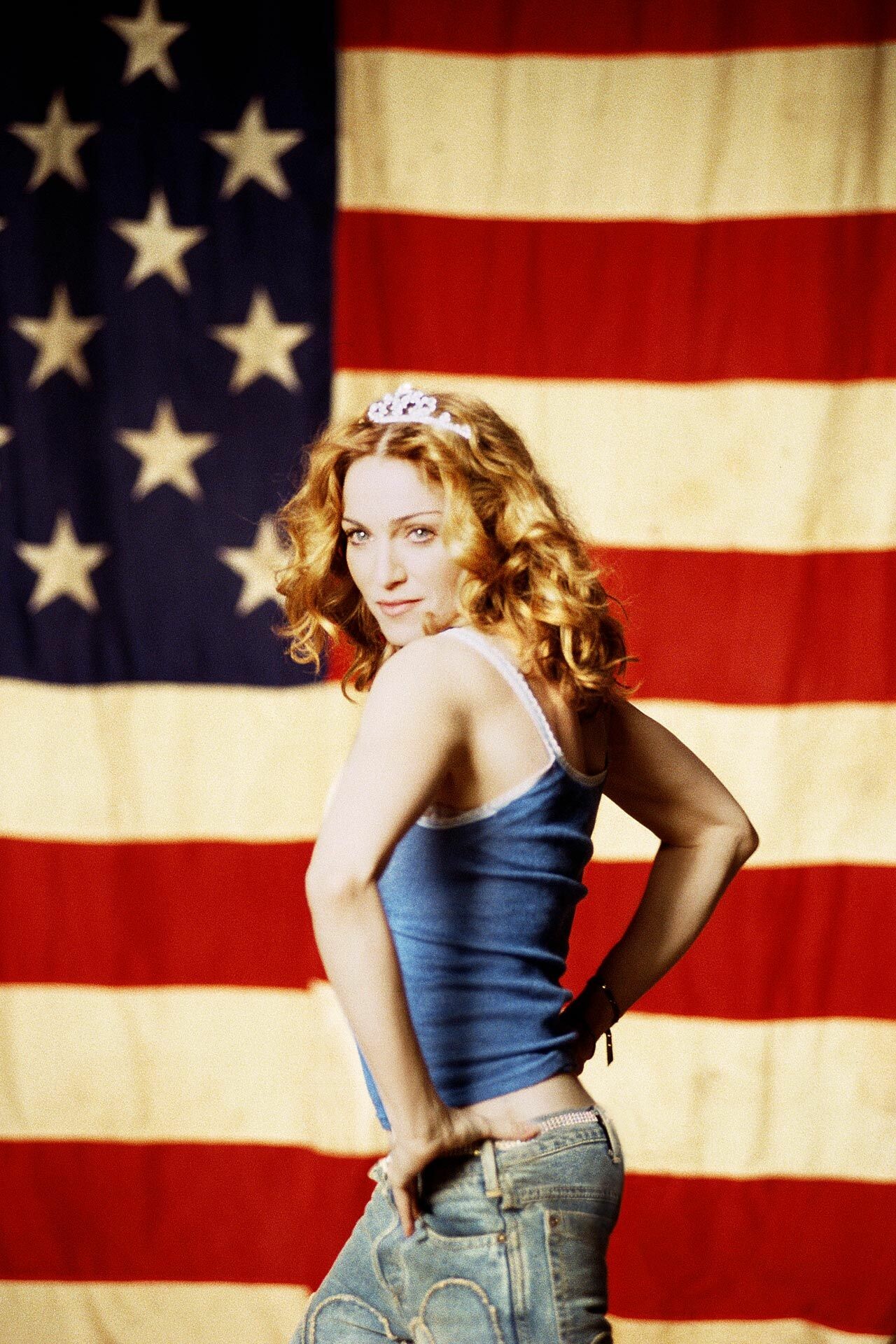 Madonna in her 2000 'American Pie' music video
Good 'ole early 2000s fashion in America. Madonna defined the era of slouchy tank tops, low rise denim pieces, and dainty accessories. In her "American Pie" music video she sported this lavishly blue and simply stated 2000 vogue.
RECREATE THE LOOK
Jeans: ASOS flared jeans (£35)
Top: Carine Gilson blue and white silk cami (£528)
Choker: Dolls Kill Baby pink choker with pendant (£7.68)
Belt: PrettyLittleThing thin diamante belt (£18)
When you think Madonna, think cone bras, chunky jewellery tangled with beads and crosses, laced tights, and gloves. She bared her body many times with bold wardrobe choices and more often than not, she was the genesis of several decade trends over the years – her fearless fashion range gradually turned into year-defining styles.
One of Madonna's iconic 2010's looks: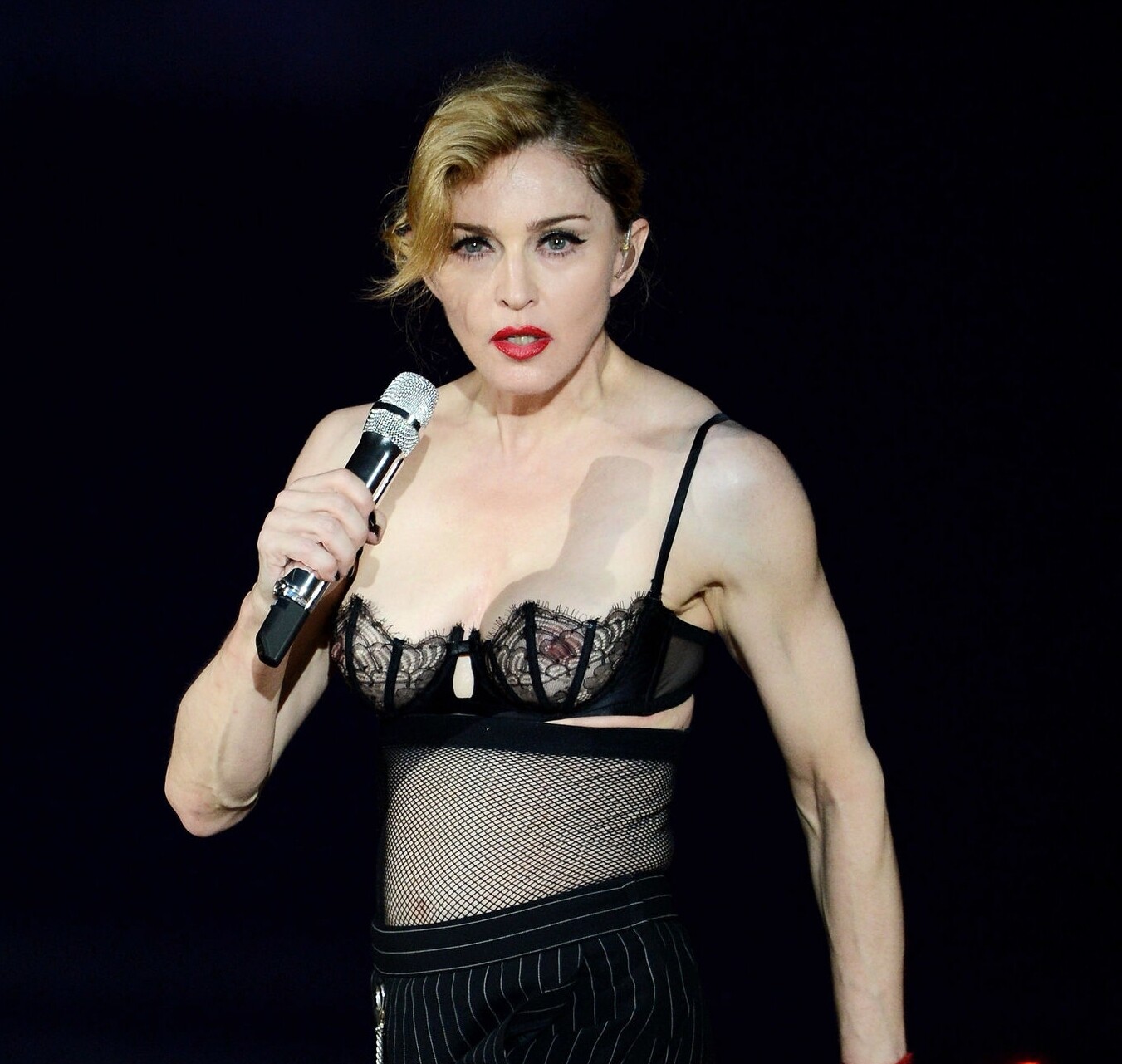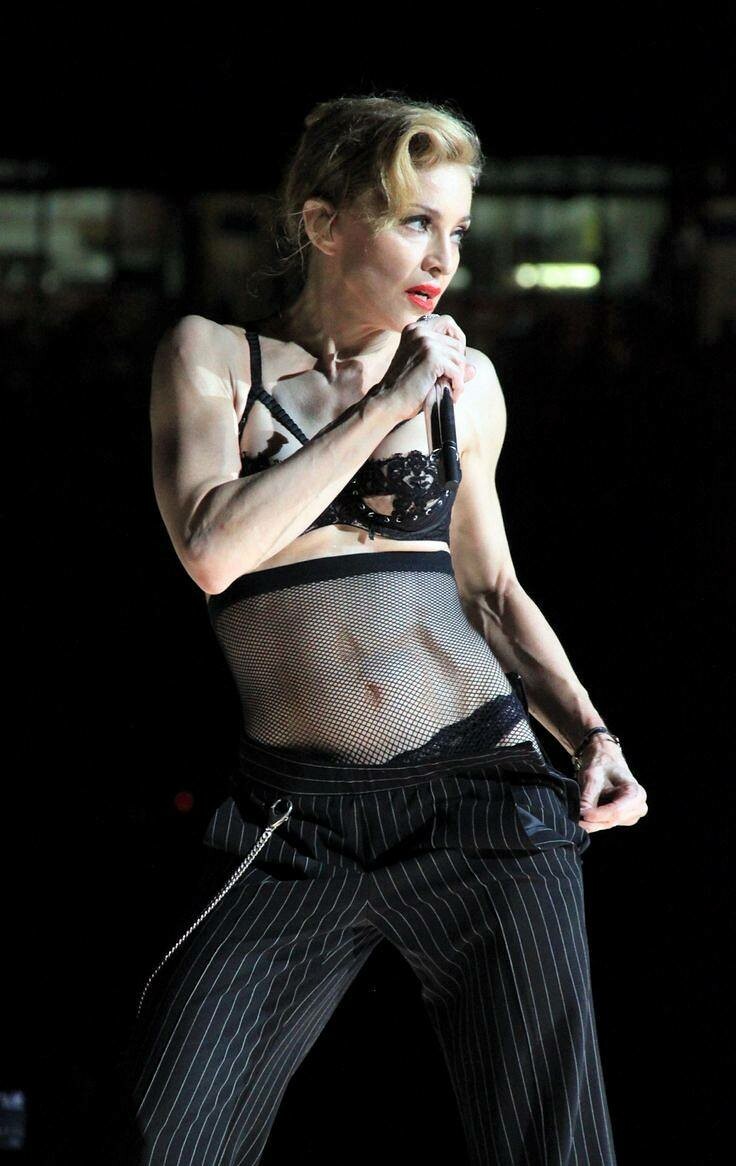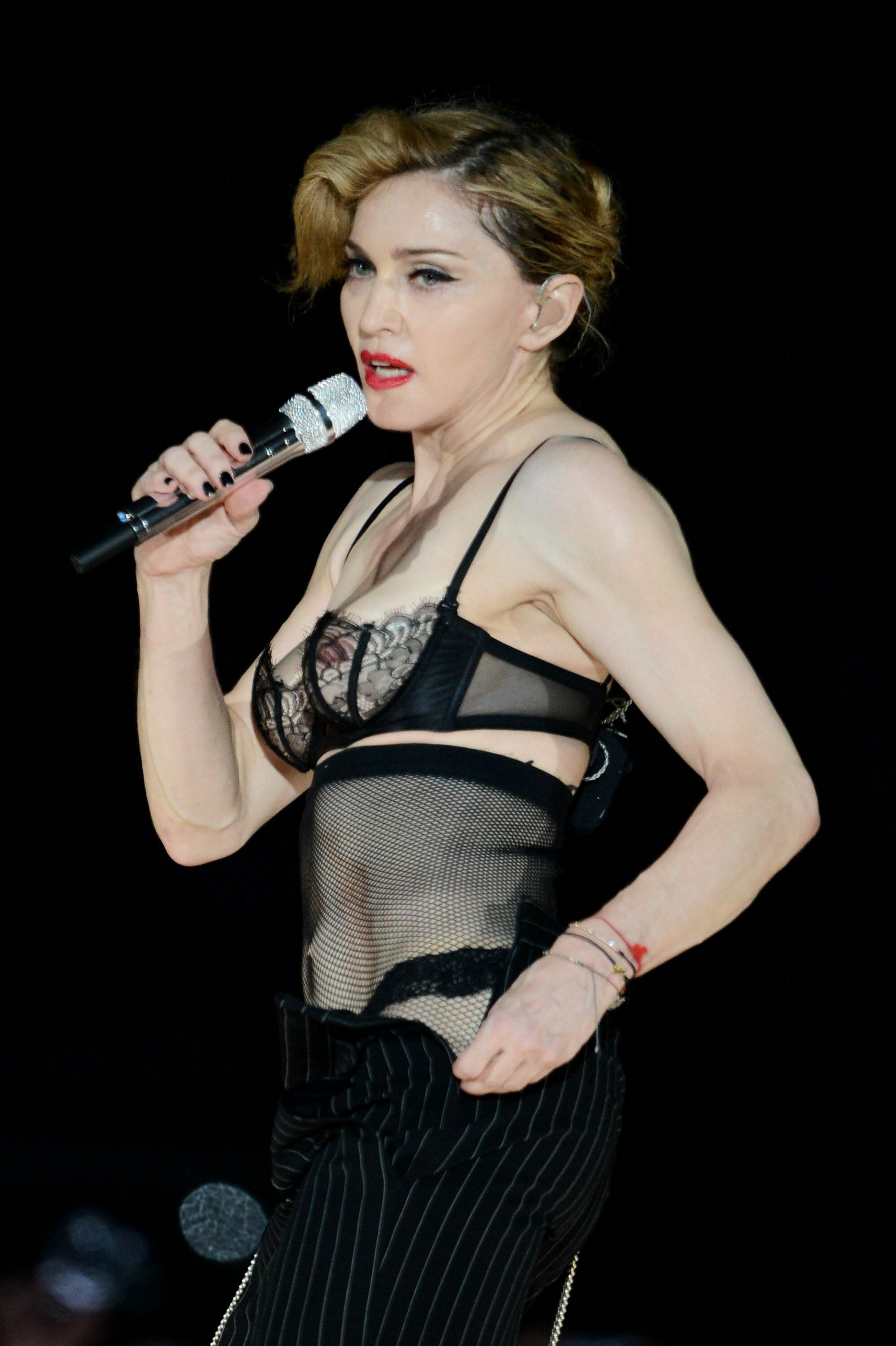 Madonna on her 2012 MDNA tour
Madonna and sex appeal have always gone hand in hand. During her 2012 MDNA tour, she graced audiences with this all black, eye-catching outfit – welcoming all the lace, fishnet, and mesh one would desire.
RECREATE THE LOOK
Bra: Black wired lace bra (£38.99)
Trousers: Weekday Pinstripe trousers (£45)
Tights: ASOS fishnet tights (£5)
Thong: Hanky Panky black lace thong (£32)
Add some nipple covers if you do not feel like freeing the nip!
Since the 1980s Madonna has graced red carpets and arenas with her iconic style and without fail has accompanied yet another new decade of dazzling yet daring ensembles. The Michigan-born star has made some of the boldest and most memorable looks in the music industry. She continues to shock critics with her bold stylistic choices her only reason: "Bitch I'm Madonna". Just in case you forgot.
(Madonna will be performing at the London Palladium from February 1st to the 16th)
Words by Sydney Luntz
Graphics by Katie Janes
, , , , , , , , , , , , , , , , , , , , , , , , , ,